2KA SERIES
Airseeders, No-till Drills, Small Tool Bars, and Western Applicators Direct Injects Up To 3,6000 lbs. N per Hour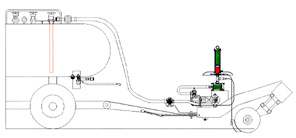 $14,169 in 12 port arrangement
Add $80.00 for each port above 12. Add $120 for each port above 12 port with 1/4 inch line groups.

Maximum pump rpm 120.

Time proven, Exactrix pressure increasing adjustable stroke, injection

pump capable of 15 gallons per minute or 3,600 lbs. N per hour.

Dual stage manifold with Exactrix final filter.
Ground powered or hydraulic powered for variable rate, site specific application.

Variable rate, hydraulic drive, GPS compatible, less hydraulic lines, $5,800.00 using MidTech, 6100 TASC Controller. radar sensor not included.




Many new opener designs are now possible with low cost, high analysis NH3. Openers do not freeze, minimum vapor loss, NH3 hits the target only. Excellent seed safety margin.
OPTIONS
Bottom outlet valve and vent kit: $1,237.00

Hydraulic lift meter wheel: $1,250.00

Hydraulic drive with motor, less controller: $1,150.00

Smarthose breakaway, 1.25 in. diameter x 15 foot length: $850.00

Side dressing orifices: $12.75 ea.
Exactrixˇ Global Systems LLC
www.exactrixˇ.com
509 995 1879 cell, Pacific.
exactrix@exactrix.com
4501 East Trent Ave.
Spokane, WA 99212