Hanging Offense, Lone Star TAPPS and TAPPKTS.
Exactrix News from Texas and Kansas.
In the Lone Star State, at Munday, Texas along the 100th Meridian.
An ideal location for 250 to 350 pound calves. Stocker Feeders and 15,000 acres of winter wheat at 84 miles North of Abilene, Texas.
Stockers going to a feed lot finish by early March with a good double in weight.
A major No-till advancement for Texas with lightweight calves. A significant wholesale change of machinery related to tillage systems.
Not since John McNabb at Pocatello, Idaho (1983, 64,000 No-till acres) has there been such a significant change in management of the American Landscape.
A stellar advancement, No-tillage event.
A record event of 20,000 acres deep banded with TAPPS and headed for 30,000 acres in 8 months with addition of a 2KR Blender for KTS®.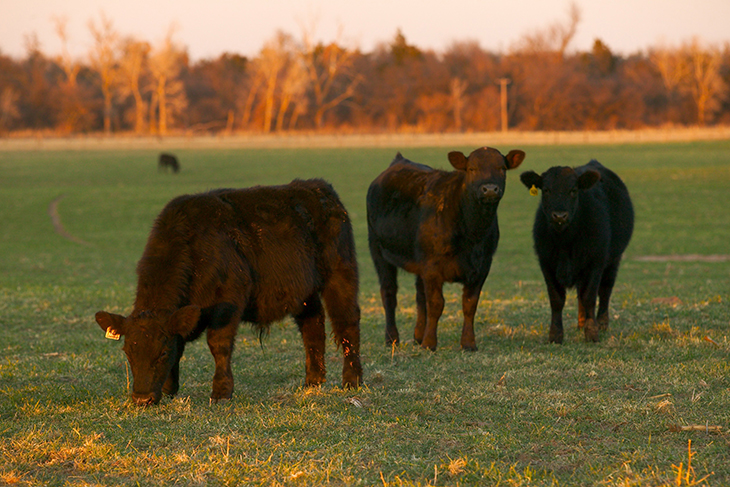 1
An Exactrix Mustang Tool Bar set up with 2KC Series 3, Liquid NH3 and 2KM TAPPS formulator ran strong and fast for Baker Farms, Mike and Stephen Urbanczyk at 45 feet.
Nominal speeds were 10.1 mph as per GS-3 control for the entire Mustang banding period.
Field application speeds to 12 mph were achieved.
The Game Plan after 2018.
A serious change came just in time, a historical change and biblical rainstorms following. Across the Texas landscape total rainfalls varied from 31 inches to 41 inches.
No-tillage farming was developed for the land in the last 14 months.
Some fields did have severe erosion in the high rainfall events of August through October since certain fields were not yet established in No-till.
Two No-tillage Seeding Drills were used, two 50 foot, 5 section, Deere 1890, single disc,10 inch seed row spacing drills seeded grazing varieties of specially selected winter wheat. The tow behind carts carried 450 bushel of seed only.
No starter fertilizer was used. TAPPS and TAPPKTS Mustang banding at 7 to 8 inch depths displaces any need for in row starter ammonium phosphate.
The Mustang banding depth was designated at 7 to 8 inches at the start of the field event.
A good video is enclosed operating at 12 mph in large fields in Munday, Texas.
Watch it run, See Video, Click Here.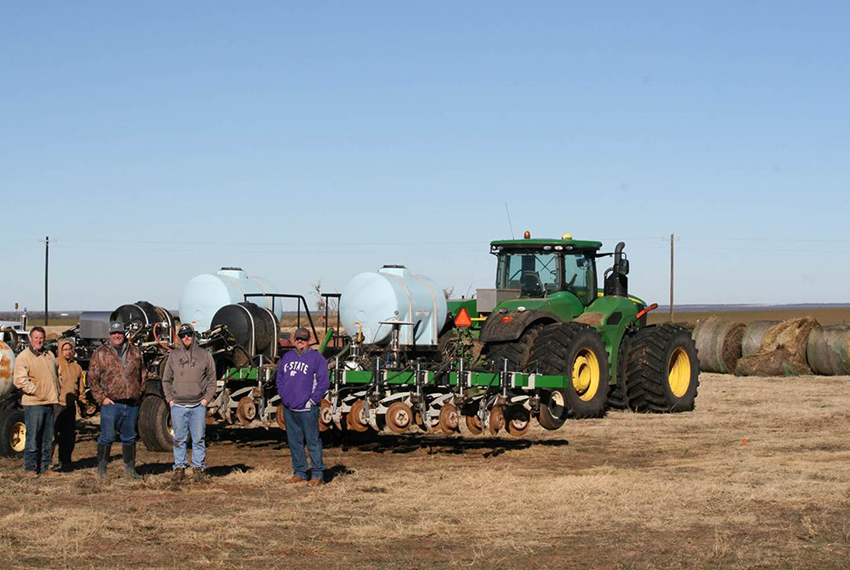 2
Let's play Football.
Guess which man is an all-state, Texas Running Back?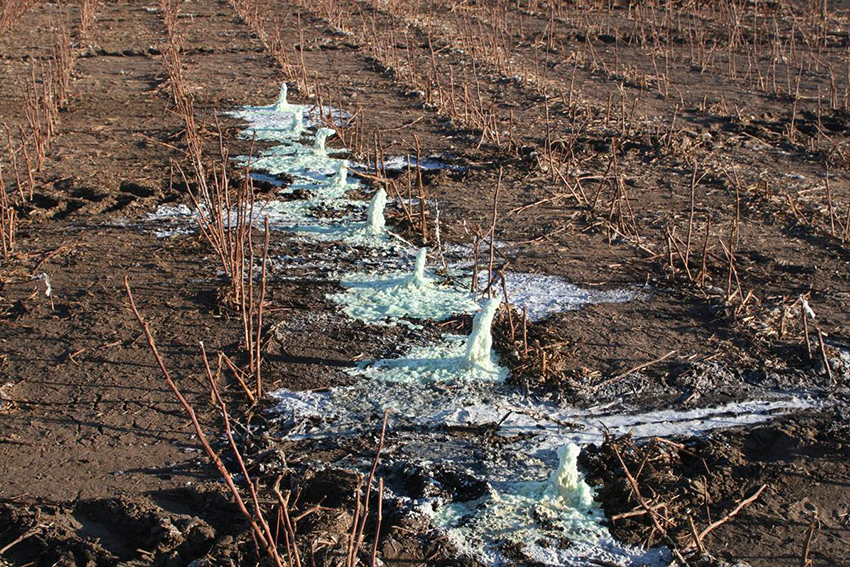 3
Cotton is in the rotation west of Munday on the sandy soil.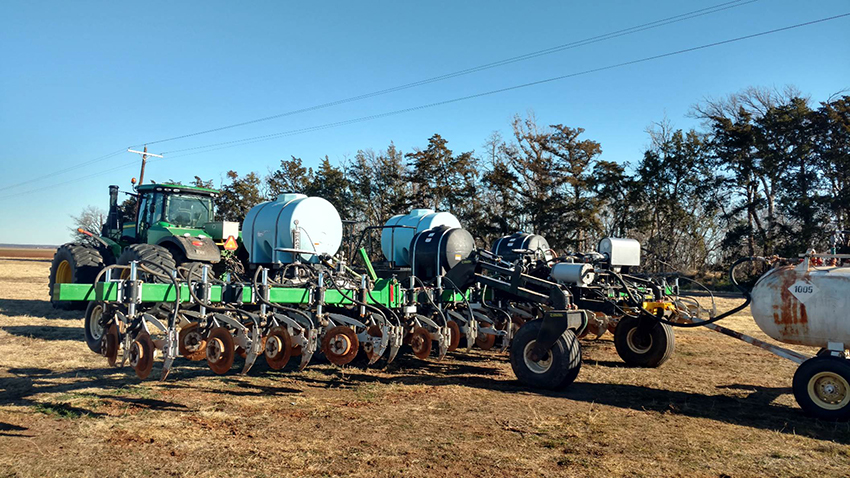 4
A 20,000 acre start for Baker Farms and Mike and son Stephen Urbanczyk.
The machine delivery was made in late July of 2018 and was ordered in December 2017 at the Colby, KS seminar.
The on-time delivery allowed August and September Pre-Plant banding 15,000 No-tillage acres. Another 5,000 No-tillage acres came in November/December following heavy rains.
Operating at 75 cents per acre on 15 inch band spacing a blade change is required. Following a blade change at 20,000 acres, the 4515 Mustang Tool Bar is ready for Side Dressing TAPPS and TAPPKTS starting in February and operating into March with pre-plant of banding for cotton using TAPPKTS.
This is about 25,000 to 30,000 acres in 8 months of No-till coverage with TAPPS and TAPPKTS. A record for a 45 foot machine.
Watch it run, See Video, Click Here.
An Exactrix Mustang model 4515 in 3 section design. 36 total openers on 15 inch centers. This is Positive Down Pressure TC Bar and lift assist.
The machine average speed based on GS-3 data indicates 10.1 mph.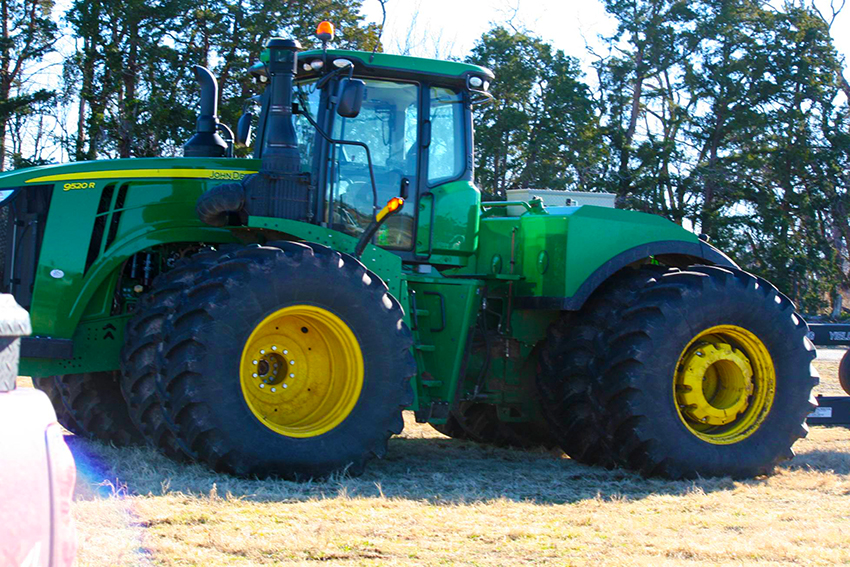 5
These Pony's are special, Like Race Horses on Oats.
This 12.1 liter engine has substantial torque rise of 38% at 1,600 rpm and at 2100 rpm a full 520 HP.
The Deere 9520 is strong and operational to 12 mph. The Bore is 5.00 and the stroke is 6.5 at 765 cu.in.
Find the engine efficiency sweet spot at 10, to 12 mph with a Brake Specific Fuel Consumption of .424 to .404 pounds per horsepower hour according to Nebraska Tests. http://digitalcommons.unl.edu/cgi/viewcontent.cgi?article=1182&context=tractormuseumlit
The long wheel base tractor has a good ride with high up time. Higher grounds speeds reduce strain on the drive train and improve tractor life.
The Deere hydraulics are designed for Pressure Compensated Load Sense Exactrix motors using ¾ lines and dump valve return from on 20 gallon SCV. One SCV will run up to three Exactrix motors in full rpm drive.
Full day fuel Consumption data is coming and expected at .4 to .5 gallons per acre.
Up to 620 HP could be required for 7.5 to 8 mph operation at 72 feet with a Triple A, 5 section, Mustang Tool Bar design.
A power axle is utilized at the cart after 65 feet to push the load when horsepower requirement goes to 750 hp.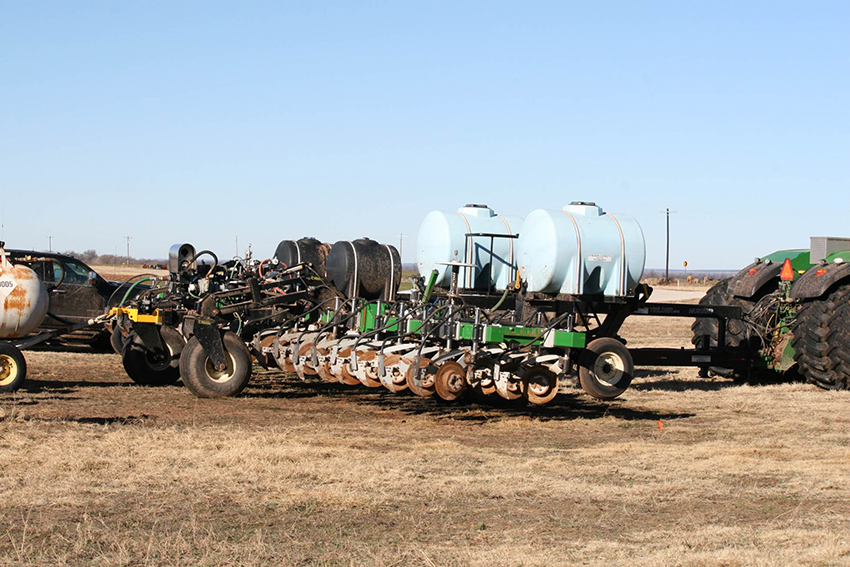 6
The TC Bar, High Quality, Three Section Mustang 7 x 7, 4515 with wing and frame buried cylinders( Qty 4) and positive down pressure with ballasting tanks.
Configurations from 10 inch to 40 inch band centers…and specialized spacing…most popular is for sure 15 inch band centers.
Every Mustang Tool bar that ships to the new owner can be changed to over 20 different configurations and extensions.
Mustang Tool Bars have high resale due to the this wide open design with a high lift tool bar in double rank.
Soil Penetration is superior in double rank over any other opener types applying TAPPS and TAPPKTS.
Binary banding for soybeans is a power play with Feralene using 3rd product 2KP systems with Tri-Flow™ injection.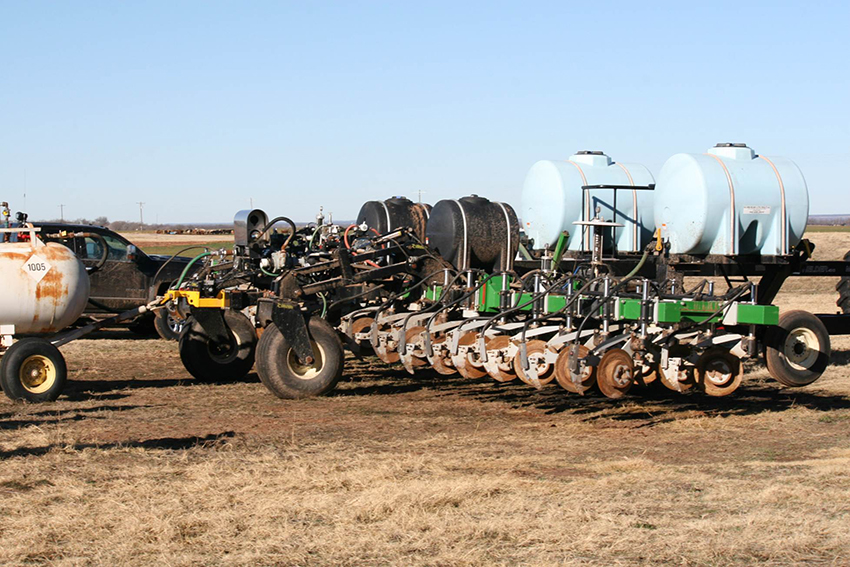 7
Lift Assist is ideal for terraces and terrain following frame.
In fact the flexible lift assist is considered absolutely critical to long machine durability.
The total frame movement to the top of the frame is from 30 inches to 66 inches.
Three feet of frame movement allows easy service and machine access.
The frame can be raised another 10 inches as shown in the picture group.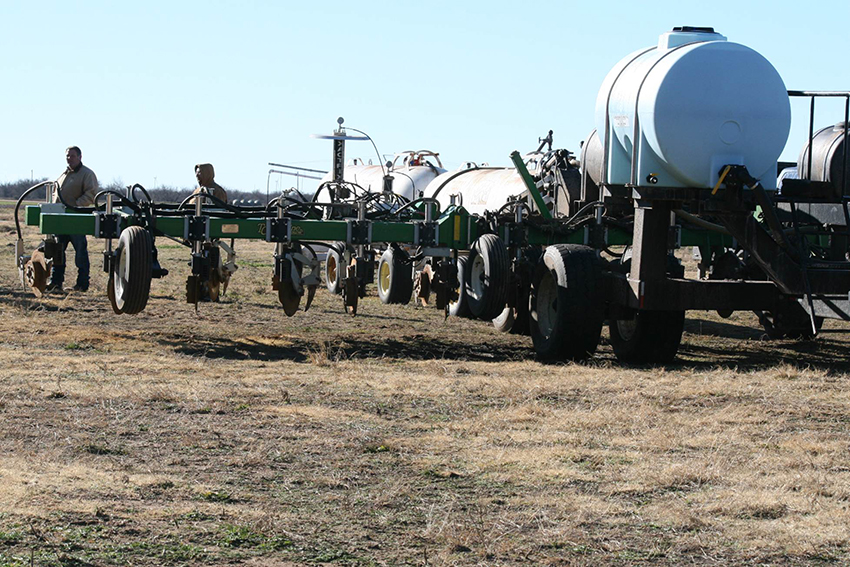 8
Munday, Texas. 1,485 feet elevation at 33°28'34.62" N 99°37'53.94" W
The landscape and the dynamics of Stocker Feeders, Exactrix TAPPS and TAPPKTS, deep banding, and No-till, allows outstanding economic performance.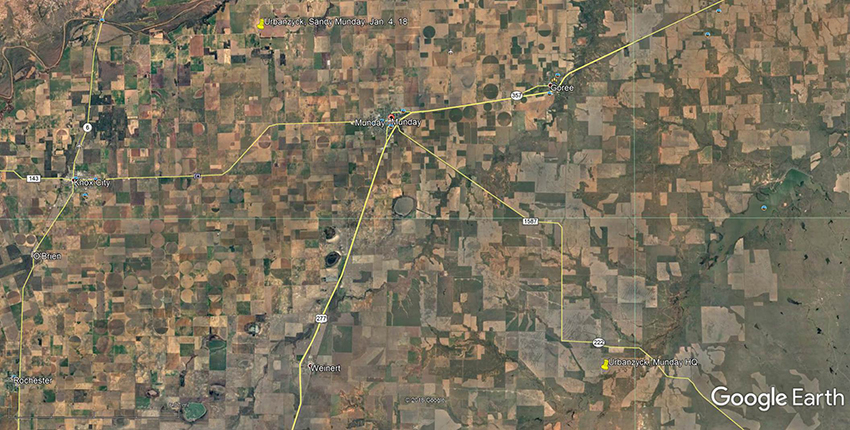 9
About 84 miles north of Abilene, Texas and within 25 miles of the 100th Meridian. A record rainfall in 2018…up to 41 inches in 3 months. Typically a 3 inch per month rainfall area.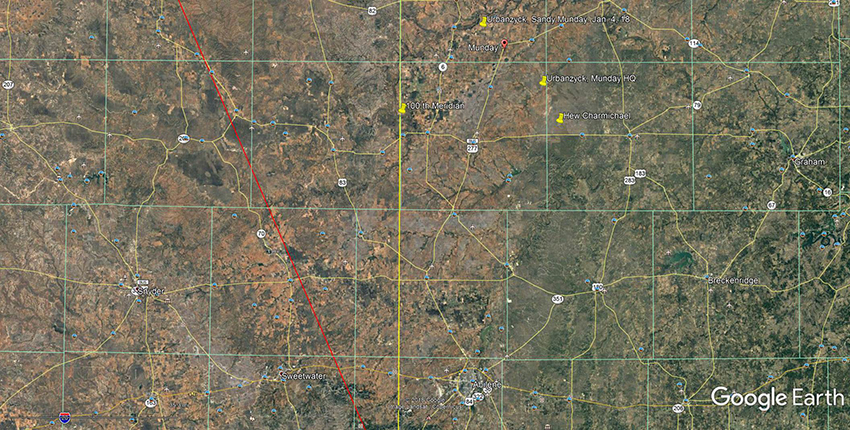 10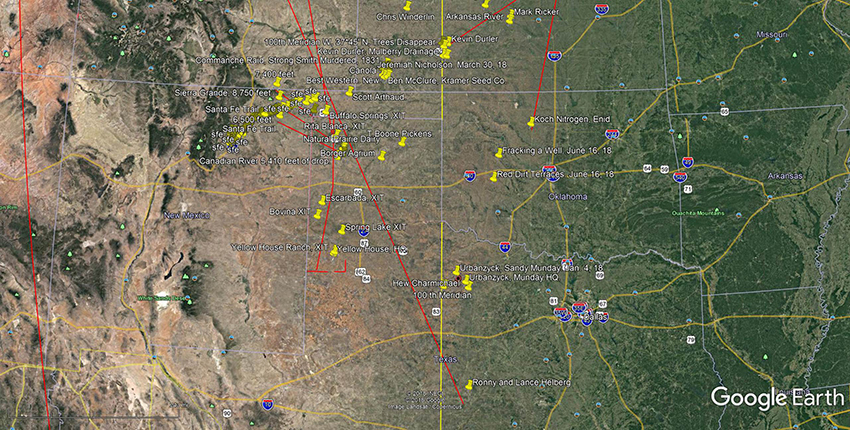 10.5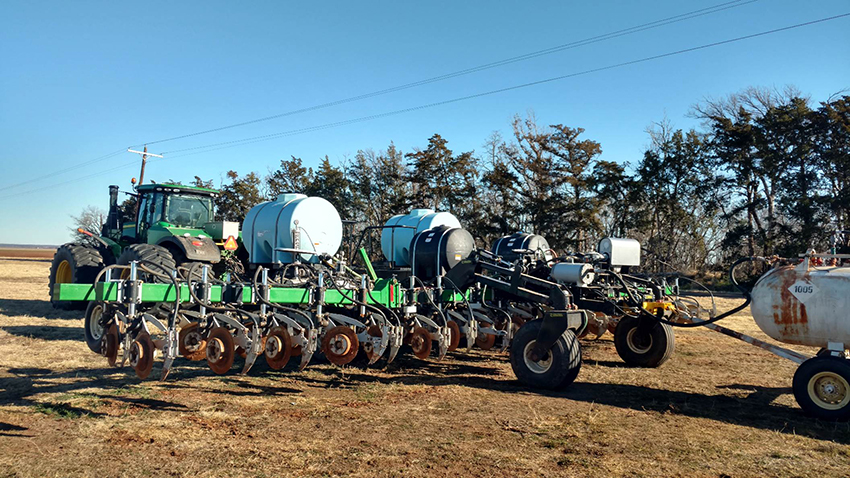 11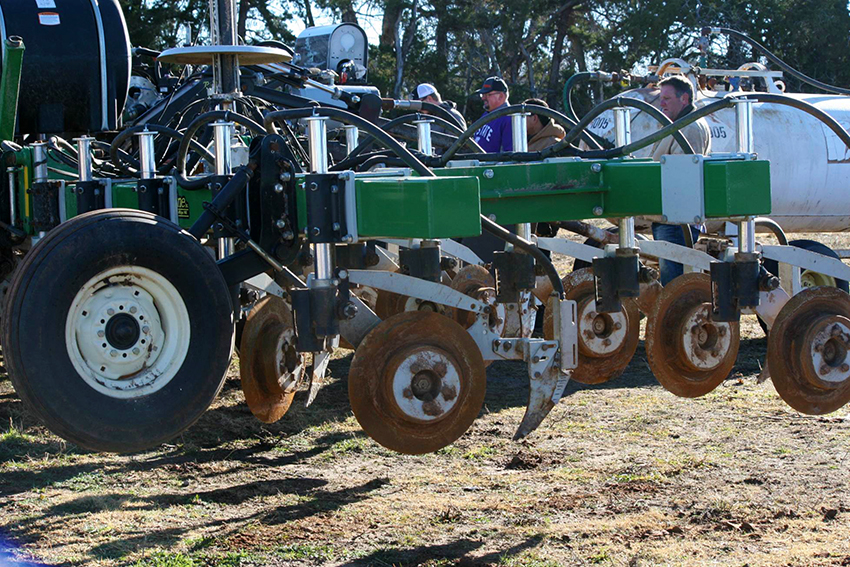 12
Exactrix® Mustang Hubs.
Rated 3,300 lb. K factor 1, Timken® Pinion Bearings with Caterpillar® Metal Face Seals and Exactrix Lubrication Purge system.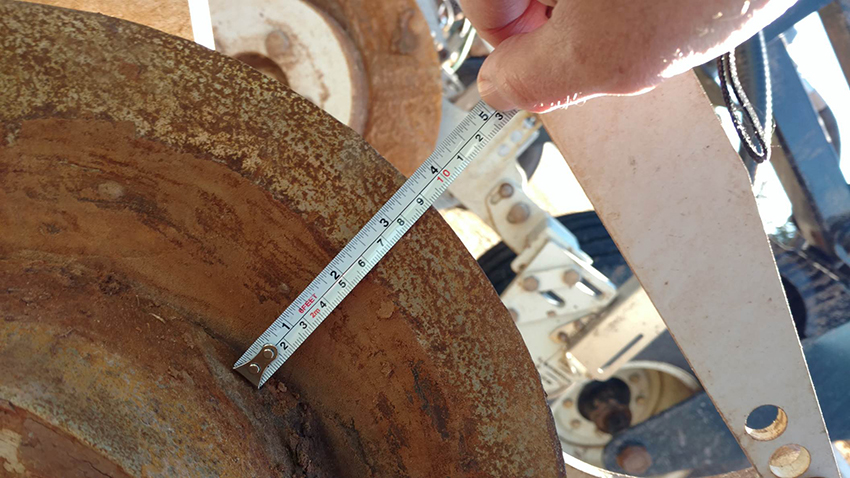 13
Time Out for a measurement. The blades started at 24 inch diameter, as a 3/8 x 24, extreme double edge, after 20,000 acres
3/8 x 17, about 75 cents per acre to operate.
This opener should have had the gyro removed at 20 inch to go to 17 inches allowing the blade to penetrate to the hub.
Reboot, Will do a reset for 30,000 acres by upgrading to a ½ inch thick x 25 inch diameter, Yielder Extreme Double edge.
The Pit Stop…..at 30,000 acres.
The blade change takes 20 to 30 minutes per opener. The injector foot is readjusted requiring 10 minutes.

Chrome Bit inserts require 10 minutes which normally run twice as long as the Yielder manganese steel blades.

Each hub is runout inspected and lubrication purged requiring 10 minutes.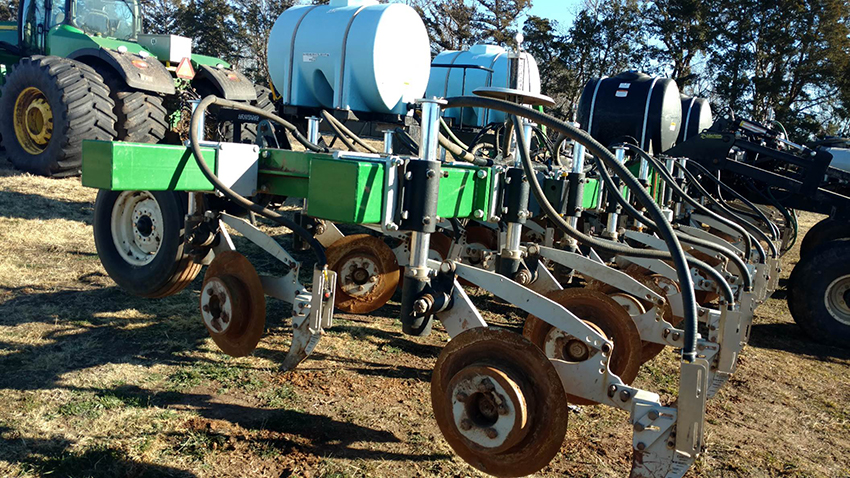 14
Ready for new blades a 20,000 acres. Banding costs at 15 inch is 75 cents per acre.
A second machine is planned for delivery in 2019.

All metering TAPPS formulator system will have a 2KR blender added for KTS.

Following testing and re-start with Six Shooter Injectors… the mid-season start up with Replaceable Chrome Bit Design to extend acres further will be implemented.

The overall goal is to extend acres to 30,000 before a blade change.

This could be a 50,000 acre machine at 45 feet before primary service when configured as a P-51CUE. The CUE weighs 100 more pounds per opener for C design, Ultra Endurance performance.

There is also a D series design for 10 inch deep banding.

A 72 foot machine set up P-51CUE can achieve 75,000 acres before primary service.

Primary service requires $350 to $500 per opener or about $18,000 at 50,000 acres for a 45 foot machine.

Blades are approximately 75 cents to $1.25 per acre depending on soils and edging. Primary Service is about .37 cents per acre.

The Yielder® manganese steel blades are produced in single edge and extreme double elliptical edge, in two thickness and 5 diameters.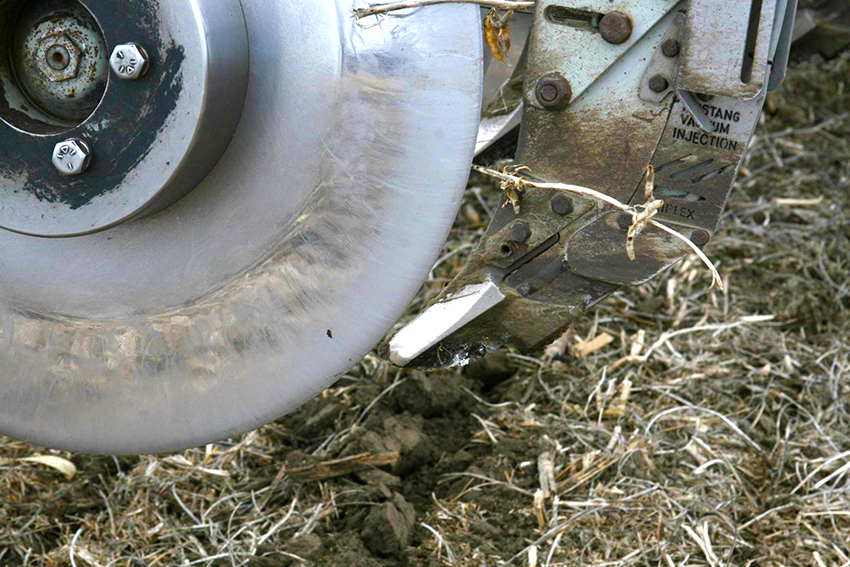 15
Replaceable Bit with press in TIO allows more life and quick changes. Has higher initial investment but lower operating cost per acre.
Is Exactrix TAPPS deep banding worth the money?
Single disc Mustang, deep banding designs outperform shanks in this rotation by $150 to $300 per acre annually The seed bed preservation and even percolation of the soil moisture is worth multi-millions of dollars over a farming career.
The Legacy of productive land remains or is improved.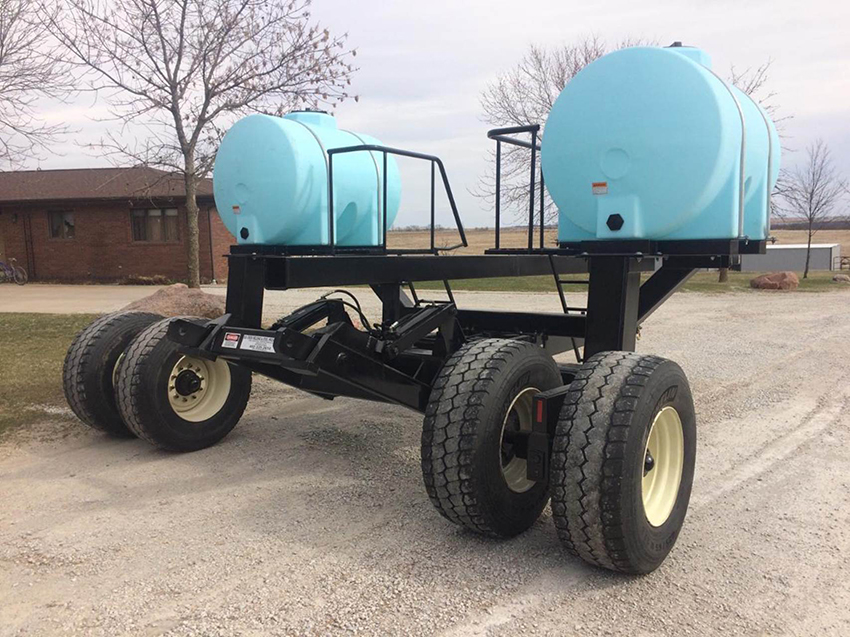 16
The Caddy Cart design allows two approaches to carrying liquid loads. The Mustang tool bar can be directly mounted to the tractor in semi-mount with tractor liquid tanks. A two point mount is flexible allowing a Caddy Cart to be used.
A second choice for big acres is to utilize a towed implement design Caddy Cart with or without tractor liquid tanks.
The twin 500 gallon Caddy Cart can be expanded with an additional 1,000 gallons of capacity. The Caddy capacity is 40,000 to 45,000 lbs.
Some producers prefer a high quality ride for the weighted tractor and thus liquid tanks are not always mounted. Caddy carts allow two different tractors, a rental replacement tractor or a new advance test tractor can to be used in a quick change.
A steering track type Caddy Cart is also available.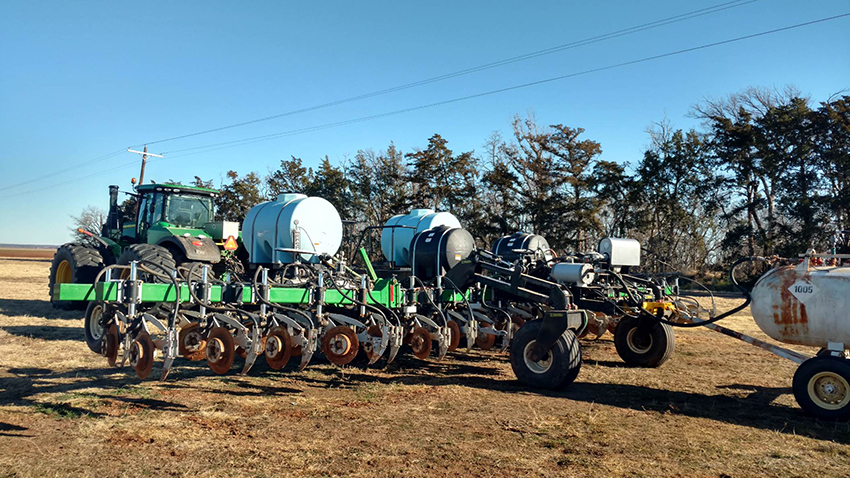 17
Banding into Growing Wheat, following Heavy rains with high yield potential. Another pass is coming up in February 2019 following record rainfall.
Stocker Feeders get a jump start with Exactrix TAPPS and TAPPKTS banded in to the 7 to 8 inch depth.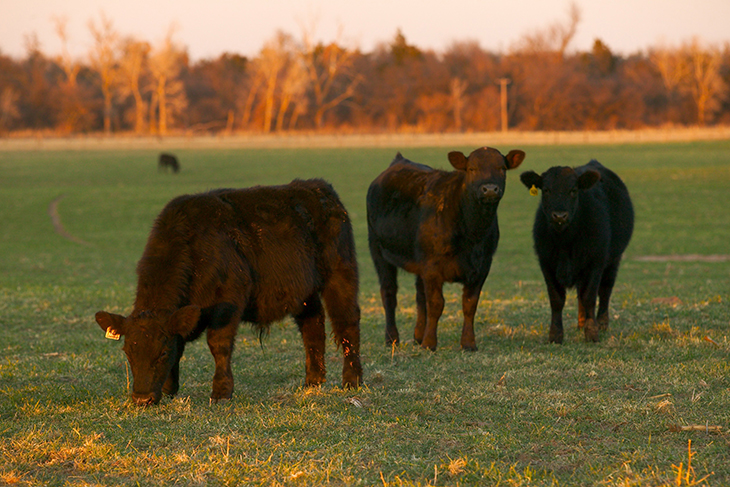 20
---
Liberal, KS, Keating Tractor.
21
Model, 8320R tractor, Model 3015, Rental Tool Bar. 5,500 acres line up around 6 counties in SW Kansas.
A second 3015 is ready about

March 1

at Shelton, NE.

Keating tractor handles Exactrix Mustang opener parts.

The 1,000 gallon, Elk Creek Caddy is utilized with Rental Tractor set up with no tanks.

A very advanced tool bar by TC. This is a Positive Down Pressure Tool Bar with ballast tanks or third product KTS.

Banding TAPPS and TAPPKTS Deep in SW Kansas to 7 to 8 inch depth.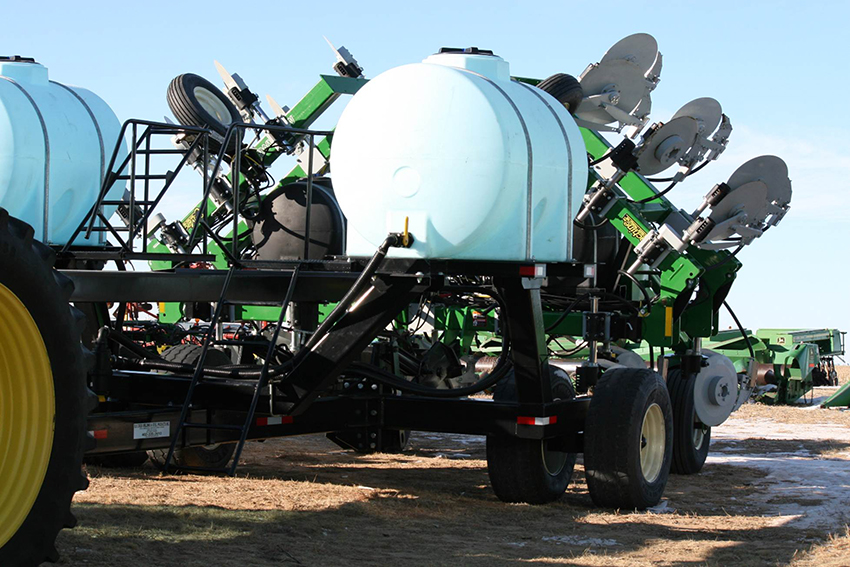 22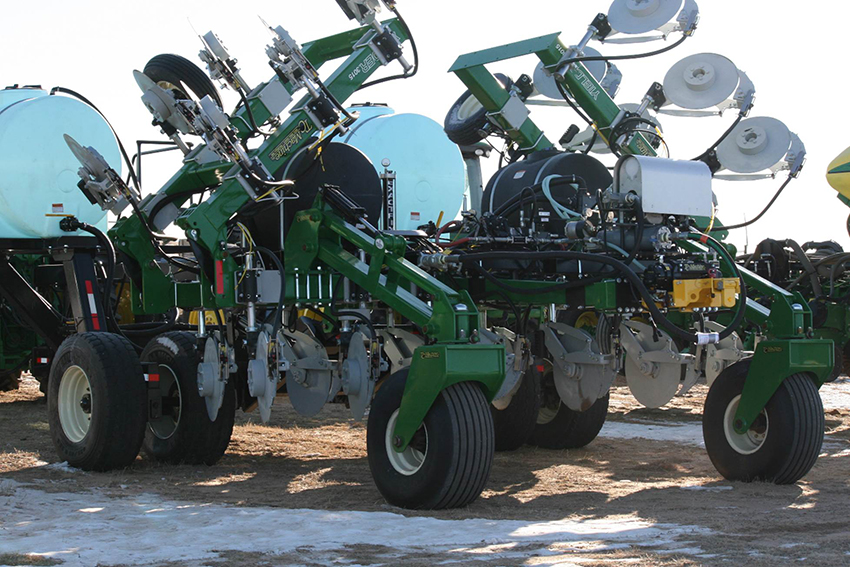 23
Exactrix will install a 2KP, Looking Glass System in May for 3rd product injection in Tri-Flow™ and Iron Chlorosis testing in Soybeans.
Iron Chlorosis is a yield limiting factor in Soybeans in SW Kansas.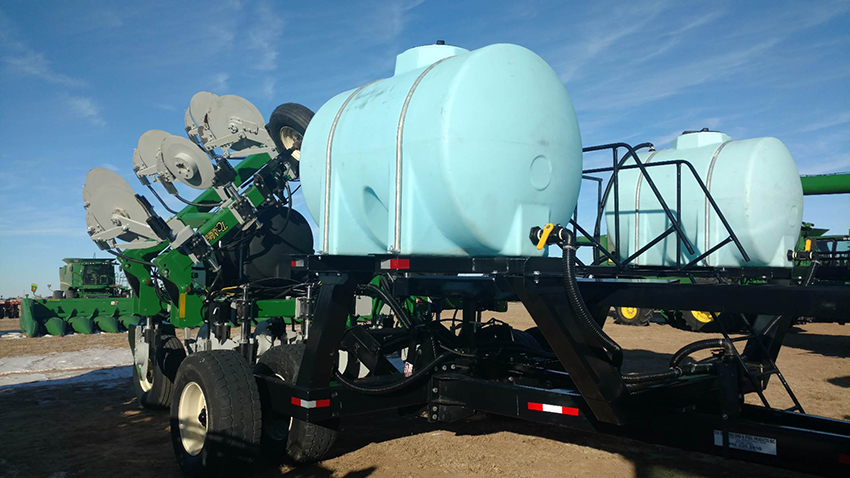 24
Capable of 45,000 lb. loads at speeds to 12 mph in the field and roading speeds compatible with the tractor.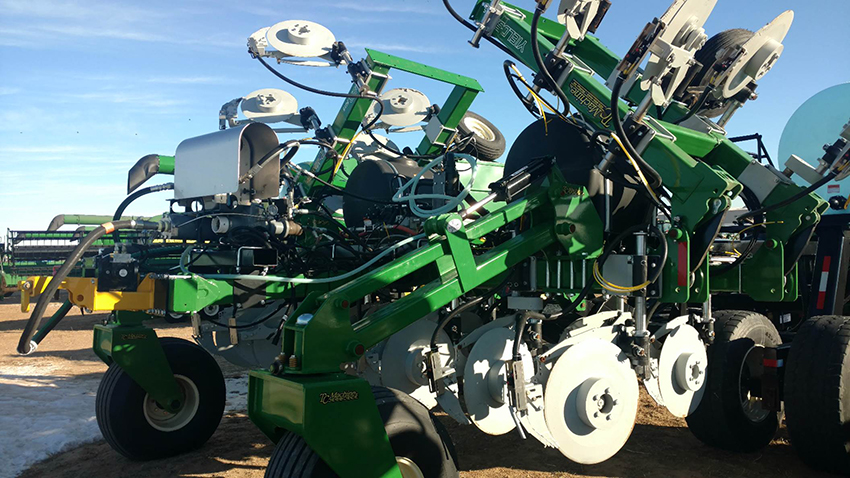 25
Mustang banding, TAPPS Formulator and TAPPKTS Formulator. Third Product, Feralene, Iron Chlorosis in high pH and depleted soils of the Great Plains.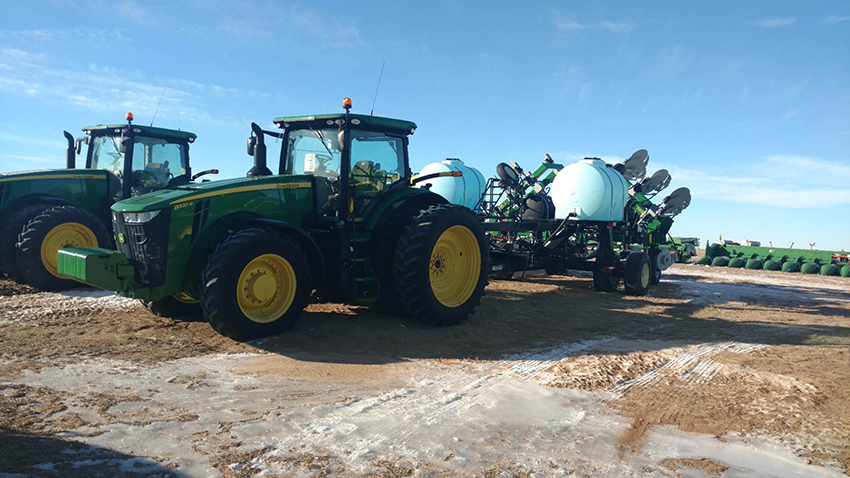 26
Mustang banding, TAPPS Formulator and TAPPKTS Formulator. Third Product, Feralene, Iron Chlorosis in high pH and depleted soils of the Great Plains
---
From the Heart of Texas.
Brady,Texas.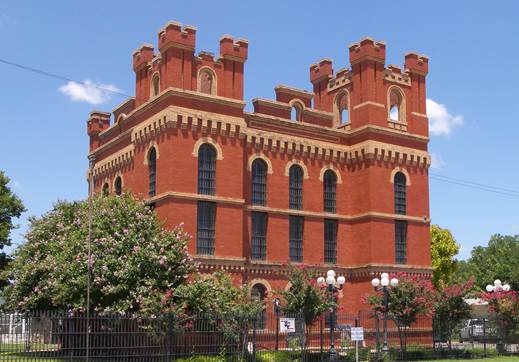 27
At Brady, Texas, A powerful jailhouse for hanging events.
Built in 1910 and the design is common in Texas, the Sheriff and his family lived in the Jail.
Like Tom White did in his youth and prior to the beginnings of the FBI, "Killers of the Flower Moon."
Families were raised at the Sherriff's house of retention and terminal events.
What is known as the Old McCulloch County Jail is actually the second structure to serve as the county jail. The first jail was built soon after the county's 1876 official organization, the structure having been completed in 1878. The construction on the first jail proved to be of poor quality, and McCulloch's prisoners were eventually incarcerated in Mason and San Saba.
A new facility was approved by the Commissioner's Court in 1908, and completed in 1910 at a cost of $14,418.75. Construction of the three-story, red brick Richardson Romanesque facility was done by Southern Structural Steel Company of San Antonio.
The second floor housed the prisoners, while the first floor served as living quarters for the sheriff and his family, or for the deputies.
The third floor consists of twin towers. The underside of the third floor had a hanging ring, with a second floor trap door to facilitate death by hanging. In both 1936 and 1938, Brady Creek (San Saba River) overflowed its banks and caused the living quarters to be flooded. When the county decided to build a newer facility in 1974, this jail became known as the Old McCulloch County Jail.
https://en.wikipedia.org/wiki/Old_McCulloch_County_Jail
It has been a while since the Governor called to intervene at Brady.
Looks like 3 phase power at the 2nd Brady Jail House.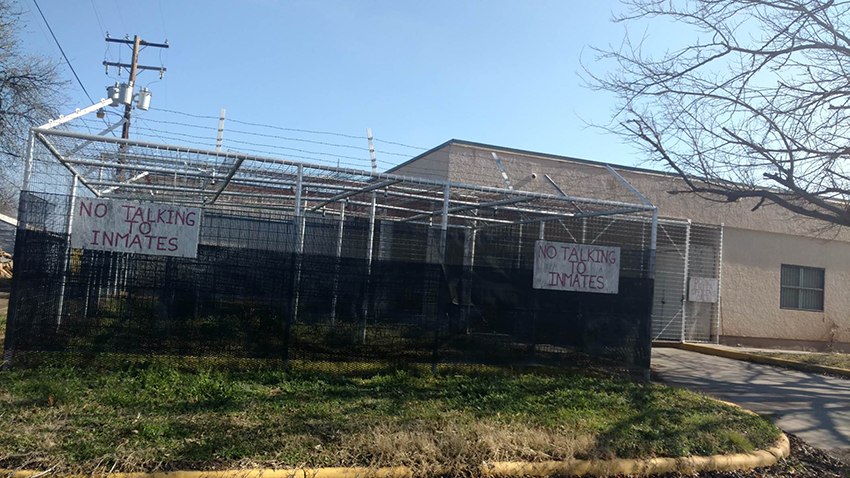 28
The Second and more modern Brady Jail. The Third or New Jail is under construction.
No recent "Hanging Events' were available for review. We think Edison was right, Alternating Current will kill people.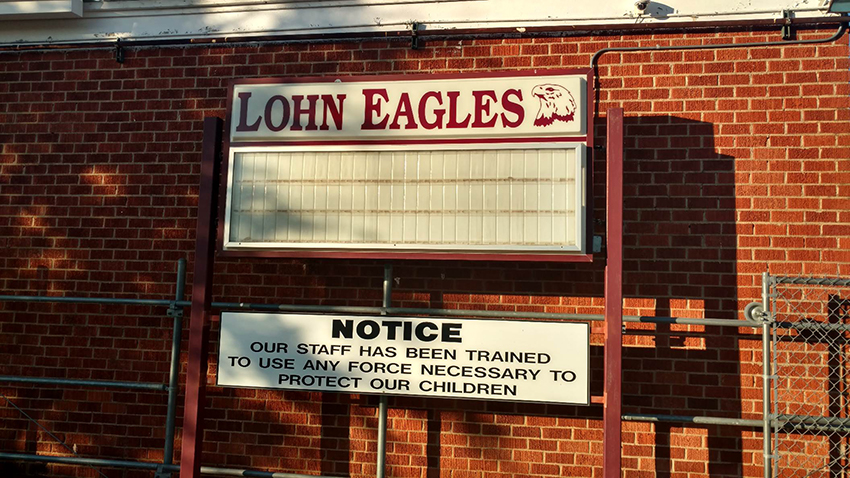 29
Home of Six Man Football. Lohn, Texas….exactly in the center of Texas.
The Heart of Texas is about 5 miles away.
Strong and Powerful and the Helberg family are good stewards of the land at Lohn, Texas.
A powerful little town in Texas with good people dating to 1876 with incorporation as part of McCulloch county on the Texas Trail.
Exactrix 2KM Mass Flow. Exactrix TAPPS Formulator, Exactrix 2KC Series 3, Weigh Master.
---
Your Great Plains Reporter.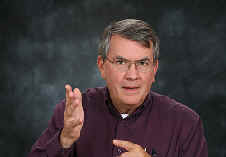 Guy Swanson.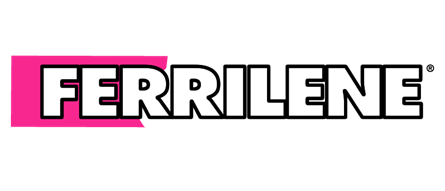 Plant Beans on Top of the Binary Band of TAPPKTS and Ferrilene®
Dramatic Results on soil pH to 7.5 to 9 pH.
Ferrilene works every time with Exactrix Binary Banding of Soybeans with TAPPKTS.
Check out all our broadcasts..Click Here
---
Frontier Farming Days
Hugoton, KS, Thursday, Feb 14 and Friday, Feb 15, 2019
No-Till Advanced Demonstrations and Seminars.
Meet your peers and supporters of advanced farming technology.
Share information on reduced production costs with yield enhancement.
Find the "Mortgage Lifter", a dynamic shift in your profitability.
Meet the bankers that will finance your change to profitability.
Cotton Nutrients reviewed with biological inputs and SRS.
Making another $150 per irrigated Corn acre with a simple change.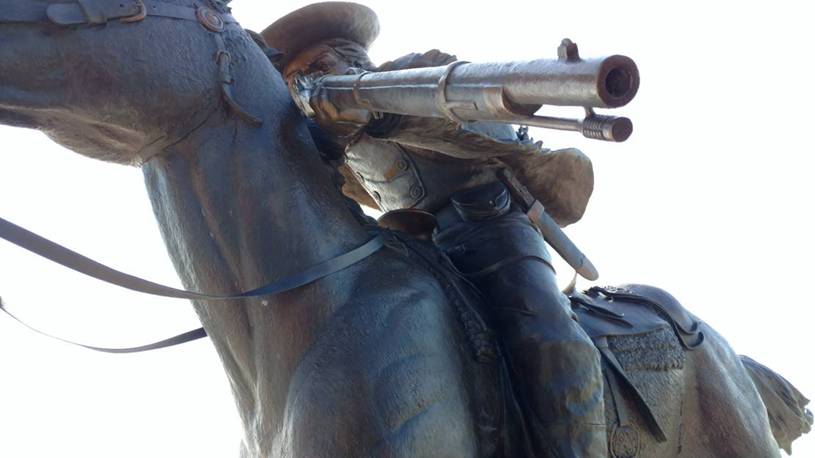 1
Designed specifically for Advanced No-till farmers.
Stay on the mark at Hugoton.
We guarantee your learning satisfaction. Two key points, Less Fertilizer, Less Seed.

Hands on with the most advanced equipment and genetics.

Shoulder to shoulder with the bankers, the scientists, and the engineers

.

Scientists and producers will confirm your chances for placing a good bet.

TAPPS, TAPPKTS, Ferrilene Nutrient Management under No-till using single disc openers and SRS injection.
Running in the field with new and advanced designs…you can feel the cloth.
Pick your day….or come for 2 days…with a rotation of advanced speakers and technologists.
Each Day is different.
A chance to test application machinery, your peers and the scientists that lead in No-tillage nutrient application.
Hugoton Golf Course at the Airport. Shuttle available. Thursday

Feb. 14 seminar and field demonstrations.

Hugoton Golf Course at the Airport. Shuttle available. Friday Feb 15

seminar and field demonstrations.

A bargain at $550 for two days and includes lunches, personalized training, skill development, and technical papers.

Early registration saves $200 extended thru Jan. 28, 18.

January 5

to 15 2019 Registration is recommended for family groups.

Rooms available at $85.00 to $95.00 per night at the Best Western in Hugoton.

If you need complete registration information, Speakers and Itinerary contact Exactrix.
Contact Exactrix Global Systems.
509-995-1879 or 509-535-9925
e-mail:exactrix@exactrix.com
---
---