It is the Farm Economy Stupid, Why single disc.
Yield Punch, advanced information on Exactrix. Video of Exactrix.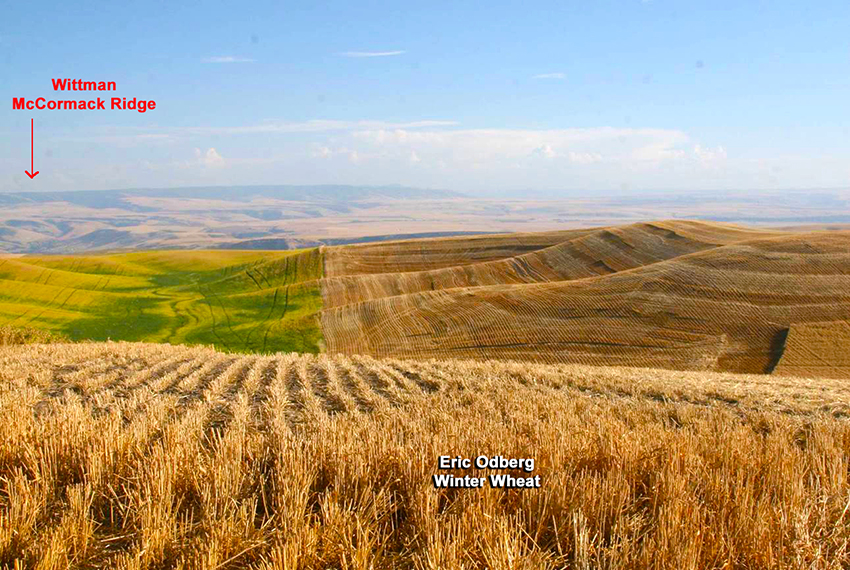 1
A high yield environment with yields never before attained and thanks to Exactrix, the No-till practice and top notch operators.
Hey Stupid….It is the farm economy that allows machinery and genetic technology to increase the margin and make a lot more money.
When the margin gets close you need a production system that works at the lowest cost. Your banker knows that for sure….you only get to borrow so much money.
Positive Thinking and No-till made it happen….Being able to climb straight up steep slopes takes less nutrient, takes less time, less wear and tear, and allows VRT-Site Specific to be effective. Just like on Kansas terraces single disc drills are superior.
.
This drive straight technology with single disc keeps the moisture going in the ground where it falls in the PNW and the Great Plains. You can get arrested for not driving straight in Kansas.
Thus the yield punch of No-till is directly related to technique of single disc openers applying nutrients regardless of slope angle. Moisture must enter the soil where it falls from the atmosphere. It is scientifically called In-Situ or In-Place. That raindrop belongs at one location before it heads out of sight and destined for the plant roots and grain production.
Single Disc Deep Banding Openers change the No-till scenario in the second pass….allowing vermiculated bands and 8 inch depths raising yield potential with less nutrient.
The best nitrogen stabilization occurs when bands go deep with TAPPS and TAPPKTS. Out of the oxygen rich zone and away from the nitro-bacteria area.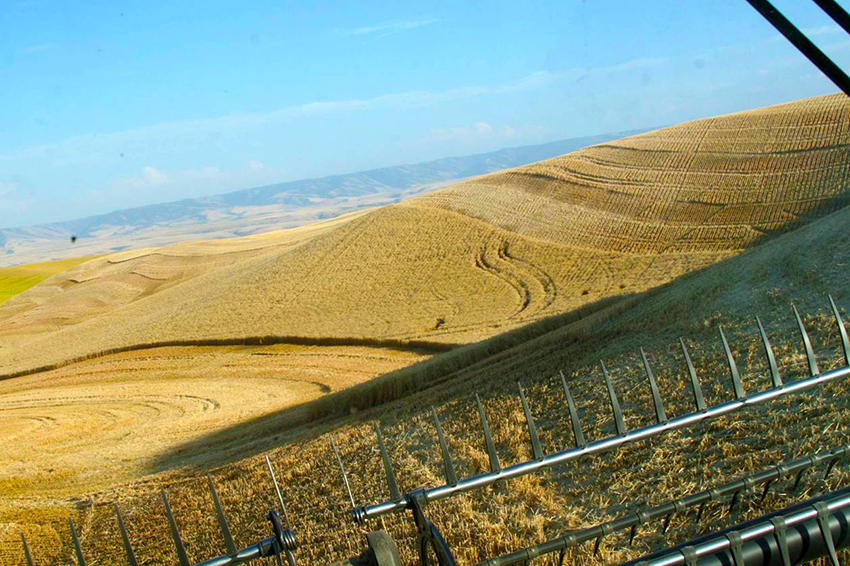 1.1
An oversize tractor with an undersized drill. As Mort Said, "Son, Horsepower is cheap." Drive Straight, Make Money and Use Less. Genesee, Idaho, Eric Odberg on top of the world.
What about Mid-Row Banding, MRB nutrients, How can the technique work better? Why are shank openers from Case Flexicoil Stealth not a likely option?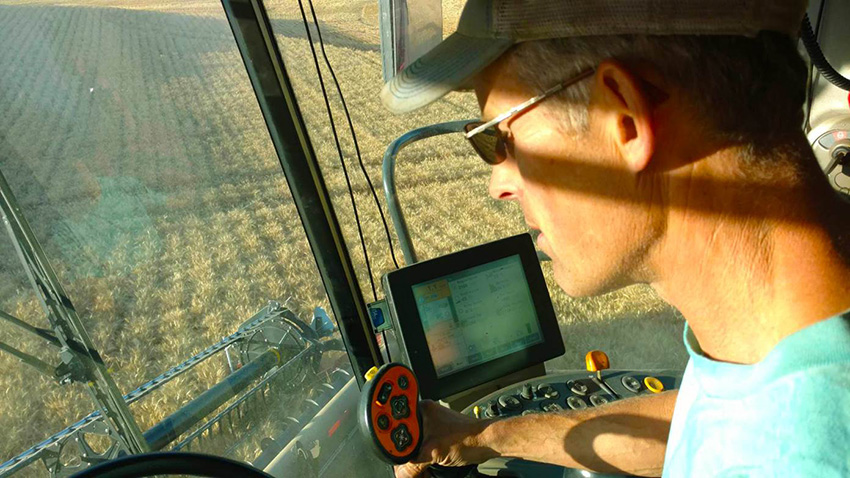 1.2
Yes Sir Big Yields and Less Nutrients…It is the Yield Punch that Exactrix TAPPS and TAPPKTS delivers…..and it just takes less money with Low 1% CV application and crystal chemistry.
Eric states, " Guy, over 15 years of Exactrix TAPPS I have made conservatively speaking 60 to 100 more net dollars per acre as compared to old fashioned approaches with NH3, 46-0-0, 32-0-0. Just in cost reductions alone we see less risk and chance to get very high yields."
Eric further states, "As you see we have some of best yields I have ever harvested on this farm. It is rotation of 5 crops, genetics and Exactrix TAPPS in No-till that helps me grow."
The New Chapter, Producers on the Great Plains. The MRB technique is acceptable but a lost business opportunity in the PNW. Banding deep 7 to 8 inches, is the key in the winter rainfall pattern. Dry summers are coming in July and August. Moisture must be stored in the soil and roots must find nutrients fast without the help of rain.

Eric Odberg and I were discussing today Jan. 9, 2019, the advantages of Single Disc Seeding and 7 to 8 inch TAPPS and TAPPKTS Deep Banding Mustangs and why fall banding is always better. Fall banding has the advantage of snow and "Ammonium Droop" of the band. The slow perk of melting snow into the soil is powerful and mellows the stabilized TAPPS band…
Only in North America, "We have got it….and they don't,
North America has Snow and Anhydrous Ammonia producing the exclusive Ammonium Droop (Ammonium Hydroxide Stabilized)." Exactrix TAPPS and TAPPKTS with Ammonium Droop creating a competitive edge of Anhydrous Ammonia in raising bumper crops. This is exactly why Nitrate, 32-0-0 can never compete with Anhydrous Ammonia in cost and performance.
Big acre producers….need machine durability to make a seeding event happen in true No-till, a yield punch is secondary….the Bourgault owners have good results with Exactrix TAPPS and TAPPKTS in Alberta.
Some Bourgault 3720 air-seeders do not have Mid Row banding capability…..and Banding maybe carried out by an SDX on 10 or 12 inch centers in a separate pass.

This is only a clarification of Class 1 and Class 3 single pass drills….Class 5 being a Yielder.
Your highly visible, Deere 1895 Class 1 machine is the most popular machine on the Great Plains with about 85% of the market. Case is struggling having been a laggard in single disc development. Too much Flexicoil in the Case bloodstream and no product champion.
Case shank seeders from Flexicoil has set Case back on the terraced fields of the Great Plains. Produces on the Great Plains like to drive straight and save about 30% of their inputs.
The Bourgault 3720 needs a significant yield advantage to justify the machine in PNW.
10 tips and hints…for banding on steep slopes included. http://exactrix.com/Broadcast_11_08_2017.html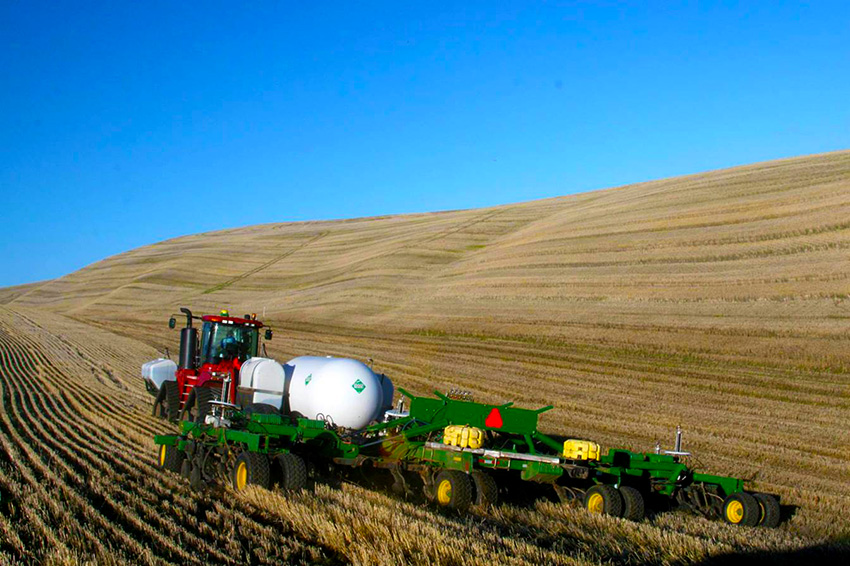 1.3
If you would consider a 15 inch band center, 7.5 machine, it should only be implemented for grazing or raising Teff.
Maybe Flax would be considered for small grain crops that do not tiller. A 10 inch MRB Deere or Bourgault drill is an excellent choice. If you need to seed Flax or Alfalfa it is more functional to seed it twice and get a 5 inch stand. These specialty crops need 5 inch spacing not 7.5 inch. Plus their timing requirement is most likely better with drill passes and a review of the crop as it is emerges. Auto Steer allows an offset of the machine in a second pass to obtain a 5 inch spacing.
Don't waste your money on 7.5 inch drills when it is 5 inch that you need.
Deere owners have successful implemented 9 inch spacing. Producers can easily modify to 9 inch seeding and 18 inch banding (8.66 seeding and 17.33 banding) is acceptable in the PNW with Deere 1895. There is simply too much machinery on 7.5 inch with MRB machines. Rebuilding a 10 inch MRB machine is difficult enough.
In other words a 7.5 inch machine is a good waste of money as it can bring negative returns in winter wheat. A 9 inch or 10 inch machine is acceptable for service and operation. It is true that 20 inch band centers are extremely powerful for phosphate efficiency and nitrogen stabilization as compared to 15 inch.
No seed row Phosphate is required on 5/15 paired row. In fact Seed Row Phosphate can hurt yields in dryland as compared to all nutrients placed deep in the PNW and even the Great Plains. Seed row Phosphate is a negative for sure when it comes to getting the job done.
You may suspect or have wondered if you can modify this machine to do paired Row 5/15 and you would have a consistent yield advantage of 15% to 30% in wheat and barley when using TAPPS and TAPPKTS and about 30% of nutrient can be eliminated as a result.
1.4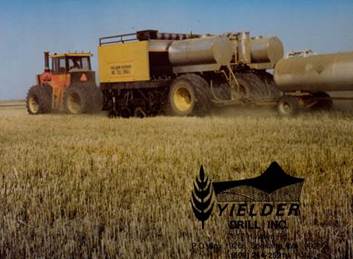 1.5
The target for nutrient efficiency and top yields is Yielder® Paired Row using NH3 in May of 1983. In fact applications of NH3 in Yielder® Paired Row are well documented in STEEP data for the high yield environment and down to the 25 bushel per acre range in drought stress.
Today Yielder® Paired Row in combination with Mustang Deep Banding at 1% CV takes yields into the next chapter through 2050. No known yield compromise and maximum flexibility with nutrients.
You should follow the pattern of the opener design for applying Exactrix TAPPS and TAPPKTS perfected by SHB in the enclosed video.
If you concerned about root burning as the 1895 machine turns….you can consider low rates of Exactrix uniform NH3, such as 40 to 60 lbs. N per acre as NH3…..followed by Mustang 8 inch vermiculated Banding in moist soil.
Following a 2 pass criteria, Mustang Banding of Exactrix® TAPPS and TAPPKTS is absolutely superior for top yields in dry summer conditions. Plus Mustang Tool Bars can band early in Chemfallow and well ahead of seeding. A June application with No-tillage is ideal for Mid to Low Rainfall patterns of the PNW.
Banding deep and running fast at 12 mph with lots of horsepower allows No-tillage to save dollars and get top performance of nutrients and yields.
Exactrix banding costs are $1.25 per acre for wear parts going to 8 inch depths…..so banding with Mustangs is highly economical….and runs cheap over massive acres and much like a sprayer in operating costs.
Thus Exactrix Deep banding cost is about 20% of the Deere 2510 at 4 to 5 inch banding. Exactrix Banding is 1/5 the cost of Deere Banding.
Exactrix pioneered Vermiculated TAPPS Bands at 7 to 8 inch depths on the Great Plains….this is highly effective and allows planting directly on top of the bands.
You will note that this Vermiculated 8 inch design has provided significant yield and margin improvements of TAPPKTS application on sandy loam soils. Seed row fertilizer is never used on the Great Plains when nutrients are vermiculated and the singulation planter can plant expensive seed directly on top of the bands.
Plants with initially weak root systems (seed corn, soybeans, sunflower) need fertilizer much deeper to colonize the more consistent area of the profile. Planting on top of Exactrix Mustang bands of TAPPS and TAPPKTS with Ferrilene® makes sense.
Here is a pretty good video…….https://www.youtube.com/watch?v=XVfwqL_bXKw&feature=youtu.be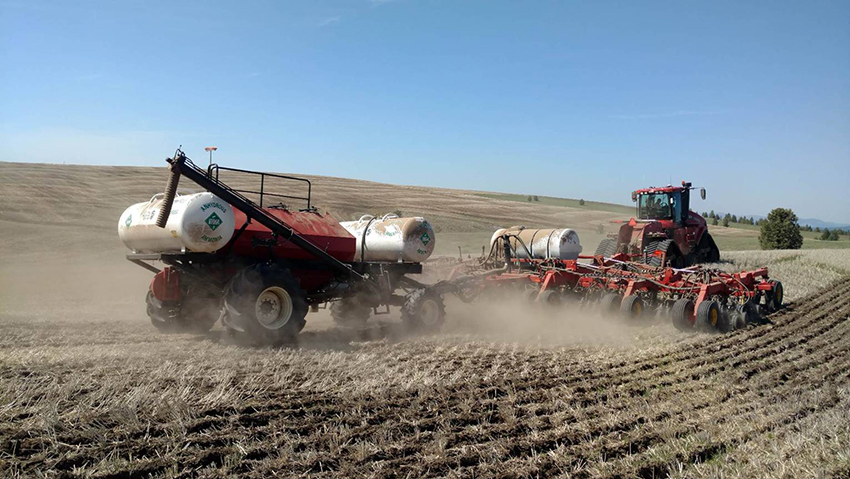 2
Bourgault 3710, Spokane River Flood Plain of the Great Missoula Floods, SHB May, 2018.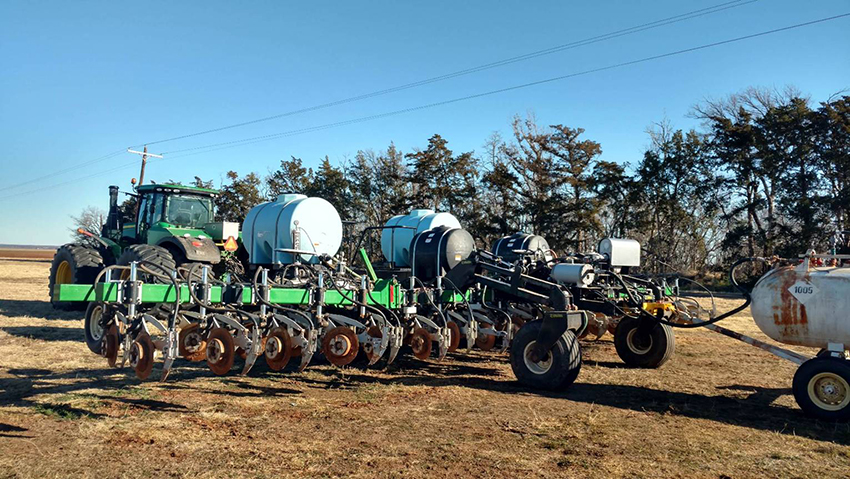 3
Munday, Texas, January 4, 19, Baker Farms, Mike and Steven Urbanczyk, TAPPS and TAPPKTS, Mustang Banding into growing wheat with a Mustang TC, 4510 at Vermiculated depths of 8 inches.
"I like it….fill up my cup…… and do it no-till in the deck where nutrients meet the rooting horizon for immediate and long term uptake of expensive nutrients."
---
---
EXACTRIX, Rated in the top ten agricultural websites in North America.
For producers who want to learn more about increasing crop production, we provide some good answers in the Exactrix library.
EXACTRIX GLOBAL SYSTEMS makes the news See Video
EXACTRIX LINKS
· Meeting your formulation needs. http://www.exactrix.com/TF.htm
· Need more information on advanced crop production. www.exactrix.com/EWAC.htm
· Picking your metering systems. http://www.exactrix.com/EPM.htm
· Click HERE to read more about the Deere Exactrix Wing Injection System
| | | |
| --- | --- | --- |
| 6 | 7 | 8 |
| Start Ski Season Early in North Dakota | USDA-ARS, Single Disc Tool Bar at Walla Walla. | Schmit Brothers, Osmond, Neb |
---
Your Great Plains Reporter.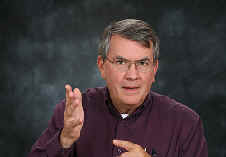 Guy Swanson.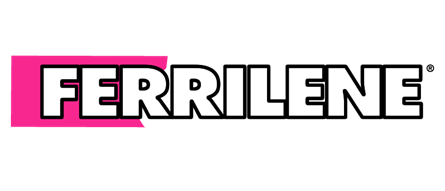 Plant Beans on Top of the Binary Band of TAPPKTS and Ferrilene®
Dramatic Results on soil pH to 7.5 to 9 pH.
Ferrilene works every time with Exactrix Binary Banding of Soybeans with TAPPKTS.
Check out all our broadcasts..Click Here
---
Frontier Farming Days
Hugoton, KS, Thursday, Feb 14 and Friday, Feb 15, 2019
No-Till Advanced Demonstrations and Seminars.
Meet your peers and supporters of advanced farming technology.
Share information on reduced production costs with yield enhancement.
Find the "Mortgage Lifter", a dynamic shift in your profitability.
Meet the bankers that will finance your change to profitability.
Cotton Nutrients reviewed with biological inputs and SRS.
Making another $150 per irrigated Corn acre with a simple change.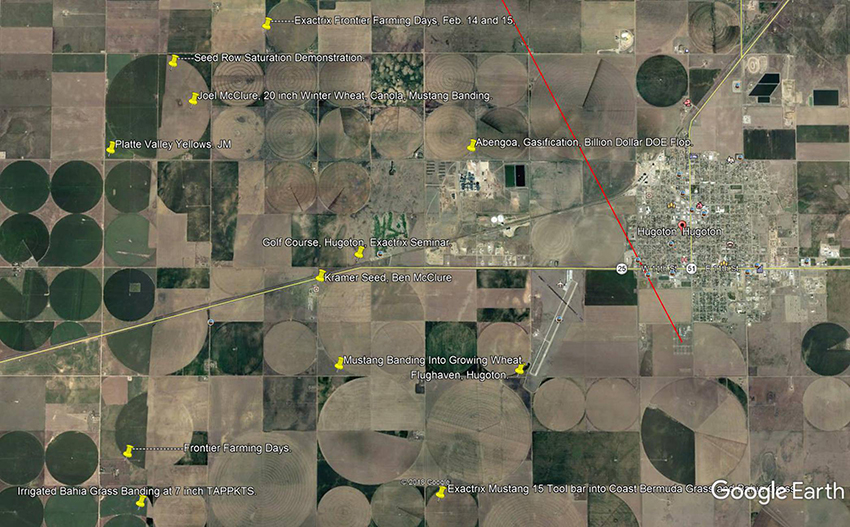 9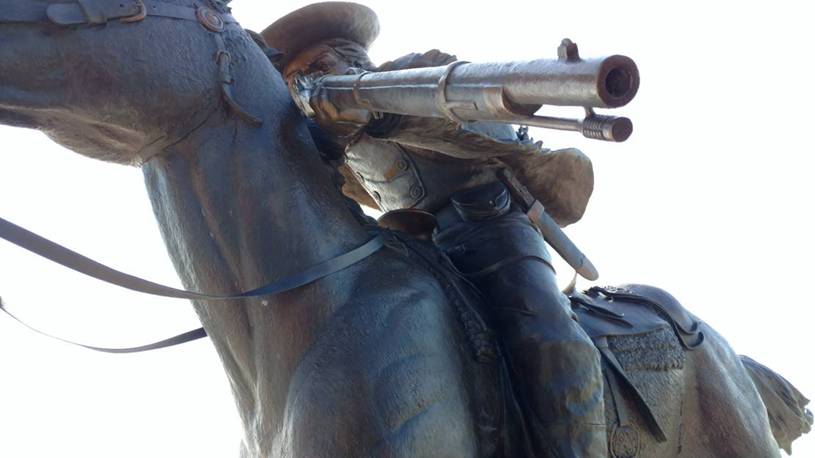 10
Designed specifically for Advanced No-till farmers.
Stay on the mark at Hugoton.
We guarantee your learning satisfaction. Two key points, Less Fertilizer, Less Seed.

Hands on with the most advanced equipment and genetics.

Shoulder to shoulder with the bankers, the scientists, and the engineers

.

Scientists and producers will confirm your chances for placing a good bet.

TAPPS, TAPPKTS, Ferrilene Nutrient Management under No-till using single disc openers and SRS injection.
Running in the field with new and advanced designs…you can feel the cloth.
Pick your day….or come for 2 days…with a rotation of advanced speakers and technologists.
Each Day is different.
A chance to test application machinery, your peers and the scientists that lead in No-tillage nutrient application.
Hugoton Golf Course at the Airport. Shuttle available. Thursday

Feb. 14 seminar and field demonstrations.

Hugoton Golf Course at the Airport. Shuttle available. Friday Feb 15

seminar and field demonstrations.

A bargain at $550 for two days and includes lunches, personalized training, skill development, and technical papers.

Early registration saves $200 extended thru Jan. 28, 18.

January 5

to 15 2019 Registration is recommended for family groups.

Rooms available at $85.00 to $95.00 per night at the Best Western in Hugoton.

If you need complete registration information, Speakers and Itinerary contact Exactrix.
Contact Exactrix Global Systems.
509-995-1879 or 509-535-9925
e-mail:exactrix@exactrix.com
---
---