Reviewing Continental Manifolds and typical NH3 application systems that might be used on a 20 inch band spacing Deere MRB 1895.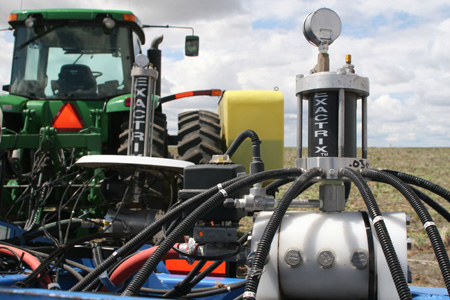 More Science From Exactrix. 5% more Yield with 40 pounds Less N/A. Continental and Impellicone Manifolds compared to Exactrix Dual Staging Manifolds.

Reviewing Impellicone Manifolds and typical NH3 application systems that might be used on a 30 inch band spacing Deere 2510 applicators.

Exactrix with Dual Staging, Accumulator Manifolds achieved the MRP or Marginal Return Point with 100 pounds N/A producing 213 bushels per acre. The Continental Manifolds produced 203 bu.A at 100 pounds N....about 5% more bushels per acre to Exactrix.....not TAPPS....Just NH3.

The Continental Manifolds with the Dj controller required 140 pounds N/A to produce 215 bushels per acre while Exactrix produced 6 more bushels at 140 pounds N per acre.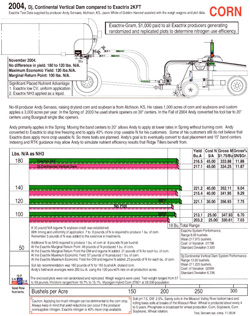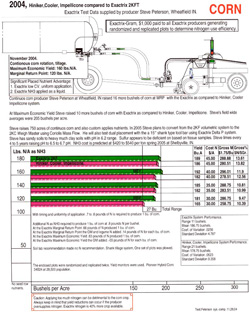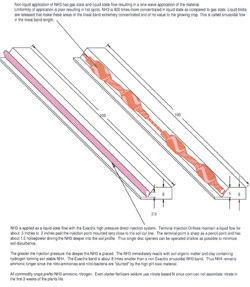 Click here for more information Sinusoidal Flow
Typically Exactrix requires 40 pounds N/A less...maybe 50 pounds N less......and a 5% yield bump.

It is the Exactrix process of high pressure terminal injection of NH3 that does it....all the components working together, the pump, the dual staging manifold, and the terminal orifice...with no Shortcuts.

Time Proven in test plot after test plot....the Exactrix is a superior technical tool for farmers looking to pay down debt or expand their farming operation.

No Shortcuts.....and Exactrix can make you a lot of money...guaranteed....$40 to $60 more net income per acre as NH3 only....not including TAPPS....in the current economic structure.

Exactrix will pay the producer for a, STEEP Test Plot, to confirm your economics...$1,000 per plot and as many plots as the producer would like to do.

Top Exactrix Manager in 2012, Steve McCasland at 316 bushels per Acre.
Steve McCasland Keeps Showing Up
Drop Fertilizer Cost

You can also consider Aqua Ammonia....which produces a liquid streaming flow.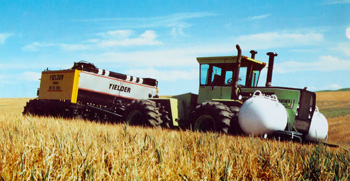 During the No-Till Revolution of the 80's Mort Swanson set his Yielder Drill at 80 pounds N/A using Aqua Ammonia to raise a good crop of winter wheat....Guy Swanson set his Yielder Drills applying pressure reducing NH3 at 120 pounds N/A....both Nitrogen settings with the same machine specifications raised their best crops sometimes yielding 140 bushels per acre with good weather....but Aqua Ammonia was always just a little better with yield.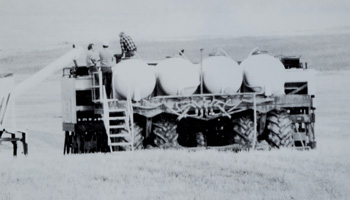 Aqua Ammonia can compete with pressure reducing NH3 applications because the applied N/A rate is about 66% of pressure reducing NH3...So 40 pounds less N/A which reduces hauling to make Aqua feasible against NH3...the problem with Aqua is the producer spends 30% to 40% of his time filling the machine. It is difficult to get anything done since the operator is constantly headed back to the truck to fill with Aqua Ammonia while the NH3 machine is covering about 3 times as many acres between each fill. Big farmers prefer NH3. Smaller farmers at 1,000 to 2,000 acres like Aqua.

The analysis of Aqua Ammonia (Ammonia saturated in Water at high pH) is 20% N per 100 pounds of material. Aqua Ammonia or Ammonium Hydroxide is highly volatile and it must be checked with a hydrometer with each load. The nitrogen value changes with every load or source.

The Aqua Ammonia or Ammonium Hydroxide is difficult to economically store at higher air temperatures for a period of time greater than 20 days. At 1.4 pounds N per gallon producers in corn would be applying typically at 100 gallons per acre...an irrigation project.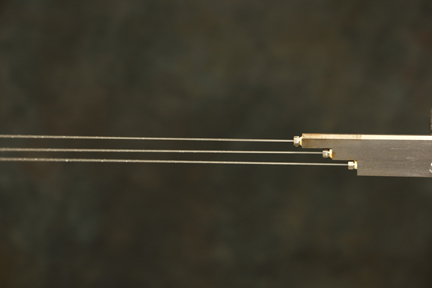 The profound advantage of Aqua Ammonia over Pressure Reducing NH3 is yield...about 5% more typically on steep angles of 50% compounded to 65%. A good material for steep slopes of eastern Washington. Aqua Ammonia was the pathfinder to Liquid High Pressure NH3 from Exactrix based on long term experiences with Yielder Drills.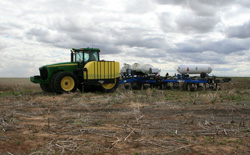 Liquid Streaming Flows of NH3....Liquid NH3 with Terminal Injection Orifices....Liquid Streaming Flow is the key with a high pressure terminal injection orifice (TIO) allowing injection pressures to 300 psi.
Yielder® 60120 Track Carrier Mobile Fertilizer Factory. Delivers liquid streaming flow of NH3, APP, ATS, KTS Hydra Hume, in Acid Base reaction at 750 degrees F.

Forming Tri-Ammonium Fulvate in bands of TAPPS and TAPPKTS produced outstanding margins in 2012.....
typically 20% more net margin than the next best approach.
For More Information: