NH3, A Better Hydrogen Source. Use less, get more.
"If it cost less, raises more crop, and producers use less, then you have built a pretty good product."
The payback is most likely one crop or less.
Exactrix at the request of readers now provides the GPS coordinates for each picture. You can start at 58 degrees North and travel to 24 degrees North (24°45'21.41" N 107°47'03.09" W) and look at North American Agriculture.
Copy with your mouse and paste overlay on your Google Earth destination.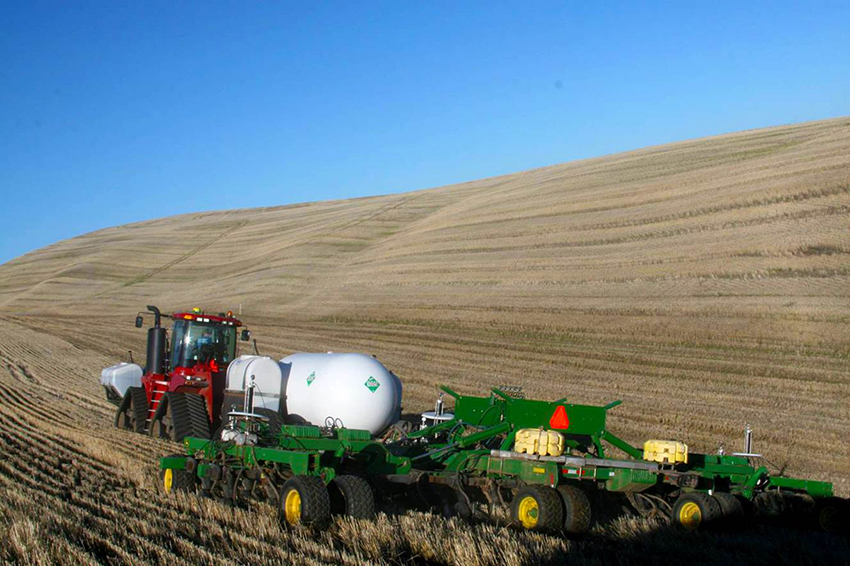 At 47 degrees, Palouse, Rock Lake, Sunset.
No-tillage for sure. November 2016, Fall banding Exactrix TAPPS for spring crop production.
St. John, Washington.
Moving $60 to $150 more net income to the bottom line.
You can use less and get a lot more.
TAPPS is stabilized in tight non-diffused bands improving soil life.
Ross Jordan
47°07'46.44" N 117°29'59.22" W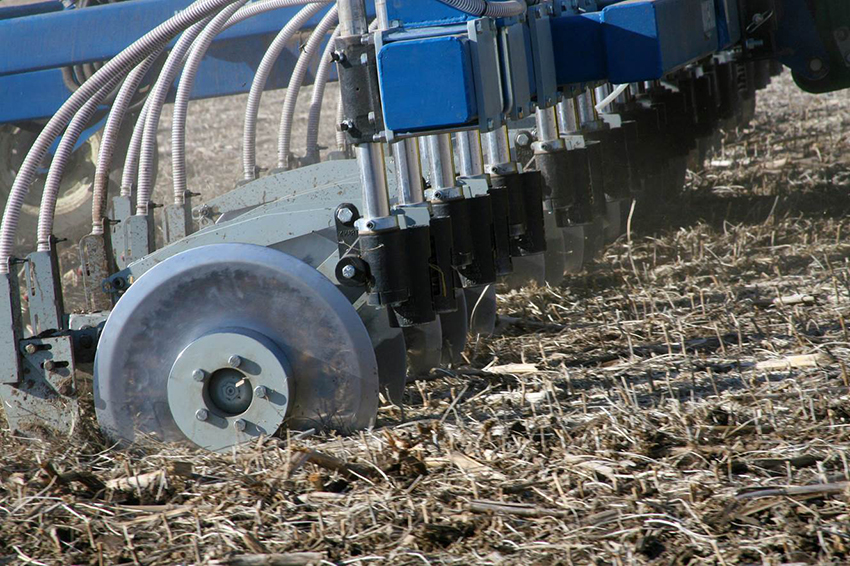 At 41 degrees N. November 2014 Fall Banding in the Platte River Valley, Seward/Tamora, Ne, Mustang P-51C banding depths of 8 inches at high speed without tillage.
TAPPS application at 140 to 160 lbs. N as NH3 and 10 to 12 gallons of 10-34-0 and 12-0-0-26S or Thio-sul® with Zinc.
Thio-sul® assures band stability over the shallow aquifer of the Big Blue Aquifer, a targeted nitrogen management area.
Kevin Medow.
40°52'32.48" N 97°14'23.19" W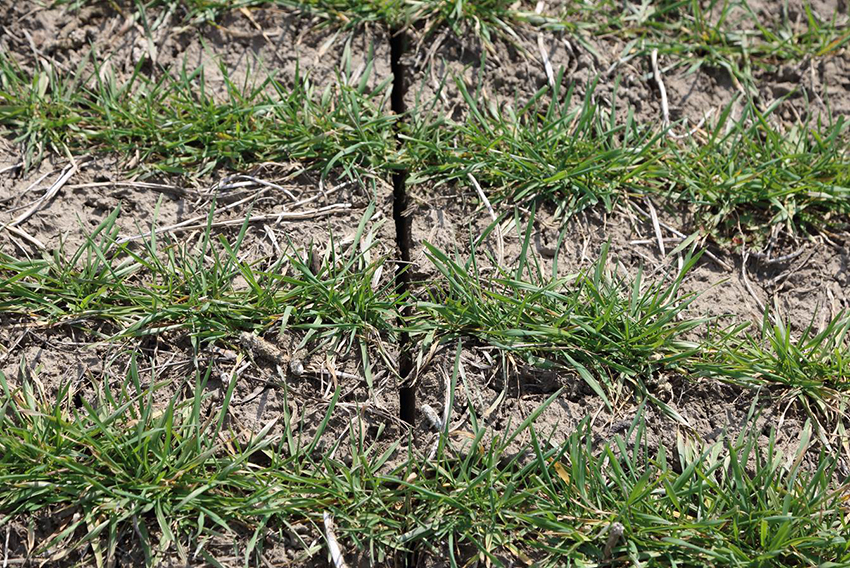 Going 8 inches deep without tillage a Marshall, Mo. Winter wheat gets an early spring start in 2014.
At 39 degrees N. Weber Seed along the Missouri River Levee system and beginning of the Santa Fe Trail.
39°04'11.22" N 93°00'28.62" W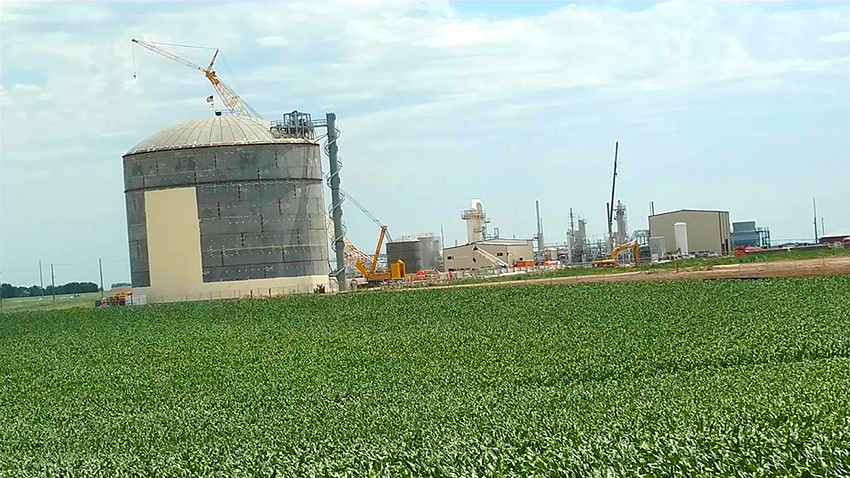 At 42 degrees N. Geneva, Nebraska, June, 2017, A new NH3 plant goes into service to meet local needs of a 2 hour delivery radius.
The Coops can move back into low cost NH3. In fact many more plants are planned in the strongest markets as well as stranded markets.
Fortigen of Omaha is teaming up with a large Nebraska Coop to make on time delivery at a reasonable price with advanced production techniques.
Finding H2, Manure hydrogen sourcing is now a consideration for NH3 plants allowing an improved business opportunity for dairies with manured overloaded soils.
Fortigen, Geneva, NE,
40°32'24.51" N 97°34'50.63" W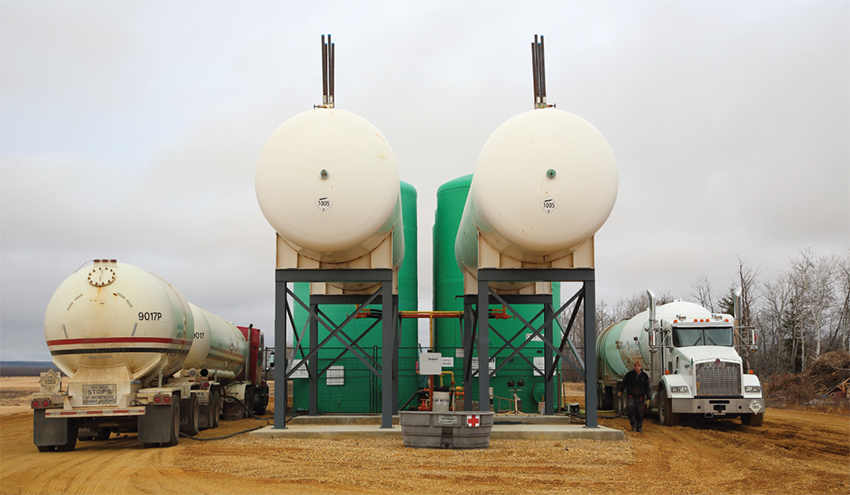 At 57 degrees N. October 2015, Hawk Hills along the farming terminal, The Peace River at 58 degrees North. Rocky Mountain doubles make delivery to 60,000 gallons of on-farm storage.
A large No-till farm with a good storage and handling system. TAPPS and TAPPKTS formulators.
Liquid storage for 10-34-0 and Thio-sul® 12-0-0-26S is 120,000 gallons.
An 8,000 gallon KW Tridem set up with a 6,000 gallons liquid trailer makes a delivery to the applicator.
Application is made in 2 weeks on 14,000 acres, all No-tillage indexed banding for outstanding yields.
Ken Dechant.
57°17'45.63" N 117°20'07.37" W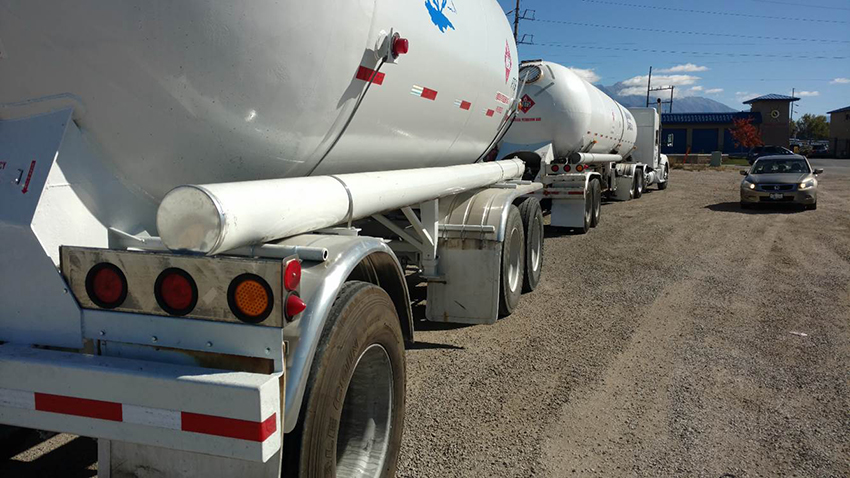 At 40 degrees N. October 2017, Lehi, Utah. Rocky Mountain doubles deliver up to 17,000 gallons of compressed gasses since 1965.
The Utah DOT makes timely inspections assuring safe delivery of all compressed gasses. In this case propane is headed for remote communities of the Rocky Mountains.
The pup trailer was built in 1965 by American Bridge and Iron at San Francisco.
The advantage of ammonia equipment is pressure vessel compatibility of 70,000 psi steel and NH3.
Long Life with Ag grade 82%, Ag grade NH3 is 82.4% N and is less reactive, 1 gallon H2O per 1,000 gallons NH3 in transport delivery from the NH3 plant.
Refrigerant Grade is 82.5% N and is highly reactive at less than 10 ppm foreign material.
Utah Dot Inspection Station, Lehi, Utah.
40°25'06.69" N 111°52'08.89" W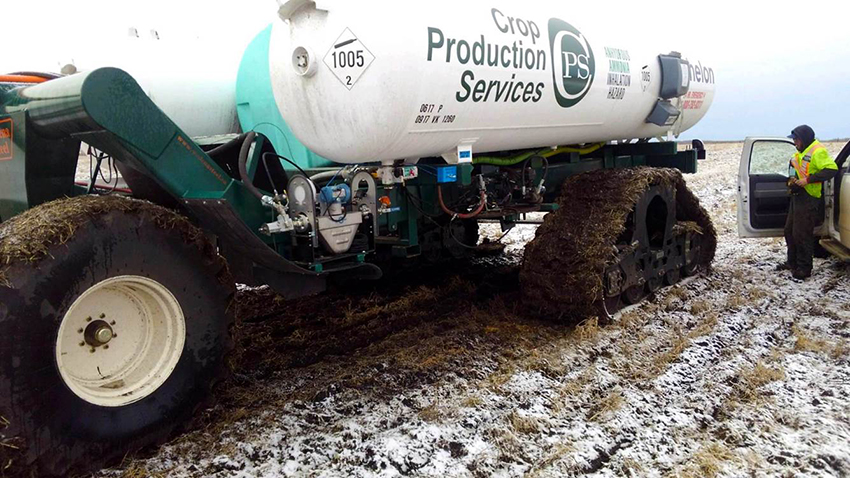 At 55 degrees N. Fall Banding into spring wheat stubble at Grand Prairie/Sexsmith, Alberta, October 2017,
CPS, Custom application at 20,000 acres per year making Exactrix TAPPS blends with 3 products.
Mustang P51-C openers apply at 1 acre per minute at 8 mph. 61.25 feet at 15 inch band centers.
Bear Lake, Blaine Richter,
55°18'52.32" N 118°57'56.51" W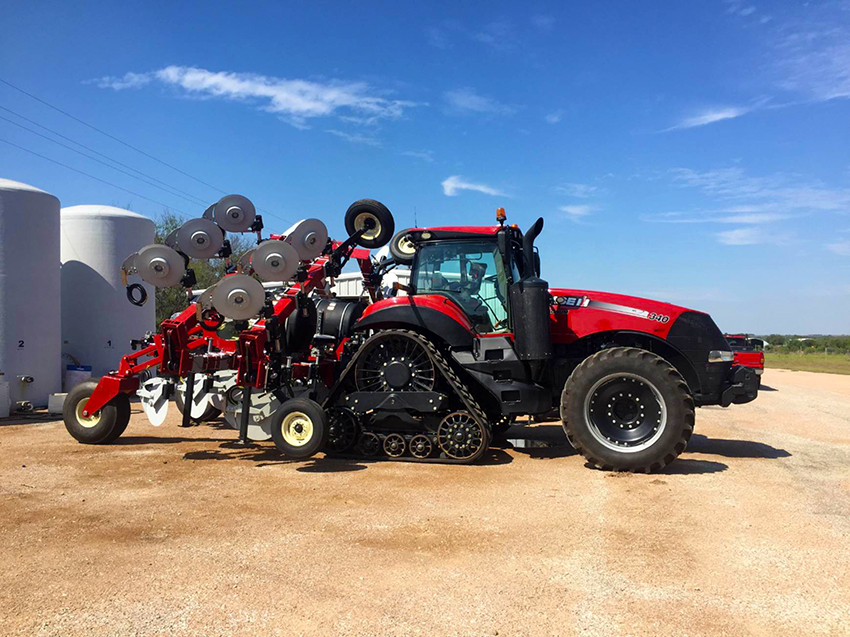 At 31 degrees N. At Lohn, Texas, October 2017, a large No-till farmer gets the nutrients in the soil timely with nutrients directly under the plant or to the side.
A Positive Down-pressure, 4015 Mustang tool bar in 2 point lift assist applying nutrients for a 7,000 acre Winter Canola, Winter Wheat, Malting Barley Farm.
Ronny and Lance Helberg
31°18'56.55" N 99°16'33.40" W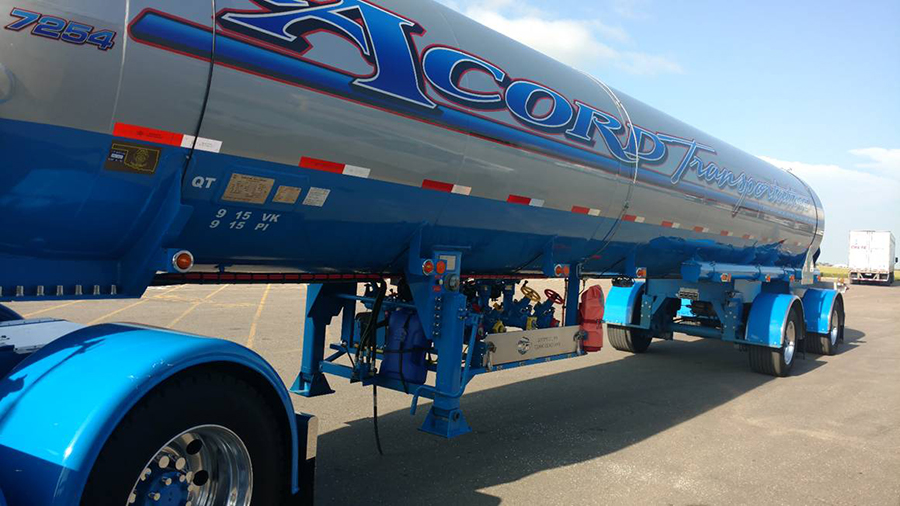 At 38 degrees N. Wakeeney KS. On time delivery is seldom achieved without a modern fleet of NH3 trailers.
Manufacturers like Koch nitrogen have not replaced their train sets.
The very large ammonia plants loose market since transport delivery is seldom associated with adequate storage.
The rail cars were a part of the storage system.
Storage of Ammonia has become a National Security issue regardless of what the Hedge Fund manager says.
Wakeeney, KS.
39°00'47.79" N 99°53'27.53" W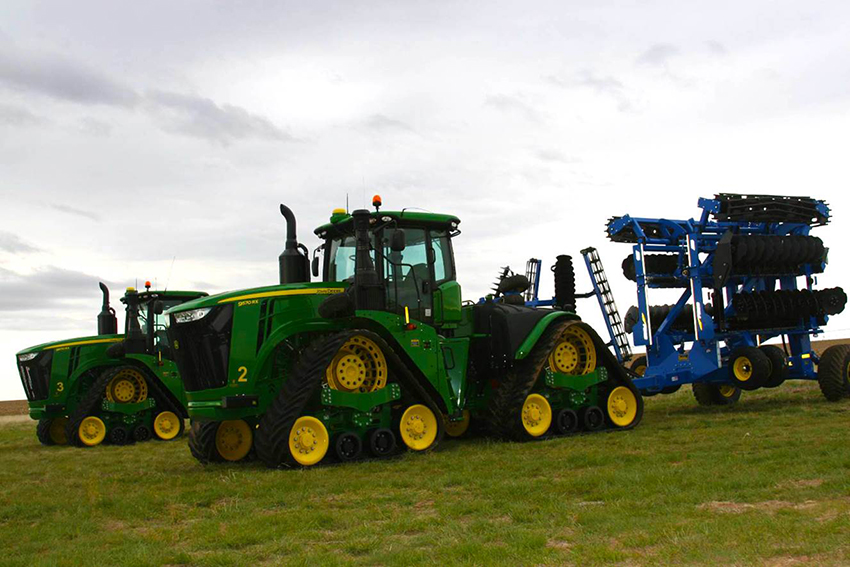 At 35 degrees N. Mega Dairies at Dumas to Dalhart, Texas, Sept. 2017, Manure requires lots of tillage at about $40 per acre with high potential losses to the atmosphere, down the rivers and into the groundwater along the Mississippi drainage. Texas dairies are not polluters of any major river.

Famous pictures of two new tractors dedicated to heavy tillage in the dairies of Dumas and Dalhart Texas. The end of the line for soil health is tillage. No earthworms here.
Avoiding tillage is key to keep soils moving back to where they started and at a more neutral. 7 pH to 7.5 pH.
A soil physical problem, 8 inches deep and 8 inches wide, deep soil fracturing, deep and wide, with shank application of NH3.
The farm manager starts the pollution the minute the shank enters the soil.
Mega Dairy.
35°52'03.42" N 102°18'00.19" W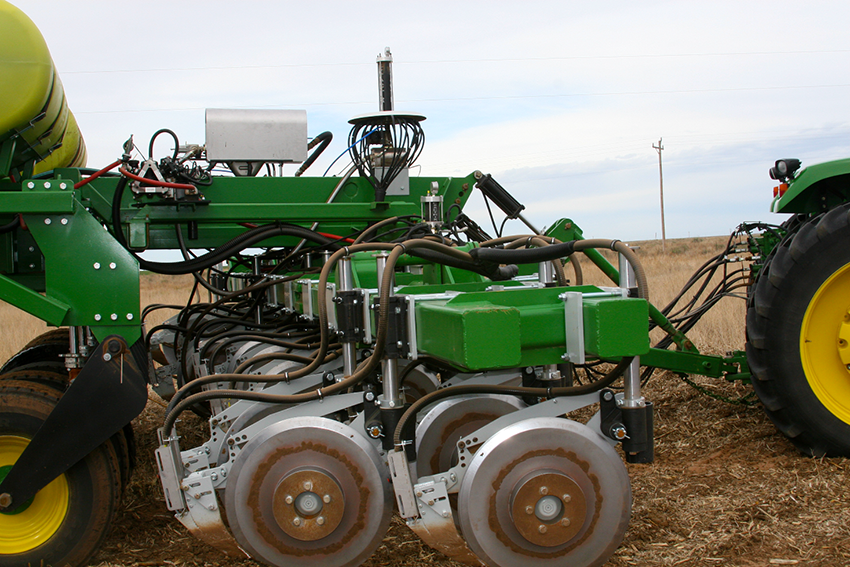 At 35 degrees North, April, 2017, At Dalhart, Texas, The manure is gone. The tillage equipment is sold. No-tillage gets it start with Mustang Openers.
Banding TAPPS, TAPPKTS nutrients uniformly at 1% CV. The last Manure application becomes a historical reference in the timeline of crop production.
Andy and Cody Cover.
35°47'42.96" N 102°21'13.75" W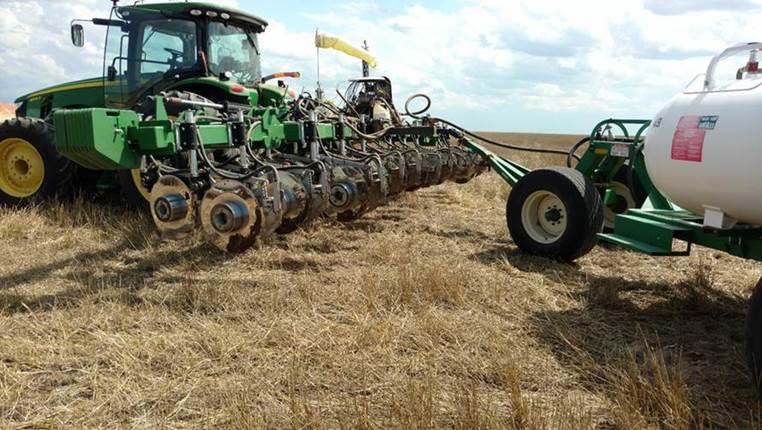 Operating along I-70 at Quinter, KS, 39 degrees North.
Single disc openers offer soil physical solutions of going deep to 8 inches without tillage.
Don Tilton, Quinter, KS.
39°03'31.85" N 100°17'03.77" W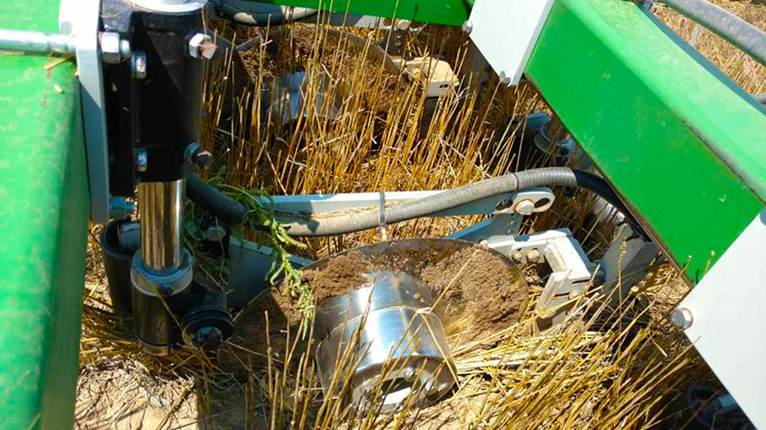 Mustang, P-51CUE, Operating at 8 inch depth without tillage.
A 3015 Mustang Tool Bar at high speed at Quinter, KS, This No-till producer fertilizes 7,000 acres per year with one 30 foot Mustang Tool bar. Corn and Wheat.
The 15 inch band spacing Mustang Tool Bar allows Winter Canola to be raised at much higher yield levels timing nutrients into growing canola in the late winter.
TAPPS is Tri-Ammonium Poly Phosphate Sulfate plus metal micros.
Applied at 1% CV in liquid streaming flows in an Acid/Base reaction.
NH3 at 82.4% Nitrogen, 82-0-0.
Ammonium Poly Phosphate as 10-34-0 or 11-37-0.
Thio-sul® Ammonium Thio-Sulfate as 12-0-0-26S
KTS®, Potassium Thio-Sulfate, 0-0-17-26S
Metal Micros, Mn,Fe,Cu,Zn and Ferrilene®, Iron chlorosis.

Exactrix Mustang Openers run deep at the 8 inch depth increasing the root development.

A target rich, rooting environment with vermiculation of nutrients, NPKS
and micros. Nutrients injected with 3 and 4 product systems in VRT-Site
Specific application. Exactrix TAPPS and TAPPKTS stabilize the nutrients
and allows much higher levels of nutrient utilization. Less is More.

No-tillage single disc application cuts the pollution to levels so low it is very
difficult to detect.
The ability to feed 330 million people every 5 waking hours comes from Directly Applied NH3.
Plus a lot other industrialized nations get the benefits of directly applied NH3 around the world in the export of our grain, meat, fiber, biodiesel and ethanol.
The ability to expand human life on our planet comes with a downside of wasteful management of byproducts.
These nitrate laden byproducts that pollute our rivers and streams (Mississippi River), Lakes (Lake Erie) and Gulfs, (Gulf of Mexico).
These manure byproducts that require tillage to bury the problem.

Destroying the carbon sink and aiding the soil quality problem with tillage.
Manure application with tillage creating another problem of soil erosion and non-uniform distribution of nutrients
These well intentioned producers end up with their applied nutrients gone to the continental water environment.
Following the gravity path of the mobile soil movers, the rivers and streams, on to the Gulf and the Great Lakes.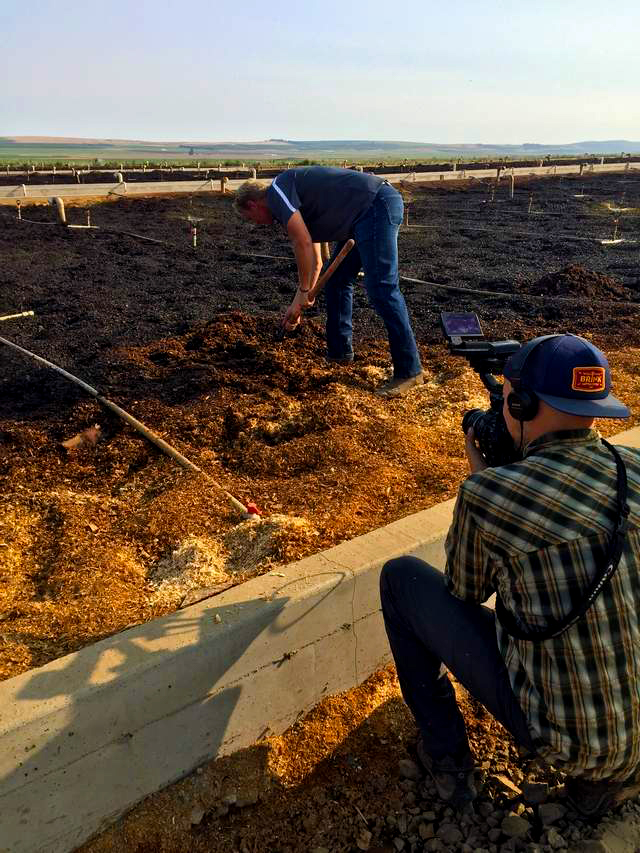 At 47 degrees North. The Worm Feedlot is small the benefits are big.
The Royal Slope along the Saddle Mountains of the Columbia Basin.
http://www.suntribunenews.com/article/20170906/ARTICLE/170909992
46°54'50.11" N 119°44'16.60" W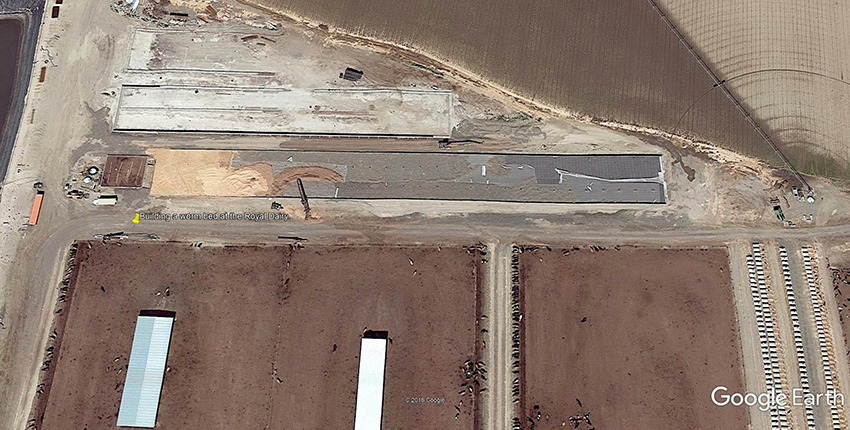 A portion of the Toyota Manure Hydrogen article
H2@Scale in California: A Role for Ammonia?
H2@Scale in California: A Role for Ammonia?
By Stephen Crolius on Jan 25, 2018 02:19 pm
The Toyota's plant's feedstock?
"Bio-waste sourced from California agricultural waste," or more precisely, manure from dairy cows.
To an outsider who has not been privy to the myriad incremental decisions undoubtedly made in the development of Toyota's plan, this choice of raw material may seem almost willfully perverse.
For one thing, the plant will require something like 40 tonnes per day of manure, most or all of which will need to be trucked in from dairy farms that are at least 80 miles (130 km) to the east and north.
For another thing, while manure may be referred to as "biowaste," its prevalent use is as an organic fertilizer that helps maintain the health of agricultural soils.
Stephen Crolius
Just a short review from GJS, Your Great Plains Reporter.
Note: So you think 40 tons of manure per day is a lot, 1 truck load per day is 80,000 lbs. of payload.. or less than a load with Rocky Mountain Doubles and 1.5 loads with a semi. It is reasonable at $4.00 per loaded mile for 2 hours of less of driving. A quick turnaround at $320 per manure load and an opportunity for a backhaul of byproducts or lime. The plant "will generate approximately 2.35 megawatts of electricity and 1.2 tons of hydrogen per day, enough to power the equivalent of about 2,350 average-sized homes and meet the daily driving needs of nearly 1,500 vehicles."
Being knowledgeable on how to raise North American crops with commercial nutrients (NH3, APP, ATS, KTS, AZn) and manure I will help you and Stephen understand the use of manure.
You know, Cow Manure is not what you think it is.
All animal manure is responsible for about 50% of the Gulf of Mexico Hypoxia.
The other 50% in the Gulf of Mexico comes from over application and poor timing of application of commercial fertilizer, N, P, S which is driven by the Commercial Fertilizer Industry to improve workload and storage. Farmers tend to accept the domineering Fertilizer Industry agenda which has very poor storage.
Your John Deere Salesman will not stand behind the manure spreader. You probably remember the manure spreader…it has changed a little but still in the dark ages.
Manure application requires tillage to work the manure into the soil, it creates and additional cost of $40 per acre just in diesel fuel and tillage costs to incorporate on the land around the giant dairies of Texas and California, and now pristine Idaho.
The pollution of Lake Erie has very little manure constituent in this last floral bloom of Algae. It is mostly top dressed fertilizer misapplied and ammoniated with NH3 that causes the problem.
Manure is responsible for more than 50% of the pollution of the Rhine River.
The problem of application of Manure on the land is simple. It is low analysis and has a very high coefficient of variation (50% ty 75%CV) as applied and thus not crop available and very expensive to use if you do not own the cows.
Manure cannot be applied Variable Rate Site Specific since the analysis or elemental values are not well understood. The lack of uniformity means it will not compete with commercial fertilizer applications. You will note that this is a very big deal.
The promotion of manure comes only from a small Dairy and Feed Lot segment of Agriculture that is dealing with the problem of what to do with the byproduct of producing milk, since their own soils are way over loaded with nitrate and phosphate from years of manure application.
We now have 105 million cattle on the continent, we had about 40 to 60 million buffalo (2,000 to 2,200 lb. largest mammal) in the original ecosystem of North America. No count is available of Elk, Deer, Bear, Moose, Antelope and smaller critters of the North American Continent.
Confined Feeding, The hamburger at lunch or the pot roast at dinner that you enjoy comes from 9 to 12 million cattle on feed from 450 lbs. to 1,000 lbs. on the hoof in the feedlot. They are called Fat Cattle when ready for market, this is at any one time depending on markets and drought. There are about 5,000 cows killed per day at a single packing plant on the Ogallala aquifer. Everything is reused and goes back into the economic system including the blood.
This is not plant food, it is stimulant. The white NH3 tanks that provide the plant stimulation actually result in about 2/3 of the planets population to grow the planet Earth to 12 billion people in about 30 years. The chances for a Malthusian meltdown of the population has now been reduced to nil. Today we have the great technical achievements of industrial scale production of food. The land and operating equity to produce the food is carried out by less than 1% of the US population operating on 435 million tillable acres in the US.
Manure Dumps, Endangered life, Killer Farms, Not your granddads farm. In the state of Washington some soils of dairies are in the 250 ppm of stored nitrate in the top 2 feet. 1 to 5 ppm in the top 1 foot would be good. They cannot raise a competitive crop nor can they continue to apply manure. The soil is now out of balance.
You can discover similar stories with Phosphate. Same story is true in Nebraska when Phosphate ppm reaches 300 ppm and a good high quality soil would have about 25 to 50 ppm. In fact the soils have also become acidic (5.5 to 6 pH)and thus outliers of the ideal pH of 7.4 pH. The pH of your bloodstream and a coral reef. A coral reef no longer propagates with a .1 drop in pH. The same with a human.
Yes, there is an end to the economic use of manure.
Thus the manure problem is out of contro, since most of the soils have such a high test value for P that the phosphate is now in the water.
Negative valence Nitrate or NO3-moving into the water is bad, but phosphate P205+ (normally positive valence and thus non-mobile) in the water is really bad. The tillage increment creates a lot of the movement of nutrients and lowers crop availability of placed commercial nutrients and manure.
One solution is try to sell the manure to a long distance neighbor, thus Iowa, Illinois and Indiana are states that are out of control with manure running over the side boards. Presently the sale of the animal manure is actually made to the fishermen and the recreational group in the Gulf of Mexico and everybody loses in this deal.
The term "willfully perverse" is a long ways from " Finding the need and filling it" as per Henry J Kaiser the great California industrialist.
My college business writing professor, Mrs. Boaz, would mark down my paper for selecting trite terminology and not backing up my comments with genuine facts.
These are the facts:
We must find a more economical solution to the manure, and building NH3 in the American Dairyland and in the Hugoton Natural Gas Field is ideal. The manure digester NH3 plant is next to the Ammonia Pipelines, the consumer and the source of the 12 million head of cattle on feed.
The Hugoton Gas Field is an unprecedented source of wind energy as well as manure and natural gas.
My educated strong feeling about NH3, that storage remains the problem, and not the technology to build NH3 economically.
You can envision a big 24 inch or 36 pipe line running up to the a stable storage cavern (volcanic pipe) at 10,000 feet in depth somewhere in the Rocky Mountains, So it is all downhill to the market from there. You can convert to hydrogen at the terminals.
The service history of ammonia pipelines safety is very high quality, and the best way to move heavily concentrated hydrogen at uninterrupted speed.
You know that NH3 is multipurpose in the markets. We could in fact look forward to much lower NH3 cost with diverse markets and a little more free enterprise.
How to scrub the digester gas is going to be the challenge as it leaves the digester. And How to managed the digester byproducts will produce another environmental problem that needs solving.
Worm beds can be considered as another means to solve the manure problem.
Entrepreneurs are making the manure digester work in varying degrees of success in Kansas and Alberta, to certain levels of limitation as initially discovered.
These local engineers take out the transportation factor in Kansas and Alberta very quickly and keep the nutrients and methane where it does the most good in the ethanol plants and or application to the land potentially as NH3 and byproducts.
Fortigen may have the solution in small 75 ton per day NH3 plants located next to Ethanol plants, Gas fields, Feed Lots, Dairies and Grain fields, from Lubbock to Lincoln.
Basically the hydrogen needs to be built at the source of the methane. Presently manure is easier to move than hydrogen.
The science of transportation and storage would be a good investment in NH3 equivalency for energy storage and use.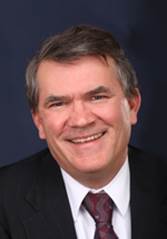 Guy Swanson
www.exactrix.com
NH3 Efficiency Experts
Exactrix Global Systems.
---