Soil Compaction is the identified yield robber in Milo, and Kyle Cott at Clay Center, KS has topped average dryland yields of 180 bushel per acre using Exactrix TAPPS over the past 8 years. His yield enhancement technique is No-till with a track applicator to allow high production at lower cost.

The Cott Plan for 2014 TAPPKTS is deeper at 7.5 inch depth with P-51CUE Mustang openers.

The Kyle Cott track cart design is critical to reduce compaction and to get top yields in Milo. Reducing passes with less compaction potential. For sure two passes will raise a good crop with bands at 7.5 inch.

The very highest yields in Milo are about 200 bushel per acre in irrigated production at Lubbock,Texas as reported by B-H Genetics, Chris Leach. www.BHGenetics.com or chrisl@BHGenetics.com
Milo experts Troy Coen and Chris Leach review Milo production. Milo is sensitive to compacted soil layers and Milo typically performs best following No-till winter wheat. Milo thrives in No-till production on the Great Plains when the problems are properly identified.

Producer Lane Devlin at Smith Center, Kansas maintains top production with Winter Wheat, Milo, Soybeans. The center of United States is a No-tillage wonder of moisture conservation. Milo also has very reasonable seed costs.

Dryland Milo is like Spring Barley and does best when planted in hills driving the seminal roots very deep in a primordial and highly competitive race for deep soil moisture. A serendipitous discovery from Wayne McProud was made from head row planting of Winter Wheat. Yields are always higher with head rows following the release of a variety. An Idaho technique proved statistically important, but why? The seminal roots have the key to top yields in the race for deep moisture.
Irrigated Milo really requires a much different approach to irrigation scheduling as compared to irrigated corn.

Higher yields and more economic yields can be generated on dryland acres by paying attention to the soil and compaction. Using additional KTS at deeper depths also helps the yield curve.
Spring Barley and Milo perform best in No-till with no compacted soil layers. Barley and Milo will race their roots deep and fast as possible when planted in dryland hills, about 12 to 16 plants in hills every 15 inches. Top Yields can be expected from Milo since it is a desert crop like barley. Milo responds to Hill planting at Bushland, TX with a yield boost.
Hill Planting of Spring Barley adds between10% to 20% more yield.
Highly respected and independent plant breeder Wayne McProud is known for his proprietary hill planting technique of spring barley. Now with Mustang openers producers may be able to jump the barley yield barrier with KTS placed very deep. Elston Solberg of Agri-Trend has some very interesting data with very deep banded K in Barley production.

University of Idaho breeders have a reputation delivering top notch genetics with a little extra yield punch. Every year the report is almost identical in plots at U of I. Higher yields can be expected when planting in hills in 2013, about 12 to 16 berries in hills 15 inch by 15 inch spaced.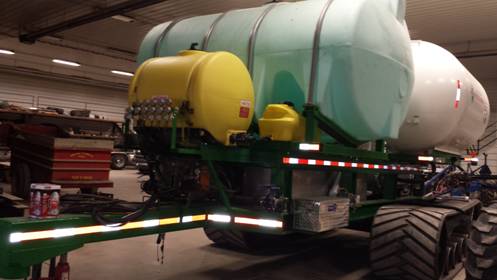 Kyle has set up a new Mustang Tool Bar at 48.75 feet. A Blue Jet bar has been modified to accept Mustang Openers

Another key addition to the yield mystery results when placing TAPPKTS bands deeper….much deeper with KTS in the mix with APP and ATS. It is possible to band from 6 inches to 7.5 inches with Mustang openers. Even deeper as conditions allow.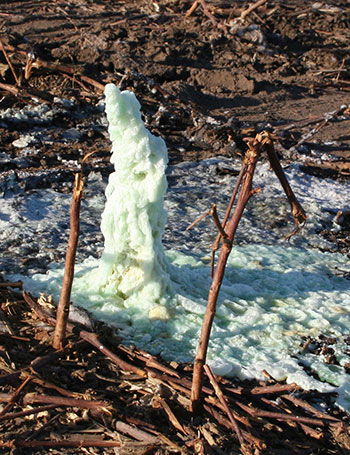 Placed K in an ammoniated band is critical to top yields in Milo and Barley. Barley yields improve when bands are deeper. Milo and Barley are especially responsive when bands are placed deeper with KTS.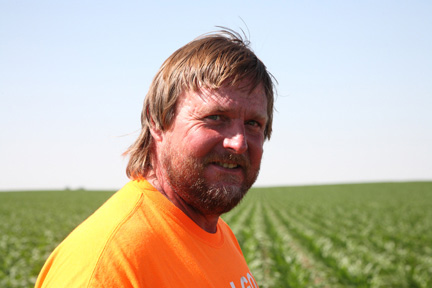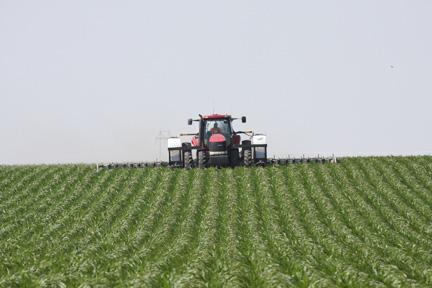 Around North America, deeper bands produce much higher yields in irrigated corn and dryland barley.
Steve McCasland has raised average corn yields of 316 bushel per acre with the Exactrix P-51B openers, applying TAPPS side dress on sandy Yuma, Colorado soils. Tremendous stress occurred in the 2012 crop production year. Temperatures of 110 degrees F in 50 mph winds at 4,100 feet required much deeper bands to generate a 316 bushel average yield following soybeans. Steve bands, "As deep as they will go" with his Orthman 40 foot tool bar.

It is now possible to deep band at 9 inch depths.

The Cott tool bar is Mustang with ˝ x 26 P-51CUE which will band at 7.5 inch depth on 15 inch centers with Rolling Gyro Counter Weights. A Blue Jet bar has been set up.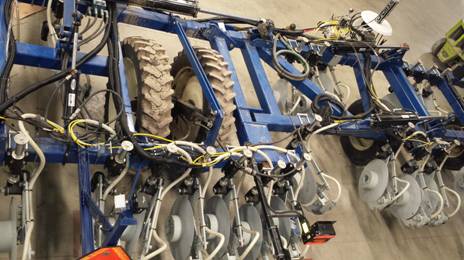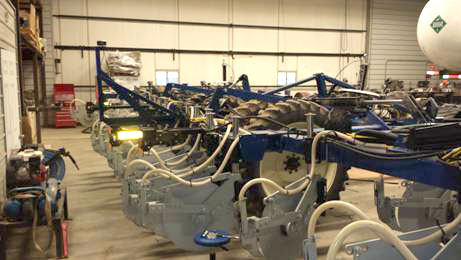 Reducing and avoiding soil compaction with track carts at 1 acre per minute.

The KD Cart is well tested in tow behind applications with 4 years of service.

Alternate liquid tanks are stainless steel. Also Qty. 4 Stainless Steel, 304 or 316 Tanks at 605 gallons with sparging, anti-vortex couplings and overfill protection are a good choice to prevent load shift and to carry various materials for testing. Multiple bulkheads are safer. Qty. 2 Poly tanks are also used.

The Exactrix, 54 inch bulkhead, 605 gallon, ss304 or 316 Tanks have return lines for the APP/ATS/KTS. The pump filling flow will return back to the supply truck at 98% fill to minimize spillage. The NH3 tanks are 2,000 gallon each and are registered for use in Canada.

The Elmer's 6 roller track is utilized on the Cott Track Cart.

It appears that Elmer's has answered the tow between needs. The track is heavy duty and should stand up under most loads in the tow between mode. Tow behind track carts remain the most popular approach in very big fields. In smaller fields tow between is popular in rolling terrain.

Kyle has smaller fields with a lot of turning so the tracks must be very durable. This tongue load, tow between cart is a big one, at over 5,000 gallons of NH3 capacity with two converted propane delivery tanks in NH3 service.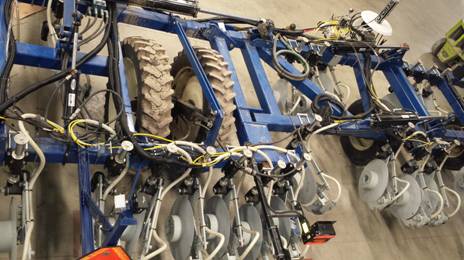 Purdue University Annual nitrogen, phosphate, and potash recommendations for grain sorghum.
Yield level

Nitrogen recommendation

Phosphate and Potash
recommendation1

Organic matter %

< 2

2-5.0

5.1-10

> 10

P2O5

K2O

bu/a

lb/a

50 to 100

120

100

80

60

30

30
1. Amounts shown are for medium (M) soil test levels. Apply 50% of this r ate if soil test is high (H) and omit if soil test is excessively high (EH).
2. Exactrix recommendation for Milo Production is no more than 12% of the Gross Income based on average yields over 7 years with locked in pricing for
Milo. Average 100 bushel Milo at $3.60 per bushel is $360 per acre = $43.20 in nutrients. NH3 at 32 cents or $18.00 per acre, $12 for P $8.00 for K and
$5.00 for S as ATS and KTS.
3. Raising 80 to 100 bushel Milo on the Great Plains. Exactrix owners typically apply nutrients for 80 to 100 bushel Milo in a 7.5 pH soil with less than 1% soil
organic matter following wheat. The application rate of 40 to 60 pounds N as NH3, 10 pounds P as APP and 7 to 10 lbs K as KTS and no more than 10 lbs
sulfur.

Stay in control of the nutrients, all the way to the injection point and the net margin will improve at least 12%. High pressure 350 psi injection makes the difference.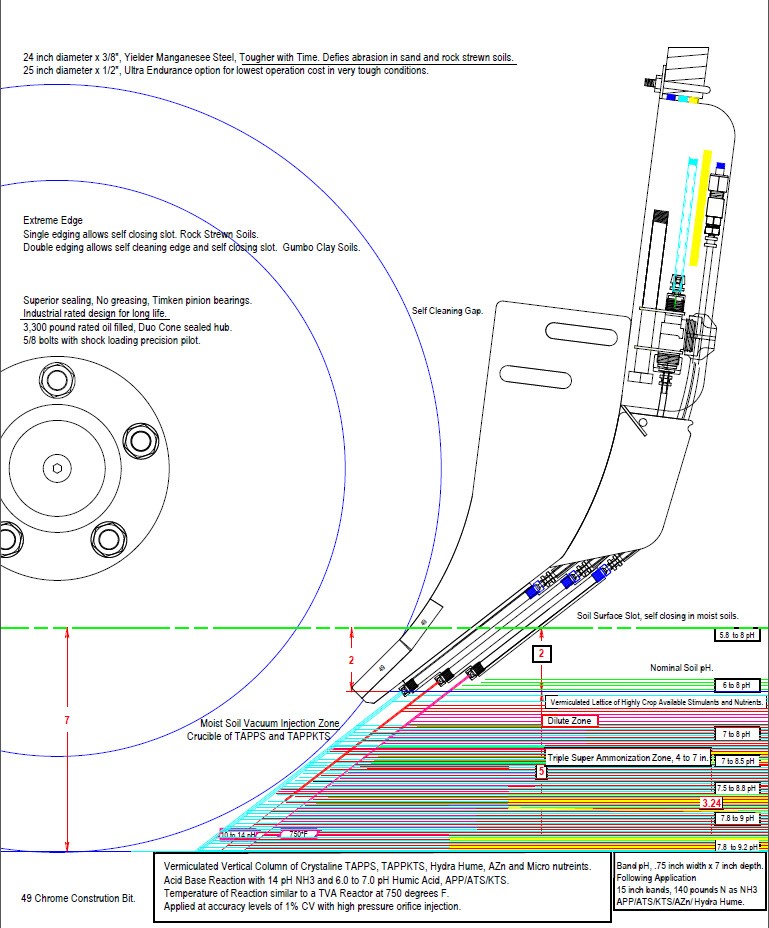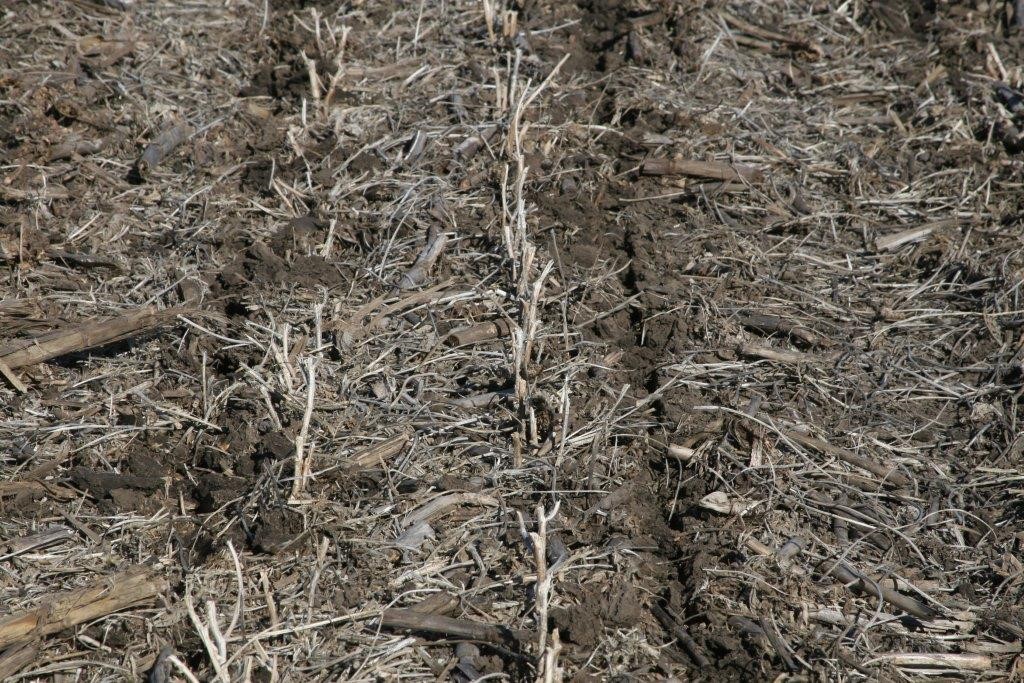 Low Soil Disturbance is achieved with Mustang openers banding at the 7.5 inch depth. Twin row planters can be used with Mustangs feeding on both sides of the rows; powerful nutrient efficiency with precision and timing.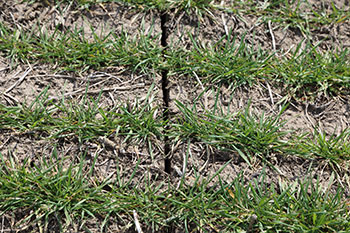 A very important decision was made to band deep with Exactrix TAPPS and TAPPKTS, developing deeper root colonies for drought stress tolerance. The Mustang P-51 C developed deeper bands in Soybean stubble at Seward, NE and Marshall, MO with an ideal seedbed for corn production, with nutrients as TAPPS positioned for maximum efficiency.
Virtually no damage to established winter wheat is observed. Deeper bands are especially powerful in center pivot production. Simply stated, pivots are not very efficient with water unless bands are deep. Typically it takes about twice as much solution 32-0-0 nitrogen to compete with banded TAPPS and TAPPKTS.

Across the Continent, banding deeper and faster as TAPPS and TAPPKTS with low compaction, yields and net margins are improved. A better bottom line with years of testing the Exactrix 12% rule has resulted. The bottom line is always enhanced with Exactrix Technical Advantages.

In the center of the USA, it is Exactrix Mustang Openers that make the difference when side dressing winter wheat. Up to 30 more bushels per acre is observed at Hugoton, KS when irrigated winter wheat is side dressed in late fall or late winter.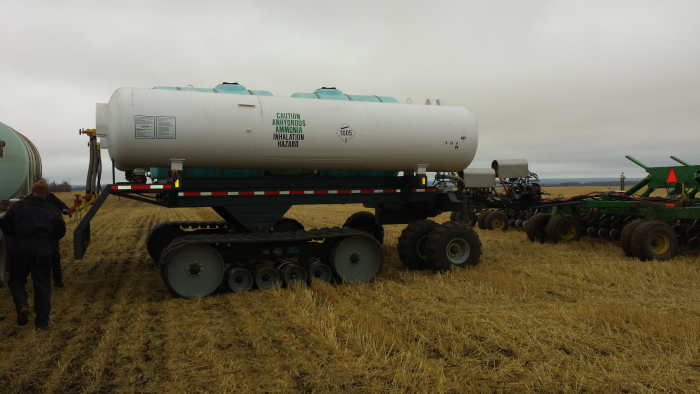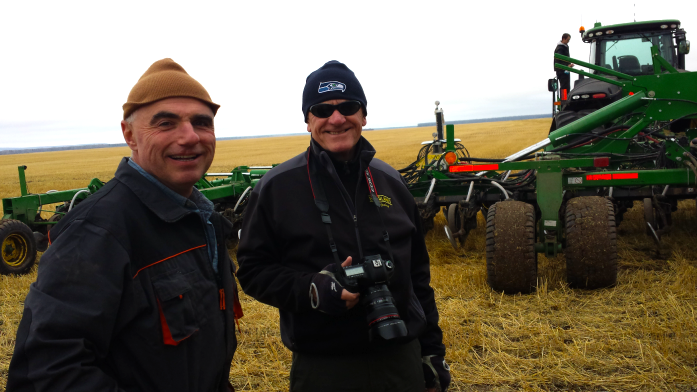 From 58 degrees North to 31 degrees N, Exactrix makes the difference in Exactrix fall banding with stabilized TAPPKTS.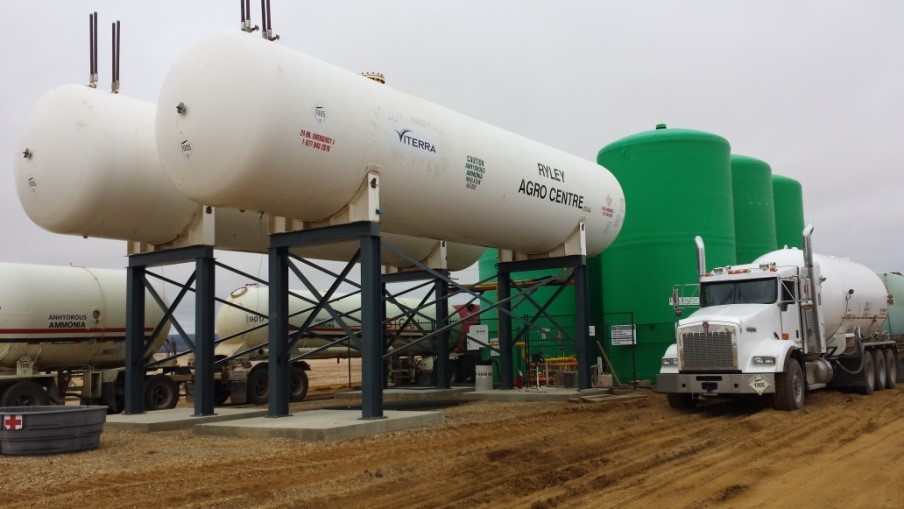 Fill 'er up - On Ken Dechant's Farm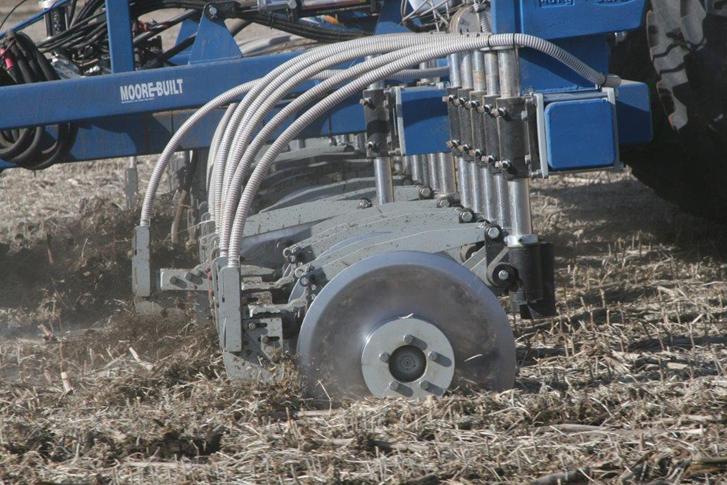 Watch Kevin Medow In The Field - November, 2013