High Oil Content Winter Canola, Exactrix TATS Side Dress Growing Canola with TATS. Exactrix Update and Meeting at Hugoton.
Feb. 24, 17, Banding Feb. 13, 17

Dale Bathurst at Abilene, KS, Mustang Banded TATS between 30 inch rows. 15 inch TATS bands.

Bands in 7 inch depth with P-51, Mustang C openers at 65 lbs. N as NH3, Total 73 lbs. N, and 7 gallons ATS or 7.7 lbs N as ATS and 20 lbs Sulfur as ATS. No APP.

Protecting Oil content and making sure there was 35 lbs. soil sulfur in test. P was adequate.

Riley Winter Canola gets a " Mustang Haircut." Loose leaves blew off.

Setting up for a 2,500 lb. crop or 50 bushel/A…at $9.00 with oil premium is $450 per acre gross. He spent $35 in fertilizer or about 8% of the gross income.

Dale hung in there with the higher sulfur rate to get the Oil or Protein premium.

Dale was well pleased with his new crop and side dressing Mustang TAPPS tool bar in winter Canola.

The typical application rates for irrigated production winter Canola are about double of the numbers disclosed.

Irrigated Winter Canola can also be double cropped immediately after Harvest.
Guy, From Dale Bathurst.

We tried to take an assortment of pics.
A couple are with the canola in the middle of the 2 bands like they should be. we had a very strong wind yesterday and the leaves that got sliced off blew away!

There is 1 pic is of the band down the center of the canola row....plant still looks good.

There is 1 pic is in the turn rows at the end with the plants in the track skid turn, plants mostly look ok.

Also note at least 1 is in the track/tire track with the rig running straight crossing the row at the end and the canola looks mostly ok.
I am not sure if running on the row will really matter?
NH3 at 65 lbs. N per acre in band of TATS. No 10-34-0 , Banded Monday Feb. 13, 17.

Variety is KSU Riley.
Tractor is belted Deere 8295 RT.
Pictures dates are Feb. 24, 17.

I ran 7 gal ATS, 1 qt Zn, no 10-34-0 per soil test being high.
For more news or if you have questions about anything call me.
Dale B

Pictures inclusive of side dressing Winter Canola. Variety Riley.

On top of the row…at 11 days after the side dress event.

Side dressing went smoothly.

Right over the top of terraces.
Leaves that were cut blew away in windstorm.

Temperatures drop to about 22 degrees F when the pictures were taken on Feb. 24. 17

Pictures tell the story, you can run at 5 degree angles to the rows…if you so elect.

Not critical as crop seems to recover with a belted tractor.
Dale says, " It is just fine with his tractor and tool bar to run over the top. " May not be true for others…he is pretty unique.

Belted Tractor on top of rows.
Tractor Tracks about 11 days after side dress. 8295 RT Deere Belted.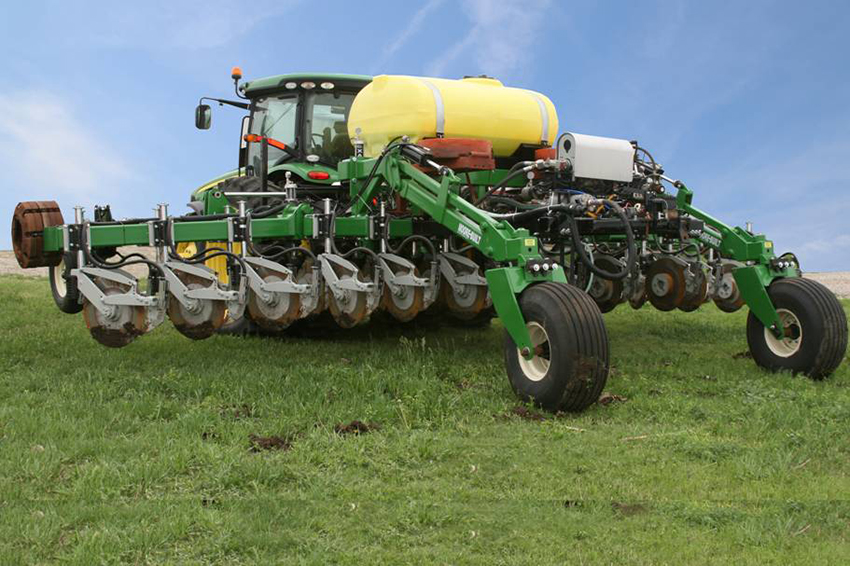 Mustang Banding for 30 inch winter Canola rows.

The 30 foot bar has 15 inch band spacing., P-51C Mustang Openers.

New belted tractor. 8295T

Up to 10 mph banding speeds on large fields of winter wheat…

Canola was banded at 7 mph due lots of terraces and short runs.

No growth regulator applied.

The 30 inch Rows did not quite close off last fall.

Winter Wheat as TAPPS askew to rows and Winter Canola as TATS indexed side dressed Feb. 13 to Feb 15.

Winter Canola was index side dressed with good results and no concern about Canola damage as observed by Dale Bathurst of Talmadge, KS, Abilene area.

See you in Hugoton, Golf Course, Feb.28 and March 1 for the next Canola Clinic…..side dressing and fertilizing Canola.

Great Speakers have mustered for the meeting.

Demonstration and Economics Clinic
Feb. 28 and March 1, 2017 - Hugoton, KS Golf Course


Winter Canola, Mustang Banding

Demonstration.
Two Day Option, Pick your day. Meetings Start At 9am
High Speed Banding Demonstration to follow after lunch.
7 inch deep banding into Winter Canola with TAPPS.

Making Winter Canola your leading winter crop.

SIGN UP NOW - CALL 800-929-9289

Meet the leaders in Winter Canola. Make 5 big bets.
Place your bets in 2017 in advanced cropping systems.
Brian Caldbeck
Rubisco
Joel McClure
No-till
Producer
Guy Swanson
No-till
Exactrix

Larry Murphy


Tessenderlo
Kerley
Sam Lauderdale
ADM Goodland
John Shanahan
Fortigen
Nutrient Expert
How to raise irrigated 80 to 100 bushel Winter Canola.
Meet with the producers. Inspect the fields.
Learn how to plant Canola. Learn how to fertilize Canola for top oil content?
What is the correct population?
Learn how to pick the correct variety?
What is water injection?
What does Winter Canola do for future crops?
Hugoton Weather For Exactrix Winter Canola Clinic.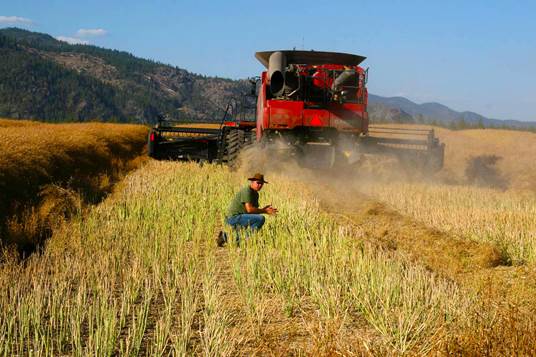 Feb. 28, High 61, Low 28, wind 14 mph. Expect lots of Sunshine.

March 1, High 57, Low 28, wind 12 mph. Expect lots of Sunshine.

Meet at the Golf Course at Hugoton.

Flying in and we will pick you up at the airport across from the Golf Course.

Daylight Period, 11.3 hours.
Sunrise at 7:16
Sunset 6:39 PM

Temperature hit 86 degrees on Friday, Feb. 17.
Rubisco Varieties, Winter Canola is breaking dormancy.
Some green up of the crop is observed.
High Speed side dress banding with Mustangs will be carried out in the afternoon.
Time to band Exactrx TAPPS, Winter Survival accomplished .

Starts at 9:00
Outstanding Speakers in the propagation of Winter Canola.
Proper Fertilization Techniques, 5 big bets in Winter Canola.
Morning session at the Country Club, Clubhouse, Hugoton.
Lunch at 12:30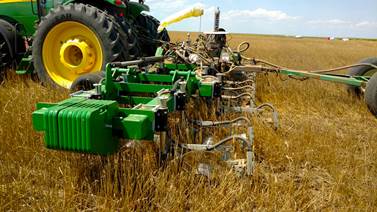 Field review with Canola suppliers and Mustang tool operation in side dress canola.
Fertilizer Suppliers, Crop Quest to speak.

Two days to pick from.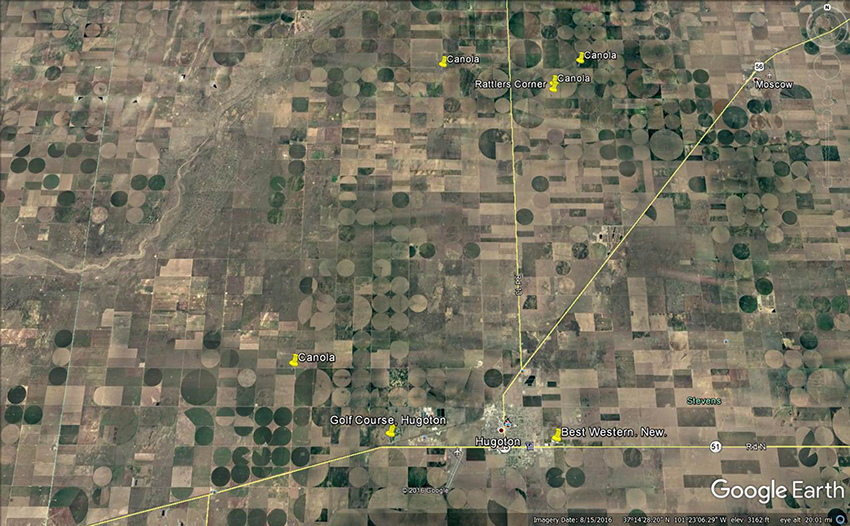 John Cory
Security West Financial

Call your new banker, John Cory, Security West Financial.
http://swfinco.com/contact.html (509) 994-8555 You can go off the balance sheet and work with the best using the strength of Farm Credit and others.

John will help you spend about $40,000 annually to make $150,000 more annually by spending only $60 per acre in irrigated production for fertilizer. John understands the cycles of agriculture and how to keep your balance sheet looking good.

At the end of five years you will own a powerful machine that continue to produce good returns having already been paid for at the end of the first year. You can even apply for your neighbors with a Mustang Tool Bar.

At 1,000 acres of corn, An internal bottom line savings of $750,000 over five years on 5,000 acres of corn.

An Exactrix Mustang Tool Bar capable of producing $550,000 of internally available funds in five years.
---
See Video

Top yields, best margin and the new leader in VRT-Site Specific, Small Grains Expert. Eric Odberg at Genesee, Idaho breaking winter wheat yield records. Exactrix TAPPS at Catholic Canyon using 4 management zones. Exactrix Site-Specific, Variable Rate
EO.htm

"

Paul Gangwish, Drone Video

"


Track Machines improve production 200%.
Application time cut in half at 1 acre per minute.
Up to $150 more net income per acre.
The 2017 Agronomy Review.
http://www.exactrix.com/Broadcast_12_29_2016.html