Return To Main Page
See all our previous broadcasts
Frontier Farming Days
A follow up of Feb. 14 and 15, 2019 at Hugoton, KS.
SRS, TAPPS, TAPPKTS Mustang Tool Bars, No-Tillage at High Speed.
VRT-Site Specific breakthrough from Sat Shot.
Training by the best nutrient managers in the business of raising crops.
A review of 10 Winter and Spring Crops.
Scientists report in on Mustang applied banded nutrients in No-till.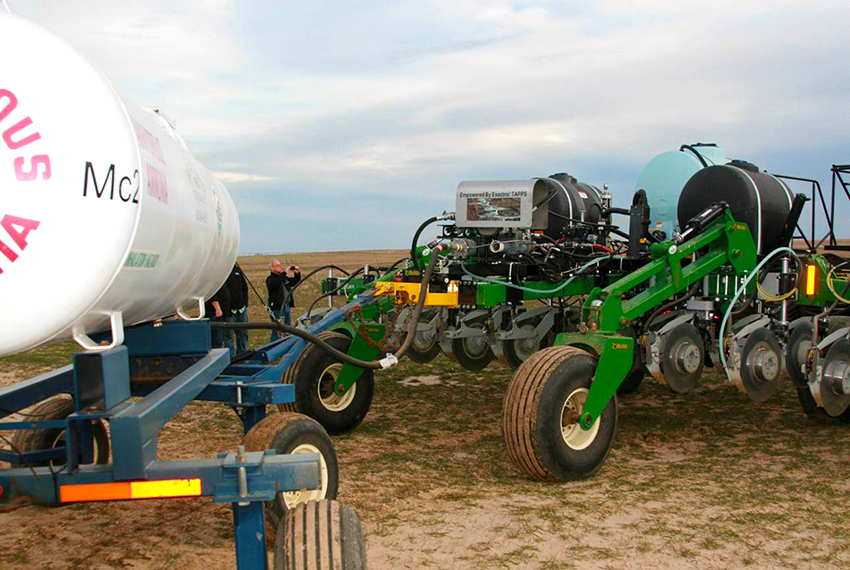 1
A Yielder Mustang 3015 with positive down pressure wings and lift assist.
Hydraulic hitch and ballast tanks, 2KC Series 2 with 2KP TAPPS formulator.
Exactrix engine mounting locations are greatly improved for operator access from the ground line.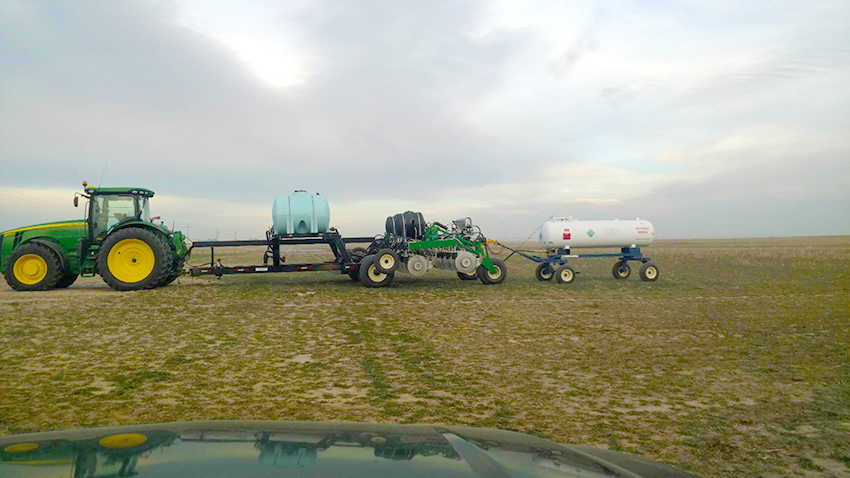 2
A high clearance tool bar for established producers.
Easy access and high reliability. Lots of open area with your safety in mind.
Caddy Cart at 1,000 gallons of 10-34-0, 12-0-0-26S or Thio-Sul®, 0-0-25-17S, KTS®, 16-0-0-20, AZn and micros.
Yielder® 3015 Mustang Tool Bar with twin 120 gallon ballast tanks for positive down pressure at wings and testing with KTS.
Single 1,000 gallon NH3 trailer tank.
Building TAPPS and TAPPKTS with AZn and micros into dormant winter wheat, late November seeded.
3
High visibility from the cab.
Quick and responsive in the corners. A chance to observe every functional component from the cab.
Feb. 15 banding into dormant irrigated winter wheat at 28 degrees F. Seeded late November, early December 2018.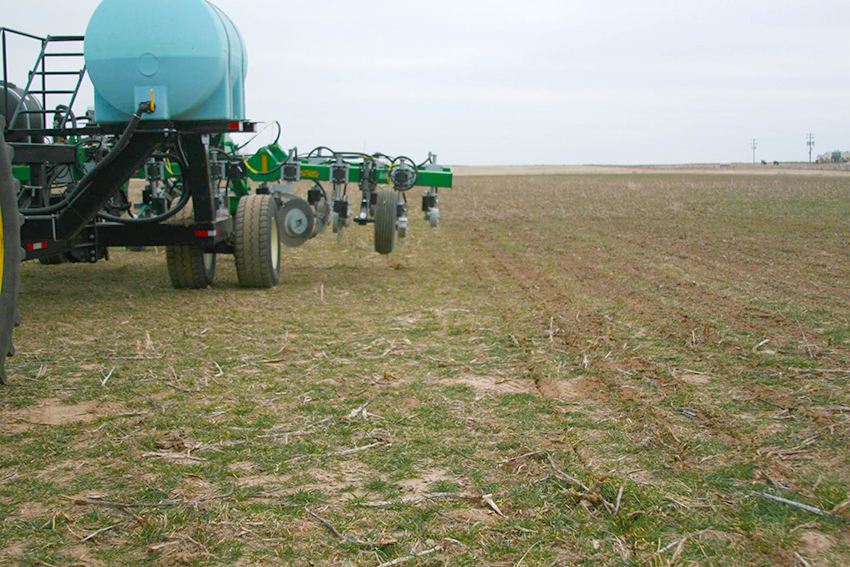 4
Lowest possible soil disturbance with Exactrix TAPPKTS 1% CV vermiculated bands placed 7 inch to 8 inch depth.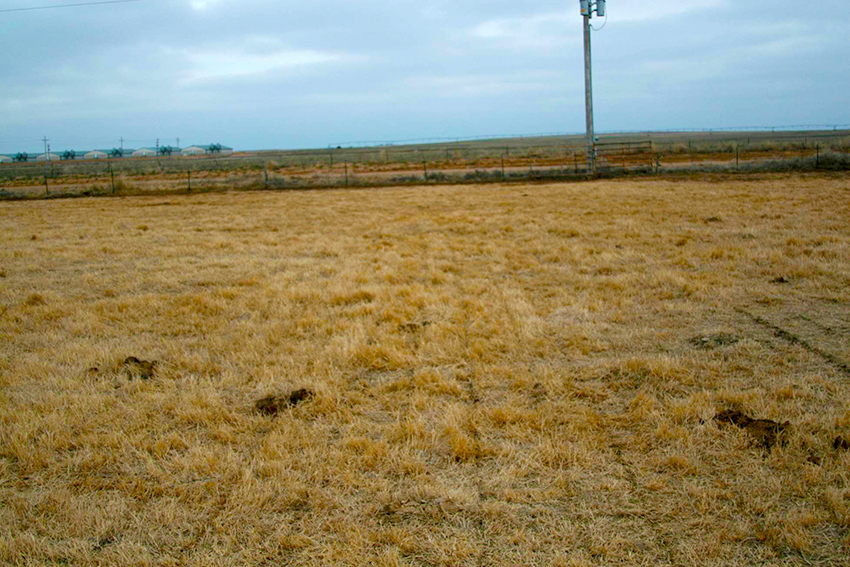 5
Hybridized Coastal Bermuda Grass. Irrigated production allows outstanding economics for Cow Calf Pairs.
Exactrix TAPPKTS Deep Banded 8 inches at full recharge with a Yielder Mustang 3015 formulating TAPPKTS.
On sandy soils there was 700 pounds of beef per acre exported in cow calf pairs.
Exactrix TAPPKTS going in a 15 inch centers surgically cutting the sod to a depth of 7 to 8 inches.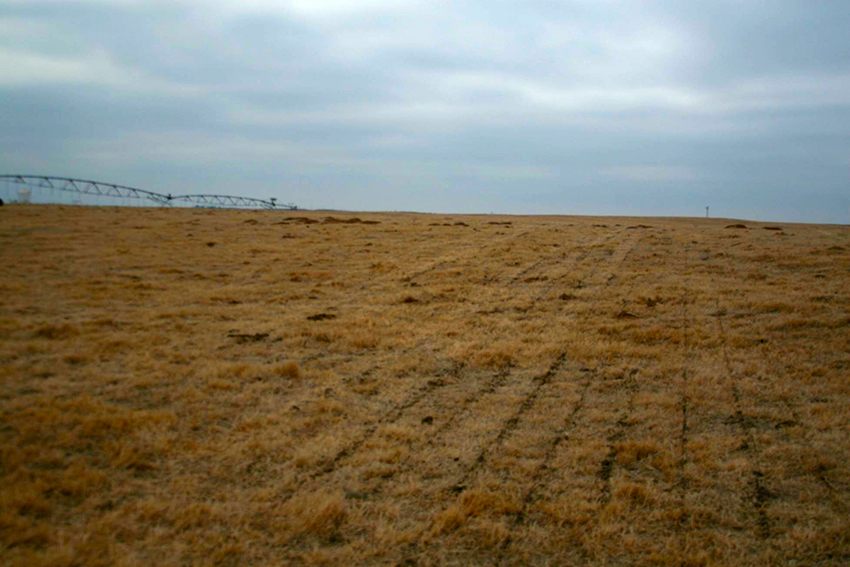 6
Sandy soils are ideal for Mustang banding. A powerful case for Coastal Bermuda Grass hybridized.
Exactrix assures a highly crop available, 1% CV bands of TAPPKTS and AZn for many years under Rotational Band Loading.
Coastal Bermuda makes big yields with small inputs from Exactrix Deep Banded TAPPKTS.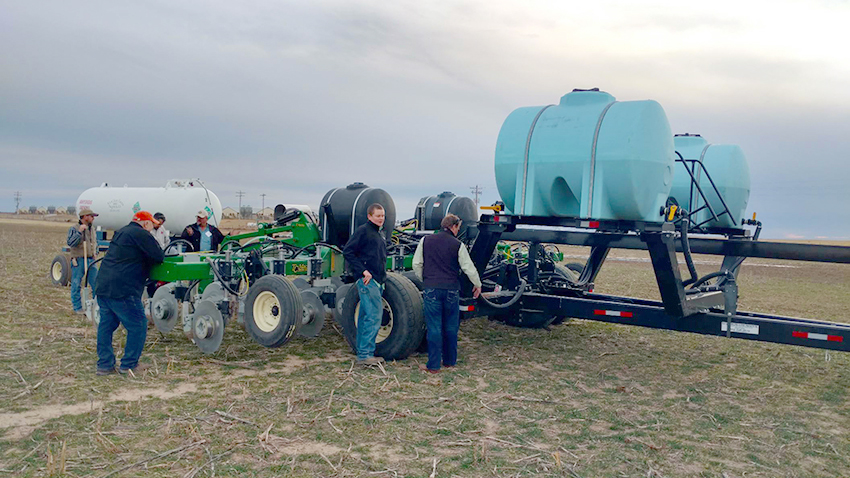 7
Late start Fall Wheat, Banded TAPPKTS, No-tillage under sandy soil conditions.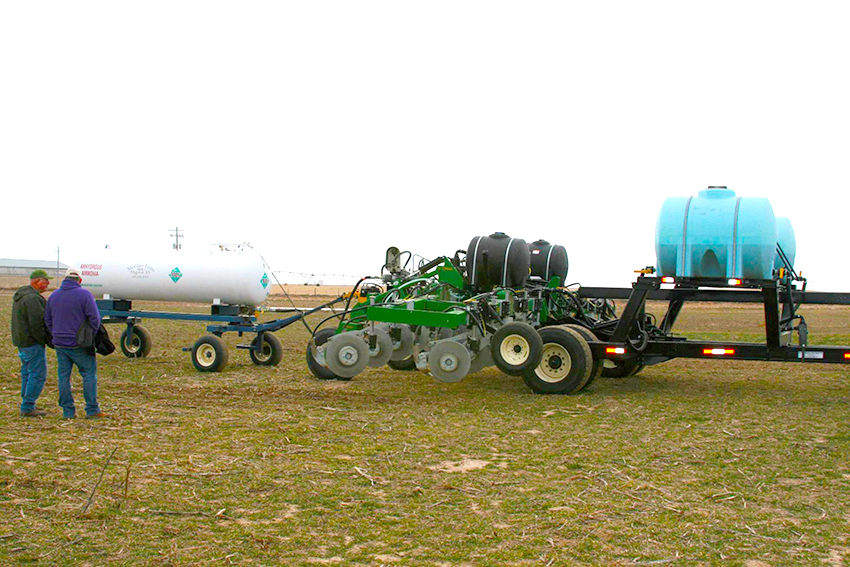 8
Troy Coen and Lewis Davis of Pampa, Texas have a full review of Exactrix, Yielder 3015 Mustang Tool bar with Caddy.
Lewis and his sons own three Exactrix system in corn, wheat, and cotton. He reports excellent results for the last 11 years.
Pastured Grassland TAPPKTS banding is on the venue at Pampa with the powerful 7 to 8 inch deep banding of the P-51C and CUE Mustang Banding Tool Bar.
A great technology breakthrough and an operating cost at $1.00 per acre typically.
Troy talks about machine performance and the upcoming rental program for the Exactrix Mustang Tool Bar
The rental program includes the tractor and Troy Coen for training. The Exactrix Mustang Tool Bar operates in 200 mile radius of Liberal KS.
The Tool bar program is for Cotton, Wheat, Soybeans, Winter Canola, Corn, Milo, Brewing Barley, and Bananas operating in KS, OK and TX and selected rotation periods in Costa Rica.
No-till Baby Potatoes are also being reviewed by AJ Foster.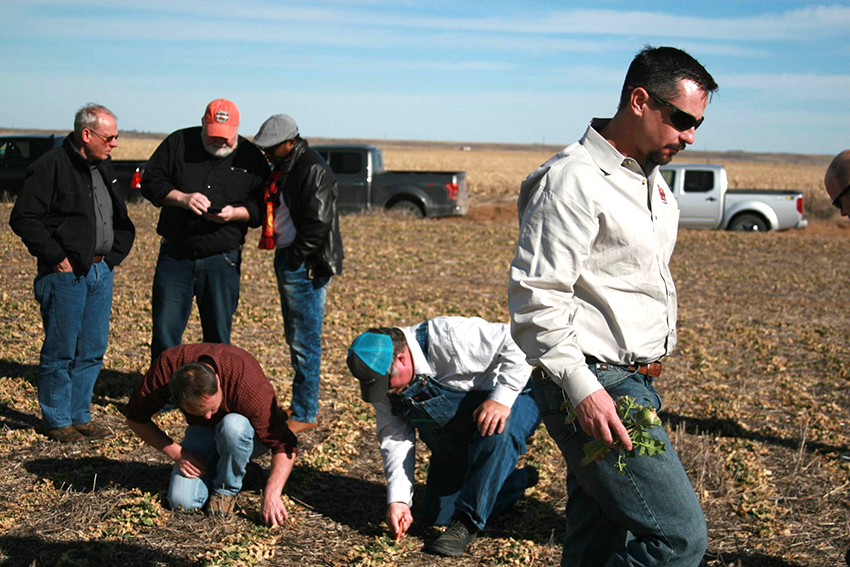 9
Brian Caldbeck, Joel McClure and Brian Arnall. Bert Bock, Lanny Faliede and AJ Foster.
Inspection of Winter Canola by known experts in the breeding and production of Hybrid Winter Canola.
Brian Arnall of OSU contributes to the understanding of Winter Canola nutrient needs.
Brian Caldbeck operates in the field and promotes correct information for the Hybrid Breeder Rubisco.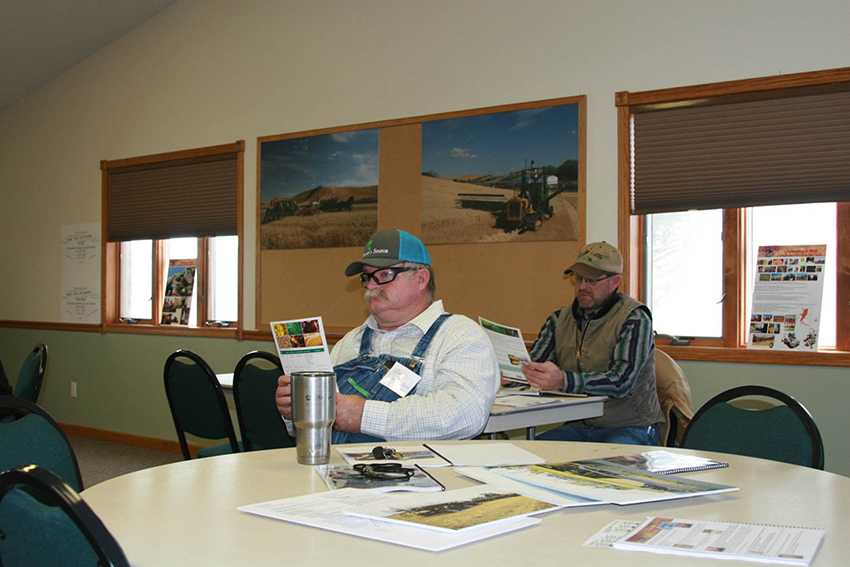 10
McClure and McClure, Sons of Dr. Walter McClure, OSU, The original breeder of Milo in cooperation with others in the 60's.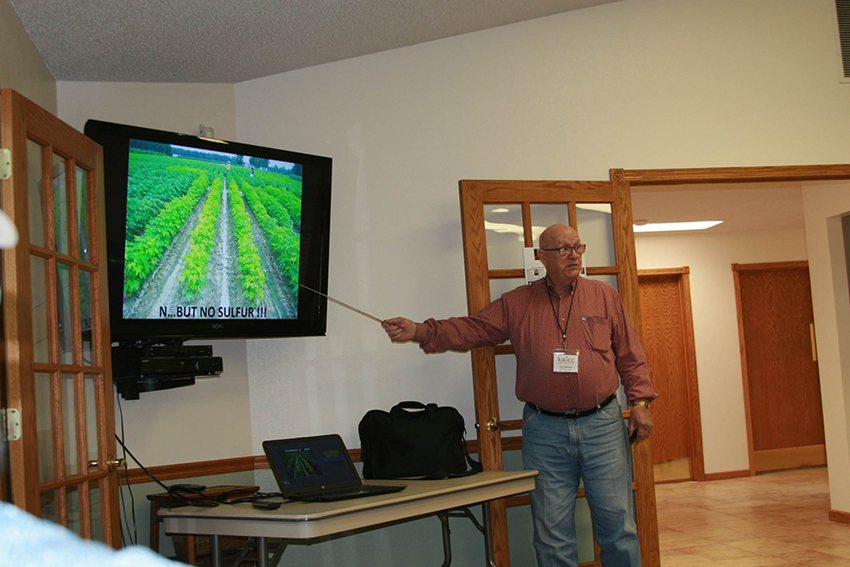 11
Larry Murphy…reviewing Cotton and Sulfur. Ideal for KTS.
Our "go to" historian of the fertilizer industry. Larry Murphy will find the answer. Larry is a consultant of Exactrix TAPPS and TAPPKTS.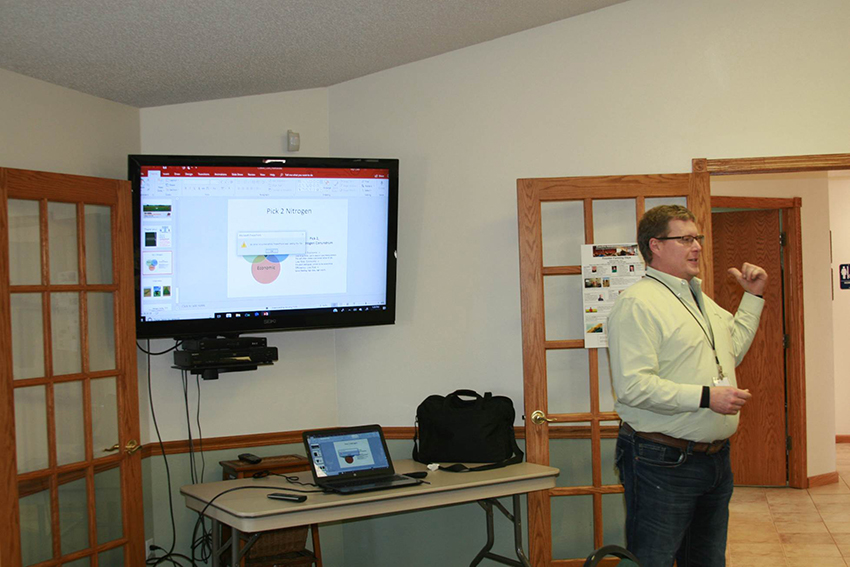 12
John Buck Reviewing Mycorrhizae.
John is Mr. Exactrix in Ohio.
John is tackling the Lake Erie problem by providing Exactrix Mustang Tool bars to protect the stabilized TAPPS fertilizer and feed the crop.
This last week of February 23.5 million dollars was awarded to 24 Conservation Districts to get erosion and fertilizer runoff under control in the Ohio/Lake Erie Watershed.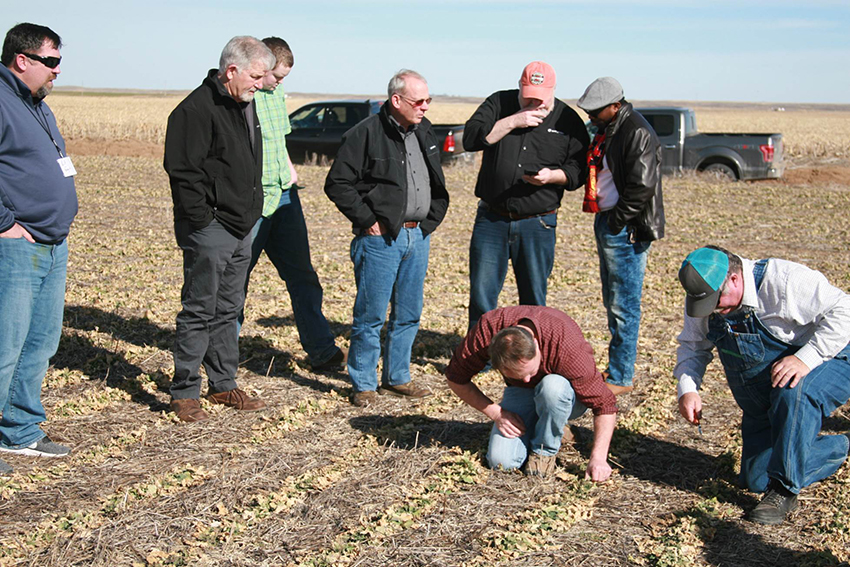 13
Thursday, February 14, 2019…a good day to review SRS Canola on 20 inch.
Bert Bock, AJ Foster observe Lanny Faliede finding the McClure field and reporting GPS based Sat Shot information.
New developments from Sat Shot allow producers to flat rate their VRT-Site Specific application and development costs to $2,000 to $3,000 per farmer.
Large producers can implement Sat Shot technology at low costs per acre and get immediate results that are well understood.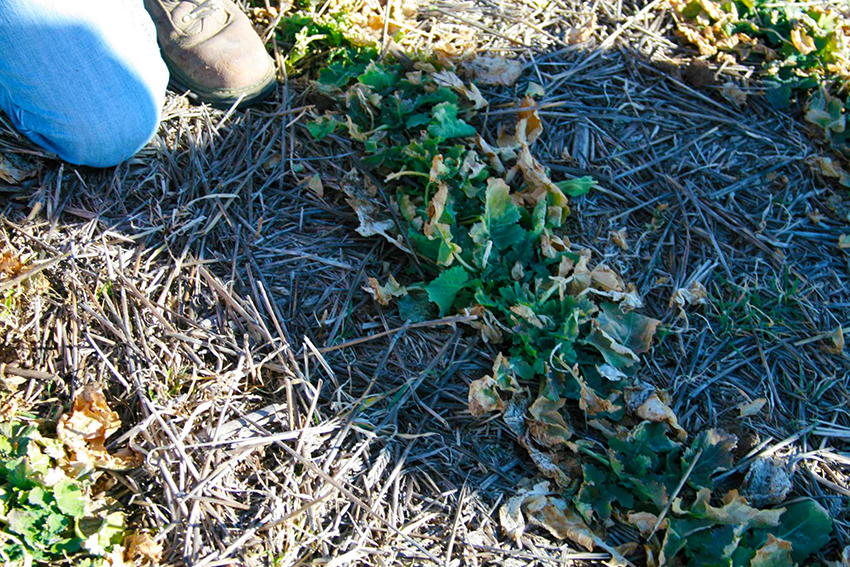 14
SRS, Winter Canola in triticale stubble, irrigated production on sandy soil along the Cimarron River.
A good rotation to cleanup long term nematode problems and leached nitrate from past irregular applications of nitrogen.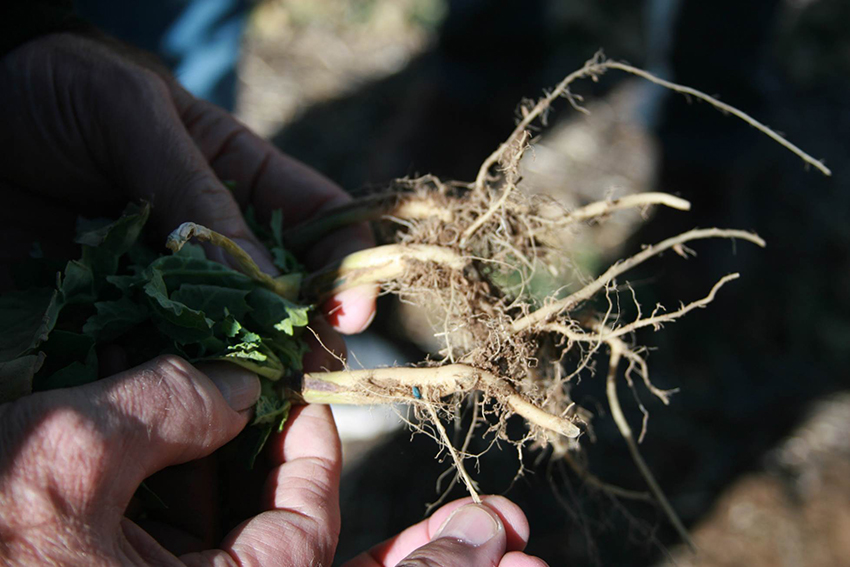 15
A little blue seed makes a big difference with hybridization. Canola Seed like Mustard can move a mountain.
All Canola was planted with SRS on 20 inch.
Concerns about fall applied chemical, Select, Hypocotyl damage has been indicated by Brian Caldbeck of Rubisco.
Select will most likely be dropped as a fall chemical for Winter Canola. Assure is most likely a good replacement.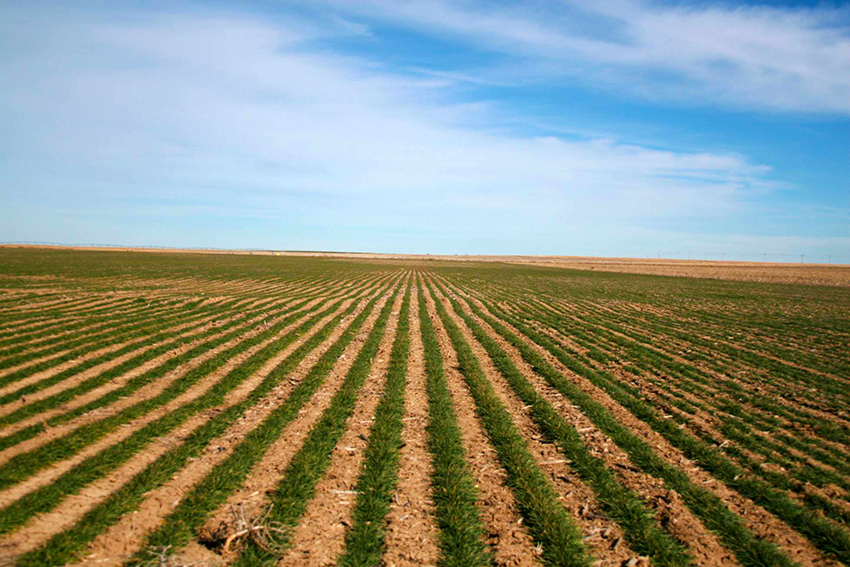 16
Planted SRS vs drilled 10 inch. TAM 111 Certified seed at 230,000 and other rates in trials.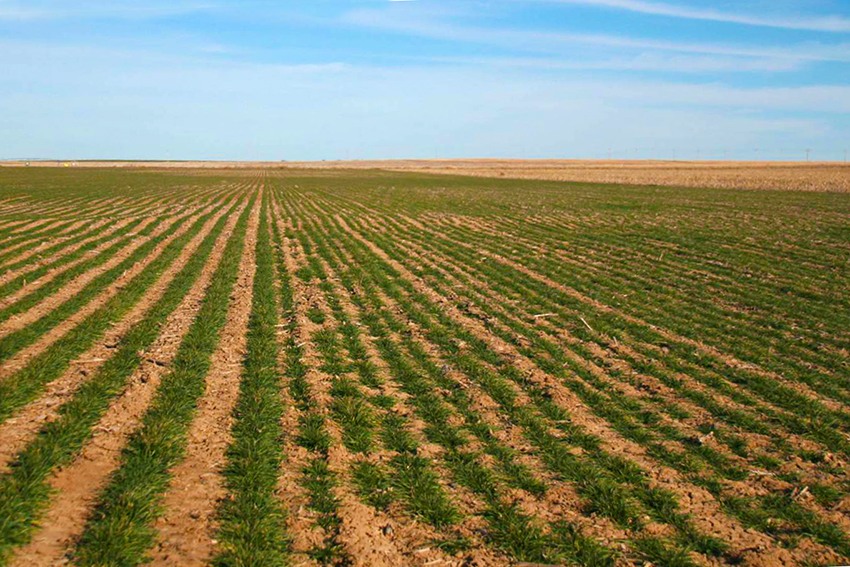 17
Planters have a great future for Winter Wheat. Great Yields at 20 inch planted vs 10 inch double disc seeded.SRS proves the point when coupled up with an advanced Deere Planter.
On 20 inch planter spacing 50 to 100 gallons of water per acre produces these great stands.
The flush of Abscisic Acid and even germination are producing positive results.
The water application cost is about $5.50 to $6.50 per acre.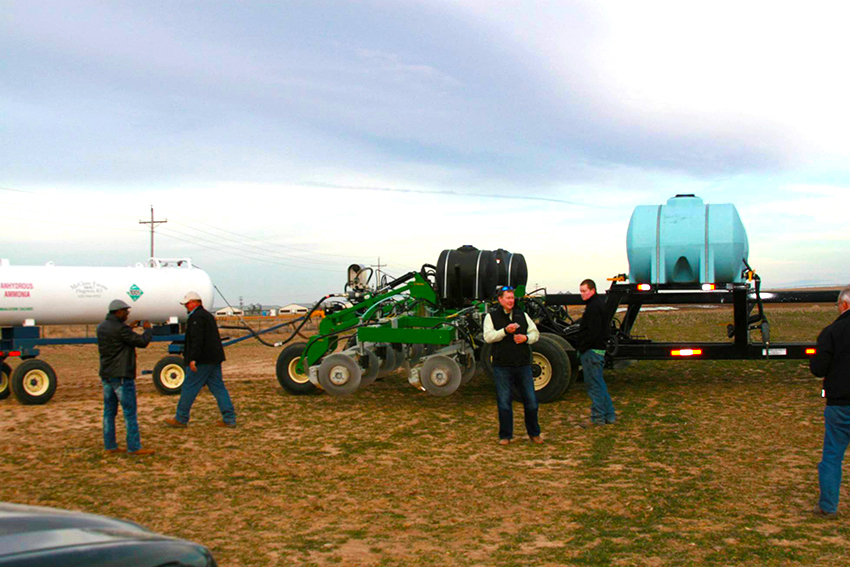 18
Back to the Mother Ship….A fast moving front is on the way.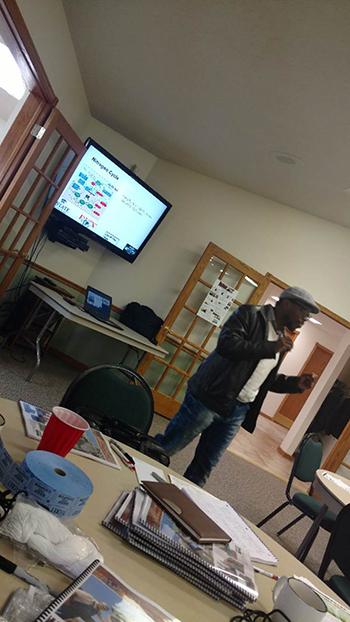 19
Friday morning, AJ Foster makes another great presentation on stabilized nitrogen and a short review of Humic and Fulvic Acid.
AJ indicates TAPPS and TAPPKTS formulated sulfur applied between 20 to 30 lbs. per acre as Thio-sul ®or KTS® will produce stabilization of applied N and good yields with top notch economic performance.
A sulfur response where none was expected in Southwestern Kansas. It could be related to 1% streaming flows and crystalline TAPPKTS and TAPPS.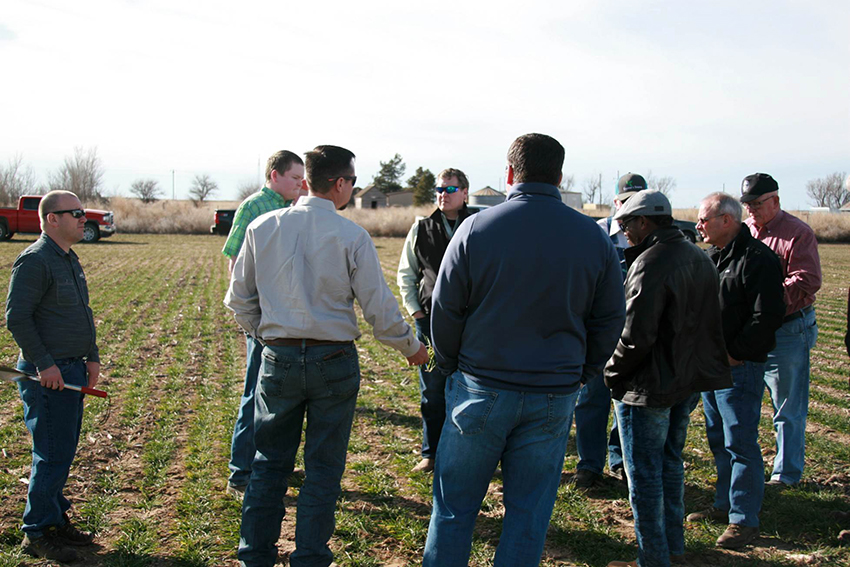 20
Brian Arnall, Oklahoma State, Precision Nutrient Specialist explains crop performance.
Warm days and cool nights at Hugoton for Frontier Days, Winter Wheat just breaking dormancy at SRS test plots.
Feb. 14, Thursday…with little wind and a warm day in the 70's.
A lucky weather period and ideal for training of Exactrix. Statistically Hugoton is good area for being in the field in February.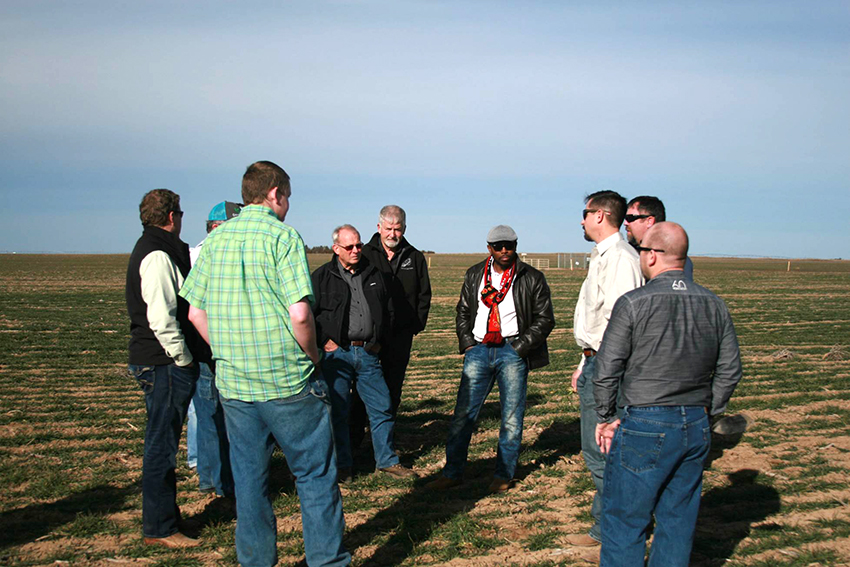 21
Conclusions from a great field day February 14th.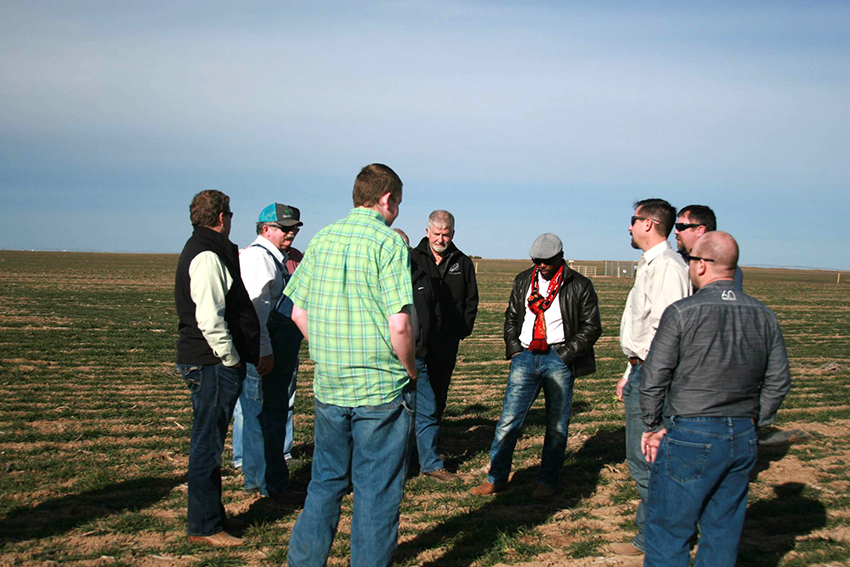 22
Frontier Days at Hugoton, Check in again in 2020, Mark your Calendar, Feb. 13. 14, 2020.
Get on top of the world, The A team leads the pack. Technology experts are reporting major advancements in crop production.
If you are on the edge you need Exactrix Technology to take you down the road another 10 years. It Works.
---
EXACTRIX, Rated in the top ten agricultural websites in North America.
For producers who want to learn more about increasing crop production, we provide some good answers in the Exactrix library.
EXACTRIX GLOBAL SYSTEMS makes the news See Video
EXACTRIX LINKS
Meeting your formulation needs. http://www.exactrix.com/TF.htm
Need more information on advanced crop production. www.exactrix.com/EWAC.htm
Picking your metering systems. http://www.exactrix.com/EPM.htm
Click HERE to read more about the Deere Exactrix Wing Injection System
| | | |
| --- | --- | --- |
| 23 | 24 | 25 |
| Start Ski Season Early in North Dakota | USDA-ARS, Single Disc Tool Bar at Walla Walla. | Schmit Brothers, Osmond, Neb |
---