In Nebraska, Anhydrous Ammonia and Snow go together, Spring Snowstorm leads
to optimum banding of TAPPS on Cereal Rye Cover Crop.
Good Friday in Shelton, Nebraska March 25, 2016, about 11:00 AM. The 24, P-51C Mustang openers are banding on 15 inch centers with high speed 7 x 7 tool bar.
The cover crop is cereal rye and as planned, the soil condition is excellent for No-tillage banding of crystalline TAPPS (Tri-Ammonium Poly Phosphate Sulfate, Ammoniated Zinc) with variable rate, site specific in 4 zones.
The TAPPS Banding is at the 6-to 7-inch depth . The Exactrix Mustang P-51C Tool Bar is formulating TAPPS with excellent sealing.
The No-till soils have sucked up the moisture from a 4-inch windy snow storm that covered the land 2 days earlier.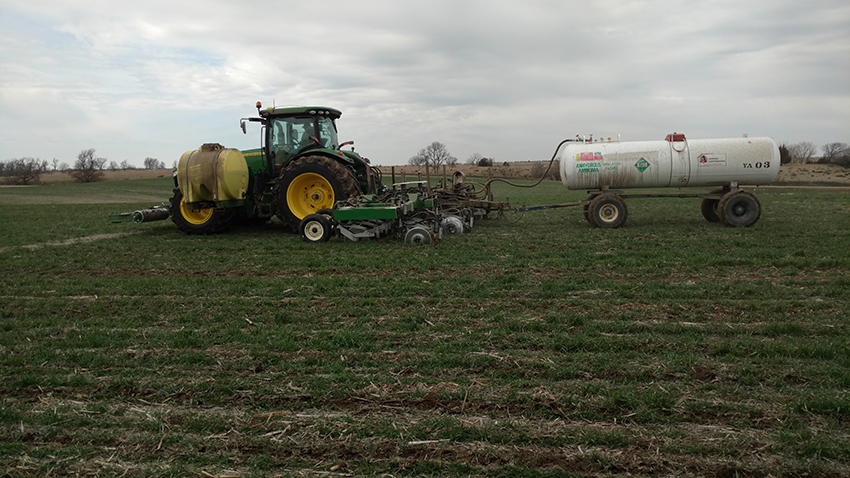 Cover Crop on soybean, Cereal Rye, applying TAPPS at 6.5 to 8 mph. Hill climbing on 20% slopes.

No-tillage in rolling Nebraska at Shelton/Ravena.
Matt Gangwish, Gangwish Seed Farms, is No-till planting their varieties NC+, which is now Channel.
The experienced operator is Jason, in his second season.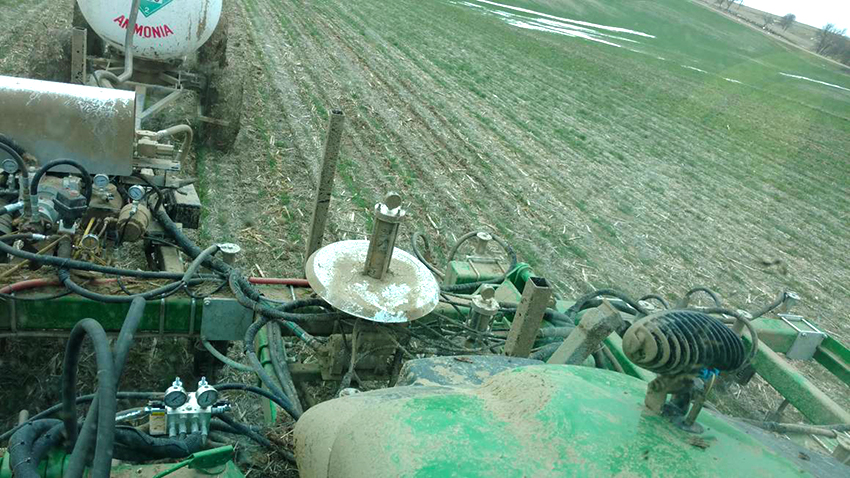 Just a little sticky following a powerful spring snow storm at Shelton, NE, with up to 17 inches at Pender in Northeastern, NE.
The high speed, 7 x 7 tool bar was built at Philips, NE with positive down pressure.
A good tool bar, running about 8 mph with positive down pressure on the wings.
Front depth control wheels are located on the center section and wing section.
The three point is allowed to flex and move up and down in float position.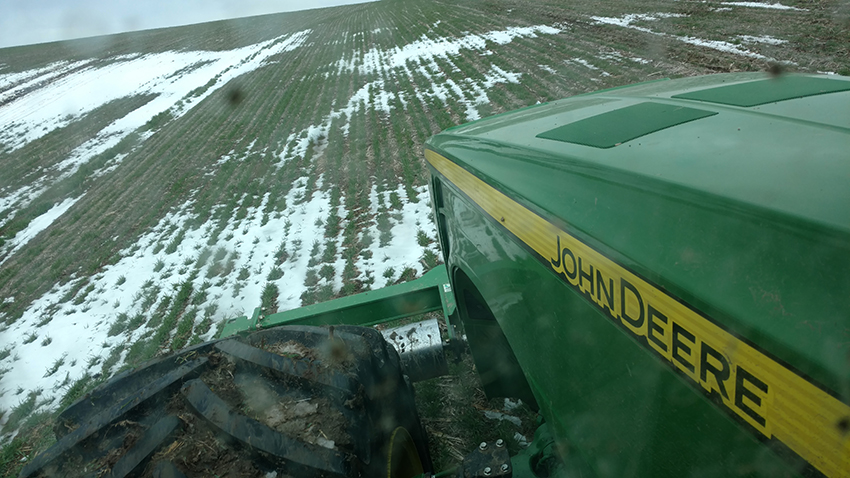 The cover crop helps the tractor and tool bar to hill climb 20% slopes with a single 1,450 gallon NH3 tank behind, and twin 400 gallon liquid tanks on the tractor saddle position.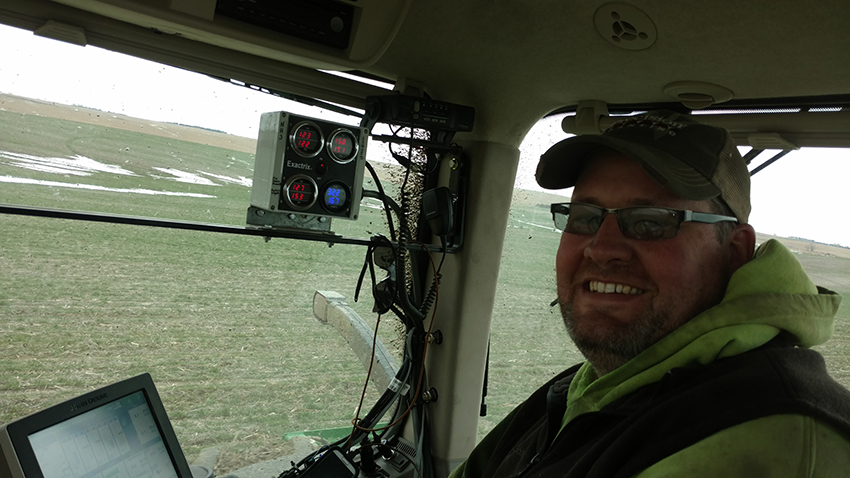 Jason applying VRT in 4 zones. Manifolds balanced, Pump RPM in blue.
The top blue RPM readout is NH3 2KC Weigh Master Pump. The lower blue RPM readout is the liquid 2KP pump and manifolds formulating TAPPS.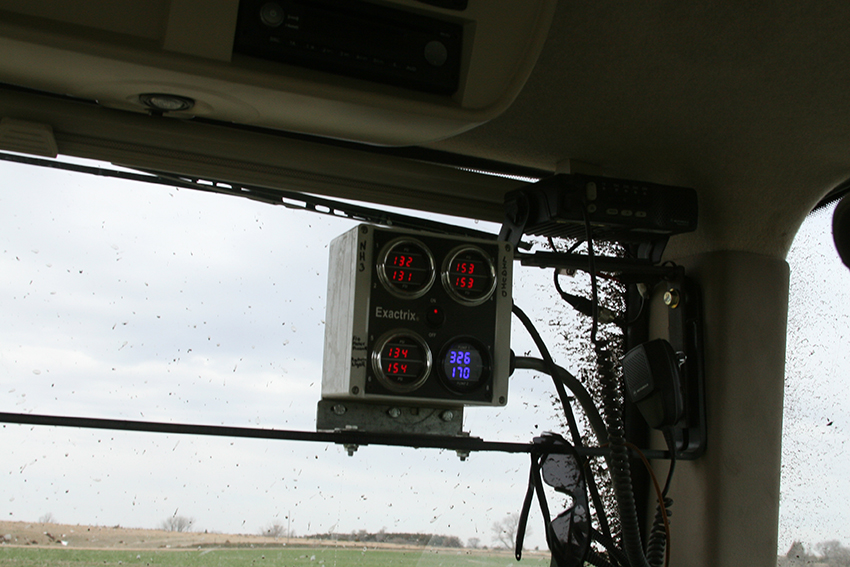 The NH3 and APP/ATS Liquid Injections are balanced in a 2 section system, or 15 foot sections.
The pump RPM's are responding correctly in the four management zones, and with the 2 section auto boom control feature.
Changes in ground speed also keep the RPM's and pressures changing. Ground speed can vary 25% in 20% slopes.
Knowing the lay of the land helps understand VRT better, as the application of two products visually unfolds before the operator's eyes.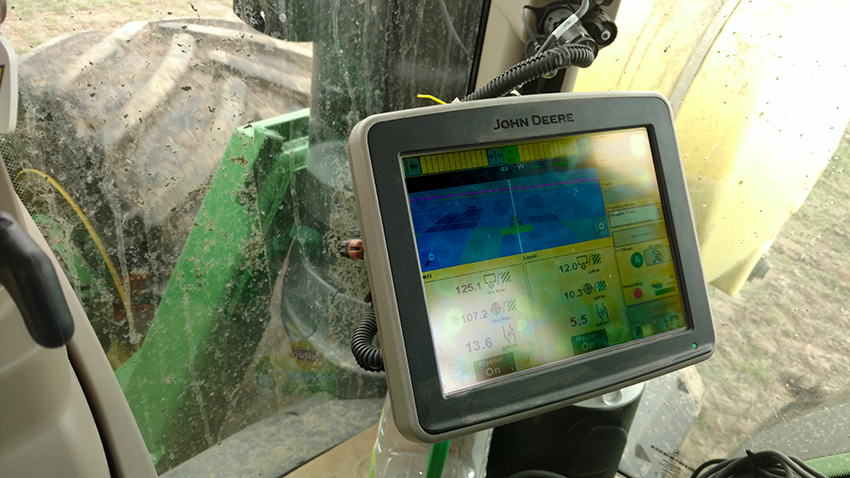 Moving into a lower zone 3 from zone 2, normally takes about 3 seconds.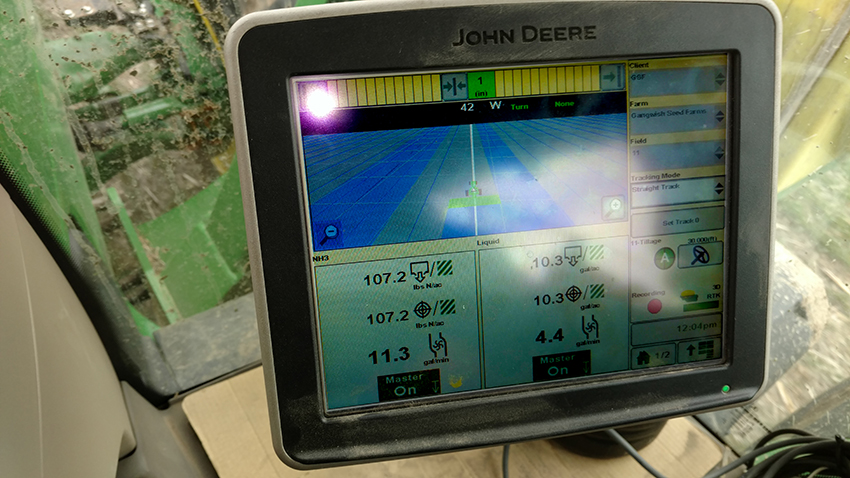 On Target, Zone 3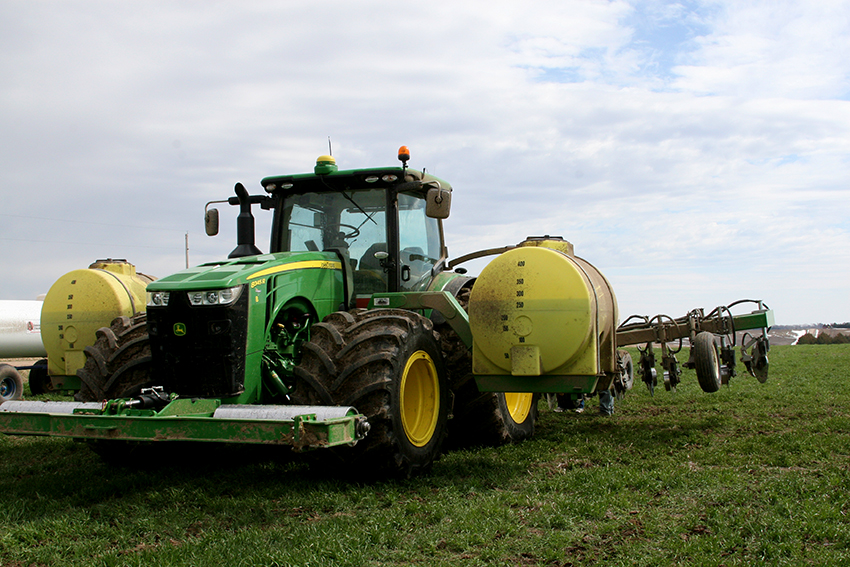 A new tractor with big floatation tires front and back. The tires are definitely effective, as they leave very few tracks in the cover crop.

The cereal rye cover crop allowed the application to be made in difficult conditions.
A good root structure resulted in stabilizing the soil to prevent soil lifting. Cereal Rye was seeded into soybeans at the end of September.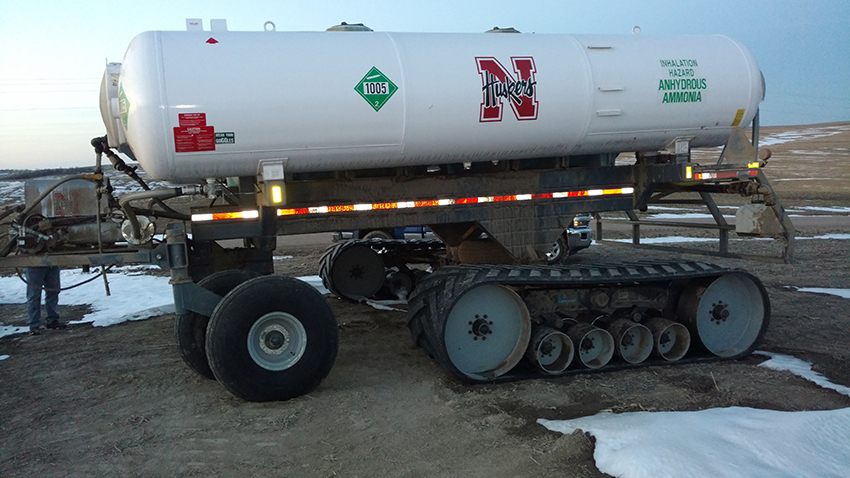 No cover crop on this particular field following the big spring snow storm, and lack of cover can reduce the No-tillage application period.
A good stand of cover crops would distribute the moisture better.

Get more information about Anhydrous Ammonia and TAPPS in snowy conditions. Take a good look inside a highly productive Nebraska Farm using Exactrix Technology covering 1 acre per minute in a continuous No-till system of corn on corn Nebraska style (270 bushel per acre irrigated average). Cows are important. PG Farms video.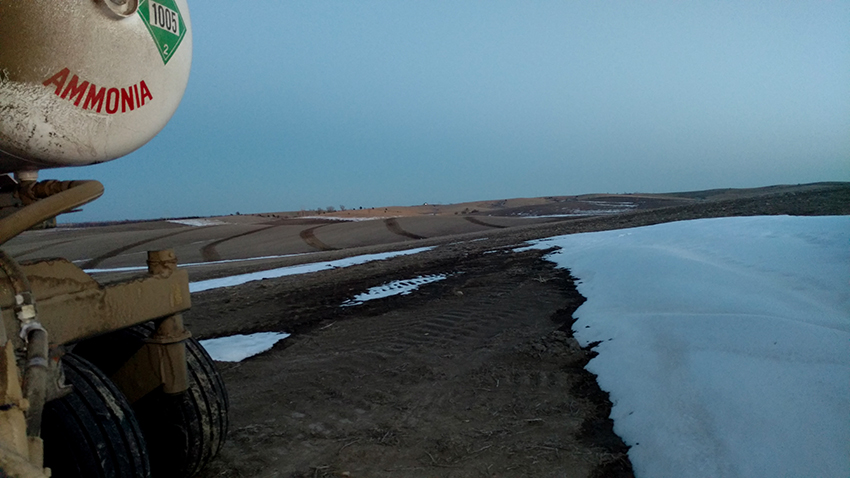 A mobile snow fence and a good time to reflect on the dynamics of mother nature.
Anhydrous Ammonia and Snow fit hand and glove.
A major technical advantage in an overstuffed world market for corn.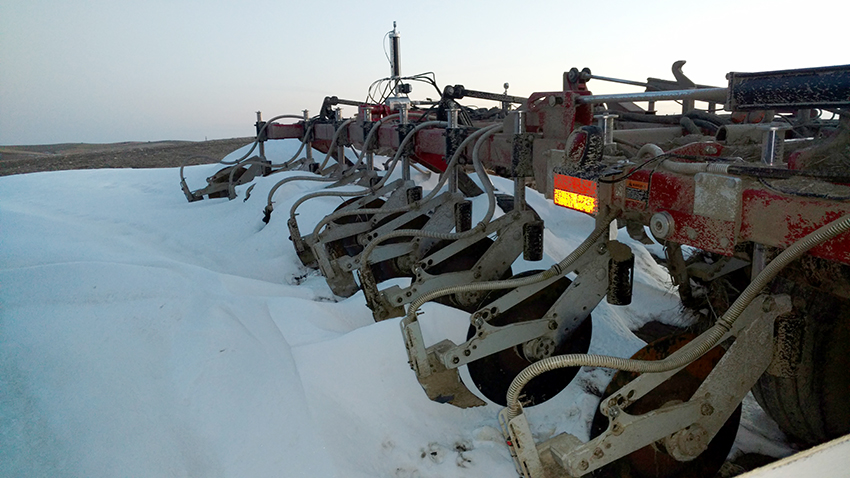 Meeting your formulation needs. www.exactrix.com/TF.htm
Picking your metering systems. www.exactrix.com/EPM.htm
Need more information on advanced crop production?
www.exactrix.com/EWAC.htm
Exactrix P51 Mustangs
Outstanding Video With Kevin Medow and His P51 Mustangs
EXACTRIX.COM