"America wins the battle in a fight to the finish in the Pacific, Midway Islands.
Exactrix Deere owners make Midway type changes in the Pacific Northwest and the Great Plains."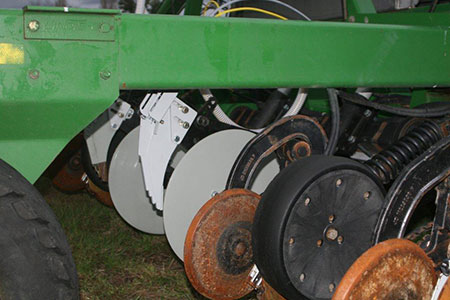 Deere owners are looking for lower operating cost and banding deeper to 7 inch depth at high speed.
Lower operating costs are assured since all the associated jewelry and tillage effect of fixed angle openers is eliminated.
The B series openers also swivel allowing turning corrections with out tearing up soil and hurting the seedbed.
The Deere 1890 and 1895 can be set up with Mustang P-51B openers in the front gang position.
Exactrix TAPPS and TAPPKTS is deep banded to the 6 to 7 inch depth.
The Mustang P-51B series opener is cost reduced to match the needs of the 1890 banding and seeding units. Blade diameter is reduced but blade thickness is maintained. The opener utilizes less than 8 inches of total clearance.
No Closing wheel is required. No depth wheel is required...the unit is very compact and reduces clearance problems.
Some Deere owners are considering narrow seed rows in single rank...It appears that Deere 1890 openers can now be set up in 10 inch seed row spacing with 10 inch band spacing.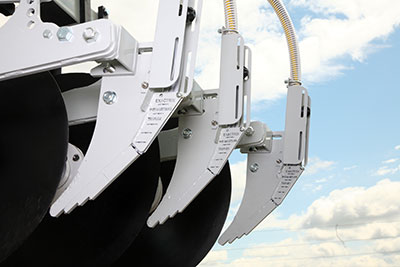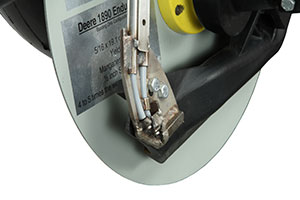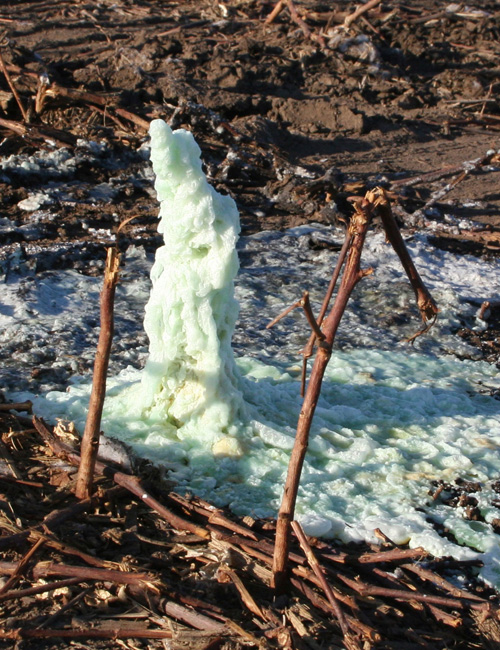 See info on the P51 Mustangs See Info On Single Disc Openers TAPPS and TAPPKTS

See the Exactrix Agronomy Guide

Info on the Deere 1890 Ultra Endurance

More testing is required and you can order a video from Exactrix....go to www.exactrix.com/dewi.htm
P51-B Mustang openers will provide new banding opportunities for Deere owners...on 10, 11, 12 and 15 inch band spacing.
Deere 1895 Banding and Seeding systems can also be considered for 10 inch band spacing. True the P-51B series opener is also being considered for the 1895....thus each row receives of band of nutrient at the 6 inch depth.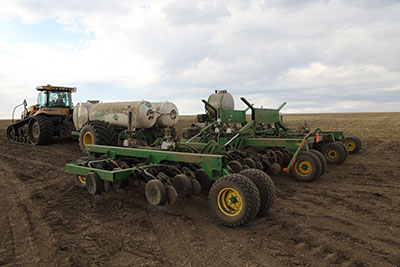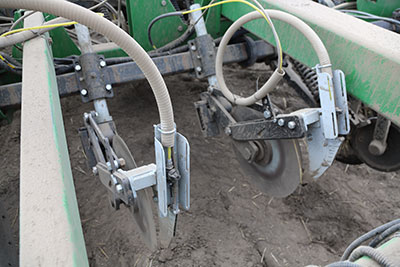 Deere 1890 Banding on 12 inch. P51 D Mustangs, Swiveling Openers, Deere 1890.
Click on images to enlarge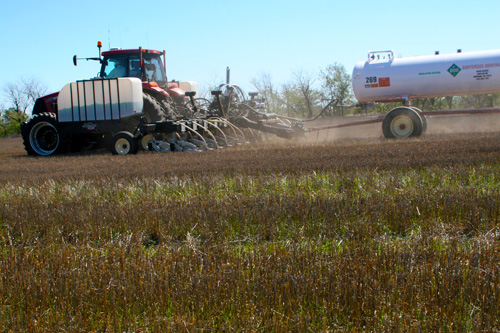 Mark Ricker high speed tool bar....at Lyons Kansas (Video)
Invented and promoted for Kansas conditions and Mr. No-till, Mark Ricker of Lyons, KS.
A Case Magnum 335 hp tractor with 14,000 pound three point load, utilizing a Montezuma Tool Bar and Mustang P-51C high durability openers.
Side saddle mounted twin 500 gallon tanks at 1,000 gallons of 11.7 pound gallon, APP/ATS/KTS. Trailing a 2,000 gallon NH3 tank with Exactrix/RT 2 inch bottom outlet valves.
A dynamic event and headed for the next chapter in No-till farming, Surgical Cut, Pre-plant banding TAPPS and TAPPKTS for no-tillage winter wheat production.
Banding to a 7 inch depth at 12.5 mph and consuming .3 gallons per acre of diesel fuel per acre.
The high speed Exactrix designed tool bar is covering .75 acres per minute at 12.5 mph.
Kansas conditions allowing TAPPS bands at 7 inch depth with long one mile runs operating with RTK guidance form Trimble.
Only No-tillage farming can produce such high levels of efficiency when soil stored moisture is the limiting factor.
---
Exactrix Broadcast e-mail march 29 informs producers of Potash Price Fixing Scheme. A refund is available.
http://exactrix.com/Broadcast_03_25_13.htm
---
Exactrix 2KM systems, Sparging Reflow Blenders with Back Flush Filtration.
Set up with Sparging Reflow Blenders designed specifically for Great Plains producers.
Using higher rates of Ammoniated Zinc verses Chelated Zinc saving up to $10.00 per acre.
Using higher rates of Copper Sulfate as a biocide to stabilize nitrogen and to send nitrobacteria into retreat of the band of ammoniated nutrients.
Using higher...but lower cost combinations of Hydra Hume in ratio controlled reflow and sparge combinations.
Allows quick water flush of filters and blending sparge.