Get Technology On Your Side Of The Fence.
Anhydrous Ammonia delivered to your Kansas or Nebraska Farm at $330 per ton. Get Technology on your side of the fence; Singulated Canola in the Peace River, it works. Monosem, WSU is also in the loop, Hill Planting. Exactrix Uniformity.
Our leadoff, great payback comes from Monosem.
Singulated Canola Seed with a Monosem Planter in Peace River, Alberta.
At 120,000 population in a standard 6 inch space, allows producers to save up to $25.00 per acre in seed costs.
The producer saved a lot of money and produced a better yield.
Less is More.
It Works.
Ben McClure of Kramer Seed, Hugoton, KS says, "3 to 4 years and he will have hybrid wheat seed available."
Hybrid Wheat fits the Monosem planter at 10-inch to 15-inch.
WSU has a 9-inch Monosem for testing herbicide carryover using Lentils.
Scientific Research: Population and stand counts with Lentils determines the plant back timing of the herbicide mix. A planter can get more critical statistical answers as to when to plant back on soil active herbicides.
Furthermore, Deere bought Monosem.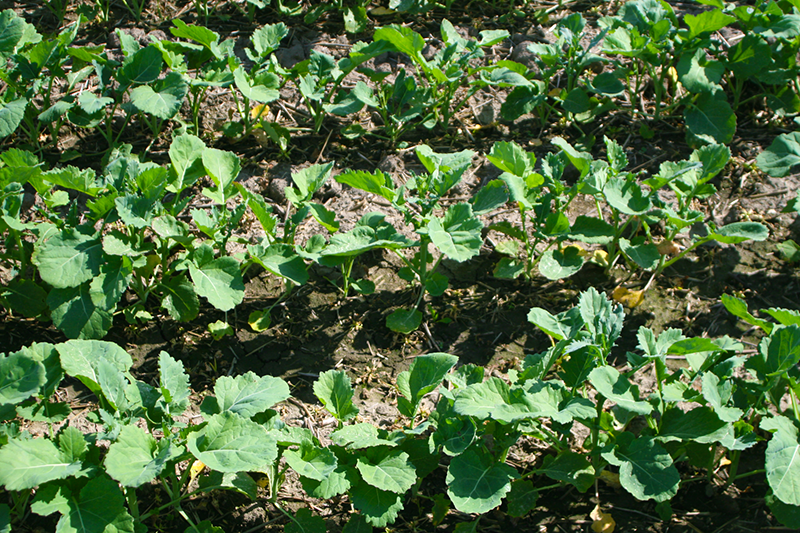 With 15-inch seed rows a 15-inch TAPPS, Mustang High speed tool bar can match the planter, and drive the geometry of the placed TAPPS in relation to the tap root.
Leveraged fertility reduces the fertilizer bill.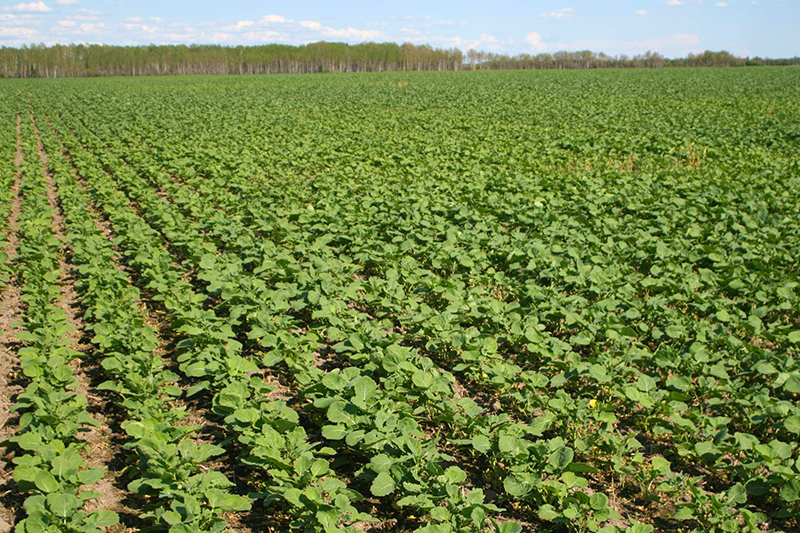 In May, one good chance to roll the dice at 58 degrees North. Singulation of expensive seed makes sense. No second chances in this game. Freezing nights are on the way in late August.
Monosem stack planter on 15-inch seed row spacing with special hitch.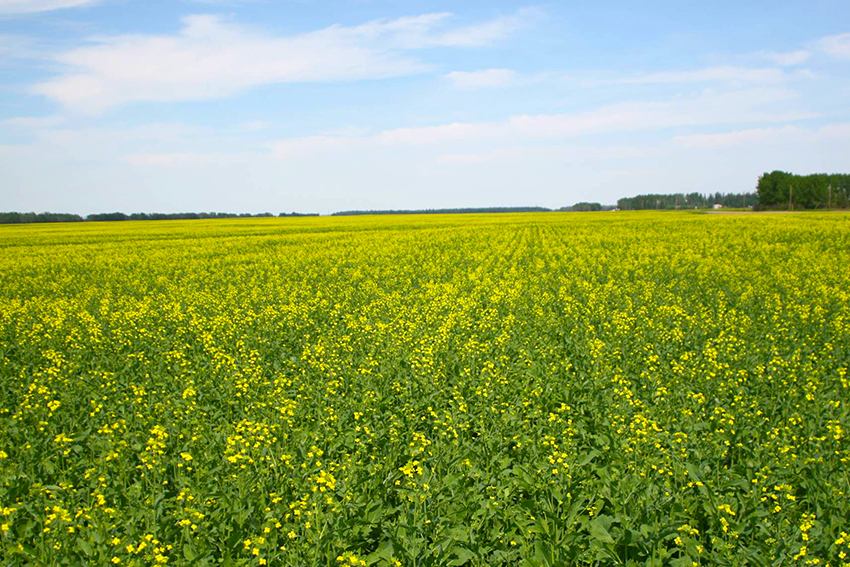 Canola at bloom,15-inch Monosem. Emergence was ideal with uniform plant height. All the hybrid canola plants came together.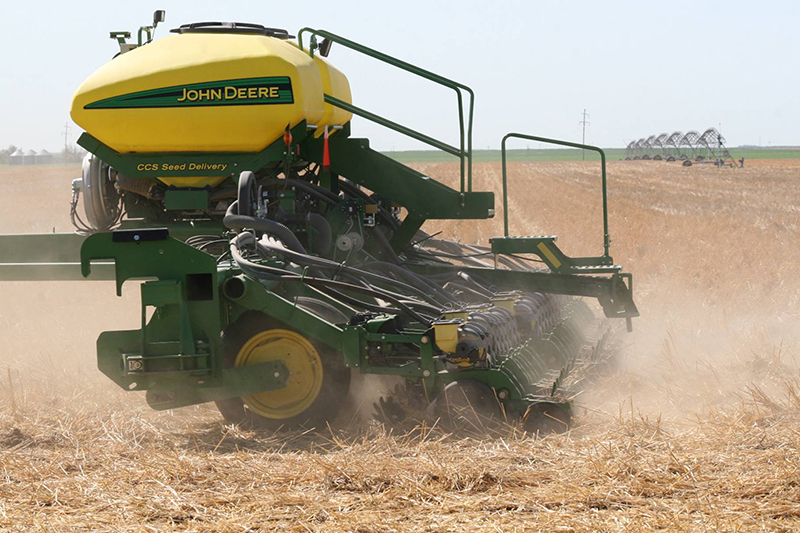 Exactrix Anhydrous Ammonia makes it work.
TAPPS formulators apply nutrients just before the planter, using single disc openers.
In June, irrigated Double Crop, Triticale Harvest allows Sunflowers to be planted immediately behind the combine.
No Roundup is required.
The field is pre-plant banded No-till with Exactrix TAPPS formulator.
In-crop grass killer follows later.
The 20-inch seed row spacing covers the ground with a good soil cover of Triticale residue.
Double Cropping beats Cover Cropping in Western Kansas.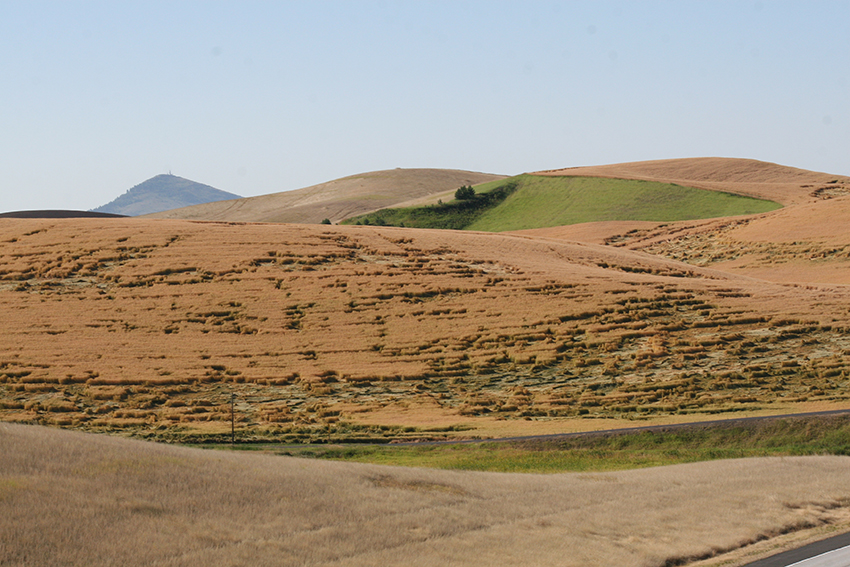 Poor applications of nutrients are non-affordable when commodity prices are high, or if they are low.
Exactrix Applications are 1% CV in uniform streaming bands of 82-0-0, 10-34-0, and 12-0-0-26S, AZn.
Variable Rate Site Specific Response Time is 3 seconds at the injection point.
In fact, even quicker than any other approach with high pressure, low CV of application.
No excuses. For down wheat in this new world, Anhydrous Ammonia has changed.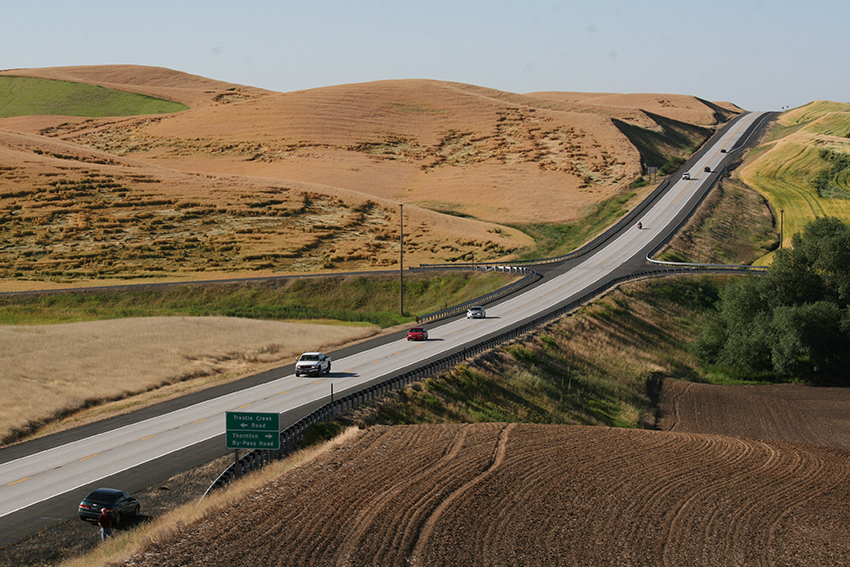 Not the best job of farming the land.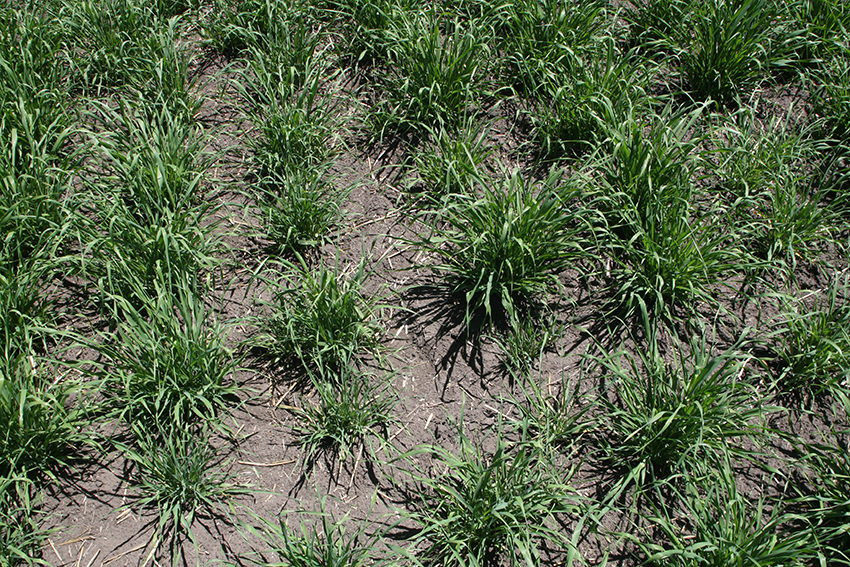 Hill Planting in Idaho….12 seeds per hill of spring barley can boost yields 10% as compared to standard seed rows at same seed rate. Why can this be true?
Barley is in a race for moisture. Seminal roots compete and run deep faster when planted in hills. Seed rows are not as competitive.
Dry conditions, Hill planting is better. Same is true for Milo.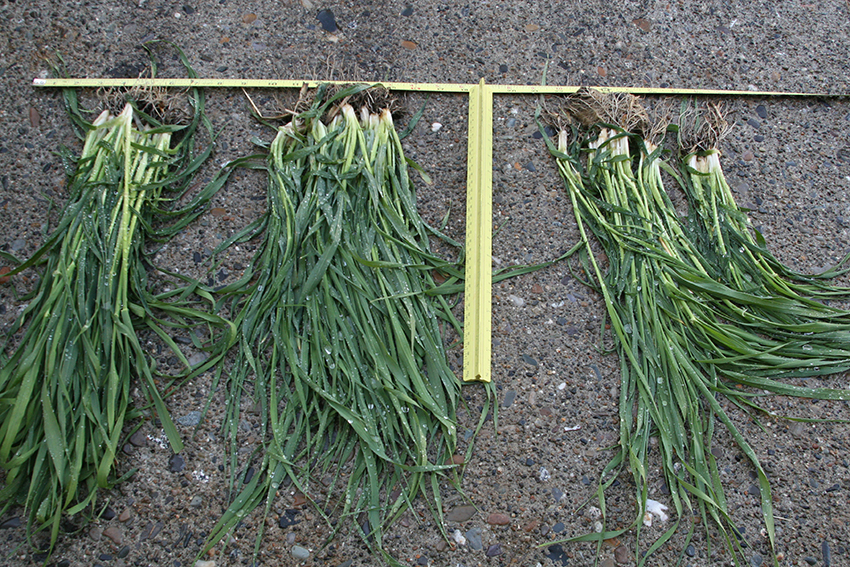 Spring barley hill planting on the left. Standard seed row planting on the right at the same population.
Spring barley seems to be less modified in the manipulated breeder genetics, and reverts back to a more natural morphology.
Propagation of barley from the head comes from the fertile crescent evolution of all small grains.
Hill planting appears to have good long term value in dry barley production areas.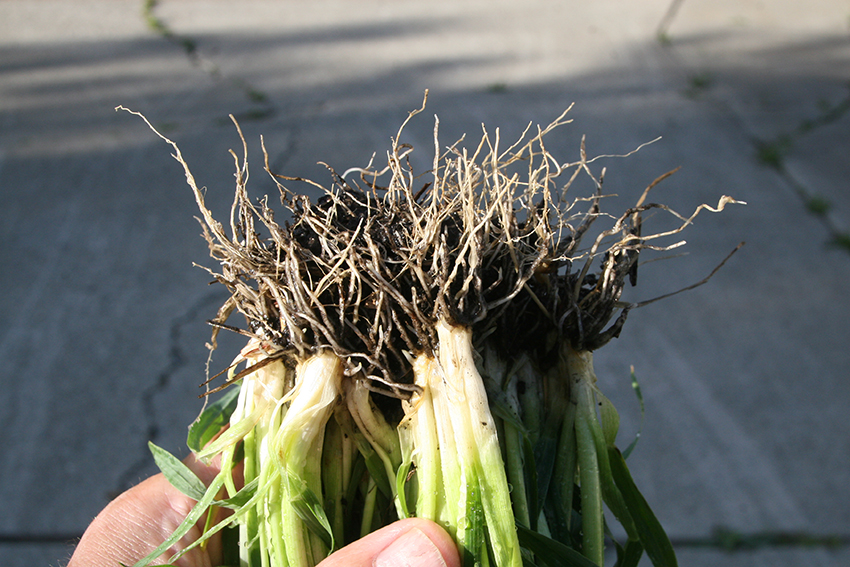 Barley planted in hills, JD Logan and others involved in a new technical development.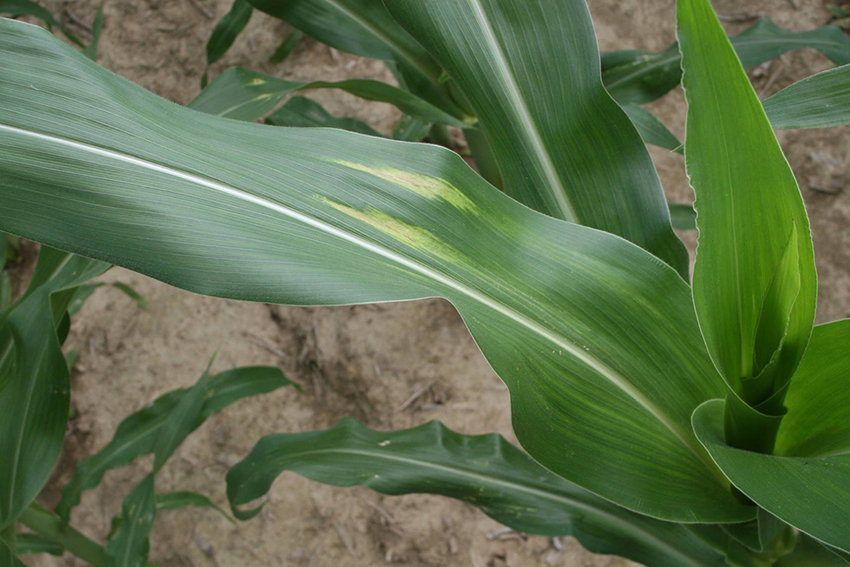 What is wrong with this corn leaf?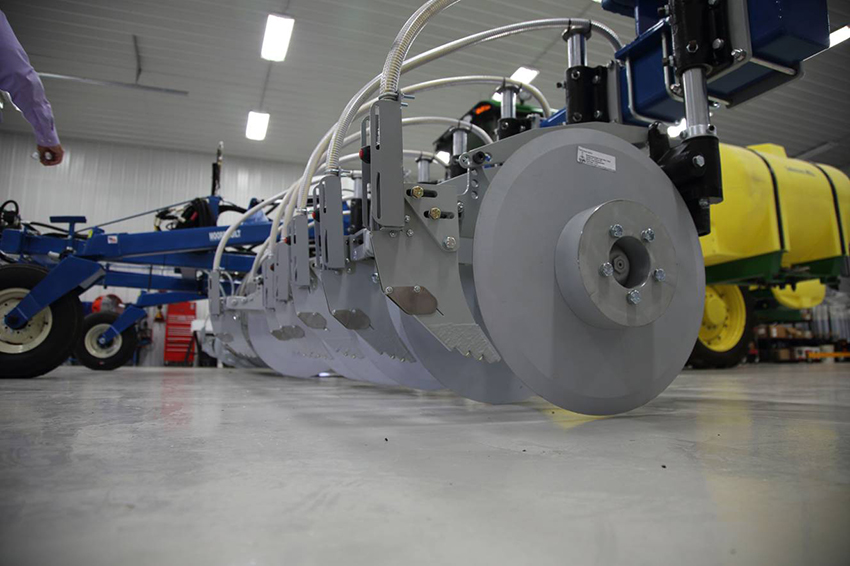 Mustangs can band TAPPS deep to 8 inches with the P-51 CUE
Formulating TAPPS without tillage is key to long term use of placed P.
Phosphate becomes 200% more crop available.
Rotational Band Loading allows soil test P to increase using TAPPS and Mustangs.
Mustangs run fast, to 12 mph. Mustangs operate for about 75 cents per acre on 30 inch spacing, or about ¼ to 1/5 the cost of the Deere 2510.
P-51B at $2,900, P-51C at $3,800 and P-51CUE at $4,200, reduce banding costs and match customer needs.
Band into growing crops with Mustang openers.
Time the banding to moisture in the soil and get the maximum use of the nutrients.
Mustang openers run fast and operate at low cost.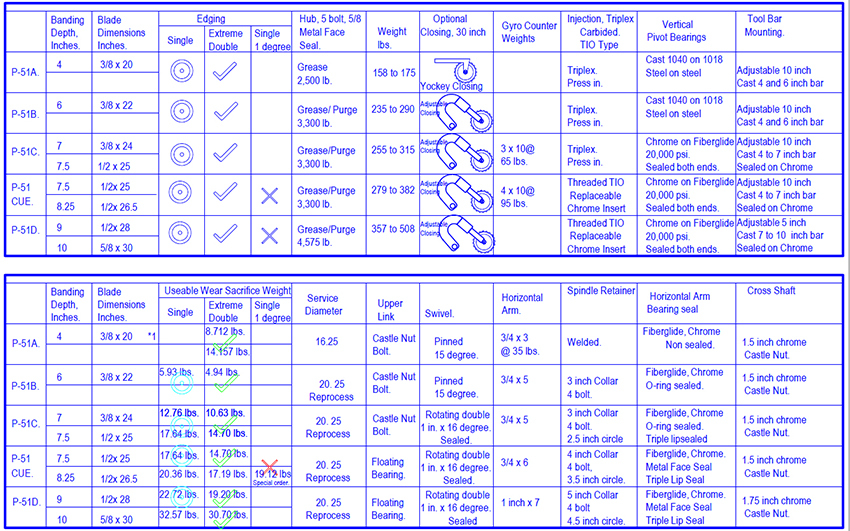 Training Videos are available at www.exactrix.com/EOYT.htm

More news about Relay Intercropping at www.exactrix.com/RI.htm

Nitrogen Stabilization, Thio-Sul® is as good or better than N-Serve®. http://www.exactrix.com/Broadcast_03_11_16.htm

Mustard and Fumigation at WSU, U of I subject web page at www.exactrix.com/FM.htm

Terminate your Cover Crop Early. http://www.exactrix.com/Broadcast_03_11_16.htm

TAPPS and TAPPKTS at www.exactrix.com/TF.htm

For a good overview of banding deeper go to Center Pivot Corn Production

Need more historical reference of Exactrix Global Systems? Go to www.exactrix.com/EWAC.htm

Banding Deeper in No-till without tillage with Rotational Band Loading. www.exactrix.com/mustang.htm

Need more information about STEEP test plots and how Exactrix performs? Go to www.exactrix.com/mcclure.htm

See Video How TAPPS and TAPPKTS Changed a Kansas Farm. A KSU Ag Economist gives a good review.
Meeting your formulation needs. www.exactrix.com/TF.htm

Picking your metering systems. www.exactrix.com/EPM.htm

Need more information on advanced crop production? Go to www.exactrix.com/EWAC.htm
Exactrix P51 Mustangs
Outstanding Video With Kevin Medow and His P51 Mustangs
EXACTRIX.COM