Change the Fertilizer Industry with the help of the fertilizer industry.
TKI, Tessenderlo Kerley Inc., is a major contributor to improved nutrient efficiency with Exactrix TAPPS.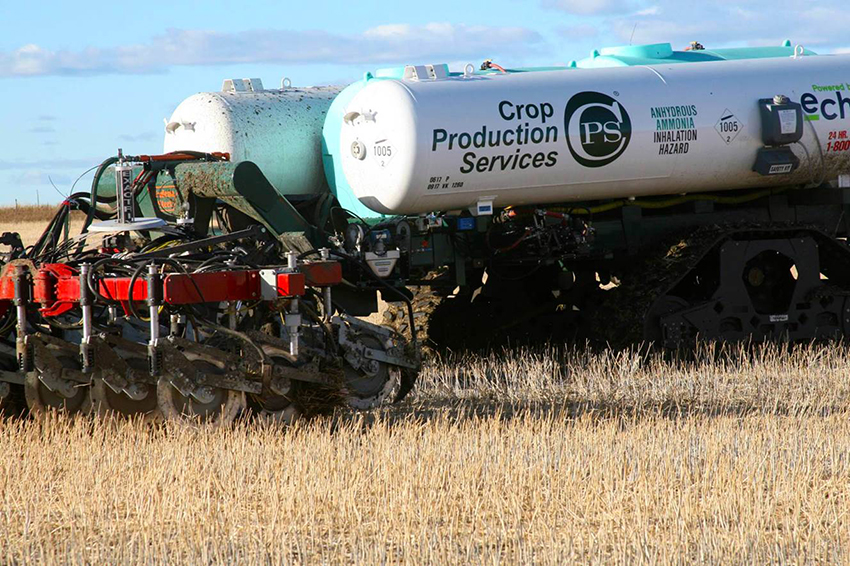 CPS sees the need for change.
Exactrix at work at CPS, Mid October, 2017 in Grand Prairie, Alberta. Big Red makes inroads with TAPPS and TAPPKTS.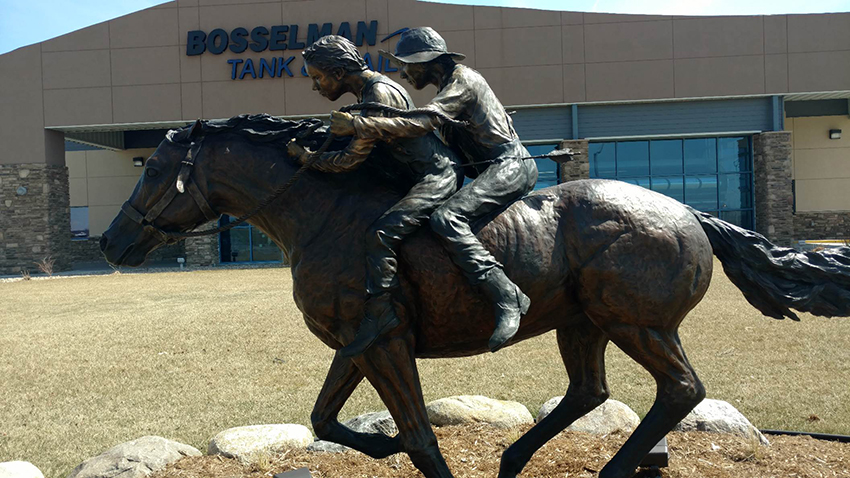 A true story of the Pioneer West.
Inclusive story of the Pinned Martin Brothers at page 25.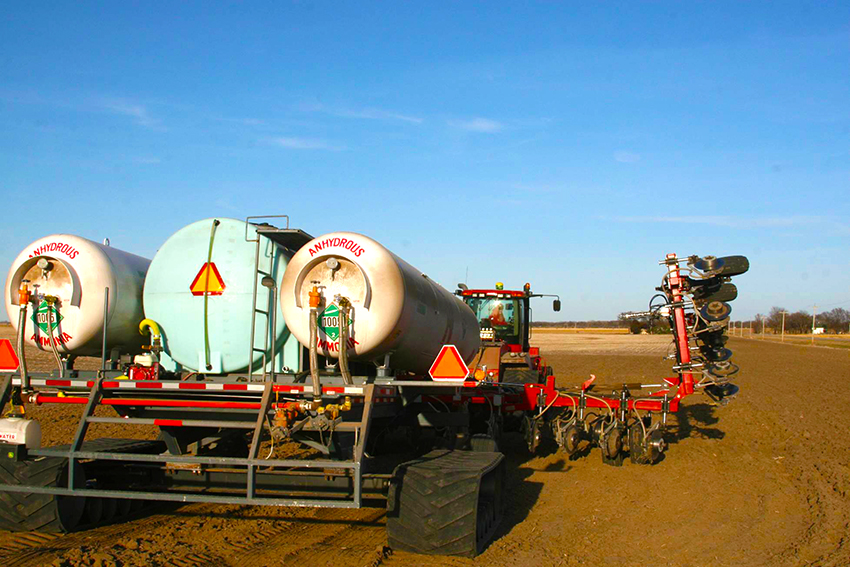 Running with the best. Paul Gangwish, Shelton, Nebraska. April 11, 2018
Rolling Center Pivots ( up to 20% in single angle and compound slopes to 30%) in No-tillage application of Exactrix TAPPS.
The heavily compacted truck parking lot got a tillage treatment.

The center pivot tracks also get reworked about 3 feet wide in No-till.
The largest.
The Big 620 Case Quad Tractor in, Hill climbing Mode, was burning 34 gallons per hour straight up the hill at 7.5 mph on the Exactrix TAPPS application.

At sunset….The rolling hills location is North of Shelton, Nebraska on April 11, 18. PG Farms.

The Big Red, Case 940 Tool Bar is at 61.25 feet. 49 opener bands at 1%CV in liquid streaming flows.

Making uphill turns on 20% compound angles with 100,000 lbs. behind the tractor.

Big Red is an impressive combination in productivity.

The Quad is stock. No chip.

The Quad has been running good at low cost.

The KD Track Cart has had a few encounters with the terrain of rolling Nebraska.

The 100,000 lb. cart with high floatation can be pushy in downhill turns.

It is powerful combination at 1 acre per minute at 8.1 mph.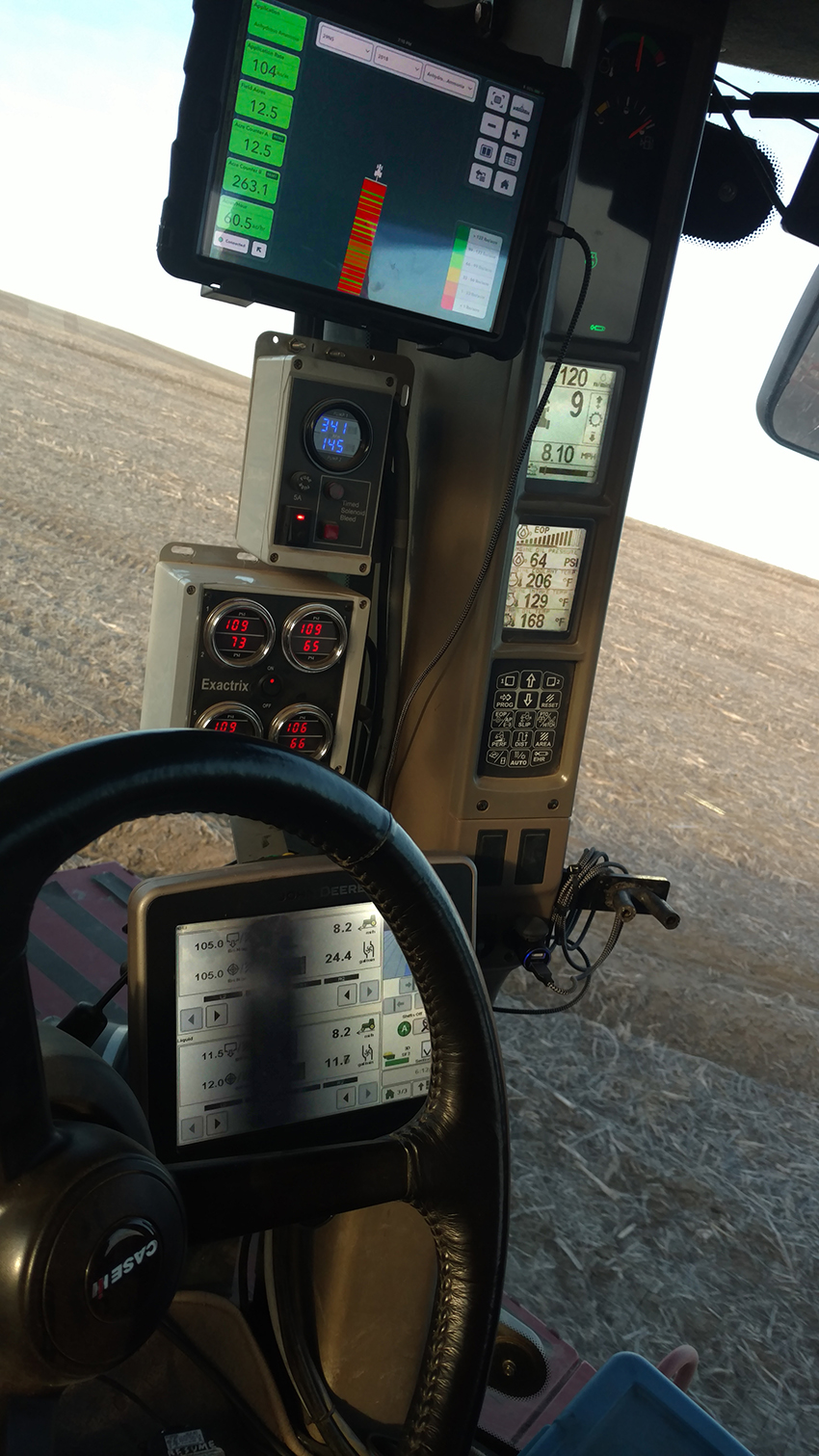 The operator uses information similar to a pilot.
The operator scans all the panels constantly in VRT-Site Specific with positive displacement Exactrix pumps with Mass Flow.
The Exactrix Predictable flow curves allow the operator to double check VRT-Site Specific zones by pump rpm.
Using Mass meters the information is totally repeatable at .002.
Accurate within 20 lbs. on 10,000 lbs. applied, at 1% CV in liquid streaming flows.
A total of 8 pressure readouts the pressure gauges check 4 section balance.
The unique German/USA components for the pressure gauging system can spot a dysfunction orifice using mass meters and PD pumps to confirm.
The 8 pressure readouts and pressure signal indicated an orifice change was required on the liquid side to raise application pressures to 200 psi at 17.25 gallons per minute.
Climate is also on board.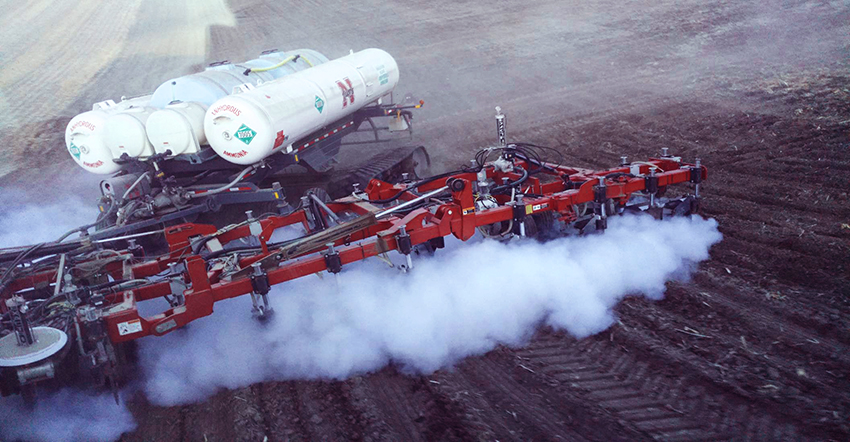 Testing and resetting the Look Ahead feature in 4 section design.
Making a 20% uphill turn was easy work for the Big Red and the surefooted 620 Case Quad Track.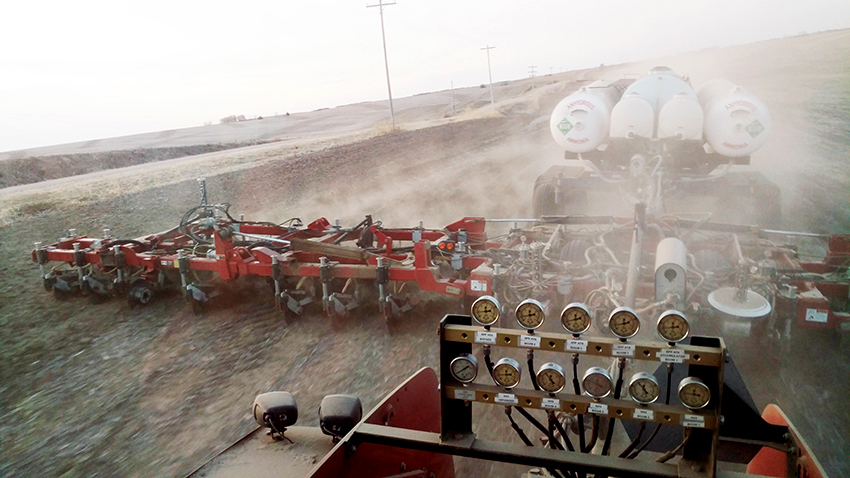 Sunset on the Great Plains.
Watch Big Red run strong on some of the highest quality farmland in North America.
https://vimeo.com/bandbvideo/review/162428756/c562a9070d
Mustangs Banding deep at 8 inches allows No-tillage double cropping corn at Garden City.
Coming back quick on Green-chop Triticale in late May.
http://exactrix.com/Broadcast_11_28_2016.htm Exactrix Mustang Case 940 Tool Bar at Garden City.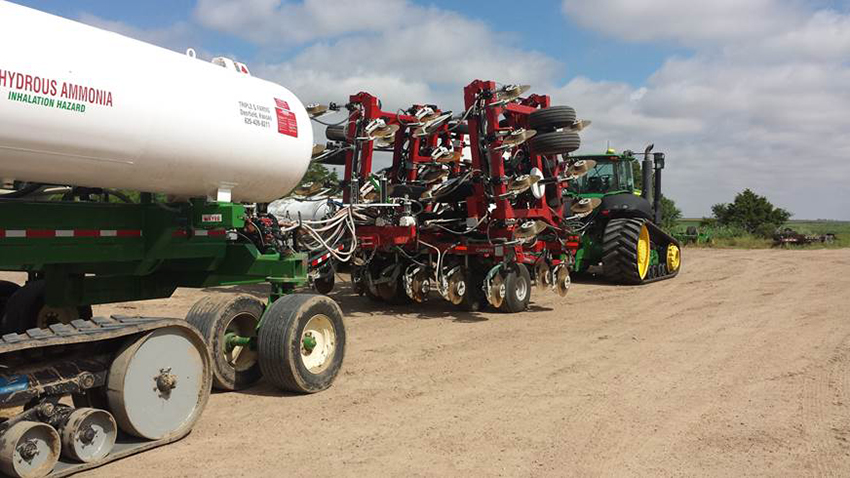 Maximum performance on tracks. 61.5 feet Mustangs on 15 inch band spacing.
Also producing in 30 inch spacing in Nebraska Manure programs.
https://vimeo.com/bandbvideo/review/217536668/20cc923ba3 Spring Application
Case 940 Mustang Tool Bar in Tillage at Beemer, NE.
https://www.youtube.com/watch?v=eosk0e9cvBM&hd=1 Yields at Harvest.
---
2108, Gangwish Seed Farm. Close to the Platte River with the story of the Martin Bros. in 1864.
https://vimeo.com/bandbvideo/review/162609745/b8a4c47ab2
Take a look with a drone overview of the area.
Shelton, Nebraska.

Exactrix Mustang, TC bar with P-51C, Chrome Insert, Replaceable Bit.

TAPPS formulator, 4th Season.

Moves $60 to $150 per acre additional Net Income right to the Bottom Line.

Exactrix TAPPS "Stops the Fertilizer Bill Explosion". Keeps the 2018 Fertilizer Bill around $64.00 per acre.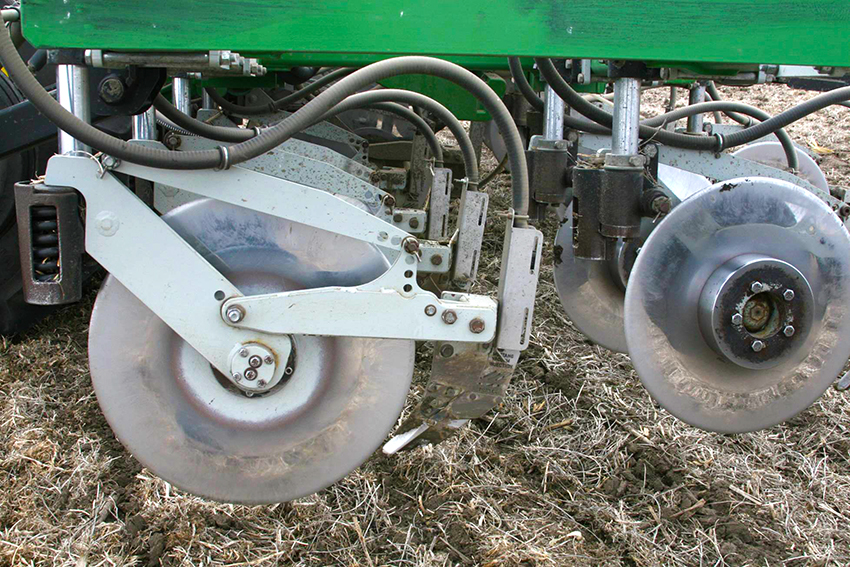 Double Rank.
Penetrates easier.

Runs fast without plugging taking less tool bar down pressure.

Sealed Bearings.

Caterpillar Duo Cone seals in the hubs using Timken Pinion bearings rated to 3,500 lbs.

Swedish Manganese Steel Blades for long life and good polish.

The High Water Mark, Exactrix Global Systems.

Reduces the Fertilizer Bill to the Lowest levels achievable for maximum yields.

Changes the Fertilizer Industry with the help of the Fertilizer Industry, TKI, Thio-sul®.
Chrome Replaceable Insert.
Wear Part, 3/8 x 24 extreme double edge blades…allows operation at 75 cents per acre on 30 inch spacing or double at 15 inch spacing.

Extreme Wear blade option at ½ x 25 in Extreme double edge.

Operating range is 8,000 to 10,000 acres at 30 feet.

Wear Part, YC Chrome insert is $25.70 and runs about 20,000 acres or 15 cents per acre. New 2018 design with more high wear YC chrome.

Operates at the 2 inch depth as shown by the cleaning of the chrome tool.

On 15 inch centers Operates for $1.25 to $1.65 per acre. On 10 inch centers the opener operates at $2.50 per acre. On 7.5 inch spacing .75 cents per acre. Beats a Deere 2510 by 5 times lower operating cost.

Tool Bar has positive down pressure on the wings using in frame hydraulic cylinders.

Step openers released in 2017. No frame set backs are required.

TAPPS crystals formed at 1%CV of application in streaming flows.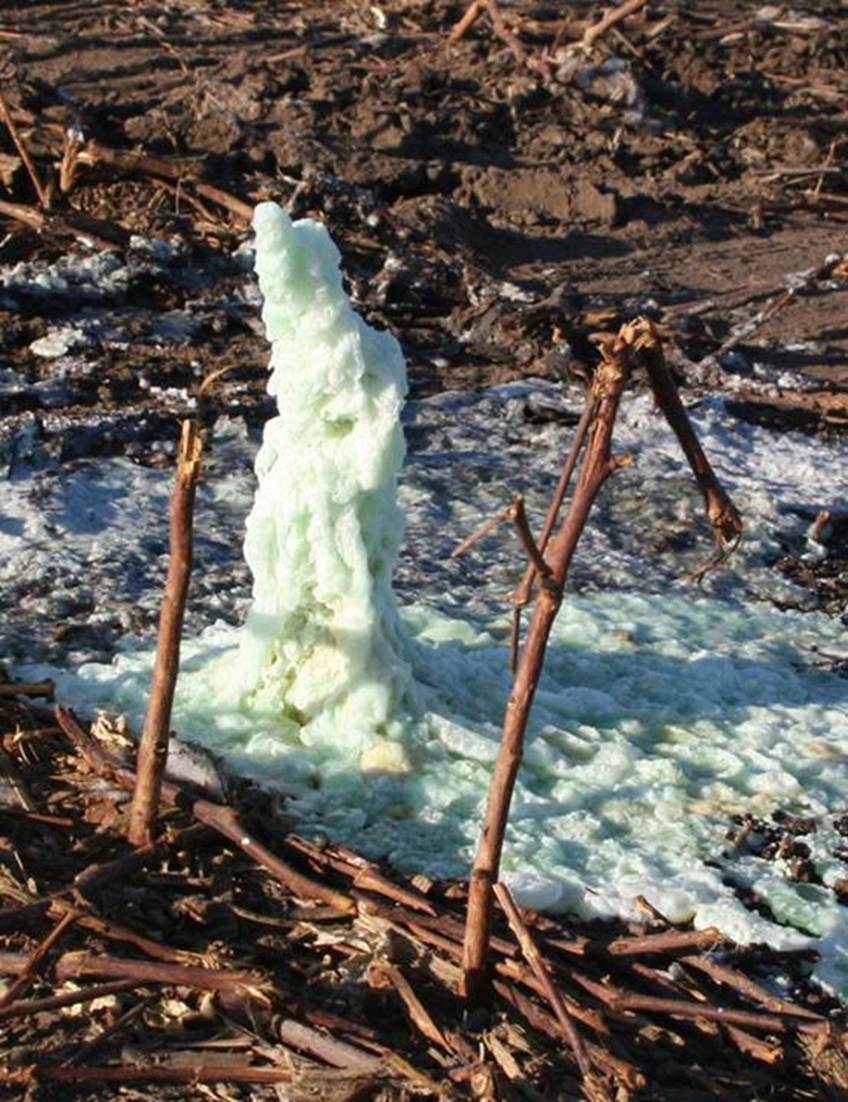 Mustangs Band Deep and run fast to 12 mph.
https://vimeo.com/bandbvideo/review/162609745/b8a4c47ab2
Follow the application with a great drone video.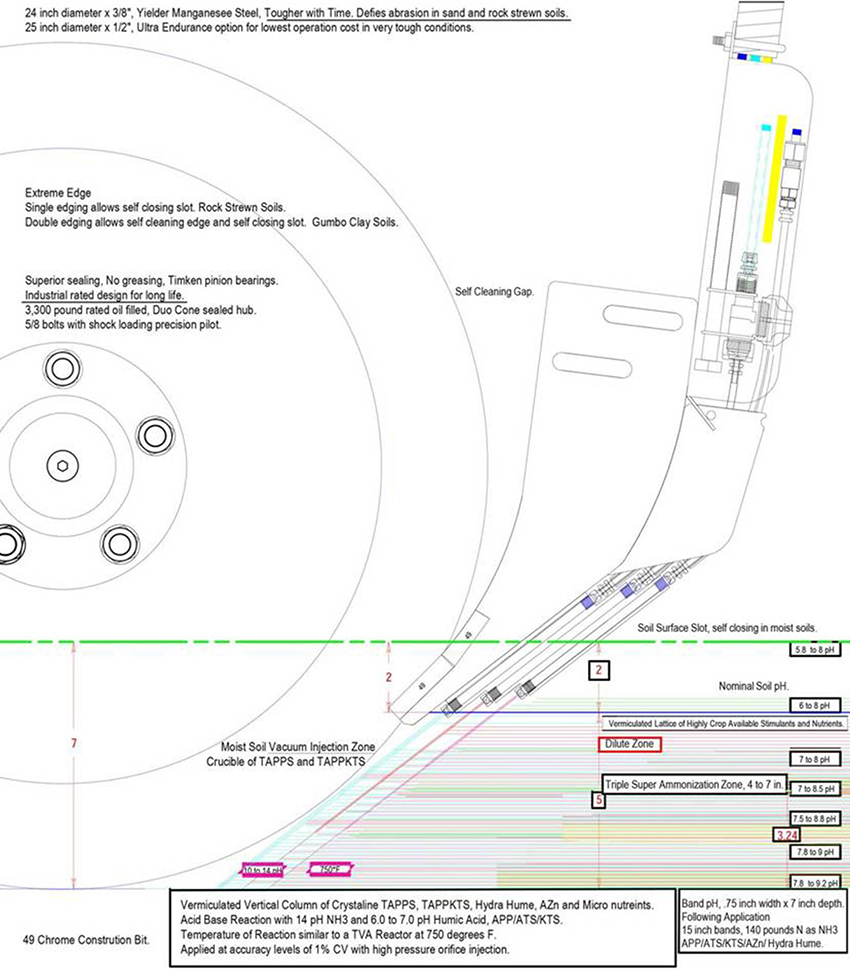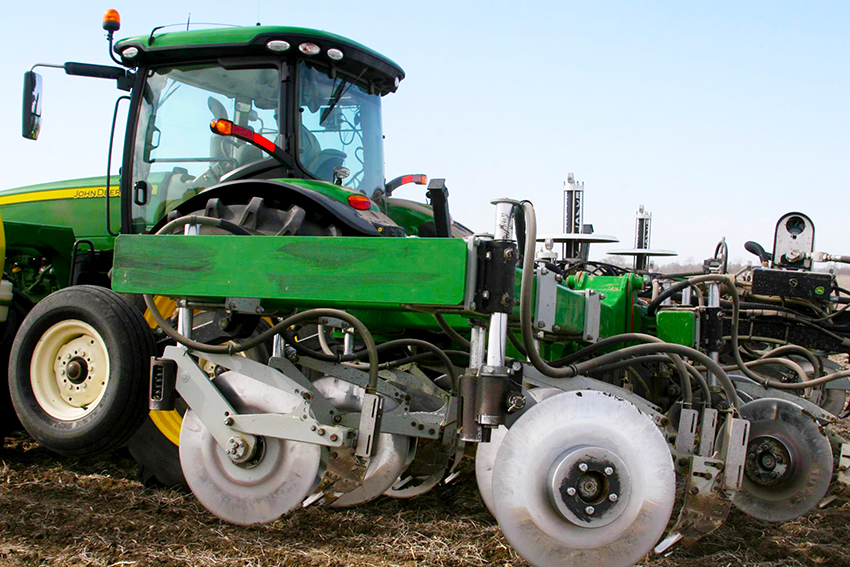 April 11, 18, North of Shelton,
No double closing wheel required no depth control wheel required.

Swiveling opener allows sharp turning with openers in the ground at corners and lands.

Banding twice as deep as the Deere 2510.

Takes a lot less horsepower with lowest soil movement

Uses 150 to 300 psi pressure of injection to vermiculate the two reactive materials and drive the band into the 2 to 7.5 inch depth

.

Vermiculation of TAPPS at 1% CV

.

Top rate of N is 140 lbs. N as NH3. Starting the 4th season with excellent yield results using VRT-Site Specific.

Allows 1% CV of application and powerful VRT Site Specific application.

Operating a 4600 Deere Controller. New Tractor

.

Kept the 4th season tires. Good Tires, Good Ride

.

Quiet Cab at .4 to .5 gallon Diesel per acre.

Stock with no chip.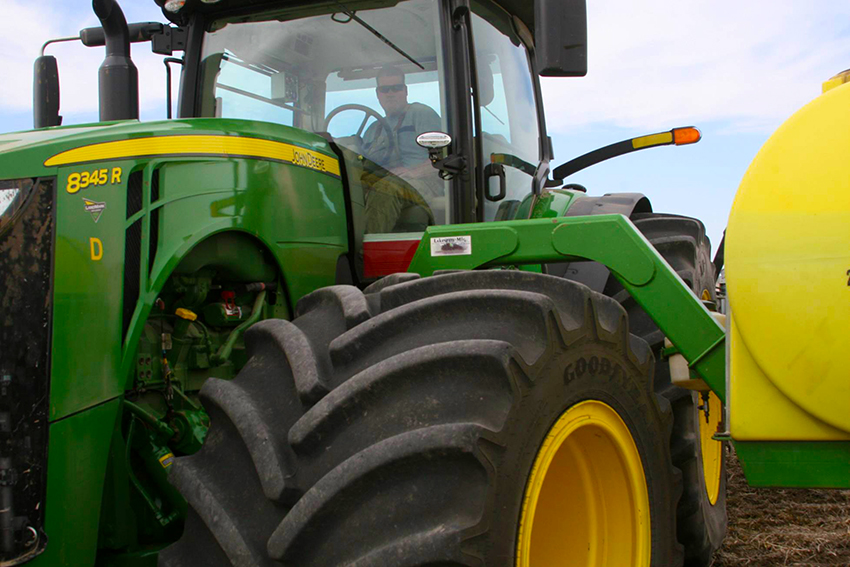 Smooth Rider.
Easy on the Diesel Fuel based on per acre costs at 7.5 mph.

Rated to 12 mph with a larger NH3 bottom outlet tank valve.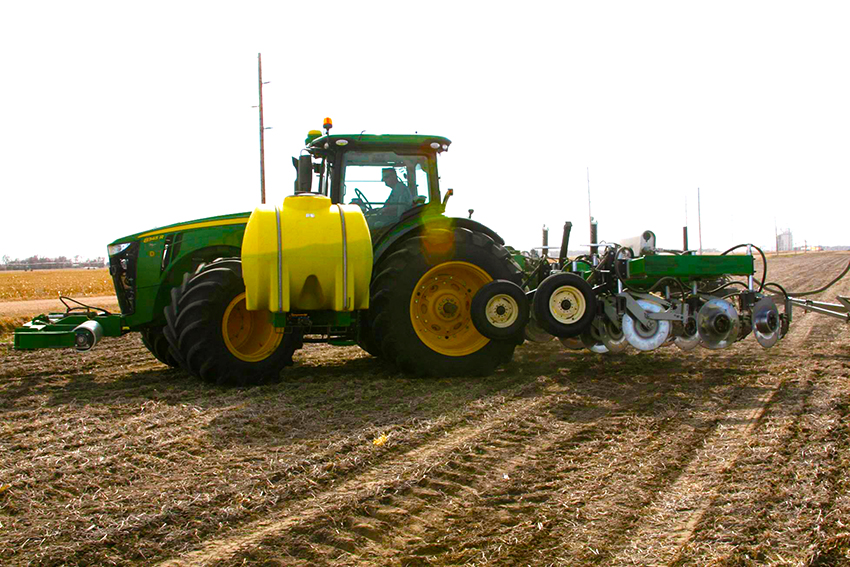 Openers Turn in the Corners.
RTK steerage,

Tool bar is positive down pressure.

The Tool Bar easily corrects based on the tractor movement.

Tractor movement with openers 7.5 inch depth requires a swivel action opener.

It happens all the time

, t

ry shifting 15 or 30 inches in the dirt with fixed angle Deere 2510 and you will have a parts bill.
Tested in lots of conditions

,

and No-tillage is the result on 15 inch centers.
Front axle is always engaged with slippage is Zero to 2%.

The power goes into the ground with the excellent tractor balance.
A total of 72,000 lbs. A good tractor tank design with 12,000 more lbs. of liquid in the right pulling power spot, which improves load balance for 345 horsepower going directly into the ground.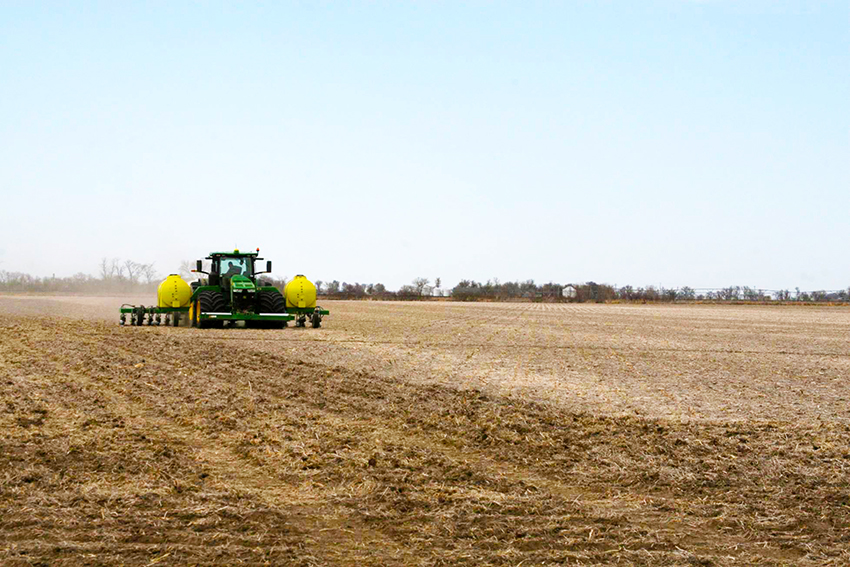 Exactrix Mustang on 15 inch band spacing.
Operating at 7.5 mph , 2,000 gallon NH3 tank. Hydraulic winch for tank.

Exactrix 2KC Series 2 and 2KP Series 2 formulating TAPPS.

Running with 3 planters right behind the application.

Banding to 7.5 inch depth.

TAPPS at 125 lbs. N and 12 gallons of APP/ATS.

VRT range 105 to 140 lbs. N as NH3.

2 miles

North

and 2 miles east of Shelton. April 12, 18.
Matt and Randy Gangwish, Gangwish Seed farm. Doing about

4

,000 acres of commercial corn and seed corn this spring.

www.exactrix.com/mustang.htm

for more information and rating of the P-51B, P-51C and P-51CUE.
---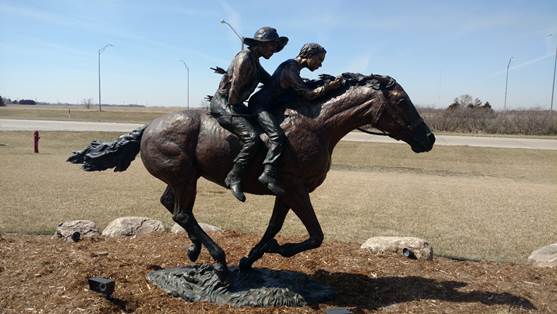 A True Story of the West. Nebraska Tough. Haymakers before Huskers.
The Martin Bros. August 1864. At Grand Island/Doniphan, Nebraska Territory on the Great Platte River Road of the Oregon and Mormon Trail.
Location for this great story was insight of the Pony Express at Lowell, Nebraska where the Pony Express station may have ordered the hay from time to time.
On April 10th 2018, Grand Island/Doniphan is in farming country. You can go 7 miles West on a warm August Day on the Tall Grass Prairie and find the site. I think that would be quite a reenactment venue.
The Cheyenne and Sioux were mean Indians in the Platte Valley saving their Homeland, the Indian Brave marauders attacked the Civil War era early pioneers.
Congrats to Bosselman Energy, Fred Bosselman has done a wonderful thing.
It is 1864 this is About 5 years before the Homestead Act, with the first Homestead in the reunited Union of the USA at Beatrice, NE, and the Golden Spike was also coming and Nebraska became a state in 1867.
Making Hay in August on the banks of the Platte River at 100th Meridian.
The tracks of the Union Pacific were coming. And soon by 1880, Orphan Trains would arrive from New York City supplying additional boys and girls to Nebraska families.
Nebraska has tough boys and girls with a big heart.
Working with their Father George making hay for the Oregon Trail convoys…..when Indians attacked….the pinned brothers were left for dead as they fell from their escaping horse.
The boys were discovered alive the next morning.
Age 12 Robert is in front and age 15 Nathaniel is in back taking the first penetrations and protecting his younger brother…they lived to 47, Robert and 79 , Nathaniel. The Martin Brothers were heroes of the west with prospering families in the Nebraska Tough conditions.
No wonder Father Flannigan liked boys with brothers, with his location on banks of Platte River Valley. https://www.roadsideamerica.com/story/16183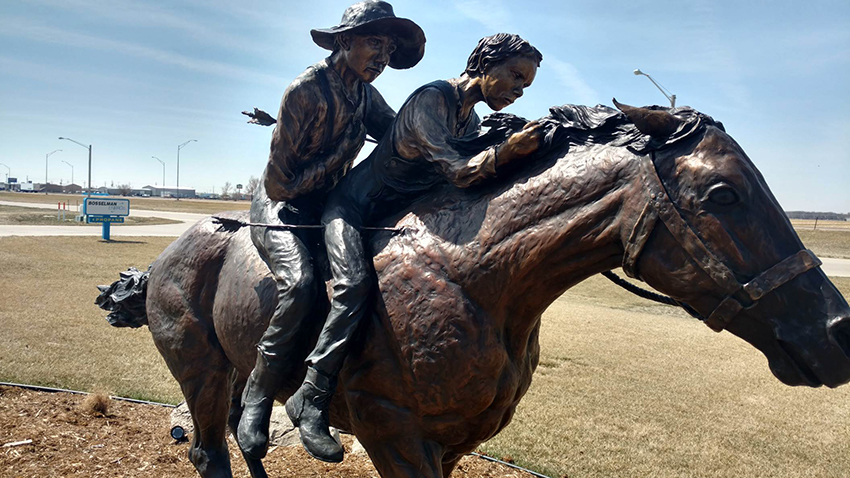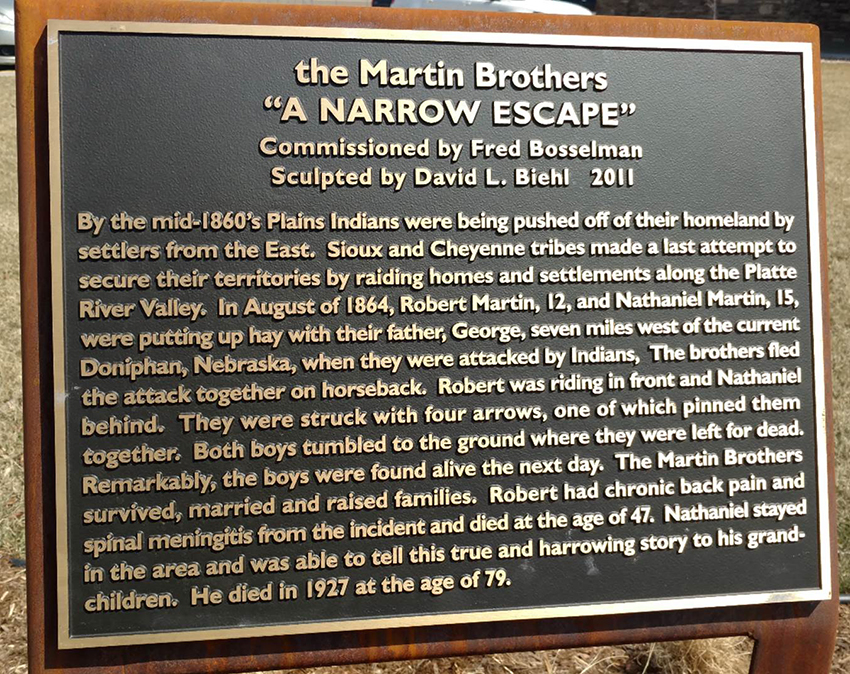 40°48'03.04" N 98°26'23.88" W

40°46'16.90" N 98°29'41.38" W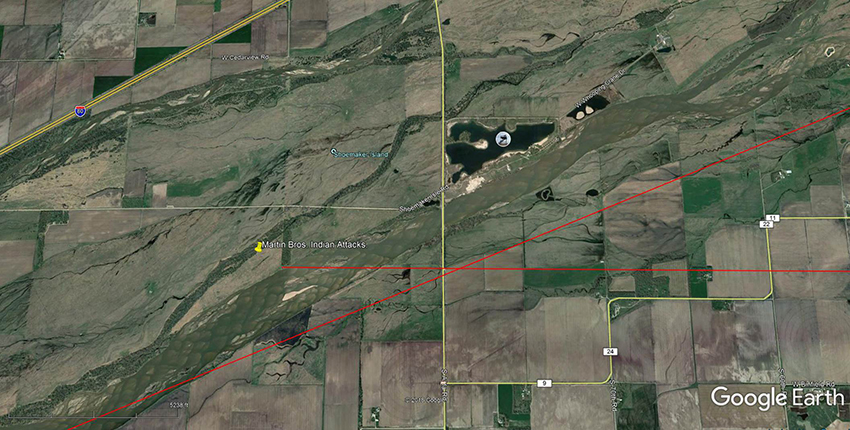 About 52 Exactrix Owners in this area.
---
More valuable results coming from KSU, TKI, Exactrix and Greg Sederstrom.
RTK guided, Test Plots at Goodland, KS

Greg Sederstrom, KSU, TKI, Exactrix.

2.5 hours to lay in the STEEP plots in 16 reps and randomizations.

Took a lifetime to plan. Bert Bock, Guy Swanson, Greg Sederstrom, AJ Foster.

Binary and Equilateral Banding of Exactrix TAPPS.

High quality pivot at 650

GPM

along I-70 at the Rest Stop, Road 10.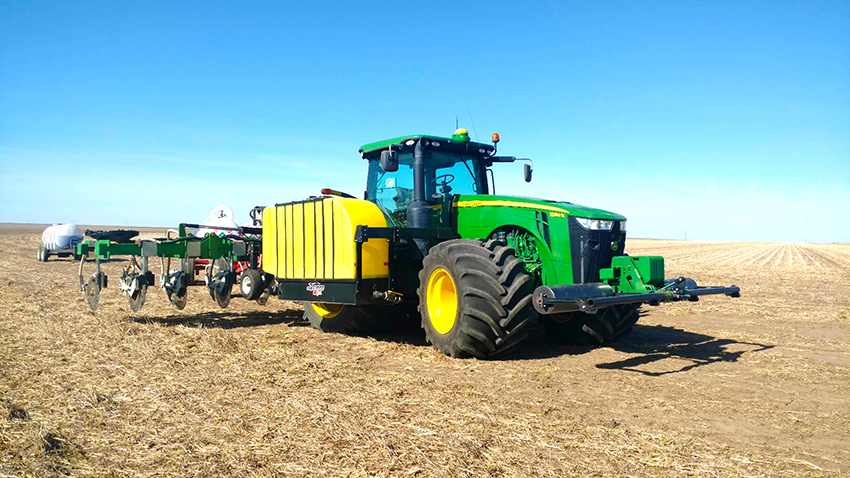 High Floatation putting power directly into the ground in No-till.
Plot design.
The world's best scientists and engineers are working hard to find a better way.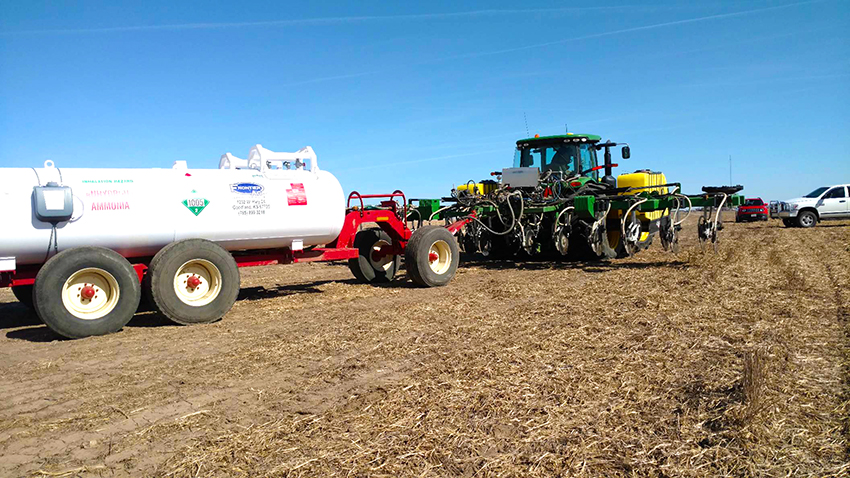 Compaction should not be significant. Ideal conditions on April 5, 2018.
Floater Tires make a big difference at 7.5 mph with Zero slip.

Field and Test Reports

with weather helping the overall composite are coming up at the Colby Meeting Dec. 6, 2018.
Your Great Plains Reporter.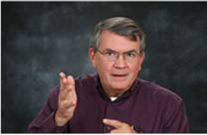 Guy J Swanson