Winter Wheat Condition, Great Plains Winter Wheat crop at 3,100 to 3,200 feet elevation in dryland SE Kansas.
Rain is predicted in the 10 day forecast and this means a good-to-average winter wheat crop is in the making for Joel McClure at Hugoton, KS
Highly visual comparisons were recently available on April 15, 2014
The differences are producer management, fertilizer choices, stored soil moisture with Exactrix TAPPS formulators, Deere 1990.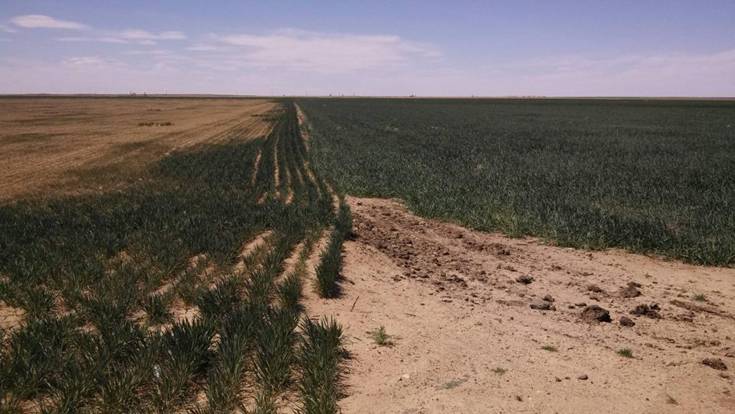 This photo was taken April 15, 2014. The vigorous right field has been produced with Exactrix Wing Injection, utilized by Joel McClure in south western, KS, Hugoton.
Also with an Exactrix TAPPS Formulator, seeded No-till with Deere 1990.
On the left side, the field is a conventional technique of tillage and broadcast fertilizer.
Improved Exactrix farming techniques reduce cost of production,and raise returns, but also reduce insurance company costs to insure a winter wheat crop.
Crop insurance risk can be greatly reduced with Exactrix Wing Injection of TAPPS.
This farming technique allows fullest potential, and allows a much lower budget for nutrients. Typically, 10%-to-12% of the gross income is invested in N,P and S and NPKS.
There is a powerful system of economics and risk reduction with Exactrix TAPPS and TAPPKTS and single disc banding pre-plant, side dressed or at time of seeding.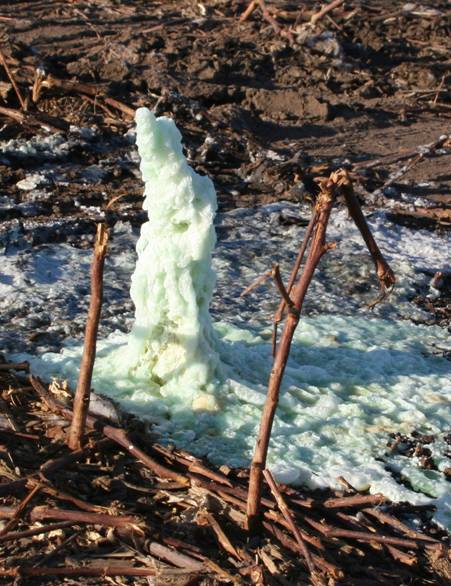 TAPPPS and TAPPKTS. Tri-Ammonium Poly Phosphate Sulfate and Tri-Ammonium Poly Phosphate Potassium Thio Sulfate.
Injected crystals of TAPPS in uniform 1% CV bands alongside each 10-inch seed row of the Deere 1890/1990 opener has made a big difference.

Joel McClure at Hugoton, KS produces excellent No-tillage crops in a dry climate using the Deere 1990,
and Exactrix TAPPS formulators with wing injection.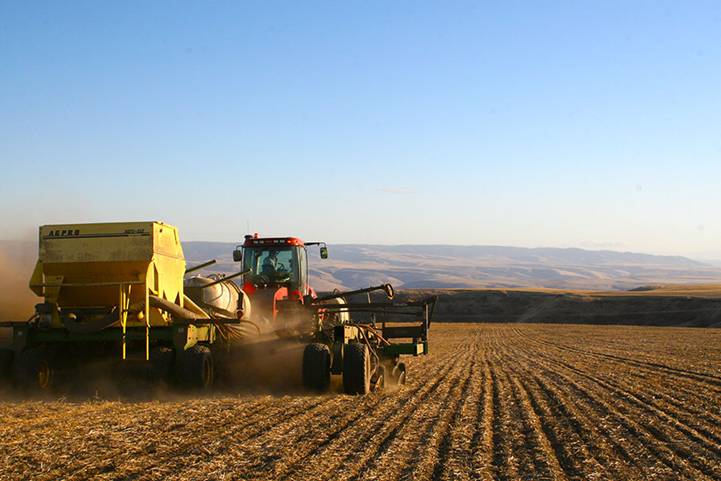 In Idaho and Washington, low rainfall to high rainfall, Exactrix Banding Techniques with 1% CV uniformity of application pay large dividends.
In North Dakota, South Dakota, Nebraska, Oklahoma, and Texas, Deere 1990's and 1890's are used for pre-plant banding for corn production.

Banding in Snowy Conditions is very possible with the Deere 1890 and TAPPS http://www.youtube.com/watch?v=gA9fxKh-N_Q&fmt=37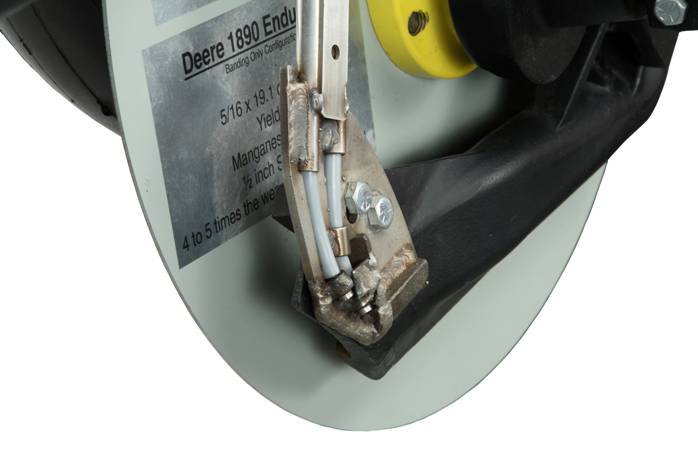 Exactrix Wing Injection with TAPPS formulator, allows seeding and banding of nutrients at reduced rates, with improved yield potential.
Exactrix metering and process results in166% more crop available N and 200% more crop available P, with more stored soil moisture.
Need more positive information on how to raise winter wheat with better margins and less risk?
More information about Exactrix Wing Injection can be found at. http://www.exactrix.com/Broadcast_03_29_2014.html
Here are some other great informational pages and videos on wheat and corn for your review:
Raising 280 bushel per acre corn....on 280 bushel Corn residue

Anhydrous Ammonia, Snow, Top Yields, Big Production Margin
at 260 bushel per acre

Side dressing irrigated winter wheat in late fall.

Exactrix Broadcast Kevin Medow, Monsanto DeKalb, averaging 270 bushels per acre




Side Banding In Marshall, Missouri

,

Weber Seed

Corn, Cotton, Milo, Wheat, Soybean all crops in rotation with Exactrix Technology.

Wing Injection, Variable Rate in Soybean production using Soygreen can help reduce Iron Chlorosis.

High quality nutrients at much lower cost of production utilizing NH3, APP, ATS, KTS….200% more crop available P and 166% more crop available N is now the accepted norm for raising good crops.
Need Financial Help?
From The Palouse in Eastern Washington .. See and Hear Eric Odberg Discussing Variable Rate Application With Guy Swanson Video 1
WSU World Class Face to Face Video Production featuring Eric Odberg - Farmer to Farmer Case Study: Precision Nitrogen Application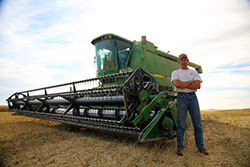 Eric Odberg