Going Public Today.
World Wide News, Bourgault, Exactrix, and the SHB Break the Norm.
Please Review this Video from April 28 at the Spokane Huetterian Brethren.
You will see a Class 3 machine performing in tough conditions and yet ideal for Exactrix.
Deere 1890 and 1895 owners may have been oversold in Class 1 machine design.
Rolling Terrain seeding and true deep banding to 5 inches is possible.
https://www.youtube.com/watch?v=XVfwqL_bXKw&feature=youtu.be
Included is an outstanding video the Bourgault 3710 Banding Anhydrous Ammonia, 10-34-0 and 12-0-0-26S, Thio-sul, making TAPPS and TAPPKTS.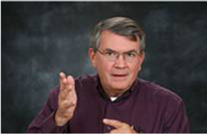 Guy J Swanson
Your Great Plains Reporter.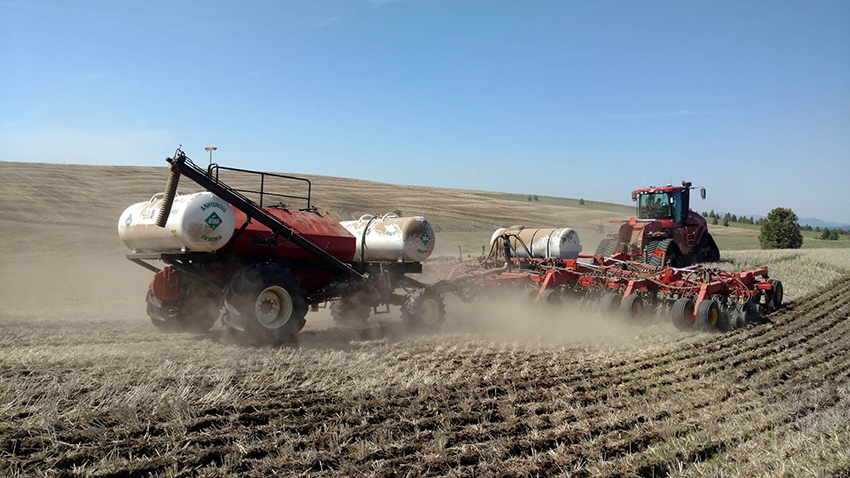 1
Seeding Dark Northern Spring Wheat at the end of the world.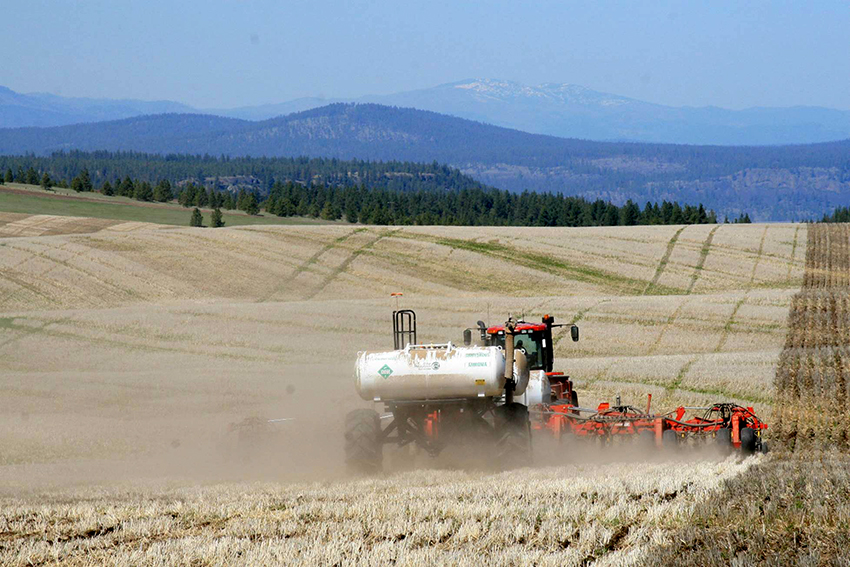 2
The end of the agriculture world.
Google and Go North to the arctic circle in Alaska staying west of the Continental Divide and go about 1,100 miles for
the answer.

All the way to the Yukon River at Circle, Alaska and the crop and mineral is British Columbia Wood and Yukon Gold.

West of the Continental Divide it is Glacier Country at 48 degrees North to the Arctic Ocean.

The Glaciers receded 10,000 years ago. The Ice Sheets started the Great Missoula Floods about 20,000 years ago.

The beginning of the end is located at the Spokane River and the Columbia River.

This overlapping zone of the climate developed the largest land mammal, the Columbian Mammoth at 22,000 lbs.

This is the intersection of two species of mammoth. The smaller 12,000 lb. Wooly Mammoth's range ends here.

Hybrid mammoths were produced in this latitude and they were referred to as the Jeffersonian Mammoth.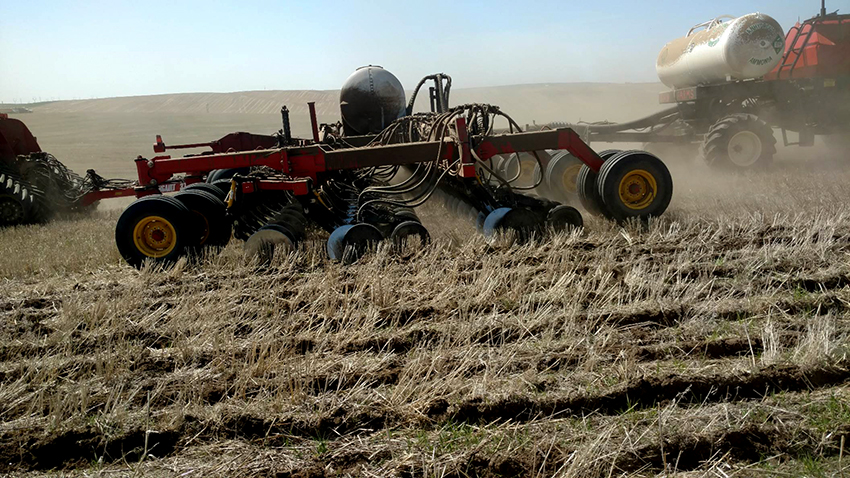 3
Cascade volcanoes provided most of the soil in review.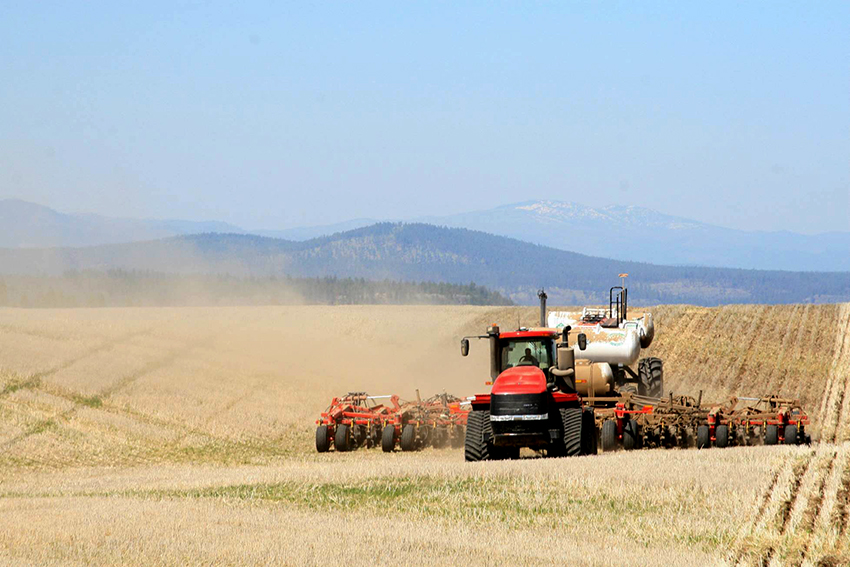 4
CPS makes in the field delivery to the Air seeder of NH3 and APP/ATS. The Triple Threat package with Thio-Sul® in the mix freeing up micronutrients and supplying two forms of S.
Mounted tanks are the only means of NH3 application west of the continental divide.

Liquid delivery of NH3 is similar to propane and is much safer over long delivery of 50 to 60 miles in the Big Bend of the Columbia Basin.

Some fields in Washington State have 12,000 acres of volcanic ash soils.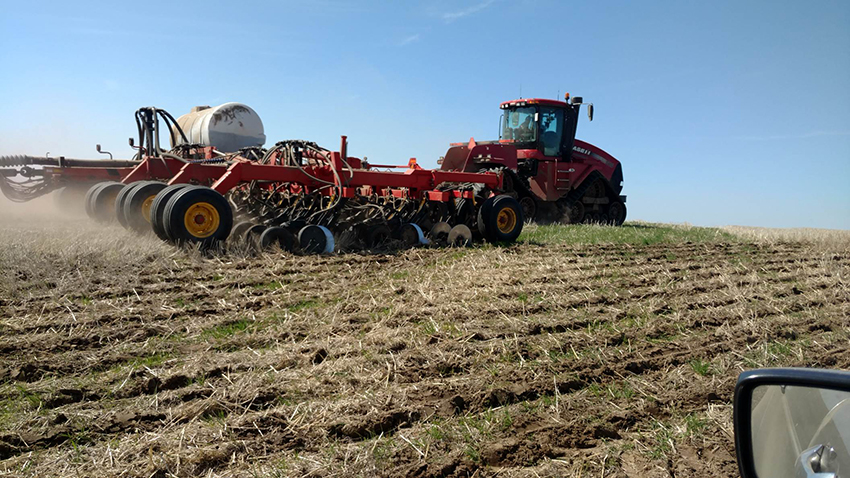 5
Applying 100 lbs. N per acre as NH3 at 82% N.

10 gallons APP /ATS (Thio-Sul®) per acre or 5 gallons APP and 5 gallons Thio-Sul®. Analysis, 3.89 lbs. P per gallon.

10-34-0, 2.90

pounds S per gallon, two types of S, 12-0-0-26S.

Exactrix Series 3 systems with 3 inch pumps and capable of pressures to 300 psi.

NH3 tanks at 2000 gallons NH3[Guy] in liquid delivery. Bottom outlets valves assure liquid flow with twin tanks supplying.

Exactrix NH3 series 3 pump turns 210 to 230 rpm.

Injection pressure 210 to 260 psi at top speed of 6.5 mph.

NH3 Tank Pressure 70 psi. A 190 psi increase in pressure, VRT-Site specific compatible with up to 10 management
zones at 1% CV.

Depth wheels and closing wheels have been removed from the Bourgault bander leaving the field rougher. A good chance to review the excellent sealing of the Exactrix Injection.

Parellogram movement of the opener is key to the operation of the Bourgault banding opener.

Sealing Conditions excellent at 5 inch banding depths.

No closing Wheel required.

The Gross Brothers found the sweet spot on injection which maintained by good bearing designs and a parallelogram action.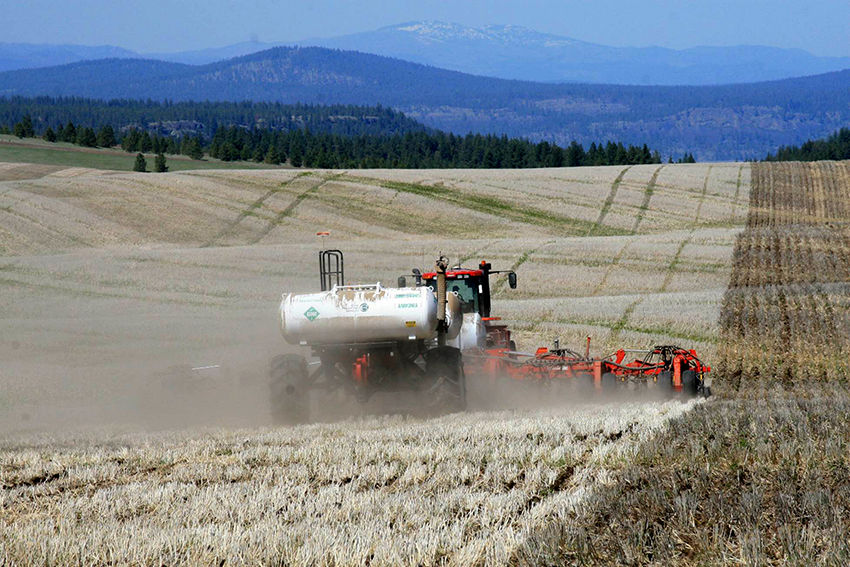 6
Seeding date, on time, April 27 to 28, 18 with harvest 90 to 100 days away. DNS Wheat moves fast with high phosphate efficiency.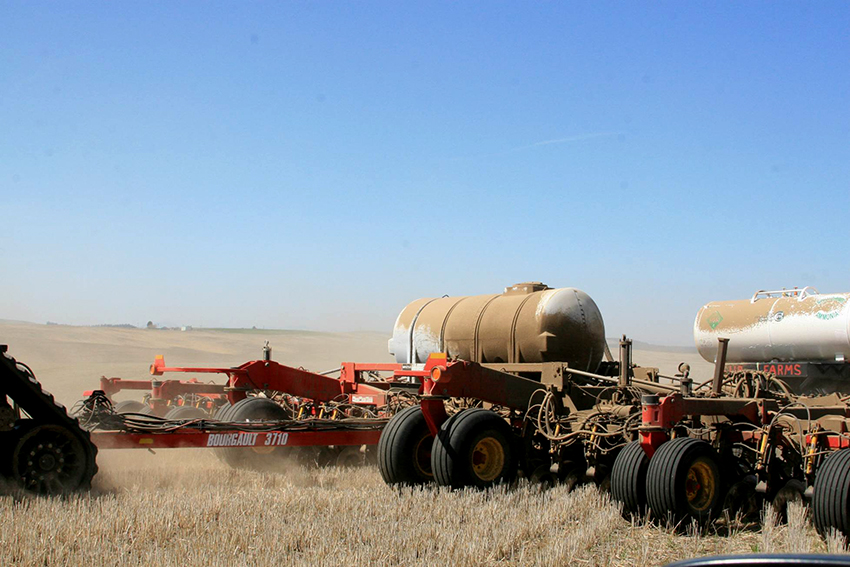 7
8
Producers can install the depth wheel at the Bourgault bander to reduce the soil lifting. Fewer moving parts are used to the get the bands into the soil 5 inches.
Two pass approaches actually produce higher nutrient efficiency with bands into the soil at 7 to 8 inch depth on 12 inch centers using Mustang P-51C openers with vermiculated TAPPS.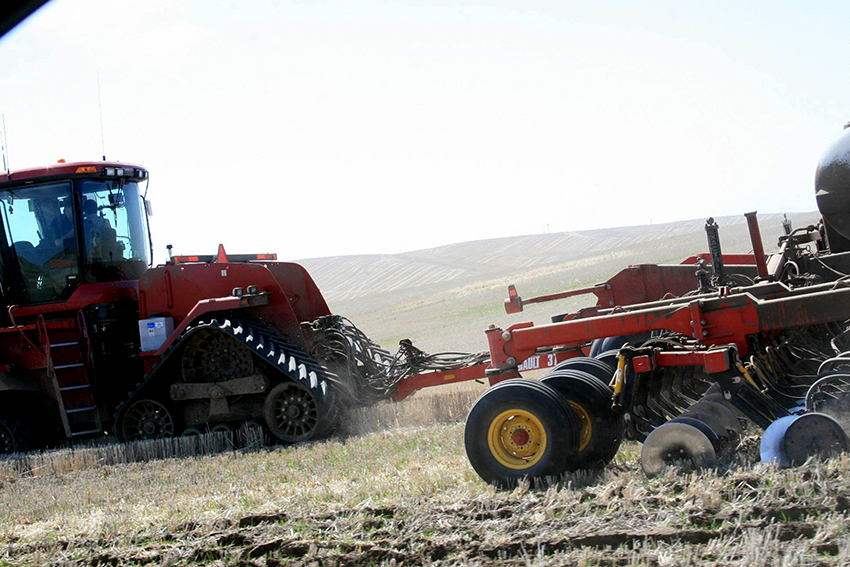 9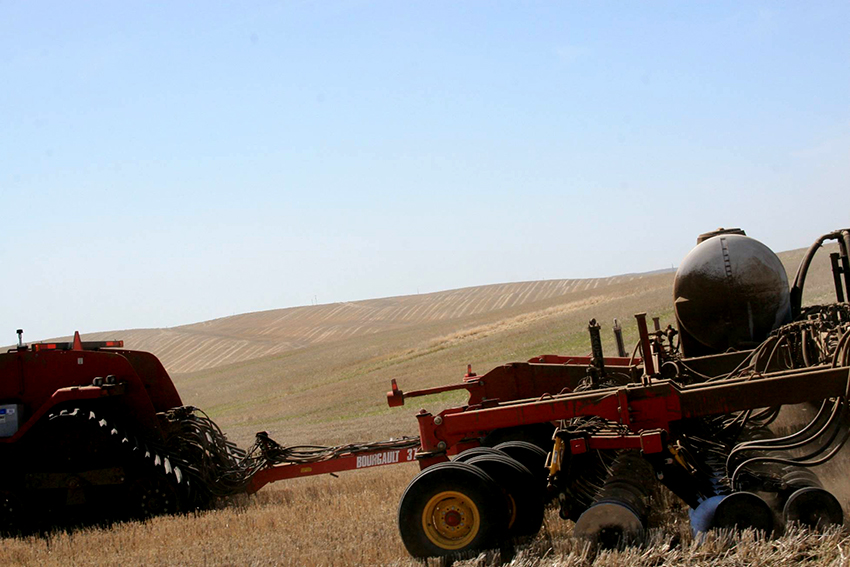 10
There are 30 Chorus Girls injecting TAPPS and TAPPKS deep to 5 inch depths. A simple low cost means to get the injection of the nutrients in the right spot.
Bourgault Class 3 Single Disc drills meet or exceed expectations in rolling hillside. A better program over the Class 1 Deere 1890 and 1895.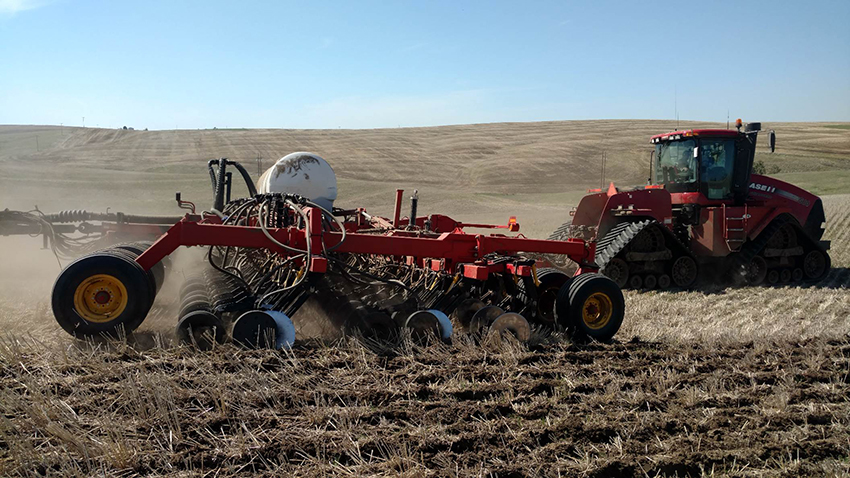 11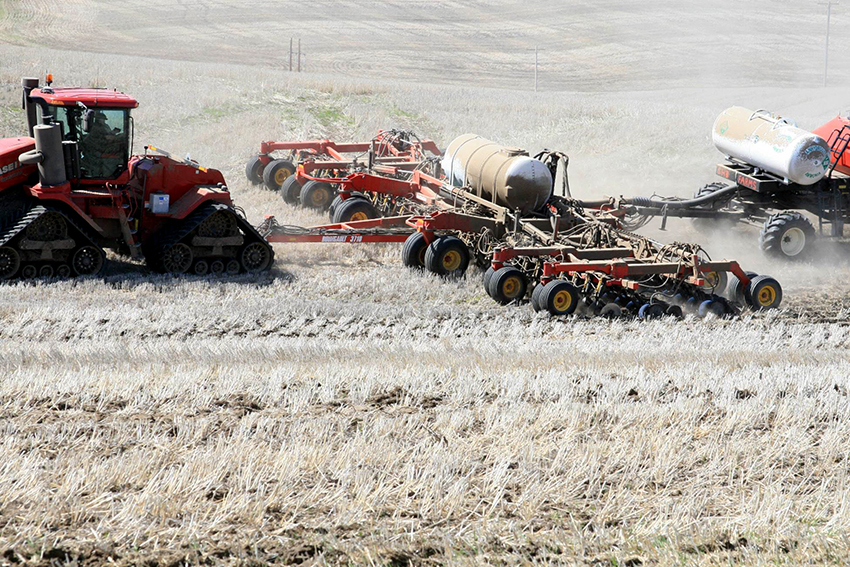 12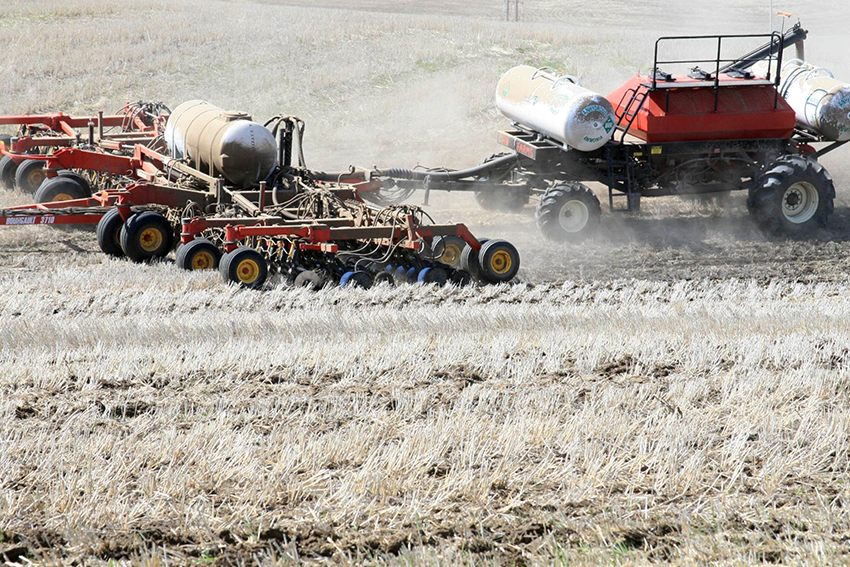 13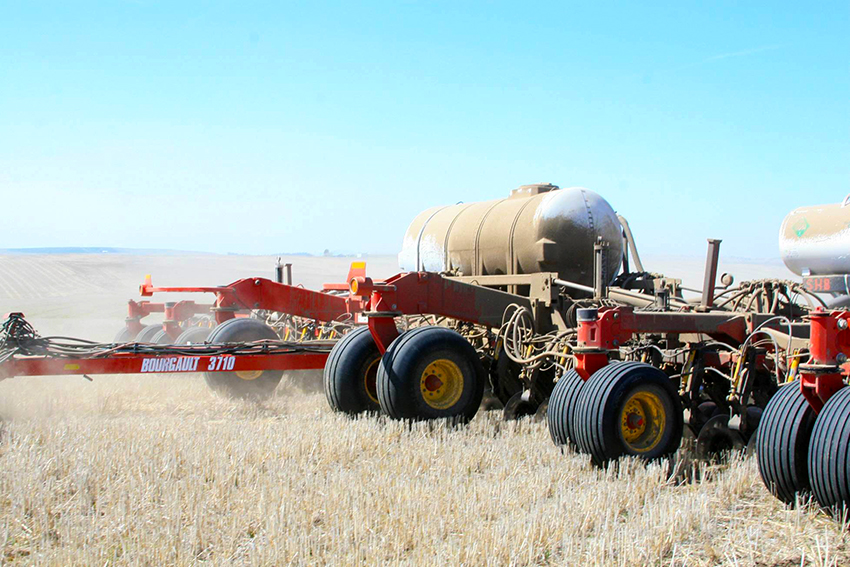 14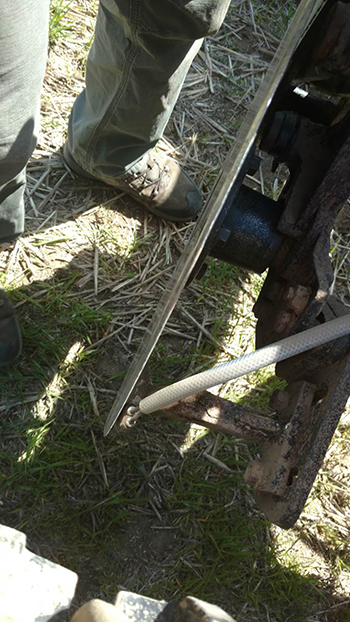 15
The secret weapon.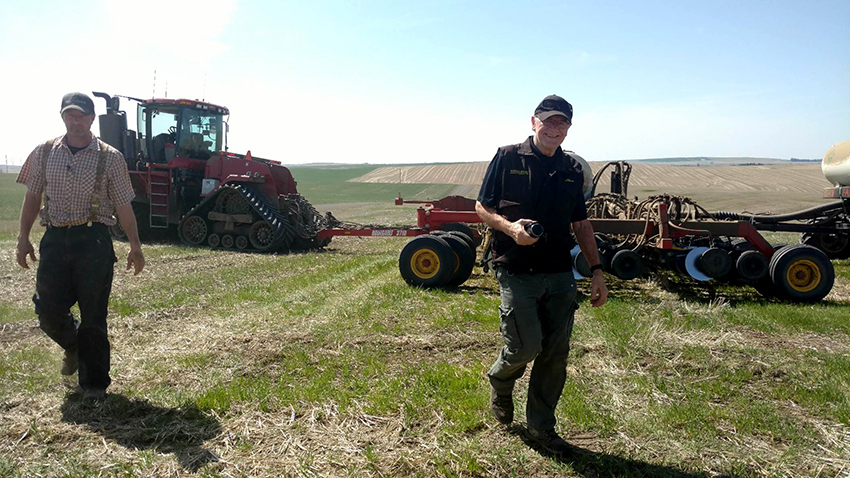 16
Tim Gross, Alex Renner, gathering information and shooting a video without a drone.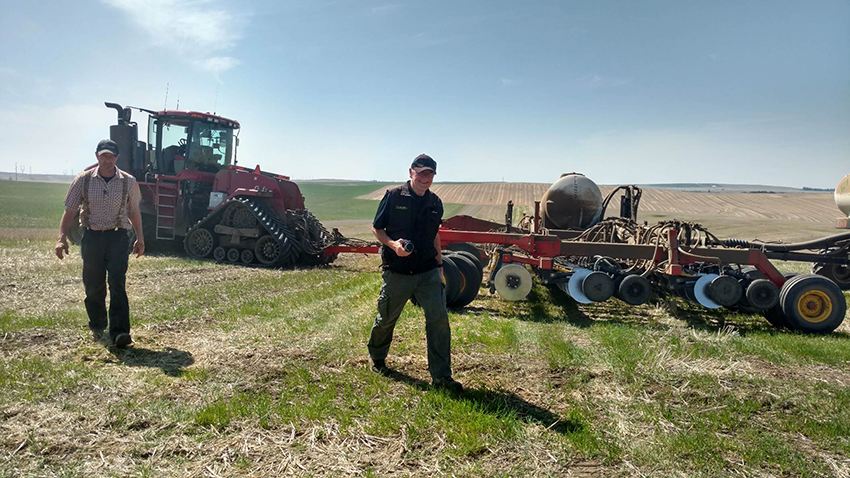 17
Several Bourgault 3710's have been converted to Exactrix. This SHB machine is the high water mark. Deep banding is possible and critical to make this machine work well.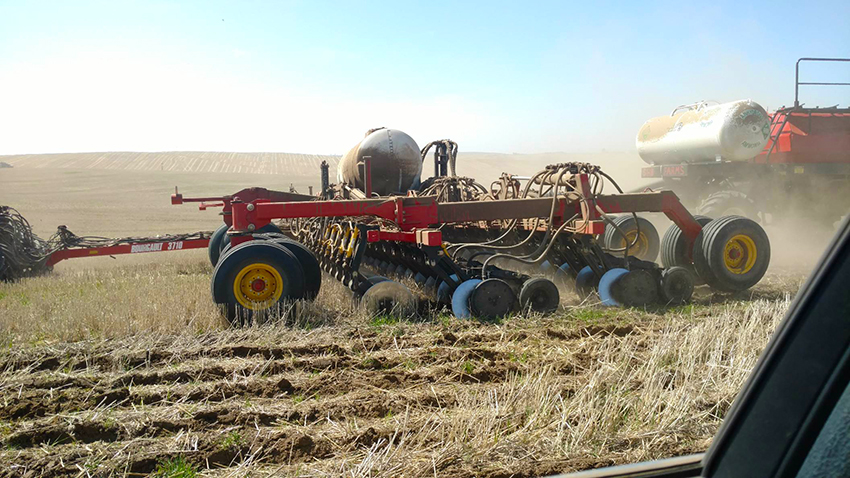 18
Roughed up and better for soil warming and good spring start.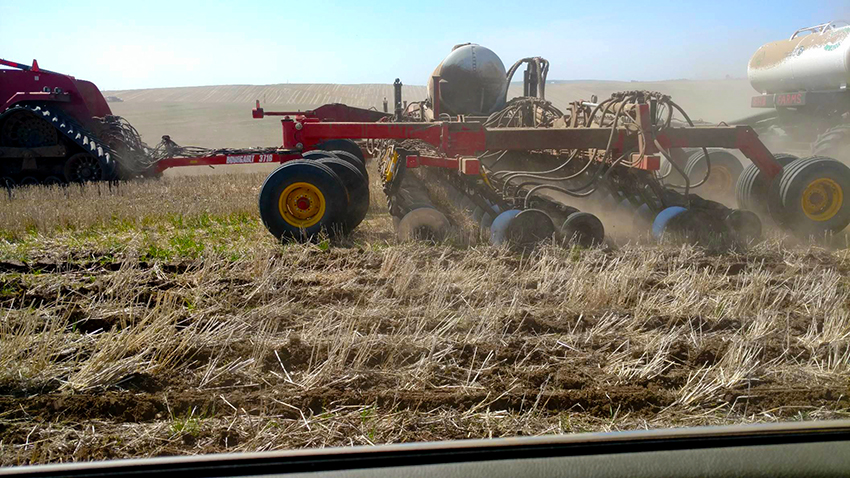 19
Notice the wide crawl space for the rear seeding gang.
Adjustable hydraulic down pressure is a nice feature. This feature is critical to rolling slopes and changing field conditions and used exclusively on Yielder® Drills of the 80's.

The 5 section machine also has positive down pressure on the 4 wings section in 5 section design. This is definitely a Class 3 machine with the Yielder® at Class 5 at the top of the Class.

An Agtron wireless seed flow monitor for 60 seed openers works well.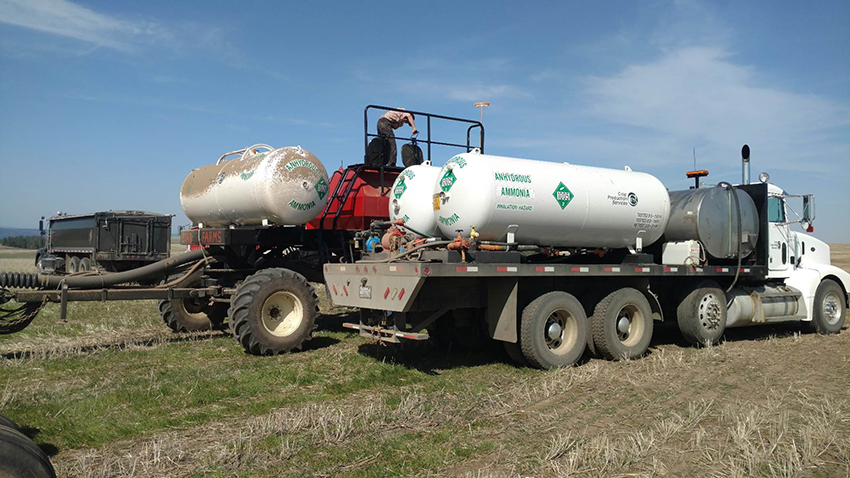 20
A CPS fill up. A 4 inch transfer pump can do 200 gallons per minute NH3, a Corken pump requiring about 25 horsepower.
Moving two products as fast as possible safely.

About 20 minutes to fill and back to the cut for 80 to 88 acres.

A 99% fill on the NH3 is allowable if the machine is going right back to the mark.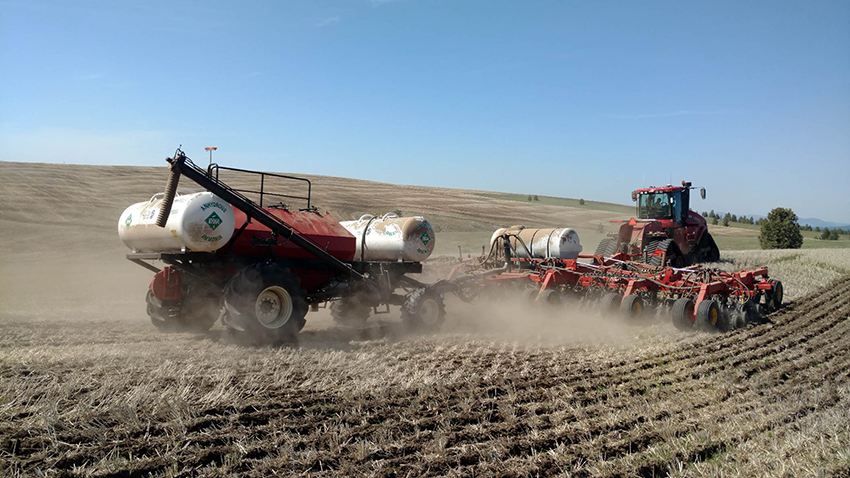 21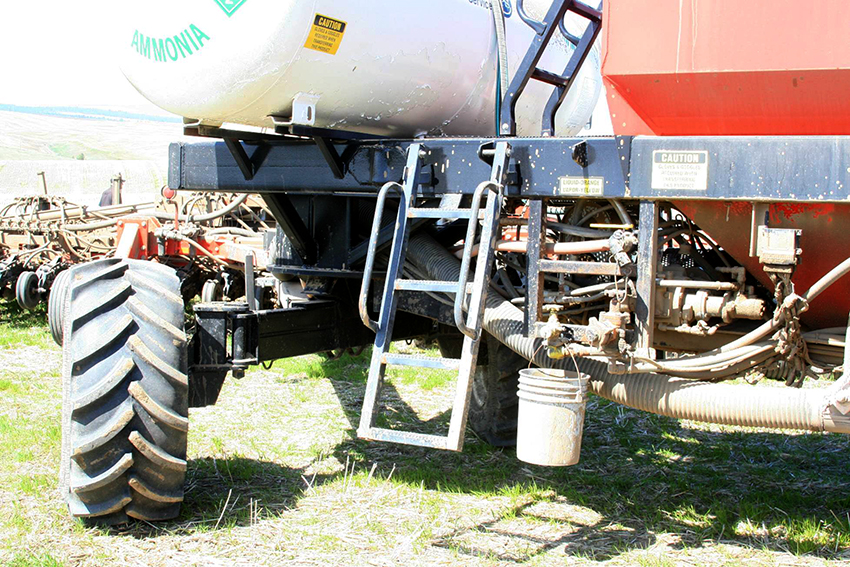 22
The SHB Steer axle design adds to slope stability.
Crazy wheels with a bolster movement are not a good choice in hillside.

A true steering system is required on the SHB cart.

A power axle can also be installed from Mud Hog and available at your Case or Deere dealer.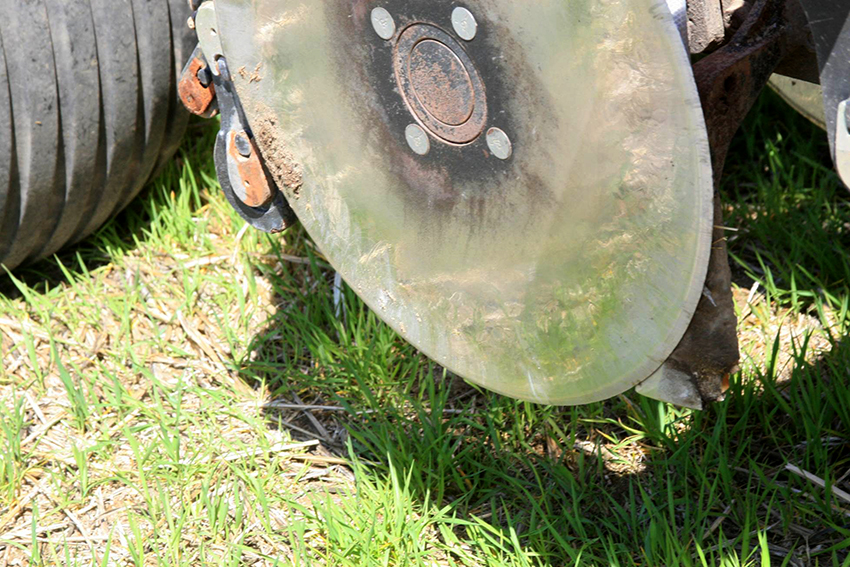 23
Number 1. Remove the Closing wheel,
Number 2. Remove the Depth Heeling wheel.
Number 3. Install a 22 inch blade.
Number 4. Install the Mustang Duplex injector.
It looks pretty naked in the bowels of banding TAPPS and TAPPKTS and the opener works very well.

The SHB discovered a better way with 22 inch deep banding blades that improve the machine immensely.

Bourgault changed the bearing groups to get better life and operational characteristics of the 3710. We refer to this machine as a B series or 3710B.

Exactrix Orifice High Pressure Injection work wells at 6.5 mph at pressures to 260 psi.

A soil blackening effect helps with the start in the spring wheat production fields.

A heeling depth wheel may need to be added back for certain producers.
---