Technical Bulletin 518B Mustang Tool Bar powered with Exactrix® engine technology.

More Net Income. Considering the Exactrix® technical advancement of making $60 to $100, additional net margin with TAPPS.

Low owning costs of about $11 per acre on 3,000 acres per year, when applying 300 acres per day for 10 days.

Low operating costs of about $1.50 per acre for the Mustang tool bar, which is 2 to 3 times better than any other No-till opener banding
at the 6 inch depth.

A good way to improve your breakeven point and deliver equity to the balance sheet in 2015.

Fertilizer prices are not going down, so get up on the edge and make NPKS and micros work better on your farm with 1% CV
Exactrix TAPPS at 6 inch depths. Rotational Band Loading works better with 6 inch banding depth.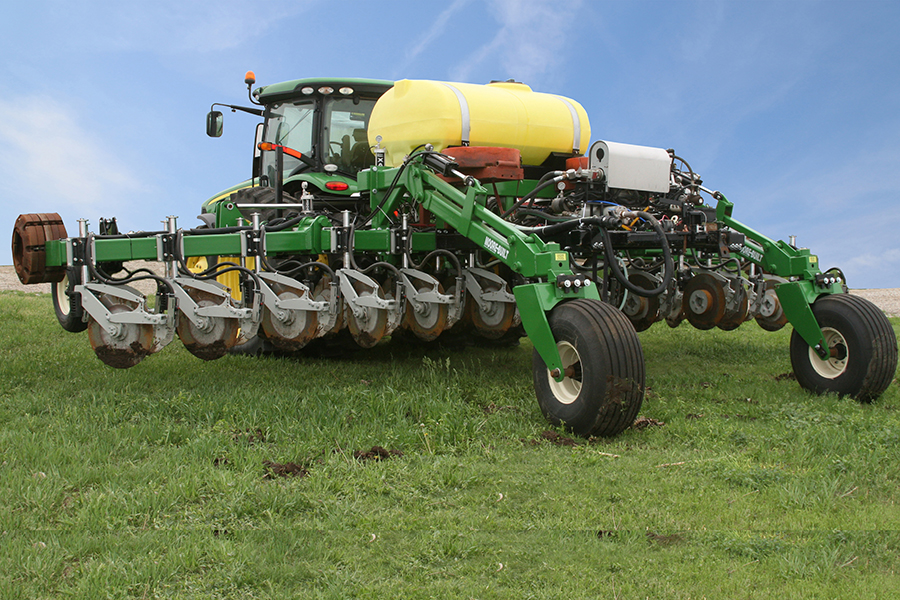 Model, 3015C, 30 feet, 15 inch band centers, P51C Mustang openers.
Advanced metering with 2KC Weigh Master, 2KP TAPPS formulator and 3rd product 2KR as required. Optional 500 gallon center tank with heavy lift assist frame. Moore Built Frame, 2 point lift assist with heavy tandems, 8 bolt hubs at 7,500 lbs. with 14 ply rated tire, outside wings flex down 5 inches and adjustable to 10 inches.
Bottom of frame height in full up position is 50 inches, Openers clear 18 inches with 5 inches of exposed chrome swivel shaft above the clamp. Mustang P-51C openers with 3/8 x 24 extreme double edge blades. Qty. 24. Gyro counter weights, 56 lbs. Qty. 24.
Optional Blade ½ inch thick x 25 inch od extreme double edge. Bands to 7 inch depth with 10 x 3 @ 56 lb. Gyro counter weight installed. Outside 4 openers on each side swivel an additional 10 degrees total.
TAPPS formulation and injection is with a threaded TIO. Three product injection is possible. Carbided Injector foot. Replaceable Chrome Insert. Standard with 2KC Weigh Master and 2KP TAPPS formulator.
Operational speeds to 10 mph. Horsepower, 270 to 370 hp as required and based on landscape and trailer tank NH3.
---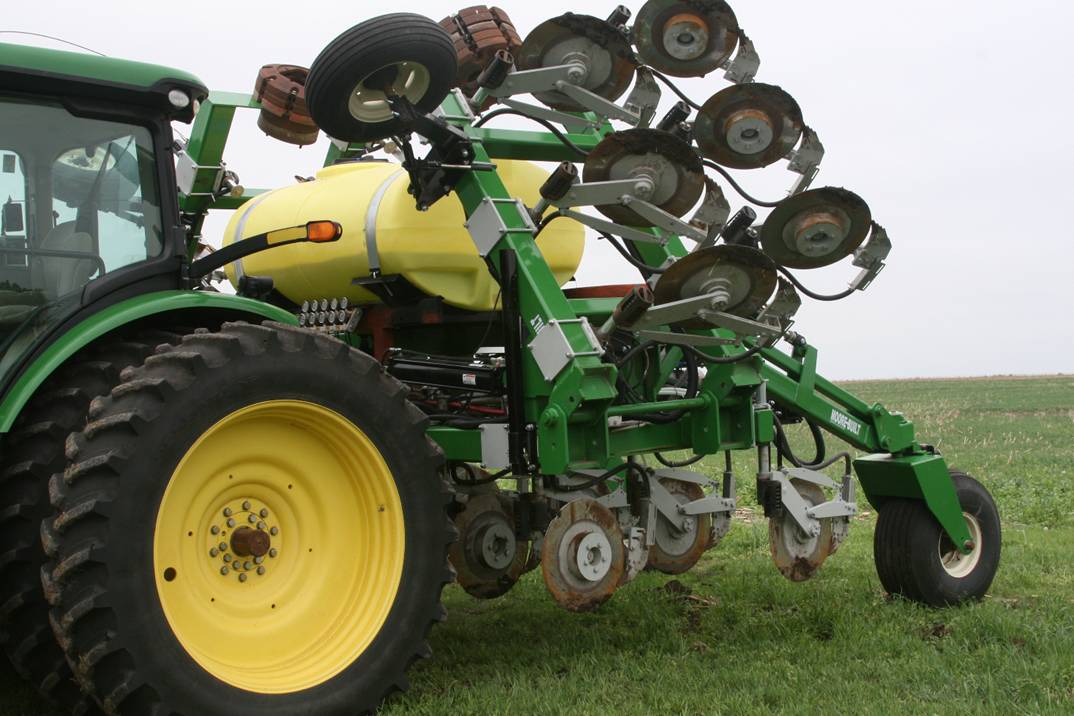 The 7 x 7 frame and a 16,000 pound lift assist tractor will handle up to 30,000 total pounds. Empty weight of tool bar with P-51C openers is 16,500 lbs. Easy access to openers with frame height at 50 inches.
The high lift design allows opener inspection and ease of access to center openers. Injection lines are shielded for endurance and sunlight UV protection. The tool bar is designed to be durable and accessible for farmers. Orifices are easy to change and monitor.
If you can not buy it…then you must build it and Exactrix designs and builds a manganese steel blade to produce low soil movement and surgical cuts.
The Exactrix Mustang is the lowest cost way to deep band to a 6 inch depth with no closing wheels required.
1. No depth wheel is required.
2. No scraper is required.
3. No bearing surfaces or pivots are exposed.
4. No tires need to be replaced.
5. No closing wheels are used on 15 inch band centers.
6. Bands are much deeper and 15 inch x 6 inch zonal dilute and safer for immediate planting of corn the same day.
Self Sealing Design.
Vacuum Injection.
Triplex Injection.
Streaming Flows Produce Lineal Band Uniformity.
This Means Nutrients Are "Just Right For Growing Roots."
TAPPS Crystals - Tri-Ammonium Poly Phosphate Sulphate.
Replaceable Chrome Bits.
Threaded Terminal Injection Orifices.
Carbided Injector Foot.
Low Cost Deep Banding to 6 inch depths….at ground speeds to 10 mph. Exactrix
high pressure injection makes it possible with liquid streaming flows of NH3.
Winner of two national awards…in single disc banding and TAPPS formulation.
---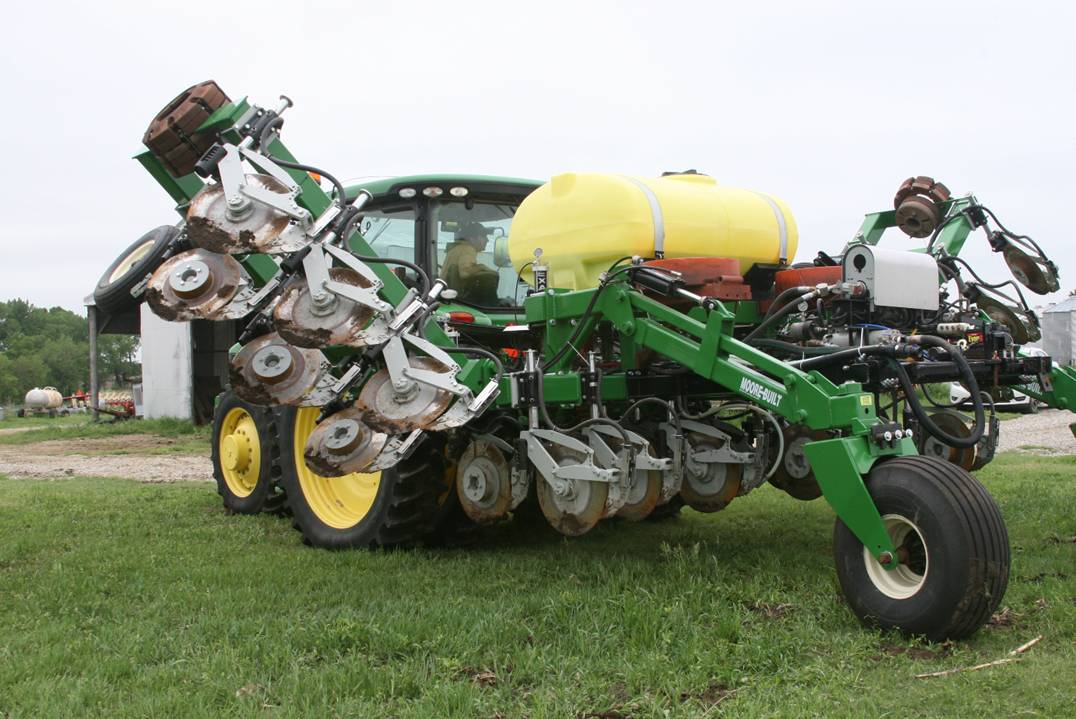 The frame wing up position allows the machine to transport at 18 feet 10 inch in width. Machine height varies with lift assist up or down. Maximum height 15 ft.-2 inch. Lowest height is 13 ft.-10 inch.
Optimum roading speed is based on conditions and the liquid tank load. Practical speeds can vary based on the NH3 tank in tow.
The 2KP and 2KR check valve holders allow dual liquid products to be applied with dual check valves. The check valve holder is made from ss-304 x 1/8 inch material for long life. The check valve maintains a trapped flow for a quick start. No dripping in transport and injection pressures are achievable to 300 psi at the manifold and 150 psi at the stripping TIO. Top notch performance from the Exactrix TAPPS formulator allowing liquid state NH3 to collide and crystallize in the deep band.

Operating 9,000 acres at 61.2 ft, the chrome insert was
replaced at 6,000 acres. The carbided injector foot operates
in the shadow of the Mustang blade.
---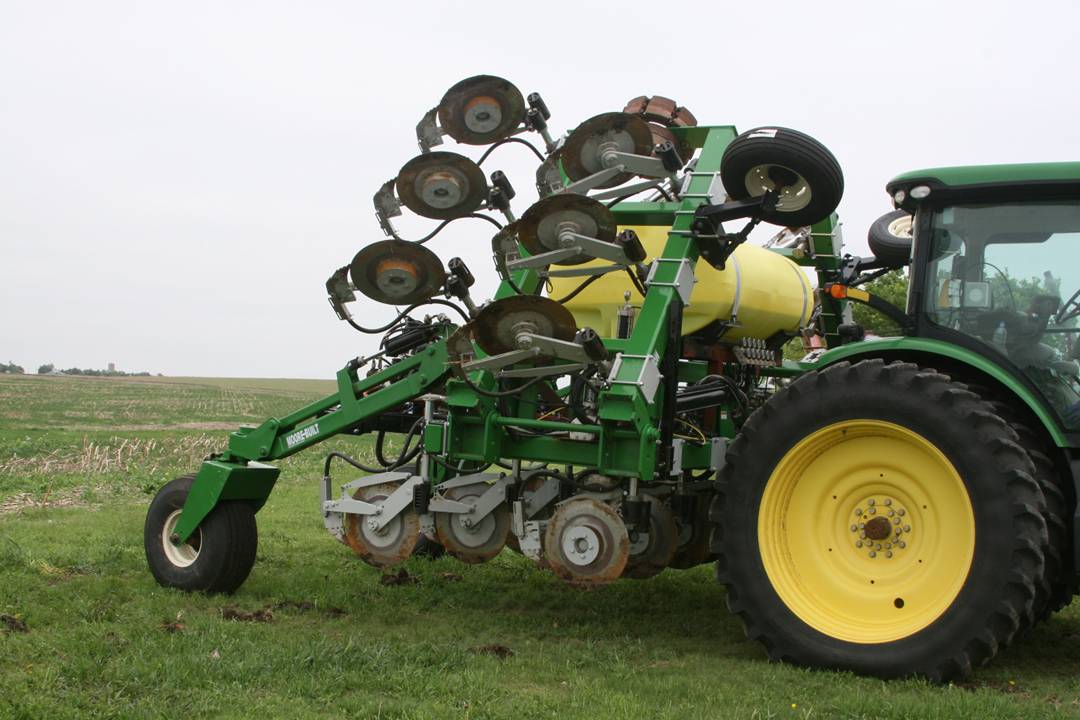 High speed roading is allowed with stable lift assist wheels. The wheel anti-wobble plate is adjusted by the spring rate based on machine weight and speed.
The double acting hydraulic cylinders allow the lift assist wheels to be raised. With double acting cylinders the lift assist wheels lift off of the ground allowing all weight to transfer to the tool bar and less tracking in side dressing of winter wheat.
Lift assist cylinders operate on a separate hydraulic circuit.
Accumulator ride control and pressure compensation valves can also be installed.
Pressure compensation valves are installed and used to adjust wing down pressure. Exactrix engines 2KC Weigh Master and 2KP TAPPS formulator mount to the back of the trailer frame and are easily accessed with your feet on the ground.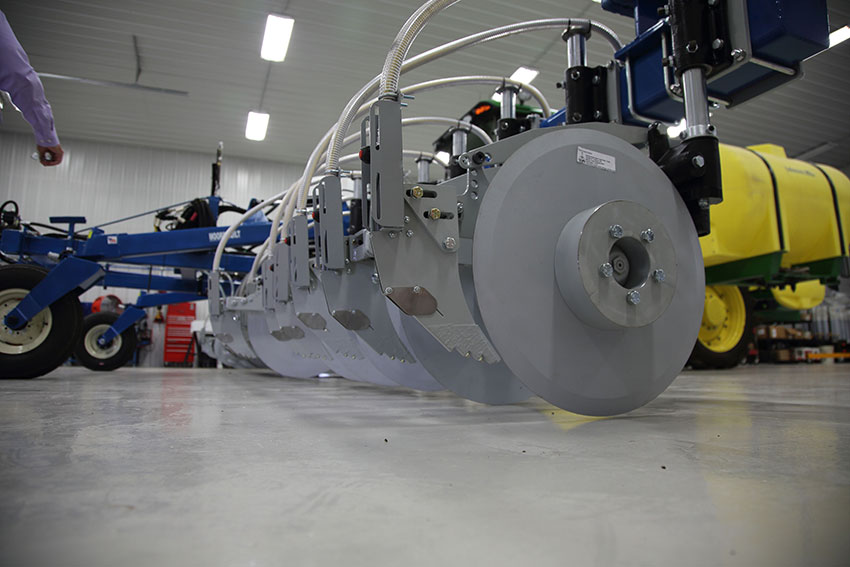 Single rank is acceptable with 18, 20, and 30 inch band spacing.
---
Opener hub bearings are lubricated or purged one time per year. The special Caterpillar® metal face seals assure high quality sealing of the pinion type Timken® bearings. Common double Timken pinion bearings are rated at 3,300 lbs.
A pinion bearing is used since it can take extreme side loading as well as radial loading. Even though the opener swivels tremendous side loads can occur at 10 mph. The steel hubs are double o-ring sealed. The hubs are machined from a solid steel billet. The P-51 opener bearings are set with a hardened tongue washer and a threaded compression clamp for maximum side load and correct bearing take up.
The lubrication of the durable hub allows the lubricant to pass both bearing races on out through a controlled port. The heavy duty hubs are a proven industrial design which allows long term use of bearings and seals. The hub pilot and the blade pilot is precision allowing the blade impact to be taken directly into the hub center flange and not into the shear plane of the 5/8 bolts that retain the blade.
The Mustang blade life is extended with manganese steel. Another Exactrix exclusive is the special diamond tooled technique that produces double extreme edging for ease of soil penetration and virtually no soil movement.
The large diameter blades turn absolutely true with a .003 indicator run-out at the blade edge. As the blade edge lifts out of the soil the double tapered edge rotates upward and out of the soil with low soil movement. There are two sizes of manganese steel blades available. The 3/8" x 24" and the ½" x 25" extreme service. The Mustang blades are the key design part of the Mustang opener with zero technical run-out with a disappearing edge allowing the vacuum injection to form up the TAPPS stratified delivery.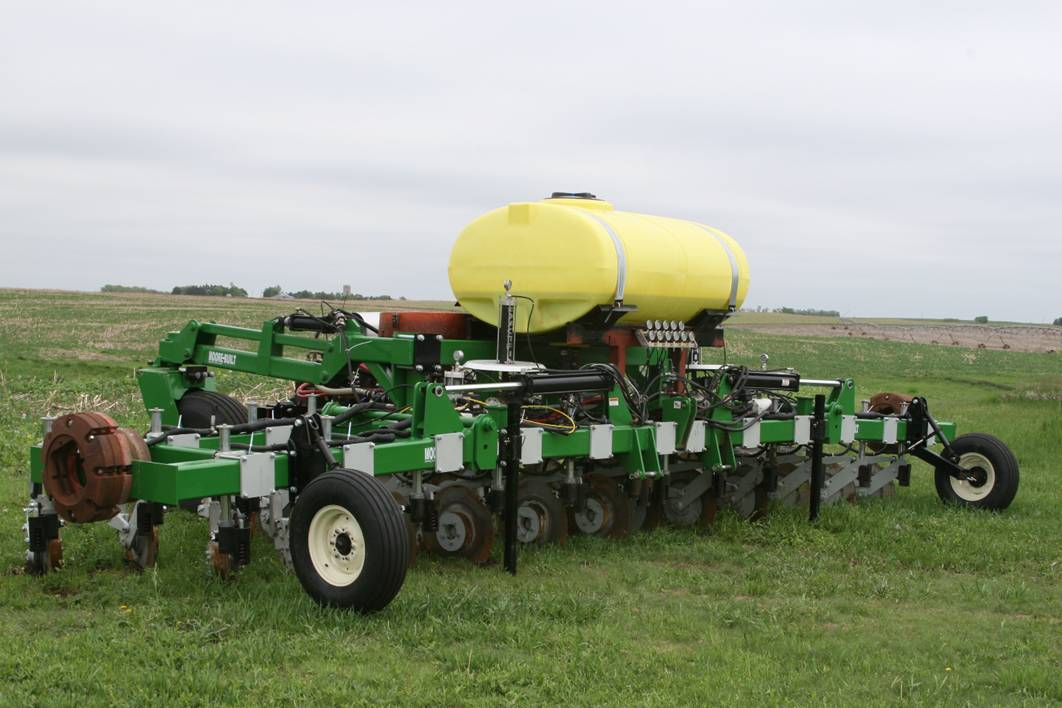 The wing wheels are 9.5L x 15 in 8 ply rating with tubes. The wing wheels are adjustable. The center section of the tool bar is set with the tractor two point free link engaged for about 2 inches of movement on either side.
The tool bar design and the opener allows for openers to be moved inward towards the row for ridge till. Thus the bands can be set as pairs of 10/20 rather than 15/15. The Gyro counter weights run to the outside of the row.
Also the openers can be arranged in specialized row spacing to 12 inch.
---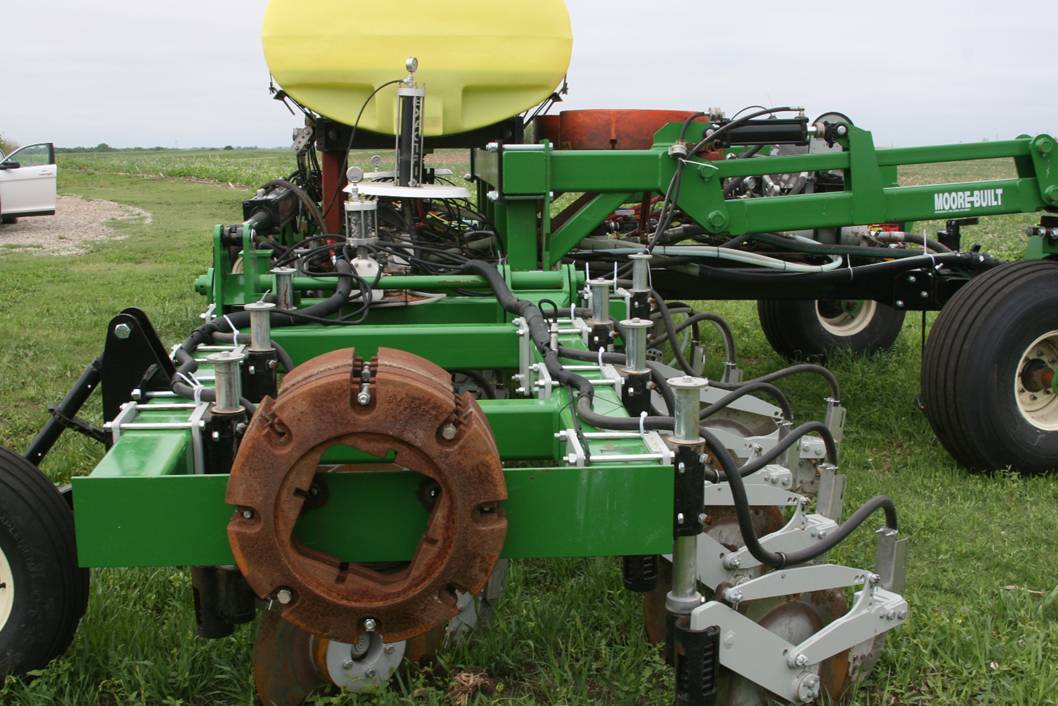 The outside four openers swivel an additional 5 degrees to each side to allow for quick inside turns.
The swivel pivot housing at the bottom and top are double sealed and allow the internal sealed fiber glide bearings to carry heavy loads.
The swivel shaft is 2.5 inch chrome plated allows the fiber glide bearings to perform over a long life with no lubrication required.
The mounting tool bar clamp is also triple sealed to keep water and dirt away. The upper tool bar clamp allows the vertical adjustment to be changed. The orientation of the swivel can also be changed at the tool bar clamp.
Other tool bar types with Mustang openers.
---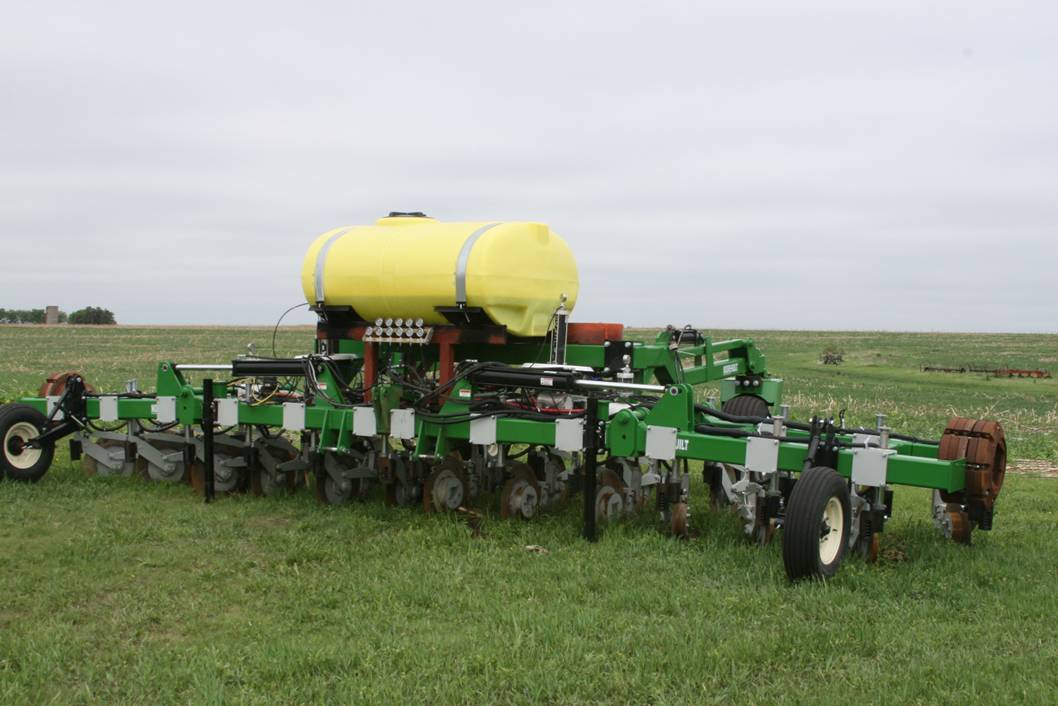 The hydraulic lift cylinders are 5 inch diameter bore with a 30 inch stroke. Cylinder pins are 1.25 inch. Free link allows exceptional wing movement. Heavy frame weights are allowed for tough moist penetration conditions.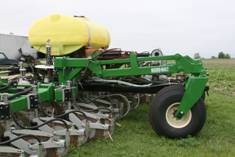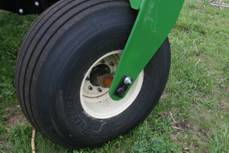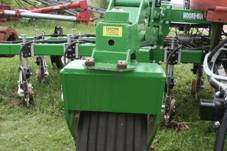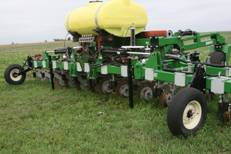 Up to 30 acres per hour at 8.1 mph or 24 A/H at 80% eff.
A 16.5L x 16.1, 14 ply tire
at 180 inch gauge.
Caster is a 2.5 inch vertical shaft with a full rotation swivel.
Parking stands standard.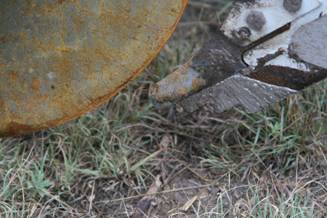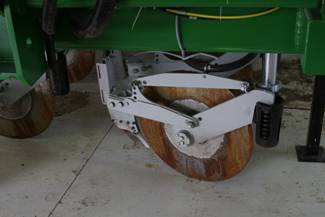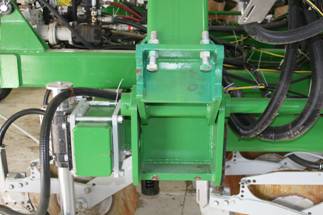 Replaceable bits, Full Carbide foot
protection at 2 inches.

Removable hub and spindle.
Blades are useable to 21 inch.

Wing down stops are adjustable.
---
Is 6 inch deep banding of nutrients better than 3,3/4 inch banding of nutrients?
On the Great Plains…. You bet it is.
A dry stretch can be 5 to 10 years. A big rain could be 3 to 5 inches and TAPPS and TAPPKTS is stabilized to take the flood.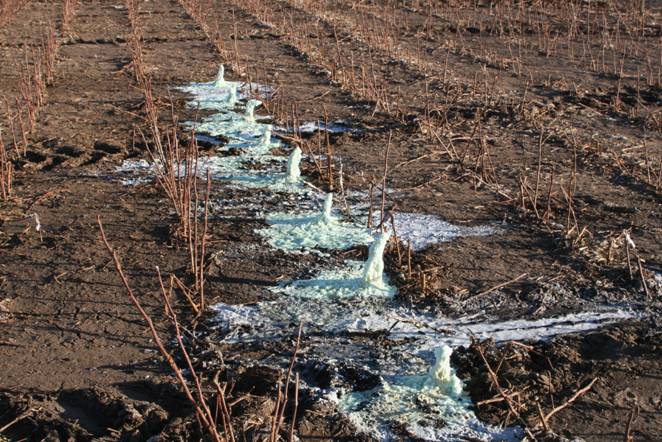 Liquid streaming flows makes TAPPS crop available in consistent soil moisture at depths of six inches.
The highest crop availability of NPKS and micros known to the soil chemist results from the crystal injection.
Exclusive Exactrix metering technology using pressures to 300 psi with liquids and liquid state NH3 flow in a high temperature reaction.
Applying nutrients at 1% CV makes nutrients 166% to 200% more crop available in a polymer crystal form with metals like zinc included.
The long term key is the 6 inch depth and keeping the soil pH evenly distributed.
---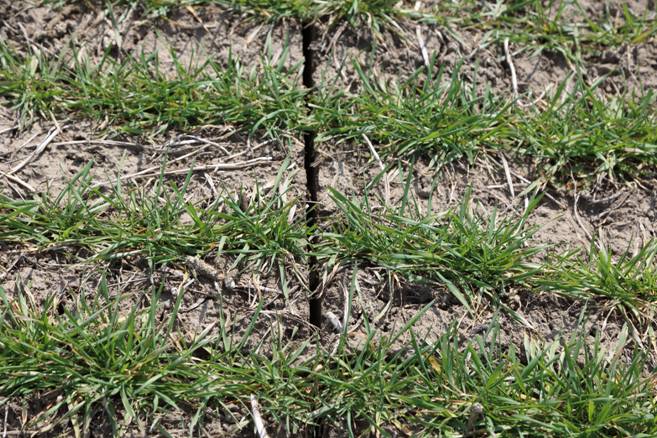 The vacuum injection of Exactrix liquid NH3 and liquid APP/ATS assures self sealing design at 1% CV of uniformity.

The soil slot is closed at the 2 inch depth in moist soil conditions with growing roots.

This is the very best nutrient access at deep banding depths of 6 inches. Intense root targeting results with bands deeper for seminal and secondary root exploration and no shallow bands that can strand NPKS nutrients.

Nutrients applied at the 6 inch depth are more geometrically accessible to growing crop roots and tough to kill weeds seem to never find deep bands. It has long been known that 6 inch deep banding with rotational band loading will produce highest long term performance of placed P.

P rates can be reduced with long term Rotational Band Loading and No-tillage at the 6 inch depth. Surface 2 to 4 inch tillage is acceptable with bands at 6 inch depths.

Exactrix TAPPS works every time
1. with low horsepower,
2. low soil disturbance,
3. less disease pressure,
4. better soil pH distribution to improve the soil biological life,
5. 1% CV of application means uniformity over the long pull in producing better soils and better variable rate technology.
6. Highest quality nutrients at lowest cost….about ½ the cost of other methods.

Will I ever surface apply fertilizer again? Probably never unless it is a Lime application.

A surgical soil slot cut into winter wheat allows yields to move up to the highest levels…level 5 is the result and due to placed P at rooting depth. Side dressing of winter wheat is a viable option in late fall, during the winter months and well ahead of the plant absorption needs.

Getting the bands on just ahead of dormancy break drives efficiency of placed P and allows N to remain ammonic and stabilized.

Fool the weeds, starve the weeds and feed the growing crop only. Corn and Milo really perform with banding just in front of the planter…just as good as side dress in most cases with Thio-sul® to stabilize the N.

It is good to have a lot more options and lot more crops to choose from when you are working with the weather.
---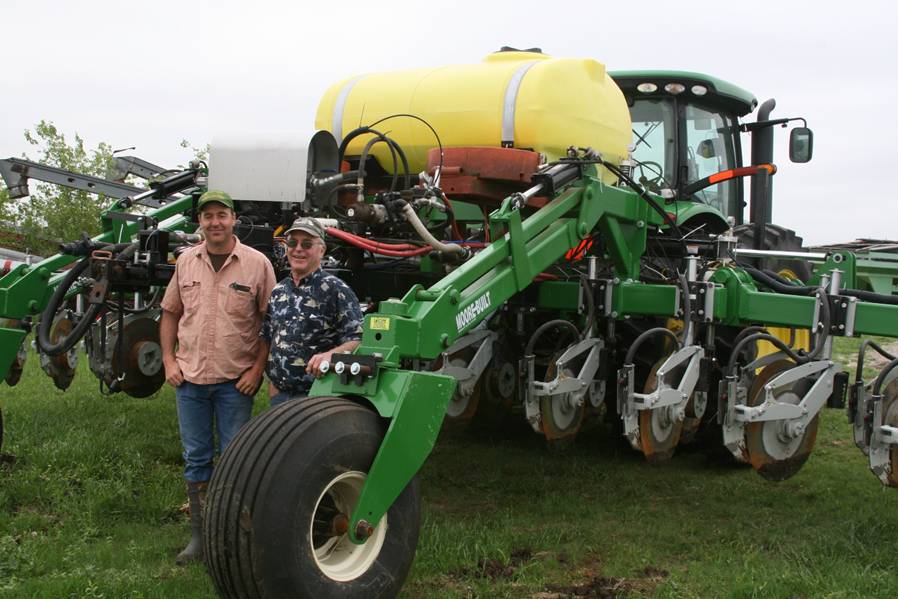 Making sure each generation has a better chance with better soils and good economic margins.

---
EXACTRIX, Rated in the top ten agricultural websites in North America.
For producers who want to learn more about increasing crop production, we provide some good answers in the Exactrix library.
EXACTRIX GLOBAL SYSTEMS makes the news