Winter Canola at 140 bushels per acre
on 30 inch row spacing.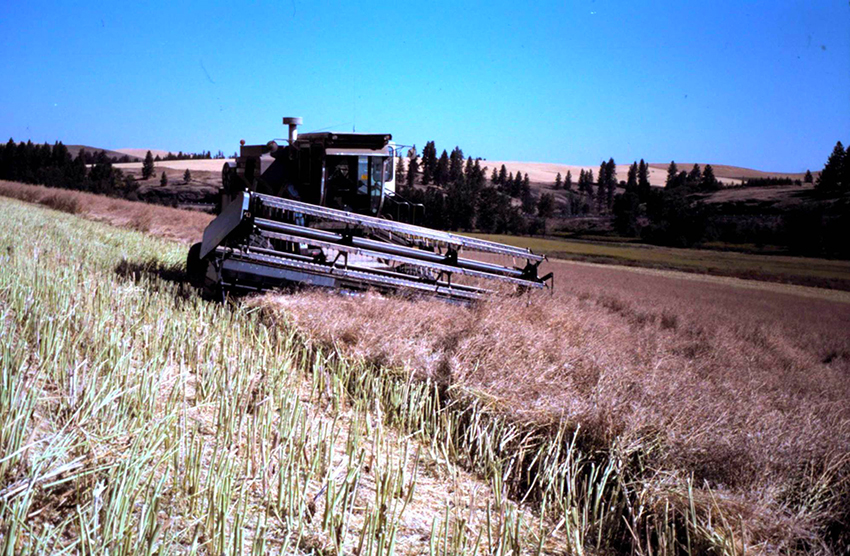 1
Harvesting 5,500 lbs per acre of Dwarf Essex in 1984.
Direct cutting, No Roundup harvest label, Winter Annual control with Chemhoe PPG-135.
The 110 bushel per acre harvest followed July seeding and a short 1 year of a 1983 Chemfallow.
A top yielding Dwarf Essex crop takes 12 months from water injection seeding to harvest.
Winter Canola and Winter Rape are truly 12 month crops for top yields.
Exactrix SRS always makes the top yield.
The Winter Canola planting date is critical….AJ Foster, KSU, Garden City says, "The Plant date at Garden City, KS is optimum Sept. 1".
That is probably the last day you should plant winter canola since a cold fall can greatly reduce the root development and quality of the crown. GJS.
If you have a pivot and SRS…get it up with 95% stand in 4 days.
Every day makes a big difference as observed by Dick Sterret and Dale Bathurst.
In Kansas conditions…plant at the earliest possible opportunity based on work load…Move clear ahead up to 1 month. GJS
Optimum date in the PNW in the Rolling Palouse, same as Dwarf Essex on Chemfallow, July 4 th.
Best Stands with a true Biennial are greatly improved on the yield side.
Great yields require SRS Seed Row Saturation in the planter row on 30 inch at 50 gallons per acre…., 99% emergence in 4 days.
Winter Canola takes 11 to 12 months from planting date to harvest date for top yields with deep rooted plants.
Highest Winter Canola yields are achieved with a mid-July plant date in the PNW.
This early plant date is assumed to be true on the Great Plains on chemfallow and irrigated production.
Plant Winter Canola early, fertilize in October and November.
Treat this crop right and it will payback big.
Yield production to 140 bushels per acre is possible in the PNW and 100 bushels per acre on the Great Plains.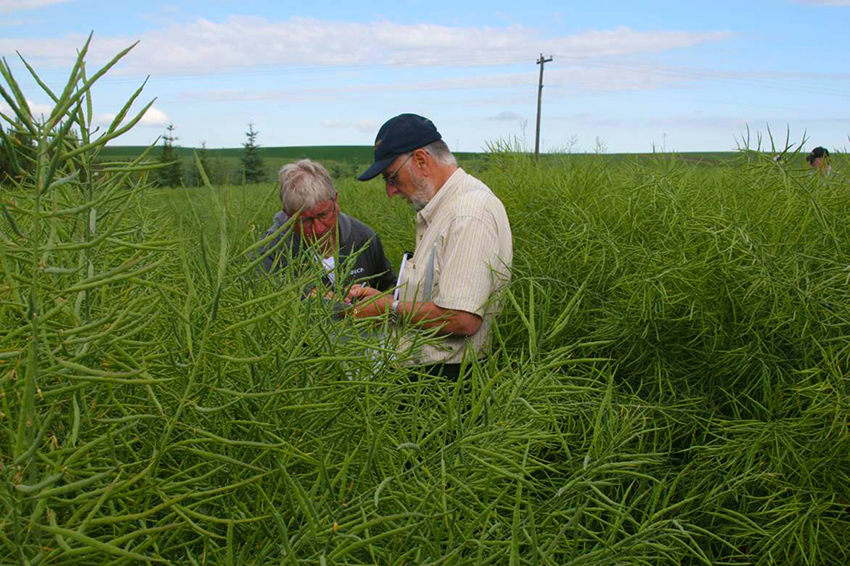 2
Jack Brown, U of I breeder and Jake Gross, SHB also breeding spring canola for BASF.
Seed Row Saturation at 30 inch spacing with 50 gallons of water per acre is the goal.
Additives include, micro amounts of Zinc Sulfate.
K-Row 23 can also be considered.
Insecticide should be used in the row.
SRS will produce the best stands under a pivot for sure.
To maximize yelds on the Great Plains, the plant date needs to be moved ahead to Aug. 1 to Aug 15….to build big crowns before winter.
Field margins will need to treated with insecticide at planting.
In the PNW, producers can move the plant date to June 20 to July 20, and get the high quality, high yielding stand with SRS.
Emergence rates of up to 99% on 30 inch are possible.
July 15 to July 20 is the typical plant and seeding date for Dwarf Essex. The Fourth of July is the new target date for Dwarf Essex and Winter Canola.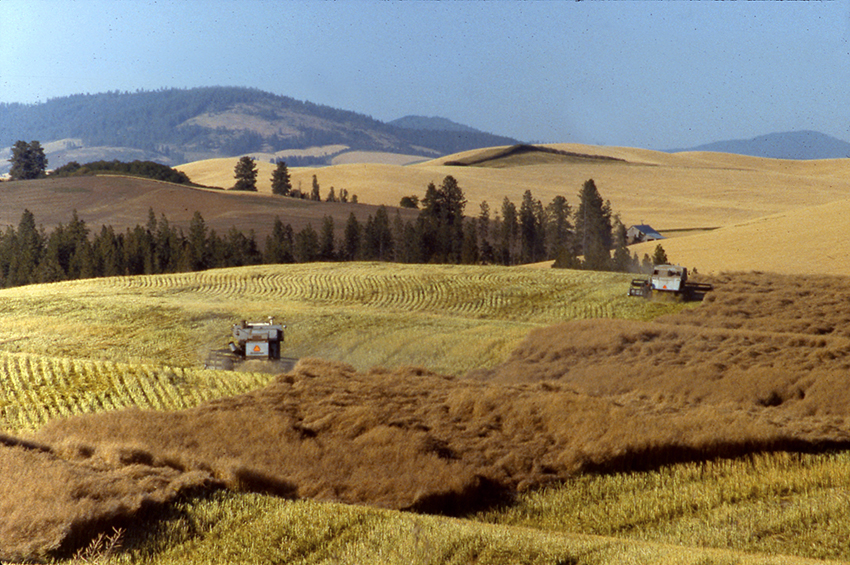 3
Water Injection, or SRS at 150 gallons per acre on 10 inch spacing. Field wide average 5,500 lbs. per acre.
PPG, Chemhoe 135 applied in the fall of 1983 to grassy weeds such as cheat and wild oats.
Seeded July 15, 1983, harvest July 15, 1984. Palouse Washington.
This early stand design of Winter Canola will cover the land much faster, and get the plant to deep root and survive the winter.
Producers can green chop the crop to in August.

Producers can use Plant Growth Regulator when the label is available.
Producers could also petition for PPG, Chemhoe 135 as the late fall weed control selective grass herbicide with some broadleaf activity.
Chemhoe was the best chemical in the 80's for low cost winter fallow.
Side dress the crop with single disc TAPPS and TAPPKTS plus micros in October or November.
TAPPS and TAPPKTS has ammonium and two types of sulfur which is required for top yields on chem-fallow in the 5,000 lbs. per acre to 7,000 pounds per acre range.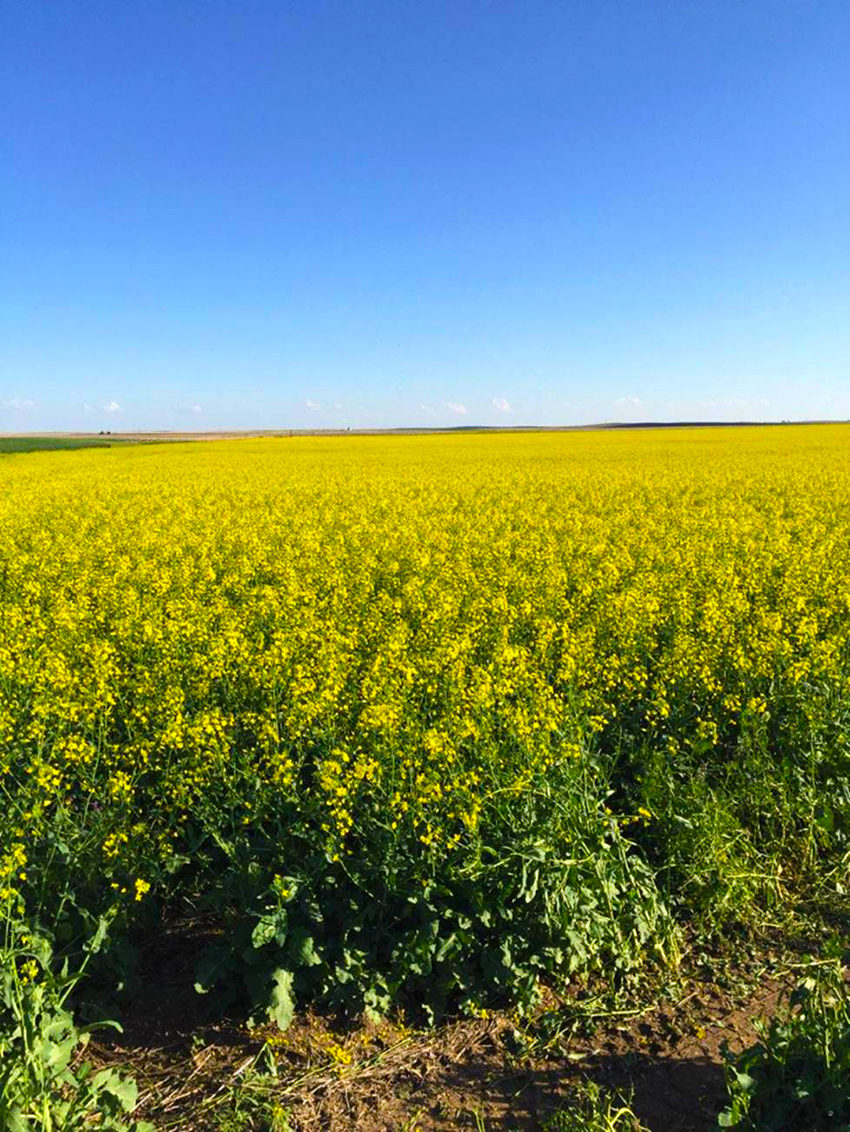 4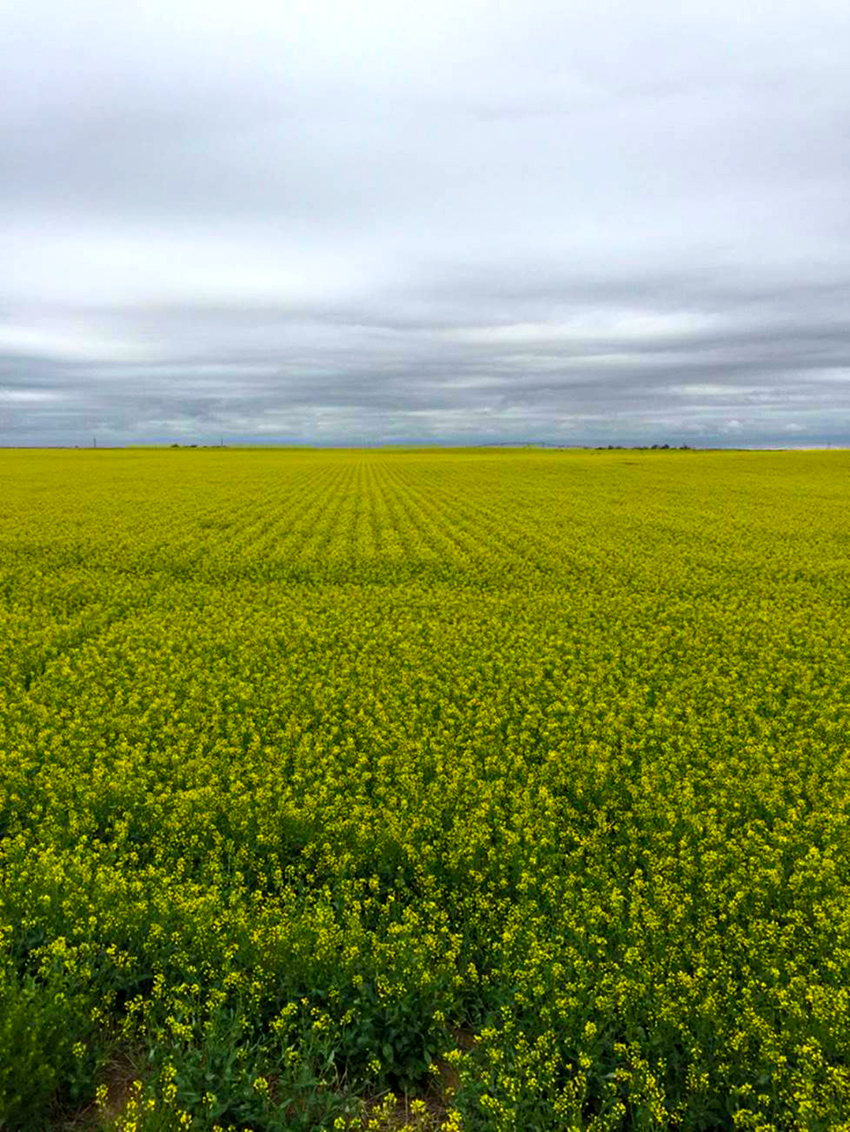 5
Reporting in May 19, 18…Aaron Frank. A top notch stand of Winter Canola.
Winter Canola grower, Aaron Frank, 22 miles North of Stratton Co at 4,200 feet.
Irrigated Production. Quartz on 30 inch with Deere Planter and sugar beet sensor tubes. Part number included.
Used ½ inch water to get the crop going on September 7 th plant date.
Big Rain September 18 th.
His best stand close to Hwy 36 at Kirk, Co.
CSU has a variety plot at his farm.
Take away the risk under center pivots….in row SRS is time proven to reduce risk of a stand.
The stand must be completely emerged in 4 days at 95%. Target stand, 60,000 to 100,000 using VRT-Site Specific is a success with the highest quality seed at 99% emerged in 6 days with planters and good sensors.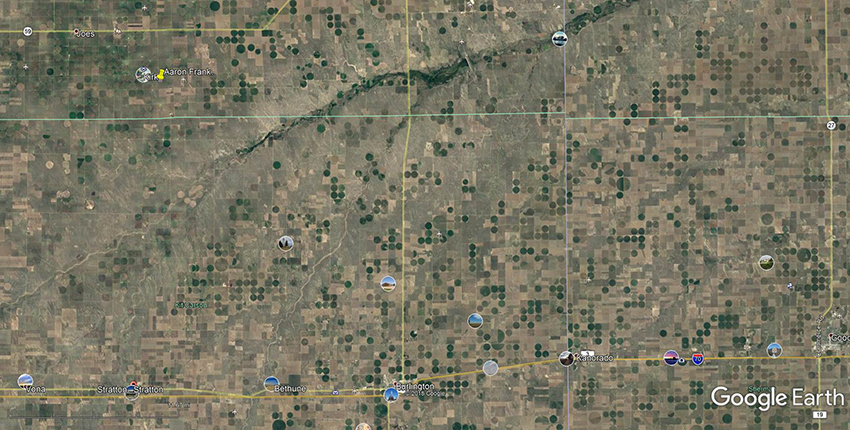 6
Not too far to Goodland for Aaron Frank, the close proximity can make a big difference.
The Delivery point improves the economics.
Mobile crushers are coming on to provide help to producers over 3 hours away from the crushing plant.
Cattle and hogs are an important part of the mystery.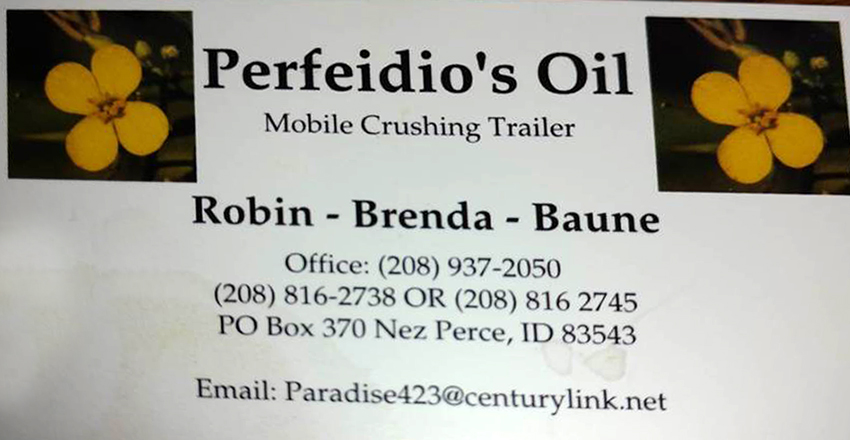 7
Cows, Hogs, Dairies….Winter Canola producers can use mobile crushers to provide on farm meal at 36% protein and high gain potential.
The sample in the bulk tank can be very trashy. The harvest can be greatly improved by keeping the seed in ag storage bags at 9% moisture. The Ag bags can be set up right at the feedlot service area.
The oil goes directly to Houston. The oil is 20% in a farm site crush.
The crushed meal remains high in fat…much higher than the big mega crushers.
Mobile Crush also stops the dockage by the big mega crushers, what you see is what you get.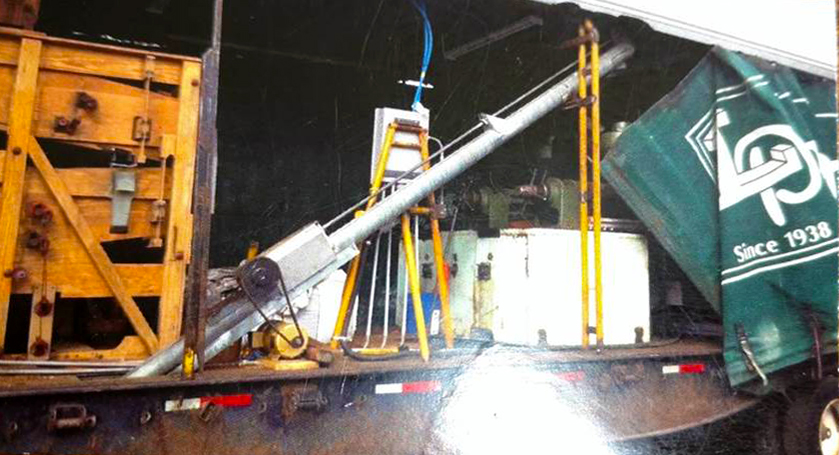 8
Beat down the transportation costs, and get your crop in the cows belly.
Highest return for stranded winter canola growers.
Mobile crushers also work for Organic oil, Hemp oil and Dwarf Essex, Durola etc.
Mobile crushers can also get to your farm for salvage operations.
Counting Canola Seed is Possible at +-1%.
Looks like a solution to counting up to 180,000 population and higher of Winter Canola with a strong performance this last summer close to Kirk/Joes Colorado at Frank Farms,
Here is the story and the bill of material.
In steep Palouse slopes producers must have accuracy of seed placement….in VRT Site specific the planting rates will run from 60,000 to 120,000 population using SRS.
The seed is planter grade and is being tested for germination.
The Seed Tube from Deere and is a Sugar Beet Tube…Qty. 1 per row.
The Deere Part Number is A56787,
The seed tube should be ideal for steep slopes in holding the seed in place to the release. Very important.
The sensor is from Dickey John, Ag Express in Grand Island. 308-381-2905, Ryan Rose. About $137 to $150 each
High Rate Plus for Deere Flush Face tubes….thus a shim is needed as shown.
The expensive sensor has a built in memory that improves it's ability to count and send the signal forward to the display.
Part number is DJ462833003S1.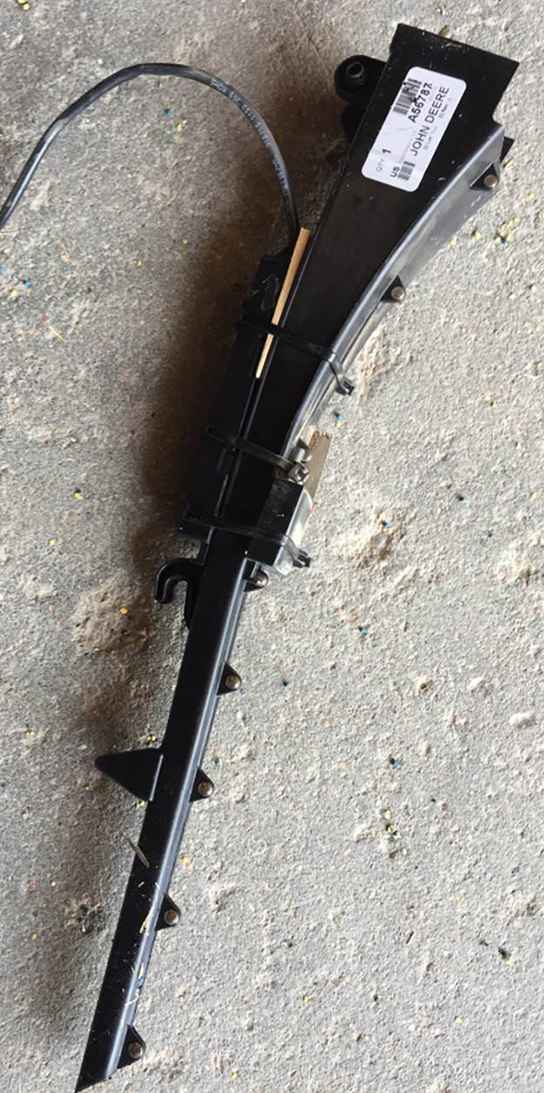 9
Note: A shim pack is required to hold the sensor in place.
3 cable ties are required.
The sensor has a memory system that keep track of the seed in a memory chip .
The sensor builds up a memory of the seed size and tracks the seed with this memory capability.
The sensor evidently has a tough time if you move into another seed size, such as wheat….since it has stored in the memory.
So you will need to maintain a profile of Winter Canola and Spring Canola only.
Personal Notes:
Aaron reports a high level of satisfaction at 180,000 last summer about Sept. 7 plant date.
He felt the level of accuracy was about 1 to2%...so the memory chip is very important with the Winter Canola seed.
Ryan Rose was very helpful and detailed as to the performance with a heads up discussion about the memory chip.
This girl will only dance with one fella, due to the memory chip….so it may be used with other small seeds but I would not count on a good start up.
Aaron raises sugar beets also….so the sugar beet tube came from his collection of tubes, so it appears that the combination is ideal for rolling ground and steep slopes.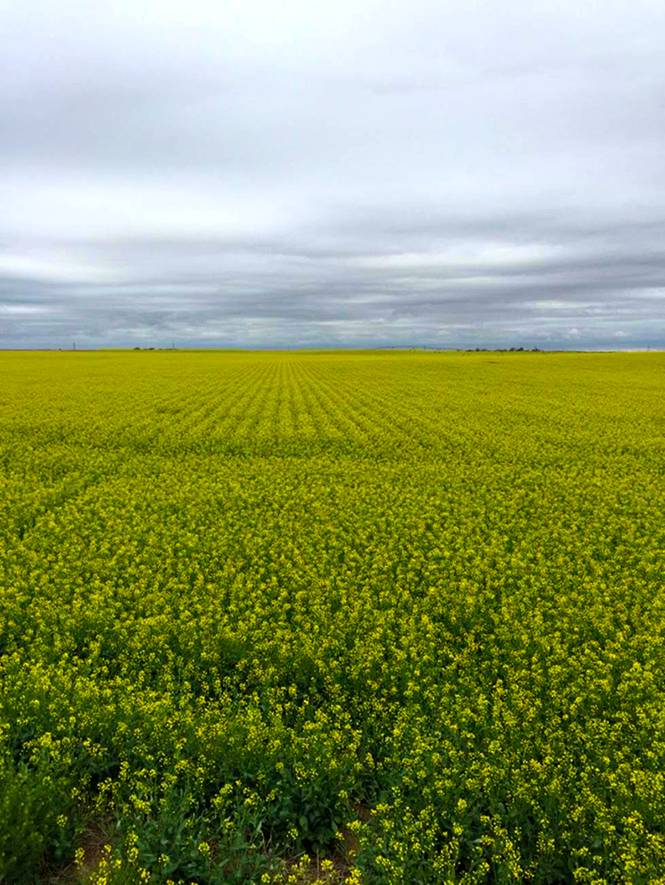 9.1
Picture taken May 18, 18 at Kirk, Colorado, Aaron Frank.
24 row, Deere 1790 with Precision Planting Meters, Delta Force on the Row Cleaners , Yetter Sharks Tooth Clean Sweep Row Cleaners.
30 inch rows at 180,000 population. Figured the accuracy at somewhere between 1% to 2%.
Variety is Quartz at 4,200 feet. ½ inch of water with the pivot following planting…big rainstorm Sept. 18, 18
970 630-4328 cell.
Aaron Frank has a great start with Winter Canola….and since he has sugar beets in the rotation there is a good chance that the carryover chemicals will not cause problems.
Funny, In ND Canola is not considered in the rotation due to sugar beets in the rotation.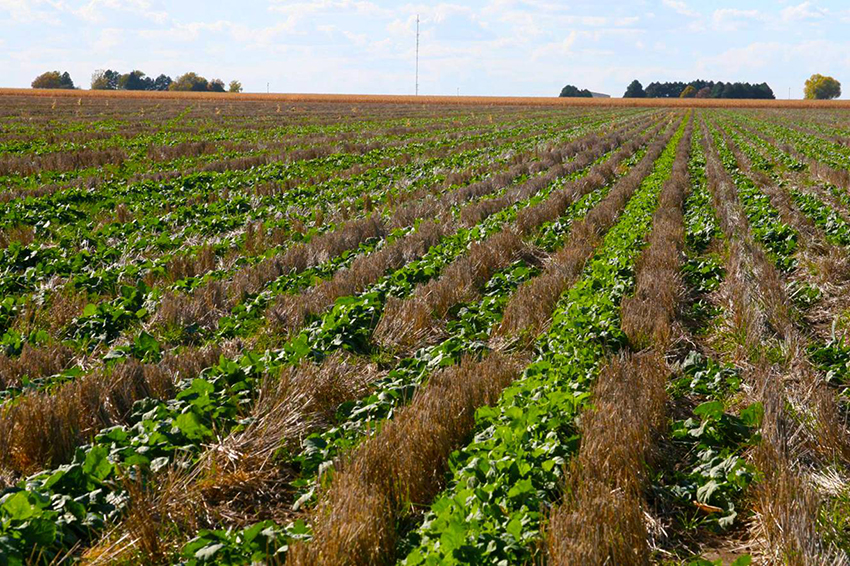 10
Goodland, KS, Greg Sederstrom, Fall 2016…got the Winter Canola up and big, Strip Till, Annual Crop.
A good look at how to raise winter Canola at http://exactrix.com/Broadcast_07_17_2017.html
The power to move a mountain is improved with
SRS whereby there is 99% germination in 4 days.
Winter Canola requires SRS for a 99% stand in 4 days.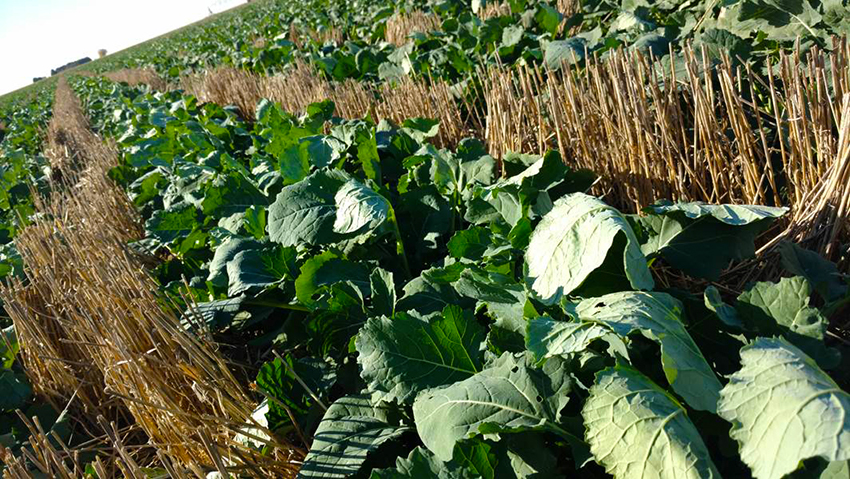 11
Time for a better crop. Raising a better crop that is good for the soil and the pocket book.
News about Water. This information is well known in the PNW and obviously not to you if you are 60 and younger.
Prior to the internet here is the news.
https://ir.library.oregonstate.edu/concern/graduate_thesis_or_dissertations/3t945t78z?locale=it
Iranian Student at Oregon State. F. Noori. A PhD in Water Injection, Winter Wheat In Tillage.
On the plains of Oregon and in the Willamette Valley, the fall start of winter wheat can be difficult requiring special, HZ split Packer drills in heavy tillage, black fallow 2, year rotation wheat on wheat.
The shallow soil areas of North Central Oregon cannot take much more tillage, since they had virtually no soil to begin with. Travel down highway 97 to Bend Oregon from the Columbia River, Somehow the Ash went right over the top of the Basalt Plain.
So the intention was to use water to start the germination of winter wheat in black fallow systems, with a soil stored capillary moisture line that could not be maintained well in the germination zone in volcanic ash soils of the Cascade range.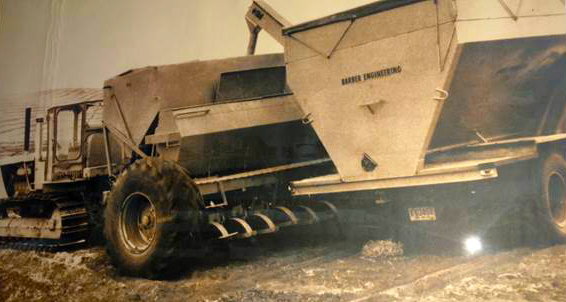 12
History Note: Old Yeller, 1974. First No-till drill of North America. A monster at the time.
There will be a powerful stand of winter canola with Seed Row Saturation.

Support in several scientific journals. Seed Row Saturation can also include germinating aids, MGPA, KMAG and Zinc Sulfate.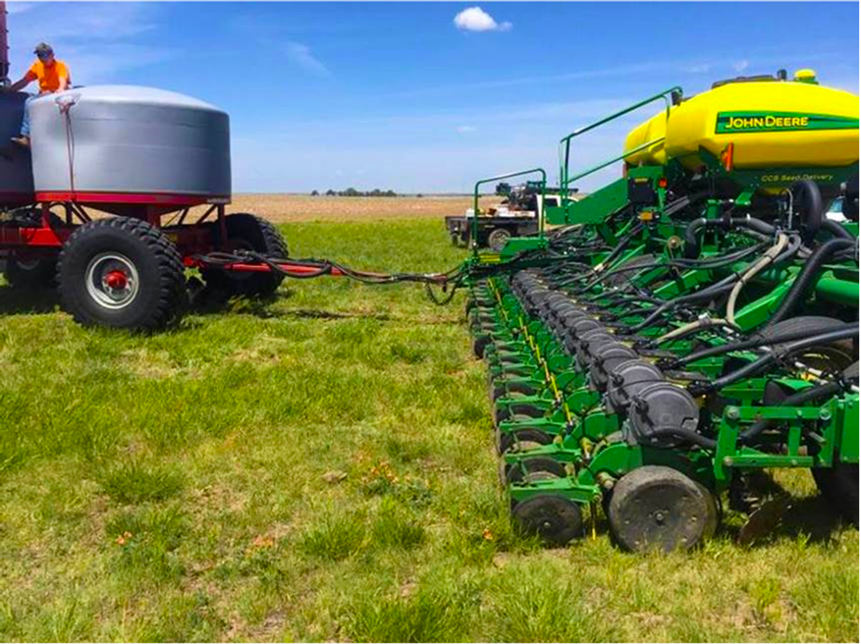 13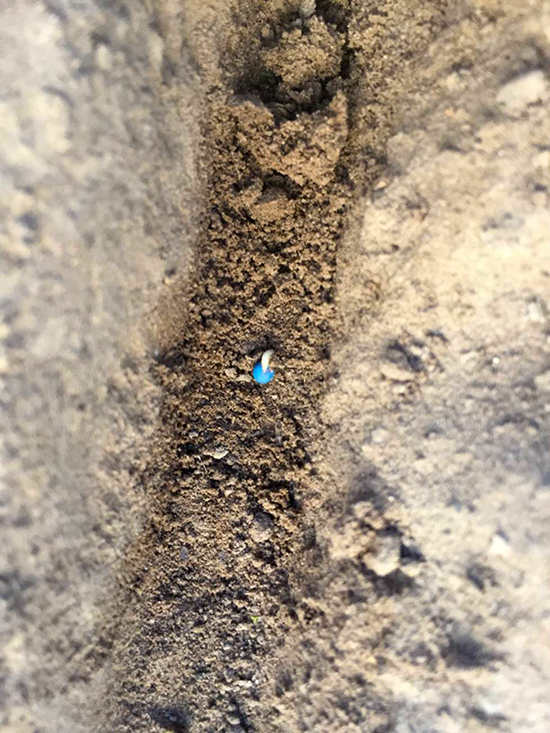 14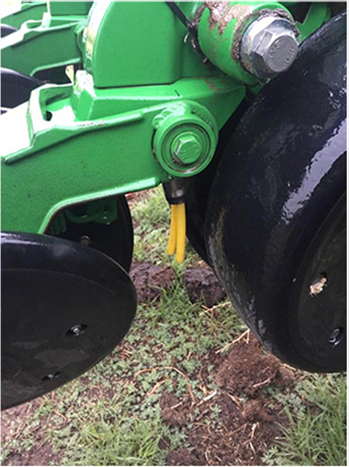 15
A potential great payoff with Corn and Milo, anytime the seed is expensive consider SRS.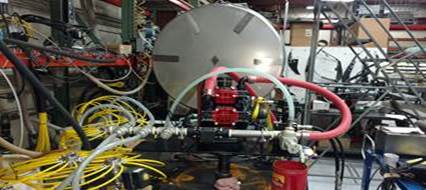 16
Up to 108 gallons per minute for 120 foot planters.
Looking Glass Manifolds and low hydraulic flow is now possible
Nominal Reports and Exactrix Techniques, at less than 2.5 to 3 gallons hydraulic flow per minute at 40 feet.
---
Yields go up 13% in Canola.
Ursa the environmental disaster was a perilous event , but Sulfur as Thio-Sul still made a big difference.
Just in, in time for a Hugoton Winter Canola Meeting.
Dr. AJ Foster, KSU on the left and to the right Dr. Bert Bock TKI.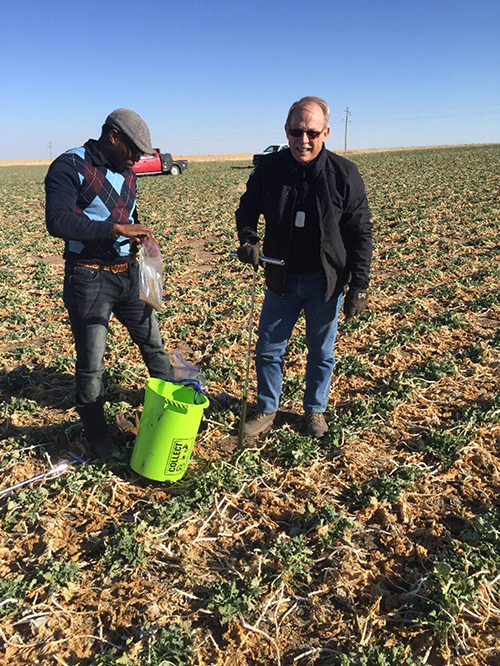 19
March 1, 2017, Soil Sampling Winter Canola prior to randomized and replicated plots of TAPPS and TAPPKTS at Hugoton, KS.

Tessenderlo Kerley Inc, TKI, sponsored plots carried out by AJ Foster of Kansas State University. http://exactrix.com/Broadcast_08_21_2017.htm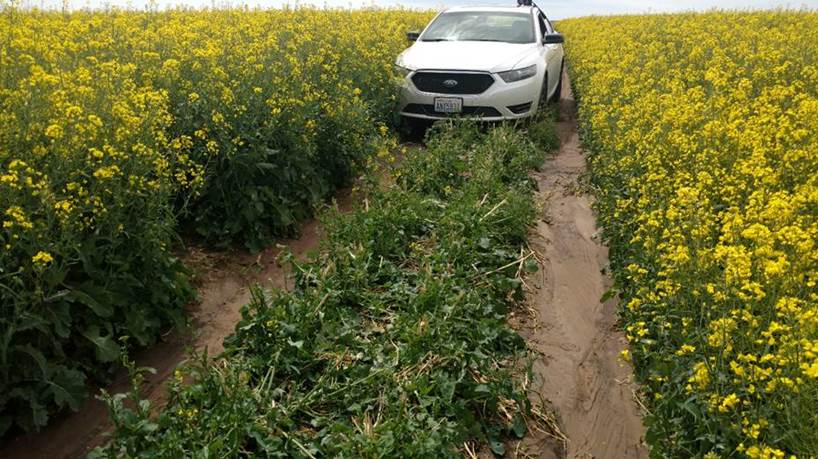 20
Barry Hittle and Joel McClure, Hugoton, KS, Z road, This is a Test Plot site on April 28th just prior to Winter Storm Ursa.
Irrigated Production technique builds confidence, and shows the potential of hybrids.

Potential set at 80 to 100 bushels per acre with Rubisco Hornet on the job. A great fall start.
TAPPS and TAPPKTS makes a difference when S is 30 lbs.

That is about 10.5 gallons of Thio-Sul. With about 4.8 gallons 10-34-0 or 18 P.

Total N in the plots was always 70 lbs. N and NH3 was adjusted between 51 to 65 lbs. N based on the N in the Thio-sul® and the APP.

Oil remained the same at 39%, Roundup Harvest Label, Cut Direct, Rubisco.

Even with the storm and reduced yield of the crop the yields jumped 13% from 23 bushels to 26 bushels when the rate of S was increased 150% from 20 lbs. S and 30 lbs. S.
Lance and Ronny Helberg at Lohn, Texas, 2,000 acres of winter canola…out of 7,000 acres of wheat, cotton, peas.
· Champion growers of Winter Canola. TAPPS and TAPPKTS in low rainfall in the Heart of Texas.
· Mustang Tool Bars lower operating cost by 50% of nominal in No-tillage.
· Winter Canola at Lohn Texas is proving high returns….about twice that of wheat.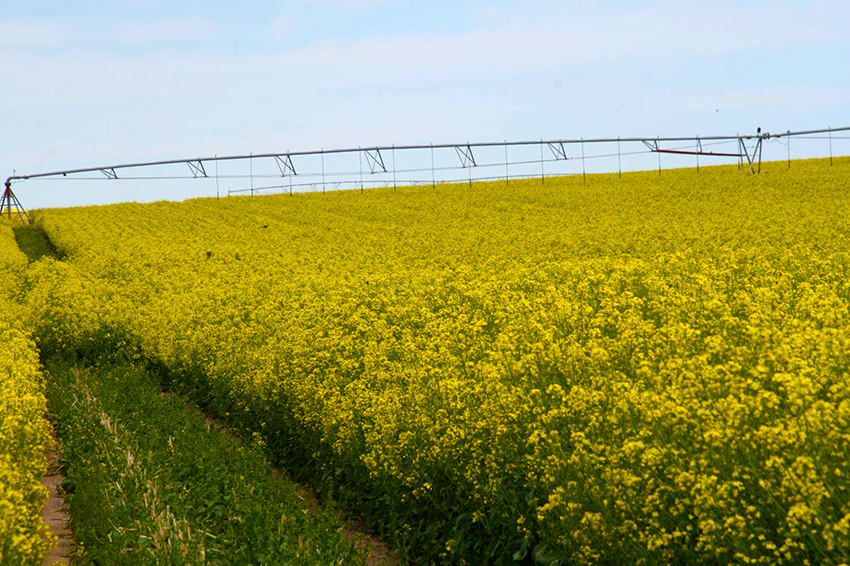 23
GJS reporting in, April 28, 17 just prior to Ursa and 15 inches of snow for 10 days.
About May 8th it began to grow again and bloomed a total of six weeks. .
Hugoton, Irrigated, Ursa Storm resulted in very low yields but, the discovery is still pretty simple.

It takes sulfur to make yields, and it may not be enough sulfur yet to get the protein to go up and get the oil premium.

We are reviewing additional Thio-sul® on the sandy soils of Hugoton, KS.
Broadcast_06_29_2017\Broadcast_06_29_2017.htm
Check out this broadcast e-mail for exceptional news about Winter Canola.
All fertilizer types including Anhydrous Ammonia can be applied No-till especially so with a Yielder Drill.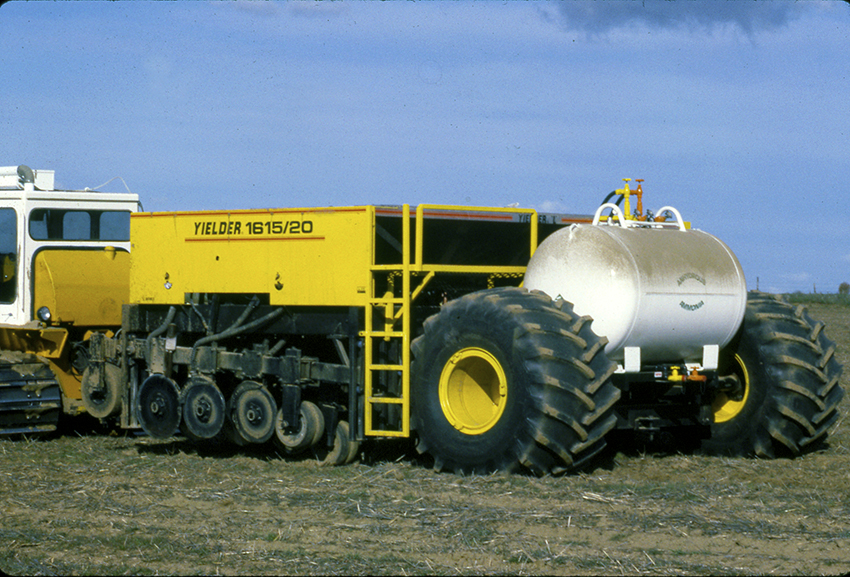 24
The most crop available source of N is ammonia nitrogen, NH3 as Exactrix TAPPS.
Rooted in the Yielder Drill you find Anhydrous Ammonia application perfected by Exactrix engineers.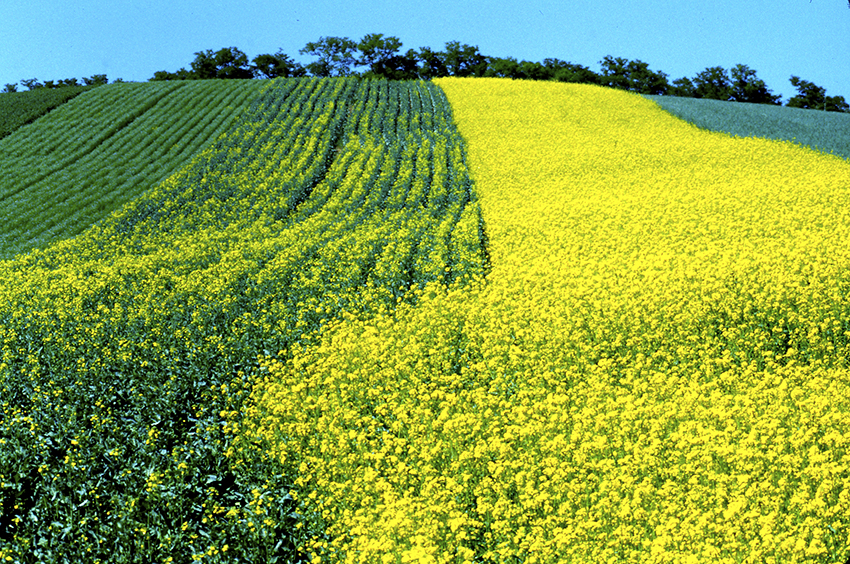 25
A No-till Rotational Grid in 14 different crops. Spring Canola, Argentine and Polish going reproductive.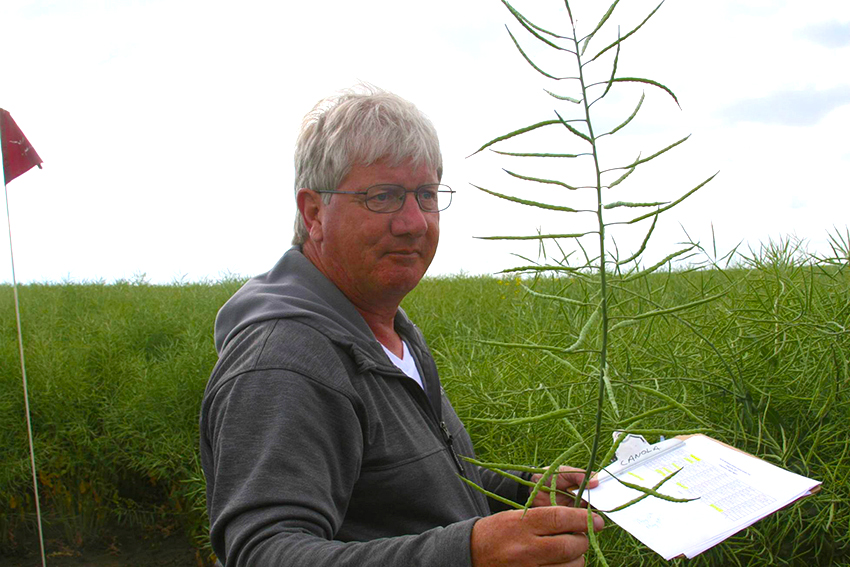 26
Plant Breeders hold the key, is there a better crop?
Jack Brown, University of Idaho, Spring and Winter Canola, Winter Rapeseed and Mustard Breeding Program.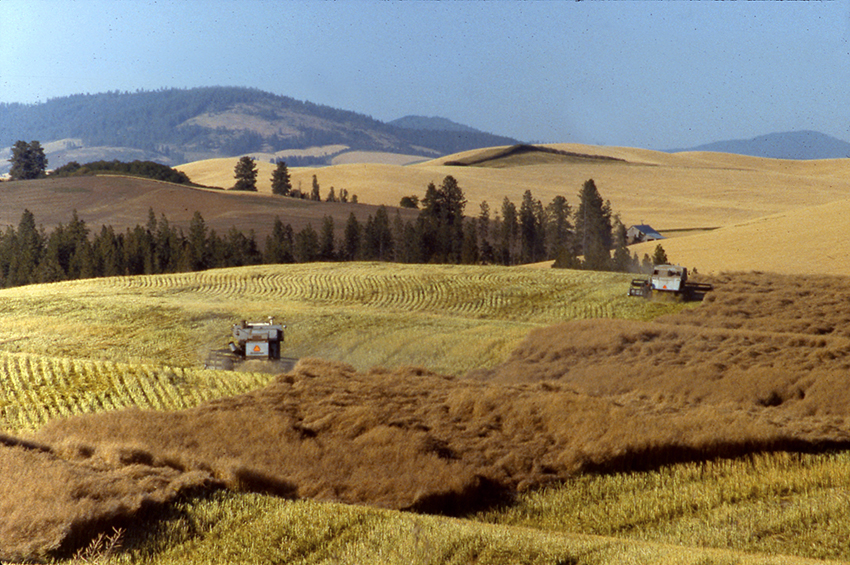 27
Raising a better crop with deep roots and fumigation qualities.
The plant breeders have finally develop a viable Hybrid Winter Canola replacing Dwarf Essex.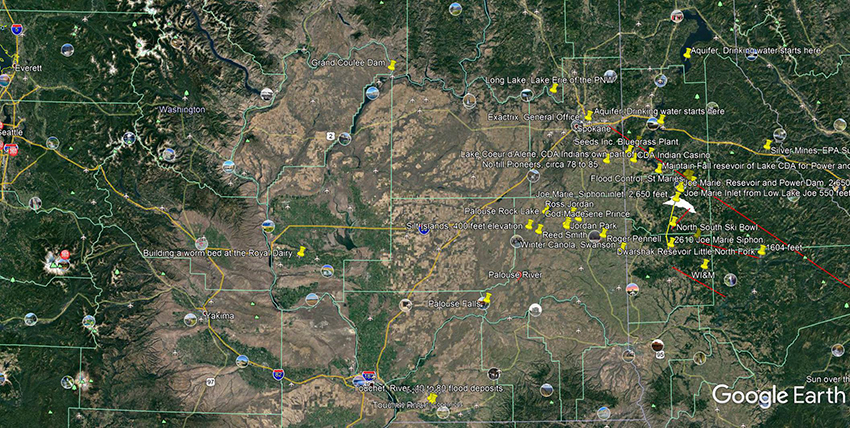 28
http://exactrix.com/Broadcast_08_21_2017.htm Changing needs in Kansas.
http://exactrix.com/Broadcast_08_10_2017.html Sulfur is required in Canola.

Your Great Plains Reporter,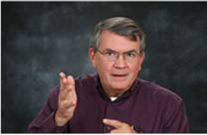 Guy J Swanson.