The 100 year Story of Winter Canola.
Distinctly Different than winter wheat.
It is soon to be thee crop for the Great Plains.
A story of opportunity and positive outlook.

Will Winter Canola survive a storm that killed 20,000 head of cattle in SW Kansas?

May 20, 2017, Hugoton, KS. Winter Canola continues to come back and bloom stronger and stronger.

Joel McClure is optimistic with a third trip with insecticide (Diamond Back Moth) and also fungicide, this is a good crop.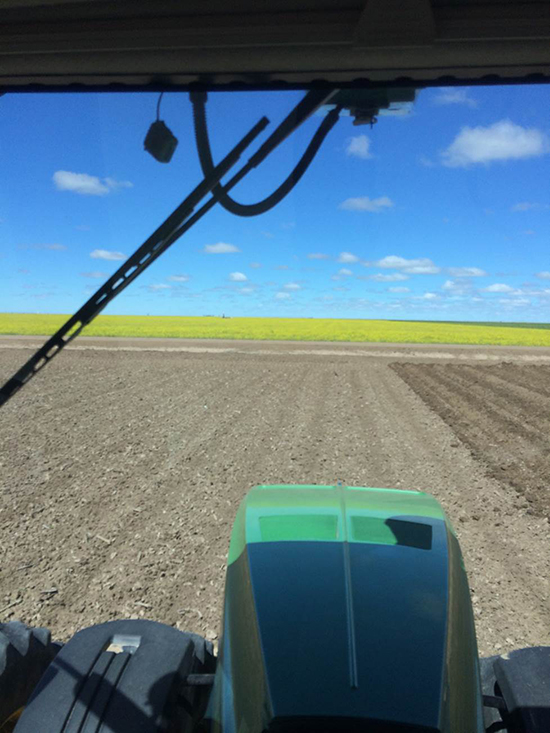 I need some shades! Reports Ben McClure.

Winter Canola is now in 8th week. Joel McClure field at, Hugoton, KS.

Ben McClure, Kramer seed has a late planted dryland corn crop going in….He sent in this photo today from his tractor seat watching his brother Joel make history on the Great Plains.

Winter Canola, Rubisco, Hornet, Mercedes, Garnet and others have survived the 60 MPH winds , 15 to 22 inches of snow in the area @ 30 to 32 F temperature at full bloom, the 100 year storm Ursa, April 28 to May 1.

Amazingly the Winter Canola grew under a heavy snow packat freezing temperatures.

Joel received the neighbors blowing snow field which put down his 5 foot tall Winter Canola and protected the blooming crop under the snow.

Joel must have ended up with 8 to 10 inches total extra moisture from the Snow Trap effect.

His Winter Canola fields might bloom 9 weeks.

You can call ahead for a tour.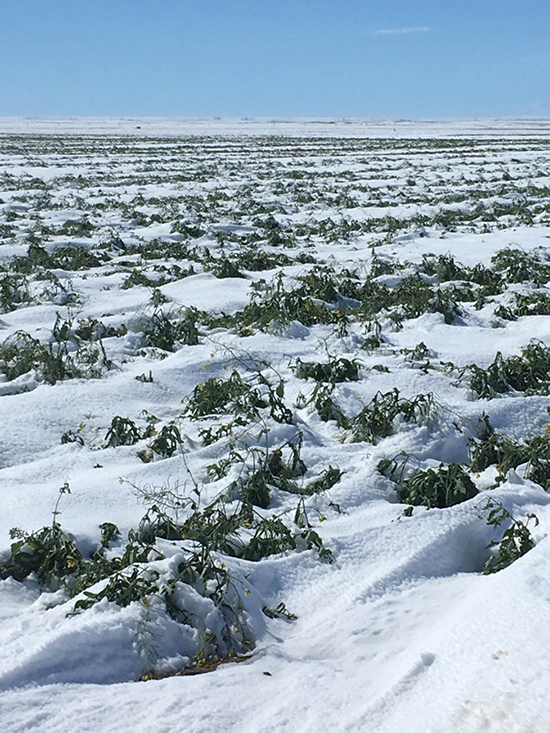 May 2, Snow Trap with tall Hornet Winter Canola at the Hittle, Irrigated site. The crop was about 55 to 65 inches tall. Planted on September 9, 2016.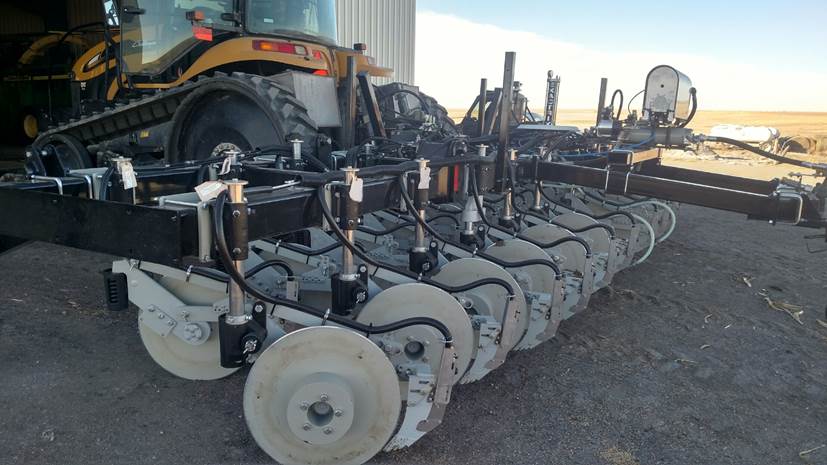 Mustang Banding for 30 inch winter Canola rows.

A spring feeding with Mustang P-51C, side dressed banded TAPPS, March 7, 2017 .

Irrigated with 2 inches water just before the storm. The rate of 2 inches per week is considered a good irrigation program with the crop growing 1.5 to 2 inches per day.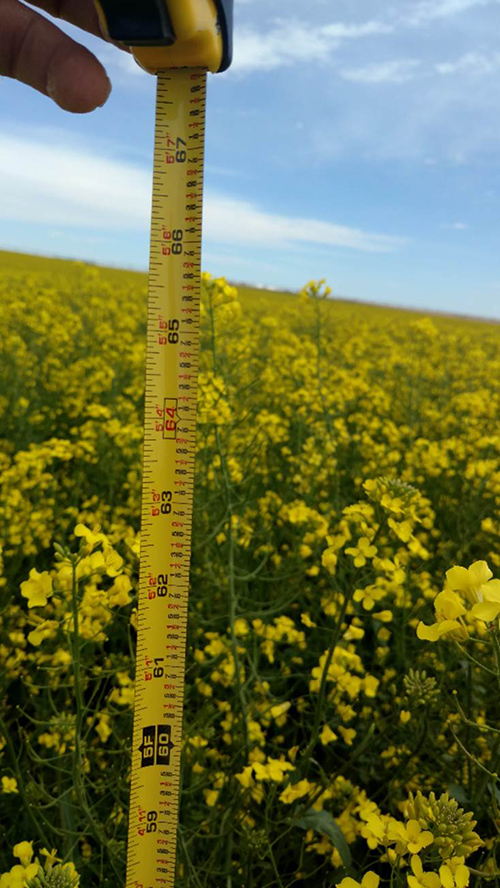 This crop was Just getting into high gear. It was growing at the rate of 1.5 to 2 inches per day,

The picture shows the crop elongating into full bloom. The late winter storm Ursa will strike in about 8 hours.

April 28, 2017 at noon.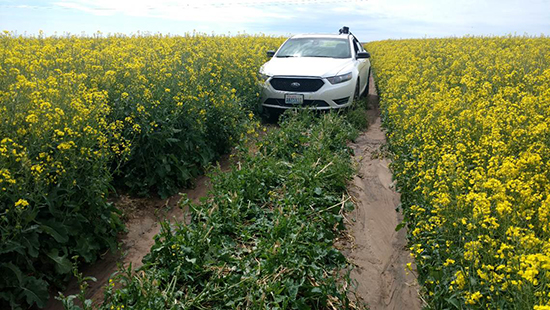 Irrigation required with temperatures to 85 degrees F on April 28, 2017

A powerful field of Hornet is elongating in prime bloom. This field was on target for the Ursa winter storm . Considered the storm of the century . On May 1, 2017 with 20,000 dead cattle and no industrial movement for 1 week producers more of less had written off Winter Canola crop.

This is once again a great Winter Canola crop and headed for 100 bushels per acre.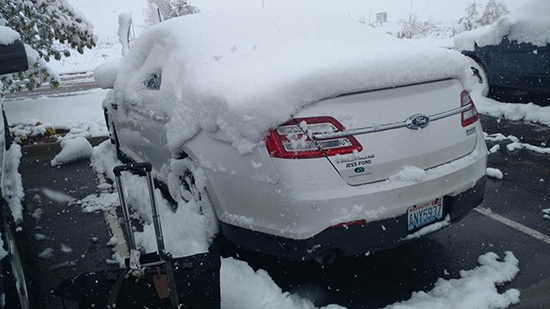 April 29, Pueblo, Co, 9:00 AM. Ursa supplies about 7 inches of a big dump of white, enough to get off of I-25 and find a Hampton Inn on a Friday night.

Due west of Hugoton 150 miles. Joel McClure received to 2 to 3 times more. This was a major storm of the century.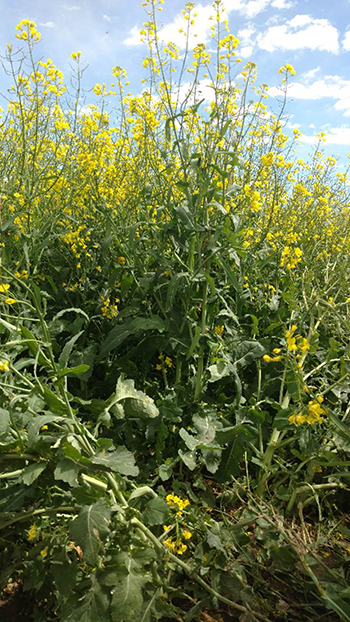 Hornet ready to take on Ursa.

Up in that SW Kansas blue sky is winter storm Ursa forming up and coming into Hugoton, KS in about 8 hours.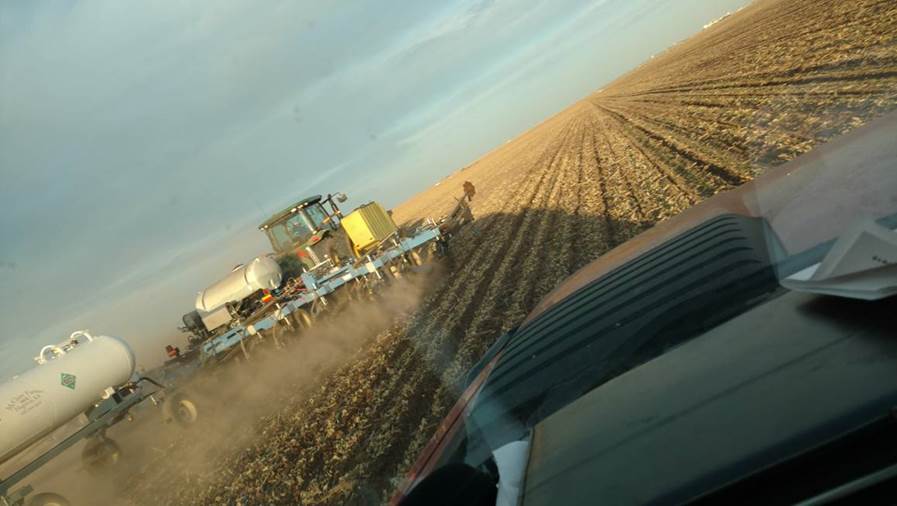 High yield potential, banding into dormant winter canola Feb. 28, 2017. Dryland looks as good or better than irrigated. Dryland is chemical fallow.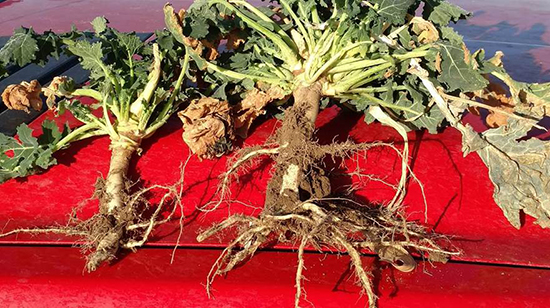 February28, 2017, Ready for side dressing of Exactrix TAPPS.

The Hornet variety of Rubisco is impressive. It shows good vigor and growing crowns in dormancy.

Outstanding growth resulted in a period of 7 weeks to the date of the storm April 28, 2017.
---
Fertilizer is a good buy all the way to $10,000 per ton.
Your Chance To Buy Blended Fertilizer for $10,000 per ton.
Your chance to buy 24-8-16 with micros, B,Zn,Cu, Mo, Mn, Fe is a consideration in the big cities and not the Great Plains.

All Purpose Plant Food. Miracle Gro reveals that their product results in "More beautiful plants that grow bigger".

A big mark up at 30 to 40 times above cost of manufacture.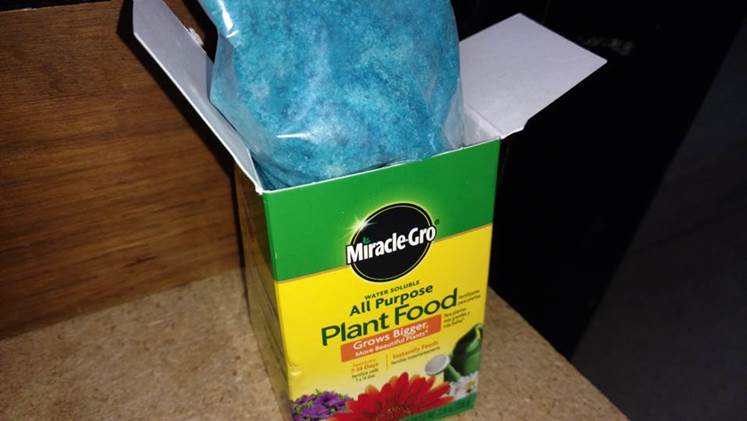 Miracle Gro is selling for $10,000 per ton per 160 square feet.
This is the recommendation at the 8 ounce rate by weight per 160 sq. ft.

At the proper rate per acre your large garden needs $1,361 per acre. A total of 272 lbs. of Miracle Gro nutrient per acre.

Your 1 acre of garden crops require 65 lbs. N, 22 lbs. of P. 43.5 lbs, K. There is no mention of Sulfur.

Micros Boron at .0005 lbs. per acre and Zn at .0019 lbs. per acre.

Do corn growers need to make a move to Miracle Gro?

So if you were a corn grower and needed some help with getting the fertilizer price in line you might want to consider TAPPS, TAPPKTS and with Micros.

Exactrix TAPPS and TAPPKTS formulators using high analysis materials at highest efficiency is a big change.

Corn growers across North America are discovering an economic hedge with a high quality Exactrix patented process, producing 12% to 18% more net income per acre at high yields.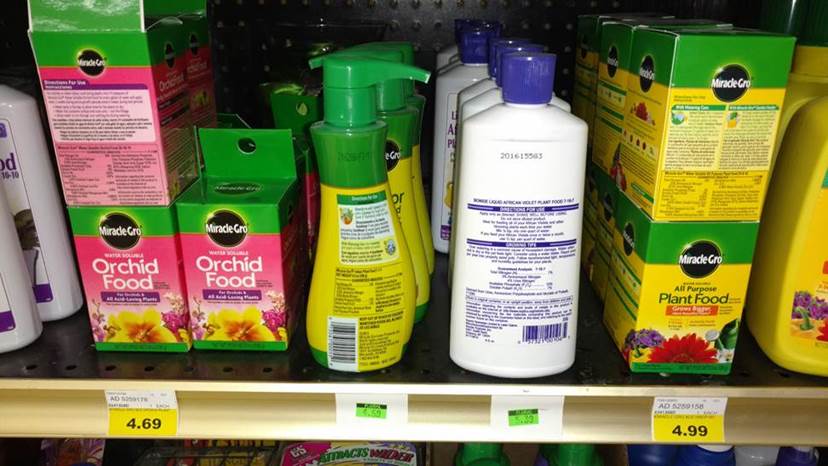 You would want to band your TAPPS and TAPPKTS plus Micros Zn, B, Fe, Cu, Mn, Mo, with a Mustang P-51CUE tool bar.

You would set up a controller with a script to make precision TAPPS and TAPPKTS fertilizer for each part of the field in a different blend.

What would be the cost for the fertilizer plant food? How many pounds per acre of total material would be applied?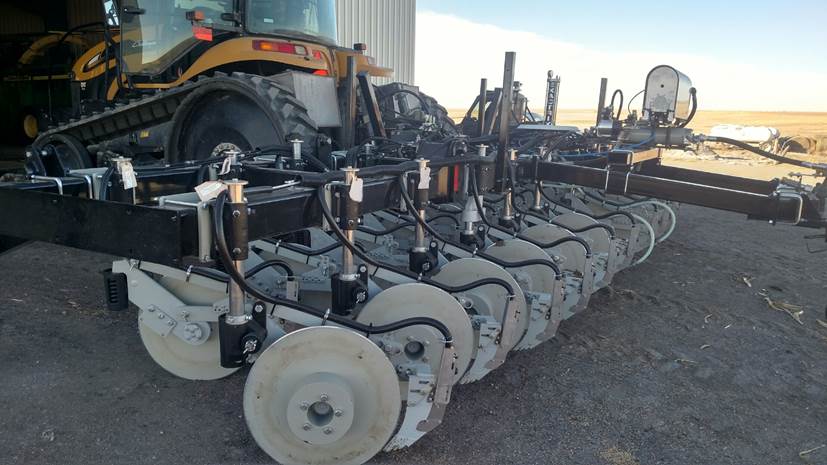 When producers take control of the fertilizer application using Exactrix precision techniques the cost of each unit acre can be reduced to about $60 per acre to produce $800 of gross income.

A $1,321 per acre investment in a garden probably will not produce more than $1,321 per acre of income, but it will produce a lot of pleasure growing your own crops.

Exactrix brings pleasure to all producers reducing tillage costs, saving moisture, trapping snow, and raising highest possible economic yields. Miracle Gro is not required.

Exactrix NPKS plus micros is highly crop available and in fact up to 166% to 200% more crop available.

Total Nutrient Costs are 6.92% of the gross income in Exactrix/Yielder TAPPS, highly crop available No-tillage nutrients.

For Ben McClure, Average Nutrient Costs, $64.00 per acre at 141 lbs. N as NH3, 12 gallons (70%)10-34-0, (30%) 12-0-0-26S, .5 lb. AZn. Total Nutrients.

Exactrix TAPPS, 156-33-0-10.5S-.5Zn in a homogenous blend.
EXACTRIX TAPP

S at 1% CV Uniformity of streaming flows makes nutrients highly crop available.
At Colby, Kansas, December 7, 2016 a presentation was made by Joel McClure for Kramer Seed Co, Ben McClure of Hugoton, KS.
Ben discovered 6.92% of the gross income was required to raise a record breaking corn crop in the 275 bushel per acre range.
http://www.exactrix.com/Broadcast_01_02_2017.html
Click here for news about Ben McClure and his discoveries of Exactrix TAPPS and TAPPKTS.
---
Sixty Six Years ago, when Mode-O-Day department stores sold hats and ties.
When tillage farming was in and No-tillage farming was unheard of.
At Cypress, Texas (Houston) using Refrigerant Grade Ammonia to feed crops and 82.5% N .

Anhydrous Ammonia, Ag Grade did not come until later, 1 gallon of water per 1,000 gallons NH3 results in 82.4% N and sold as 82% N.

The tool, "Shreds the soil several inches deep." Applied with a " Tiller and Hoses attached to Claws" with a critical flexible hood.

Anhydrous Ammonia and Mr. Chester Turner and his staff makes the news in Popular Mechanics, March 1951, page 111.

It cost half as much and was dangerous enough to require trained and skilled supervisors.

Texas has come a long way in hat design also.

I need one of those hats, and a tie to wipe the sweat from my brow.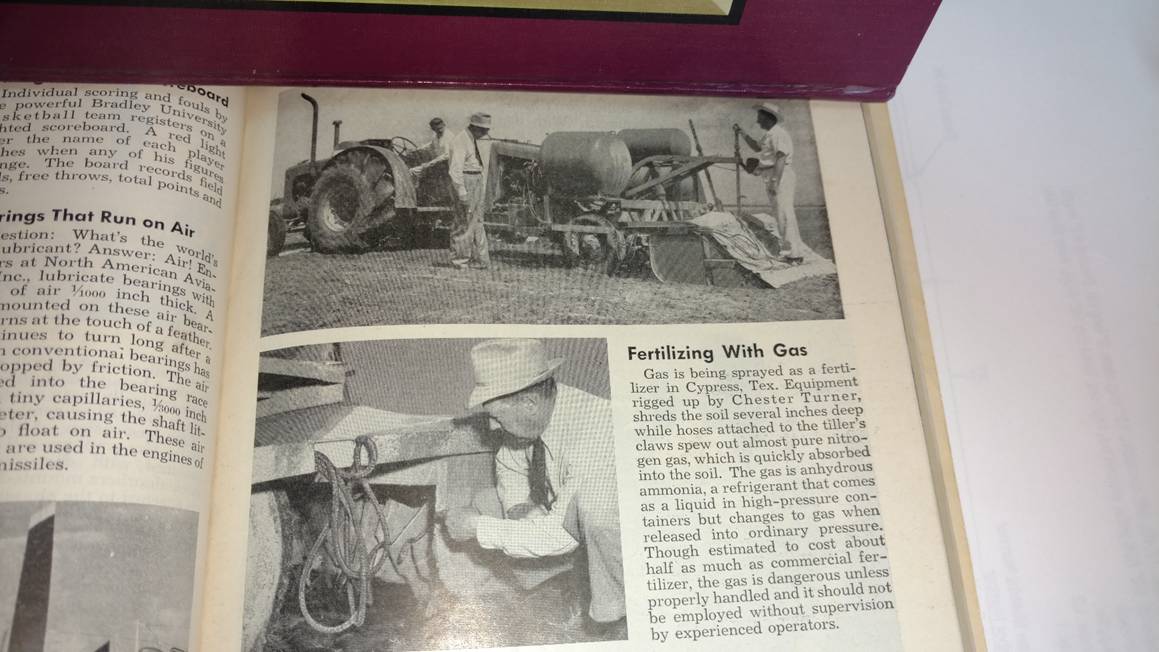 Your Great Plains Reporter.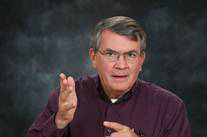 Guy Swanson