This week we're reading:
IEA's new net-zero by 2050 report
This week the IEA's Net Zero by 2050 report has had a seismic impact. For the first time the IEA has provided a comprehensive overview of how to transition the worldwide energy sector to net-zero emissions by 2050, with detailed roadmaps and pathways provided. The IEA sees hydrogen plays a big role, with ammonia and other e-fuels contributing in the maritime, transport and aviation sectors. You can access the full report, read IEA's press release and even watch the report's official launch via YouTube.

4th European Power to Ammonia® Conference - next week!
Straight from the digital floor of the Rotterdam Zoo, NH3 Events brings you presentations and panel discussions from more than thirty ammonia experts as part of the 4th European Power to Ammonia® hybrid conference, 3-4 June. More conference info (including speakers and schedule) can be found here, and you can register here. All sessions, panel discussions and Q&A sessions will be broadcasted live to your desk at home or in the office, with plenty of interactive opportunities.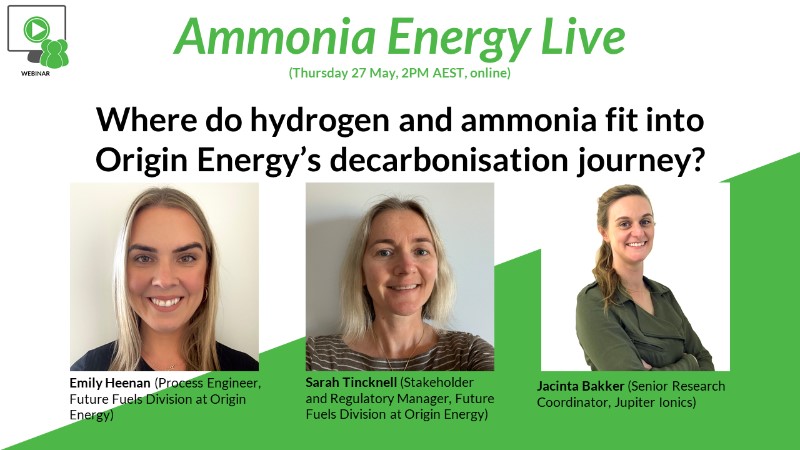 Ammonia Energy Live - May episode
This month we're joined by Sarah Tincknell from Origin Energy. Sarah will share some of her organisation's experiences to date as we explore how an Australian energy generator & retailer goes about decarbonisation. And of course, we want to know where hydrogen and ammonia fit into that journey! Join us for our webinar on Thursday 27 May, 2PM AEST. Register here - you can even pre-submit a question to be put to Sarah. And don't forget, all episodes of Ammonia Energy Live can be found on our YouTube channel.
AEA Member Organizations