Tornados and No-tillage, Banding Exactrix TAPPS, Kevin and Denton Durler, Exactrix Series 3 Tool Bar.
Dodge City, North and South about 20 miles, about 7,000 acres dryland.
A New Exactrix System in Series 3, TAPPS formulator, set up in 2 section boom control design in dual opener rank.

Dual ranking of the openers improves opener performance allowing the impact of the terrace to be distributed over more time.

Kevin and Denton Durler at Wright, KS, (Dodge City) rebuilt the DMR openers with several improvements.

They have designed their tool bar to work on very rough terrace ground….How rough is it? 1 square mile or 1 section of land about 20 miles south to Dodge has 29 miles of terraces on 640 acres. The Mulberry area.

Thus the rear tandems carry a good portion of the load walking over these extreme terraces, the tandems do not reset the frame height or move up and down in the corners, the openers move up and down hydraulically in the corners.

The tandems move hydraulic oil from the left to right side in rough areas of the field and on road banks and field entry and exit. The tandems are a very good addition to the two point mounted bar.

The tool bar is designed for Mustang Openers to be Installed at some future date.

The Moore Built tool bar can go either way, and the Orthman carrier and tires work much better with the load carrying of the swiveling rear tandems….

The Orthman carrier tires were previously overloaded on road margins and entry into the field.

Previously Kevin had a single Orthman 7 x 7 bar, and the DMR openers were previously too much load for a single Orthman bar.

This is a good tool bar by Moore Built in 7 x 7 with dual wing cylinders . The tool bar can be used in many ways in the future, it can obviously be 2 point or three point mounted to a tractor or an Elk Creek Tool Carrier in three or two point can be installed.

Longer term goal is to see Mustangs on the bar in 2017 or 2018.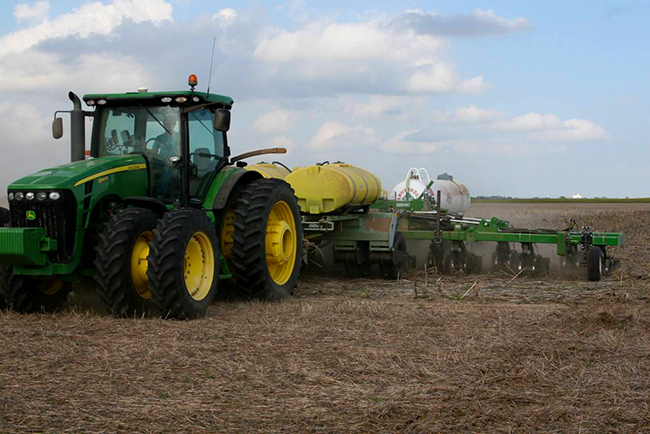 Banding for Milo production May 24, 16, Crossing over to winter wheat stubble from 160 bushel average Milo residue. TAPPS and Exactrix for 7 plus years. Field location is about 10 miles south of Wright, KS.

The first tool was NH3 only. In 2007 the 2KC 9703 system was used on the first tool bar Kevin put together with Dutch openers. The tool was converted to TAPPS in 2010. This is Kevin's 3 rd tool bar.

Crops have been exceptional the last 2 and 3 years, Dryland winter wheat yields field wide hit 83 bushels per acre last year with 75 lbs. N and 6 gallons APP/ATS. This is about double the county average.

Milo yields have also been exceptional with TAPPS. As high as 158 bushels per acre field wide. This is about 175% greater than the county average with about half the nutrient required.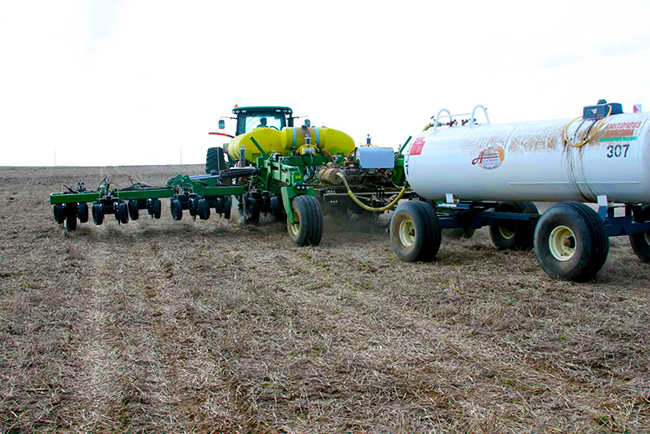 Terrace ahead, up and over the top
Getting the job done at 40 feet, 15 inch bands. DMR openers. The DMR openers band about 4 inches deep.

The tool has special spacing between the back and front bar to allow for the DMR on 30/15 and Exactrix Mustang on 15 or 30.

Series 3 Exactrix system at 374 rpm and close to 300 psi injection pressure, developed high pressure at 313 psi internal pump pressure and to 269-272 psi injection pressure left and right at 6.1 mph at 120 lbs N per acre.

This calculation indicates about 14 gallons per minute NH3 flow from a 12 gallon per minute valve.

The Exactrix Laminator was frosty and doing the job, with excellent performance and sealing at 270 psi injection pressure.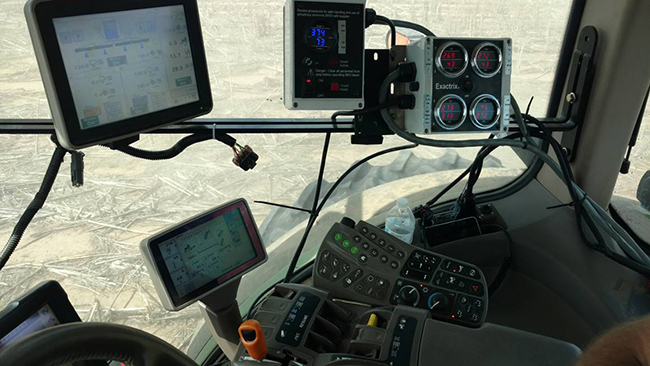 Denton plans on VRT at some future date. Trimble FMX 1000 handles the guidance.
Deere GS-3 controls the fertilizer products NH3 and APP/ATS.


Ground speed at 6 mph typical. Do not need the closing wheel in this case.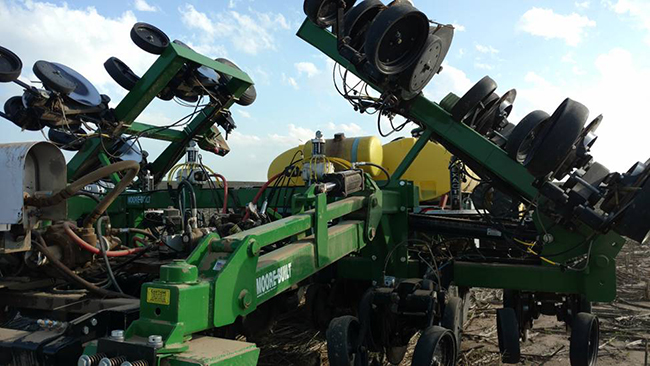 8 row center section. Hitch supports the engine.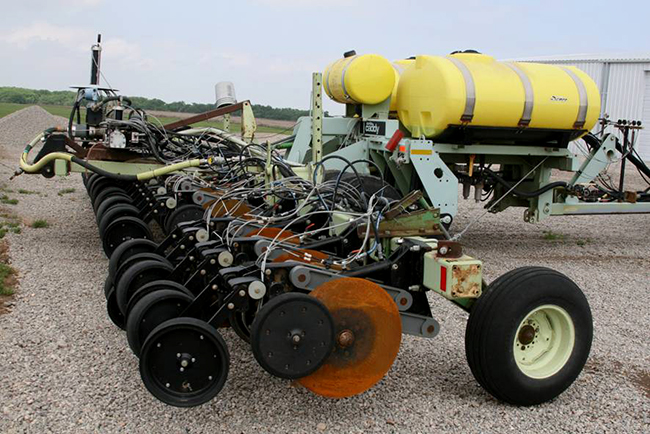 The previous design Orthman Tool Bar in single rank, 15 inch bands DMR was not strong enough. A cable brace was required.

The tool bar also folded as a 6 row. The new tool bar was set up as an 8 row center making it about 24 feet wide in transport.

The Orthman tool bar hinges had been welded several times. The wing cylinders are buried in the 7 x 7 frame which was not required.

The 2KC Weigh Master had served for 9 seasons, the single central manifold design was change to two section design.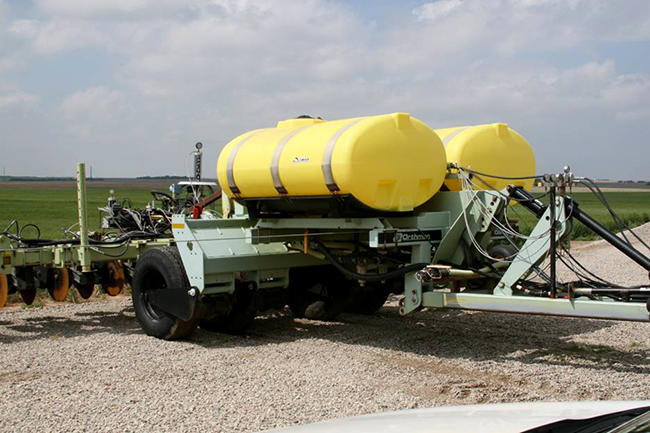 The Orthman Caddy was salvaged and the cable wing support was eliminated. The Orthman Cart can carry 1,000 gallons of liquid.

About 500 gallons is all that is required when applying 6 gallons per acre in dryland.

Denton Durler plans to apply to center pivots later this fall. He will need to set up with twin NH3 tanks.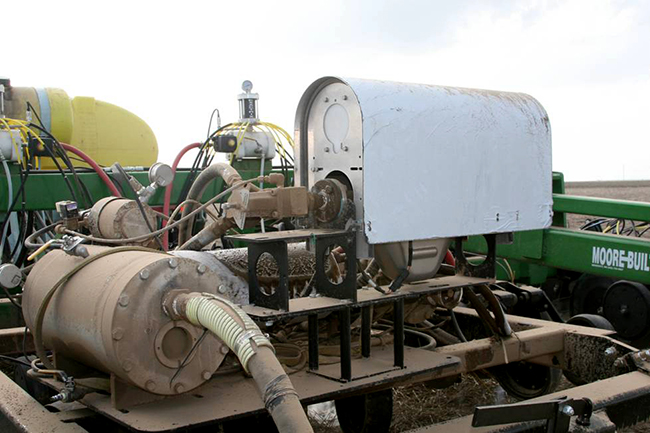 2KC Series 3 Mass Flow, high pressure Exactrix metering with the icy Exactrix Laminator, maintains a good liquid flow to the 3 inch pump inlet, Low pump Rpm at high pressure injection to 320 psi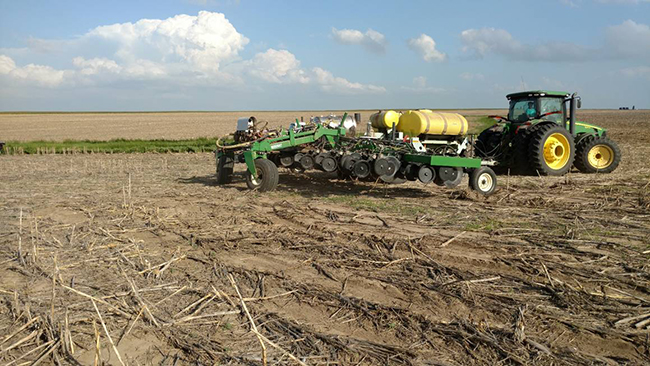 Caster Wheels with stabilizers work well. Milo was seeded on 30 inch centers with a Deere 1890...and made a field wide average of 158 bushels per acre in 2015. Kevin does not need a planter for sure.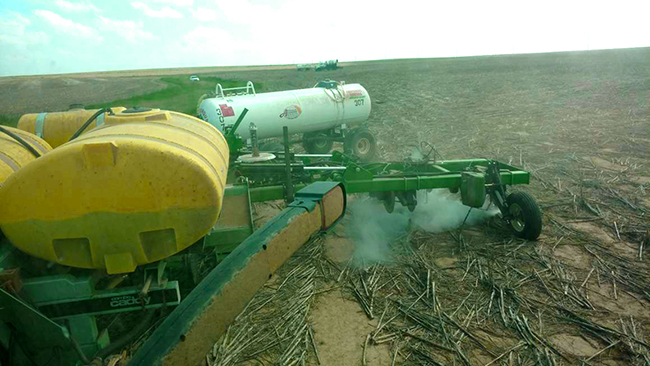 Smokey, getting into the dirt and double checking injection
Making crystals of TAPPS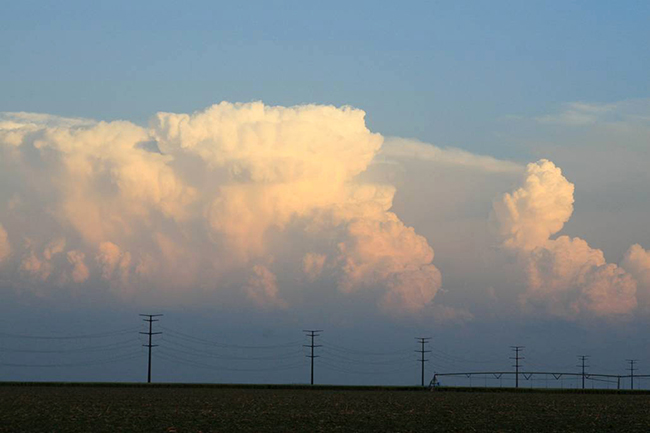 Tornado weather, 24 tornados in Ford and Ness counties about 18 to 24 fours later after this picture was taken.
Clouds to the south are going to 50,000 feet over Oklahoma.

Tornados are series business, be ready to go to the basement or into the storm cellar if your house has wheels under it.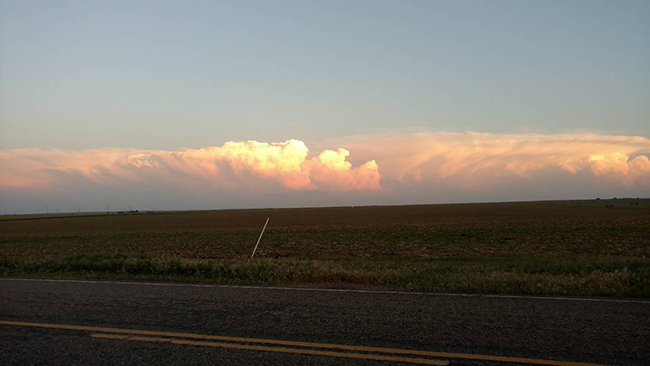 That is quite a site after leaving the field about 8:30 pm, May 24, 16, and only available on the Great Plains. The Southwest Boeing 737,aluminum construction jets fly around those big sky muffins going to 50,000 feet.

The powerful clouds are loaded with Hail of all sizes moving at tremendous velocity.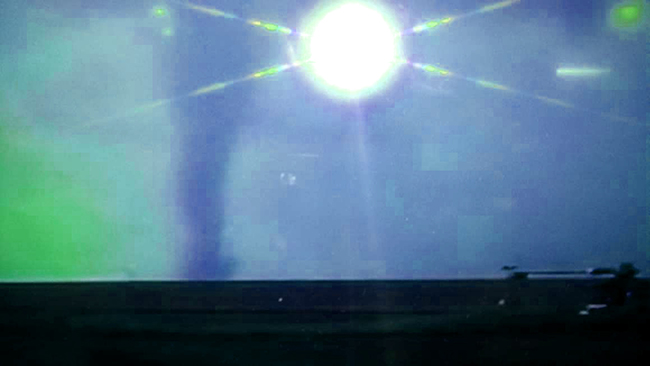 It takes high humidity (100%) to make Tornados work, The dew point was 65 to 75 degrees F, thus good crops result with Tornados typically due to high humidity and rain, with a Gulf of Mexico flow colliding with the Jet Stream.

This is a Storm Chasers delight as shown on the following evening of May 24 at Dodge City, Ford County, KS.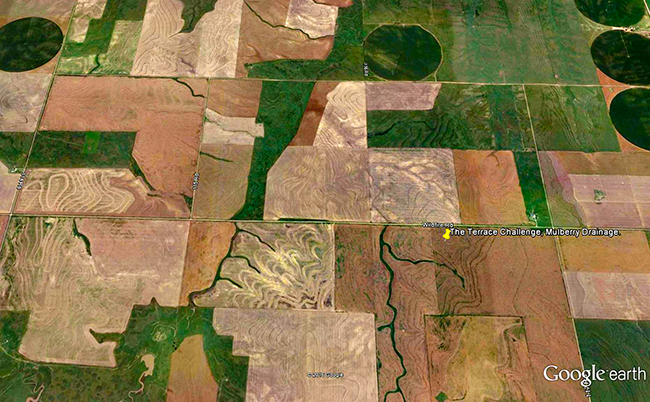 Terraces will never be replaced by No-tillage. The rainfall is too intense. Obviously a review of the surrounding landscape means the natural development of the land involves ravines and flood plains.

The Mulberry area is not free of flooding with significant loss of cattle in 1978 in a 10 inch deluge. The cattle were floated up into the trees of the Mulberry Gulch in a 10 inch storm.

Kansas is not flat and has very few trees to act as a water shed, Kansas rolls and has great habitat in the coulees and ravines for the Plains Buffalo to seek shelter.

Early Kansas pioneers and the US Cavalry learned that there was absolutely a good chance of flooding and certain death when camping close to a river or stream on the Great Plains.

News about Fort Collins and Flooding.

https://en.wikipedia.org/wiki/Camp_Collins

News about Fort Hays and flooding.

The army wanted the fort to be used as a supply depot for other forts in the area and therefore needed it to be located close to the railroad line. In the spring of 1867 a flood nearly wiped out Fort Hays killing nine soldiers and civilians.

https://www.kshs.org/kansapedia/fort-hays/11793

Your Great Plains Reporter,
Guy Swanson.


Training Videos are available at www.exactrix.com/EOYT.htm

More news about Relay Intercropping at www.exactrix.com/RI.htm

Nitrogen Stabilization, Thio-Sul® is as good or better than N-Serve®. http://www.exactrix.com/Broadcast_03_11_16.htm

Mustard and Fumigation at WSU, U of I subject web page at www.exactrix.com/FM.htm

Terminate your Cover Crop Early. http://www.exactrix.com/Broadcast_03_11_16.htm

TAPPS and TAPPKTS at www.exactrix.com/TF.htm

For a good overview of banding deeper go to Center Pivot Corn Production

Need more historical reference of Exactrix Global Systems? Go to www.exactrix.com/EWAC.htm

Banding Deeper in No-till without tillage with Rotational Band Loading. www.exactrix.com/mustang.htm

Need more information about STEEP test plots and how Exactrix performs? Go to www.exactrix.com/mcclure.htm

See Video How TAPPS and TAPPKTS Changed a Kansas Farm. A KSU Ag Economist gives a good review.
Meeting your formulation needs. www.exactrix.com/TF.htm

Picking your metering systems. www.exactrix.com/EPM.htm

Need more information on advanced crop production? Go to www.exactrix.com/EWAC.htm
Exactrix P51 Mustangs
Outstanding Video With Kevin Medow and His P51 Mustangs
EXACTRIX.COM