No-tillage TAPPS and TAPPKTS deep banding with Mustang openers in Western Kansas.
Good Management, Good Materials, and a little luck, makes High yielding No-till corn possible with TAPPS and TAPPKTS banding.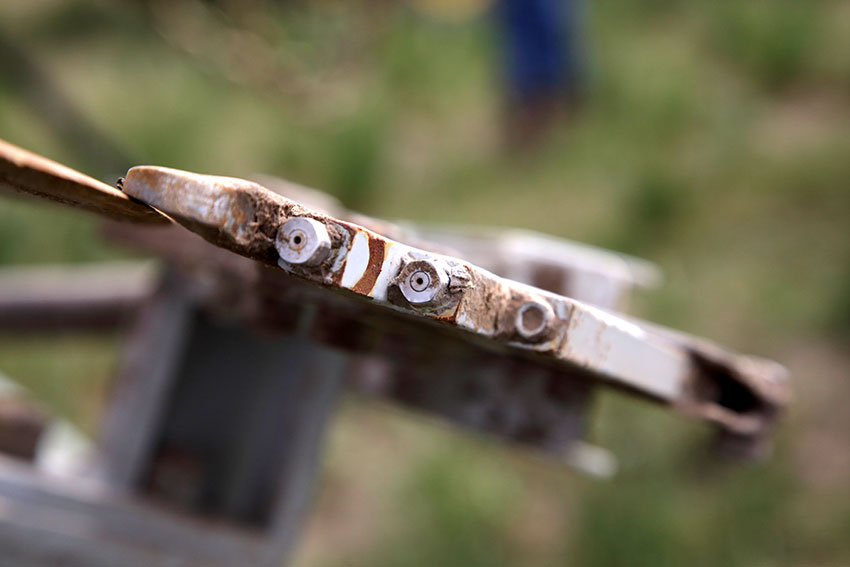 The 1% CV Orifices operating at pressures to 250 psi are protected by replaceable chrome bits.
The orifices inject to the bottom of the disc slot, about another 5-inch depth.
The injection orifices are threaded into position and easily changed.
Up to three products can be injected in Triplex. The back injector is plugged as shown.
In western Kansas, the Chrome bit is quickly replaced at critical change-over time on a rainy day.
The chrome bit slightly overlaps the blade edge.
The slight overlap allows a good seal and good residue flow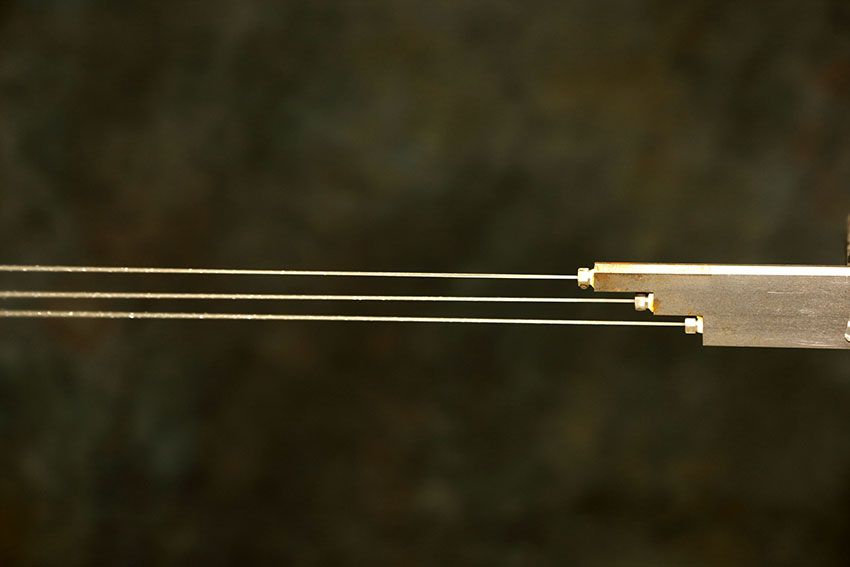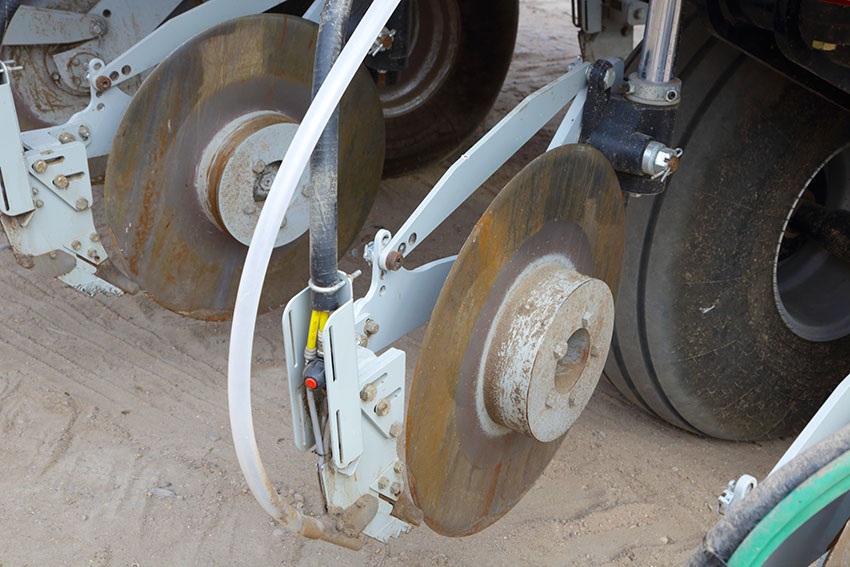 A unique injection, the orifices protected by replaceable chrome bits side view.
Edged on both sides; low soil disturbance; ½ inch thick x 25.25 diameter coulter blades with extreme double edge at 1,000 acres.
At 61 .5 feet with 49 openers, the blades are expected to operate at 15,000 acres in a sandy soil type, as well as a firm silt loam soil type at two different farms along the Arkansas river. These extra acres could be a bonus at this large farm in Western Kansas.
Low banding costs are anticipated since there is no closing wheel required on 15-inch spacing with high pressure; Mass Flow Injection of NH3.
The chrome bits are replaced at 5,000 acres depending on conditions and the setting of the injector foot. Typically, the chrome bit operates no deeper than 2-inch depth and overlaps the single edge blade.
Exactrix TAPPS formulation with maximum uniformity of 1% CV application.
Exactrix typical Net dollar returns are improved by at least 10% to the bottom line with less risk.
Somewhere between $100 to $150 per acre additional net income in irrigated corn.
In irrigated corn production, Exactrix economics compared to Solution 32 application with the pivot, has a tremendous cost of production advantage, up to $150 per acre advantage in recent years.
Exactrix Nominal Applications are normally at .7 of the University Recommendation, and the Poly Phosphate is up to twice as effective as dry 11-52-0 applications, plus liquid zinc application can be much more effective.
In fact, the 2KM sparging reflow blender can add additional nutrients such as carbon-based materials.
The 2KR blender can be set up to add more nutrients into the blend at specific locations in the field.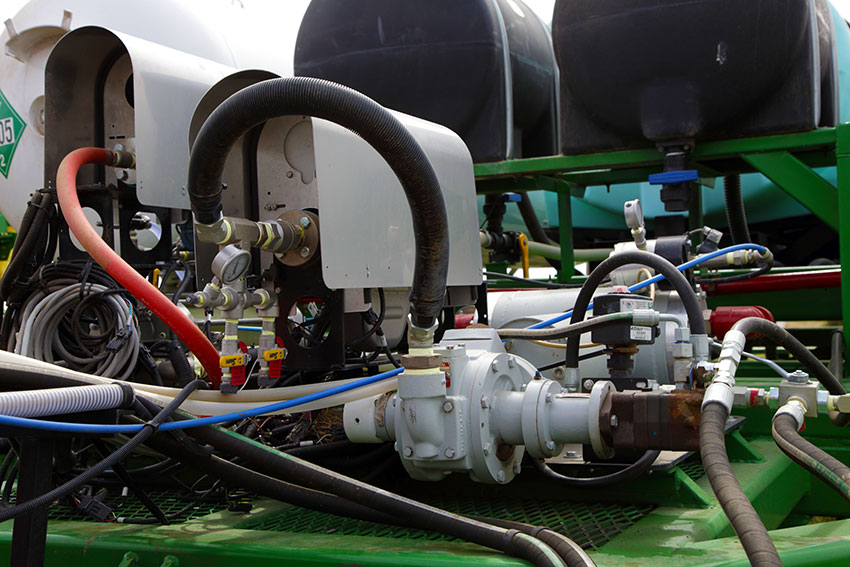 Series 3 systems built specifically for machines over 45 feet; 3 inch pumps with phase lock loop return to tank; mounted tank design.
The Crop Is Corn With Low Water Pivots
Low corn plant populations of 22,000 with enough water for 200 bushel Corn. Conservation of moisture is the key, and therefore wheat is used in the rotation to provide a fibrous root system. Winter wheat residue will store more winter moisture with a stripper header.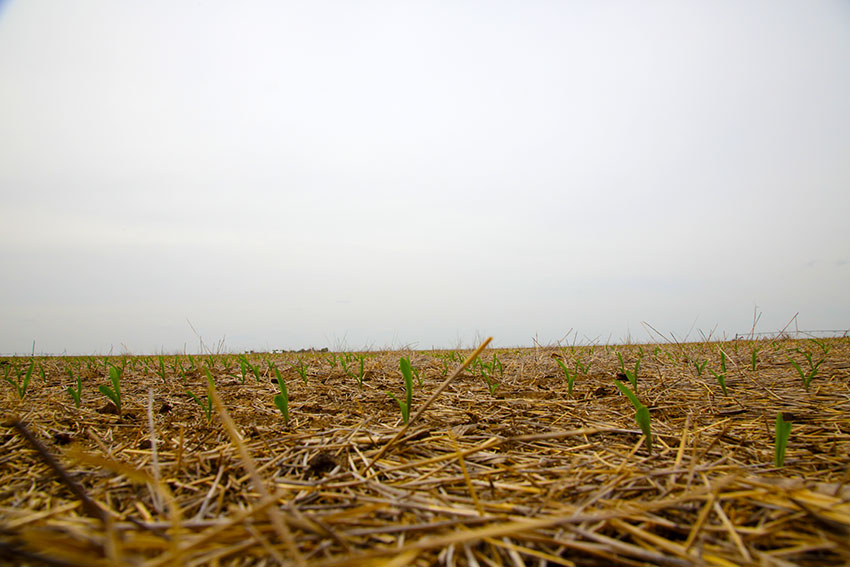 Corn emerging at May 21, 14 in winter wheat stubble (stripper utilized).
The no-till field was TAPPS and TAPPKTS Banded and planted, and within the same or next day, with banding depth at 6 inches. No effect was observed on corn stand quality due to root burn. In fact, stand quality was enhanced with the low disturbance extreme double edge ½ x 25.25 blades
15-inch band centers with 1%CV in stratified band allows nutrients to be safely located, and maximum access by the cereal roots.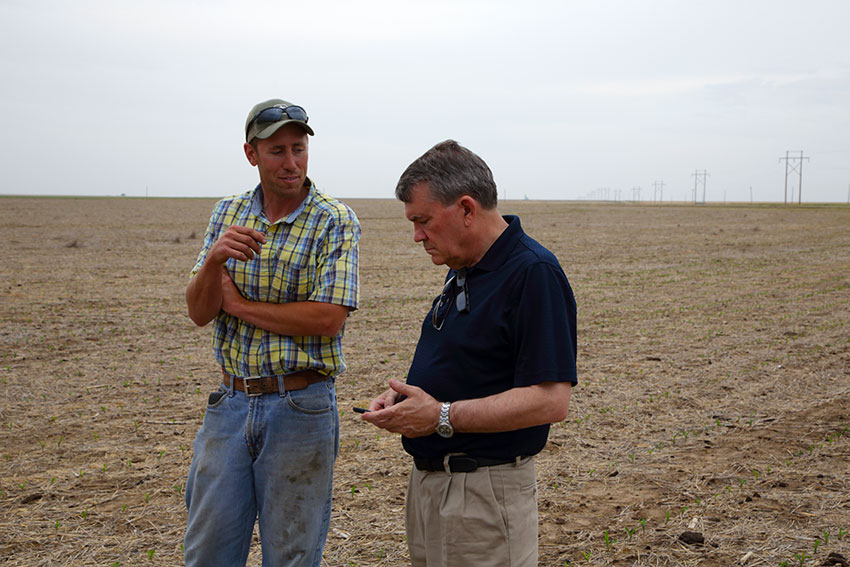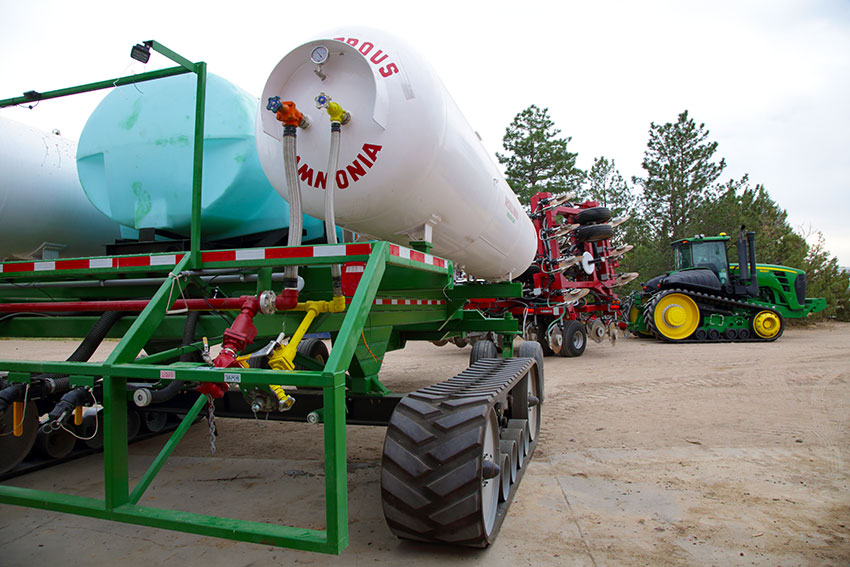 With NH3 Fill Valves and extra plumbing of the mounted tanks, transfer of 4,000 gallons of NH3 is possible.
A single, large central center tank is for APP, KTS, ATS.
One of the more safe approaches to filling using Snappy Joe shut off valves.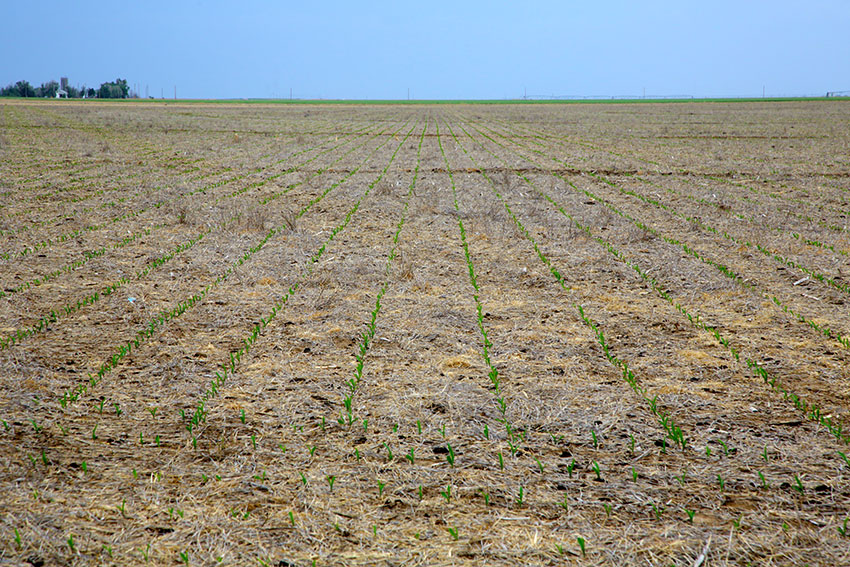 The Mustang P-51C with Extreme Double Edge Blades, ½-inch 25.25 has Banded at 45 degree angel to the planting. Banding depth is about 6 inches.
Banding depth can be set at 4 inch- to-7 inch depth; 6 inch depth is quite common for most no-tillage applications.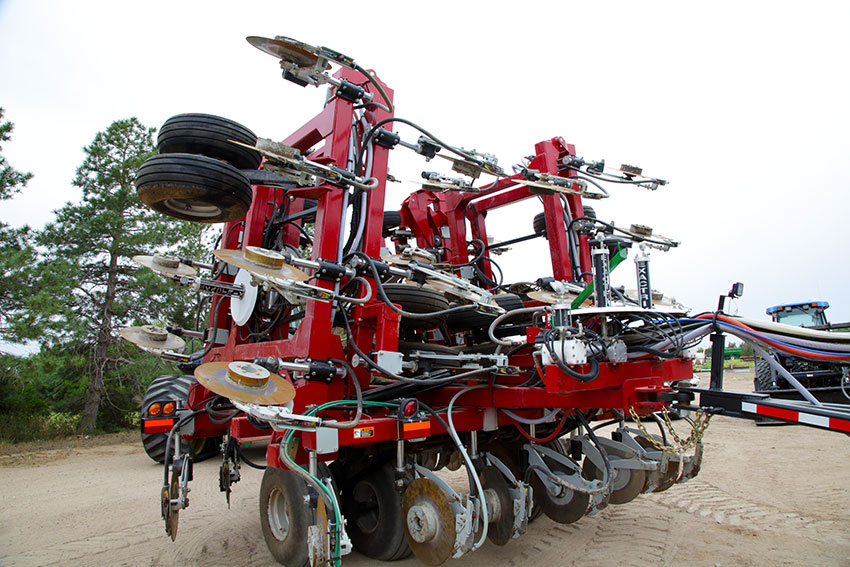 Manifold mounting to the rear for the center sections, and on the wings, for a total of 4 section manifold design.
A 6 x 6 overlay frame center section trailer mount has been added to the full length of the 940 frame.
The Standard wing 940 hydraulic cylinders are not quite heavy enough for P-51 CUE, so larger hydraulic cylinders can be used on the wing cylinders if required.
A very impressive tool bar. A Well engineered hitch. A very accessible design.
Deere GS3 in service.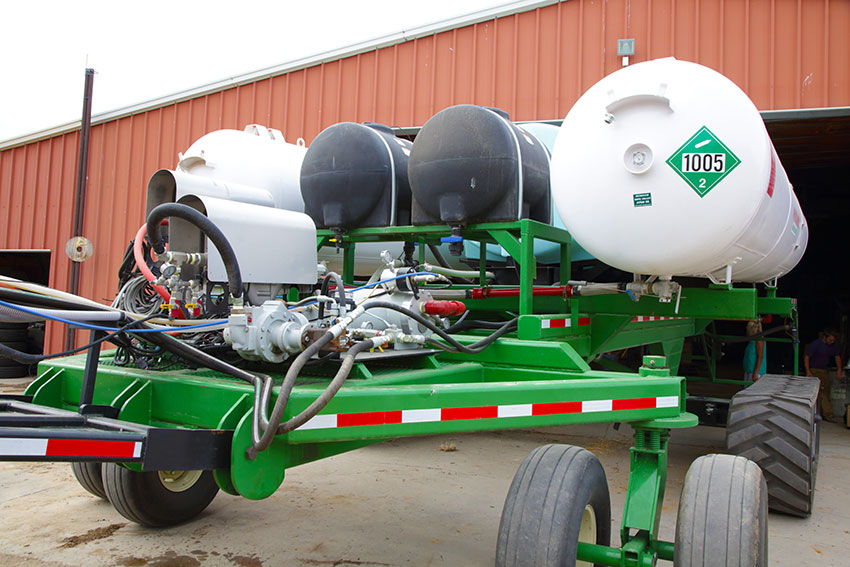 Series 3 engines mounted on the track cart. The engine platform extension of the tongue assures easy access to the series 3 Mass Flow engines.
The large, 3 inch Corken Sliding Vane pump has extended wear life by turning much slower at 250 to 280 rpm, typically. The system has the extra large filters, which are about 9 times larger than standard 2KC filters. In fact, all systems over 45 feet running at rates above 25 gallon per minute now use 3 inch pumps.
The NH3 filling and injection system is using the large, 9 gallon Laminator with pre charge chilling, which is selected from the Blackbird tachometer.
The 2KM Liquid system with Mass Flow is a 4 cylinder pump that turns between 120 to 180 rpm.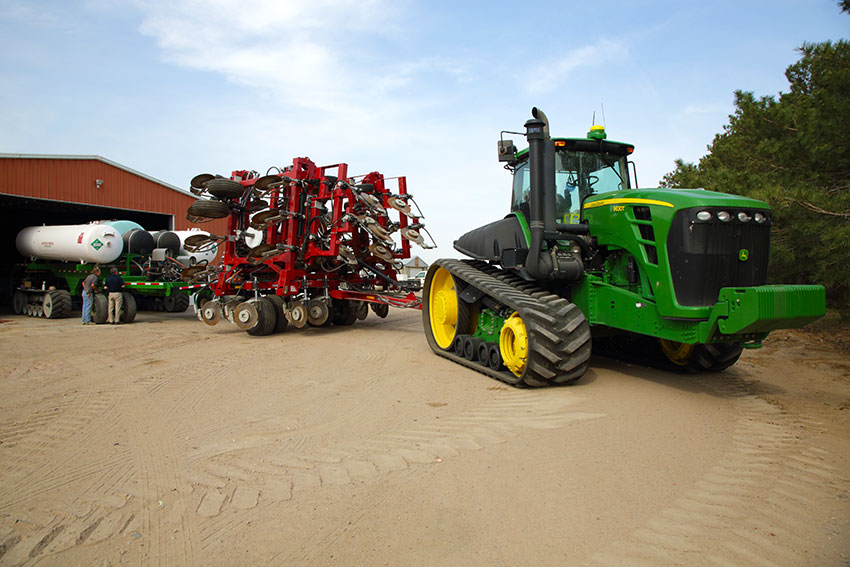 Operates at 7.5 to 8.5 mph. Banding depth is up to 7 inches depth.
Utilized at least 4 times per year in double crop irrigated, and also dryland winter wheat and Milo.
The next application for the big tool bar will be in late May into Triticale Green Chop stubble on sandy soil pivots, with the planter right behind the applicator.
The goal is to band and plant the same day, or within 2 or 3 days; Corn double crop late May on sandy soil with Triticale to stabilize the soil, and help hold the applied irrigation water on the rolling sandy pivots.
American Implement also assisted in the machine set up of the 940.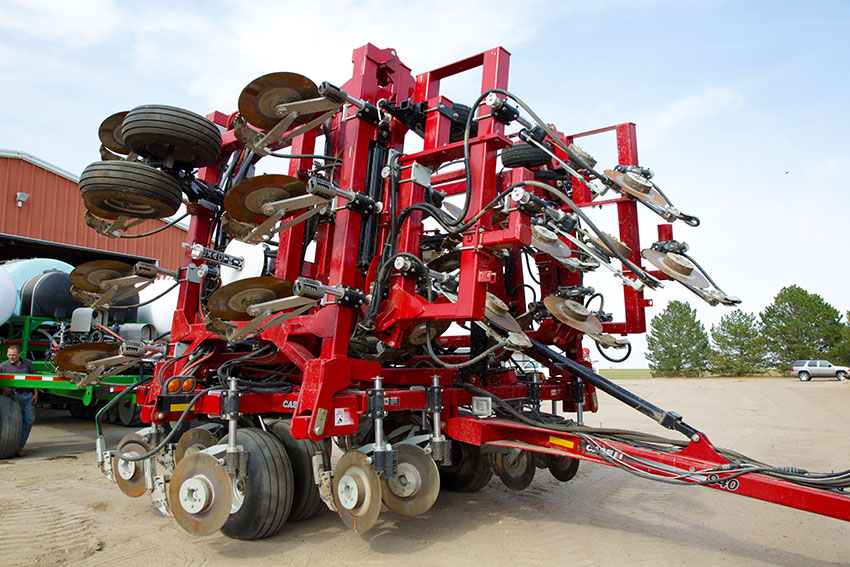 Seven sections fold, 61.5 feet at 15 inch centers in 4 section design. 36,000 lbs.
P-51C openers with 25.25 inch extreme double edge diameter blades.
P-51C openers also have duo cone seals operating with Grease lubrication. Oil can also be used in shorter operating periods.
Narrow transport width with a 5 section flex, and 7 section fold at 18 feet 9 inch. Transport height is 13.9 inch.
Folds narrow for transport and allows easy access to openers.
Need Financial Help?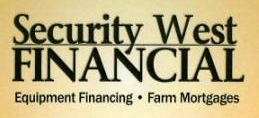 From The Palouse in Eastern Washington .. See and Hear Eric Odberg Discussing Variable Rate Application With Guy Swanson Video 1
WSU World Class Face to Face Video Production featuring Eric Odberg - Farmer to Farmer Case Study: Precision Nitrogen Application