Reducing Planting Costs up to $80 per acre.
Water Savings, UNL, McClure, SRS, Yielder, Hypocotyl.
How not to plant Winter Canola.
Value of Using Sensors to Manage Irrigation and Tips for Proper Installation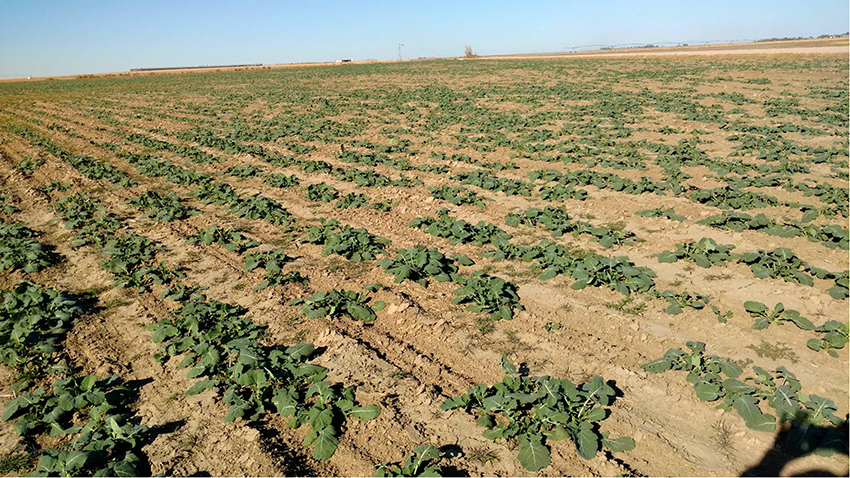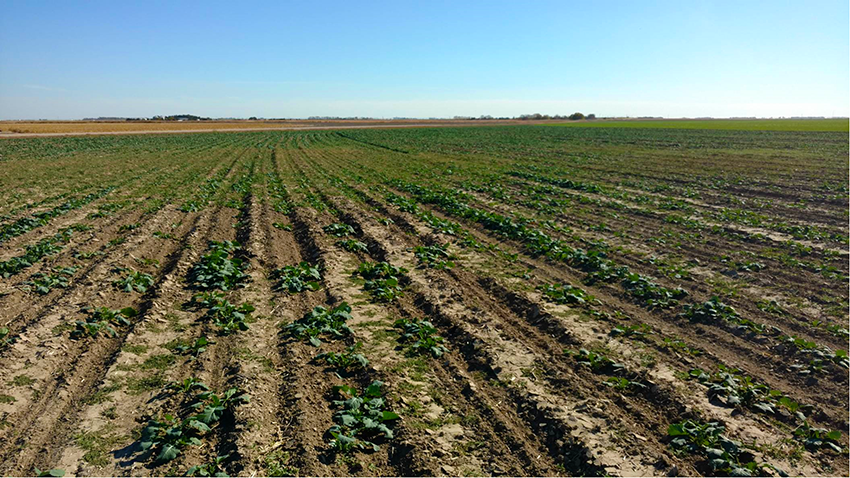 Western Kansas gets a new crop with a learning curve in dryland production as well as center pivot irrigation.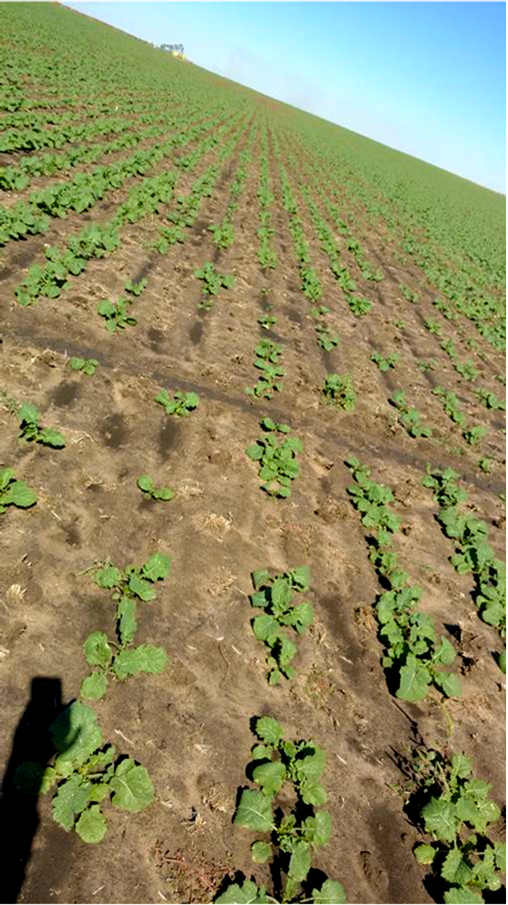 Irrigating up a stand of winter canola in a tillage systems does not work so well.

There should be a plant every 4 to 5 inches with a planter on 20 inch row centers.

The seedlings emerge together in 4 to 5 days.

If you are a corn producer with high seed costs you would define this Winter Canola stand as a failure.

If you accept this stand you are accepting an economic loss of $100 to $200 per acre.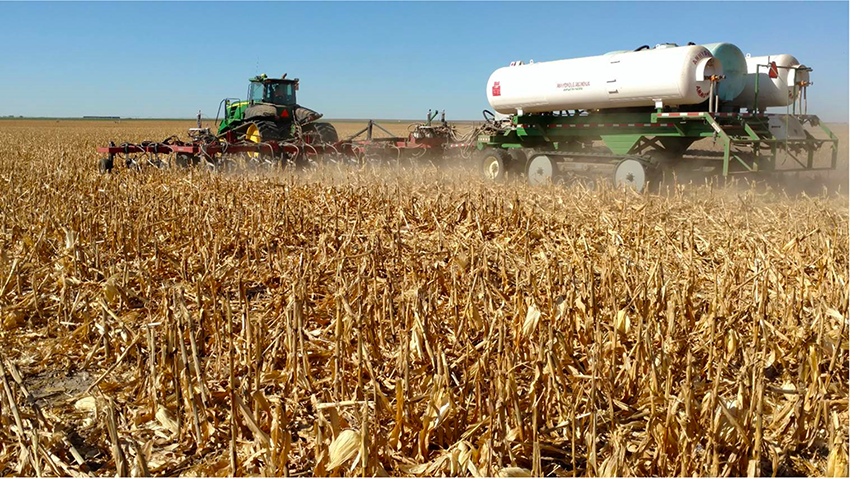 SDI also benefits from SRS.

SDI is Sub-surface Drip Irrigation which has a very high level of water use efficiency with good timing of water and nutrients.

Irrigation water is delivered about 14 inch depth in flexible and ported delivery lines buried in the soil. SDI is expensive and profitable for certain crops like alfalfa and cotton.

SRS is Seed Row Saturation which allows even emergence whereby SDI can have difficulty producing a uniform crop stand due to moisture moving to the germination zone from the buried tape conductor.

Some producers therefore maintain irrigation center pivots with SDI just for germination only of a new crop. SRS replaces those pivots which are usually older and depreciated out.

Ben, Take a look at this report from UNL.
(Ben McClure, Ag Economist, Kansas State University and Manager, Kramer Seed)
Ben McClure,

Kramer Seed Co. Ag Economist. Explains the economics of Exactrix saving hundreds of thousands of dollars every year. TAPPS N stabilization works very well. Ben realized rainstorms of up to 8 inches at several pivot locations on sandy loam soil. Nutrients were applied prior to planting and following banding of TAPPS.

He achieved record breaking yields with 150 lbs. of N as NH3 in TAPPS crystals. One pivot averaged .568 pounds of N per bushel in VRT, Site Specific TAPPS application on 30 inch centers, strip till.

http://cropwatch.unl.edu/2017/value-using-sensors-manage-irrigation-and-tips-proper-installation

Water costs in Nebraska are about $16 per acre inch....and with technology about $19 per acre inch of water applied but less is used raising fixed costs per inch.

If we also understand that wells in Nebraska have low pumping costs at Grand Island, Ne (100 feet) at 1,900 feet above sea level as compared to deep wells (400 feet) at 3,800 feet on the western Ogallala aquifer.

Higher elevation center pivot producers loose more applied water due the elevation and extreme winds.

So where does Seed Row Saturation or SRS fit in the cost structure of application and utilization of water?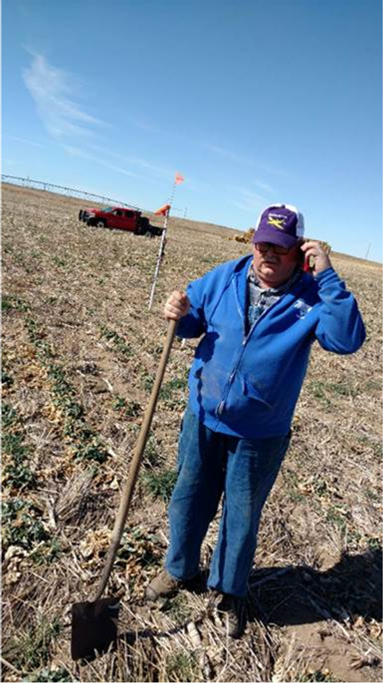 Aqua Spy allows producers to keep water costs in line.
Joel McClure, Hugoton, KS assures highest efficiency on his very large Kansas farm with low production wells and high power costs.

What is SRS, Seed Row Saturation?

1. Application of 30 to 50 gallon per acre H2O in the 30 inch planter seed row.

2. Even higher water rates are required in some soil types on 20 inch planter spacing. 10 inch spacing requires 150 gallons per acre typically so drill application is possible.

3. It is not a starter fertilizer system. It is not water injection since the term is confusing.

4. The pumps are four cylinder or six cylinder pumps capable of 42 to 65 gallons per minute.

5. The tanks are about 40 to 50 acres worth of water. About 2,500 gallons of water.

6. The pressure is low at the delivery point to avoid splashing. What is the pressure? It is 1 psi to 5 psi and that is all should be used.

7. There is no splashing of water on the planter or outside the row. Dual delivery tubes may be required.

8. The seed is flooded with water allowing the two moisture lines to meet. The seed row line meets the stored soil moisture line.

9. The purpose of Seed Row Saturation is powerful economics with expensive seed and close margins that require yield punch.

Water is conserved with 30 gallons to 50 gallons per acre applied in the seed row.

An unplanned advantage of the Seed Row Saturation is not only a jump start in emergence, SRS has the advantage of weeds not germinating at time of planting…thus weed control is actually superior.

A 20 to 35 mph wind and an irrigation center pivot cannot move around the 122 acres quick enough to produce a competitive stand with SRS technology.

The conclusion is the SRS cost is about $3.00 per acre…..thus SRS comes with a savings of $6.00 per acre to $16.00 per acre when compared to ½ inch to 1 inch of pivot applied water.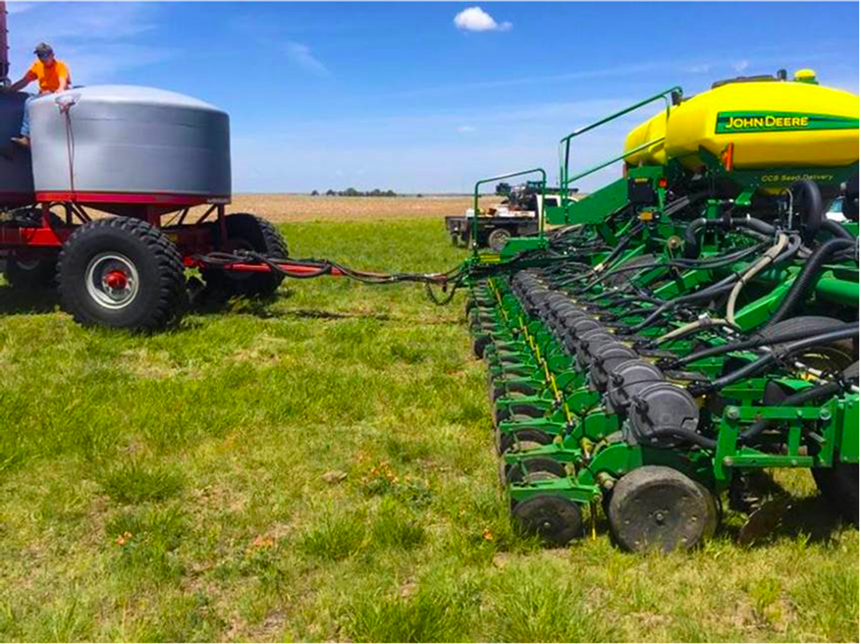 SRS is low cost and stimulates producer options for crops and rotations.

SRS has leveraged weed control.

SRS has much higher yield potential under pivots.

SRS also produces a more even stand or even emergence. Canola can emerge evenly spaced in about 4 days at 90 degrees F in August weather conditions.

SRS also allows economical rates of Poly Halite, K-Mag,(Potassium Magnesium Sulfate), Green Acid (0-52-0), Ferrilene (Iron Chlorosis) and other types of non-ammoniated fertilizer that can significantly stimulate yields for legumes, brassicas and sunflowers.

SRS also allows economical rates (30 to 50 gallons per acre) in a seed row flood of Rhizobacteria, Mycorrhizae, and Penicillium. These products can to applied on target and accurately.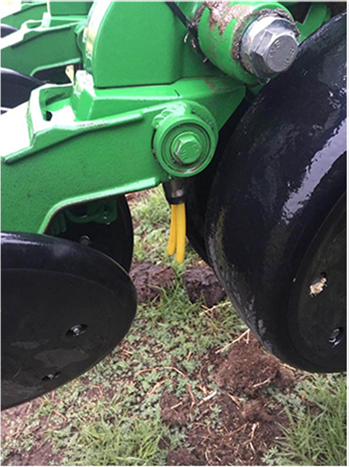 Dual Tube Seed Row Saturation, Exactrix Global Systems.
A video is available of the actual water flow.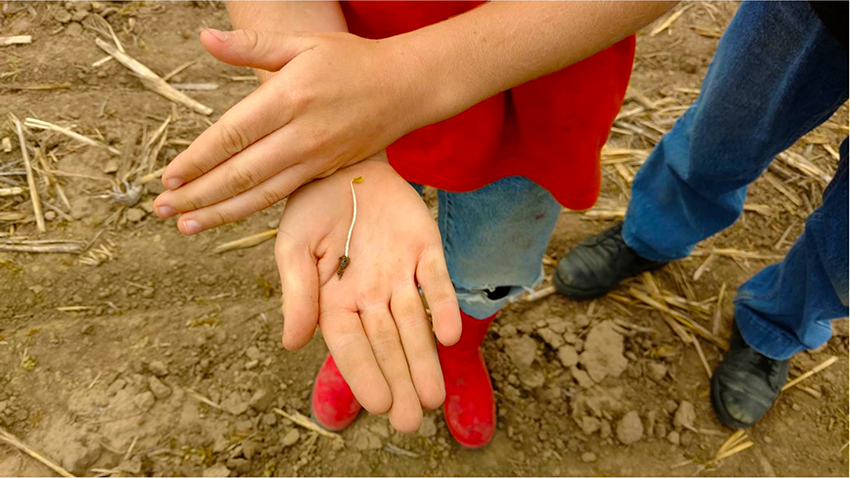 Winter Canola, Planting depth is 1 to 1.5 inch maximum. Seed Row Saturation allows the soil moisture line to meet the seed row germination zone.

Hybrid Vigor seed selection helps improve the stand with a stronger plant genome.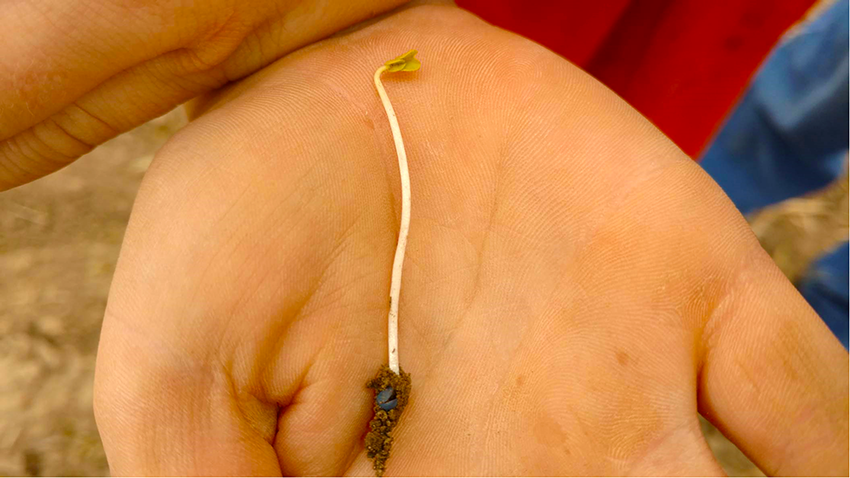 Max McClure keeps his hands too clean.

Max likes Winter Canola because it makes money for his dad.

Max McClure and his brother Jay McClure will be Winter Canola farmers at Hugoton, KS. Winter wheat will come back to rotation someday when technology allows it to compete.
---
Moving to the era of precision. Avoiding the mistakes of the past.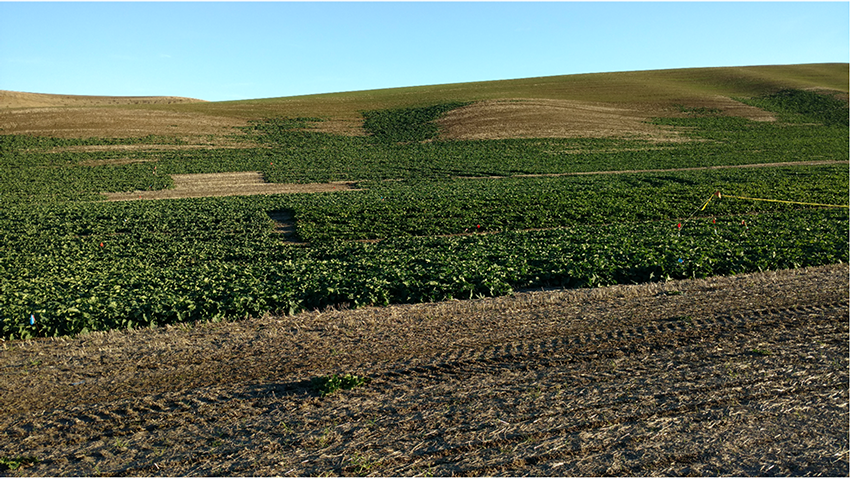 Winter Canola can be produced where economically and technically Winter Canola was previously not feasible. High rainfall, dryland production in the PNW, Chemfallow requires SRS. Seed Row Saturation at 30 to 50 gallons per acre on 30 inch centers.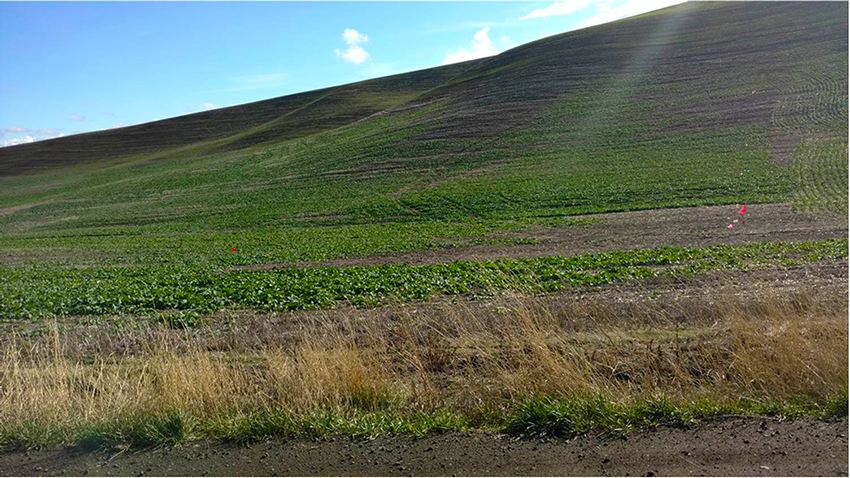 A non-practical, non-commercial approach to raising Winter Canola in the PNW. The producer will give up on this system.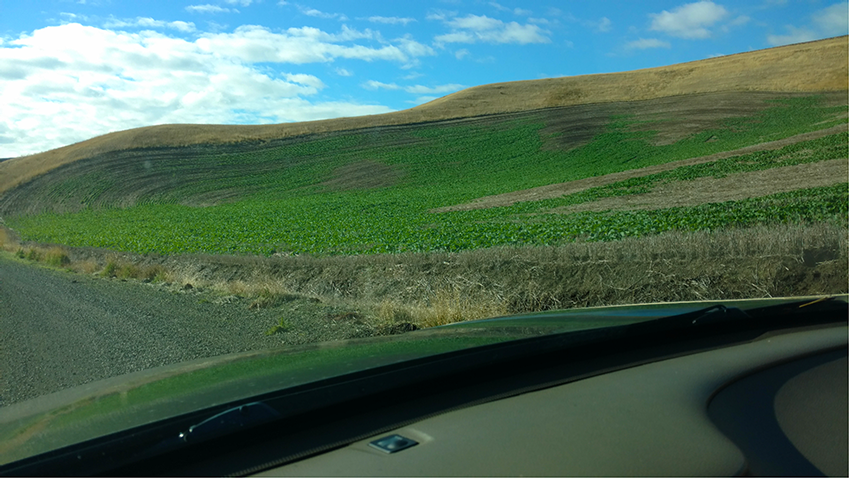 A good way to lose a lease. Messing around with the old technology using a hybridized GMO crop that is in demand.

Producers can take on more land when Winter Canola is in production.

Expensive seed means producers are top notch and have the right equipment.

Seeding GMO hybridized corn with an air-seeder might not work too well on steep slopes.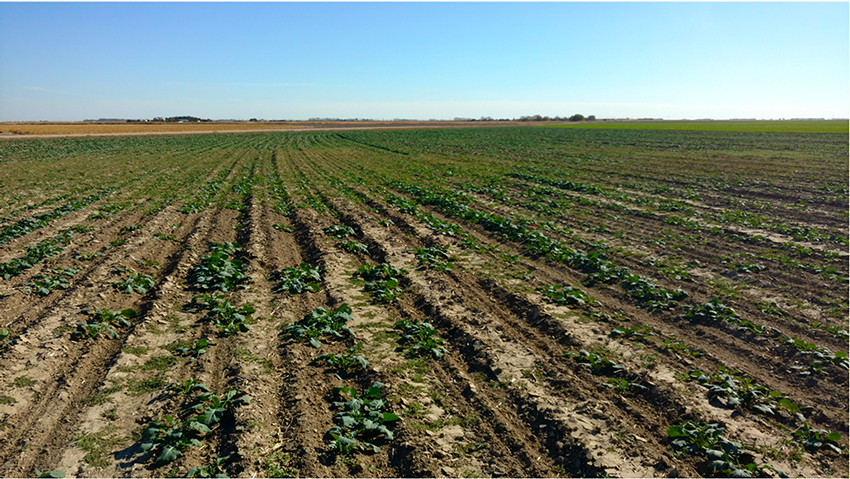 A poor stand of Winter Canola with a Twin Row Planter, Deere 60 foot machine with 48 openers and average 15 inch spacing.

RR Canola could be used but the stand is too poor to invest any more in the growing crop. This Winter Canola barley beats raising winter wheat with this poor stand.

This Winter Canola, Chemfallow dryland stand, is more of a cover crop than a money crop. Soil temperatures are just too high to raise Winter Canola without SRS technology.

Weed Control can be enhanced and better utilization of soil stored moisture results with Seed Row Saturation.

This is not Level 1 performance. The is a rejected field with poor performance potential because the crop did not emerge correctly.

SRS is a technical breakthrough of Winter Canola in Dryland and Irrigated production. The practice was utilized with Yielder Drills in the 80's in Dwarf Essex production.

Twin Row Winter Canola on dryland acres at Deerfield, KS.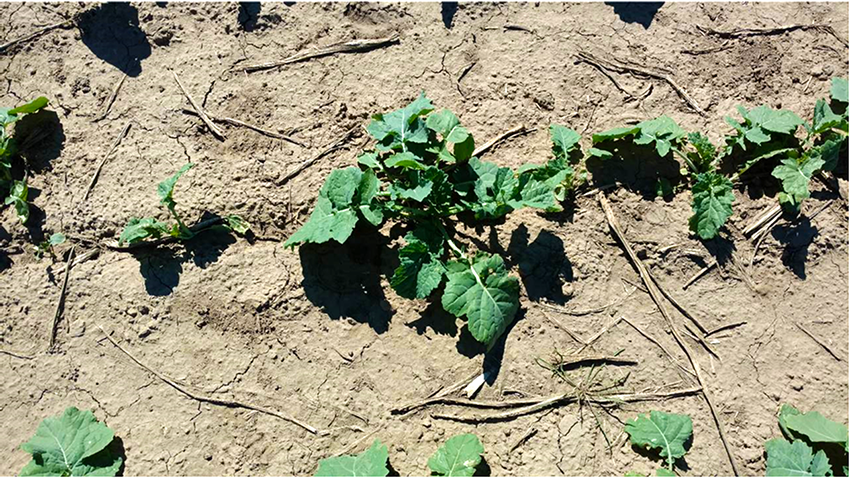 Winter Canola producers must make certain that 99% of the plants in each row emerge within 4 to 5 days at 90 to 105 degrees F soil temperature.

Correct emergence and timing of the field plant growth allows chemicals to be used properly and economically.

Winter Canola requires herbicides, fungicides, insecticides and growth regulators to be applied timely with all expensive plants to be at the same growth stage.

Planters make each plant less expensive. Each plant at 60,000 population on 20 inch rows has an assigned task to compete and produce a top yields.

"Stragglers and Also Rans" have no place with expensive hybrid winter Canola seed when top yields are expected with lower cost of production.

Winter Canola and Corn are very similar in management style to get top yields at lowest cost per bushel.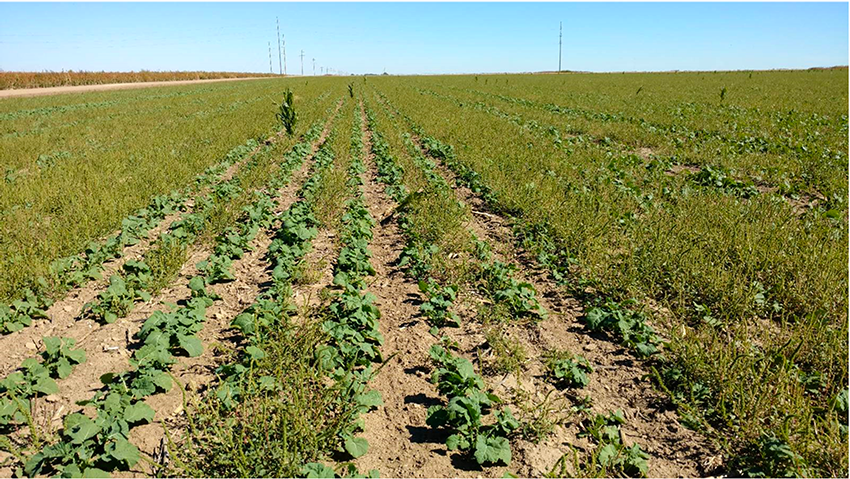 This Hugoton, KS, Dryland Winter Canola stand is pretty good on fallow. Lucky it rained.

The weeds came about the same the time the Winter Canola emerged.

Another case for SRS is more competitive growth at 90 to 105 degree F soil Temperatures. The SRS Winter Canola has more even stands which allows the herbicide Select to be applied.

Actually the producer was happy with the weeds since the wind is the biggest factor at Hugoton, KS.

A rocket to the moon and back requires calculations and scientific review.

Winter Canola at Level 1 performance, highest yields at lowest cost requires SRS technology, absolutely requires SRS.

Don't go to the field without SRS in dryland or irrigated production.
---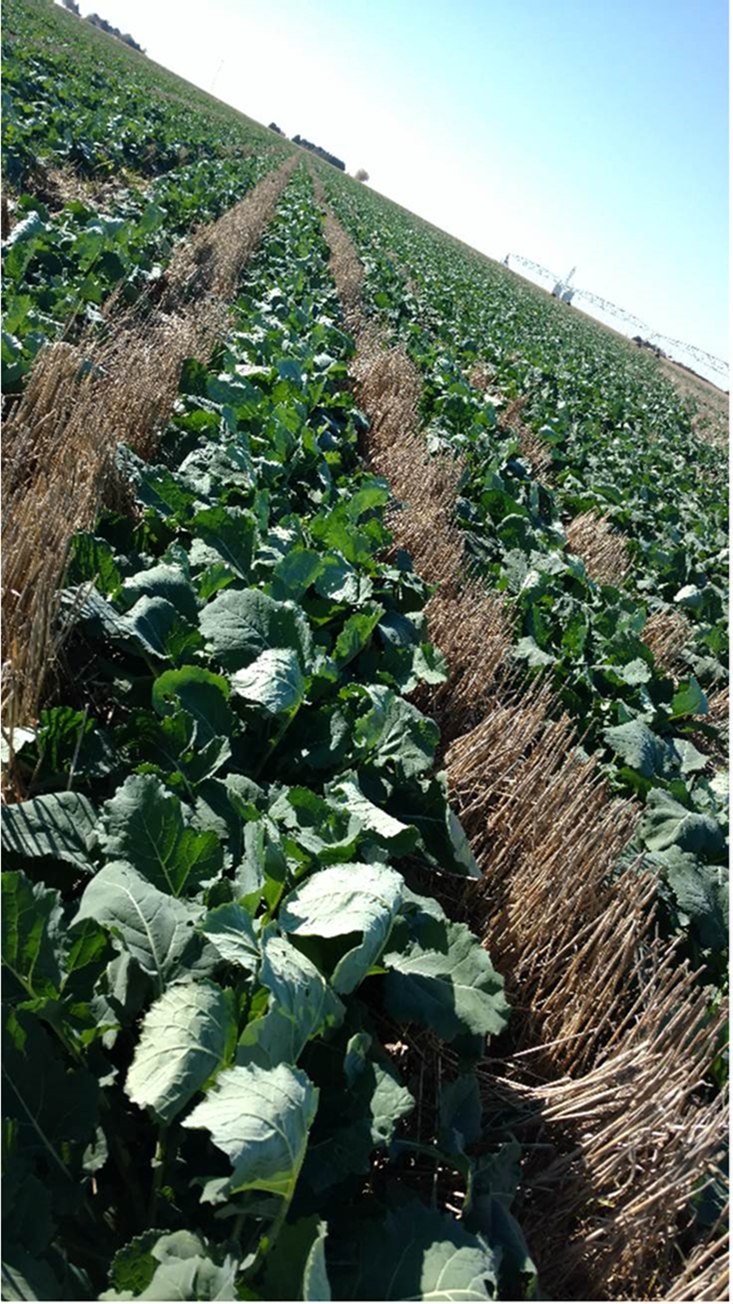 A good stand of Winter Canola following 100 bu./A Winter Wheat using about 2 inch of H20 to germinate the expensive hybrid seed.

That is $40 of water per acre or 54,296 gallons of H2O to get a stand, when $3.00 will work at 30 gallons to 50 gallons per acre.

On the Great Plains: That stated winter Canola needs at least 4 feet of stored soil moisture (8 inches) to produce top 100 to 120 bu/A yields.

The Goodland exception. In fact the Aqua Spy can sample to 4 feet….a second Aqua Spy should be installed from 4 feet to 8 feet where the soils allow such as Goodland, KS.

Goodland Kansas has the potential to deliver yields from 100 to 140 bushels per acre.

The Winter Canola center pivot water needs to be soil stored in late September and early October to maximize the root and crown development.

Moving residue in 100 bushel wheat production is critical to produce the off row light effect. Naked Strip tillage, Naked means no nutrients are applied to improve hardiness.

This approach with no placed nutrients works providing the strip is manipulated with a 10 inch width moving residue with an Orthman type design.

Nutrients need to be single disc Mustang side dressed in November or late winter, and well before the vernal period.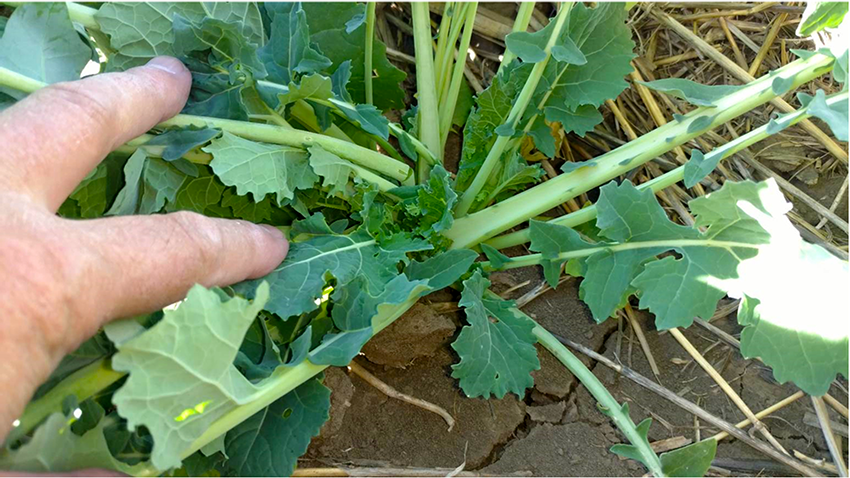 At Goodland, KS, Greg Sederstrom, Naked Strip Till pass management 100 bushel winter wheat residue and Singulation produces highest quality stands in Winter Canola production.

Planter row cleaners are presently not capable of this 10,000 lbs per residue. Canola is very light sensitive and Naked Strip Tillage is functional.

Heavy 10,000 lb. per acre residue loads require Duff Scuffers ahead of the planting.

The hypocotyl will elongate and set the crown too high without clearing the residue.

The Goodland Approach, good residue management results in top yields

Thus survival at temperatures of -15 degrees F was possible with this field management design.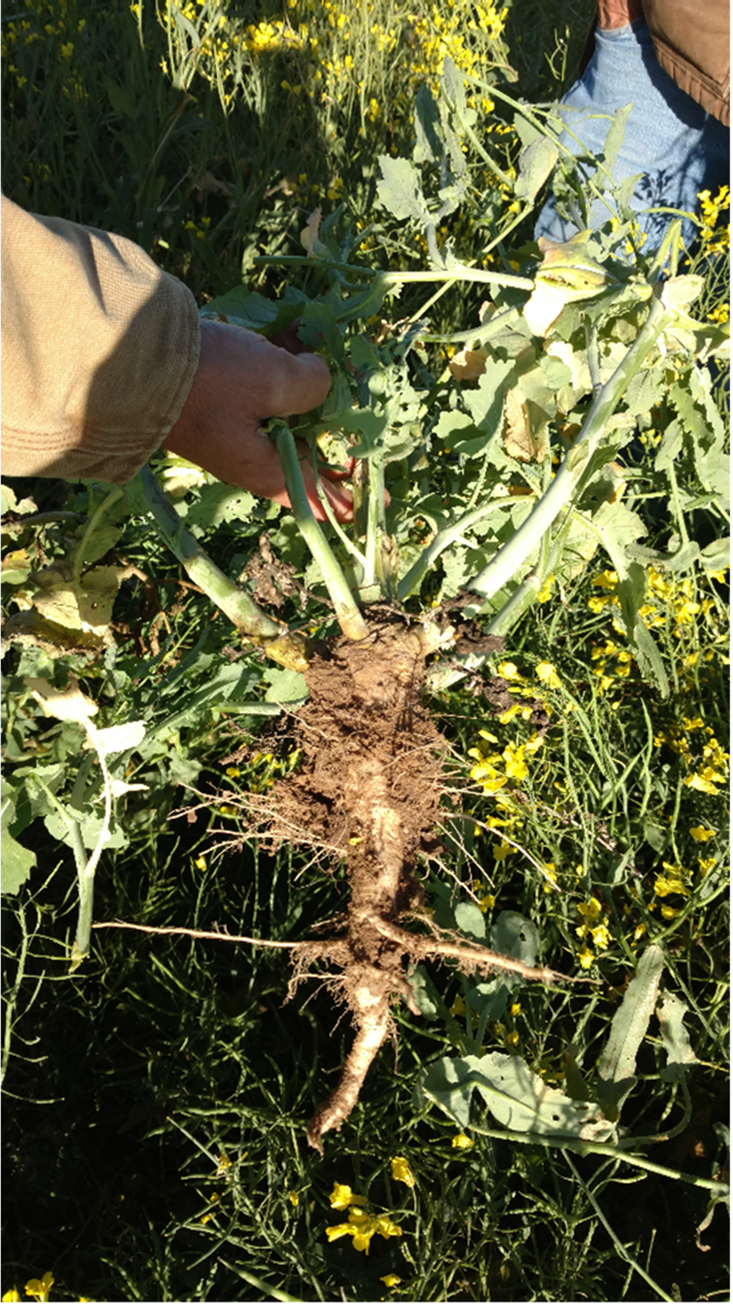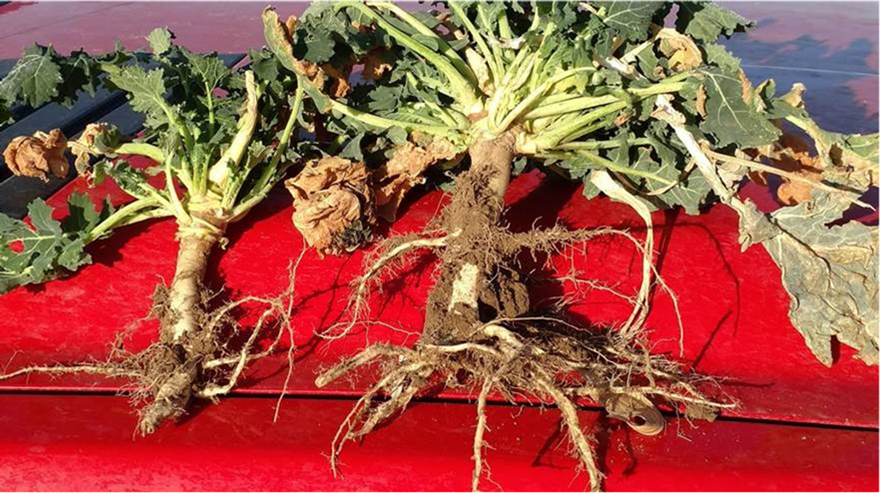 Setting the Hypocotyl is a management opportunity with top notch equipment driving high profitability.

What is a Hypocotyl?

What is a crown?

Can I control the Hypocotyl or the Crown Set?

WC is "The Comeback Kid" with the right genetics and a tough crown.

Hybrids have regenerative power.

Cold weather performance and response to rapidly changing Great Plains weather.

The best Winter Canola producers pay attention to the Hypocotyl.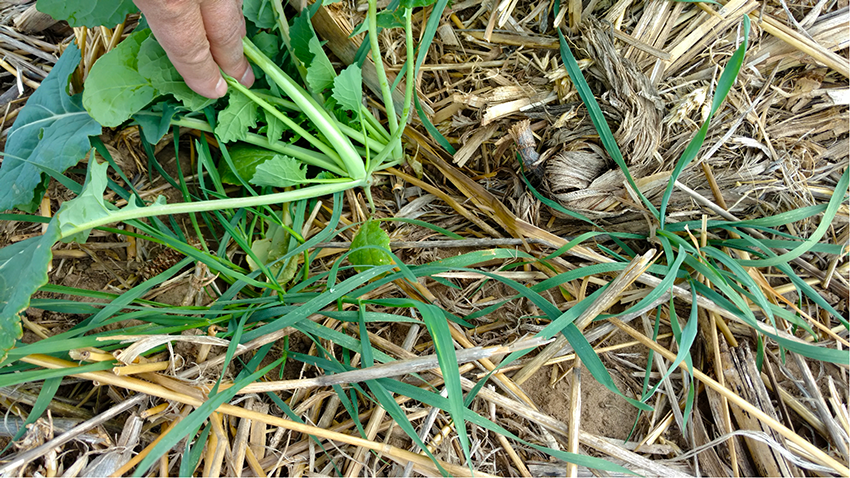 Responding to light the crown root or the hypocotyl will extend above the soil line to the level of the residue height and set the crown.

The hypocotyl has extended about 1.5 inch in these pictures. Full light absorption, Phototropism, is the function driving the plant to extend its crown root or hypocotyl.

The Hybrid Winter Canola plant is very sensitive to light. It sees other Canola plants as competitors in the race for light.

Hybrid Winter Canola develops more efficiently when the plant is spaced about 4 to 5 inches apart.
These plants will not survive the winter with top yield potential.

An extended hypocotyl or elevated crown is a dangerous development in the survival of the plant. It is difficult to use timed application of chemicals.

Wikipedia says, Hypocotyl elongation

In the field of plant photobiology is the investigation of the effect of changes in light quantity and quality on hypocotyl elongation. The investigation is frequently used to study the growth promoting vs. growth repressing effects of application of plant hormones like ethylene. Under normal light conditions, hypocotyl growth is controlled by a process called photo morphogenesis, while shading the seedlings evokes a rapid transcriptional response which negatively regulates photo morphogenesis and results in increased rates of hypocotyl growth. This rate is highest when plants are kept in darkness mediated by a process called skotomorphogenesis, which contrasts photo morphogenesis.

This picture shows that the crown has been elevated in heavy irrigated Triticale residue.

This is not Allelopathy of Triticale. Allelopathy prognosis is the recycle bin of slow lane agronomists. This is a management problem.

This high crown set is a management problem that is best solved with a Naked Strip Till bar since the residue load exceeded the planter row cleaner ability.

The purple color and split of elongated hypocotyl indicates stress and or a possibility of Banvel damage or a residual chemical related to the rotation of the irrigated Triticale. The split in the hypocotyl reduces yield potential.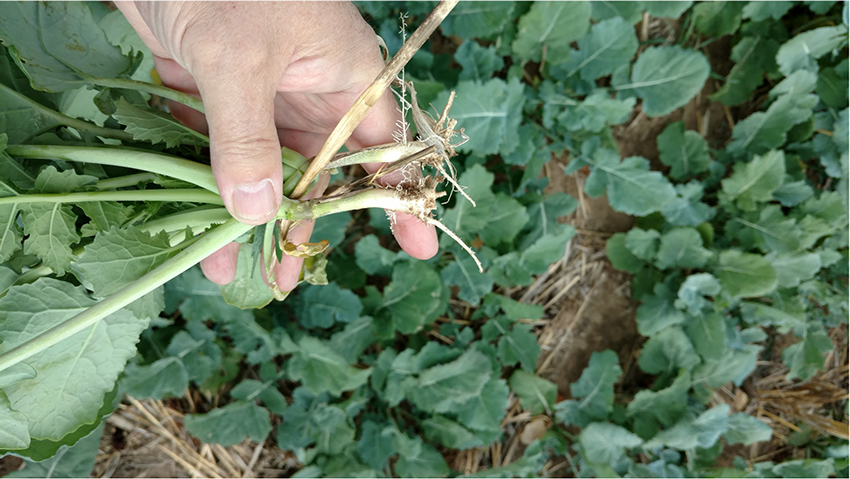 The Winter Canola plant shown does not have the hardiness capability to take the cold winter winds. The crowns are now exposed and will not store carbohydrates through the winter growth period.

Like a cigarette the first 1.5 inch of elongated tobacco is the killer. This is the story of Winter Canola. The 1.5 inch of the extended hypocotyl is certain to shorten the life of the plant and limit yield potential and turn producers away from raising Winter Canola.

The correct planter Row Cleaners are critical to 50 bushel wheat after that Naked Strip Tillage should be considered. This means residue management is very machinery orientated with different types of row cleaning possibilities.

In the PNW, Chemical fallow winter wheat is not a significant problem since the 100 bushel wheat residue is decomposed after 12 months. This will allow light to reach the cotyledon.

In the PNW, Thus Chemfallow is very good place start the crop timely in July or August and annual crop Canola should only be managed with center pivots.

Decomposed Residue Full Season Chemfallow designs will allow light to reach the cotyledons and set the crown with planter row cleaners.

The secondary hair roots are the major harvesters of nutrients reaching out about 15 to 20 inches on a radius of the crown hypocotyl root.

The secondary branching roots provide the ability to reach for nutrients to the 8 foot depths in Palouse soils. Winter Canola is truly a nitrate harvester reducing the need for excessive nutrients and suppressing Nematode habitat.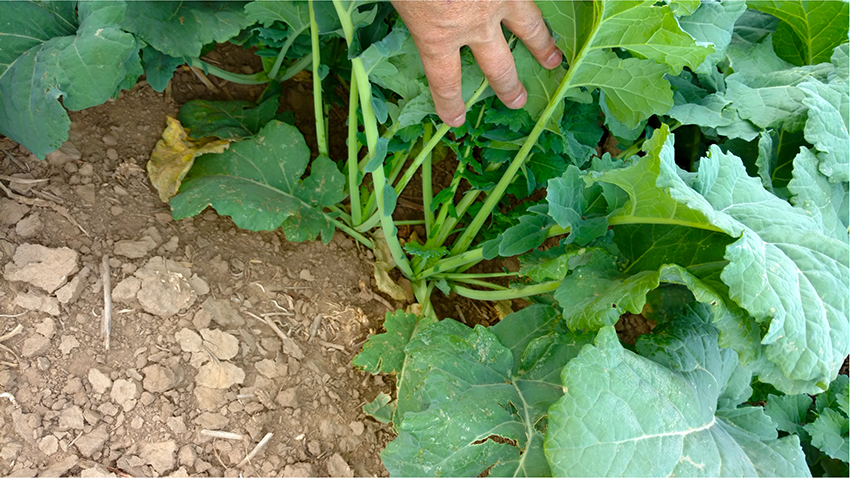 This is a good crown set for the same producer at an adjoining dryland field. Residue has been removed with a row cleaners on a precision corn planter.

A Deere 1710 cleared the path.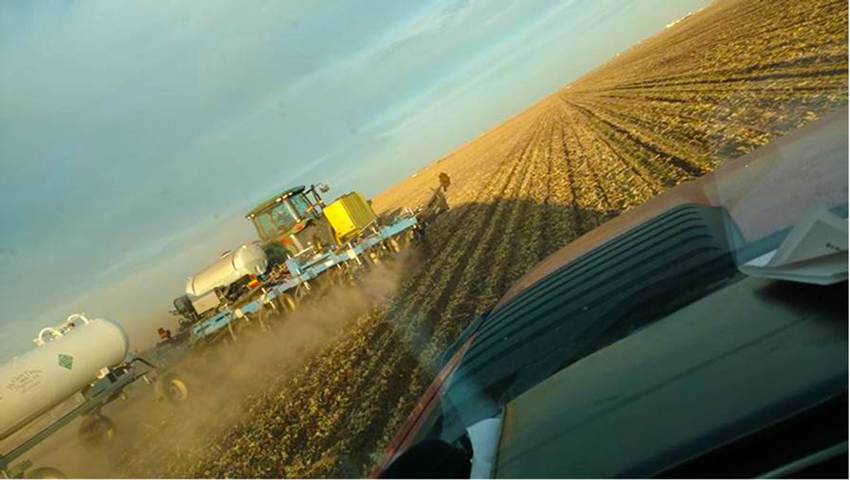 The dryland field was side dressed in early March with and Exactrix TAPPS formulator with Mustang P-51C openers at 7 inch depth.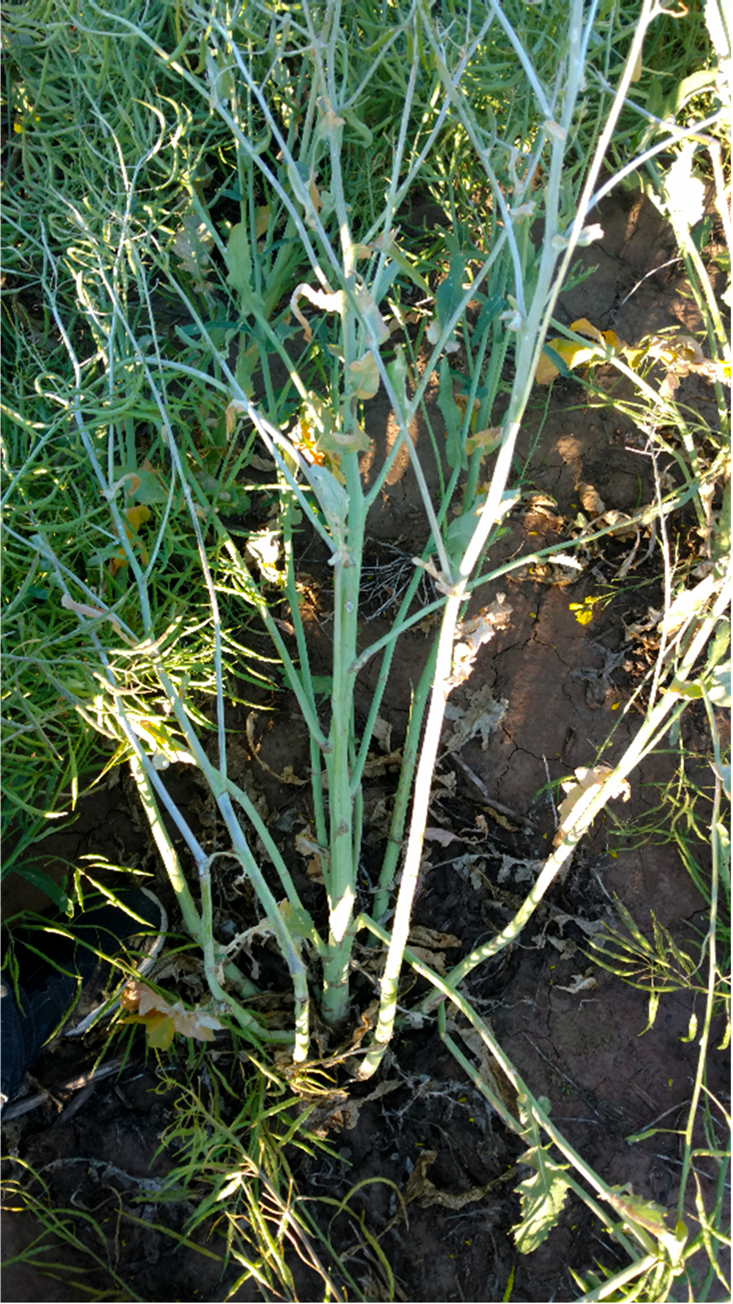 Hybrid Canola will produce top yields with a healthy crown and good fertility of Exactrix TAPPS side-dressed with Mustangs at 7 inch depth.
Surviving the winter of 2017 included surviving the spring storm Ursa April 28, 17 at Hugoton, KS. Exactrix Nutrients were applied about 50 days ahead in early March before the vernal period.

The is a biennial crop that was covered totally in snowfall of 15 inches for 7 days in May and was shortened from 55 to 60 inches in height to 18 inches in matted depth.
The field was a snow trap from adjoining fields. The dryland Winter Canola fields were increased in yield potential because of Hybrid Canola genetic designs.

The regenerative power of the winter Canola plant came from the crown or the hypocotyl. The plant did a reboot had a second life.

The crop bloomed for a total of 8 to 9 weeks depending on the accounting of the 7 days under the snow.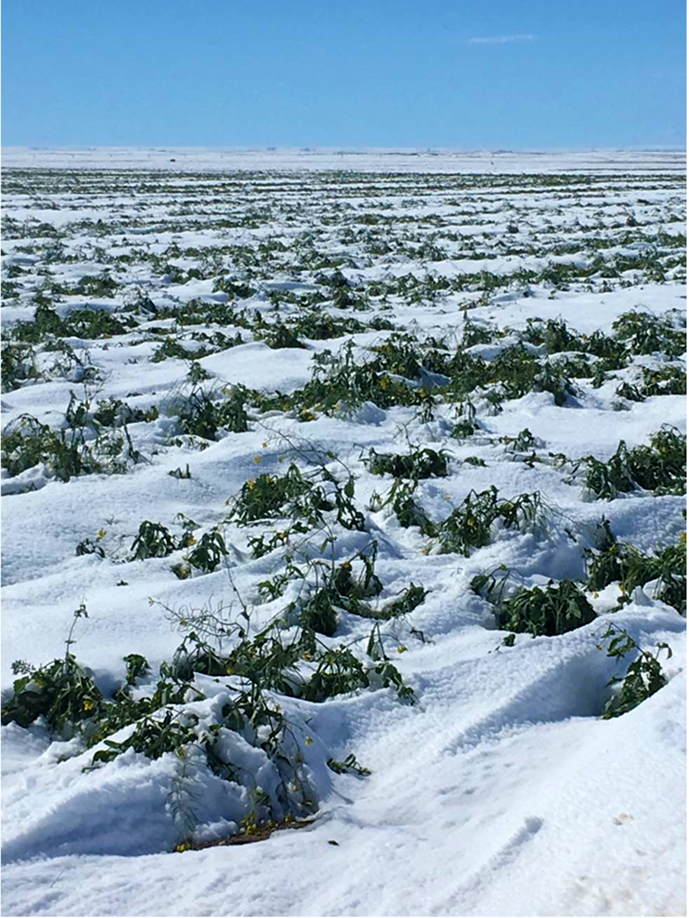 Winter (Spring) Storm Ursa: A full blown Great Plains 100 year Blizzard, 3 days, April 28 to May 1, Hugoton, KS.

This irrigated, TAPPS applied, Hittle/McClure managed field did a complete reset on the future of Hybrid Winter Canola.

How did the Rubisco Hornet crop survive after 7 days under the snow pack?

The winds were clocked at 60 mph and 15 to 22 inches of snow fell in the area at freezing 30 degree temperatures.

The Winter Canola field was a snow trap.

An estimated 20,000 cattle died within 20 miles of this 3 day storm.

The hybrids seemed to survive better than the open pollinated varieties in adjoining fields and pivot corners.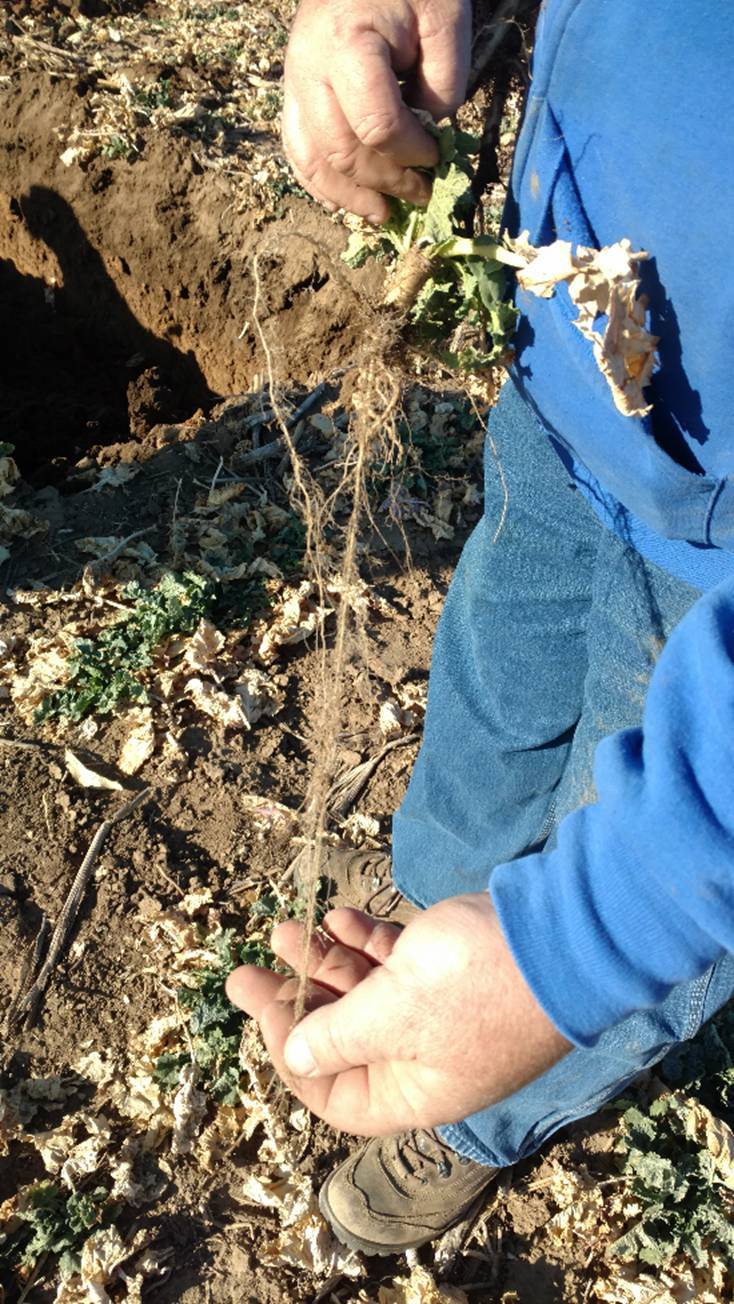 Feb. 27, 17, A soil pit at Hugoton, KS reveals a Winter Canola root system…with a calcareous layer at 3 feet.

Winter Canola has an extensive fibrous root system reaching depths of 8 feet in the PNW.

Thus Winter Canola harvests nitrate that has moved beyond the accessibility of irrigated corn roots.

Winter Canola has a suppressive effect on over-wintering deep nematode populations.

The fibrous roots reach out 15 to 20 inches to the side of the tap root.

Winter Canola can be produced economically on planter singulated rows of 40 inch, but 30 inch row spacing is most popular.

Your Great Plains Reporter.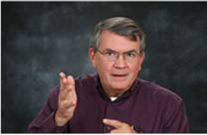 Guy J Swanson