Return to MAIN page

Raising 280 bushel per acre corn....on 280 bushel Corn residue...No-till Production in the Major Leagues at, Shelton, NE, Paul Gangwish. TAPPS with the 940 Case Tool Bar. and Mustang P-51C.
Paul Gangwish and Tim Reznicek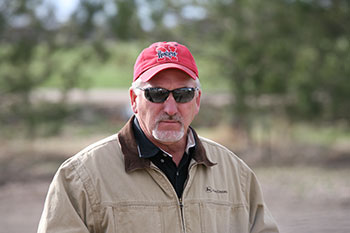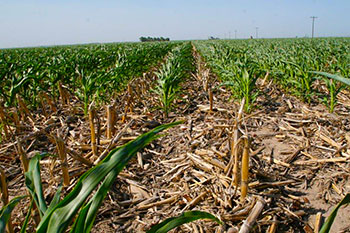 Paul Gangwish, Shelton, NE. In 100 degree heat on June, 21, 13…with a good rainstorm that evening. 280 bushel corn residue
A Corn Belt Highlight Tour.
No-till Corn Production by Paul Gangwish and his crew.

An 80 acre field that had outstanding corn yields in 2012 using TAPPS application single disc.
This particular 80 acre field averaged 280 bushels per acre in last year's drought and heat....and now the rest of the story.
Exactrix Mustang Openers, P-51C on 15 inch centers banded the field in April 17, 2013...at 8 mph...at 150 pounds N and about 20 gallons of APP/ATS.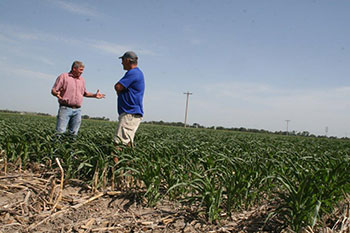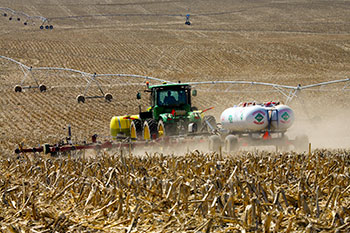 Paul Gangwish and Tim Reznicek talk it over at Shelton, NE. Taken 4/29/13
100% No-Till Corn Production CASE 940 Mustang Tool Bar
The planters did the job in a very good alliance to the previous corn rows.
The TAPPS banding was done at a 5 degree angle at a 6 to 7 inch depth on 15 inch centers...at 61.3 feet in width.
The fact that the Case 940 tool bar ran in wet conditions and handled the residue perfectly has been impressive.
---
Kevin Medow

Kevin Medow, Exactrix TAPPS fall banded, 170 lbs N on NH3, 8 gallons 10-34-0 , APP 4 gallons Thiosfate ATS (12-0-0-.265
2 gallons Humic 20% + 3.5% K, 1.3 qt Ammoniated Zinc.


A very nice crop...Monsanto DeKalb at 38,000 population on 36" beds, Twin Rows


Twin Row in a Diamond Pattern, Created with a Monosem Planter...18 inch


average rows...allows ridging and 36 inch beds.

Moore built tool bar - 24 Mustangs to go

Kevin has had some very good yields....and very pleased with the

Monosem...and TAPPS.



Kevin is setting up a new Moore Built Tool Bar with Mustang Openers, P51-C.
---
John Yockey and Sons. Tom and Dan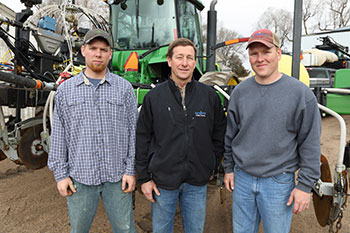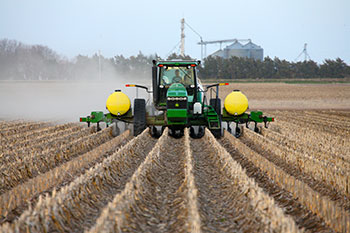 John Yockey and Sons. Tom and Dan. Banding 4/29/13
Side Dressing Seed Corn. Syngenta/Yockey.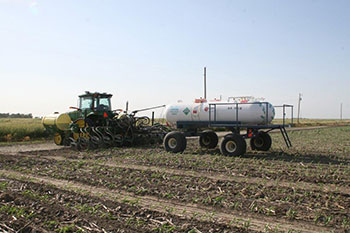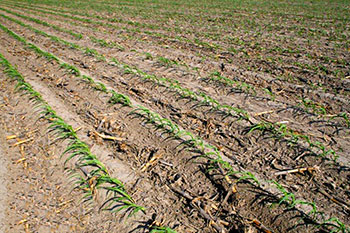 June 21, 13. Aurora, NE. Syngenta NK Seed Corn
Side dressing seed corn
Ridge till Production of Seed Corn for Syngenta, NK.
P-51A Mustangs...20 x 3/8 single edged Yielder Blades. Grease type hubs. Banding at 4 to 5 inch depth. Closing wheels may be required when banding a bit shallower in ridges.
The sealing is more difficult at 4 inch depth since it is not possible to form a vacuum injection technique with
Exactrix High Pressure Liquid Injection of NH3.
The key in TAPPS and TAPPKTS banding is to run the Mustang as deep as physically possible...for better drought stress...and better geometry of placed P. Another plus of banding deeper is absolute vacuum sealing with no closing wheels required.
P-51A Mustangs can be modified to B or C series...with much bigger Yielder Manganese Steel blades....but it is probably simpler just to trade the openers for bigger openers.
Closing wheels are not required when banding deeper but may be required if there is a tillage history...or no chance for growing roots.
John runs at high speed...10 mph is nominal with the twin 1, 000 gallon NH3 tanks at 25 feet with 20 Mustang openers on 15 inch centers.
---
Steve
McCasland
(Read more about Steve HERE)

Banding June 22nd, 2013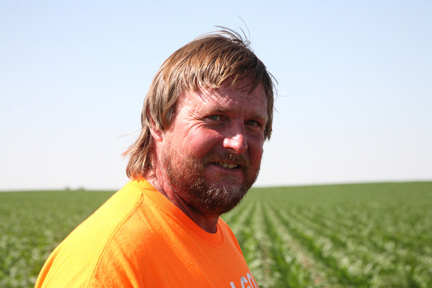 As Steve Says....when quizzed about his 2012 yield at 316 bushels per acre.
"Guy , it is the Exactrix Mustangs that made the difference"...Steady as she goes with Deep banding at 8 inch depths of TAPPS....
The polish on the 3/8 x 24 inch Yielder Manganese steel blades are a pretty good indicator of the depth of the Exactrix TAPPS band.
Steve is applying on 15 inch centers at 6 mph at 130 pounds N as NH3 and 12 gallons APP/ATS....
and Timing...Capital T timing on Sandy Soil Pivots.
Monsanto DeKalb is providing the genetics again in 2013.
What is different in 2013?...
Steerage....Orthman Tru Trackers modified to Shadow Trackers to allow the tool bar to also steer.
The big Case Planter ran the same Orthman/Trimble tool bar steering system in May. The 30 inch Orthman steerage discs
and electronics have been moved to the Mustang P-51B tool bar. .
The steerage is by Mike Vaughn of Wagner Equipment at Burlington, CO. Steve and Mike teamed up to take yields higher yet on rolling slopes of the 20% to 30% rolling sandy soils of Yuma.
The Trimble RTK design keeps the Magnum 305 on the mark.....The 40 foot tool bar with 2 point lift assist is held in place by setting the 3 point guide blocks loose...This allows the Orthman Shadow Tracker to follow the planter rows on sub inch accuracy...
Big Corn...means a good yield in side dress techniques by Steve McCasland at Yuma, CO…..a very impressive day on June 22, 13 at 4,000 feet above sea level.
Steve used the same system on his Case Planter….with a Quad-Track…so the guidance systems works well with an articulated Quad Track as well as with the non-articulated straight frame Magnum.
See videos of Steve.

Steve McCasland Breaks Record
Deep Banding And Side Dressing
Steve Talks About Sandy Soil Conditions.
Making TAPPS with Steve McCasland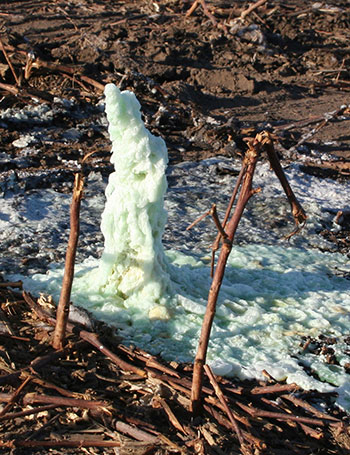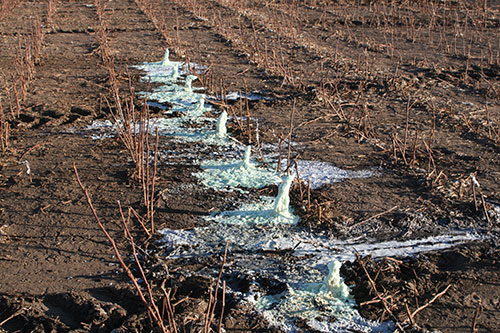 ---
Exactrix Bottom Outlet Trailers....For Sale
At flows to 50 gallons per minute of NH3 and APP/ATS. With series 3 system.

About $20,000 per trailer......FOB Shelton, NE

Interested? Contact us at exactrix@exactrix.com or call us at 509-535-9925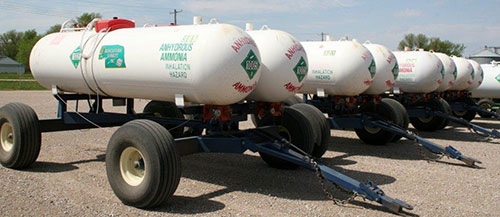 ---
Meeting your formulation needs.
www.exactrix.com/TF.htm
Picking your metering systems.
www.exactrix.com/epm.htm
Need more information on advanced crop production.
www.exactrix.com/EWAC.htm
---
Need more storage?
Need more technology?
Want to lower production costs?
Exactrix is the inventor of TAPPS and TAPPKS and is the expert in NH3, 10-34-0, 12-0-0-26S and 0-0-27-17S.
Exactrix Metering systems are priced between $15,000 to $150,000 based on flow and process.
All Exactrix systems have pressure increasing Corken pumps and quality Exactrix Manifolds and now threaded TIO holders on P-51C, Mustangs.
http://www.agrimoney.com/news/yara-axing-$2bn-scheme-warns-of-us-nitrogen-glut--5943.html
(Click HERE for more information)
Track Cart….TAPPKTS, Formulator applying uniformly with root pattern geometry at 8 mph.
(Click for more information) Exactrix Deere 1890)
Click HERE to read more about the Deere Exactrix Wing Injection System
For More Information: