Ammonia pricing is dropping July 1 as fertilizer manufacturers begin the new marketing year.
Producers can have a profitable 2015 cropping year by making plans now for Exactrix Technology.
When the margin gets close Exactrix producers squeeze out an extra 10% net dollars in all pricing scenarios.
Ammonia pricing drops as of July 1 as fertilizer manufacturers begin the new 2014/2015 marketing year.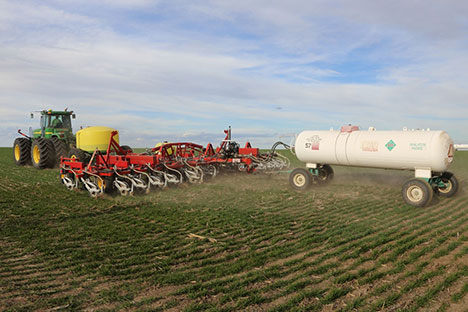 Projected 2014 pricing of NH3 will be lowest cost input of primary Nitrogen by 30% across the Great Plains. In fact, some spot market pricing at $450 per ton is reported in June with a transport delivery.
Two methods of fertilizing winter wheat are now possible by side dressing bands of TAPPS into growing wheat roots….Side dressing winter wheat that is established or pre-planting banding for a winter wheat crop….producers average minimum 10% greater yield potential increases applying uniform TAPPS into growing crops. Input costs are maximized and the net margin in wheat increases $30 to $50 more per acre.
In fact, a 3,500 acre farm in North Central Kansas raising Winter Wheat, Milo, Corn and Soybeans will produce $120,000 more net income per acre with Exactrix TAPPS and Mustang Openers.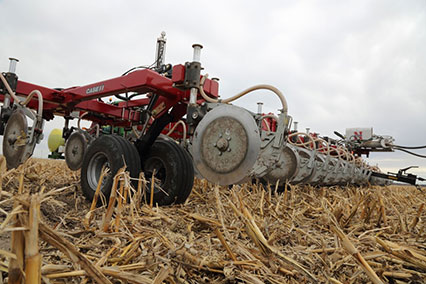 No-till corn in irrigated production offers even greater returns with NH3 and Exactrix TAPPS.
About 10% more net income in No-till corn production….at least $100 per acre more net income with center pivot corn production. No Tillage application of nutrients can be made in late fall with stabilized TAPPS and right up to planting time with 15 inch band spacing.
Exactrix No-till farmers have powerful placed nutrients in the root zone. The yield advantage is very large over top dressed urea and solution 32 top dressed. In fact, up to 25% higher yields are realized in dry conditions.
Sandy soil types to gumbo clay, the Mustang opener is an outstanding performer in moist soil conditions.
Exactrix TAPPS allows the Exactrix applicator and the planter to run in the field the same day.
Exactrix TAPPS and Mustang Openers offer corn producers great survival techniques in lower corn prices. Popular sizes are 30 to 50 feet in width.
Band spacings of 15 inches allow nutrient banding of TAPPS right up to planting corn and and late fall or early spring fertilization of established winter wheat. Plus long term rotational band loading.
Need Financial Help?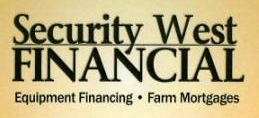 From The Palouse in Eastern Washington .. See and Hear Eric Odberg Discussing Variable Rate Application With Guy Swanson Video 1
WSU World Class Face to Face Video Production featuring Eric Odberg - Farmer to Farmer Case Study: Precision Nitrogen Application