Two Good Margin Crops In One Year, Travis Fieser at Kismet, KS, Cimarron River Drainage
The Cimarron River Country along the dry Santa Fe trail of Southwestern Kansas.

Southwestern Kansas is an ideal area for No-tillage farming conserving soil and moisture.
In the heart of the Dust Bowl you will discover that producers can now raise two crops per year.

When the margin gets close the producers get really good with the inputs.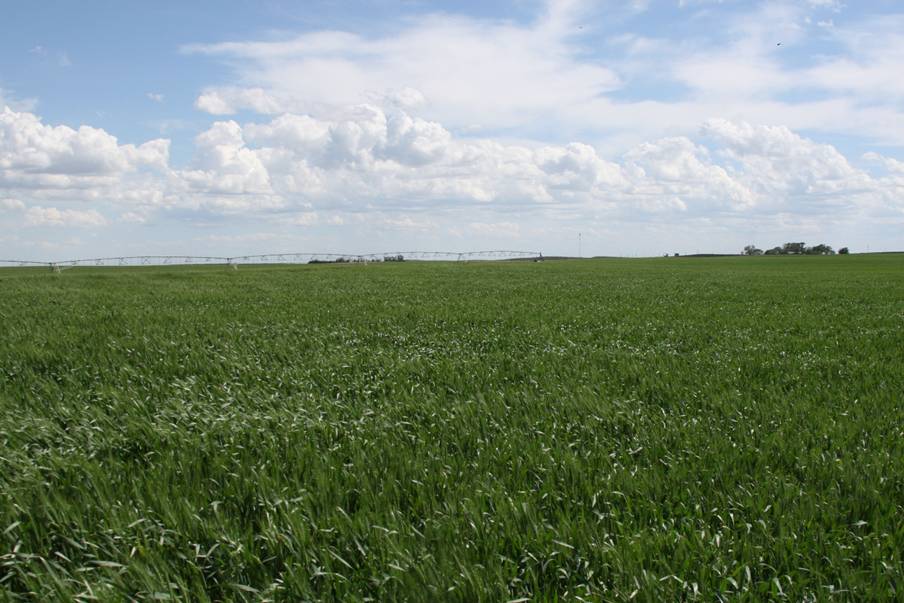 Producers can get two good crops in one year.

Travis Fieser is able to generate two crops with a good margin.
Diverse double cropping with Winter Wheat followed by confection Sunflower requires quick timing and good equipment.

The HRWW variety Winter Hawk, West Bred was harvested in late June and averaged 90 bushel per acre at 62 lb test weight.

About Feb 15, 2015 the Mustang tool bar banded Exactrix TAPPS into the dormant winter wheat on 15 inch centers. A 30 foot, three point mounted Mustang tool bar allows ground speeds to 10 mph.

The TAPPS crystalline formulation was 60-20-0-10S banded at the 6 inch depth. The drill also placed 40 lbs. of 11-52-0 (10.8 lbs. P) in the seed row.

The second crop following wheat harvest is No-till sunflowers back into residue planted late June or early July. The harvester is set up with a Shelbourne stripper header to allow for a good No-till planting.
Travis inspecting his

May 6

, Winter Wheat crop following a aerial application of Folicur fungicide the previous week. The previous crop was corn with some manure applied 2 years ago. The winter wheat crop was under some pressure for leaf and stripe rust as well as FHB.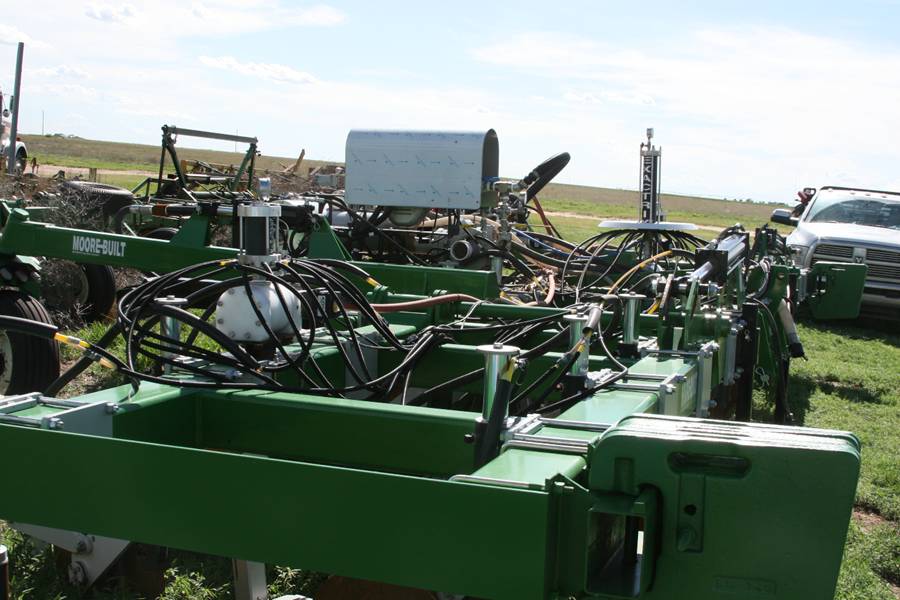 The Mustang Tool Bar set up in 7 x 7 construction with lift assist.
Folding with a 6 row center allows transport at 18.5 feet .
No wing wheels are installed and they are recommended.
Wing weights added to improve opener penetration.
Standard lift assist is utilized and an optional super duty lift assist can also be ordered.
Exactrix Engines
| | |
| --- | --- |
| Exactrix 2KM with magnetic reluctance flow meter. | TAPPS Formulator, Exactrix 2KC Series 3, Weigh Master, |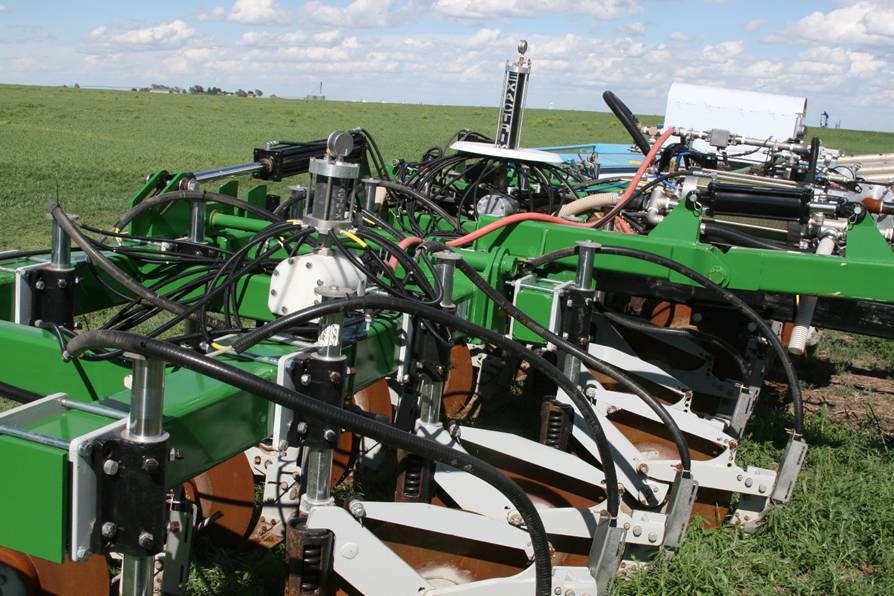 Double crop Confection Sunflowers are planted into the winter wheat stubble.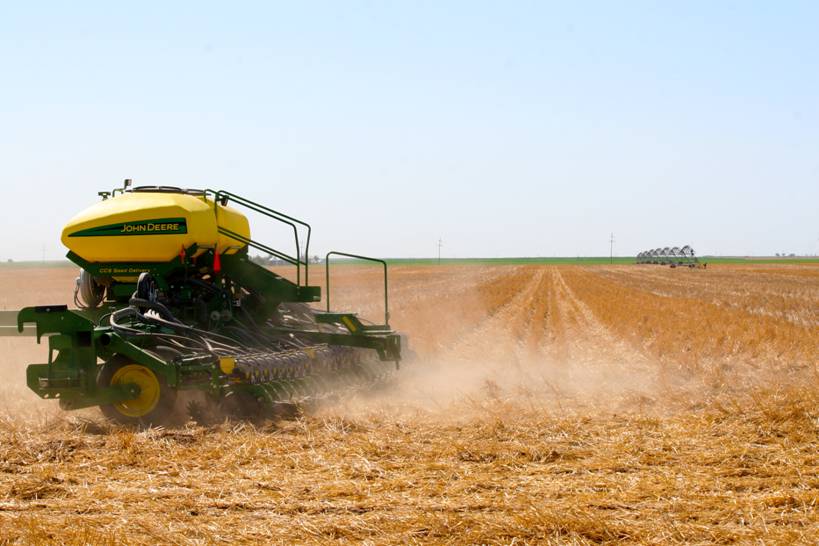 Double crop fertility is managed with an Exactrix tool bar in pre-plant or side dress application of TAPPS.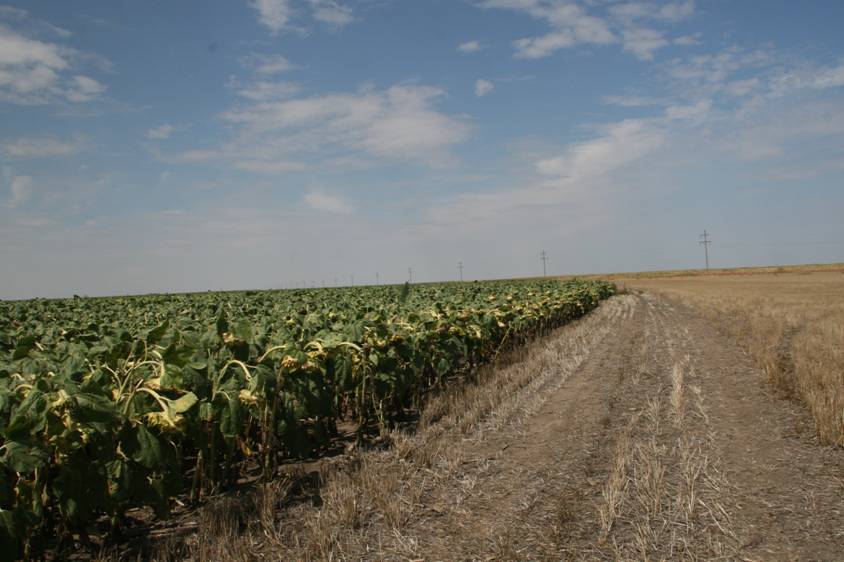 Confection Sunflowers can be successfully double cropped in Kansas using Exactrix TAPPS application in front or behind the planter.
EXACTRIX, Rated in the top ten agricultural websites in North America.
For producers who want to learn more about increasing crop production, we provide some good answers in the Exactrix library.
EXACTRIX GLOBAL SYSTEMS makes the news