Lost in the West, Horses, Caterpillars,
Leveling Wheel Tractors.
Yielder Drills, Peaches, Who, What, Where, When and Why.
Is this a corn field in the Sandhills of Nebraska with all that Corn?
Did I turn right when I should have went left?
Did I drive out Hyannis, Nebraska this morning towards Alliance, Nebraska and when I discovered this Geological puzzlement?
Yes sir, The University of Nebraska has a Garbanzo breeder in Alliance, NE, Carlos from Columbia….he has new variety, New Hope.
Checking out the Garbanzo Variety indicates it is highly breed up. Looks like Fred Muehlbar has his fingers in the pie.
Furthermore they raise winter wheat in Alliance, NE and furthermore a lot of corn for the feedlots and ethanol plants.
So where am I….Lost again?
Where are the cows?
How come those steep slopes face to the North? The Sandhills steep slopes face to the South.
Where are the lakes of the flooded meadows and where are the haymakers at work.
You know I don't think I am in Nebraska.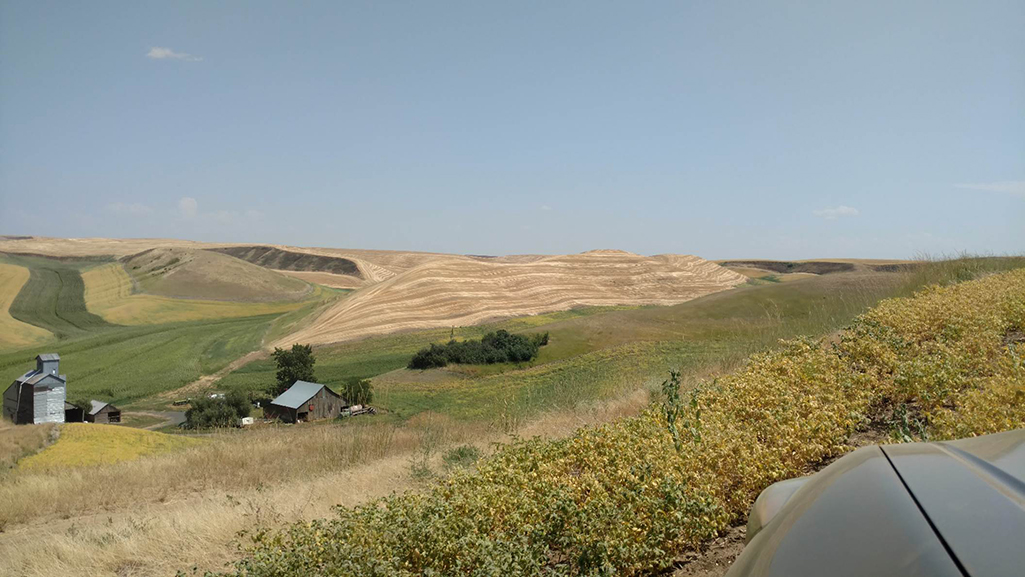 1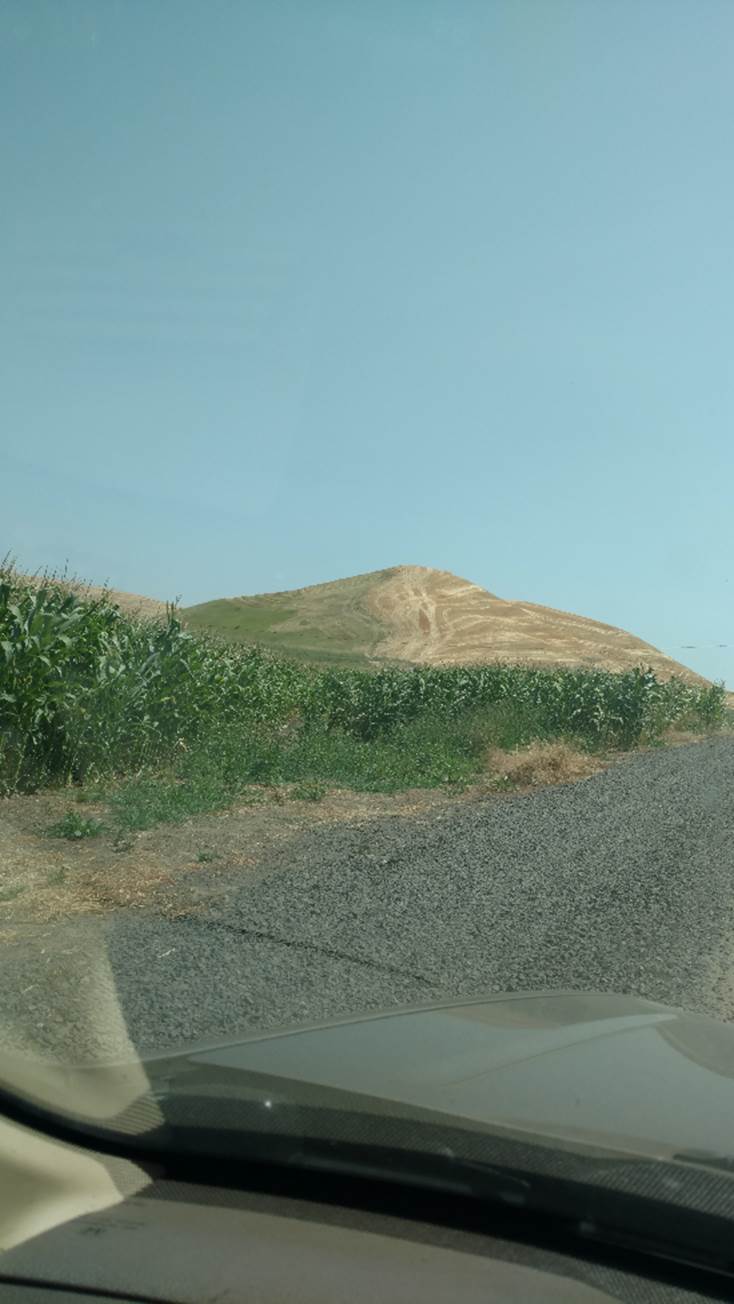 2
Man that hill is steep. They are making hay on the North Slope, Good wheat crop on the south side. A Nice Corn crop is coming.
Man can they raise corn in Nebraska. And even in the Sandhills they raise corn.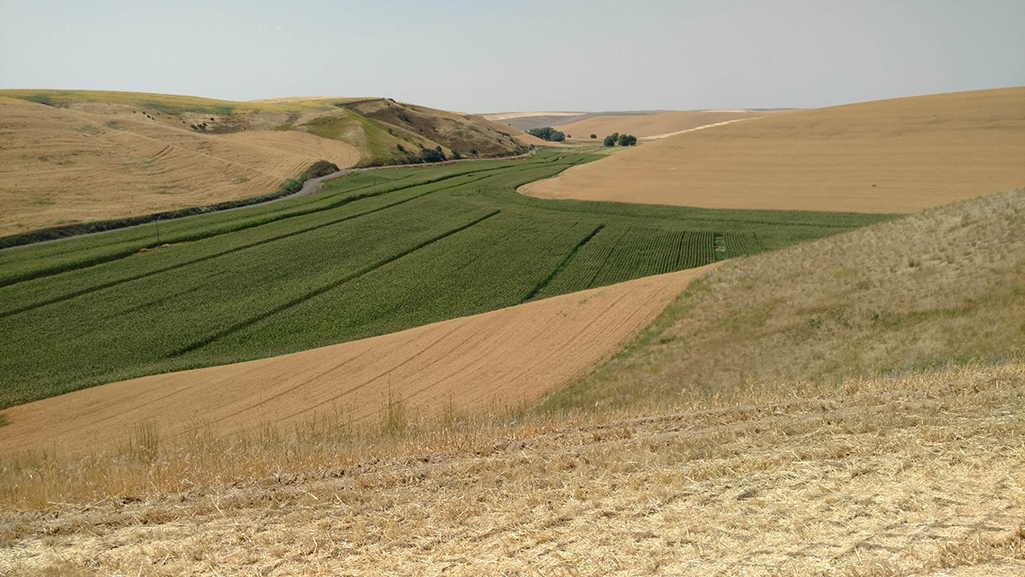 3
Now I understand, That is a green chop operation, the alleys are for the old pull type green chopper, They have cows somewhere.
Where is that corn green chop going?
Where is the feedlot? Must be a dairy operation in the Sandhills?
I never heard of dairy in the Sandhills.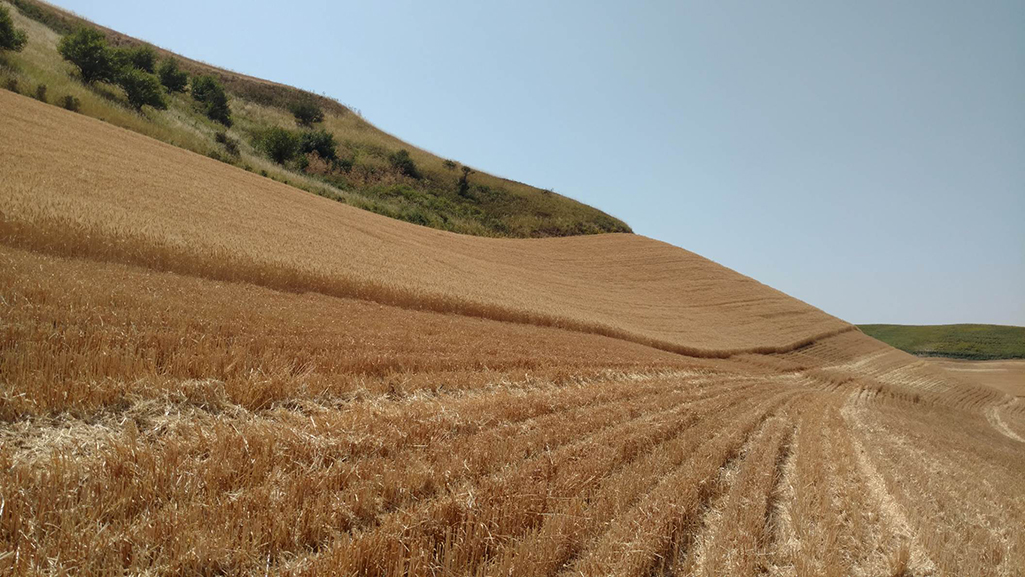 4
Holy cow, that is steeper than a Cows Face….man what were they thinking about. I guess Mary Jane must be legal here.
Is that a Peach Orchard up there on that 70% to 80% slope? Looks like peaches to me.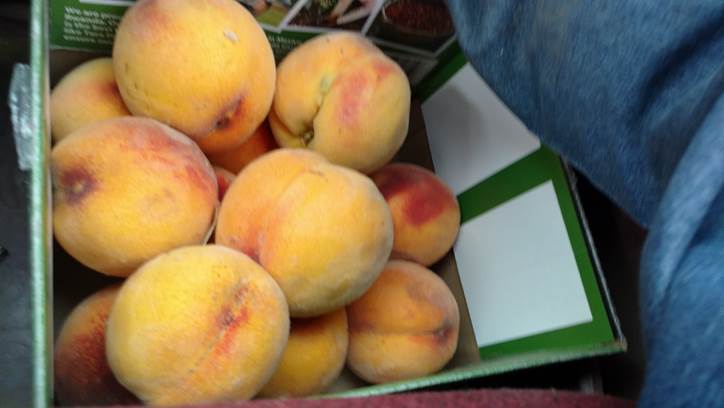 5
What a great deal, Pennewawa Peaches. I did not know Peaches grew in Nebraska. Man are they good on a 95 degree day.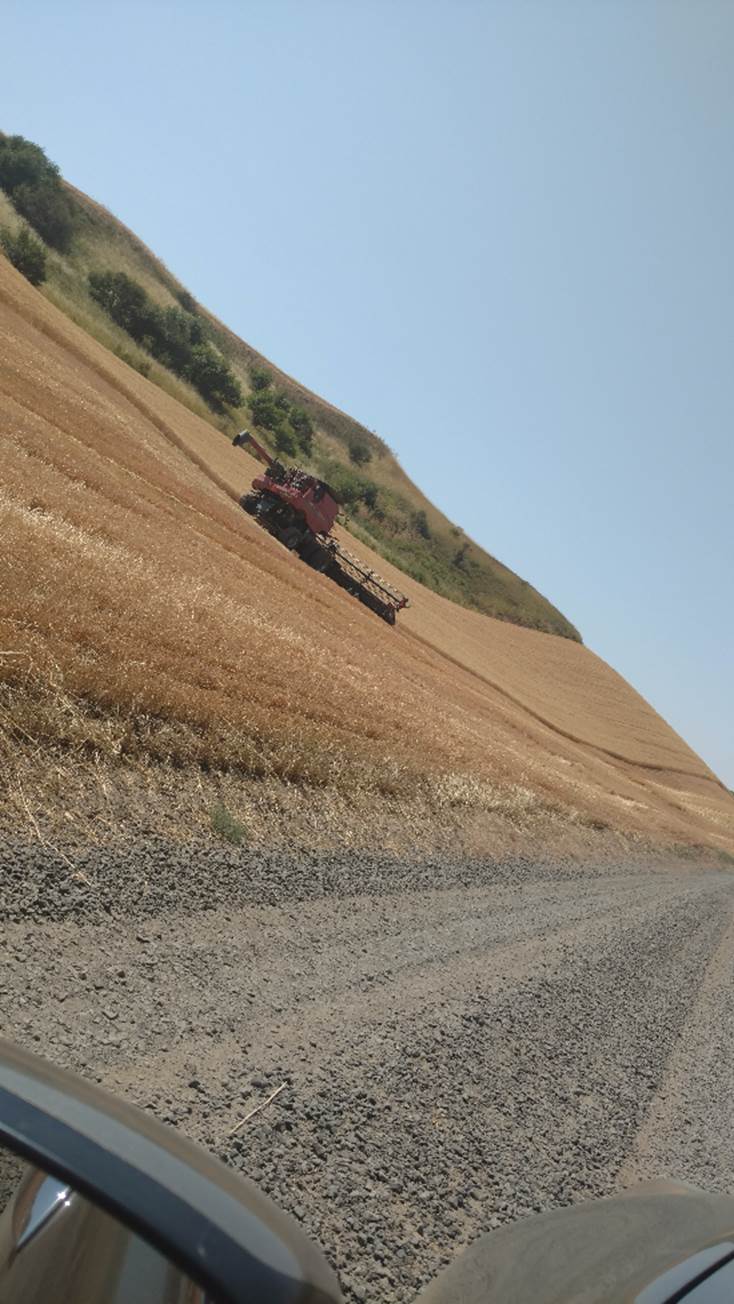 6
The visual impact is 9 times that of level land farming.
You farm the land 9 times more in your memory bank.
It is like being a pilot with a P-51 Mustang. You need power in roll, pitch and yaw.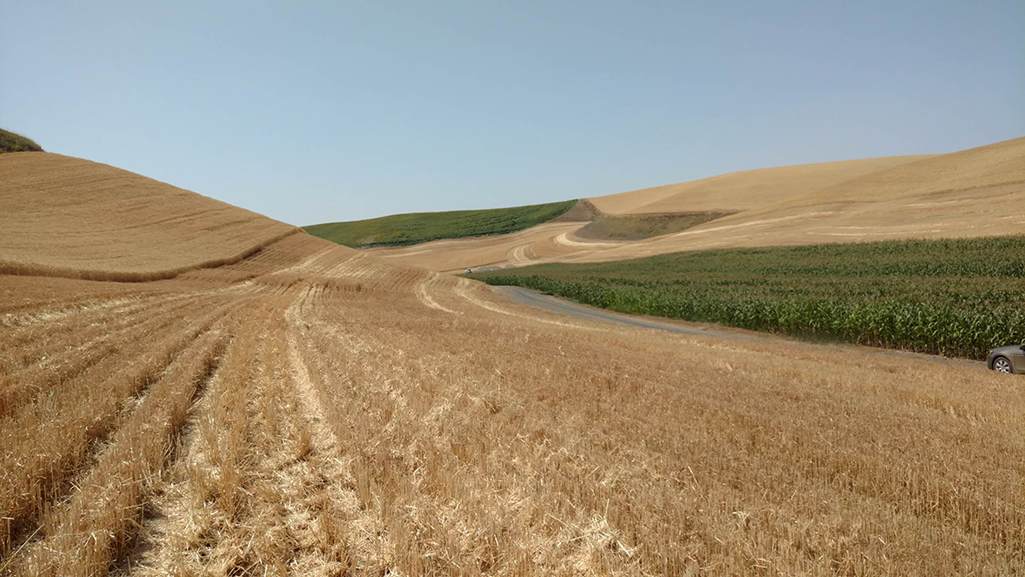 7
Yes Sir. We are in Nebraska….that is oil seed Sunflowers up there on that steep slope. Looks like they did it with a planter. That really is the best way to raise sunflowers is with a planter on 20 inch or 30 inch.
I know we are not in Kansas. However there are some areas of Kansas that they need a hillside combine over by the Missouri River.
Really how could anybody farm this land?
This is a little Switzerland. They must be of Swiss Origin. You must be physically strong and able since you are climbing and falling all the time. You Must be born into it.
Some of the drop offs are dangerous and for sure unbelievable that they did farm almost all of it at one time with horses. The giveaway is there are no cow trails on the steep ground that is retired.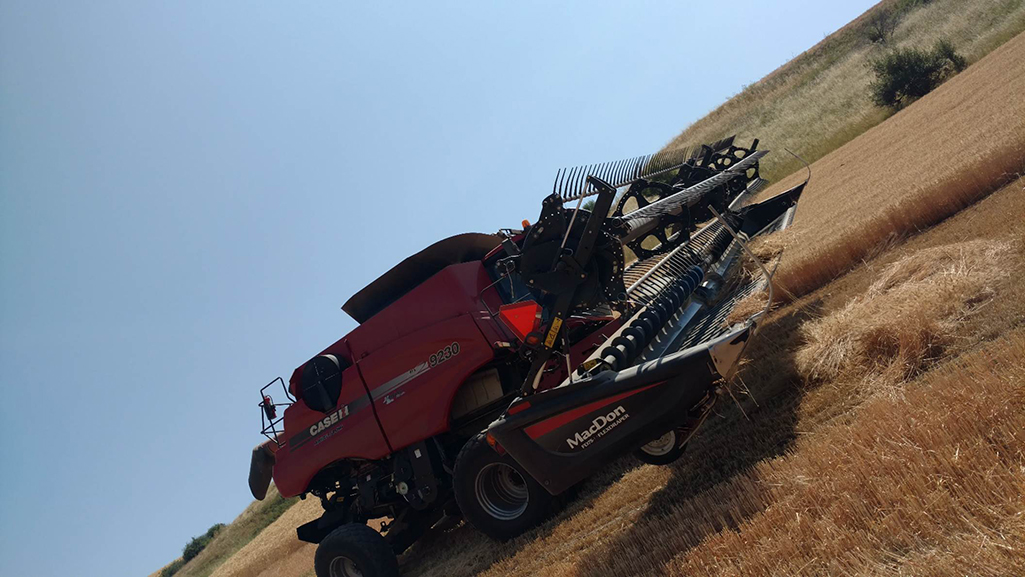 8
Here is a story you won't believe. The Triple Black Diamond of Agriculture.
Horses farmed it all.
Remember this combine only levels to 27% or about 15 degrees. This new design is a leveling tractor and not a walking beam design capable of 47% or double rack, pull type design of 65%.
Cat tractors with full leveling pull combines operated with the draper header up the hill. The Caterpillar pulled Caterpillar 36A combine could access the really steep ground because of the header.
You can see the old tillage line where a non-native grass has been seeded. That really steep land was farmed for wheat production.
The pull type combine like the Caterpillar 36A combine header 16.5 and 20 feet in width, had a cantilever load on the main thresher frame and leveling wheels with dual leveling racks. This allowed level harvesting at 65% slope angle.
For short bursts in big coves the operator and combine jockey may have harvested compound slope angles right to 80% (39 degrees). The angle of repose is typically 33 degrees or about 65%.
A 50% slope is 26.2 degrees. A 100% slope angle is 45 degrees.
A pile of wheat is 27 degrees. A pile of sand is 34 degrees.
When farming all three sides of the hill or 3 times the land surface area results in about 720 surface acres in a section of 1 mile by 1 mile. There is 10 per cent to 15 percent more land to farm.
Now for the final calculation for us humans. You must square the number 3…..you end with 9 times the physical and impressionable (memory) impact of farming steep land as compared to level land.
Times have changed with the self-propelled combines.
They can level about 47% like the 1470. So the producers had to give the really steep land back to mother nature as grass and trees, maybe even fruit trees.
That class 9 combine is built right here in Nebraska.
I think the 9230 is going to roll over even with a 27% leveling system.
They never told me about this Sandhills farm area when I went to University of Nebraska.
A class 9, is a monster machine with a 45 foot header….built right here in Grand Island, Nebraska….along with the New Holland Twin Rotor.
https://www.youtube.com/watch?v=dyYbpW4Unn0 A blast from the past.

9
That is a "Monster". Is that man a midget?
Where do they get the money from a Sandhills Farm to buy these $650,000 machines?
The yields must be phenomenal.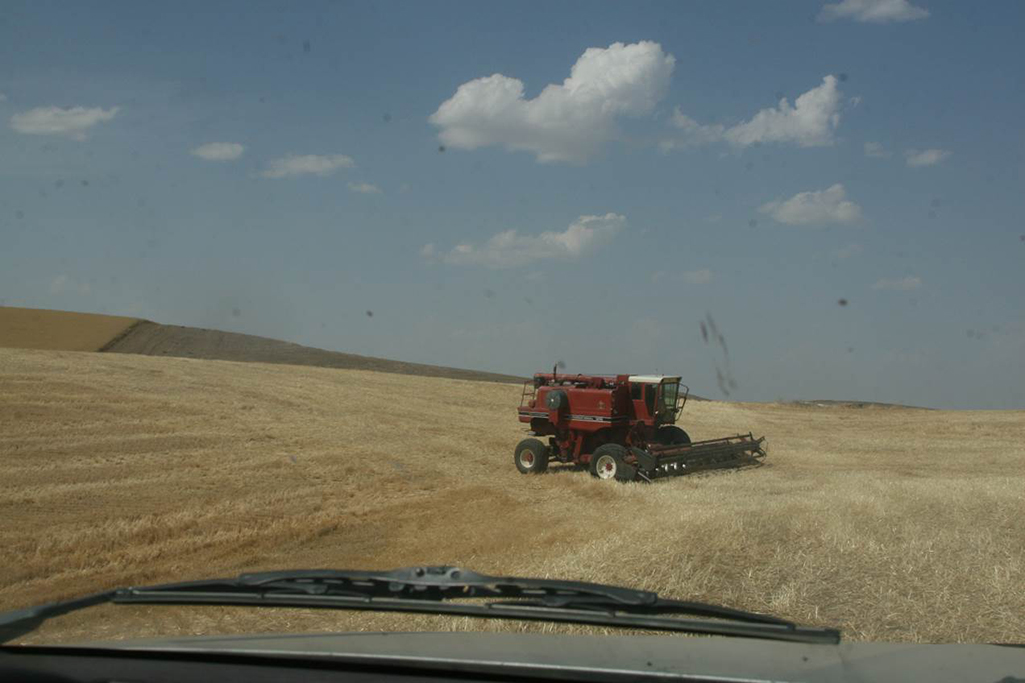 10
There is the King…..the International Rotary 1470, Four Wheel Drive, Leveling to 47% on the walking beam radial arm axles…the full power axle in the back levels to 65% in scissors action.
About 700 plus, 1470's were built by R.A Hanson Co for International and yours truly as the project manager. Built the first one in 90 days. The Yielder Drill traces its roots right back to the 1470.
Len Waiter was lead engineer along with the genius of Bob Bird who nailed the rear power axle in a Sunday design session using hunt and peck and Monte Carlo design process.
The brakes are dead stop on all slope angles. The balance is superior for climbing and going down very steep land. Before your very eyes this machine is safe as it defies gravity.
This machine replaced 2 to 3 combines in one deal. In fact it brought on a whole new era in farming with the Yielder Drill.
The No-tillage Era of the 70's and 80's was kicked off by this machine.
Even though the 1470 was built in 1981….this machine will rule the roost for many years to come. It is the safest combine built and able to access much steeper ground than the Class 9 combine.
The machine is fully updated with all the technical advancements of the last 40 years.
There is another King,
A slightly above average Nebraska Corn Famer….with Sunflowers in the steep slope background? America's Number 1 No-till Farmer….Nobody does it better.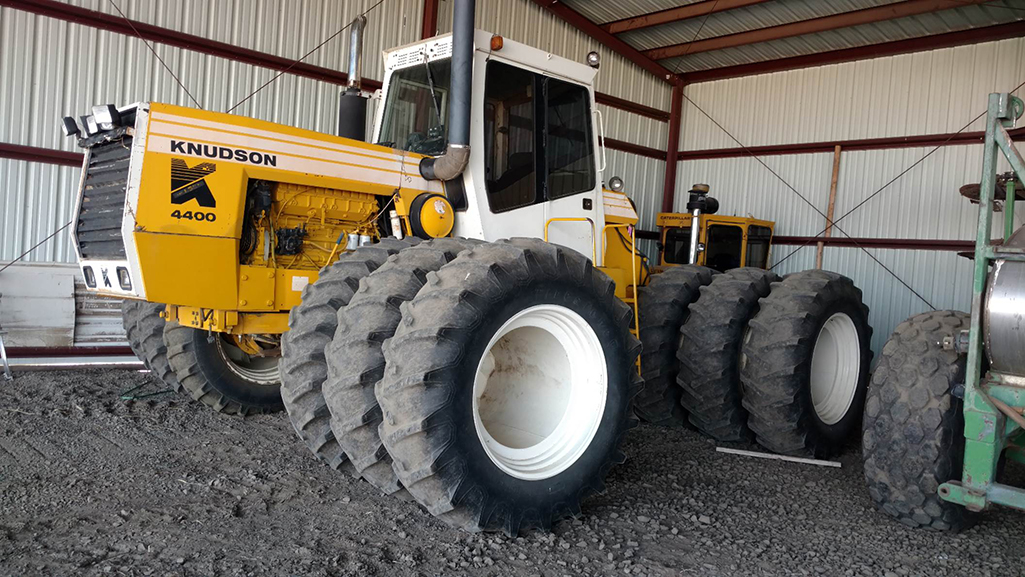 12
From the early 80's. Triples with Cat Components.
Hey guess what?... a "Leveling Knudson Wheel Tractor" built right here in Nebraska. That is a very rare tractor.
Built with Caterpillar power train components and a 400 horsepower, aftercooled Cummins engine. They were popular where slopes were steep.
The Knudson "goes where no man has gone before." Keeps the weight balanced between the wheels.
Evel Knievel always said, "If he was a farmer he would have this tractor on his farm."
A fancy cab is always required.
Another tractor in better than new condition is just visible.
That 9U D-6 Caterpillar Tractor, barely visible in the back, is from the early 60's.
The engine set up new from the factory is 235 to 250 horsepower as a stocker with 35% torque rise.
But a fueling event has taken place and a low speed droop, an electric set governor spring is installed….these are "On farm Racing Tractors" and are a lot of fun and powerful.
The Cat 9U, D-6 is a "Hot Rod" with a Caterpillar 1673B truck engine. Climb on board, you can't hurt it, it has a "Wet Deck" in the steering clutches.
They run the Cat Engine 1673B by the Pyrometer….If the exhaust temperature gets up to 1200 degrees F…..the operator will back out of the load.
This engines run like a marine diesel application….Maximum horsepower for a very short period of time.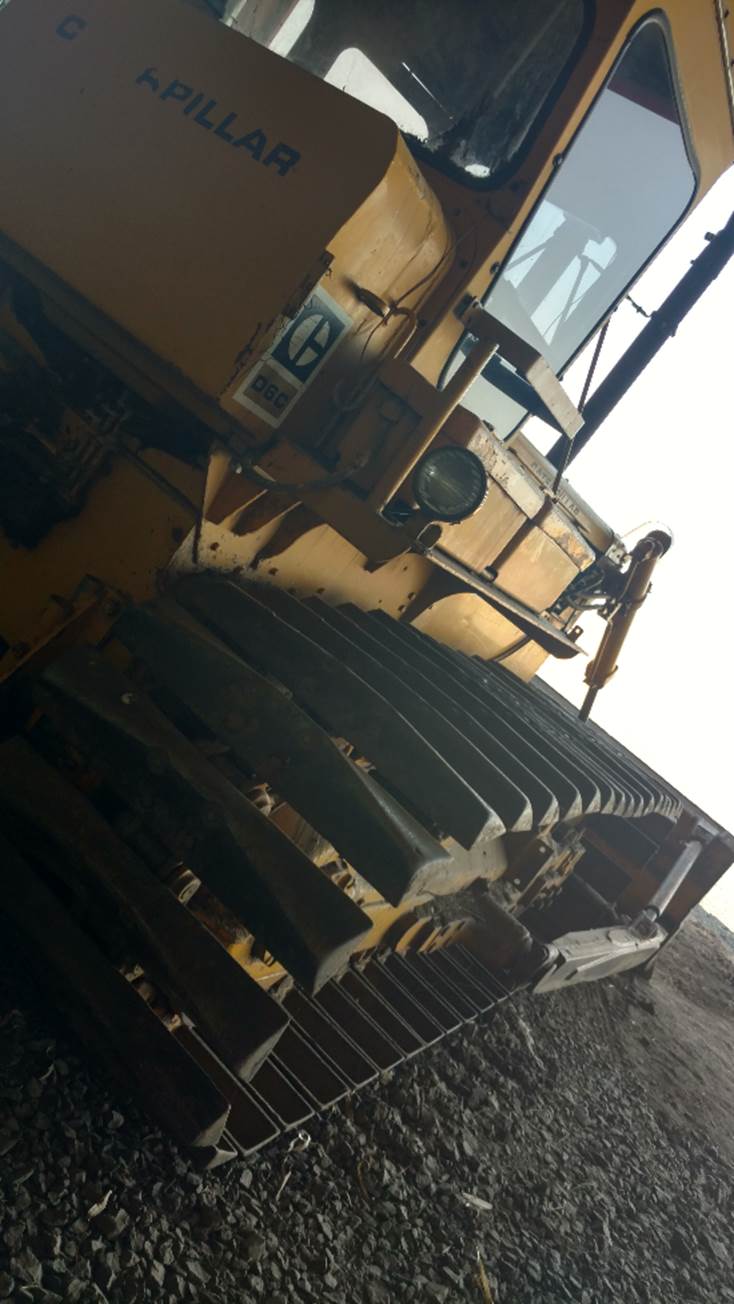 13
Here is the big brother….A D6C with swamp pads….built in Japan by Caterpillar.
You never knew how important a high quality tractor was when the D6C SA, 17R series was introduced. It was developed in the 1970's with double reduction finals.
A "Swamper " has a 90D serial number. A high water mark for PNW and California farmers in 1976.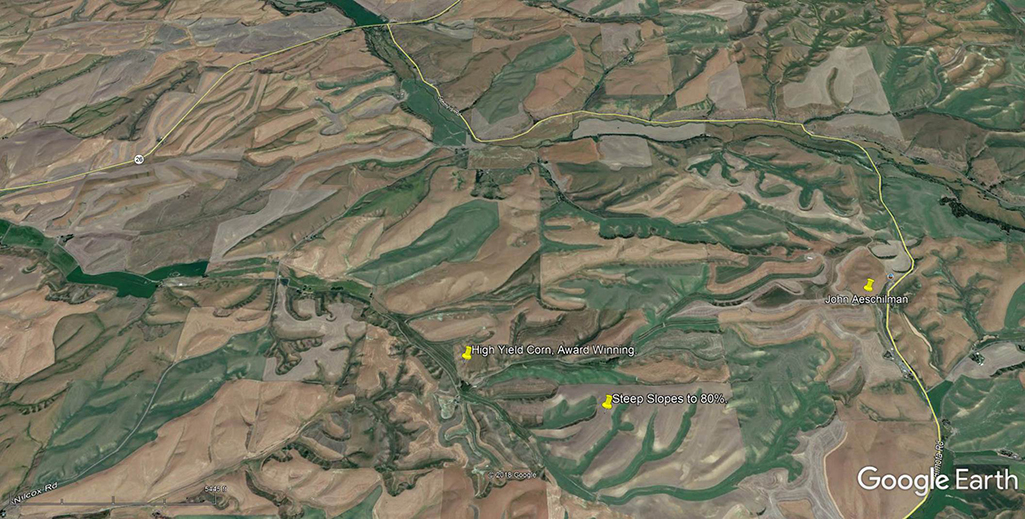 14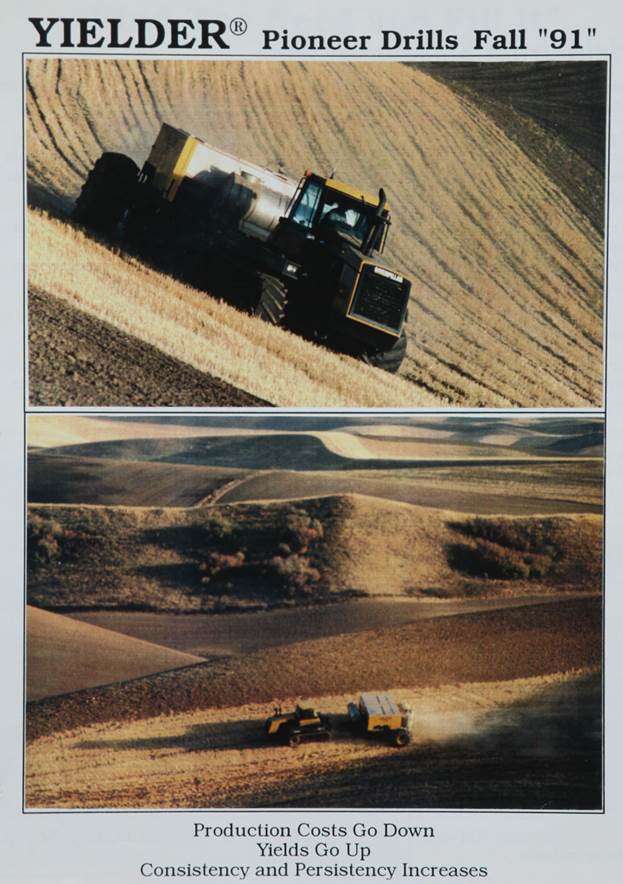 15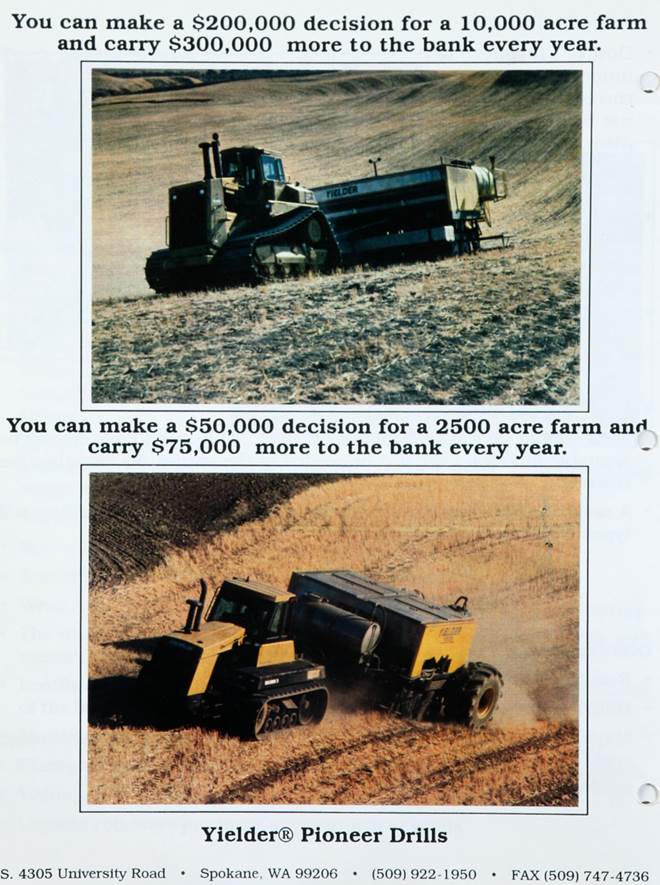 16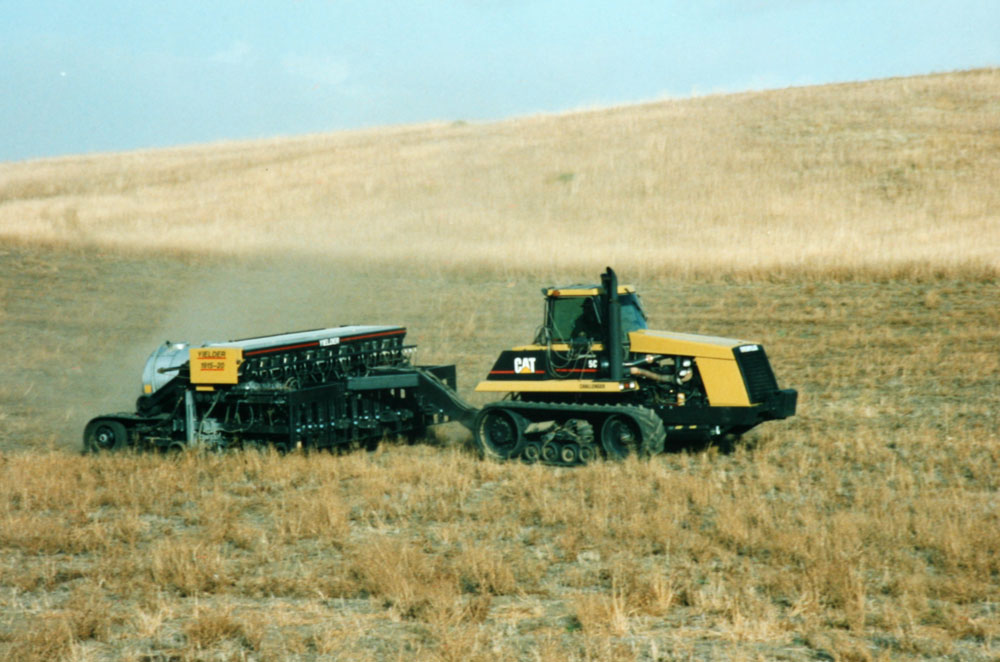 17
Farming on tracks in the 90's.
---
OK….you guessed it we are not in Nebraska.
This is John Aeschilman National Award Winner in No-tillage Farming. A Legend in No-tillage as per Frank Lessiter's No-till farming committee.
Owner of several Yielder® Drills over his career.
You have a chance to spend a day with John as we got John to give the reins to son Cory on the big Case combine.
John and Guy did a tour of the land and the expanding and developing history of No-till. The subject was well discussed.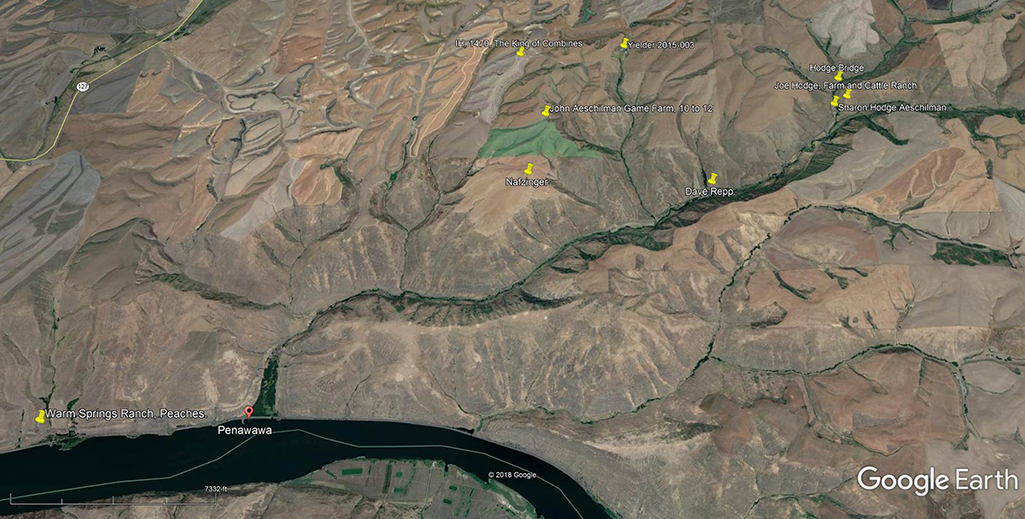 18
The United States Army….the Corps of Engineers of Walla Walla, The engineers built these four dams of the Snake River and improved the local economy by Billions fo Dollars.
Furhtermore the fish still run the drainage at full length to Redfish Lake because farmers are paying attention to the where the water is going.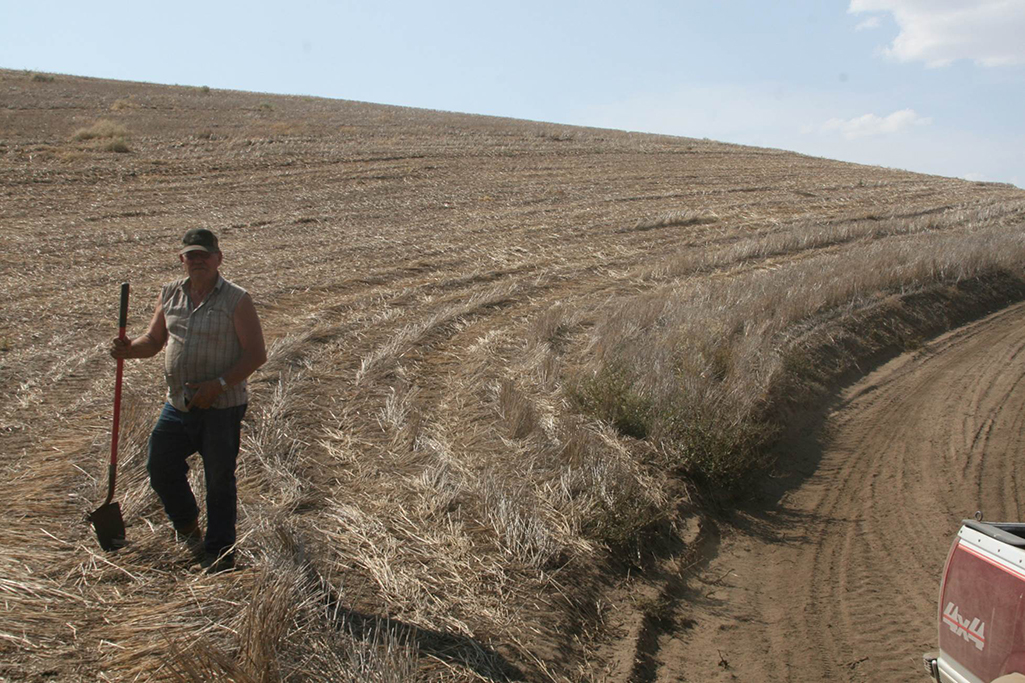 19
Moisture-matic, Aeschilman Chemfallow with a Duff Layer at 100 degrees F. You can save every inch, just follow John. The OM is the secret. Check out the adjoining access road with no OM on top.
Dr. Moisture…John moved his farm to an 18 inch rainfall from the old fashioned approaches of the 10 to 12 inch rainfall.
He stores all the moisture and beats his black summer fallow neighbors which are fewer and fewer.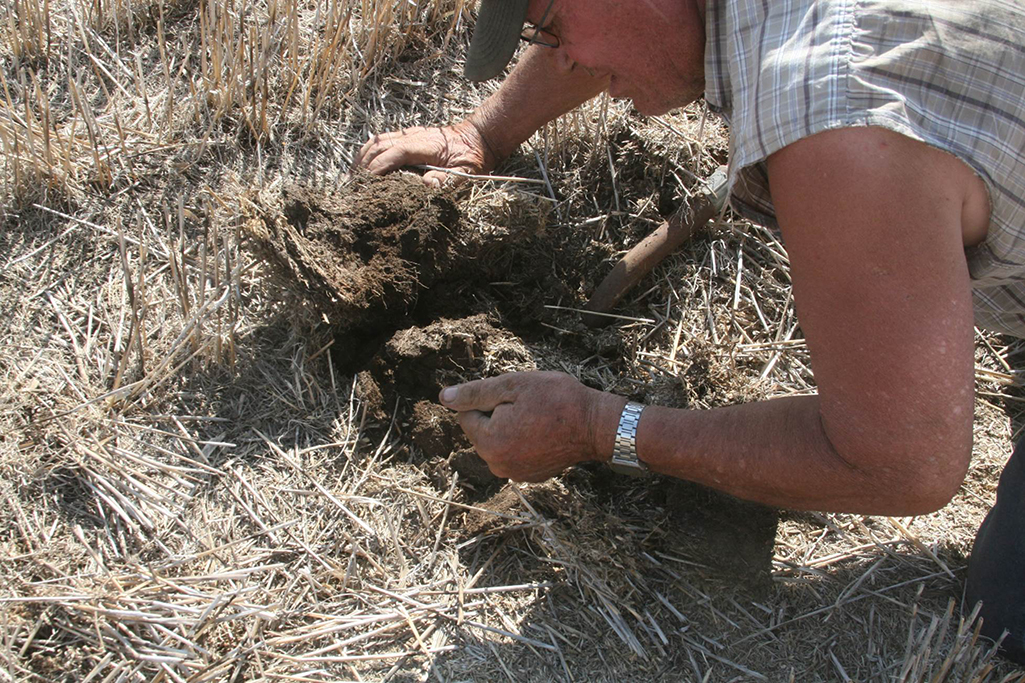 20
Look at the Soil Life and the Duff Layer holding moisture to the top.
On Safari….with Chemfallow in the foreground and the Aeschilman Game Preserve coming up.
We are close to the Snake River.
In 60 days…there will be paired rows of Winter Wheat in 1 to 2 leaves on the land developing deep root systems using fertilizer placement.
Never is fertilizer top dressed this close to the Snake River. This requires skill and VRT-Site Specific Technology. No airplanes here flying on spring fertilizer. It is not required in No-till fertilizer placement and Exactrix TAPPS formulation.
Ask Eric Odberg another Award Winning young manager of No-till at Genesee, Idaho. No airplanes, no top dressing, feed the crop and don't poison the fish.
Good moisture for seeding on a hot July day at close to 100 degrees F.
Winter Canola will require SRS at 100 gallons to the acre in the row on 20 inch centers.
This is quite a day for No-till. John's career is moving ahead with his son Cory and now Ben doing the books in three generations on the job.
The duff layer is holding the moisture right to the top in a 10 to 12 inch rainfall.
This was considered an impossible feat by University people at Ritzville, Washington.
You cannot Chemfallow in this low rainfall. You can and we are letting the producers prove it.
The moisture line will not be there for winter wheat to emerge timely. That was the old fashioned thinking.
Now SRS can be used for Winter Canola.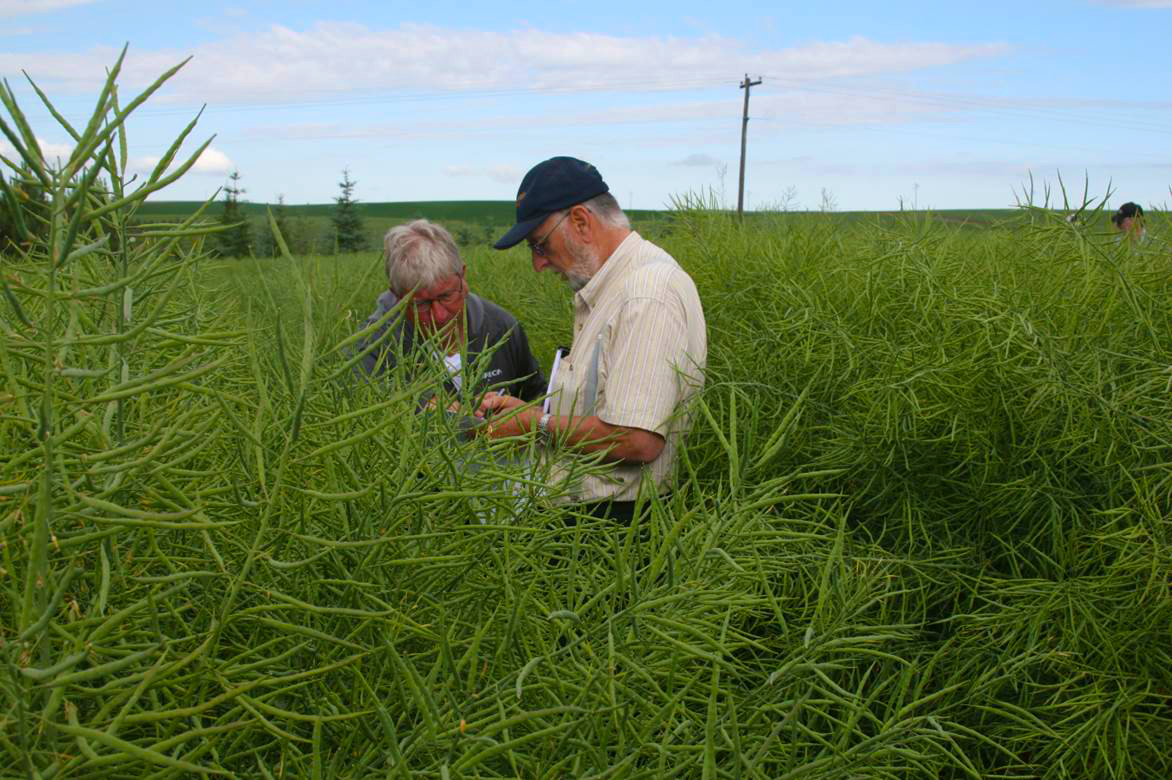 21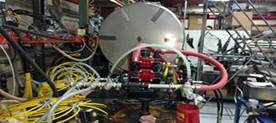 22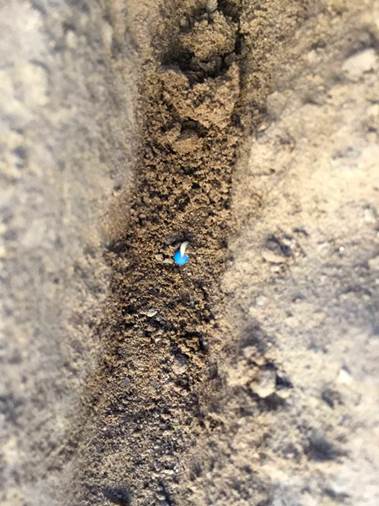 23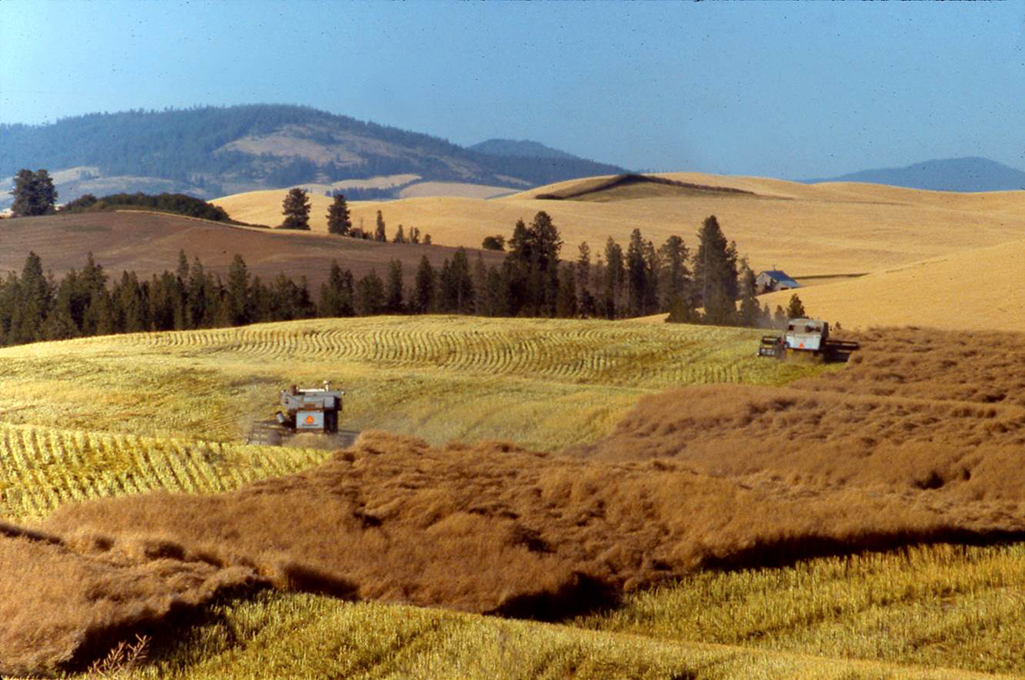 24
Why Winter Canola?
Deep Roots and Fumigation and it makes more money than wheat in this rainfall.
Soil physics is the secret.
http://exactrix.com/Broadcast_05_21_2018.html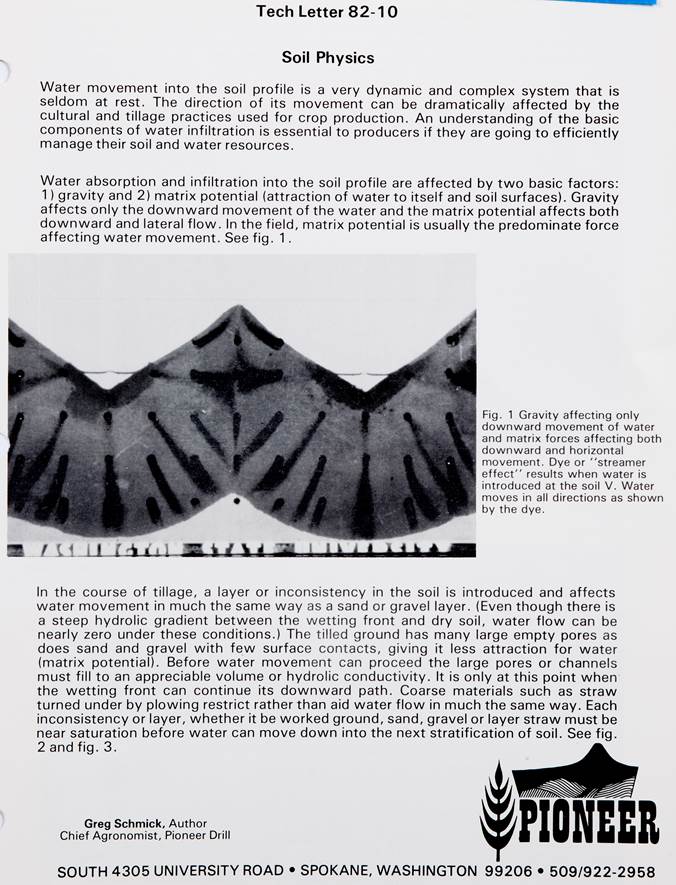 25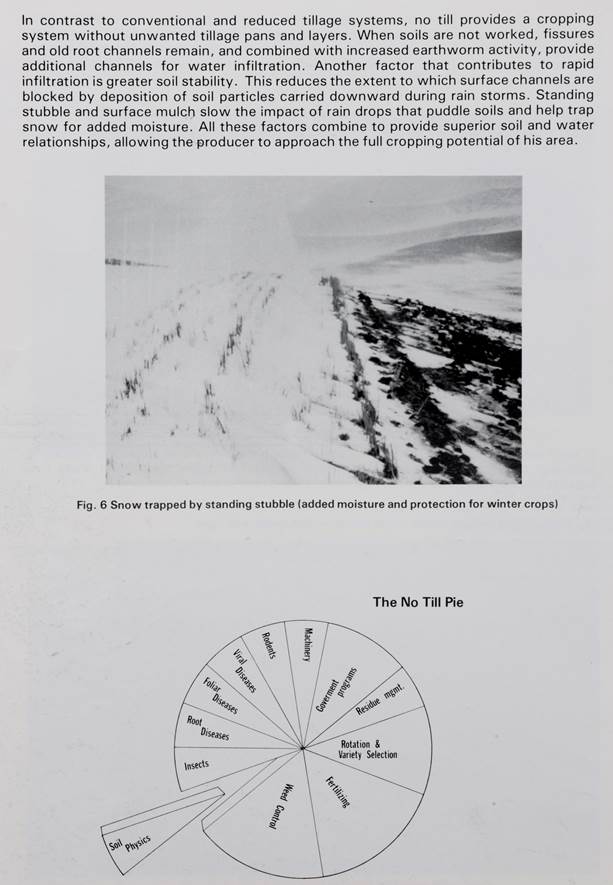 26
http://exactrix.com/yielder.htm More News about Soil Physics and Nutrient Management.

27
A good look at the Chemfallow field. Cover crops are the last thing you want to consider. The secret is the Rotation. Winter Cropping With Winter Canola and Winter Wheat….yet spring Canola works pretty good also.
Chemfallow is used on about 20% of the rotation in this rainfall. This field was 150 acres. The soils are deep. Winter Wheat and Winter Canola can root down to 9 feet in the soil profile.
The power of Chemfallow with 10 to 12 inches of moisture over 2 years means 100 plus bushel wheat will follow. Winter Canola is the clean-up crop and make a lot of money at $9.00 to $11.00 per bushel.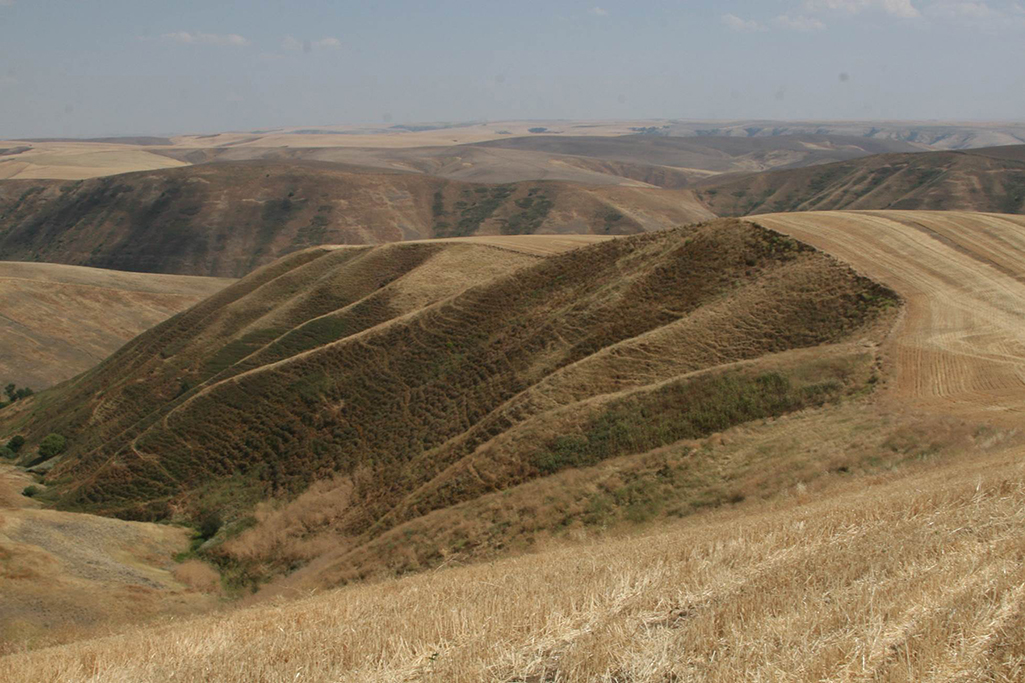 28
A Fresh harvest scene for winter wheat and for Trophy Mule Deer Game.
The scene is close to Snake River and the trails are not cattle trails…..those are game trails on the 80% slope angle and moisture storing, north facing slopes.
We are within 2 to 3 miles of the Snake River Canyon the reservoir of the Little Goose Dam. Pennewawa on the Snake River is directly 2.5 miles to the south at 630 feet above sea level. This field is at 1,900 feet.
For Sure, The land is too steep to farm safely. But it is farmed for Mule Deer and White Tail Deer. That is a hunting preserve for the Seattle wealthy hunters.
A 30-06 with a scope brings out six big bucks in about 1 day of hunting.
That is a lot of meat if it is Mule Deer.
You are going to need a bigger pickup truck and a much better winch to skid out the "big Muleeee".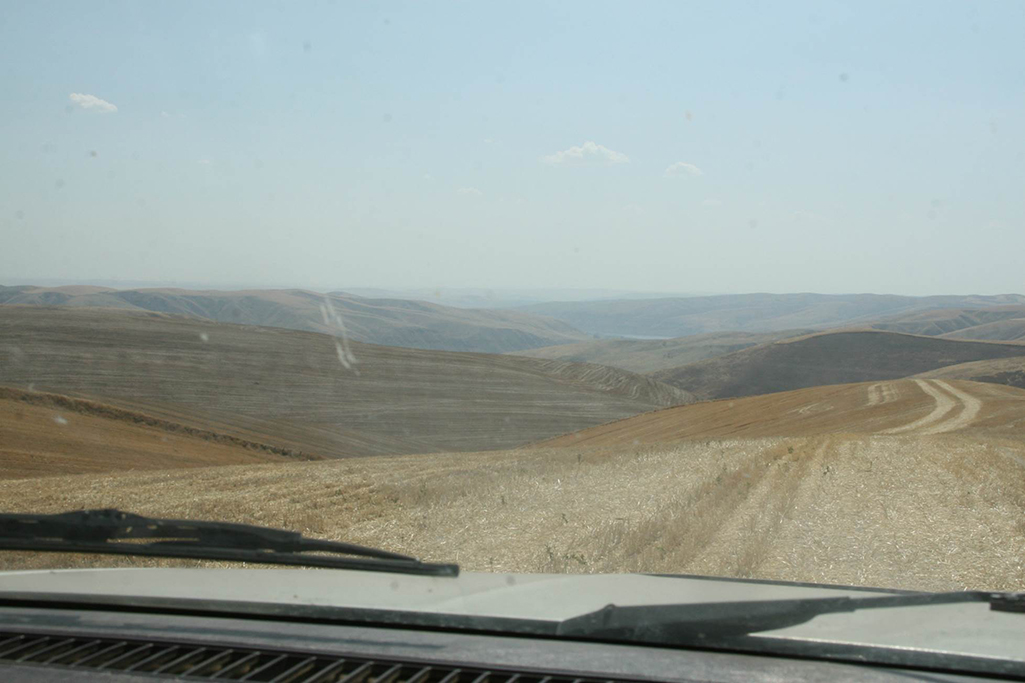 29
"Hey John, Stop the pickup, That is the Snake River! Yes Sir, The Snake River"….all the way from the Tetons and Yellowstone conjoining with the Columbia River from the Columbia Ice field in British Columbia. Joining up at Pasco and headed for Portland and the Pacific.
Clean Idaho Water full of Salmon and Steelhead. Our No-tillage Mormon Brothers at Idaho Falls, Idaho and The Ririe Bench (95% No-tillage) directly along the Snake. These high elevation producers keep this water clean and clear.
At the Camas Prairie our best farmers are No-tillers and the No-till farmers. They keep it clean along the Snake and Clearwater….and the Salmon River also.
At Genesee, Idaho and Kendrick, Idaho, Along the Clearwater River at Catholic Canyon the water is clean and clear and devoid of commercial fertilizer thanks to No-till and Exactrix TAPPS.
Some of the Sockeye swim 800 plus miles to Redfish Lake in Sawtooth range of Idaho at 6,200 feet above sea level…the spend their life out close to billionaires in Sun Valley.
This means about 1,200 feet down from here and south 2.5 miles we can go water skiing like I used to do when I was a boy with Dave Repp, Warren Horton and Connie.
That water skiing trip was back in the 60's when the river was free flowing.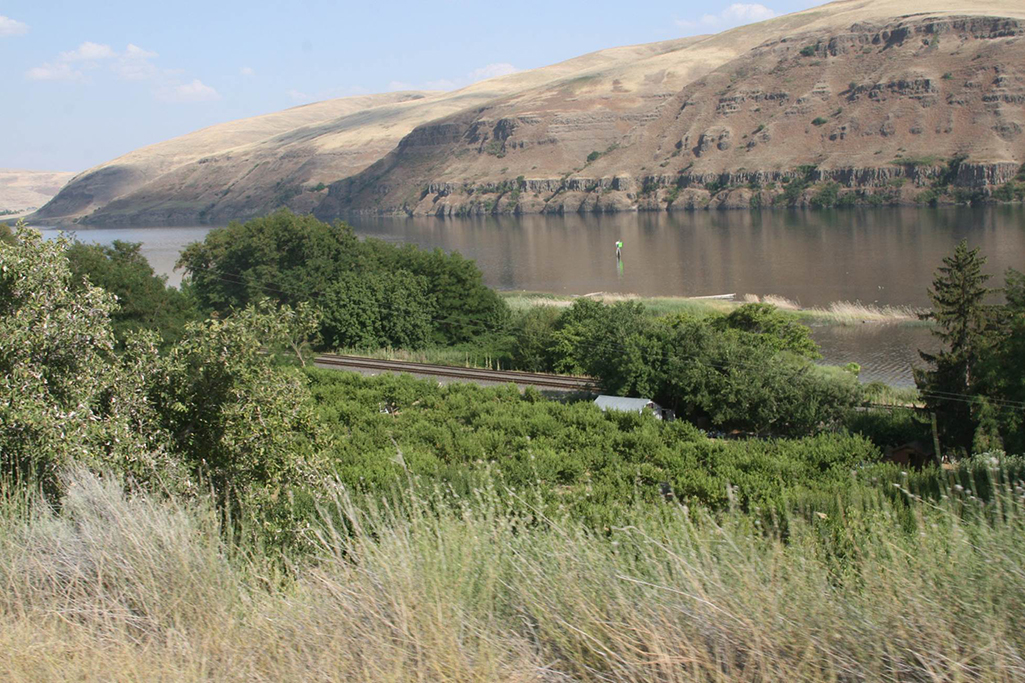 30
Warm Springs at Pennewawa.
This is the Peach Capital of Whitman County, Washington.
Water Skiing in a 10 inch rainfall and always warm. This is the best water skiing in North America.
You can go for 50 miles on smooth as glass water. Nobody is there.
That is the Union Pacific that runs to Lewiston, Idaho and the railroad used to go all the way to end of the world at Grangeville, Idaho.
In the Teddy Roosevelt era, 1903 to 1910 the railroads were many and extreme. Mountain logging railroads and big timber companies supported the railroads.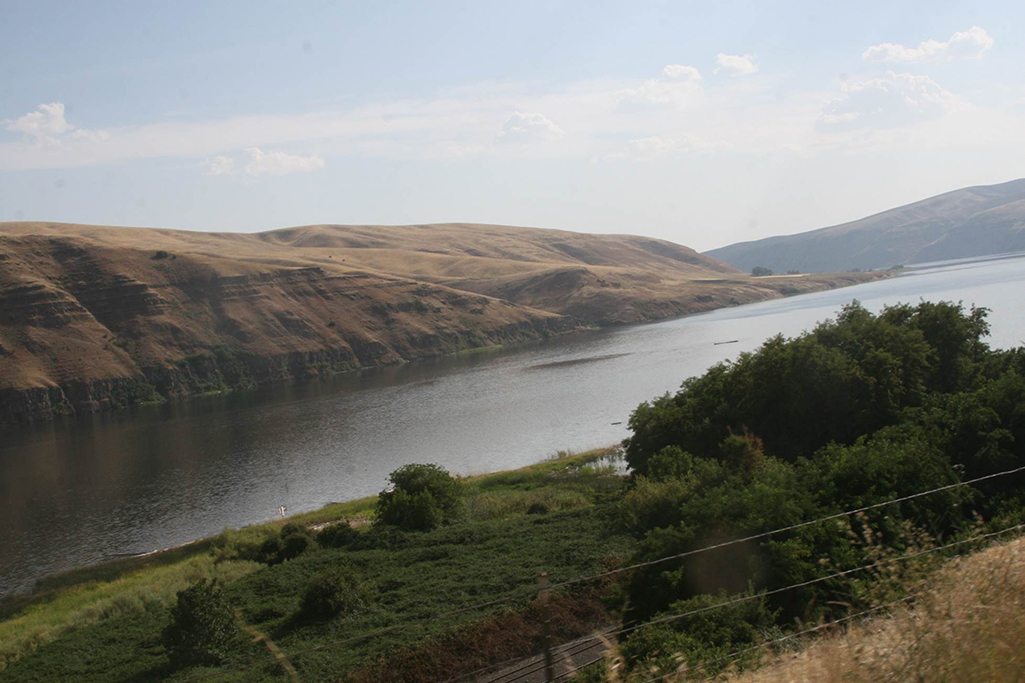 31
---
A tractor pull with no sled on Steiger Road.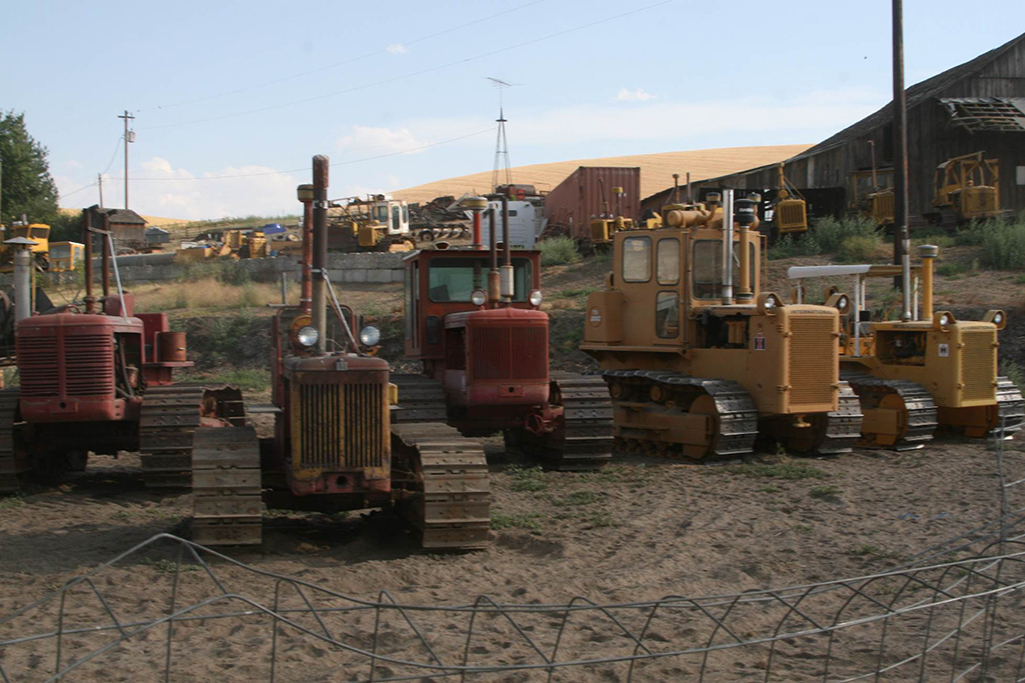 32
International Harvester on display this year….Next year Caterpillar Tractor Co. …..Next year Allis Chalmers. Next Year Cletrac.
Buy your plane tickets and come on the Peach Tour of No-till in Whitman County, Washington.
Make sure your realize all these tractors run.
Some have operating air conditioners.
You may want to talk trade.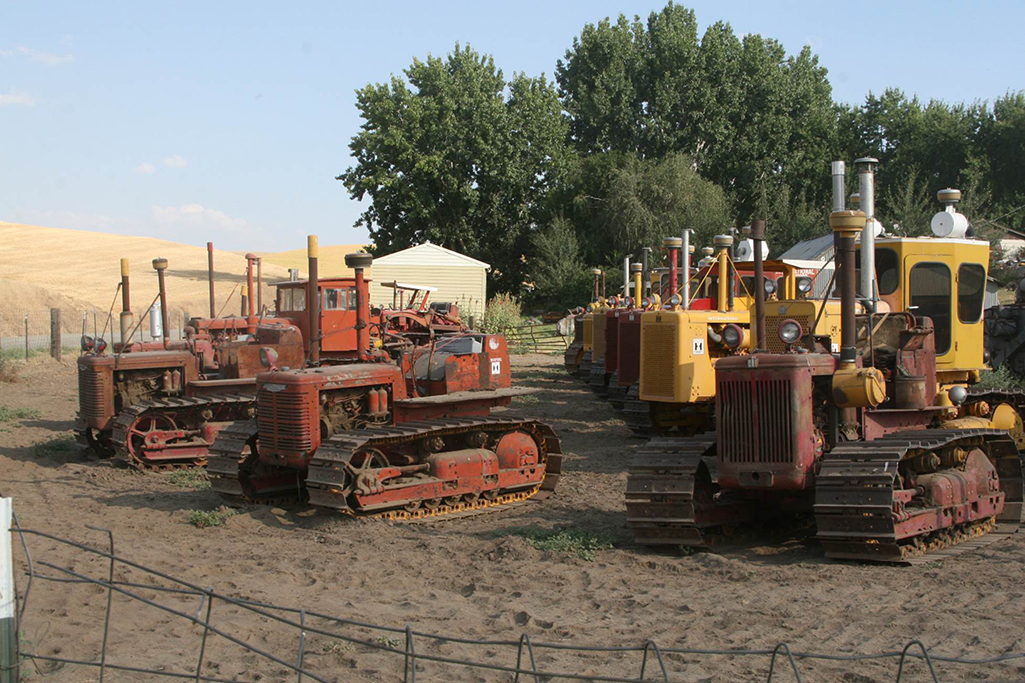 33
Some of these tractors helped win World War 2.
The Sleeping Giant, The USA.
American Farmers sons helped win the war with boys to men.
They came back to these tractors in the fall of 1945 and glad to see their family again.

Your Great Plains Reporter,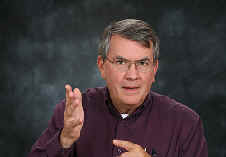 Guy Swanson.