"So why not just buy an advanced Exactrix system and save another $150 to $300 per acre in nutrient costs….
Plus the yield improvement benefits using high quality TAPPS?"
High Speed Banding (Mustang) costs about $15 to $20 more per acre than top dressed N and pivot applied N….Banding is a precision technique with timing and with VR site specific. Banding TAPPS and TAPPKTS can take just a little more time and uses only the best primary nutrients.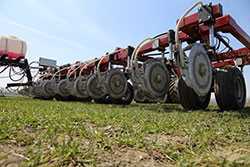 Raise your application costs by $20 per acre and get a drought insurance policy of root pattern geometry and access to powerful TAPPS or TAPPKTS. Typically TAPPS and TAPPKTS produces another $150 per acre and up to $300 per acre under center pivot production…After all crops need balanced nutrients of NPK and S in the root zone….not just N.
Liquid Streaming Flows under high pressure make the difference in crop availability. Mustang openers band deep at 6 inch depths and greater in moist soil conditions.
Triple Super Ammonization, Crystalline TAPPS has Nitrogen Stability of KTS and ATS with crop available nutrients in wet or dry conditions. Maintain the critical positive charge in the band with Hydra Hume.

Elkhart Coop, Aug. 2, 13 At Smith Center, KS
A fill-up of an 18,000 gallon tank in July for NH3 was priced at $560 per ton with farm storage.
In Western Kansas…Hugoton, Elkhart, Plains, Mead, Dodge City. The price spread for N is about 142% more for urea.
The price spread for N is about 173% more for 32-0-0 or 28-0-0.
The spread can only increase between NH3, Urea and Solution 32…with NH3 leading the drop in N pricing…producers will fall band N as NH3 with confidence the price is right…Whereby nobody knows what the price will be for Urea.
"NH3 price should drop to 28 cents to 32 cents by November. NH3 pricing should level out at $450 to $500 per ton"….The great sage.
What about Phosphate?….11-52-0 or Dry P is 54 cents…APP is 88 cents. APP, 10-34-0 would need to be $1.08 per lb. to allow 11-52-0 to compete for the banded nutrient P in [ Exactrix Uniform and crystallized TAPPS. (Considering 200% higher efficiency of TAPPS)
APP , 10-34-0 pricing is expected to drop about 25% by November to February.
Potash pricing has collapsed about 25% in the world market during July as cartels breakup and more ammonia plants go on line.
By 2016 to 2017…NH3 will be an produced on a cost plus basis with strong local competition in Kansas, Nebraska, North Dakota, and Texas. Similar to the years previous to Farmland collapse…More competition for the farmers inputs is apparent.
Offshore investment in new US Ammonia Plants is strong in Iowa, Illinois and Louisiana. CHS also moving ahead at Jamestown, ND. Stranded Natural Gas is the business opportunity.