Malting Barley. Potash market may not stabilize until 2014 - Acron
http://www.agrimoney.com/news/potash-market-may-not-stabilise-until-2014---acron--6188.html
Potash still weak. More investment coming. Market strength for beans is showing up…...
Weather has settled down on the Great Plains and Corn/Soy rotation...no big moisture fronts...a very critical period for soybeans. August is the big month...need more moisture quick to make top yields in Soybeans.
Canola producers brace for the big crop. Peace River, The Brazil of North has a good crop. Time to buy land in the Peace…500,000 more acres this year way north at Lacrete.
Malting Barley is coming on strong at Genesee, Idaho...Mader made a big inroad with Exactrix TAPPS VRT with top yields , low protein, and 53 pound test weight. Made 2.8 to 3 ton at $250 per ton. High variable land with some shallow soil areas just above the Lewiston Idaho Sea Route Terminal…The out-cliffs of Cow Creek with 2 feet of top soil to 10 feet of good soil. Also a dry year.
See Dan Mader Harvesting at Genesee, ID 2013
See Eric Odberg Harvesting Near Moscow, ID 2013
Exactrix TAPPS was applied in 4 zones, VRT using Sat Shot.... the top rate of 60 pounds N and low of 30 pounds N with 1% application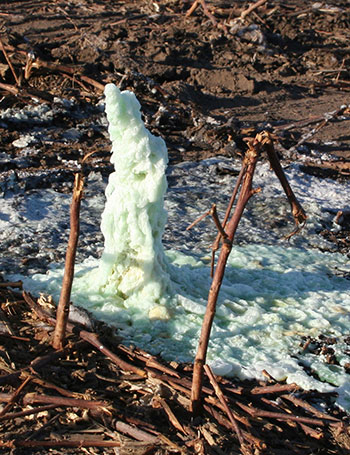 uniformity of Exactrix Direct Injection TAPPS and TAPPKTS......looks very good for Malting Barley Industry. Sub 11.5% protein…will have information in September at Husker Harvest Days….Video coming.
Dan Mader is pretty pro on Exactrix Tech....would like more data on P and S in VRT. Hydra Hume is next trial in VRT and Sparging Reflow Blending.
The most variable soils in the world are Palouse Loess Soils of The Cascade Volcanoes…these soils can yield the highest with Exactrix VRT ….about 15% to 20% higher yielding with Exactrix VRT.
Oxen Trades for F-800...Bull Whackers, Cheap Power.
Top Dressing approach..…now you know how the first weeds were dispersed from Europe…The Russian Thistle, Kochia, Cheat Grass. Etc.
Similar to the Dry Route of the Cimarron at Wagon Springs park on the Santa Fe Trail.
10 pair of Oxen. 1937, Australia.
What is an Oxen? A full grown bull that has been castrated….that must have been fun.