Husker Harvest Days Countdown
"Change Your Fertilizer Production System To Exactrix TAPPS", Top Yields at Lowest Cost in Irrigated Corn, Beans, Wheat and Cotton. Husker Harvest Days.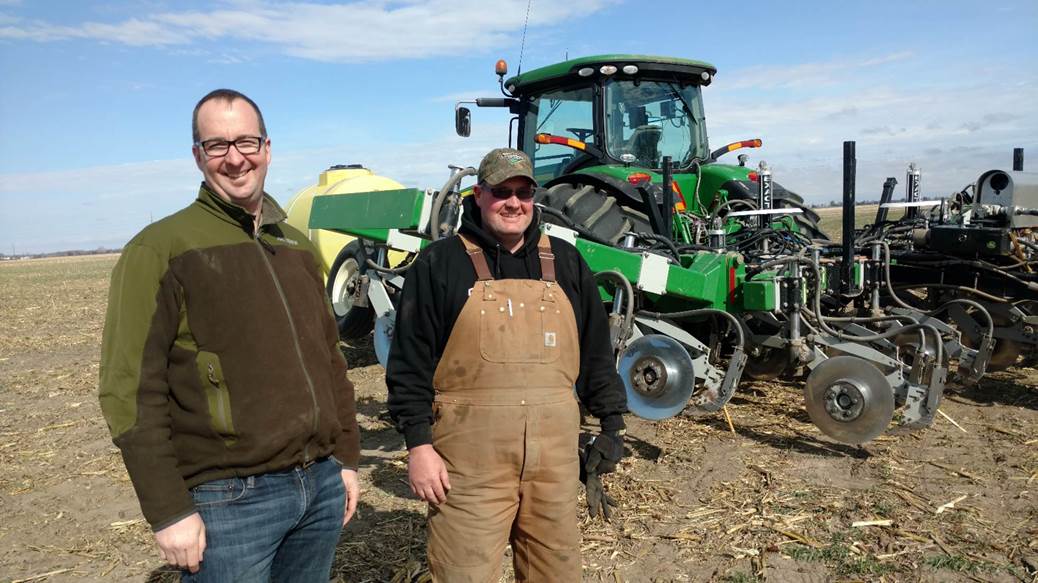 Going No-Till On The Great Plains, On September 12, 13 and 14th we meet in the neighborhood of Grand Island, NE.

Husker Harvest Days. Gangwish Seed Farms, Breeders of Channel, Exactrix TAPPS with TC Bars.

Click for news….Get the Drone view of Husker Harvest Territory.

https://vimeo.com/bandbvideo/review/162609745/b8a4c47ab2

Exactrix, Display 642, on Sixth Street, Directly North of Morton Buildings.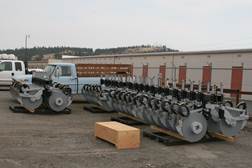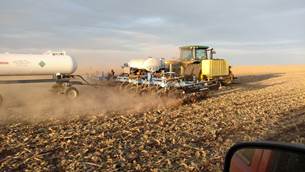 Exactrix will display 8 new products and all featuring a powerful technical advantage in your irrigated production system.

The most powerful economic fertilizer management system in irrigated crop production across the Ogallala Aquifer is Exactrix.

The margin is close and it is about the money with time proven TAPPS…. 150 more Net Income dollars per acre in corn production.

Exactrix Global Systems has changed the highly uniform metering and machinery offerings to hit the 300 bushel per acre mark.

New Exactrix Mustang crop production systems are allowing yields to go to 300 bushel per acre range with $64.00 of nutrient investment.

In VRT Site Specific,
Exactrix sets the mark in 2016 at .585 pounds of N per bushel produced in the 275 to 325 bushel per acre range.

In 2017 indications are higher yet on the southern Ogallala aquifer.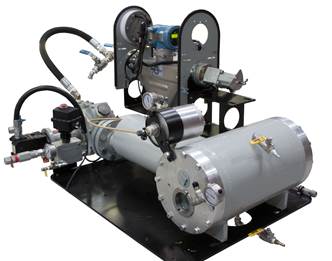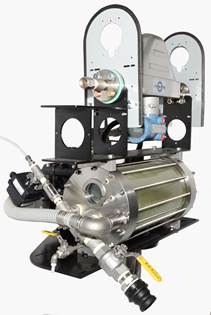 Sign Up now for a special presentation

Give us your time of arrival and we will dedicate Exactrix owners that you can talk with:
E-Mail us at exactrix@exactrix.com
Let us know the day and approximate time and your cell #. You can also call us at 509 535 9925.

You can talk with scientists, owners and Exactrix Technicians. Location is Sixth Street, 642, North of Morton Buildings.

Exactrix owners with 3 to 18 years of Exactrix ownership in Nebraska, Kansas, Colorado also receive a special compensation package from Exactrix.

Husker Harvest Days Presentations, Exactrix Global Systems.

Exactrix 4015 and 4515, TC Positive Down Pressure Bars Engineered for 30,000 lb. loads in 40 to 45 foot widths.

Designed specifically for Exactrix Mustang P-51C and P-51CUE openers.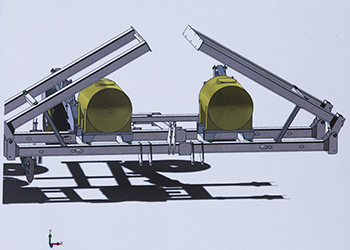 Double strength for 12 mph, high speed 8 inch deep banding.

Ideal for big acre wheat producers at 12 mph, 7 x 7 Construction with an 8 row center.

Able to handle and an opener every 12 inches and penetrate to 8 inch depth.

Weight transfers from the center section.

In frame hydraulic cylinders do not interfere with opener mounts and this allows spacing from 12 inch, 15 inch, 20 inch and 30 inch.

Double ranked for tool bar strength at 12 mph operating speeds and superior residue flow.

Double ranking also allows weight to transfer evenly to Mustang 24 inch and 26 inch diameter openers at high speed.

The front rank gives and takes the weight of the rear rank improving penetration.
High frame height for service and opener clearance in transport. Up to 60 inches at the top of the frame.

The disc blades of the Mustang openers are set at 24 inches above the ground line and travel and engage to deep banding depths of 8 inches.

The Mustang Openers are also easily inspected for a quick delivery inspection or an orifice check.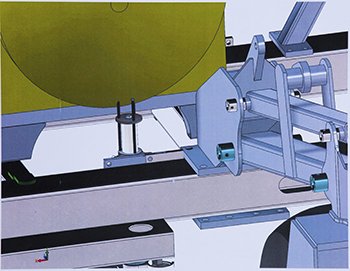 Powerful lift assist tandems handle 15,000 lbs. with a 360 degree rotation.

The heavy duty tandems oscillate independently and share oil pressure and flow in dips and over terraces.

Front depth wheels assure oscillation of the tractor 2 point oscillation setting allowing weight to transfer evenly to the wings.

The outside wings maintain opener down pressure with leading and adjustable depth wheels.

The oscillating tandems produce a true polar center of gravity for additional safety and high speed performance.

The center section of the frame never point loads on the frame corners keeping the Polar center of gravity exact.

The 14 ply, 30 mph rated, lift assist tires do not overload with a constantly adjusted Polar CG. Each 16.5 x 16.1 (6,400 lb. rating) tandem tire receives equal down pressure. Just like a hillside combine, each tire is evenly loaded and leveled into the slope.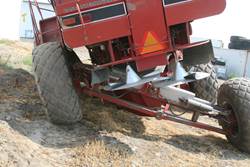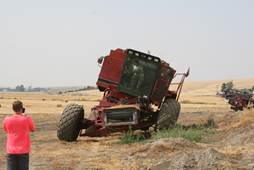 The 45 foot, 4515 model has the larger and optional 21.5 x 16.1 SL, 18 ply, (8,800 lb. rating) tandem tire allowing 17,600 lbs. of total load carrying at 44 psi at 30 mph.

The TC center section transfers load via pressure compensated wing cylinders. The pressure setting is adjustable based on soil type, number of openers, and ground speed to 12 mph. The feature is time proven on the Great Plains and pioneered by TC.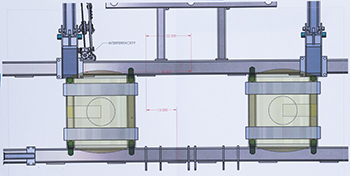 Open frame construction allows easy access and the double rank assures all types of banding techniques.

Binary Banding is now possible using step center, Mustang openers.

Center section tanks can be installed at 125 gallons to 375 gallons each depending on the 2 point rating of the tractor.

The center section tanks can act as ballast for the weight transfer to the wing sections.

The center section is left open for engine and trailer tank visibility.

Parking stands can be removed or carried on the frame.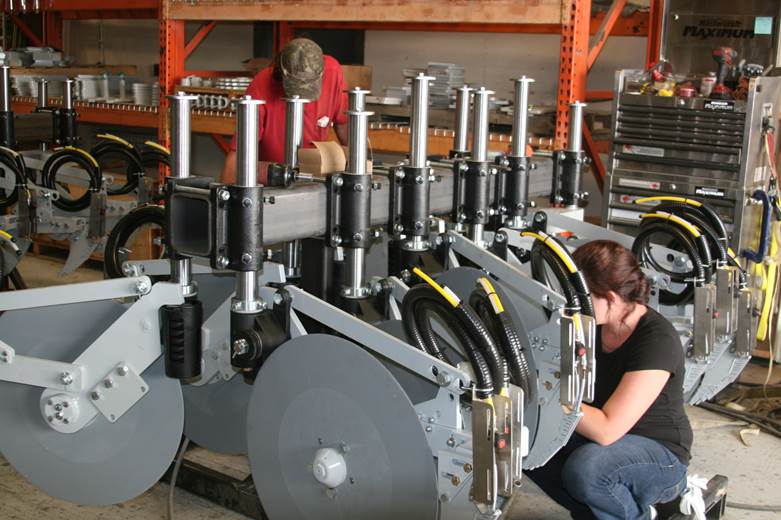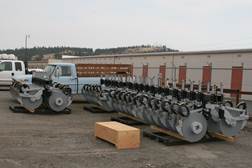 The Largest of all Mustangs, the 400 lb., P-51CUE at 26.5 inch diameter is built for ultra-endurance and banding to depths of 8 inches and more.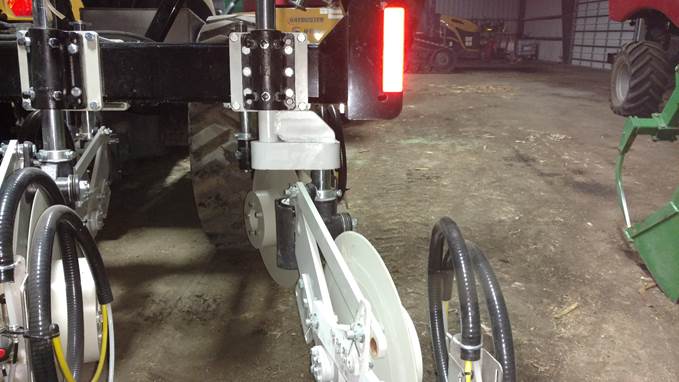 The Exactrix® Mustang openers are also set up in step shaft center design which allows a 3 inch offset at hinge points.

Step shaft center openers, ( 3 inch offset at interference) allows the openers to remain in line for precision at high speeds.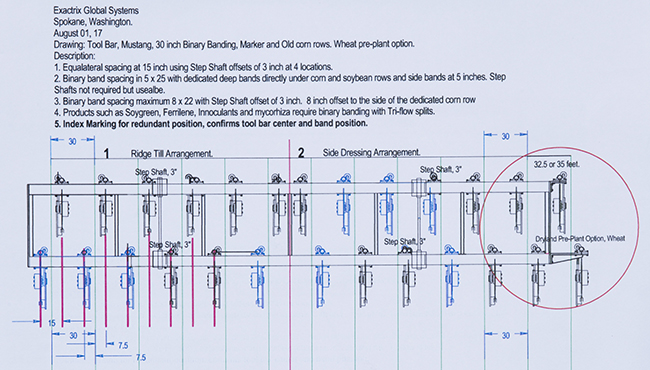 No-Till farmers in the highest Yield per acre category. Level 300 producers can now plant directly on top of corn rows with the tool bar and opener design from Exactrix.

The second, third and fourth year, Corn on Corn producers can now go with the rows….and maintain Rotational Band Loading… and double site access to placed N P K and S.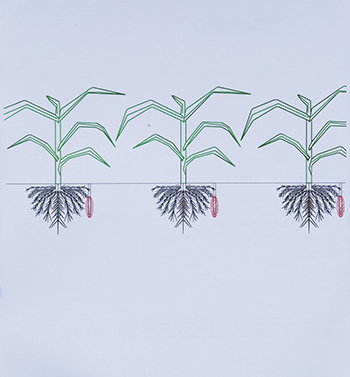 Band-ammonium twice in 30 days with pre-plant Binary arrangements, Ideal for sandy soil irrigated production pivots. Multiple years of bands provide top No-till yields at 7 inch depths of placed P and K in Vermiculated bands.

Rotational Band Loading without band destroying tillage (phosphate tie up) meets your highest expectations in P uptake and efficiency in continuous corn. Exactrix TAPPS is the highest known level of efficiency with placed P as 10-34-0.

Vermiculated bands of TAPPS allow some surface tillage when required. The band vertical length starts at 2 to 3 inches and penetrates to 7 to 8 inches in vacuum created by the opener.

TAPPS is the story of balanced nutrition with the highest level of crop availability of placed P.

Highest levels of placed N and P efficiency at .585 lbs. N per bushel produced in 2016 cropping systems using VRT-Site Specific.

Band stabilization comes from Thio-sul®, the original grandfathered stabilizer and plant nutrient known to keep N in place with the uniformity and mixing of TAPPS.

Thio-sul® exceeds N-serve in yield and cost with Exactrix TAPPS, Uniform Chemistry.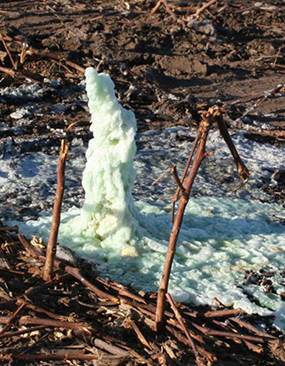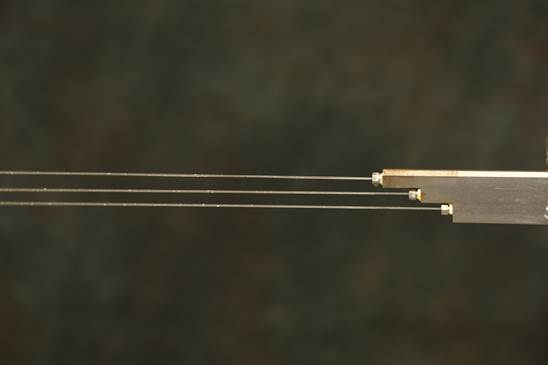 Climb the Yielder® ladder to the Level 300 club with TAPPS and Rotational Band Loading in No-till.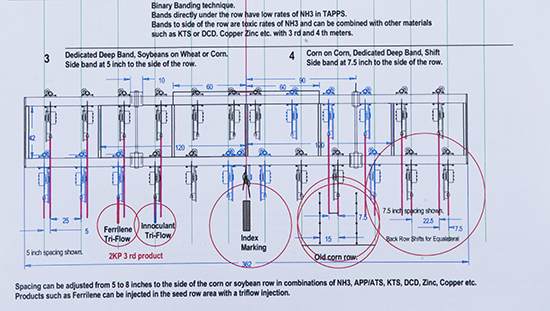 All the options you have wanted in a true No-tillage tool bar.
Banding to 8 inch depths without tillage. Running fast at 12 mph with virtually no soil disturbance.
A tool bar with weight transfer across the frame. A power machine with weight to keep the machine running strong in moist soil conditions. Applying nutrients with VRT-Site Specific scripts with zero flows to top rate flows in 3 seconds.

More standards of an exacting tool bar design.
Finally successful VRT-Site Specific with Exactrix-Mustang-TC using Mass Flow meters and rapid response valves.

The stable platform of positive down pressure makes VRT work even better.
Banding TAPPS and Ferrilene® in vermiculated bands in all six major crops, corn, soybean, wheat, Milo, cotton and alfalfa. Running on band centers of 12, 15, 20 and 30 inch centers with no limitations on space or location. Band centers of 12 and 15 for spring wheat and winter wheat, Milo, alfalfa. Band centers of 15, 20 and 30 for row crops.

Optional Power Turns.
Folding up fast to narrow transport widths. The tool bar, Reflex Position, allows a quick tool bar engagement on turning lands. At 12 mph application speeds the tool bar is timed to give rapid response on terraces and lands.

Swiveling Opener Feature.
A tool bar that allows the openers to remain in the soil on turning lands at 6 mph. Auto boom and loop your passes with Mustang swiveling openers in the deck in short turn radius. It has taken a few years to get the strength of the bar and the western irrigation engineered advantages of Mustangs.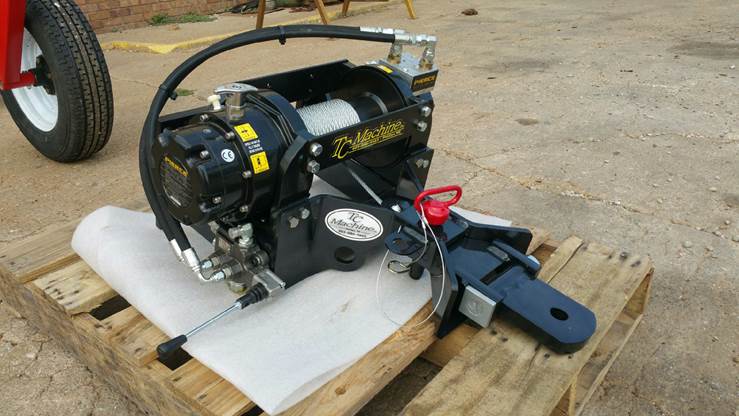 Hydraulic winch rating of 12,000lbs.

There is room for 3 Exactrix Engines, 2KC Weigh Master, 2KM Sparging Reflow or the 2KR Blender and the famous 2KP for Ferrilene® in soybeans.

Exactrix engines mount directly to the adjustable trailer tongue.

Final Filters and Exactrix dual stage manifolds mount directly to the frame in 2, 3 and 4 section design.
No additional fabrication is required.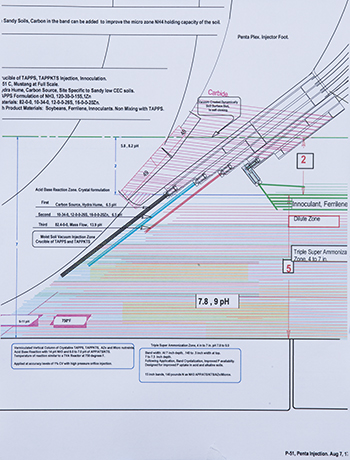 Tri-Flow Splitter allows TAPPS to go deep and Iron EDDHA to go shallow in three streaming flows, overcoming Iron Chlorosis. Ferrilene® is a plant nutrient placed in the seed row area by the Mustang P-51C injector foot and Tri-Flow. http://www.helenachemical.com/products/micronutrients-specialized-nutrition/ferrilene/
When producers do not need Ferrilene, Rhizobia can be injected with precision in the seed row area.

Soybeans come out of the Iron Chlorosis Closet using TAPPS and Ferrilene to fertilize soybeans to top yields.

More actionable and profitable results are achieved using varieties from DeKalb®. All plants emerge together with SRS.

Varieties of soybeans specifically selected for the Ferrilene treatment produce the best results.
Solving for the Platte Valley Yellows can change the rotation dramatically. Ferrilene® also works for Milo and Corn.

Tri-Flow Splitters and Big Bore Single Stream Orifices are used in 3rd product position.

2KP series injection with Looking Glass Manifolds applied variable rate from 1 to 3 gallons per acre Ferrilene®.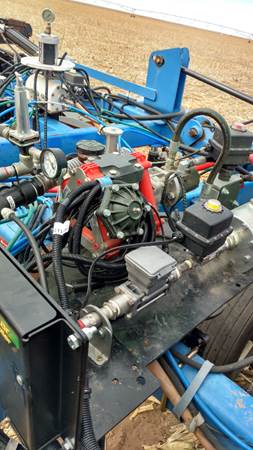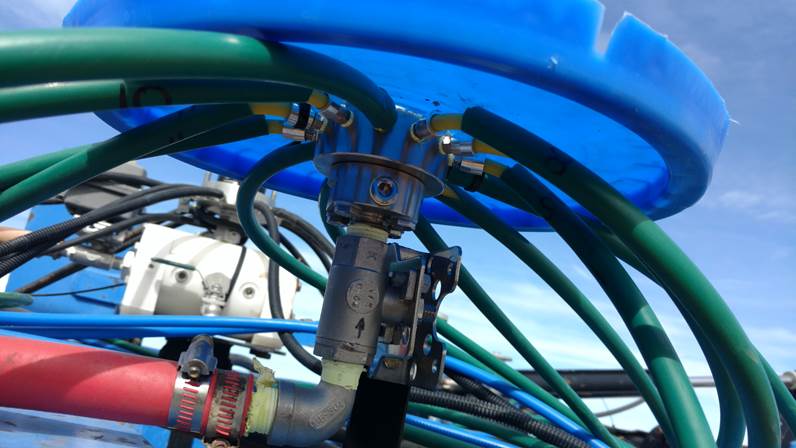 2KP, Available in two flow ranges. Looking Glass Manifolds for low flow applications.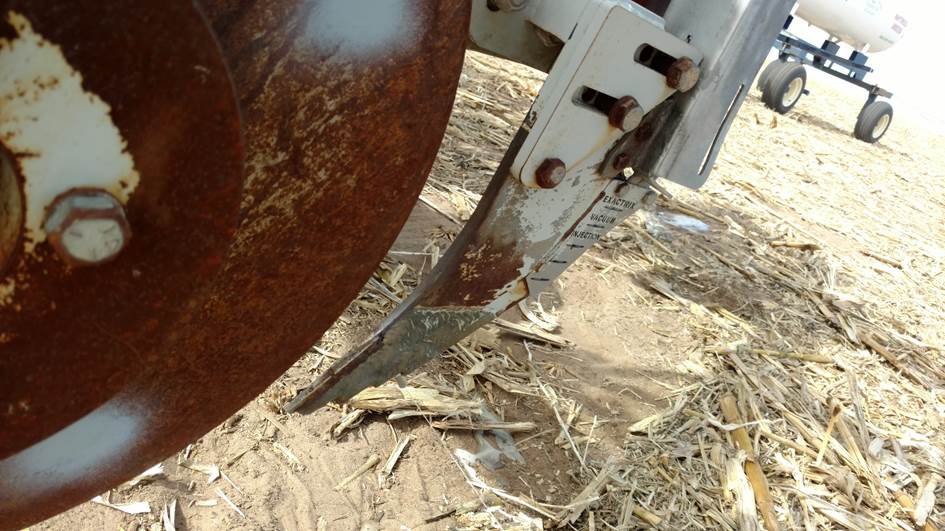 Shallow placement in the row area with the 2KP Exactrix Metering system and Looking Glass Manifolds in 3rd product position.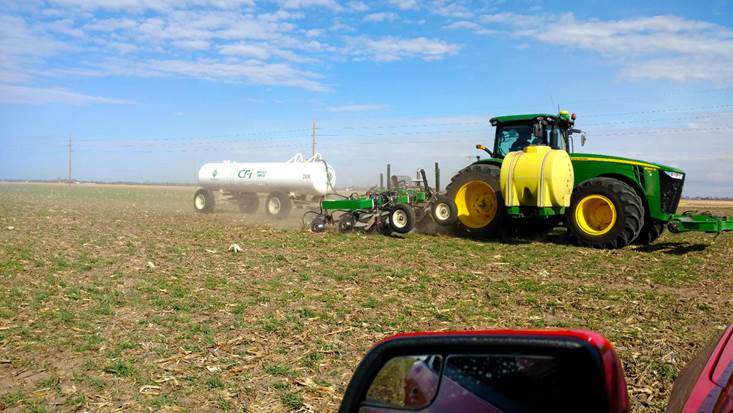 Mustang Technology Includes the TC Tool Bar.

The high speed challenge. A true polar center of gravity is maintained across the entire tool bar.
Designed with positive down pressure on the wings with each opener treated evenly.
From 30 feet 45 feet in 3 section TC designs and 51.25 feet to 72.5 feet in 5 section in 12 x 8 floatation designs from Exactrix.
With TAPPS band spacings of 12, 15, 20 and 30 inch with Mustang Openers in P-51C and P-51CUE.
With Band depths to 8 inch in No-tillage conditions.
Exactrix engineers have tooled up with step shaft center openers and TC tool bars.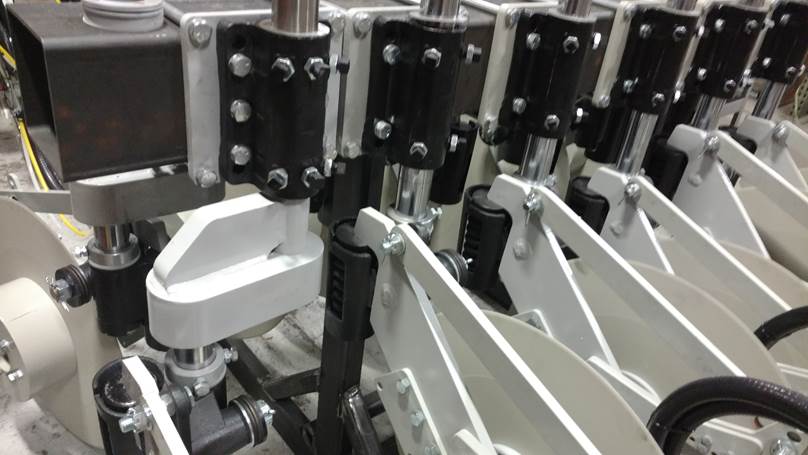 Step Shaft Center Openers with 3 inch offset. Even opener alignment.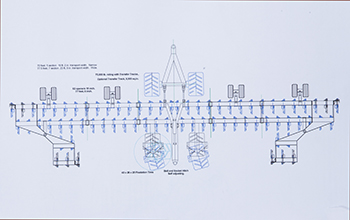 Exactrix offers 12 x 8 frame design as a high Flotation machine to 77.5 feet in 5 section flex and 7 section fold in 12 x 8 frame construction at 23.5 feet wide and 15.1 feet in squat position. The 12 x 8 frame is also available in a 19.2 foot center section width at 72.5 feet.

The 12 x 8 inch frame allows much bigger bars that are simple construction with positive down pressure.

These massive bars allow Great Plains wheat and canola producers to reach 1.56 acres per minute with 620 hp. tractors at 10 mph.

The 12 x 8 frames are designed around 20,000 pound 2 point lift assist or tow type bridge caddy with floatation tires, 43 x 66 x 25, 12 ply or 4 roller Transfer Tracks with 6,000 sq. inches on the deck.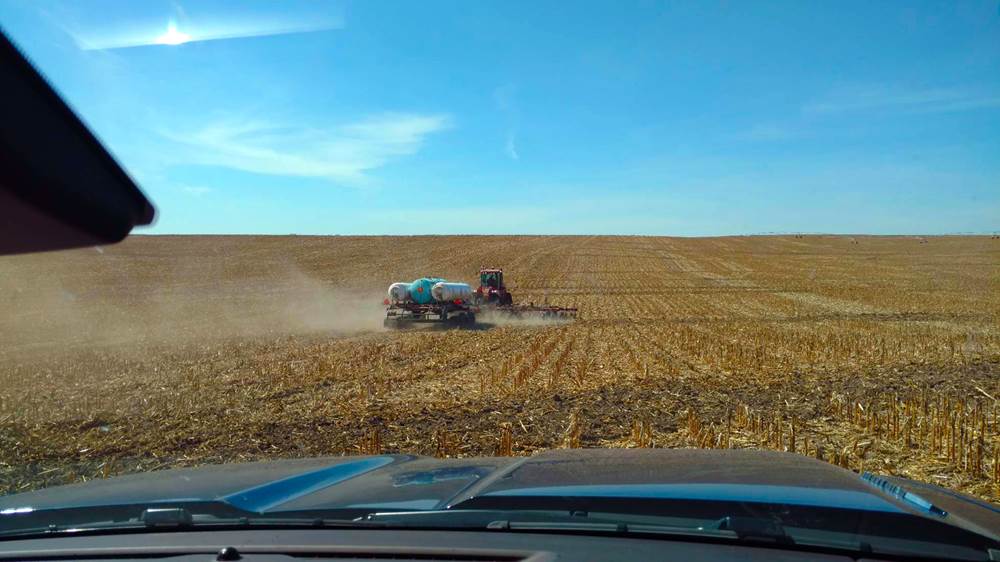 Running Mustangs at speeds to 10 mph with large KD track carts at 61.25 feet sets up a farm for true No-tillage farming.

Click here https://vimeo.com/bandbvideo/review/162428756/c562a9070d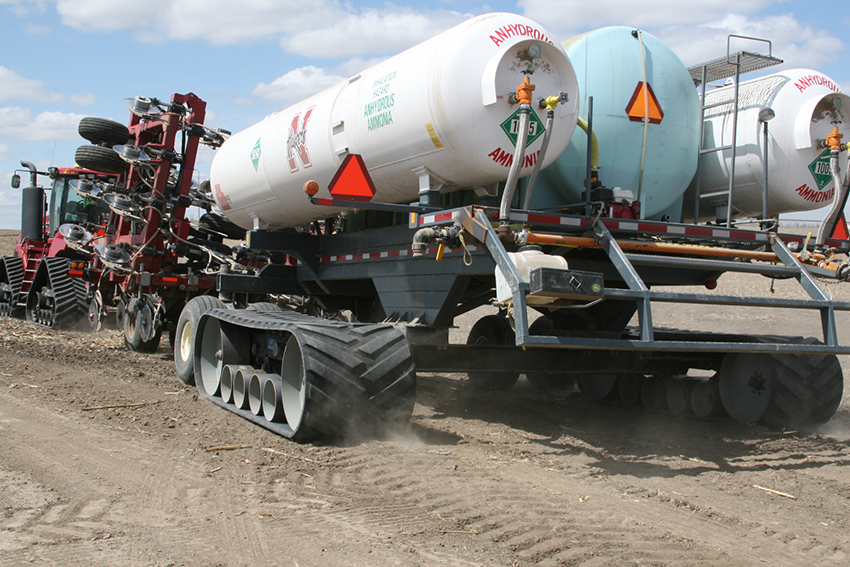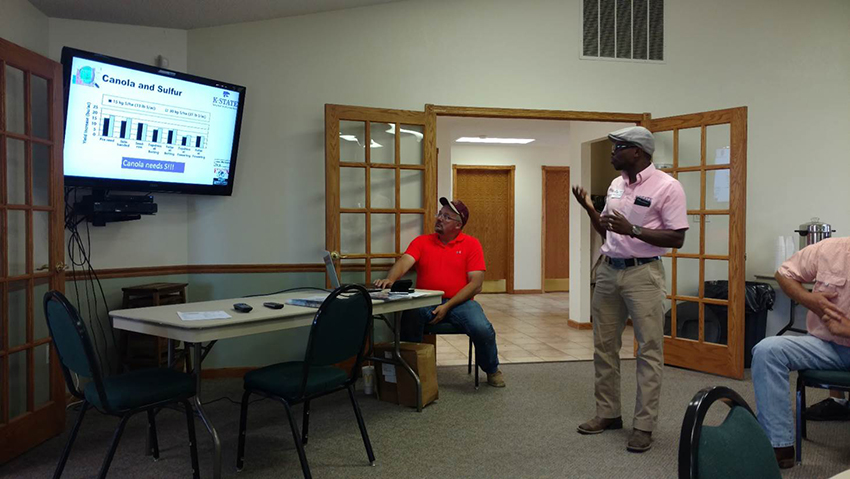 If you need agronomic support make sure you attend our Exactrix/TKI meetings with KSU assisting.

You can also sign up for special support for $500 per year. You can also earn $1,000 for testing your Exactrix system.

If you are in your second or third year of Exactrix ownership you can get special help24/7.We are in the service business.

1. If you need help agronomically we will get you the answer. No problem is too tough. The solution is inside the problem.

2.The Technical Support you need in the 3 layers (hydraulics, electronics, supply side and delivery of product flow). The 3 layers of the Exactrix TAPPS formulators, 24/7.

3. Exactrix STEEP style test plots earn your respect for many years to come and Exactrix pays $1,000 per plot. Guidelines following STEEP Criteria is required.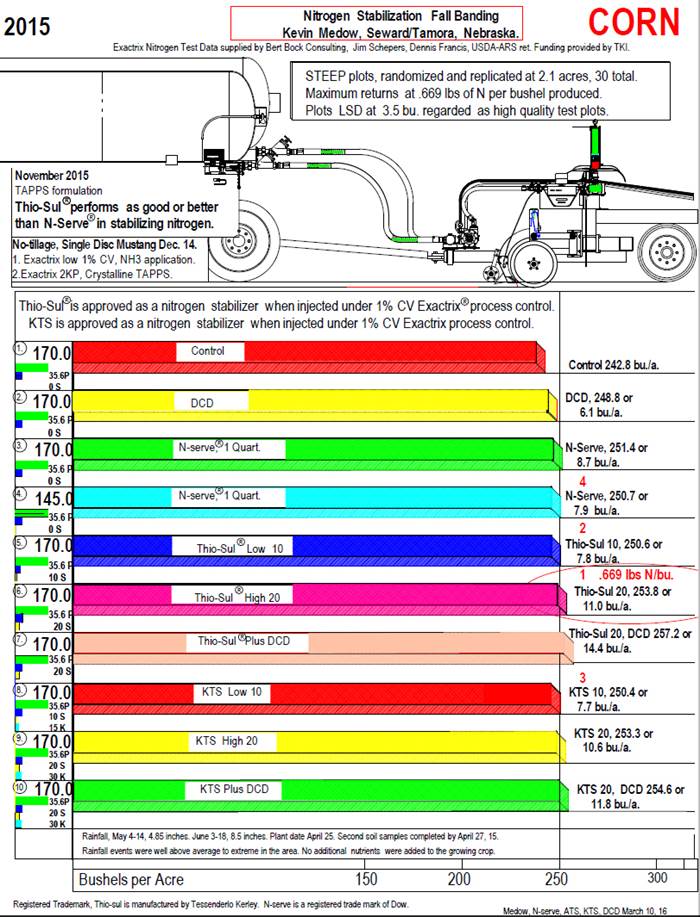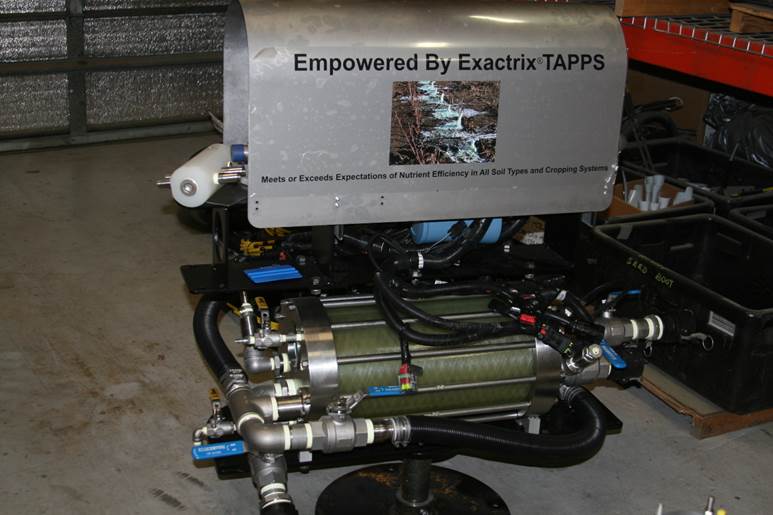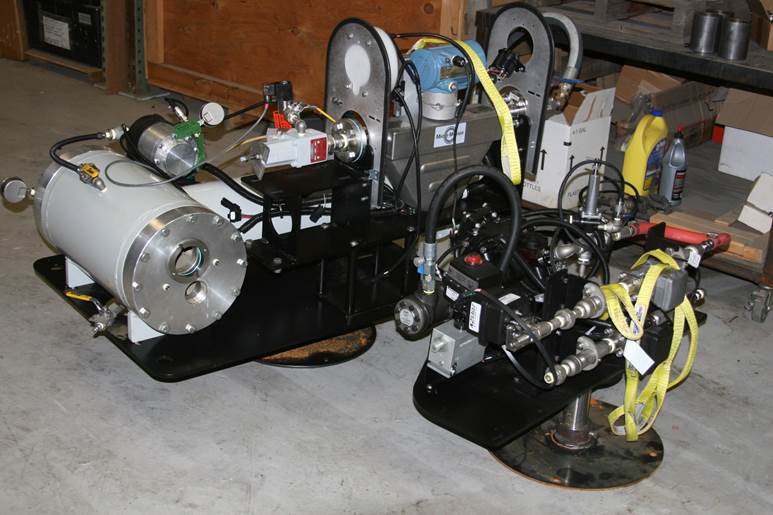 Shipping, Following testing, 2KM, Formulator of TAPPS, Sparging Reflow Blender. Season Long Filtration. 2KC Series 3, NH3 Mass Flow Weigh Master, Balanced Nutrients, 2KR, Blender or 2KP, Looking Glass, Ferrilene.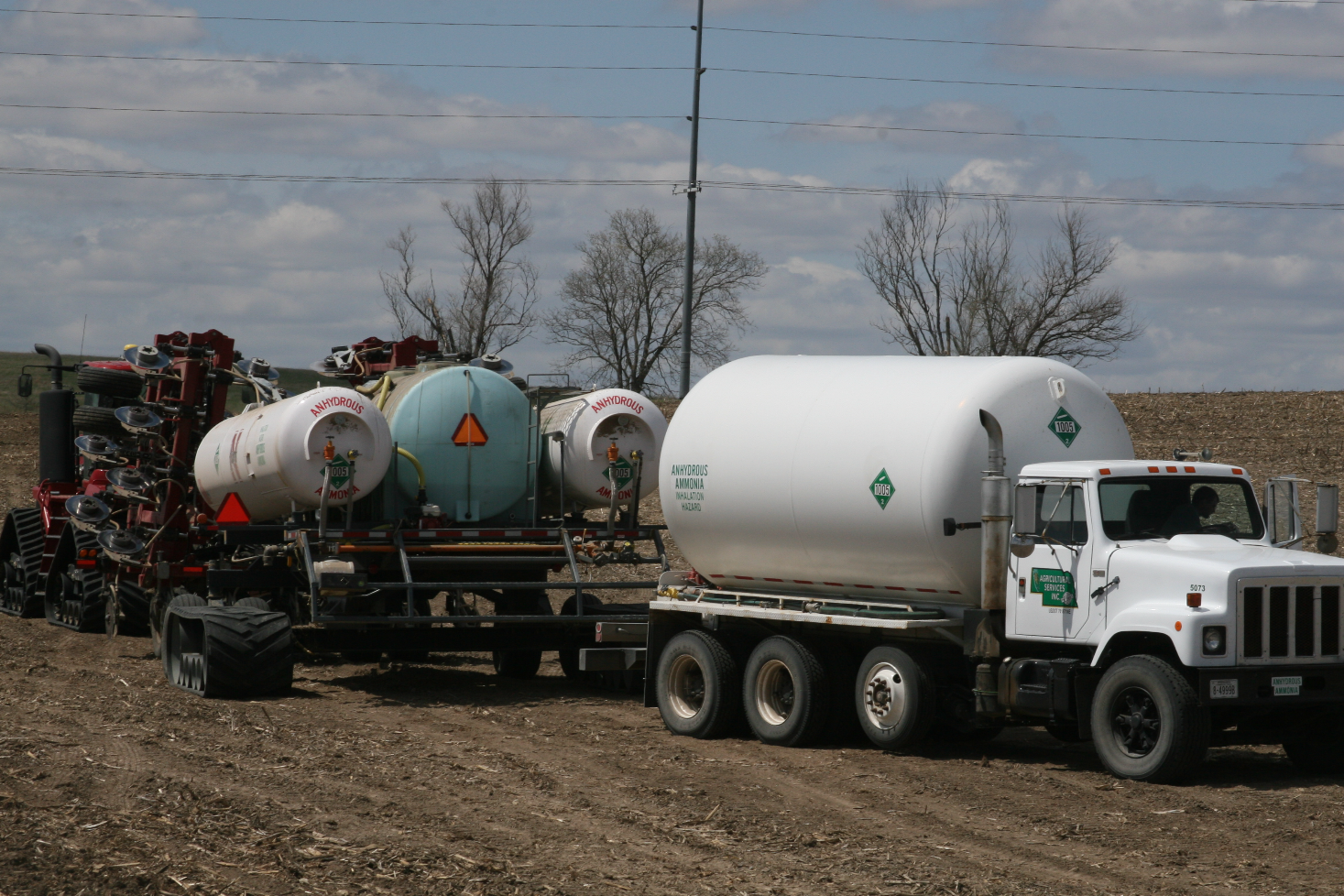 Liquid Delivery is the safest approach for handling NH3. NH3 delivery is just like propane with qualified drivers and top notch DOT equipment.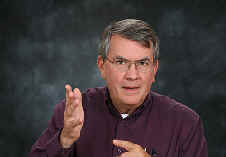 Your Great Plains Reporter.
GJS

Husker Harvest Days, Grand Island, Nebraska.

Exactrix 40 foot, 7x7 tool bar on display.
Sept. 12, 13, 14, 2017.

Get a special introduction of the Positive Down-pressure, TC bar with lift assist, 40 to 45 feet, with 2KC Series 3 and 2KM TAPPS formulators.
Mustang P-51 openers meet or exceed producer expectations at 7 inch banding depths.