The Opportunity Of Comparing Fall Banding Processes at Kamiak Butte, WA..
Shank Vs Single Disc.
Exactrix Equipped Deere, Single Disc Openers produced a High Yielding Seed Bed.....
Tough Fall Banding in the PNW. 9/20/13.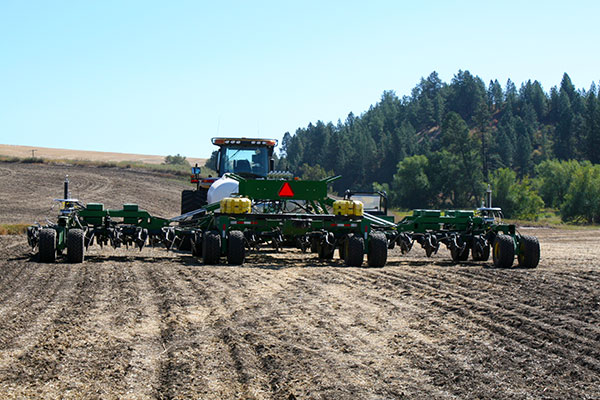 Deere 1890 with Deere Exactrix Wing Injection (left 11 openers with Group 4.47) banding on 12 inch centers.
Producing a high quality seed bed using Deere Exactrix single disc banding, Gr. 4.47 Exactrix Technology.
The right 29 openers of the machine are banding using the Deere Series 4 MRB scraper injection with Exactrix.
The far right side of the machine has 12 openers that need more weight to hold the depth wheel on the soil.
More weight can be added with the horizontal arm weights which provide unsprung weight.
The Deere 2410 spring tine shanks/GEN high wear boots did not produce a high yielding seed bed.
Tillage operation... shank application with 12 inch banding for winter wheat production.
The Deere 2410, Chisel, 12 inch band spacing with harrow...set up with Gen points with Dual Placement....Not TAPPS. Qty. 2 chisel applicators utilized to fall band and being eventually replaced by 1 Deere 1890, Exactrix TAPPS formulator.
Comparing seed beds with No till single disc.....and shank type seed beds on Garbanzo bean rotation. Preparing to seed winter wheat.
The shanks did not produce a high yielding seed bed on adjoining fields.
Three Applicators were compared. Two shank applicators as shown. Comparing to the same manufacture of single disc banders.
Dual Placement, Not TAPPS, Chisel Tillage Application hurts yield by reducing seed bed quality.
Plus very poor delivery of the nutrients in pressure reducing NH3 and orifice flooded manifolds.
This scenario can make a big difference in yield.
Raven and Go Flo capable, Pressure reducing NH3 system with freezing lines. Low speed applicator.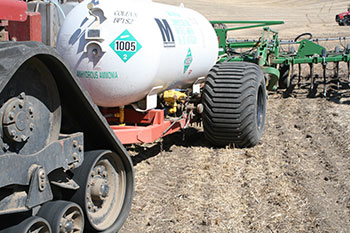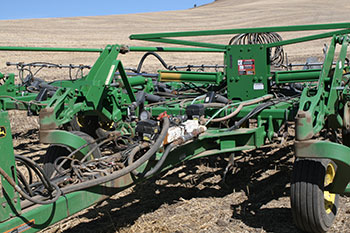 Deere 2410 Chisel with Raven NH3 Metering system with liquid Flooded Manifold….a low pressure system.
Single Central Manifold. This is not TAPPS…it is Dual Placement…
A good machine in 1995 when nutrients were 8 cents per pound applying at 3.5 mph.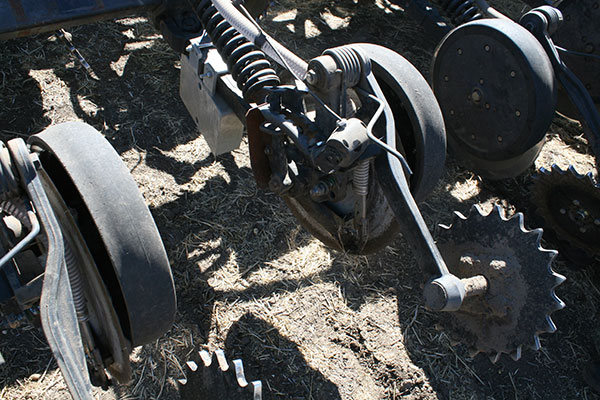 Deere Exactrix Wing Injection in Group 4.47
Provides superior sealing over Deere Series 4 banding at the 5 inch depth. High speed applicator.
Deere 1890, 12 inch banding....at 5 inch depth...using Exactrix 19.6 coulter blades x 3/8 single edge,
with Group 4.47 Deere Exactrix Wing Injection or DEWI.
Set up in a 4 section design of 10 feet with Auto Boom and VRT with Trimble Control.
Unsprung weight is added to the horizontal arm to stabilize the opener and allow the depth wheel to hold the soil on the deck.
Series 4 injection is on the right frame side of the machine or 29 openers...this is the standard Deere design released about 3
years ago for the pressure reducing NH3 and freezing line systems.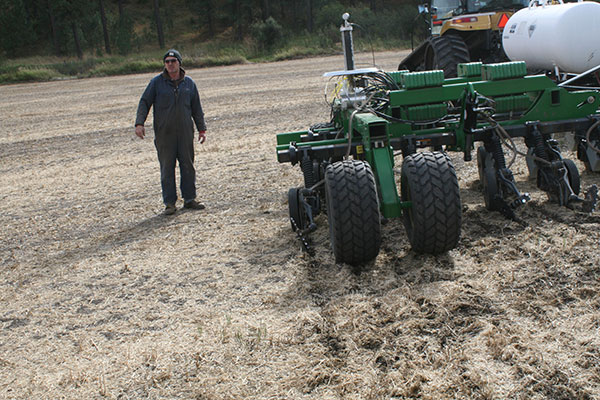 Most producers want a high quality seed bed for High Yielding Winter Wheat (150 bushel per acre).
Group 4.47 Wing Injection is on the Left 11 openers...Left frame wing basically set up with wing injection.
DEWI Group 4.47 Wing Injection is superior in residue cover and seeding to depth over Deere standard
design for pressure reducing NH3 system.
Note:

Unsprung weight has been added to the left wing...about 65 pounds per opener.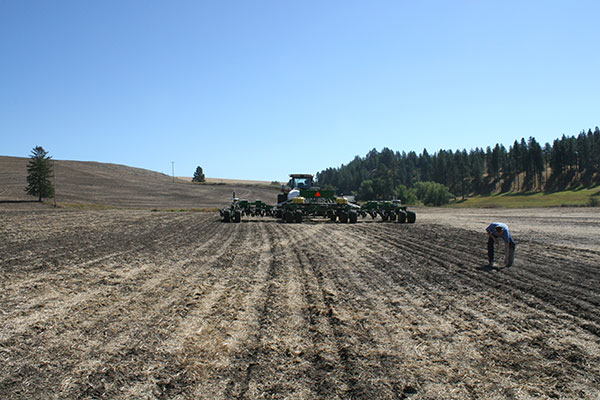 A great place to seed winter wheat. All root channels are maintained. Moisture absorption into the
germination depth is greatly improved when the first rains come.


Seeder depth wheels can be loaded up with good down pressure to control seed depth. The seed openers will not hop.
The No-till single disc banded fields are seeded with the Deere 1990 with superior depth control.
Most producers will seed into dry soil at standard seed rate…all the winter wheat crop comes the same
day when the first Pacific storms deliver 1 to 2 inches of moisture.
High yields can result and almost always there is $150 more net income with Exactrix TAPPS Technology using single disc banding.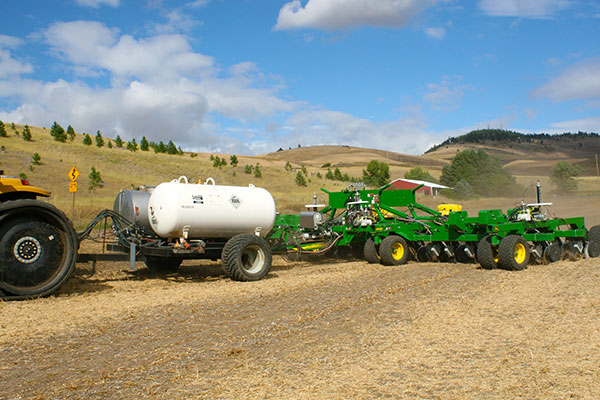 Four section control allows low cost of application and improved yields on corners and lands.
Deere 1890 machines are typically set up in 10 foot Auto Boom sections. VRT is 40 feet.
NH3 is 166% more crop effective. Poly Phosphate is 200% more crop effective.
Ammonium Thio Sulfate stabilizes the nutrients along with Potassium Thio Sulfate and Hydra Hume.
A good chance to make $150 more net per acre. About 10% to 12% more net income.
When the Production Net Margin gets too big….tillage creeps in.
See these Exclusive Videos.
Deere 1895, Exactrix MRB, TAPPS Formulator, Eric Odberg.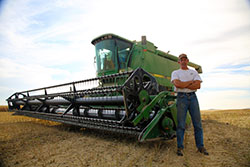 ---
Deere 1890, Exactrix Banding, 12 inch TAPPS Formulator, Dan Mader.