Return To Main Page
See all our previous broadcasts
There is Big in the Pacific Northwest....and then there is Real Big......Thinking Big, Storage is the Key. Gangwish Seed Farm.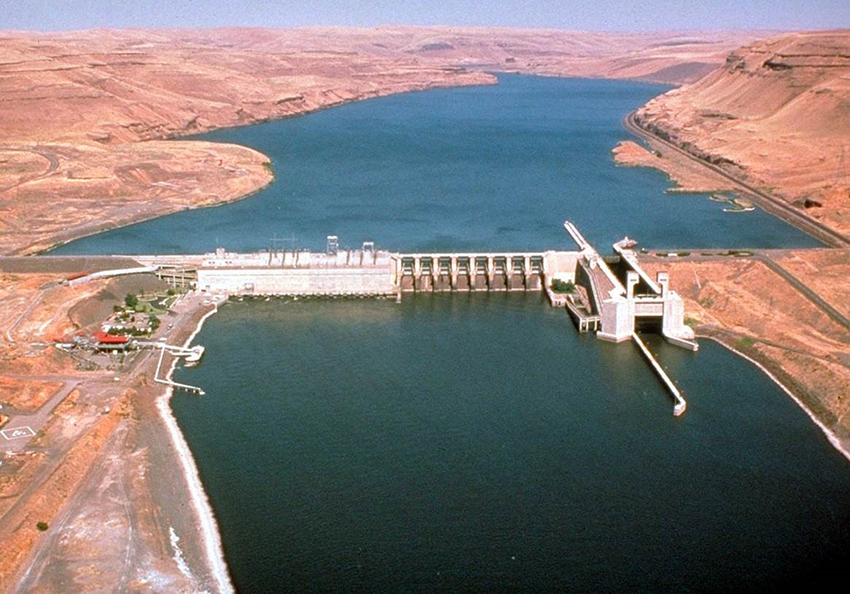 1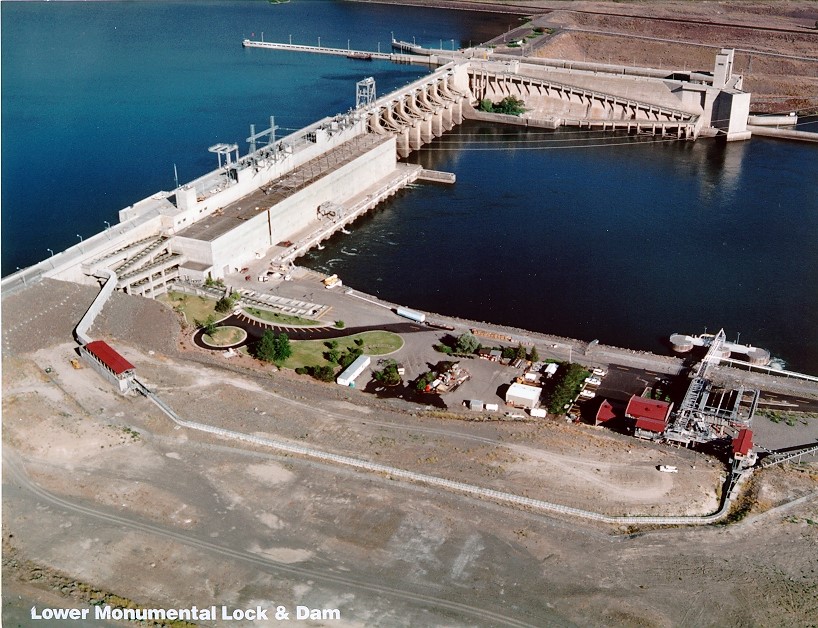 2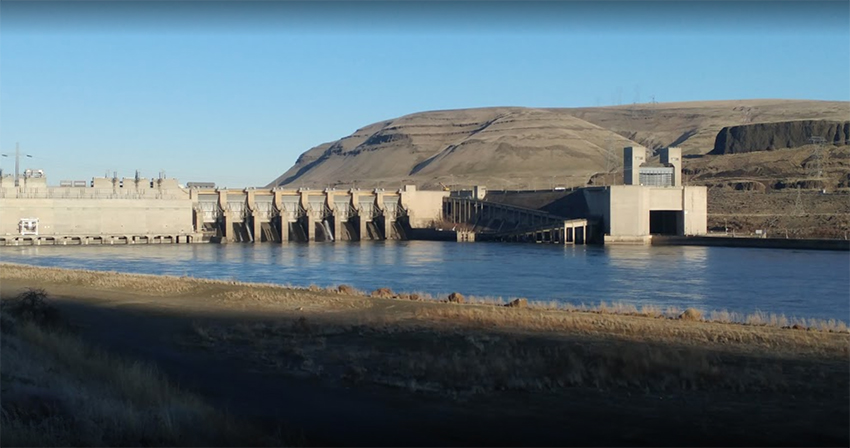 3
Big and Real Big at Lower Monumental dam, along the Snake and about 43 miles North of Walla Walla and 40 miles West of Pasco, Washington, replacing the gate at the Lock with 2 million tons of freight moving up and down river from Lewiston, Idaho.
This a big deal….Dave Becker, Leadman, Foreman, Practical Structural Engineer sent in his pictures from the Gate Replacement 2010 project.
Dave is a knowledgeable fabricator of weldments of extreme size. Dave knows cranes and how to lift and beat gravity.
The famous Becker Bros, Dave, Scott and Marty built Yielder Drills in the 80's…Dave was the lead foreman and critical contributor in the Yielder Project. https://exactrix.com/yielder.htm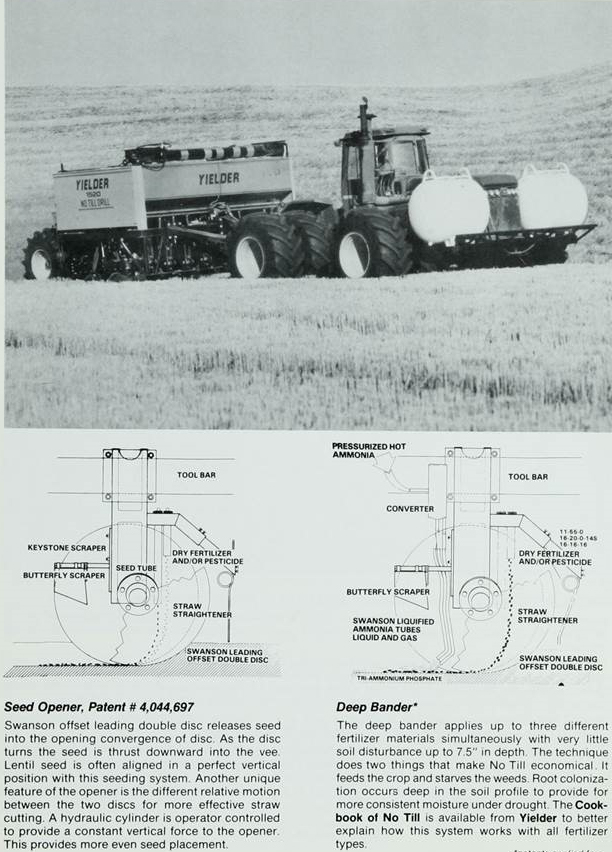 4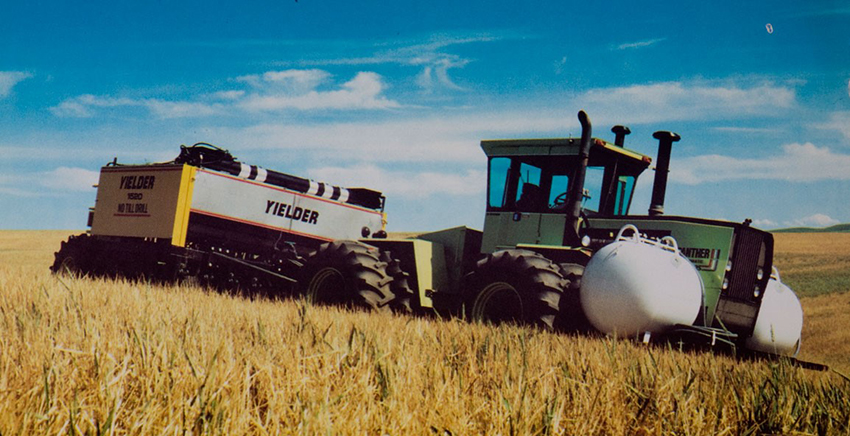 5
Yielder builder, Dave Becker finished up with at the Dix Corporation . This is about as high as you can go with Dam Building on the major rivers of the USA.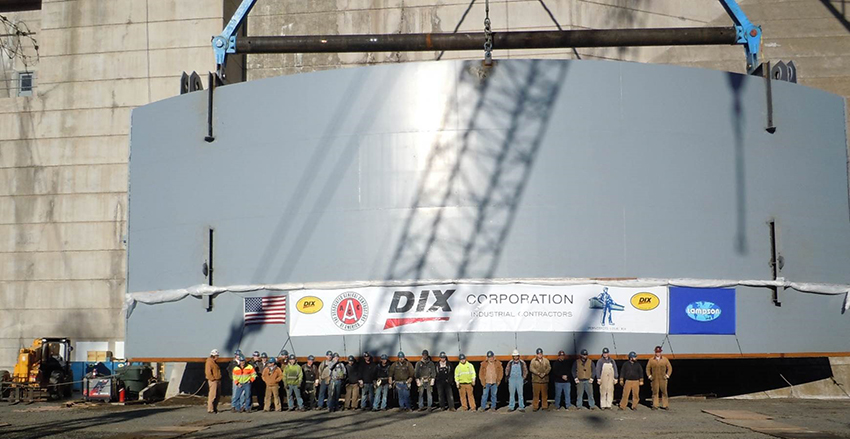 6
Skills in Dam Building….and How To Get It Done…..Dix is thee Big Name with the Corps of Engineers and Dam Reconstruction across the USA….Pat and Pete Dix. The Gate of the Lock going together.
The lock at Lower Monumental Dam is 700 feet long, 84 feet wide and 100 feet deep. It takes 43 million gallons of water to lift or drop barges to the other side of the massive hydroelectric dam. The lock was built in 1969, and this is the first time a gate is being replaced, the Corps said.
The downstream gate, which is eight stories tall, is made of steel and weighs 1.2 million pounds. Moved up and down for 41 years, it has been weakened by age and has become brittle.
"The gate is cracking itself apart," Hartman said.
Similar gates are also being replaced at John Day and The Dalles Dams.
The Dalles Dam and John Day Dam
, both downstream on the Columbia River. The budget for all the gates is about $50 million, and was funded by the federal government's stimulus package, the Corps said.
Hartman said the closure had been in the planning stages for years, and was scheduled for the slowest time of the year in shipping.
The Columbia-Snake system is typically shut down for two to three weeks each March for routine maintenance, but an outage of this length is unprecedented.
Forty percent of the nation's exported wheat, from 13 states, is barged down the system each year to West Coast ports, where it is loaded on ships for Asia. Petroleum products, fertilizers and pesticides move upriver to farm communities.
"It's the third-largest grain export gateway in the world," said Kristin Meira, spokeswoman for the Pacific Northwest Waterways Association, which represents businesses that use the river for transport.
The association supports the extended closure, Meira said. That's because the unplanned failure of a lock gate could close the river for a year as a new gate is designed, manufactured and installed, she said.
"We are pleased that there will be three new gates on the system in one closure," she said.
Obviously the New Gate was built on site at the Lock of Lower Monumental Dam….at 1.2 million pounds. 600 tons of steel and specialized welding.
With follow-up weld inspections with X-ray and Magnaflux. Dave Becker made sure this Gate was built to highest technical specifications.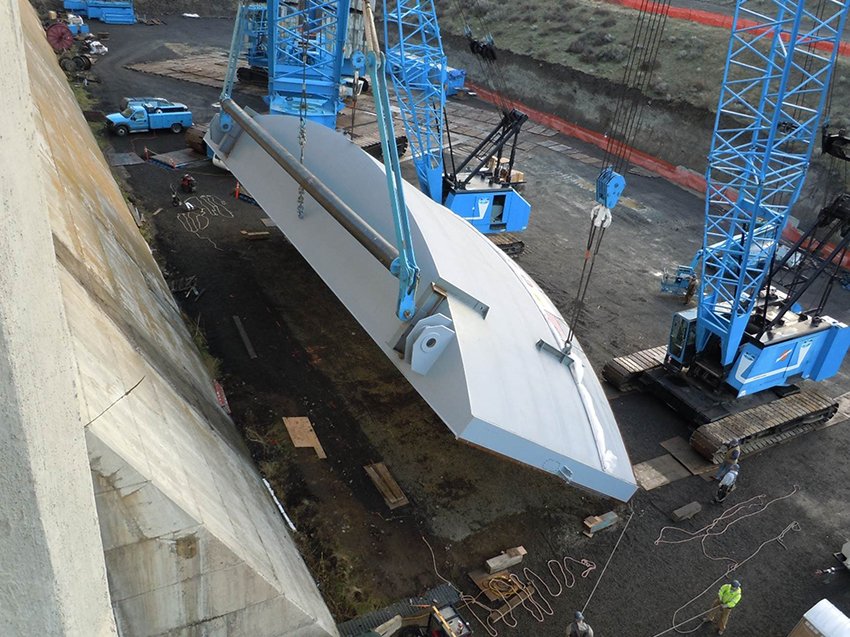 7
Lots of safety and preplanning is required to make the lift. Lower Monumental Dam navigation lock is the sixth of eight locks encountered in the Columbia-Snake Inland Waterway, a 465-mile river highway that allows barge transport of commodities between the Pacific Ocean and Lewiston, ID. In 2015, more than 2 million tons of cargo passed through the Lower Monumental lock.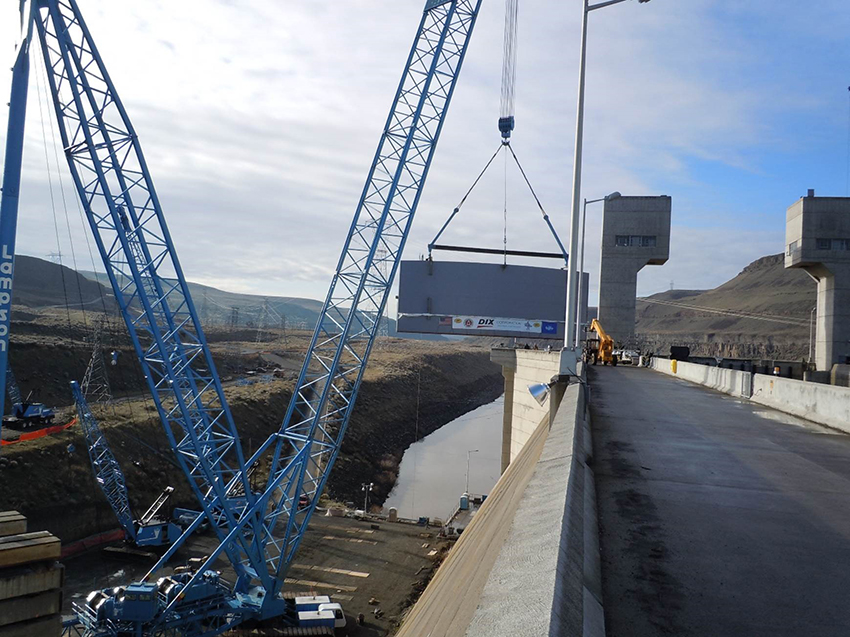 8
Neil F Lampson, modifies Manitowoc Cranes at Pasco, Washington for Dams of the Columbia and Snake River and Nuclear Power Plants….in fact these are walking cranes that carry up to 1700 ton with 340 foot booms.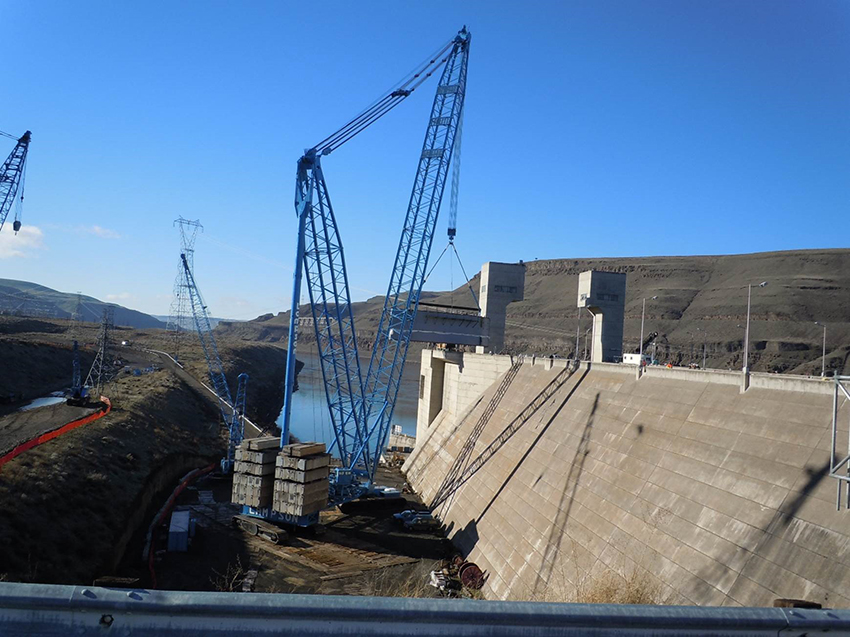 9
Engineers with knowledge of the limits of every part and component to make a big lift and each move must be timed perfectly.
10
How many gates does it take? About one every 41 years.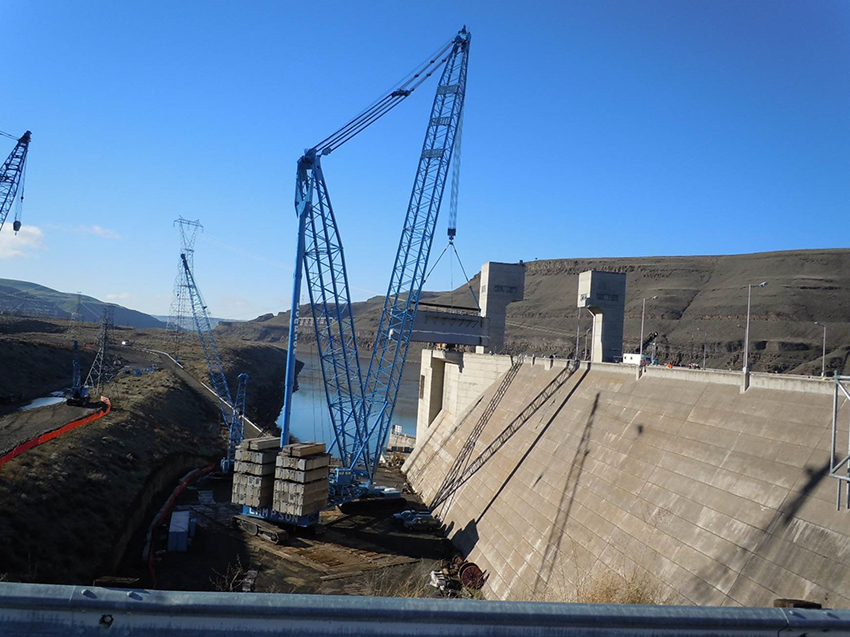 11
Impressive landscape of the Snake River Canyon at Lower Monumental Dam…close to Lyon's Ferry.
https://www.oregonlive.com/pacific-northwest-news/2010/12/columbia-snake_rivers_closed_for_repairs.html
---
Big in Corn.
Gangwish Seed Farm at Shelton, NE, right down the road from Kearney, NE, a good project with outstanding results. Binary Banding.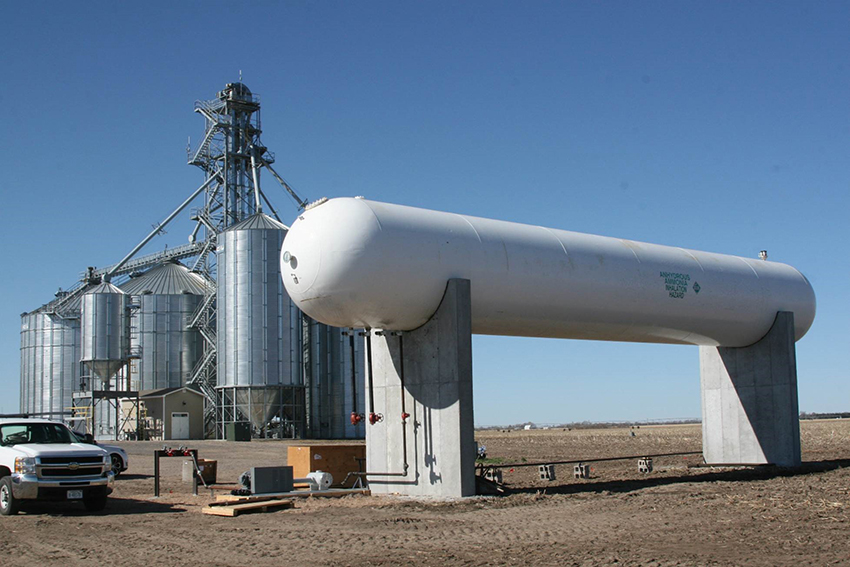 12
Initial set up of 30,000 gallons and more storage to come. Each year another 30,000 gallon tank….or just go with a single 90,000 tank next. Ready to supply nutrients for the critical seed corn industry.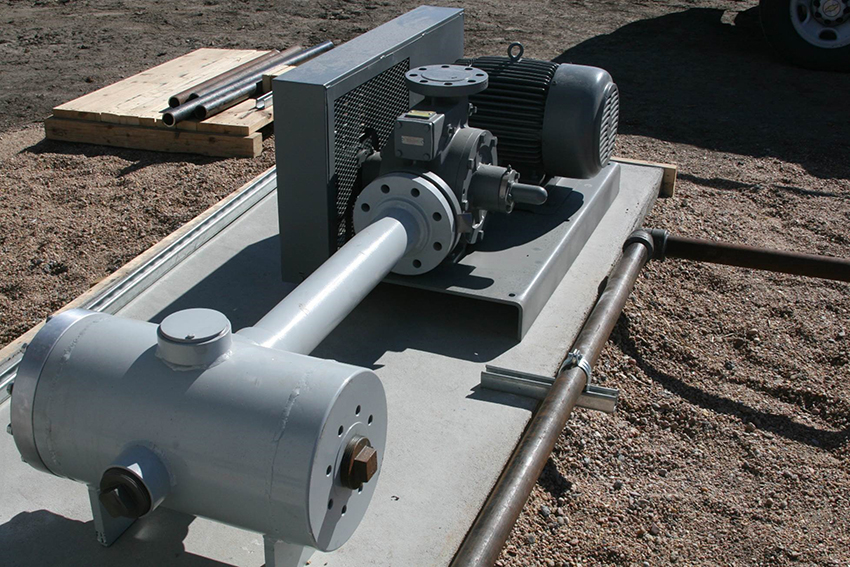 13
Derated pump design, a selection of a Z-4500, Corken Sliding Vane, Starting at 15 hp at 220 to 250 gallons per minute at 550 RPM. 9 Gallon, Exactrix Primary filter. Flange ANSI fittings.
Higher volumes are possible. And system could go with a 35 hp direct drive electric and get gallons up to 380 gallons per minute at 780 rpm. At 380 gallons per minute the system would probably take dual 2 inch filling Smart-hoses to the delivery or transport truck.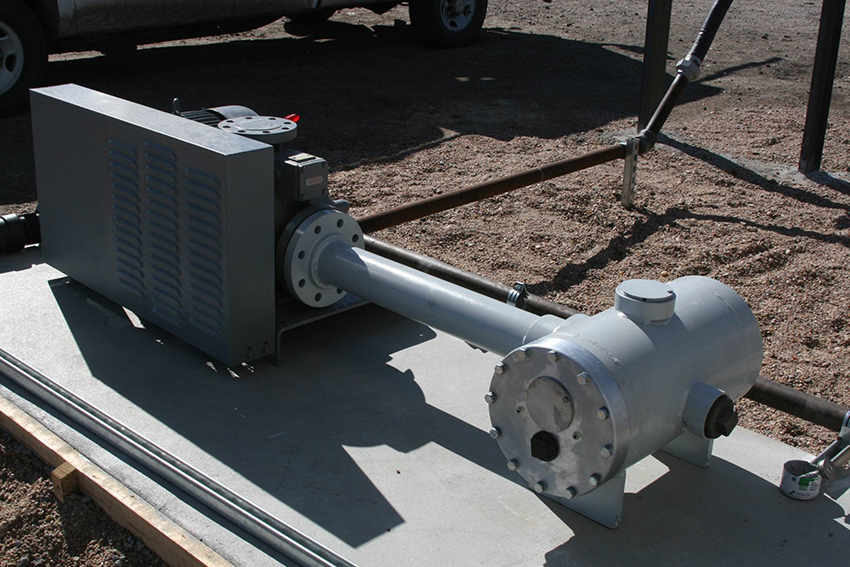 14
View Windows provide visual information of the filter condition. Large magnets are also installed to gather magnetic materials in
the screening flow. The Exactrix Filter design cleans the flow when filling and also when delivering.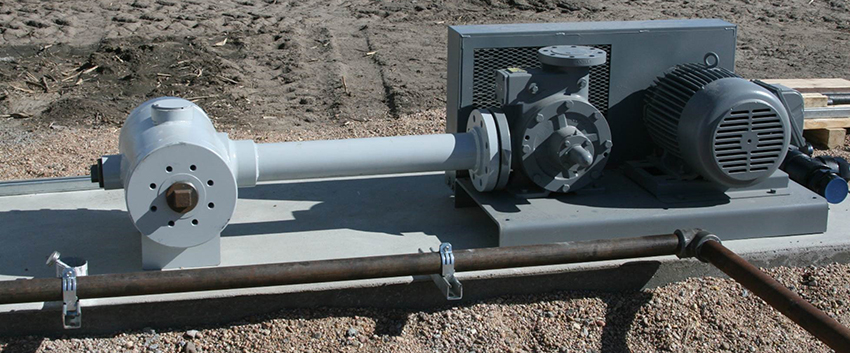 15
The filter is allowed float on the concrete pad to allow for expansion and temperature change.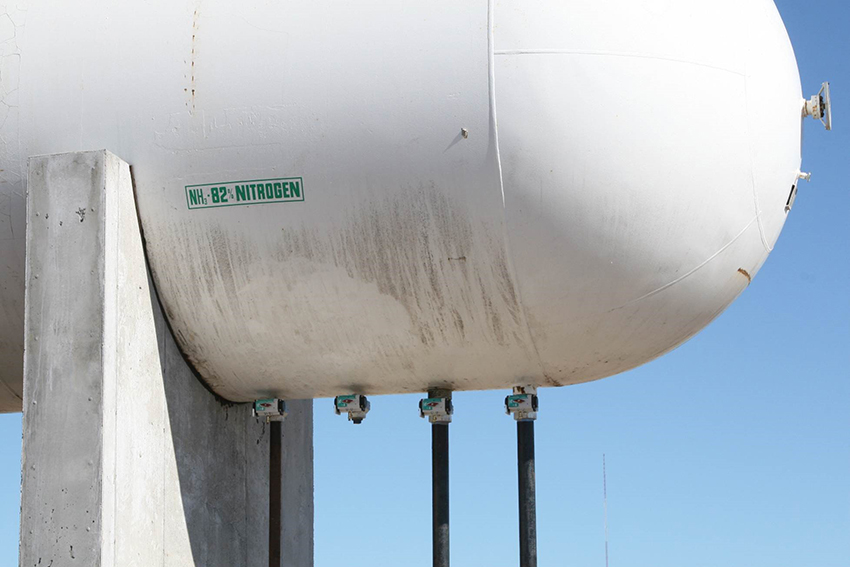 16
Pneumatic Shut Down.
BASE System Compatible.
Twin 3 inch withdrawal.
Vapor Return.
Bypass yet to be plumbed.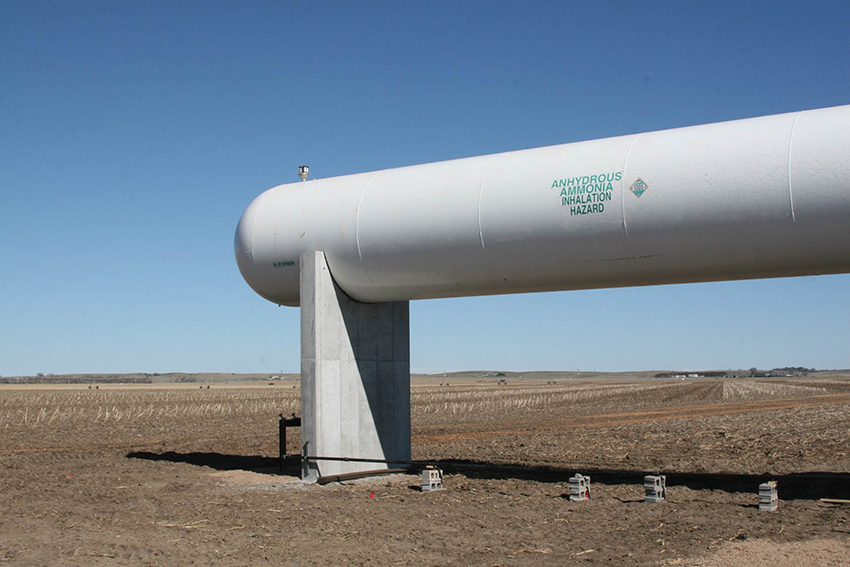 17
Cross flow 2 inch piping is ready to be elevated to the bottom of the tank.
Transport Tank filling end.
Cross Tank, Filling manifolds and return manifolds to be elevated to the bottom of the tank.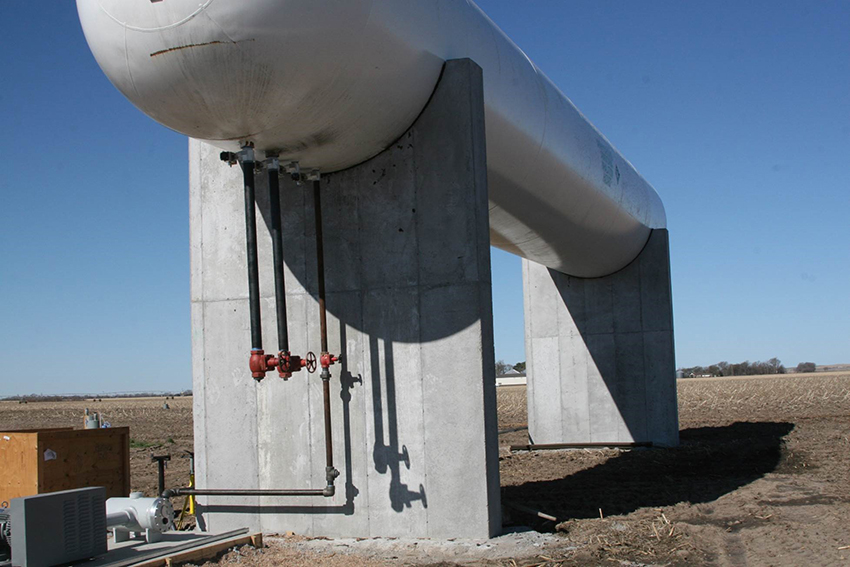 18
Double filtration, In and out. Plumbing yet to be completed.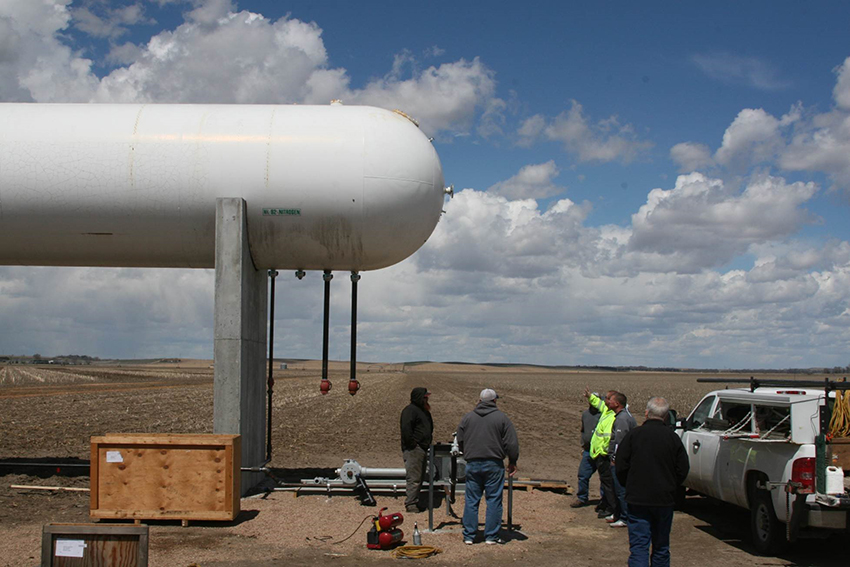 19
Fire Marshall, Pre-Inspection. Fire Marshall, Fred provides some additional comments and outlines.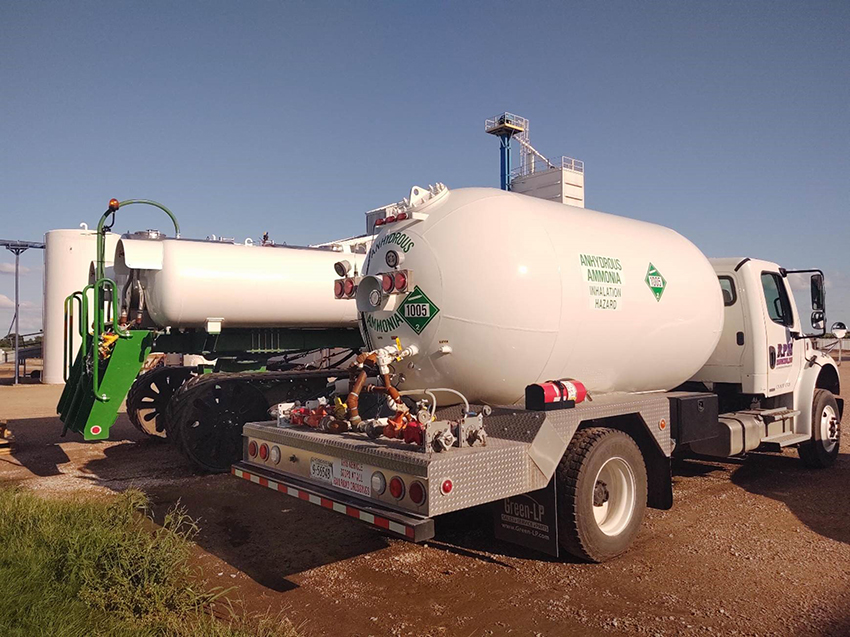 20

Delivery Truck to match the Exactrix Mustang Tool Bar and Track Cart Tanks under doctrine of equivalents. Ready for Smarthose and BASE system emergency shut down.
Meets or Exceeds all safety criteria, K61-1, ANSI and DOT transport delivery of NH3.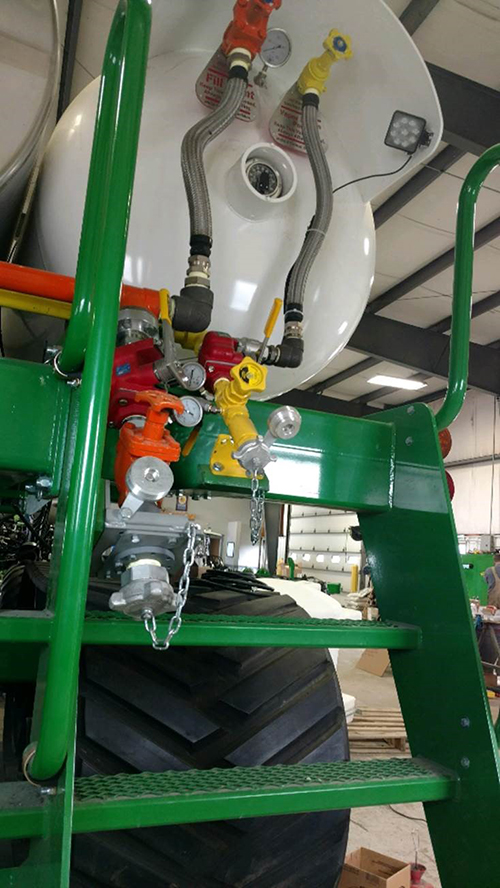 21
Fill station, up to 180 gallons per minute, NH3.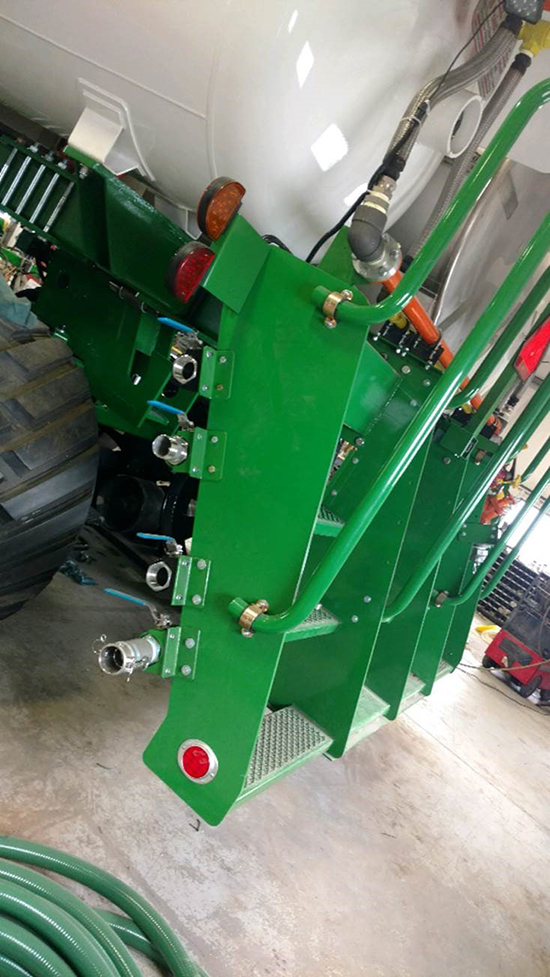 22

Fill station liquid. Supply and Return. APP, KTS, ATS, Micros, 4 total tanks.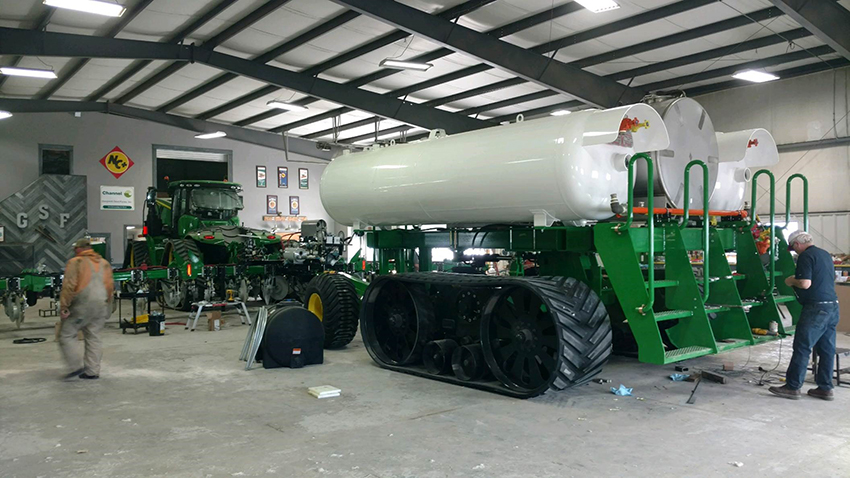 23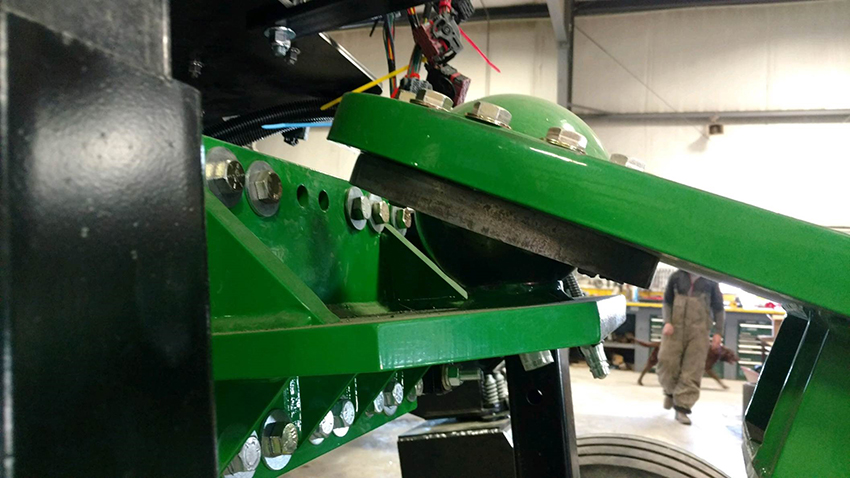 24
Ball and socket for reach steering allowing compound angels in rolling terrain. The steering track group is mechanically linked to the steering tractor with tight tolerance to hold position on slopes.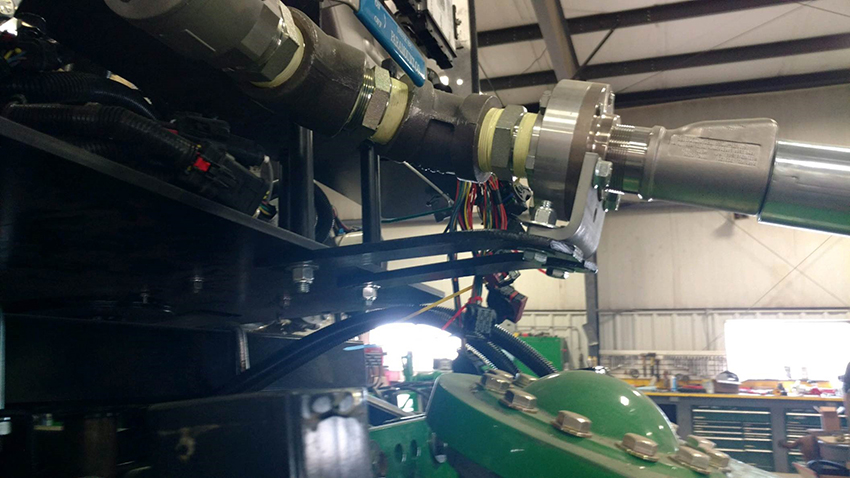 25
Safety in action, Smarthose Breakaway at the Reach Ball and Socket.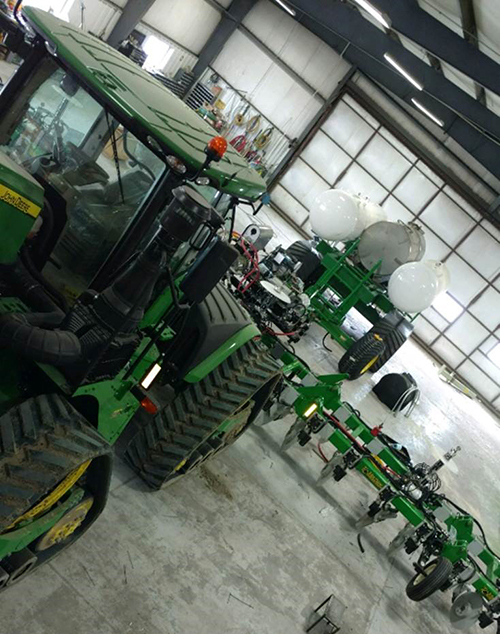 26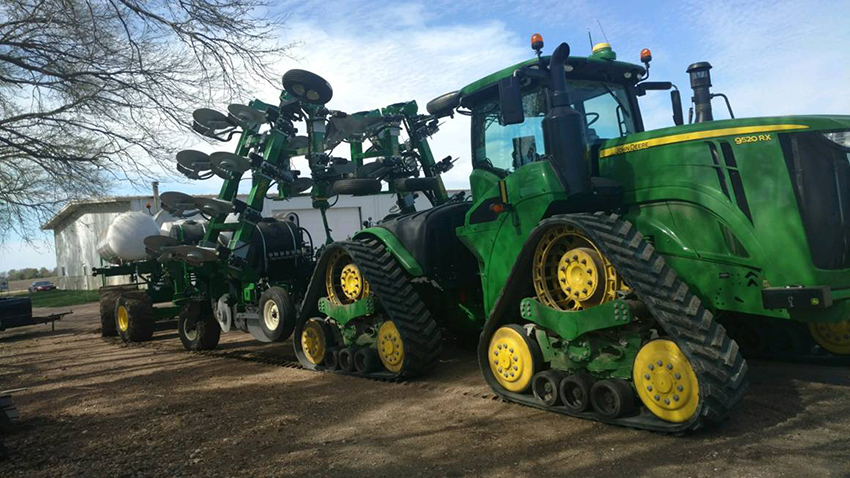 27
Binary Banding 22.5/7.5, 5 section, 4515 Exactrix Mustang Positive Down pressure TC Tool Bar and the Yielder 2900 Steering Track Cart goes to work at GSF, The NC+ Breeder of Channel Seed Corn. Operating with a Deere 9520 Row Crop Quad at Shelton, NE, May 16, 2019. Difficult and wet conditions prove that tracks really work in No-till.
28
Click Here for Field Operation.
Click here for full video https://vimeo.com/bandbvideo/review/337811713/33b051a4ab .
Check out Binary Banding the massive but delicate process of applying nutrients at 1% CV in deep bands.
Mustang Exactrix Banding Nutrients at 9.5 mph in Binary Banding Mode of 22.5 x 7.5, splitting soybean and corn rows in No-till.
Allowing the 60 foot 24/30 corn planter to plant directly on top of the Exactrix TAPPKTS Band the same day by banding to 7 to 8 inch depths.
Here is why nutrients are combined with root pattern geometry to drive yields up another notch. Achieving record field wide averages using VRT application at 1% CV. The machine and the expert management lifts yield expectations to the 300 bushel per acre range in commercial corn production.
Nominal increases over askew Exactrix Mustang will average between 5 and 10% above previous yield levels in the 270 bushel to 290 bushel per acre range for commercial corn. Micro nutrients and efficient utilization of KTS is possible with a third product 2KR Blender with TAPPKTS bands directly under and along-side each corn row.
Seed corn production for Channel dealers using high quality inputs of Exactrix TAPPKTS with Micros. The Exactrix Binary Bands brings out the best in seed quality with power packing of nutrients into the seed with balance nutrition in tough weather conditions.
Power Packing of Seed is a well-established practice utilized in Washington State by the Crop Improvement Association for raising high quality seed on nutrient packed potato soils.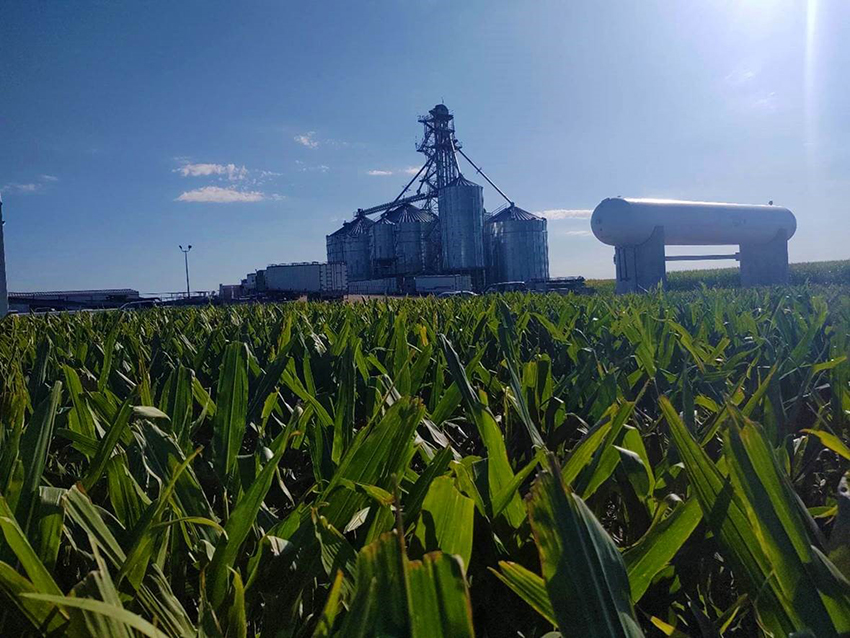 29
"Storage is the Key" at every farm in North America.
Frontier Farming Days.
February 13th and 14th, 2020
Hugoton, KS.
Mark your Calendar.
Training and Operation Seminars. 2 days.
Producers Get Top Yields with Custom Application.
Producing up $150 per acre more net income in No-till.
The entire investment is often paid back in one crop.

Your Great Plains Reporter
<![if !supportLineBreakNewLine]><![endif]>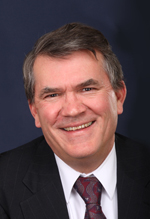 Guy J Swanson
Order from Barnes and Nobel, Around $100.00.
A mandatory read for Exactrix owners in overdrive.
The next generation will have a better chance with a tested sense of humor.
https://www.barnesandnoble.com/w/the-complete-far-side-3-volume-set-gary-larson/1120856572.