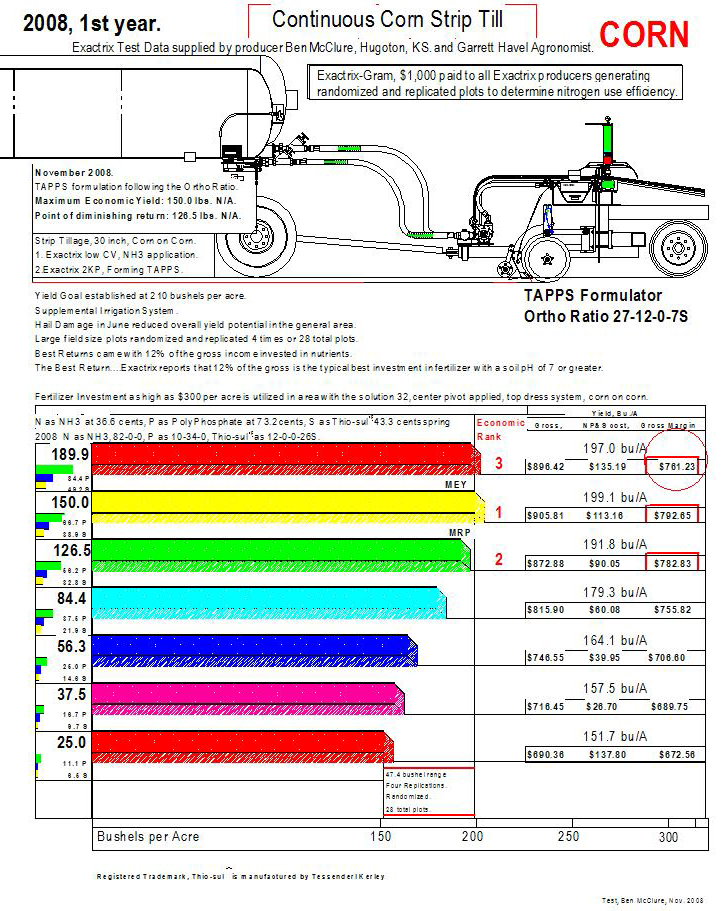 Amazing 2008 Irrigated corn production is very similar for nutrient costs and the price for 2008 corn at $3.84 per bushel.
2014 fall nutrient costing from Elkhart Coop in Western KS
2015 Dec. Futures Corn at $3.91, Oct. 9, 14.
Currently fall 2014 APP 10-34-0 $640 per ton is priced at 72 cents for N and P and S at $450 per ton is priced at 58 cents for N and S.
NH3 is 640 per ton or N is priced at 39 cents per lb of N.
Based on Loren Koehn at Copeland, KS and other producers such as Joel McClure at Hugoton you can reduce P and S costs in 2015.
Even though 10-34-0 is more expensive than 11-52-0…the liquid ammoniated P is 200% more crop effective than dry 11-52-0.
The Ortho Ratio can be readjusted to 126.5 lbs N as NH3 about 30 gallons per acre of NH3. $49.33
About 6 gallons of APP, Poly phosphate, 10-34-0 or 23.34 lbs. P plus 7.2 lbs. N per acre. $21.98
About 6 gallons of ATS or Thiosul 12-0-0-26S or 17.34 lbs. S plus 6.6 lbs N per acre. $13.88
Total cost at $71.31 per acre. Add 1 lb Ammoniated zinc at $1.75.
Total Nutrient cost $73. 06 per acre for a 200 bushel per acre corn crop.
140 lbs. N, 23.3 lbs P, 17.3 lbs. S, 1 lb Zn should produce a good corn crop of 192 bushels per acre with some allowance for weather damage…as 2008 had some hail damage.
Amazingly 2008 is very similar to 2015……..and this a really good time to adjust your equipment and plan for success in 2008.
Producers can raise a good corn crop with Exactrix TAPPS. Producers can make money with a nutrient investment of $72.00 to $96.00 per acre…planning on a gross income of $750 per acre.
More information at www.exactrix.com/TF.htm.
Another good article on yield improvements in wheat and corn at Lyons, KS http://www.exactrix.com/Broadcast_04_16_2014.html
In Indiana a similar discovery…Liquid Injection of Exactrix NH3, requires less N, and yield can be higher quicker.
The important point is to make sure that applications of NH3 are made in the 120 lb N to 140lb N range to maximize the profit.

Click on Graph Below for a PDF Version.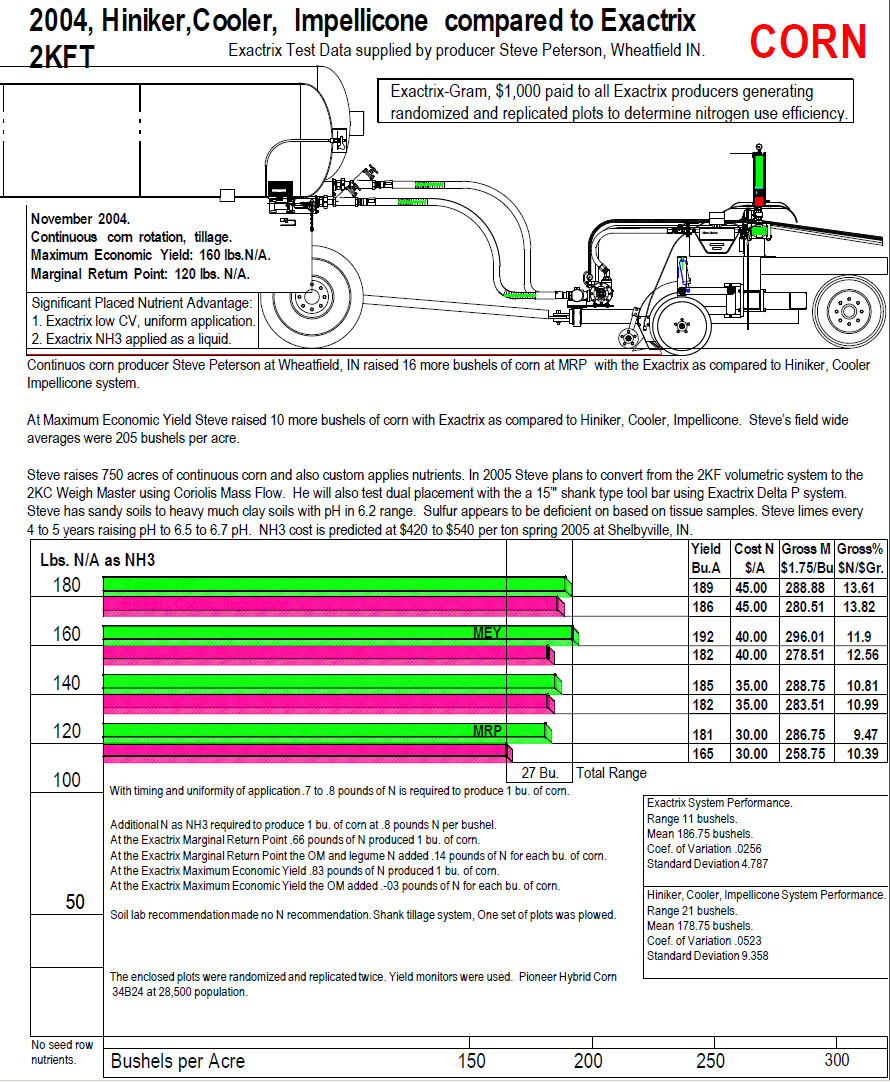 COMING UP..
Exactrix Nutrient Management Seminar.
Improving the Net Margin 12% under 2015 production pricing.
December 8th, 2014, starting at 8:30 AM

5 morning speakers with Lunch provided followed by 5 afternoon speakers finishing at 3:35 PM.
$150 per attendee inclusive of meal at Greenfields Pancake House.
Holliday Inn Express
8801 Amber Hill CT.
Lincoln, Nebraska 68526
South Lincoln at Hwy 2 and 84th street.
Call 402-423-1176 to reserve your room.
Exactrix has rooms reserved for seminar attendees that may also be attending the Nebraksa Power Farming Expo on Dec. 9th.
Please mention that you want the "Exactrix Group Rate"
The special rates are $90.00 per night.
The deadline for reserving rooms is Midnight, November 24th, 2014
Contact Pam at 509 535 9925 or Contact Alex For Additional Information – 509-456 0432

Don't forget to Visit the Nebraska Power Farming Show Before Or After The Exactrix Seminar