From "The Heart of the Dust Bowl" at Bumper Flats, Winter Wheat Planted with SRS has more yield potential and better winter survival.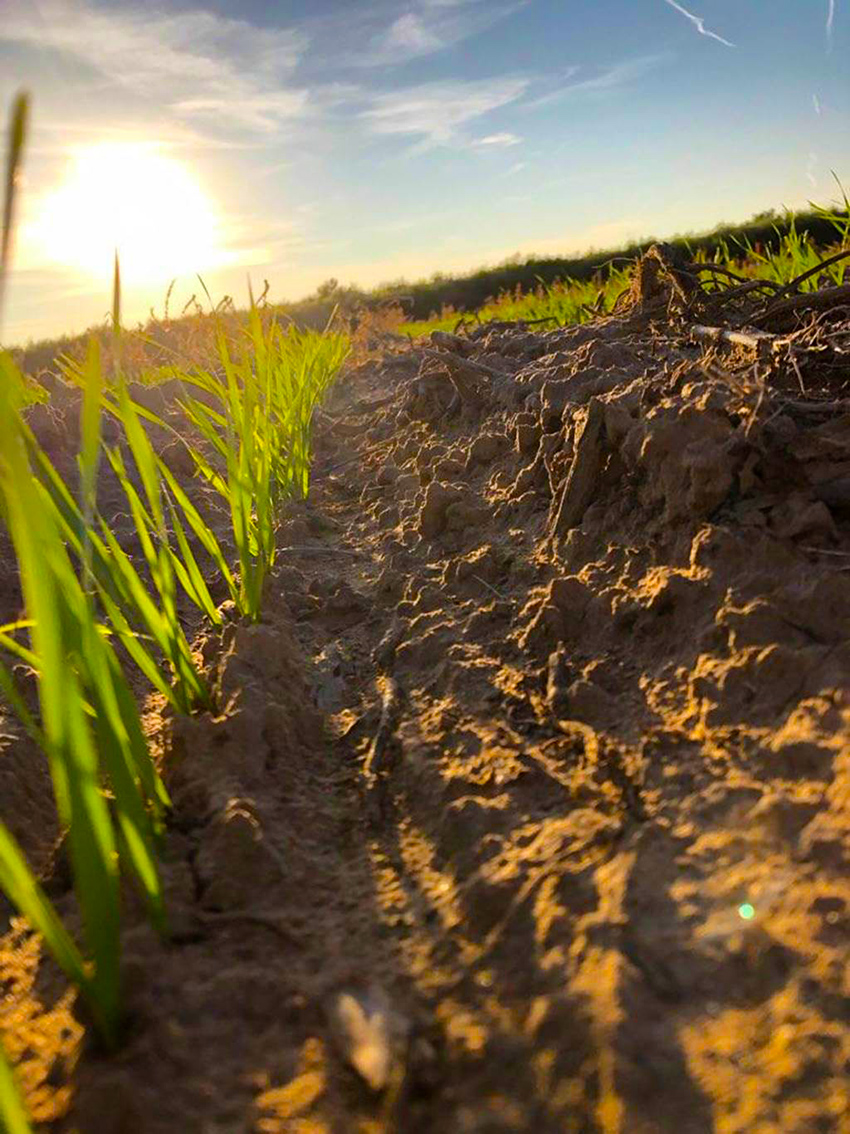 1
No-till farmers have a business opportunity that fits their rotation of No-tillage Crops.
Why are planters superior over drills?
Is it cleaned row areas removing soil active chemicals and residue in a No-till environment?
Is it precision depth control in a No-tillage seed bed?
Is it the planter double disc opener that makes seed and seminal roots more competitive in a tight V soil slot (like Hill Planting of Barley and Milo)?
Is it the precision population and in row spacing allowing wheat to push out of the soil and emerge faster?
Could the roots systems be much stronger and moving downward faster in the soil profile?
Is it Seed Row Saturation (SRS) that allows fast and deep rooting with even and quick coleoptile emergence?
Does fewer planted seed rows produce more grain and less straw?
Is side-dressing TAPPS more effective at 7 to 8 inch depths in dedicated row/band alignment?
Is a planter better for Variable Rate, Site Specific planting of winter wheat seed?
Is it because higher yielding wheat varieties (spring wheat parents) and Hybrid winter wheat seed can be used with more effective economics?
Do planters make rotations easier by raising less winter wheat straw with faster soil warming.
Are Exactrix nutrients more efficient (reduced use) with trapped TAPPS Mustang P-51C fertility. Thus surface germinating weeds starve and only winter wheat is stimulated with deep 7 to 8 inch bands along dedicated seed rows?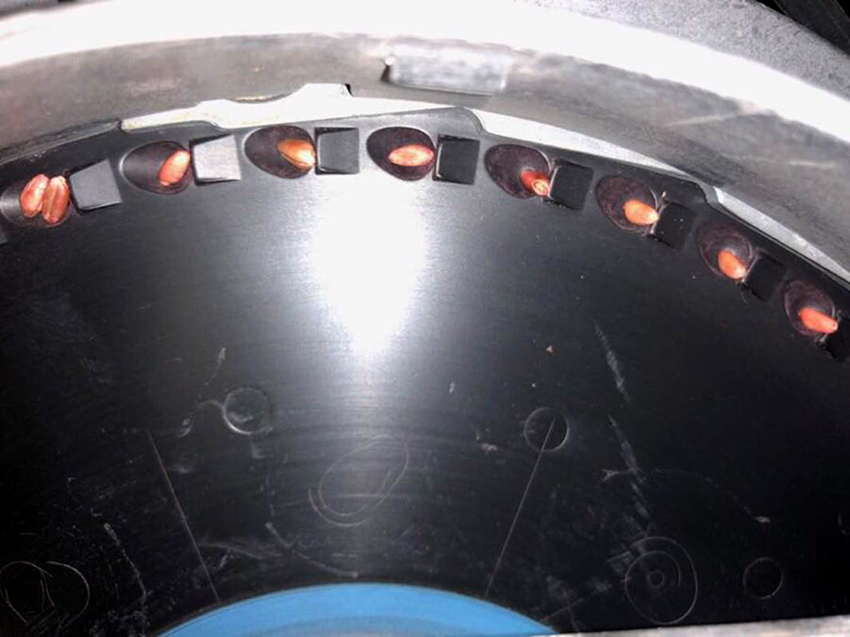 2
From Hugoton, KS in "The Heart of The Dust Bowl" and the world's second largest natural gas field.
Joel McClure and Jay McClure Winter Wheat, Drill and Plant Test Plots along the Cimarron River Valley. This location is about 4 miles away from the Santa Fe Trail. This is where mountain man, Jedediah Strong Smith was murdered at Wagon Bed Springs in 1831 by Comanche Warriors.
This land is the home of Milo plant breeder Dr. Walter McClure who was the first to breed Milo at Oklahoma State in the 60's.
Homesteaders of No-till with producers and breeders Joel McClure and Kramer Seed Company's Ben McClure, an extraordinary Ag Economist from KSU.
Plant Breeders want to know….Is a planter better than a drill?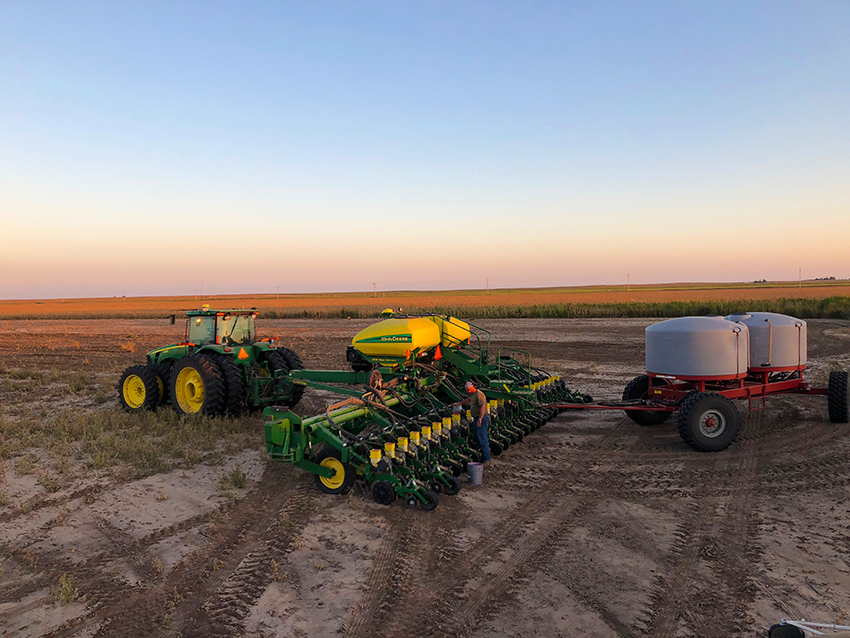 3
Deere 1790 on 20 inch x 24 rows, Precision Planting depth and metering, row cleaners, Exactrix Seed Row Saturation or SRS, 3,000 gallons.
Planting winter wheat seed with Milo plates at 188,000 and 376,000 or 15 lbs. and 30 lbs.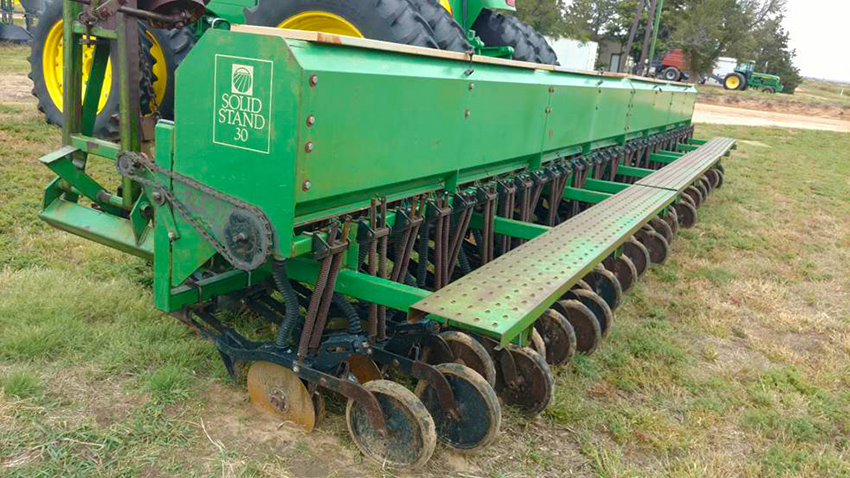 4
A high quality drill from Great Plains, Solid Stand 30 is a true description for a drill on 10 inch spacing with controlled spillage at 15 lbs. and 30 lbs. per acre.
This Great Plains three point drill is considered the best drill on the market for controlling seed placement, firming seed for osmotic movement of moisture, leaving standing stubble and metering seed accurately in dryland and irrigated production.
Planters are functional with winter wheat at 188,000 and 376,000 population on 20 inch centers. The resulting stand is much more effective with Seed Row Saturation since the water dike that flushes the Abscisic acid is twice as concentrated.
You can read more about the flush of Abscisic Acid at http://exactrix.com/Broadcast_02_06_2018.html . The Dike is also discussed. The Dike allows emergence in 45% vapor phase moisture conditions.
5
A big 4 inch rain came when the winter wheat was well emerged into the 3 to 4 leaf stage about October 3 to 5 th A slow rain but some challenges for the corn, milo, confection Sunflower, Soybeans and Alfalfa remain in the field. Harvest has been delayed 2 to 3 weeks.
The Deere 1790 planted comparison to drilled wheat was dramatic on October 13,18.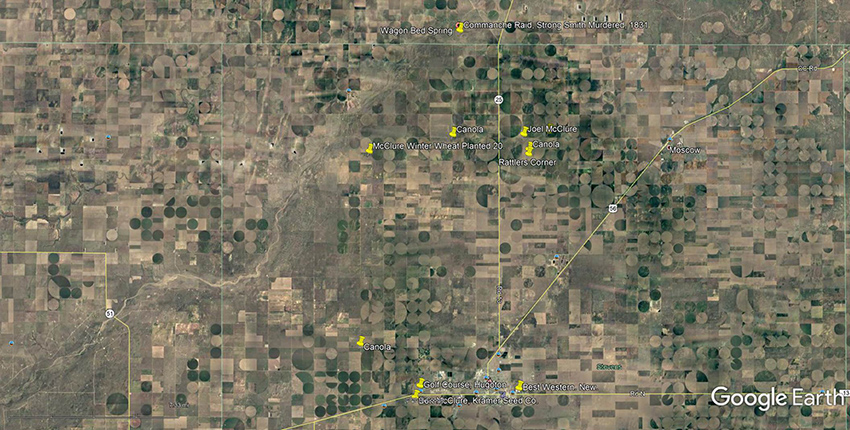 6
Dusty Hugoton, On the Santa Fe Trail. 1821 to 1880. A true western experience from the Pioneers of the West and the Great American Desert.
In fact Wagon Bed Springs is now a critical stop for all historians studying the Santa Fe Trail. http://exactrix.com/Broadcast_10_11_2016.htm
Today, One of the most valuable assets of Kansas and America is the Dust Bowl.
Oil, Gas, Ogallala water, Coal fired electrical power grid, Cattle Feed lots, High yielding crops for Ethanol and Distillers Grains, SW Kansas has a lot of vetenarians with 2 million cattle on feed out of 12 to 13 million total feedlot cows in the US, Wind Power to run hair dryers in Denver, Ammonia Manufacturing with 4 plants within 120 miles of Hugoton, Advanced transportation systems with safe Kansas highways, The transcontinental BNSF railroad, The Cimarron short line railroad and the transcontinental UP, and powerful Kansas farm families.
Note: Texas has the most cattle on feed in the United States followed by Nebraska & Kansas. Texas, Nebraska & Kansas each have over 2 million head of cattle on feed. Sixty-five percent (65%) of the cattle fed in the United States are in Texas, Nebraska & Kansas. The feed lots are full at record placements over the last six months.
Check out those low gallonage pivots for supplemental irrigation. https://youtu.be/oefANeZQ-YY Dragon lines from Teeter Irrigation are implemented to get more efficiency in the scenario of "Farming With The Wind".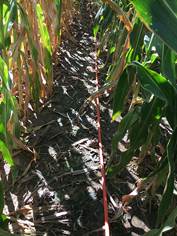 7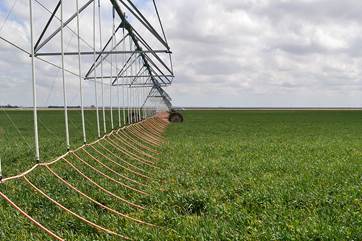 8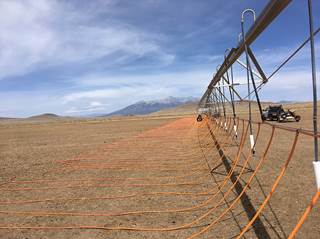 9
Another Key tool to manage a limited supply of water is Aqua Spy. This telemetry tool measures stored soil moisture and assures higher water use efficiency when pivots must conserve.
Joel McClure uses both technologies to manage water better. A 400 gpm pivot can become an equivalent 600 gpm pivot by reducing evaporation and allowing soil saturation with immediate response in dry and windy conditions.
Most every producer knows how critical it is to avoid irrigating on windy days at 20 mph to 40 mph. Uniformity of application greatly improves with this excellent technology.
10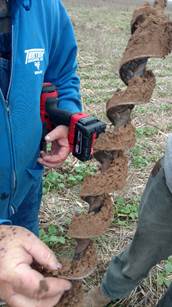 11
https://aquaspy.com/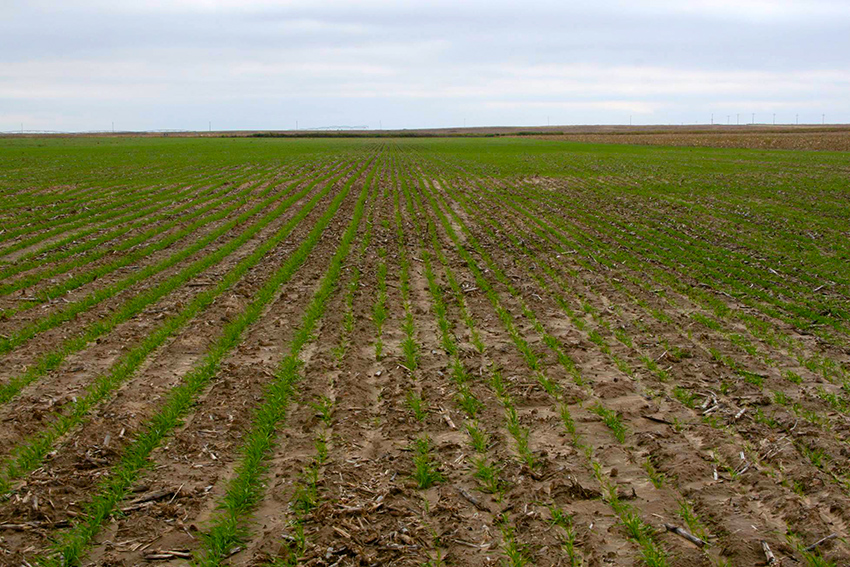 12
Planters are superior over drills at two seed rates of 188,000 and 376,000 seeds per acre or 15 lbs. per acre and 30 lbs. per acre. SRS is helpful to flush Abscisic Acid and make a connector dike at 45% Vapor Phase in row.
At the same seed rate the discovery was the planter had 125% more plants. The winter wheat seedling plants were much healthier with the 20 inch Planter and Seed Row Saturation at 50 and 100 gallons per acre.
Certified Seed winter Triticale on 20 inch planted makes good sense since it produces forage and lots of straw and only 60 to 70 bushel of high quality certified seed. Following Winter Triticale harvest with a new crop of irrigated winter Canola can be greatly improved.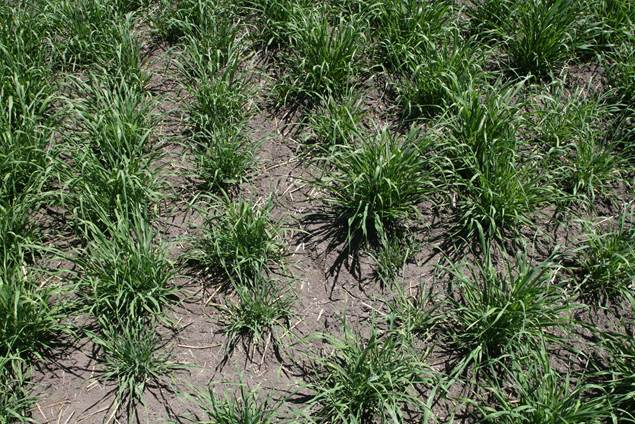 13
Hill planting of Spring Barley at Craigmont, Idaho. Learn all you can. http://exactrix.com/Broadcast_04_09_2016.htm
Why is planted winter wheat better on 20 inch lines (seed row) than drilled wheat on 10 inch lines? A line is European term and a line is the same as a seed row.
There are 10 reasons. You are expected to answer why planted wheat is the next chapter in winter wheat production.
How much more money can I make?
What did Jethro Tull have to say about drilling crops?
Why does spring and winter barley perform well in hills?
Is Hill Planting just as good as seed row planting in lines at ¾ inch spacing?
You need answers now….so get started. Or just request the reasons to plant winter wheat.
_________________
___________________________
______________________________
____________________________________
____________________________
______________________________
________________________________
_________________________________________
_________________________________________
______________________________________________
You can source a lot of your information from planter manufacturers and plant breeders.
Some good reliable information is available from chemical formulators and biological additive experts.
Another source of high quality information are experts in No-tillage farming.
Another source of tested and proven information is the USDA-ARS at Pullman, Washington.
The best source of high quality information comes from experts in machine design and fertilizers.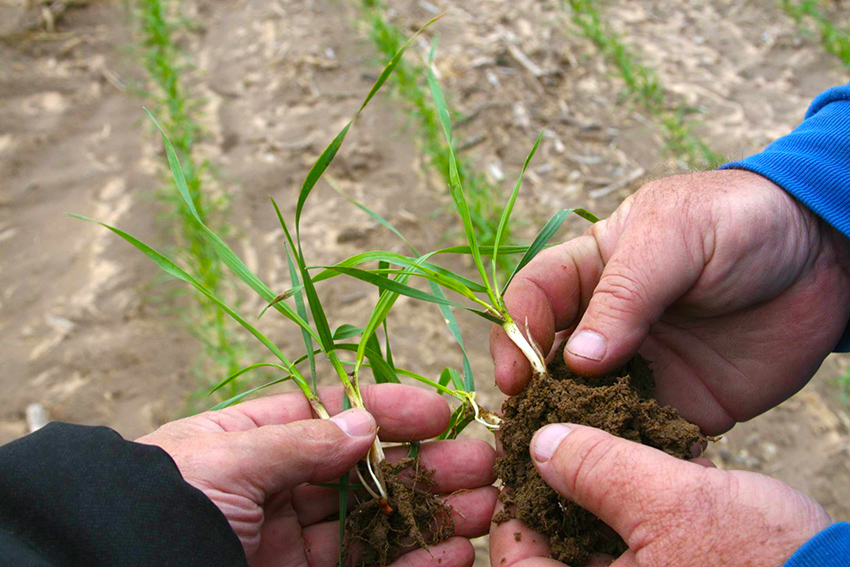 14
Darn near perfect seed placement. Healthy winter wheat seedlings moving to 5 and 6 leaf with good tillers and a quick start with T-0 also emerging. An indicator of seed vigor is T-0 and high quality seed from Kramer Seed Company of Hugoton, KS.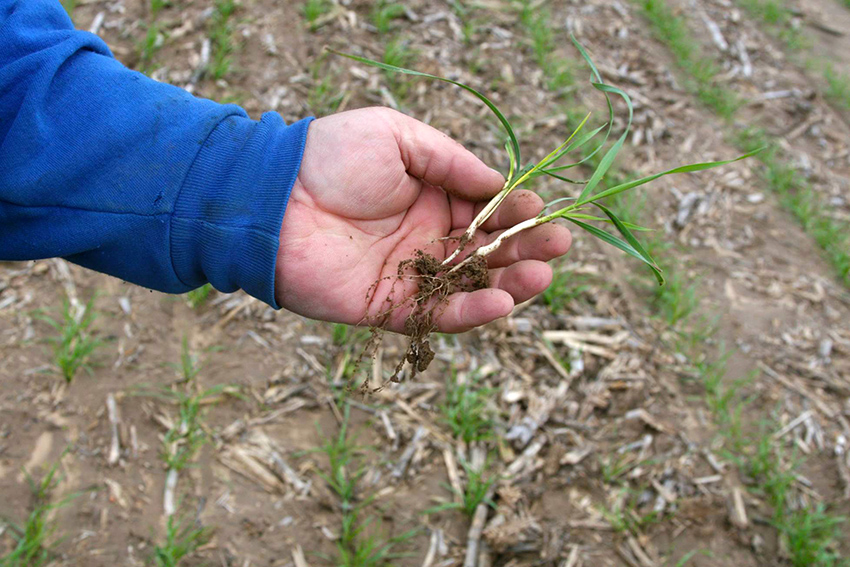 15
Crown set and expanding secondary roots. A little deeper on the seeding results in some energy loss since the plant will take longer to emerge. Sometimes it is better to seed deep with row cleaners on the planter to clear residual herbicides. SRS really helps with deeper seeding and planting.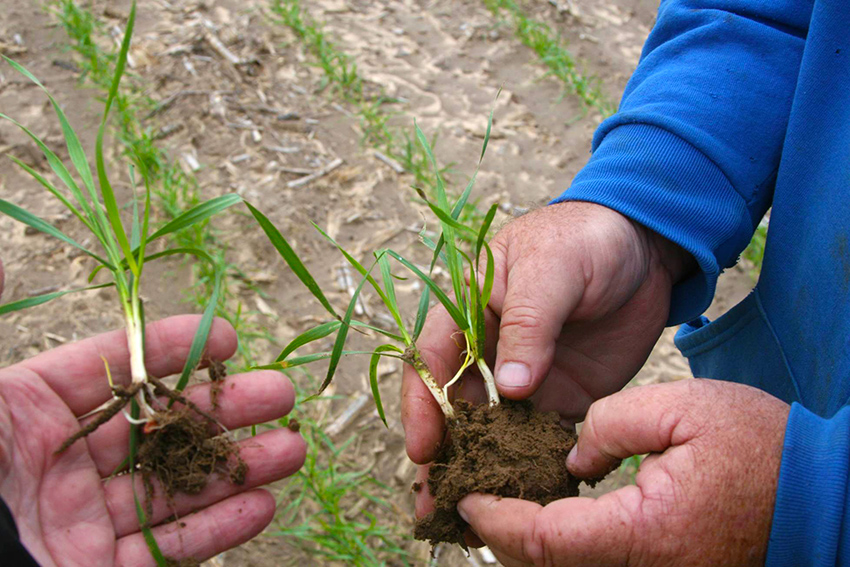 16
Planted Winter Wheat at Bumper Flats, Road Y, Hugoton, KS, Oct. 13, 18.
The 10 inch Seeded winter wheat was short on emerged plants and the seeded winter wheat was non-vigorous. The seeded winter wheat emergence was later by 2 to 5 days behind the planted winter wheat with SRS.
About 50,000 plants were missing at the 30 lb. seed rate with the seeding operation as compared to the planted operation.
Both techniques received ½ inch of rain four days after planting.
How will this show up in yield and winter hardiness? Leaf length should also be measured when freezing days and nights are in the forecast.
Can a planter use higher yielding varieties such as TAM wheats? It appears that hardiness is improved with a planter and therefore TAM wheats might be a better choice.
Hybrid wheats will be economical with a planter.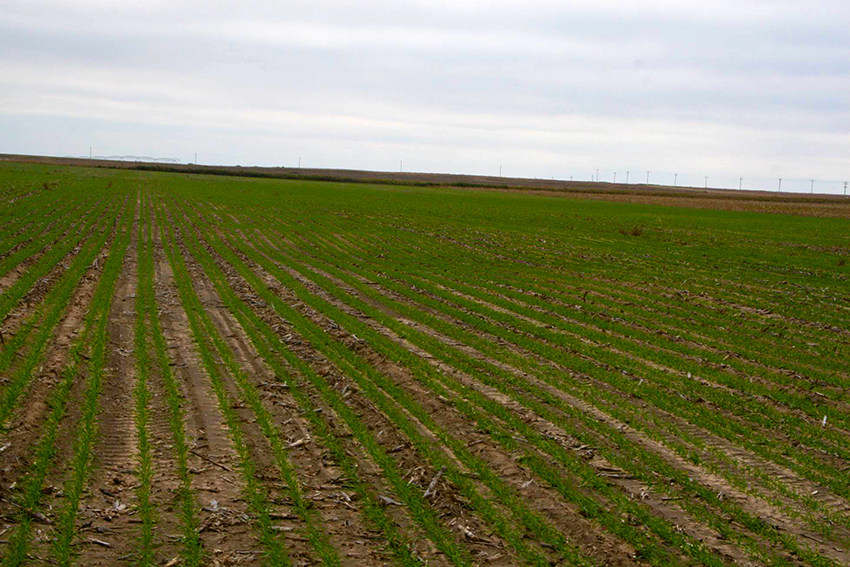 17
Planted wheat with average 10 inch spacing at 30 lbs. per acre total or 376,000. Each row is 15 lbs. on 20 inch or 188,000. The steering hitch with I-Steer was not used and thus a little wobbly on the rows alignment.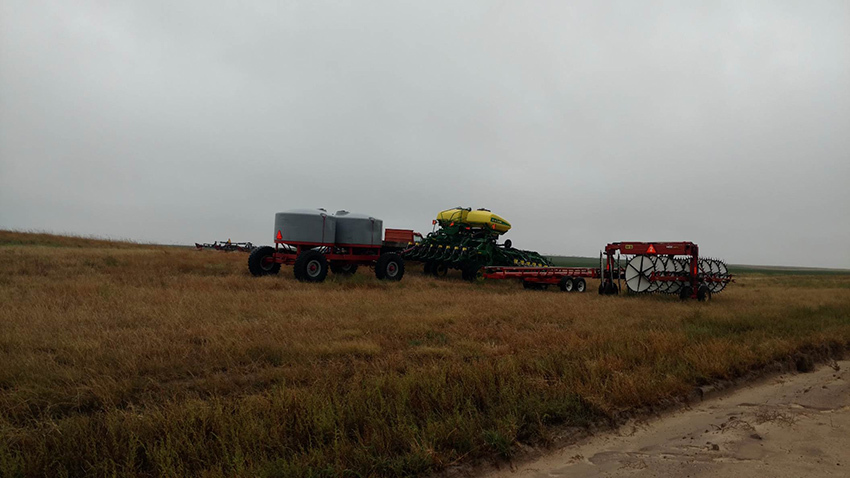 18
A 3,000 gallon Seed Row Saturation trailer.
Exactrix Seed Row Saturation Tubes make water delivery at 50 to 100 gallons per acre.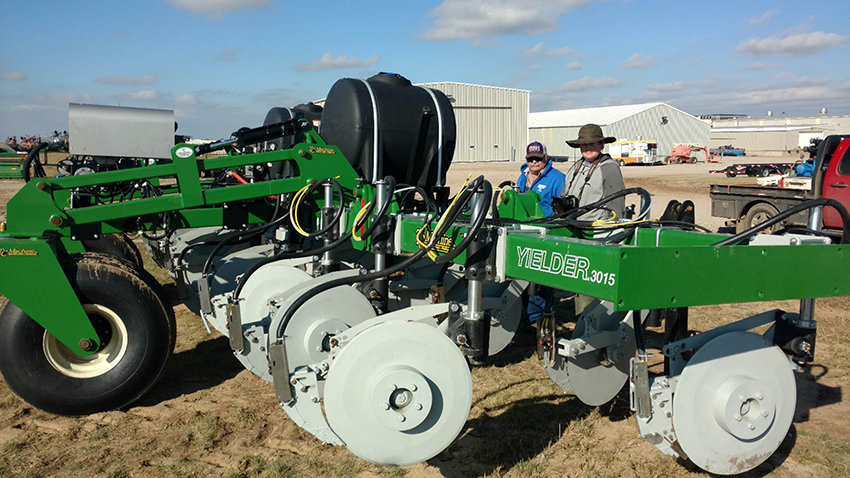 19
Joel and Jay McClure stimulating growers and laying down challenges wherever they tread.
The next generation Jay McClure is in charge of the planter plots at Hugoton. A legacy moment with Grandad Walter McClure guiding the way.
Exactrix TAPPS Side Dressing 20 inch winter wheat starts November 1, 2018.
The Exactrix Mustang P-51C banding tool bar will deliver TAPPS Bands 2 inch to 1 inch to the side of the seed row.
The Exactrix Mustang TAPPS fertilizer is banded to 8 inch depth and it is Trapped or Leveraged to favor the winter wheat plant. The fertilizer is hidden from the weeds with good timing. Only about 1% damage occurs to winter wheat primarily from the tractor tracks.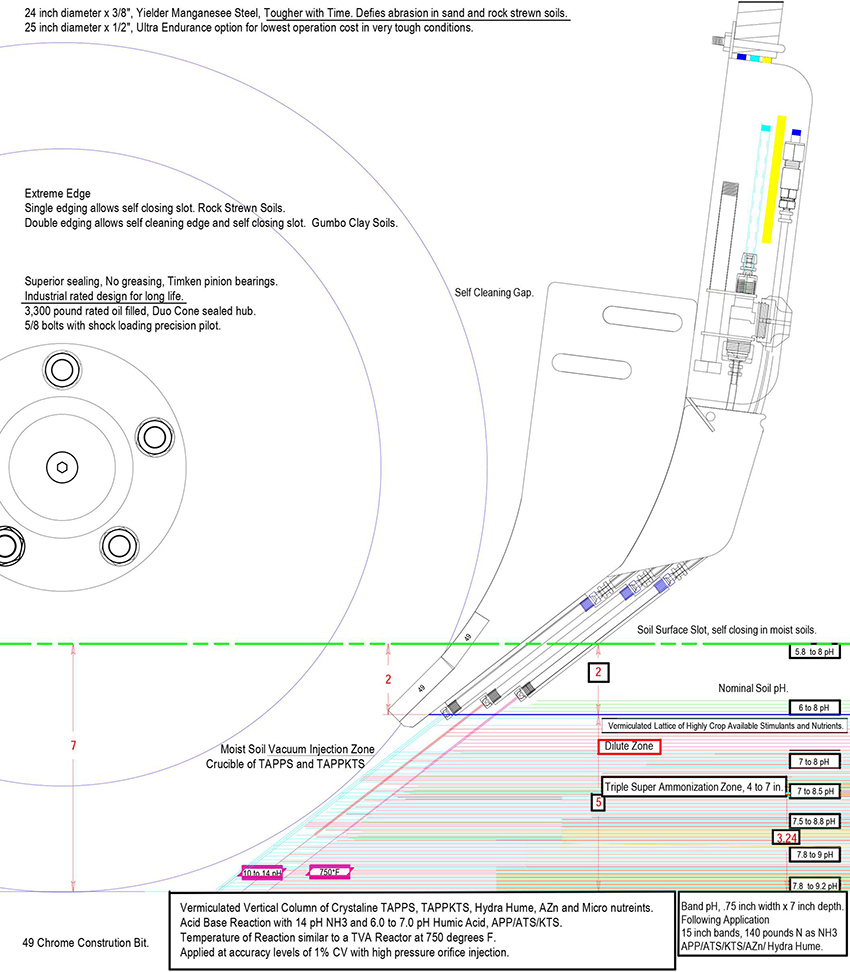 20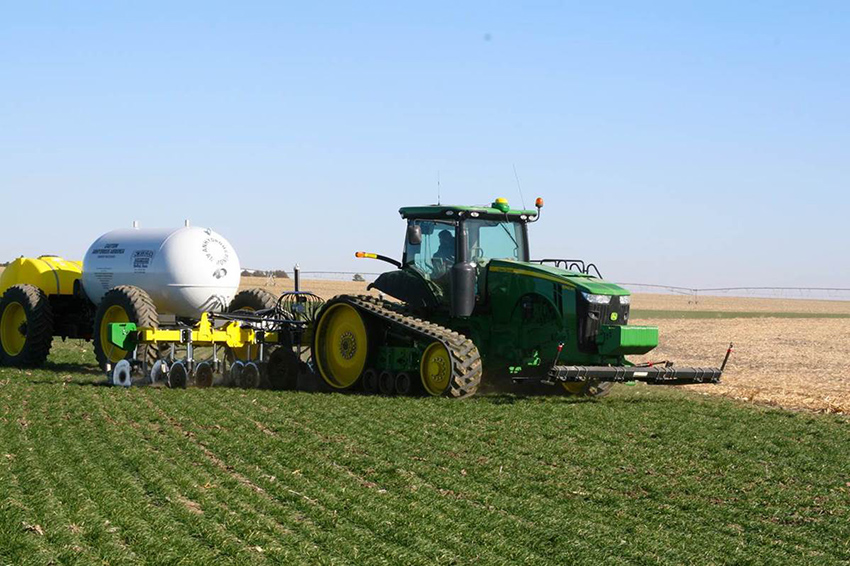 21
At Goodland, KS winter wheat gets side dressed in late November. Big Winter Wheat has TAPPS treatment on a pivot corner.
Exactrix breaks yield barriers with high efficiency nitrogen use in Hard Red Winter Wheat at Lewiston, Idaho.
http://exactrix.com/Broadcast_02_02_2018.htm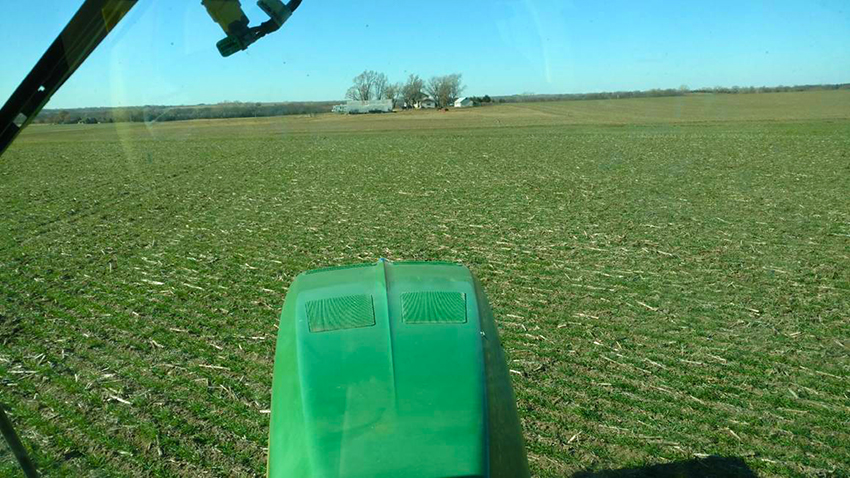 22
Side Dressing Winter Wheat at Abilene, KS in November.
Could Yielder Drills benefit from a second pass of Exactrix TAPPS?
You bet…about 7% to 10% more yield punch. http://exactrix.com/Broadcast_10_13_2017.htm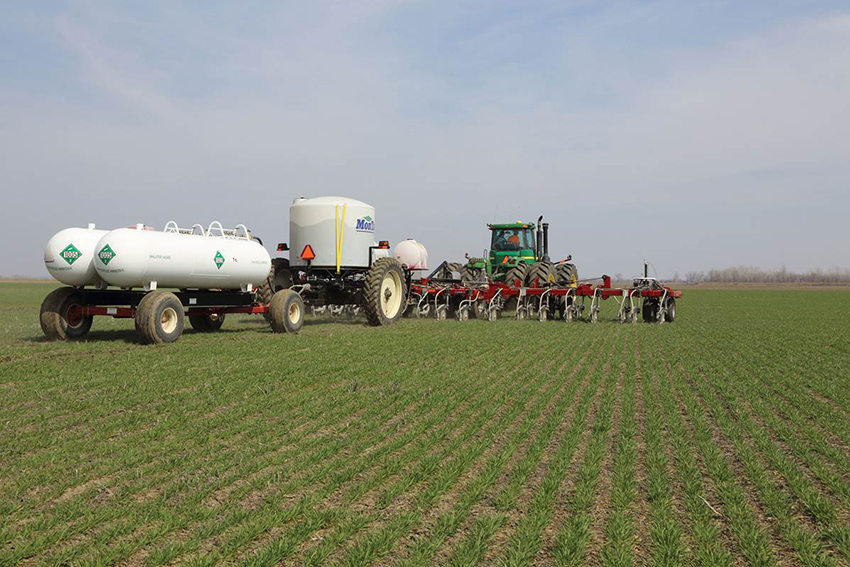 23
Side dressing winter wheat at Marshall, MO in February.
Mustang Openers are superior with 7 to 8 inch deep band depths with very little damage, about 1% due to the tractor and trailer tracks.
Tracks on the cart and the tractor are most likely a great choice for big acre wheat in Kansas and Texas.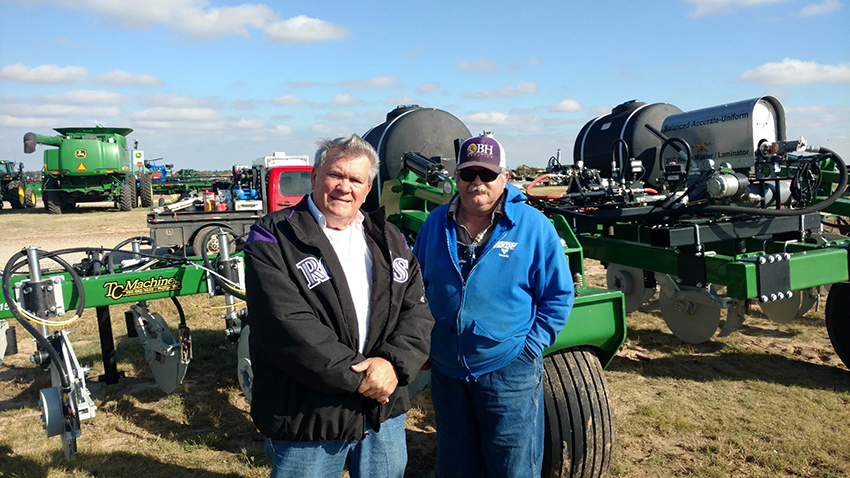 24
Guy Swanson and Joel McClure
Your Great Plains reporter at Liberal, KS,
Keating Tractor, Mustang Parts Dealer for the Great Plains.
Guy Swanson.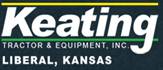 Joel McClure your advanced producer in No-tillage and superior economics in crop production.
A lot of fun on a football Saturday Oct. 13, 2018.
---
COMING UP..
Exactrix® Nutrient Management Seminar.
Improving the Net Margin 12% under 2019 production pricing.
Colby, Kansas, Comfort Inn, December 6th, 2018, starting at 8:30 AM
Standing Room Only.. It can happen.
Yes Sir, Finalize now for an exciting meeting that will allow an input revolution on your farm.

5 morning speakers with Lunch provided followed by 5 afternoon speakers finishing at 3:35 PM.
$527 per attendee with the best contacts and economists you can reach out to. Bankers, Producers, Fertilizer Dealers, Landlords. Looking for answers.
Fire up early with an Ethanol tour Dec. 5th at Campus, Kansas, Tour starts at 1:00 PM.
The entire seminar is guaranteed.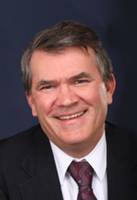 Your Great Plains Reporter,
Guy J Swanson.
---