Exactrix TAPPS produces good yields in 2014.
Some Fields average 240 bushel per acre, top yielding fields in the 275 bushel per acre range.
Exactrix TAPPS, Mustang Openers in No-tillage drives yields and improves the margin.
Rotational Band Loading. No-tillage and Snow with TAPPS.
Big Production Margin with Low Cost NH3 formulated as TAPPS.
Reports in 2103 were similar in the 260 bushel per acre range.
What do the nutrients cost to raise 275 bushel per acre corn?
Cost for Exactrix TAPPS nutrients fall 2014. 170 lbs N as NH3 at 39 cents per lb of N. $66.30, 9 gallons(35 lbs.P) 10-34-0, Poly Phosphate $33.68, 12-0-0-26S Thio-sul® at $9.44 or 11.5 lbs S. AZN, $3 Total $112.42. Fall Nutrient Costs in 2014, Dec. 2015 corn at $4.11 at 270 bushel corn, Projected Gross Income of $1,109. 70.
Starter fertilizer. 5 gallons 10-34-0 plus zinc. $20.66
Nutrient cost at 12% of the Gross or $133.08. This is a typical percentage in Dryland corn all the way to full irrigation. No more than 12% of the gross is invested with Exactrix TAPPS.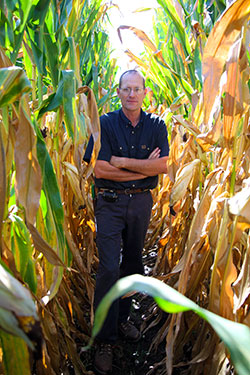 Based on Fall 2014 nutrient costs and Dec. 15 pricing for corn. $976.62 gross margin after fertilizer costs.
You can check out Kevin Medow at Seward, NE in 2013 profile.
Top Nebraska Yields in the 240 to 275 bushel per acre range in 2014 with TAPPS Exactrix Band.
(Click here on Kevin Article)
Winter Wheat Production…with VRT and advanced production techniques.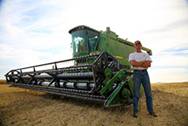 See Video
You can also check out Eric Odberg at Genesee, Idaho breaking winter wheat yield records with Exactrix TAPPS at Catholic Canyon using 4 management zones with Exactrix Variable Rate. EO.htm - See Video

Winter Canola can also be fertilized in late in October with Exactrix TAPPS to assure good winter survival and great spring start.
You can also check out Dan Mader Video
Raising Brewing Barley with low nitrogen inputs will produce more return with Exactrix.
Banding deep….Fall Banding of TAPPS and TAPPKTS (NH3,APP,ATS,KTS, Hydra Hume) is critical to make top yields.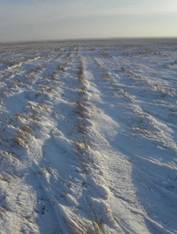 Only in North America...The uniform Exactrix Anhydrous Ammonia when combined with the environmental event of Snow Fall on the landscape can you find producers that have these exceptional high yields.
This does require No-till to evenly distribute the snow fall across the land and of course the Exactrix system to make uniformly applied TAPPS or TAPPKTS.
Not many people know that the slowly melting snow fall and snow pack in close to freezing conditions is critical to raise good crops.
Argentina and Brazil are using No-till to raise good crops….but South America has no Snowfall and this means lower yields….and no Anhydrous Ammonia to drive the yields higher.
P-51 C Mustang Openers help by lowering the uniform crystal bands deeper into the soil to develop better roots in drought.
Snow and Anhydrous Ammonia, Exactrix TAPPS with Mustang Banding openers allow world record dryland yields in the rolling Palouse and irrigated rolling Nebraska.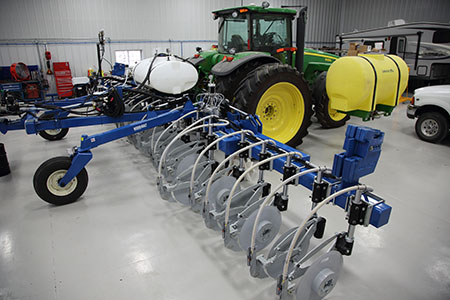 Our customers do make another $75 to $150 more net income per acre based on 2014/2015 pricing…It comes in the form of a good yield at a reduced cost.
A Better Margin with high quality nutrients and process of TAPPS.
---
COMING UP...
Exactrix Nutrient Management Seminar.
Improving the Net Margin 12% under 2015 production pricing.
December 8th, 2014,starting at 8:30 AM

5 morning speakers with Lunch provided followed by 5 afternoon speakers finishing at 3:35 PM.
$150 per attendee inclusive of meal at Greenfields Pancake House.
Holiday Inn Express
8801 Amber Hill CT.
Lincoln, Nebraska 68526
South Lincoln at Hwy 2 and 84th street.
Call 402-423-1176 to reserve your room.
Exactrix has rooms reserved for seminar attendees that may also be attending the Nebraska Power Farming Expo on Dec. 9th.


Please mention that you want the "Exactrix Group Rate"
The special rates are $90.00 per night.
The deadline for reserving rooms is Midnight, November 24th, 2014
Contact Pam at 509 535 9925 or Contact Alex For Additional Information – 509-456 0432

Don't forget to Visit the Nebraska Power Farming Show Before Or After The Exactrix Seminar
Meeting your formulation needs. www.exactrix.com/TF.htm
Picking your metering systems.www.exactrix.com/epm.htm
Need more information on advanced crop production. www.exactrix.com/EWAC.htm
For More Information:
(509) 254 6854