Exactrix Makes TAPPS at 26 degrees and cooler
temperatures at Keene, North Dakota.

Banding at high speed at Keene, ND in the heart of the McKenzie County, Bakken Oil field.
Andy Mogen carries out fall banding for Spring Wheat and Canola Production.
Andy Video 1
Andy Video 2

At 48 degrees North at 2,300 feet elevation and 70 miles south of the Canadian Border at the convergence of the Yellowstone, Little Missouri and The Missouri River at Lake Sacajewa.

In the 1830 to 1850ís at the river convergence, powerful Trappers and Moutain Men lost their life to the mean Arikara Indians, notably Hugh Glass had his final Indian battle at Williston at the mouth of the Yellowstone in 1833.

Not too long after the Comanche murder in 1831 of Jedediah Strong Smith at Wagon Bed Springs, KS, Along the Cimarron River.
Rivers and Indians were not a good combination if you were thirsty.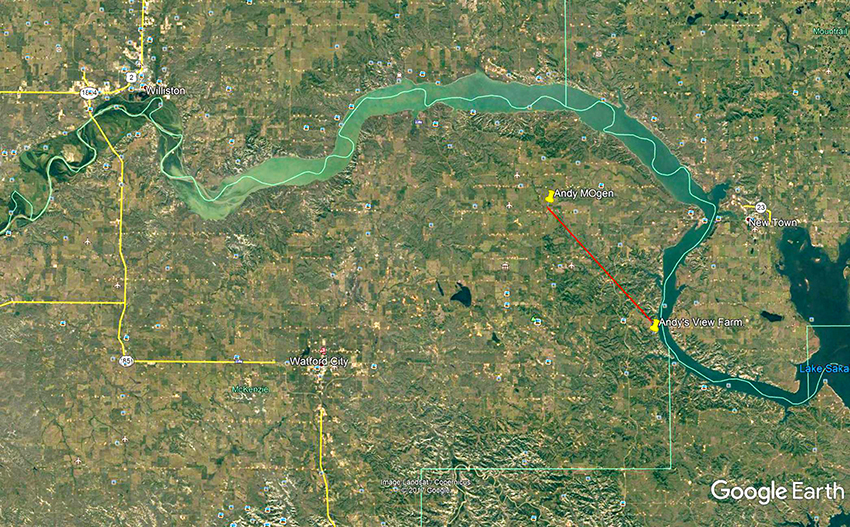 The applications are being made from 30 lbs. N to 120 lbs N. and about 8 to 12 gallons of APP and ATS.

All fields are VRT-Site Specific with help from Agri-Trend and Gooseneck Equipment.

Exactrix TAPPS at 1% CV application uniformity makes for better high quality crops and reduced use of nutrients.

This is a 3 section, wing out version of the Deere 1890 banding on 10 inch centers formulating TAPPS at 50 feet with 60 Deere 1895 openers.

The openers have been improved with Exactrix Yielder Blades with 19.6 inch diameter x 5/16 thickness.

The openers operate well in snow and are banding about 4.5 inches in depth on November 1 at 48 degrees North.

Video submitted by Andy is above attachment.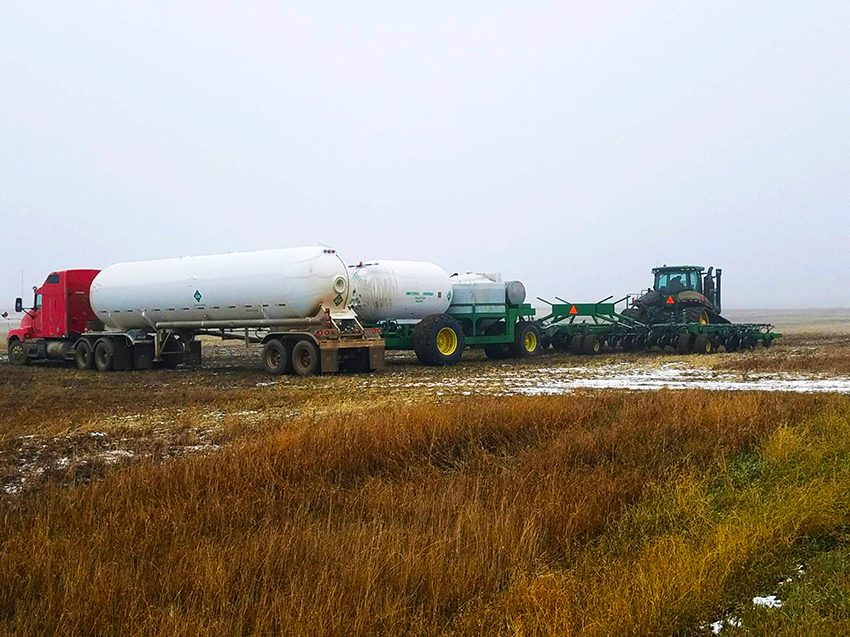 The Exactrix Engines are based on 1% uniformity using the Exactrix NH3 Laminator Type delivery, with a 2KC-Series 3 Weighmaster. The TAPPS formulator is a 2KP. The Engines supply dual staging manifolds for operation to 12 mph.

Series 4 injection is used with the 1895 closing wheel.

The openers band to 4 to 5 inch depth in surface freezing conditions at 26 degrees F.

The Transport in required in the busy Bakken Oil field. In North Dakota Oil field conditions the Co-opTrailer Tank Ammonia delivery system does not work with a farming operation spanning 32 miles to the resvoir buttes of the Missouri River.

A beautiful farming area of the Great Plains.

Williston, Watford City, Alexander, New Town, Keene, and the Four Bears Bridge over the Sacajewa Reservoir are familiar scenes and town names. This area shows strong economic recovery over the last 2 years.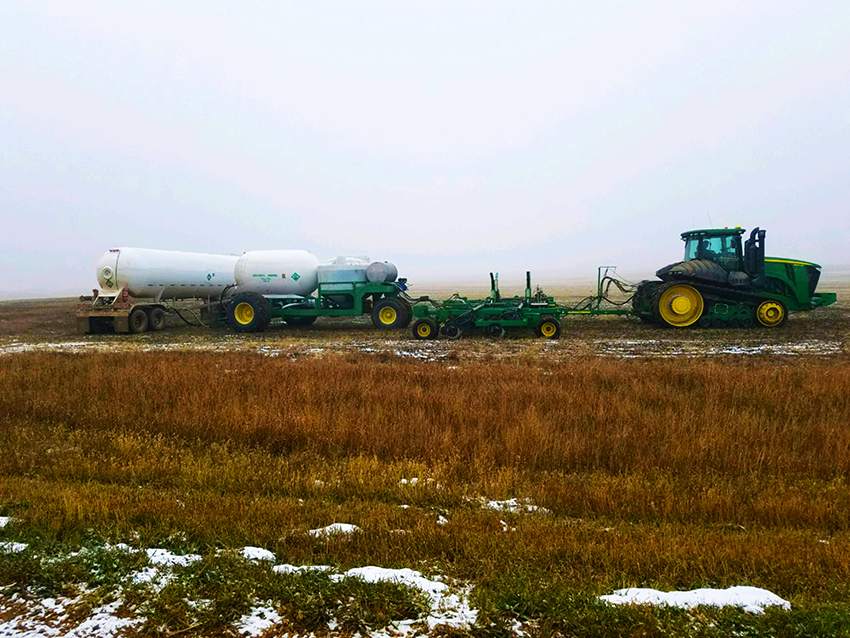 Your report from the north and your Great Plains Reporter,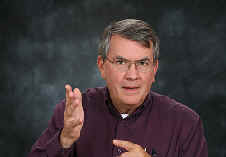 Guy Swanson.