Regarding fertilization of Blue Grass sod….in the Columbia Basin of Oregon and Washington.
Not many producers know about Exactrix fertilizing winter crops as shown as well as Blue Grass sod.
Single disc banding allows for excellent timing of nutrients with No-tillage.
And now the bands can be placed at 6 to 7 inch depths in moist soil conditions.
In fact single disc banding of TAPPS and TAPPKS and NH3 only is quite common in Texas.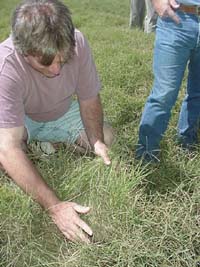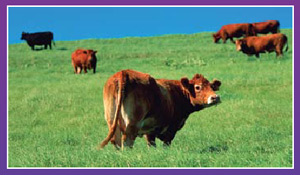 Large Oklahoma and Texas farms use Exactrix NH3 application systems to directly apply at 40 lbs N/A rates into dormant Bermuda Coastal Grass in dryland and higher rates in irrigated production, The dryland production is in rotation with stocker cattle feeding on the winter pasture. Also winter wheat is grazed with Exactrix NH3 application in late November and December….up to when the wheat breaks dormancy.
The Hillside Mustang Tool bar can apply two products as shown at Walla Walla, The bands can be stabilized allowing a June application….NH3 plus APP,ATS, KTS as required and Hydra Hume or carbon based materials can be added.
The picture above is late June at Walla Walla fertilizing Chemical Fallow.
The Mustang unit bands very deep at 6 to 7 inch depth and self seals with a unique opener.
The fertilization of Sod has also been carried out with Yielder drills on 10 inch spacing. This best choice is 12 inch since it also fits small grain production and corn.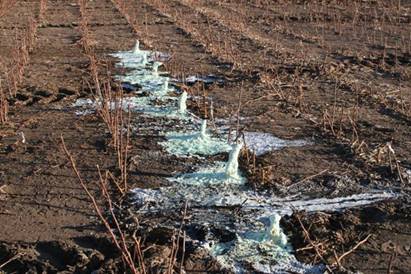 In Kentucky Blue Grass seed production, the Columbia Basin is a problem area for ammonia volatilization of surface applied N.
http://oregonstate.edu/dept/coarc/sites/default/files/publication/10_nitrogen_volatilization.pdf
Since the Exactrix Mustang Tool bar can also band P below the surface….and all bands are sub surface located with root pattern geometry the loss of nutrients is much, much less in Kentucky Blue Grass seed production….and an opportunity to reduce the chance of the crop from becoming sod bound which often occurs with surface applied N.
http://ir.library.oregonstate.edu/xmlui/bitstream/handle/1957/22165/em9029.pdf
Each Exactrix band is within 1% CV of application….so the nutrients are most likely 50% to 70% more crop available due to the equal band concentration below the surface in a crystal stabilized TAPPS formulation.
At the very least the improved technique can offer much lower nutrient costs, Much higher efficiency, and better yields.
Also it is possible to use Hydra Hume and other types of carbon based materials that improve the band efficiency.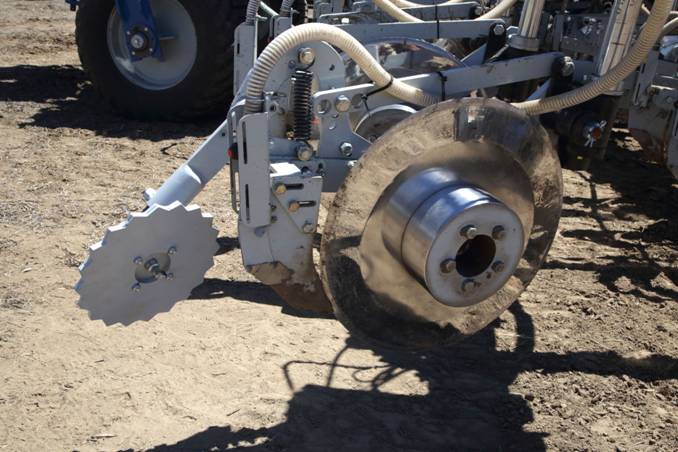 Swiveling Single Disc P-51 openers.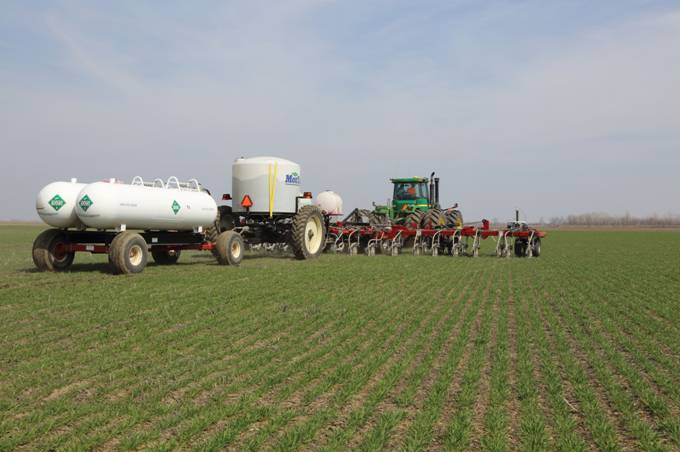 Fertilizing Winter Wheat with Exactrix TAPPS in Marshall, MO area. A powerful means to conserve.

Smith Center, KS. Fertilizing Winter Wheat in early April. Big jump in economics…much higher yields.

http://www.youtube.com/watch?v=T5botwQL49I&fmt=37
http://www.youtube.com/watch?v=OK6UVA5gLSI
http://www.youtube.com/watch?v=LIooFXM398k
COMING UP..
Exactrix Nutrient Management Seminar.
Improving the Net Margin 12% under 2015 production pricing.
December 8th, 2014, starting at 8:30 AM

5 morning speakers with Lunch provided followed by 5 afternoon speakers finishing at 3:35 PM.
$150 per attendee inclusive of meal at Greenfields Pancake House.
Holiday Inn Express
8801 Amber Hill CT.
Lincoln, Nebraska 68526
South Lincoln at Hwy 2 and 84th street.
Call 402-423-1176 to reserve your room.
Exactrix has rooms reserved for seminar attendees that may also be attending the Nebraska Power Farming Expo on Dec. 9th.
Please mention that you want the "Exactrix Group Rate"
The special rates are $90.00 per night.
The deadline for reserving rooms is Midnight, November 24th, 2014
Contact Pam at 509 535 9925 or Contact Alex For Additional Information – 509-456 0432

Don't forget to Visit the Nebraska Power Farming Show Before Or After The Exactrix Seminar