Black Dirt Days, only a memory.
Check Out the Competition for Net Dollars and Improved Soil Physical Structure.
Exactrix Winter Canola Sites, Hugoton, KS, Moscow, Kansas, Elkhart, KS, Ulysses, KS. Liberal, KS, Deerfield, KS, Scott City, KS, Quinter, KS, Goodland, Ks, Colby, KS, Dodge City, KS, Ingalls, KS. Clay Center, KS, Talmadge, KS, Russell, KS, Otis, KS, Lyons, KS, Smith Center, KS. Hoxie, KS., Burlington, Co, Yuma, Co. Lohn, Texas, Electra, Texas, Weatherford OK.
Wherever there are Ag Bankers, Cows, Ogallala Irrigation, Wind Blown Loess Soils, Interstate Hwy Transportation, Transcontinental Railroads, and Anhydrous Ammonia manufacture you will find direct application of NH3, with Exactrix TAPPS formulators in No-tillage farming.
Looking for Answers, A meeting meant for advanced producers, Winter Canola with NH3, nitrogen stabilization, TAPPS 8 inch deep banding, A producer driven Exactrix Seminar is coming Dec. 7 at Colby, KS.
Black Dirt Days are a memory.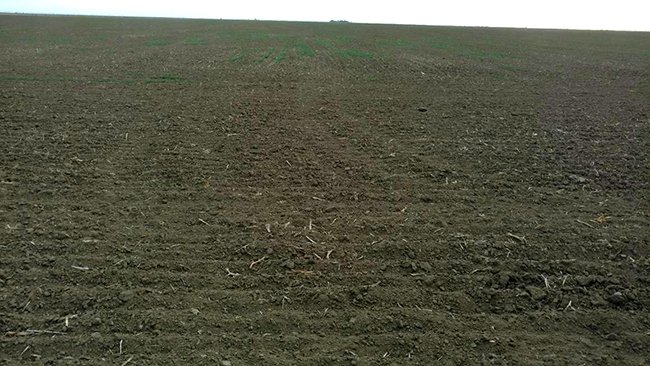 Seeded winter wheat field 45 days ago borders on established winter canola fields
Adjoining winter wheat fields in the Hugoton, Elkhart area have a poor fall start. Is this the beginning of the end for large winter wheat acres in Kansas?
The winter wheat price is $2.89 to $3.20 range at Elkhart, Hugoton, KS with a 30 to 35 to 40 bushel proven yield typical depending on soil type.
This adjoining Hugoton winter wheat field is going to blow soil all the way to Washington DC and erode to the tillage line if the Jet Stream settles in on Hugoton….home of Dirty Thirties and the Dust Bowl.
Winter Canola is a great conservation crop for this area. Varieties from KSU such as Riley, and Rubisco, Hornet, Garnet and Mercedes, Secondary breeders include Dekalb and Pioneer.
Crushing the crop is no problem with ADM at Goodland. Also the Dairy industry prefers Canola crush making Texas, Oklahoma and Kansas an ideal location to raise winter Canola.
In fact Winter Canola could also be planted on harvested high moisture corn, keeping the land covered at all times. Mustang P-51C and CUE Openers can fertilize the growing Canola.
New methods need to be reviewed to plant Canola just after the corn harvest combine.
Double the caffeine ……Get up on the step …Jump the fence… and compete for more net dollars with Winter Canola in your long term rotation.
A dryland yield goal of about 35 to 40 bushel per acre, 1,750 to 2,000 lbs per acre.
The Canola price is following soybeans at about 16 cents per lb or $8.00 per bushel.
A chance to make a profit and leave a good rotational seed bed for cereal crops. Time proven yield bumps in wheat and undocumented yield increases in Corn.
Planted with a RRV meter on Deere 1710 planter at 20 inch spacing. September 5, 2016 planting date, Picture is November 4, 2016.
Dryland Winter Canola, Full Section Pivot Corner..Rattlers Corner, Rubisco, Hornet.
Exactrix Rotational Band Loading for historical fertility of 10 years No-tillage, 20 inch spacing in Rotational Band Loading along with 10 inch spacing with the Deere 1990 seeder banding TAPPS.
The crop has 100,000 population goal…mostly higher to 120,000. The crop is generally overplanted wherever you go.
Needs to drop to about 40,000 to 60,000 population with a high quality planter.
This dryland pivot corner grew fast and the Pix was probably too late.
The Single Disc Banding Tool Bar….The Mustang tool bar set on 20 inch spacing banding TAPPS. The TAPPS fertility goes on in the dormant period.
The next 10 days are a slow cool down. From 32 to 42 degrees F for a low at night temperature to 62 to 68 degrees F for the daytime high with no rainfall and humidity is 33% to 68%. High Pressure has set in with the Jet Stream flowing very far north in Sask.
Insects are still moving around. Canola shows no insect damage but insects are in the crop. Carumba fungicide also applied with the Pix.
Sunrise is 7:22 AM and Sunset is 5:38 PM, Central Standard Time….about 10 hours of sunlight. Days are mostly sunny. Good growing conditions. No Hugoton Canola fields show signs of drought stress. Winter Wheat is in trouble on many dryland acres.
Banding TAPPS with Mustangs on 20 inch centers will occur in January or February.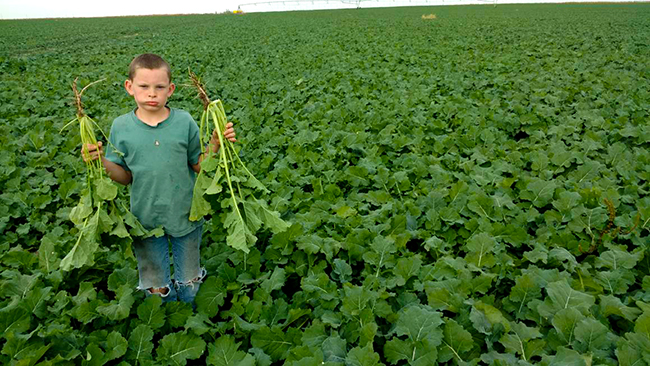 Irrigated Production of Rubisco Winter Canola, Barry Hittle, Hugoton.
Max McClure inspects the fields that are moist to the surface. Plants lift out easily. The irrigated field is not Rotational Band Loading. Nitrate and tillage history, Top Dressed. Rubisco Mercedes. Low residue.
The irrigated yield goal of 70 to 80 bushels per acre, 3,500 lbs to 4,000 lbs….with a chance to double crop Milo with a mid-June harvest completion. Yields can be higher but Sulfur fertility is important to make high oil content.
Thio-sul® solves the sulfur hunger need for top protein or oil content in Canola and also stabilizes nitrogen with Thio or phytoxic sulfur in the TAPPS. Thio-Sul® also frees up micro nutrients in the exclusive pH swing.
Raising the oil content above 44% is going to require a TAPPS double or Triple rate of Thio-Sul® in the Tri-Ammonium Poly Phosphate Sulfate AZn band….25 lbs. S to 30 lbs. S with 10 to 15 lbs APP and 65 lbs. N to 100 lbs. N.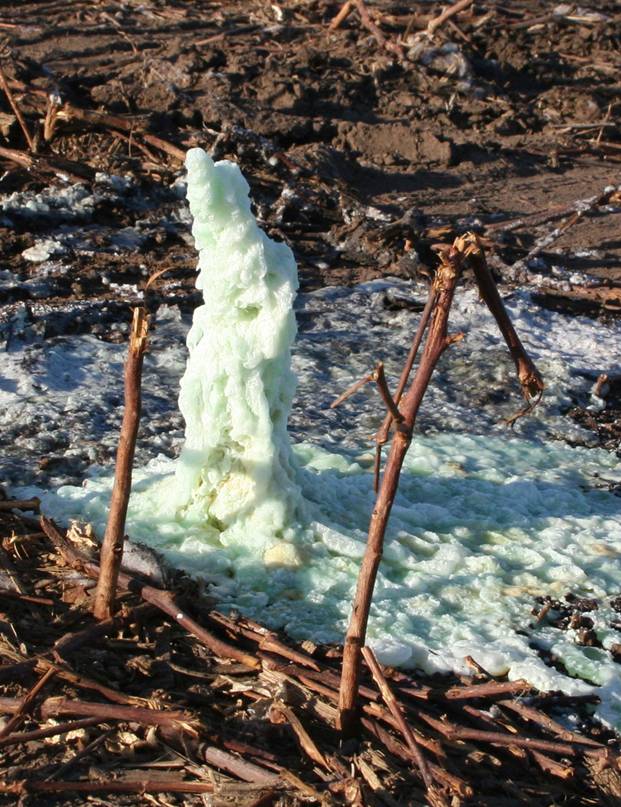 The Canola crop can be fertilized heavier with TAPPS at the maximum of 12% or the gross…and the bet can be raised to 14% to 16% of the gross if Milo is immediately double cropped. In fact, due to stabilized TAPPS nutrients can be applied with both crops in mind in the double crop.
Double Cropping is very important under pivots. Using the all the sunlight possible and moisture to the maximum with Winter Canola and Milo. Using a Mustang tool bar to side dress both crops to improve the planting date and improving winter hardiness of the winter Canola.
Nitrogen must be stable….Keep the nutrients ammonium based is a big part of the puzzle. Fertilizing timely with improved returns for the better winter Canola crop. Always fertilize this crop in the dormant period , band TAPPS , and look forward to a second double crop.
Get the Gross returns above $1,000 per acre with Canola and Milo in double crop.
Dr. Karen and Max. Taking notes on all fields. Max is going to be a great farmer or a scientist with an advanced degree in human relations.
Max is going to be a Canola farmer.
The Big Five.
You can learn about the five big bets….five bets on how to make Winter Canola work on the Great Plains at high elevation….you can hedge your bets at Colby, KS. Dec. 6 and 7.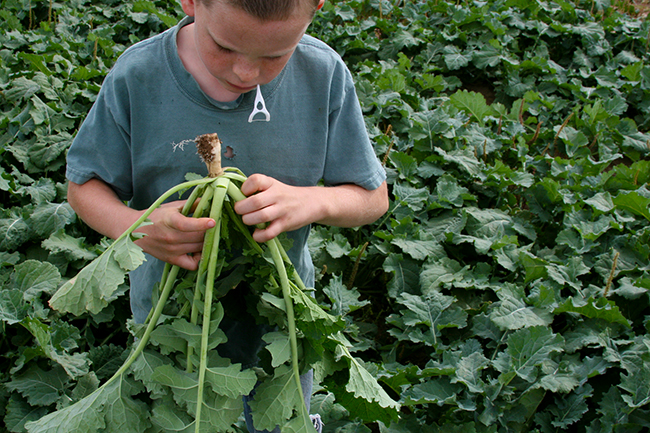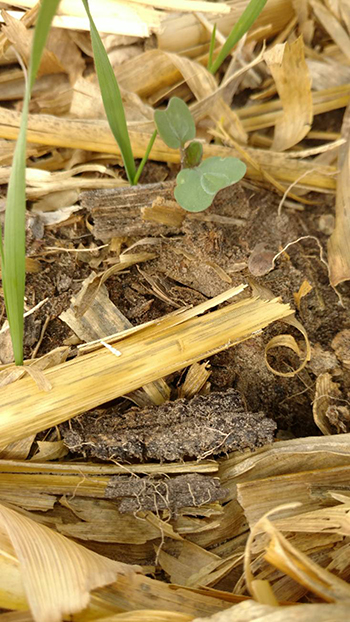 Dwarf Essex and Triticale in a double fumigant option, Fumigant Grade Cover Cropping. Learn about the Triple Option to nail the nematodes.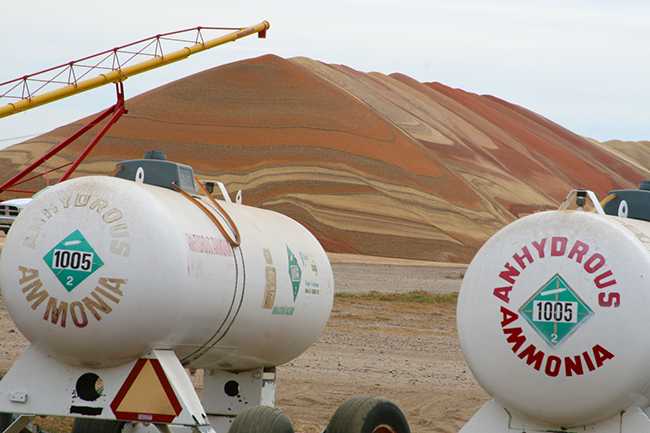 Vermiculation of TAPPS Illustrated with Milo….with TAPPS driving yields in No-tillage farming with Mustang Openers.
Vermiculated TAPPS and TAPPKTS, AZn banding in 6 inch vertical bands to 8 inch depths is accomplished with Mustang P-51CUE openers and 2KC and 2KP TAPPS formulators with 2KR third product injection.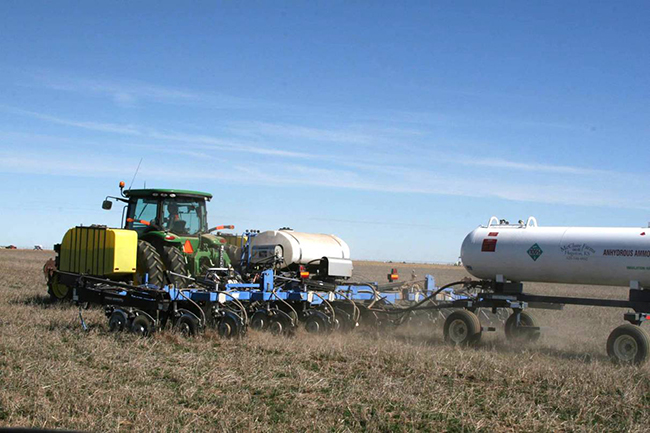 Joel McClure, Hugoton, Mustang P-51C tool bar with 3 and 4 product TAPPKTS, AZN injection,
Vermiculated Banding 7 to 7.5 inch deep on 20 inch centers using an original strip till DMI, 6 inch frame, tool bar at 40 feet. Bottom outlet tank valves allow high flows at high speeds typically about 8.1 mph.

COMING UP, DON'T MISS THIS MEETING
Great Plains Producers Meeting, Yielder No-tillage Technology
From Exactrix Global Systems.
Dec. 7th Signup, Please call immediatly to confirm your attendance.
Contact Exactrix at 509 535 9925 or E-mail alexr@pegasusmedia.com to confirm.
Educational Meeting, Improving Yields at Reduced Costs. Meet at the Colby, Kansas, Comfort Inn, Dec. 7th, 2016.
Meeting Starts at 9:00 AM with your registration required to reserve your seat.
Bring your banker, bring your fertilizer dealer, let your best neighbor know there are answers.

The complete seminar charge is $235 per attendee . Group Rates Available. Your satisfaction is guaranteed.
Meal included, Documents supplied.
Tour winter Canola fields on Dec. 6
Comfort Inn 785-462-3833 for your room reservations
Overnight rooms available, special allowance for group rates.
Click here for complete information
---
Time for Training on Mustang Tool Bars operating at field speeds to 9 mph in No-tillage banding.

Saving millions of dollars over your farming career with Exactrix TAPPS and No-tillage production of commodity crops.
Click On Image To View Video
Watch the Mustangs run strong in heavy residue.
https://www.youtube.com/watch?v=QuCAeCfBUnQ&fmt=37
http://www.exactrix.com/mustang.htm
---