If you love Kansas strippers,
you can see the next best thing. An improved view.



Click on image to view video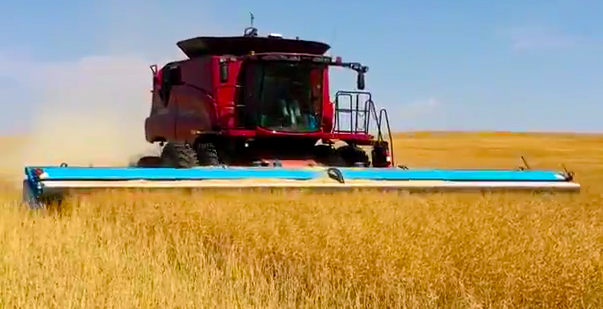 Click on image to view video
A view from a Mustang tool bar at 8.1 mph at 1/2 acres per minute banding 8 inches deep in Kansas high yielding winter wheat residue conditions. Band centers are 15 inch with a TAPPS formulator.
Don Tilton at Quinter supplied this great picture.
He will plant the crop in the spring, all fall banded with TAPPS and plant with a Deere 1710 NT planter or seed with an 1990 CCS.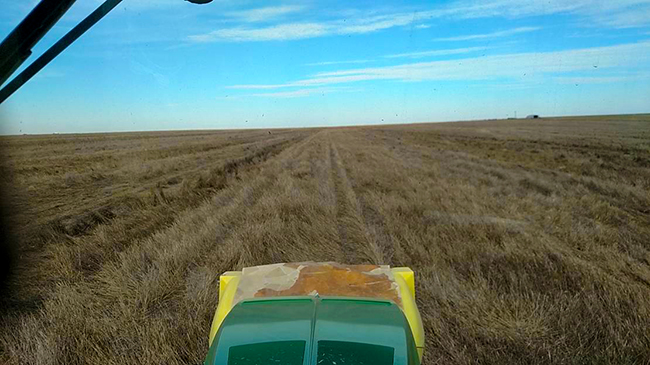 Exactrix Mustang Openers have a nice feature.
Turning is allowed in the corners with the banders in the deck at 7.5 inch depth.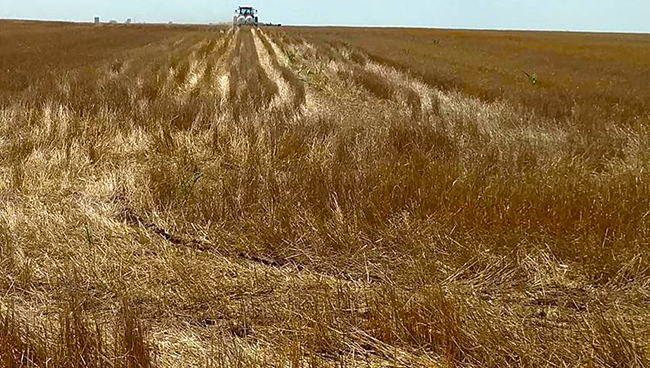 Leaving a snow trap for the winter of 2016/2017 and a great seed bed for the Deere 1990 on 10 inch seed row centers or planting corn in the spring of 2017 on 30 inch centers.
TAPPS is stabilized in a July application and works for both spring and fall crop. "Anhydrous Ammonia and Snow Go Together" with Thio-Sul® delaying the conversion to mobile nitrate.
The slow soil perk of the melting snow allows the Vermiculated TAPPS bands of ammonium and sulfur to droop or elongate to 12 to 24 inch depth. "We have got it and they don't".
Two critical components that are unique to North America as not every agronomist knows, winter snowfall under No-tillage is critical to top yields. Snow and NH3 go together hand and glove for top yields.
Keeping the nitrogen as ammonium is critical to top yields in corn and wheat. The vertical bands have an ammonium droop effect to the 24 inch depth under typical fall banding Exactrix TAPPS application.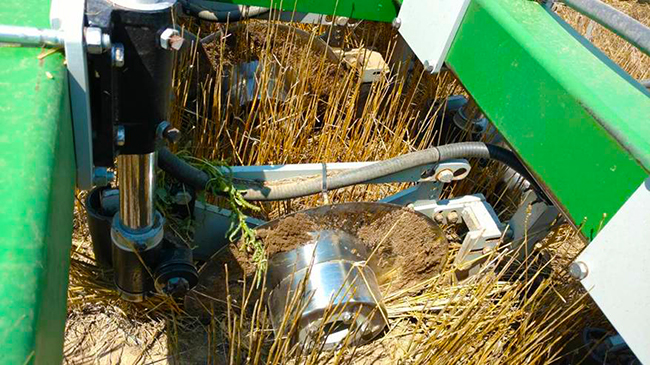 Banding deep with ½ x 25 inch extreme double edge blades. Swiveling Mustang
openers produce deep bands with virtually no soil disturbance.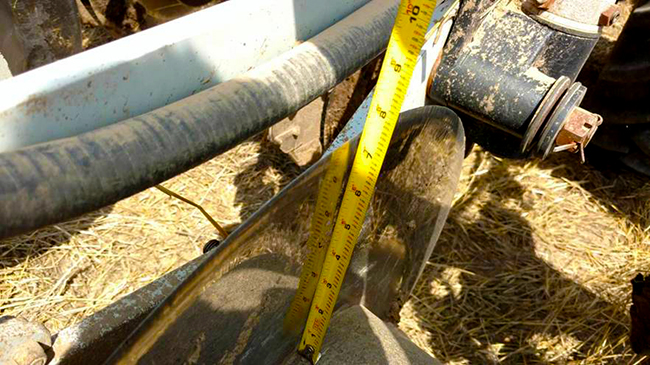 Banding at the 7.5 inch depth with Mustang P-51 CUE openers.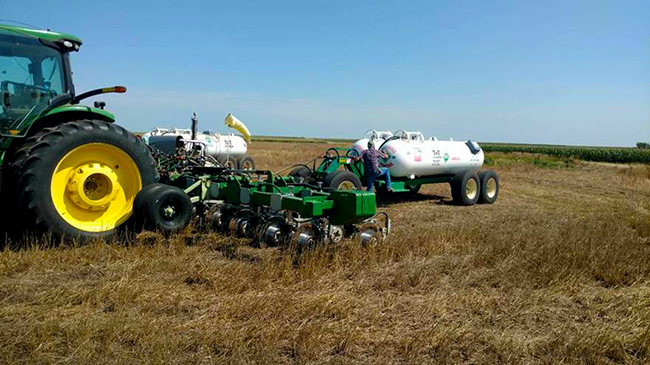 Quick change at the landing. Less than 20 minutes invested in liquid filling and NH3 trailer swap by one man. Covering about .45 to .5 acres per minute with about .5 gallons per acre of diesel fuel.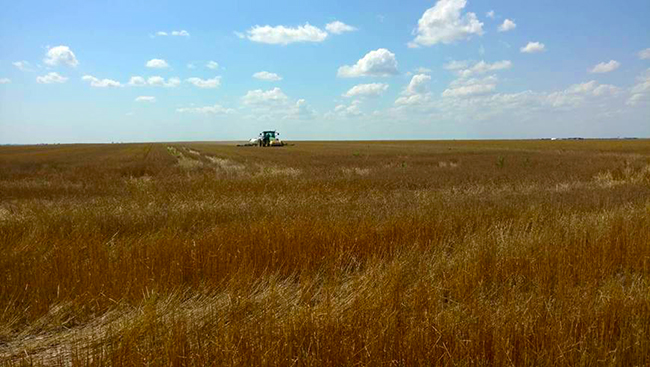 A good winter wheat crop followed by another winter wheat crop, followed by corn. Maximum stored soil moisture. No cover crop required. High speed banding covers acres fast with 1% CV of application.
Nitrogen is 166% more crop available and phosphate is 200% more crop available. Crystalline TAPPS works very well in Kansas conditions keeping calcium away from placed P.
Exactrix Weigh Master Applies NH3 within 20 lbs. on 10,000 lbs of applied…Liquid streaming flows of NH3 assure high crop availability.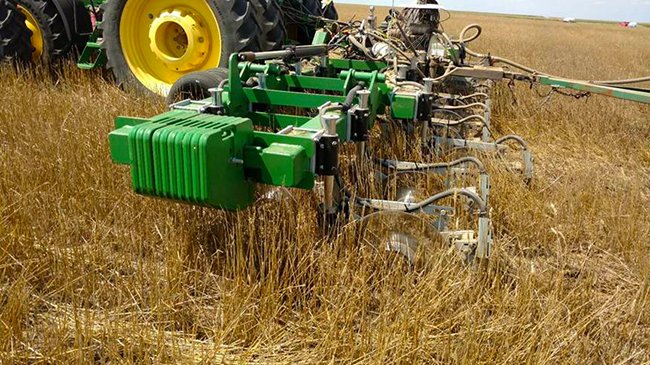 The winter wheat "Stripper Stubble" provides the low evaporation, more even snow trap and even distribution of chaff only residue.
July Kansas temperatures were reaching 90 to 100 degrees F for two weeks during the Bandammonium event.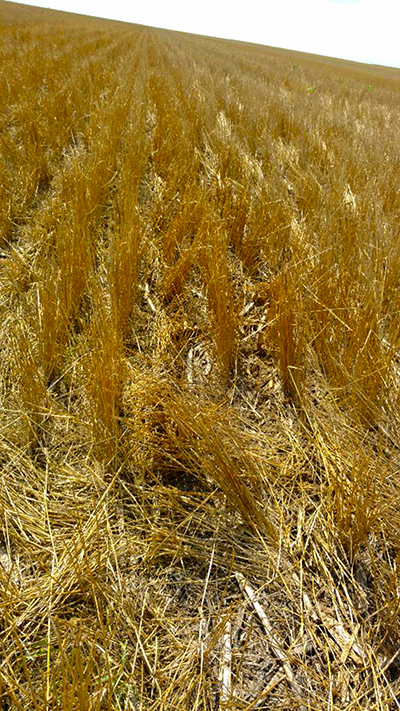 ---
COMING UP, DON'T MISS THIS MEETING
Great Plains Producers Meeting, Yielder No-tillage Technology
From Exactrix Global Systems.
Dec. 7th Signup, Please call immediatly to confirm your attendance.
Contact Exactrix at 509 535 9925 or E-mail alexr@pegasusmedia.com to confirm.
Educational Meeting, Improving Yields at Reduced Costs. Meet at the Colby, Kansas, Comfort Inn, Dec. 7th, 2016.
Meeting Starts at 9:00 AM with your registration required to reserve your seat.
Bring your banker, bring your fertilizer dealer, let your best neighbor know there are answers.

The complete seminar charge is $235 per attendee . Group Rates Available. Your satisfaction is guaranteed.
Meal included, Documents supplied.
Tour winter Canola fields on Dec. 6
Comfort Inn 785-462-3833 for your room reservations
Overnight rooms available, special allowance for group rates.
Click here for complete information
---
Time for Training on Mustang Tool Bars operating at field speeds to 9 mph in No-tillage banding.

Saving millions of dollars over your farming career with Exactrix TAPPS and No-tillage production of commodity crops.
Click On Image To View Video
Watch the Mustangs run strong in heavy residue.
https://www.youtube.com/watch?v=QuCAeCfBUnQ&fmt=37
http://www.exactrix.com/mustang.htm
---