Shallow rooted Bluegrass is very sensitive to a poor application of nitrogen.
Rolling slopes complicate the application with changing ground speeds and sinusoidal delivery with air boom applications.
Phosphate, Potassium and Sulfur with Micro Nutrients perform best when the nutrients are banded into the soil at 1% CV of application.
Uniformly Exactrix deep banded (7.5 inch depth) nutrients provide the best geometric root access for good yields a maximum nutrient uptake.
Banding nutrients uniformly is also much better for the wildlife and humans. Fish will thrive in clean water. Our society and mankind requires clean water.
Clean water is critical for society to grow and prosper. Misapplication of nutrients is directly responsible for the loss of habitat in the Gulf of Mexico.
Poor quality water resulted in 20,000 graves on the Oregon Trail. The Oregon Trail has ten graves for every mile. That means about 5% of the pioneers died on the way west.
Most of the graves are children that drank poor quality water while parents boiled the water and drank coffee and hard cider.
Alcohol was critical to early pioneers since the water source could not be trusted. Nor could some of alcoholic brews which had methanol in the blend and drove the pioneers blind.
Societies blossom with high quality water.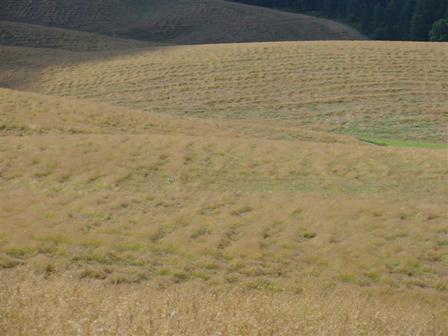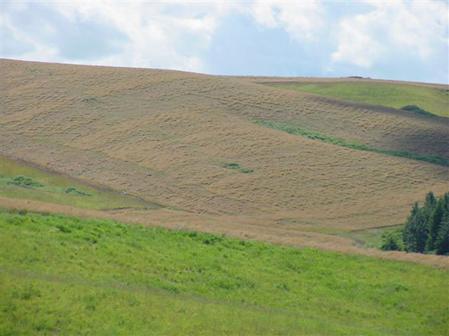 When highly mobile nitrogen is applied to Bluegrass the uniformity of the application is critical. The same can be said for all phosphate and potassium fertilizer.
Micro-nutrients must be applied at absolute highest level of uniformity to get good response to Zinc, Cooper, Moly and Boron In fact non-uniform nutrient application is toxic to the growing crop and the future crops.
Yields and economics reach paramount levels of improved net margin with the Uniformity of Application at 1% CV. Exactrix dual staging manifolds allow low and high ground speeds at 1% CV.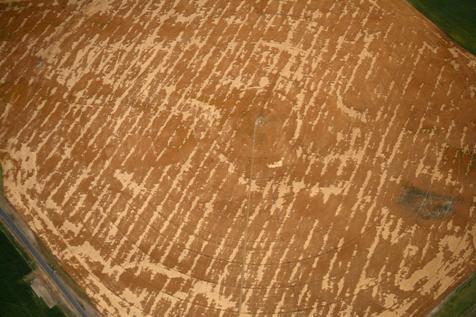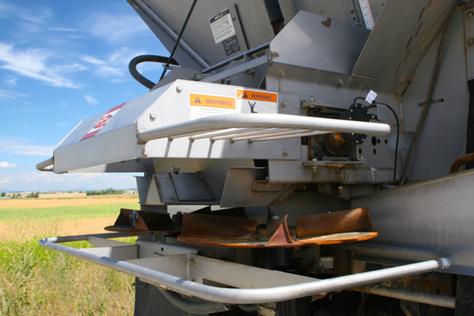 Deep rooted Winter Wheat at 6 to 9 feet is very sensitive to surface applied nutrients applied with a spin spreader.
Variable Rate Application is not economically possiblewhen compared to banding. Windy days really complicate the application. Dry fertilizer applicators are very sensitive to changes in ground speed.
Misapplication often occurs with no knowledge to the producer. Gravity and speed are the enemy of dry application.
Non Uniform application of dry fertilizer is no longer crop effective, economically speaking.
About twice the dry fertilizer material needs to applied with non uniformity of spin spreader application.
Micro nutrients are difficult to apply accurately with dry fertilizer.
Site specific variable rate application with high CV application of dry fertilizer limits the nutrient performance.
The dry fertilizer application is fastwith high flotation dry fertilizer applicators.
The non uniform application of dry fertilizer normally requires an attitude adjustment visit from the agronomist selling the dry fertilizer material.
Variable flow of dry fertilizer creates Sinusoidal Flow from the spreader. The dry spreader creates uniformity problems and poor site specific VRT capability.
Do not over apply Phosphorus as applied P excess can occur, usually the problem is reduced availability of other nutrients, especially zinc or copper.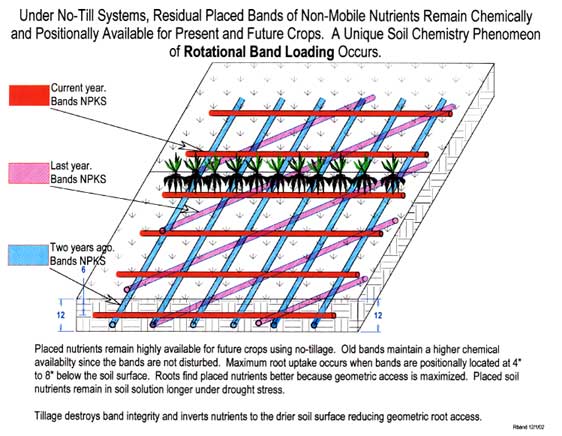 Variable Rate Application, Site Specific is best practiced with liquids and banding. Top dressing P fertilizer is not economic responsive requiring over application tdue non-uniform application and poor root pattern geometry.
Banding of P, K and S in a common band provides immediate spring response at a depth of 5 to 7 inches.
Metals such as Zinc and Cooper can also be injected into bands.
Yield enhancing Rhizobia can also be injected in the band with approved chemistry.
Depth of PKS bands and band centers vary. The spacing of 10 inch band centers at shallow depths of 3 to 4 inches is required. Quite often 15 inch band centers are just as effective at 5 to 7 inch depths as 10 and 12 inch centers. Initial banding at 10 inch centers is recommended banding a 15 inch centers is recommended after two or more years of early spring banding.
Late fall banding in dormant conditions may not be as deep due to dry conditions. Banding after freezing nights is highly recommended to improve the work load. Fall banding also has less chance of compaction.
Additional alfalfa seed can also be placed when banding to renovate eroded knolls and improve the stand.
Top Dressed application of P requires up to 60 to 90 days to get a response from surface broadcast phosphorus, so apply P early in the season.
Alfalfa quality is impaired by a deficiency of phosphorus, but excess phosphorus will not improve it more.
The sources mentioned are not equal in terms of plant response when uniformity and geometry is considered. Economics is an important factor in making fertilizer decisions.
Liquids require more special equipment, but can be combined with other operations to save costs. Most liquids are known to be superior in economic performance.
Liquids are easier to spread uniformly, but dry materials can also be used successfully if applicators are properly maintained and set up correctly and applications are not made on slopes or windy days.
1915, New Mexico, Alfalfa convoy meeting the need of high protein. The US Army needed
Alfalfa for warhorses.
Cubers change the market dynamics

internationally.
Alfalfa is Arabic for horsepower. High quality

cubed Alfalfa for Horses is exported.
Good international markets exist for Alfalfa. Transportation has been a critical part of the puzzle. High pressure cubers improve the bulk density for shipping overseas to international customers.
High quality alfalfa is an art, how to buy high quality alfalfa lies in a few trusted appraisers and market makers. About 23 million acres are in production making it the 4th largest crop by acres.
Alfalfa is third in value behind corn and soybeans and well ahead of wheat. Most growers in the western US are adjusting to the export market by cubing the Alfalfa.
Potassium Application Guidelines
Potassium is the second most common deficiency in alfalfa in California.
Many parts of California and most of Nevada have soils which can supply the needs of alfalfa without supplemental potassium fertilization.
Potassium deficiency can cause distinct symptoms in the foliage. Even when symptoms appear, economic response may not occur from potassium fertilizers.
Soil testing for potassium is fairly good, but with a catch. The standard extractant, Ammonium Acetate, may not accurately reflect available potassium status of some soils.
A second method, acid extraction, should be used where potassium deficiency is suspected. If the Ammonium acetate method shows adequate levels, no further test is needed.
Plant tissue testing is again the best way to assess potassium status in the plants. Potassium deficiency is a common problem in other parts of the United States.
Lack of potassium is associated with poor disease resistance, loss of stands and poor quality.
Potassium soil test guidelines ( Ammonium Acetate)
extract
(Sulfuric Acid)
extract
Deficient lesst han 50 PPM less than 300 PPM
Marginal 50- 80 PPM 300 -500 PPM
Adequate 80 PPM+ 500 PPM+
Potassium Application Guidelines
Test value Pounds ofK20 Der ton hav*
Deficient 37.5 to 50 Ibs.
Marginal 18.7 to 25 Ibs.
Adequate O to 12.5 Ibs.
*Tons of dry alfalfa hay per acre ( projected yield ).
If potassium deficiency is detected and confirmed, supplemental fertilization can correct the problem.
Several issues need to be addressed first. If adequate potassium already exists in the soil, the alfalfa will still pick up added potassium. This is termed "Luxury consumption", taking the available potassium without increasing yield. There has been speculation that extra potassium will improve forage quality, however as we
learned last year, extra potassium in the hay may be harmful to dairy cows.
There is a balance that should be maintained between deficiency and excess. Tissue testing should be used to guide decision making on this topic. If fertilization is called for, excessive rates should be avoided.
Sources of potassium include:
Potassium Thio-Sulfate, KTS, Potassium Chloride or KCL, Potassium Sulfate, Potassium Nitrate, Sulfate of Potash Magnesia, and manures. Water can also be a significant source of potassium in some areas.
Potassium Thio-Sulphate, KTS can also be used, this is a good , time proven liquid source in cold weather application. Potassium movement in the soil is slight. It should be plowed down in pre-plant applications or banded. Established alfalfa can be top-dressed successfully. Banding is most often most effective requiring much less tonnage.
KTS is chloride free which allows rotation to other crops known to be sensitive to too much chloride.
The KTS numbers are impressive with 42 pounds of total nutrient per 100 pounds.
KTS is 0-0-25-17S and ideal to fertilize alfalfa and weighs 12.2 pounds per gallon.
KTS works well in cold weather down to 5 degrees F and can act as a carrier for micronutrients and Hydra Hume, Fulvic Acids.
KTS has 3.0 pounds of K and 2.1 pounds of Sulfur per gallon. The sulfur is 50% sulfate form.
Sulfur
Sulfur is an important nutrient for alfalfa.
Deficiencies do occur in parts of California, usually where there is substantial rainfall or very low-salt irrigation water is used. These areas are mostly in the northern portion of California. Most areas irrigated with ground water or Colorado river water will get adequate sulfur from those sources.
Soil testing is a poor method to determine sulfur status.
Where this deficiency is a historical problem, it is wise to apply elemental sulfur when planting new fields. Several years worth can be applied and plowed in.
Deficiencies in existing fields may require a faster acting source of sulfur, to supply sulfate quickly. Elemental sulfur is the most economical source but must be converted to sulfate to be effective. Gypsum, ( calcium sulfate), supplies sulfur in the sulfate form, but has low solubility.
When looking at water samples, remember that 2.7 times the PPM of a nutrient will give you the pounds per acre foot in the water in question.
Sulfur can also change the soil pH, avoid acidifying below 6.5. Excess sulfur can cause problems with Selenium availability also.
A recent problem in cattle production and horses. Selenium Deficiency in Western Cattle Herds. White Muscle Disease.
Selenium deficiency is an animal nutrition problem important in many parts of California and Nevada. Selenium can be applied in liquid forms and banded.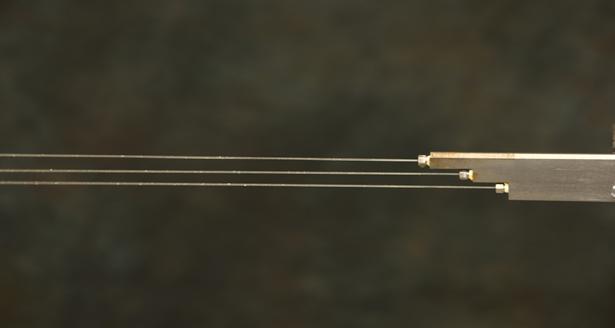 Liquid Streaming Flows at high pressure (350 psi) allow micro nutrients to work much more effectively.
Micronutrients
Micronutrients are those nutrients that are essential but needed in only small amounts. They include: Zinc, Manganese, Boron, Copper, Iron, Chlorine, Molybdenum for plants. Animals have micronutrients needs. They include these along with Cobalt, Selenium and others.
Boron is deficient in a few places in California. It is important in seed production, less so in hay production. Excess Boron is a problem in several areas of California and Nevada. Excess boron causes leafburn and reduces yield.
Soil testing is not very accurate for Boron status, as a nutrient. Use plant tissue for this nutrient. Water should also be sampled when looking at Boron status. If using Boron fertilizers, be very cautious. Too much Boron, and you have a herbicide. Thus uniformity of application is critical. Miniscule amounts should be used when banding less...1 pound per acre since the Boron nutrient is so crop available when banded.
Molybdenum is also deficient in a few places. Plant tissue again is the best way to determine if this is a problem. Molybdenum excess is a problem in parts of California and Nevada. This is a serious problem because it makes the hay toxic to animals. If Molybdenum fertilization is needed, use caution and be accurate in application. Moly aids the Rhizobium Meliloti bacteria in fixing nitrogen. The right amount of Moly is critical to help the Rhizobium Melioti. Moly can be applied to the seed just before seeding. Moly can also be considered for liquid injection on to the seed at time seeding along with Rhizobia.
Iron deficiency is sometimes seen in alfalfa. It usually is because of high pH, limey soils, cold soils or saturated soil conditions. Most soils contain adequate iron, but it is not available under those conditions. Alfalfa is more tolerant to this problem than many other plants. Reducing the soil pH level can be helpful, but on soils high in lime, this is not economically feasible. "Strip Acidification" may be helpful in those situations. Strip Acidification is the application of acid materials in bands or surface strips, to lower pH in a localized area. The intent is to make a zone where iron is available to the plant. Water amendments are also used to lower pH.
Zinc deficiency is a big problem in many crops in California and Nevada. Alfalfa isn't one of them. Soils which test extremely low for zinc can produce high yields. There are some reports of deficiencies but this is very rare. The content of other micronutrients may be important to the animals which are eating the alfalfa.
Fulvic and Humic Acid can be considered in Alfalfa production.
Increases fertilizer efficiency
Improves fertilizer uptake
Helps retain nitrate nitrogen in soil for less leaching
Helps prevent nutrient tie-up
Improves soil biology
Improves crop health and growth
Improves soil moisture retention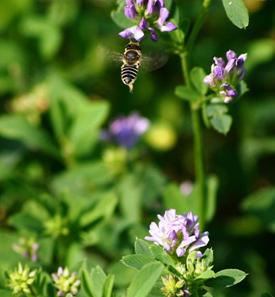 Increased Fertilizer Efficiency & Improved Soil Biology using carbon based materials (Leonardite) or Fulvic and Humic Acids.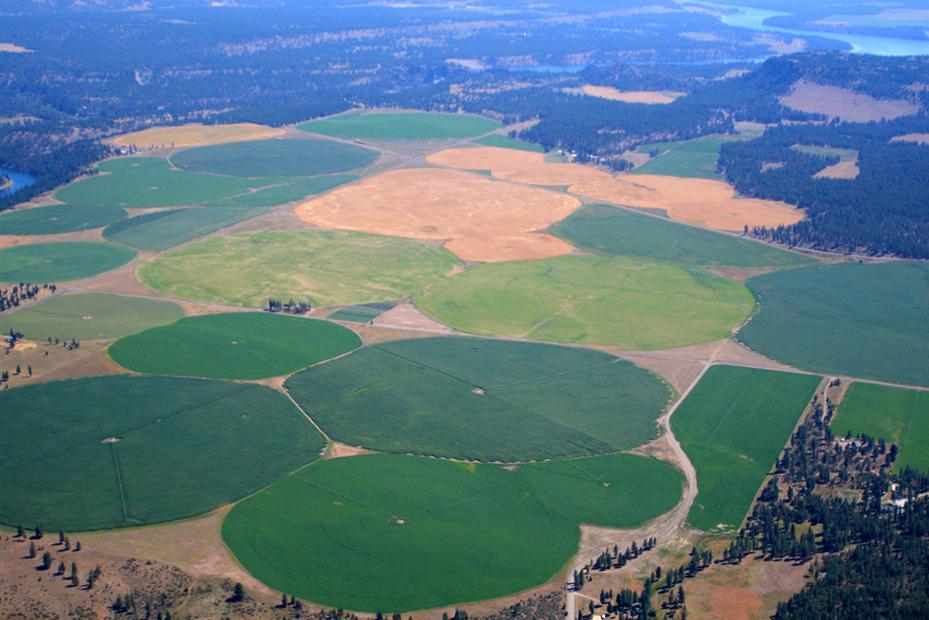 High Quality seed potatoes are produced in 5 year rotations with Alfalfa, Timothy, Canola, Seed Canola Hybridization, Barley, Winter Canola, Winter Wheat, Spring Wheat, Garbanzo Bean, Commercial Corn, and Sweet Corn.
A Ponderosa pine forest protects this flood plain of the Columbia River Basin and the Spokane River. A mountain valley isolation of about 60 miles from the main Columbia Basin potato production area helps to keep the seed potatoes disease free.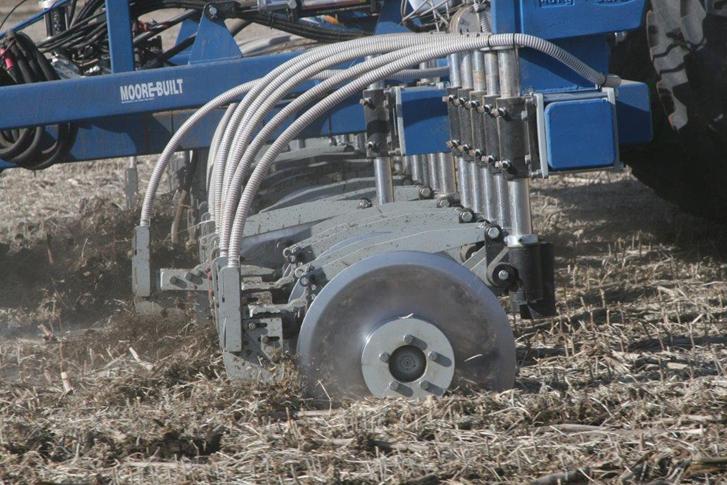 "Clean Water results when nutrients are banded with Uniformity of the Application and the nutrients are specifically targeted to stimulate the potential of the crop.
Economics always prevail and banding adds up to $150 more net income per acre."
Guy Swanson, with the help of many others.