Exactrix TAPPS drives Corn Yields to 280 to 290 bushels per acre with VRT-Site Specific application and Mustang Openers.
Raising Average Corn Yields Too Higher Levels in 2017.
Giant Corn Crops. Kansas, Nebraska, Texas, Colorado.
| | |
| --- | --- |
| | |
| Steve McCasland Breaks Record. | Side Dress Banding Technique improves chances but raises costs in tillage. |
"Juan the Stripper" Kramer Seed, Hugoton, KS averaged 278 bushel per acre on one pivot at Hugoton in 2016.

1. Zero Manure in the Kramer Seed system in sandy soil….top notch production with Rotational Band Loading over 9 years.
2. No-tillage and Strip Tillage is used.
3. Ben says, "the crop is not quite as big in 2017 as 2016, but we will take it".
4. The whole system is coming together at Kramer Seed as Ben Approaches Level 300.
5. TAPPS and TAPPKTS formulation in Strip Till.
6. All VRT-Site Specific. Single Disc and Strip Till.
7. Total nutrient investment, $64.00 per acre in 2017, Shooting for 6% to 8% of the gross income for nutrients in 2017,
The average nutrient costs came in about 7% or the gross income with corn marketed in late June at $4.00 per bushel in the 245 to 250 bushel per acre range.
A Previous Best in 2016, Ben McClure Managing Partner of Kramer Seed brought the highest return in NUE at .585 lbs. N per bushel produced.

Ben McClure Video
Also see:
http://exactrix.com/Broadcast_12_31_2014.html

In 2017…the nutrient cost is $64.00 per acre with a 300 bushel yield potential using Exactrix VRT-Site Specific. However, windy and cloudy late July to late September Harvest weather brought yields down from 2016 to 245 to 250 bushels per acre.
---
1. Rotational Band Loading is working. all with Exactrix TAPPS, TAPPKTS, Micros at 1% CV of application,

2. A power play with VRT-Site Specific with Exactrix strip Till on 30 inch.

3. Net Dollars and a better return with an increasing Margin, at least a 12% better margin on every acre in VRT-Site Specific.
---
The Best Corn production area in the nation. The Panhandle of Texas, 4,000 feet elevation,
Ogallala Water is ample with cool days and nights for pollination, This is "Big Yielding" irrigated corn going to the largest dairies in the USA, 10,000 head and more per dairy.

1. The Texas Panhandle is Home of the XIT, a 3 million acre pioneer cattle ranch, and the major asset high quality, Ogallala water.

2. Dalhart is the unwritten and well understood Republican Headquarters for Texas.

3. A Democrat must pack a lunch bucket to pass through the Panhandle of Texas.

4. Austin is the state capital and the XIT at Channing built the capital with a land sale to British investors and the Farwell Brothers.

5. Six State capitals are closer to Dalhart, TX than their state capital at Austin, TX.

6. The landscape is beyond belief and the people of The Texas Panhandle have a special state of mind.
7. Dalhart is growth community for Dairy processing and a unique place in this historical Big Country.
8. Two transcontinental railroads meet in a major cross section in Dalhart.
The railroads changed The XIT and Dalhart forever circa 1886.
Note: After the Rock Island (UP) and Dallas Denver(BNSF)railroads came to Channing and Dalhart, the cattle drives continued for 15 more years, 15,000 head at a time per drive. Along the trail, close to I-70, is Bovina, Colorado. It was a watering hole. The Platte had to be crossed 80 to 100 miles west of Julesburg, Colorado due to the Nebraska Herd Law.
From the XIT, Buffalo Springs Station, across the Great Plains and north of the Yellowstone river. The US Calvary regulated the crossing due to flooding and safety. The drovers turned the horses loose and grabbed a bull's tail to be pulled across the flooding Yellowstone. Boy drovers became men in 3 months. By July the herd was growing fat in the empty quarter of 2 million leased acres of Eastern Montana and ready to be shipped in the fall. Loading and going east from Miles City, Montana on the Northern Pacific.
In the fall the Trail boss, the cook, the bookkeeper, and his drovers headed back to Channing and the various ranch subdivisions. Ready to go again across the wind swept plains of Colorado, Wyoming and Montana from their home on the 3 million acre XIT of Texas.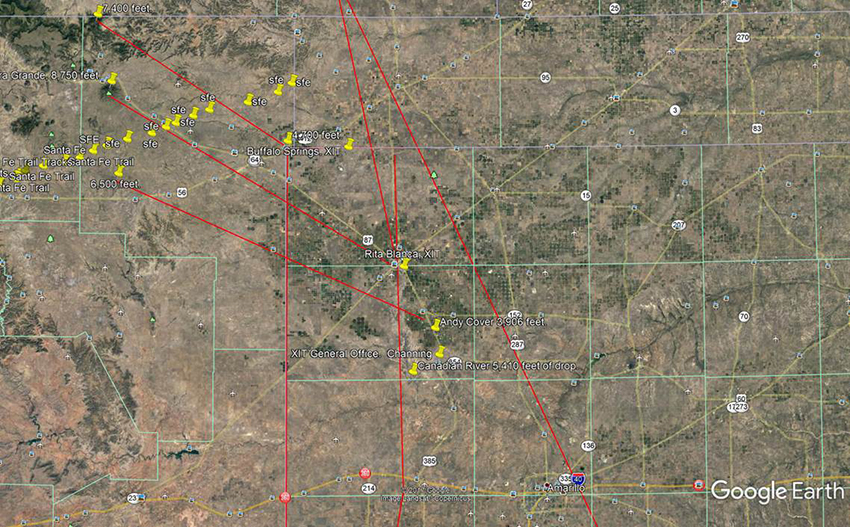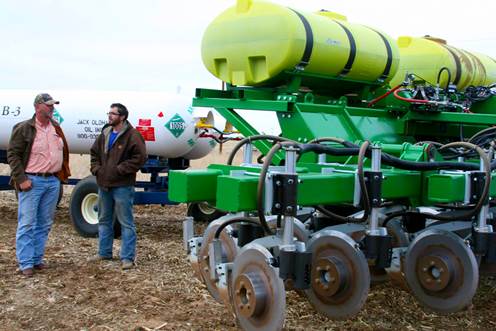 Andy and Cody Cover Assembled their Mustang tool Bar at Hartley, Texas and in sight of
Channing, Texas, The XIT Headquarters.
Andy and Cody Cover have two farms.

1. Firstly, one soil type is a silt loam or a tighter soil and closer to Dumas, Texas.

2. Secondly, the big yielding farm is a Sandy Silt Loam about 5 miles North of Channing, Texas.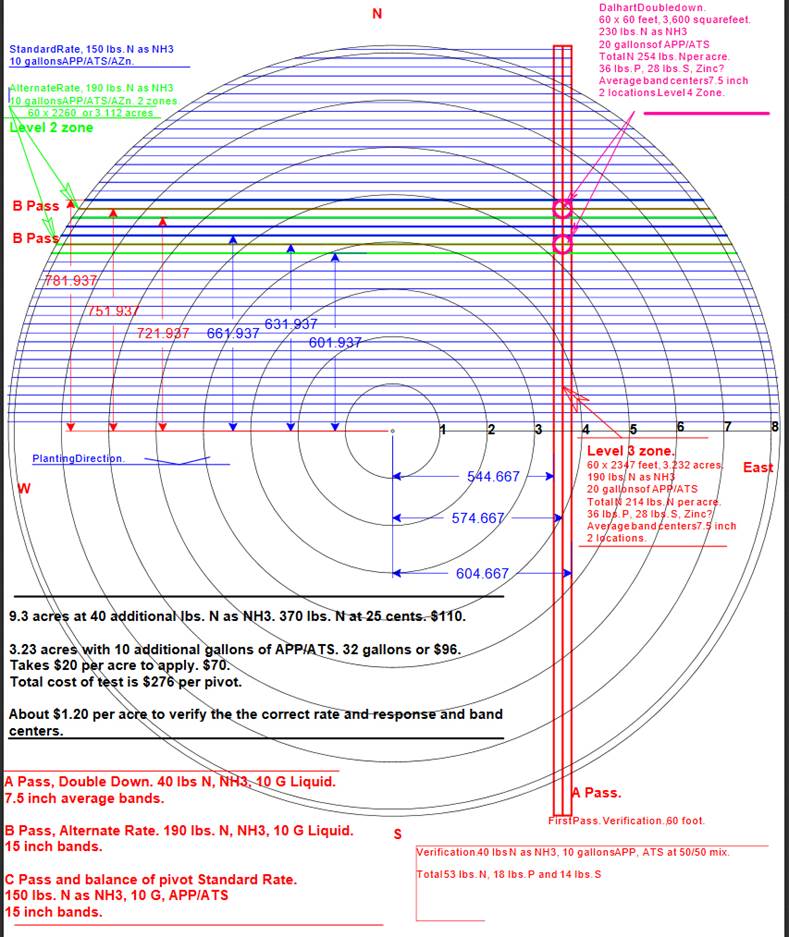 The Dalhart Double Down, Getting on top of variability, with valuable data for the future.

1. A series of high quality test plots.
2. A chance to make good, high quality information to share with Exactrix owners and certain fertilizer dealers.
3. Exactrix offers $1,000 paid for Randomized and Replicated STEEP test plots with a weigh wagon and a participating independent authority.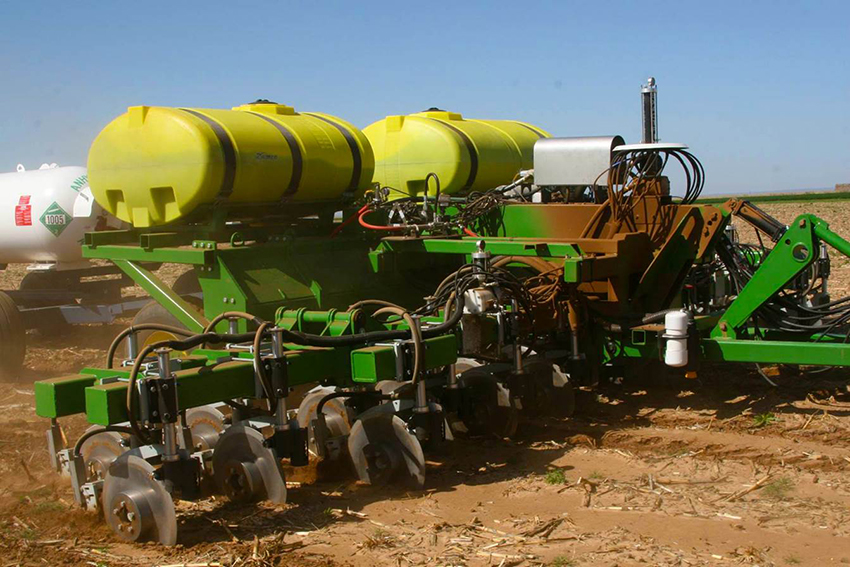 Sandy soils, cool days and nights at corn pollination, high quality, ample Ogallala Water,
Exactrix TAPPS with Micros, "Park the Manure Trucks".
On target the First Year, Level 300 Club at Dalhart, Andy Cover...Binary Banding, Mustang, TAPPS, TAPPKTS, Micros, Manure history in Sandy Low OM Soil at .6% or less than 1% OM. Application of 140 to 170 total pounds N as NH3 and APP/ATS/KTS.

1. Using the UNL estimating system, 345 bushel averages showing up in estimates, 20 around and 45 up, 900 kernels, per ear at
32,000 population.
2. Pioneer 1197 and 1257.
3. A 300 bushel average would be unlikely the first year with Exactrix and no VRT-Site specific application.
4. Binary Banding changes the game plan. Drives the yield potential even higher with 100% seminal root access to TAPPS and TAPPKTS at emergence.
5. Yielder® Technology makes bigger margins and top yields.
6. Thio-sul® "The Triple Threat Quarterback" adds critical nitrogen stability. N-serve® and or DCD is never even considered.

September estimates using modeling UNL field estimates...moving into Black Layer...15 to 20 days before the final Dalhart Double Down. Potential for a world record at .485 lbs. N as NH3 per bushel plus the OM credit...Exactrix TAPPS and TAPPKTS with Binary Banding produces high anticipation of a Grand Slam, home run.
The final outcome was 265 bushels per acre with Pioneer hybrid corn. In test plots 100,120,140,160,180 and 200 lbs. of Exactrix N as NH3 in TAPPS formulation produced the exact same average of 265 bushels per acre.
This 265 bushel average was a blessing due to tough weather in last two months, considering wind and low levels of sunlight.
In a second series of plots the best return was 145 lbs. N per acre with Exactrix TAPPS in the 265 bushel range. Testing also indicated that corn yields dropped when application rates went higher to 180 lbs. of Exactrix N per acre.
How could this be true? The back side of the N yield curve was achieved at 180 lbs. N per acre. Too much of a good thing. Highly crop available TAPPS at 1% CV brings on the challenge. Too much nitrogen can hurt yields. The backside of the yield curve comes early with Exactrix TAPPS.
Typically the optimum rate seldom exceeds 145 lbs. N per acre as Exactrix NH3 when formulating TAPPS and TAPPKTS with Micros.
Note: From Test Plots, Pioneer 1828 performed beyond expectations and will be selected for production in 2018. Pioneer 1197 may be replaced.
---
News from Rick, Post-Harvest 2017 from Beemer, Nebraska, Cattle Feeders Paradise of Nebraska.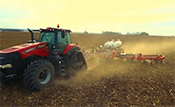 https://vimeo.com/bandbvideo/review/217536668/20cc923ba3
Rick Engelmeyer and his brother averaged 275 bushels per acre and one field averaged 280 bushels per acre in 2017.
More than 15 years of Exactrix Testing, N rates were on the mark at 140 lbs. N as Exactrix NH3 to 160 lbs. N as Exactrix NH3.
Note 1: Every acre gets manure every year with hog barns and cattle feedlots on the farm.
Note 2: Band Stability? A little more yield in 2018, Thio-sul® formulating TATS with Manganese Sulfate will be implemented in 2018.
Note 3: Pioneer 1197 remains a good choice, however DeKalb has a couple of good potential hybrids.
| | |
| --- | --- |
| | |
| Rick Engelmeyer in Nebraska talks about his 2015 Corn Harvest and crediting Exactrix for his fine yield. Short Version | Rick Engelmeyer in Nebraska talks about his 2015 Corn Harvest and crediting Exactrix for his fine yield. Complete Version |
Level 300 Club, Rick Engelmeyer, Beemer, NE Tillage P-51C, 30 inch at 140 to 160 lbs. N as NH3 per acre.

1. Farm averages could hit 275 to 295 bushels per acre....some fields have 300 plus bu. per acre corn yield estimates in
2017.

2. First Green chop field of 108 day corn came in at 270 bushels per acre.

3. Rick Engelmeyer. 3.5% OM in 50 year manure rotation, 2,500 head cattle, 1,000 pigs....150 lbs. Exactrix N will raise 300 bushel
corn.

4. The application is single product Exactrix NH3 applied at high pressures with Mustang Openers. There is a potential for a world record
at .5 lbs. N per bushel of applied N with mineralized manure and OM providing the balance of .1 lbs. of N per acre.
---
Kevin Medow, Tamora/Seward, NE.
Long Term, An Outstanding Exactrix Producer.
Kevin pays attention to the details.
No-Tillage, Fall Banding of Exactrix TAPPS with Mustang Openers in Rotation.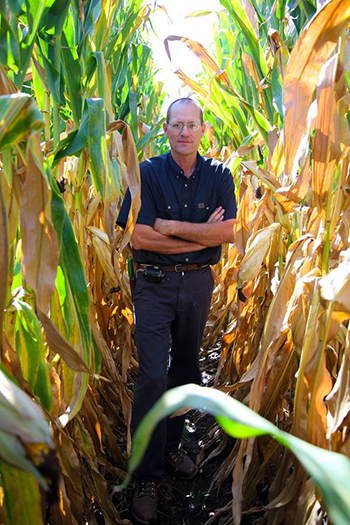 Fall Banding TAPPS and TAPPKTS, North of York, NE and west of Seward, NE.
No-tillage Corn on Corn, Seed Corn and Corn on Beans producer, Kevin Medow.

Kevin Medow, moving ahead with precision seeding and banding of TAPPS. TAPPKTS with Micros.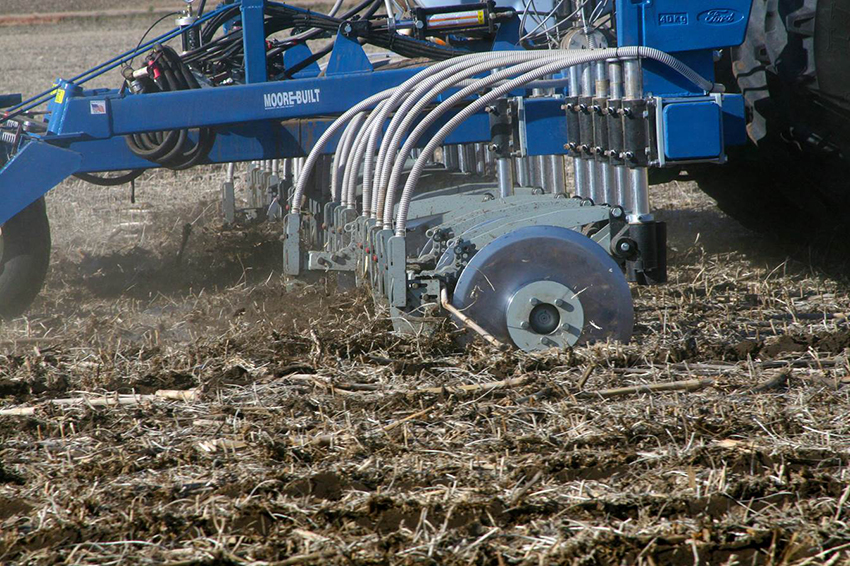 Deep Banding to 7 inches with No-Tillage, Rotational Band Loading, Balanced Nutrients and 1% application Uniformity is the key.
Powerful soils with no manure history, with potentials set at 300 plus bushels per acre.
Low operating cost of the Mustang Openers also allow high ground speed at 7 inch depths.
Mustangs operate at 1/3 to ¼ the cost of the Deere 2510, Plus the openers go about 70% deeper into the root zone without soil disturbance.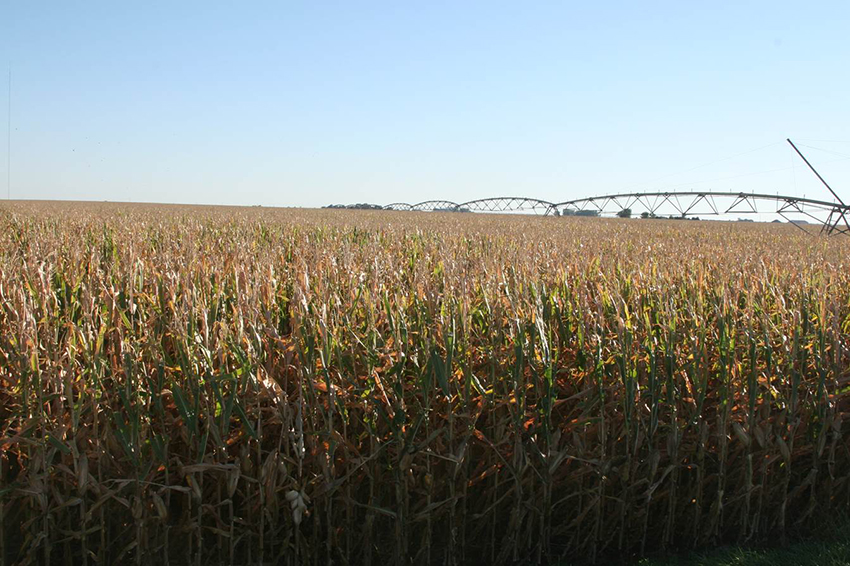 Very close to the highwater mark at Seward, NE as of early September estimates.

Level 300 Club, Kevin Medow, Tamora/Seward, NE, 118 day corn, 20 days away to harvest. Typical high yields, No VRT.
Following Harvest: Yields remained in the 250 to 265 bushel per acre range. Potential was great, windy weather was a big problem after Oct. 15, 17 with certain varieties of corn. Kevin will change his varieties and will implement a new management system in 2018.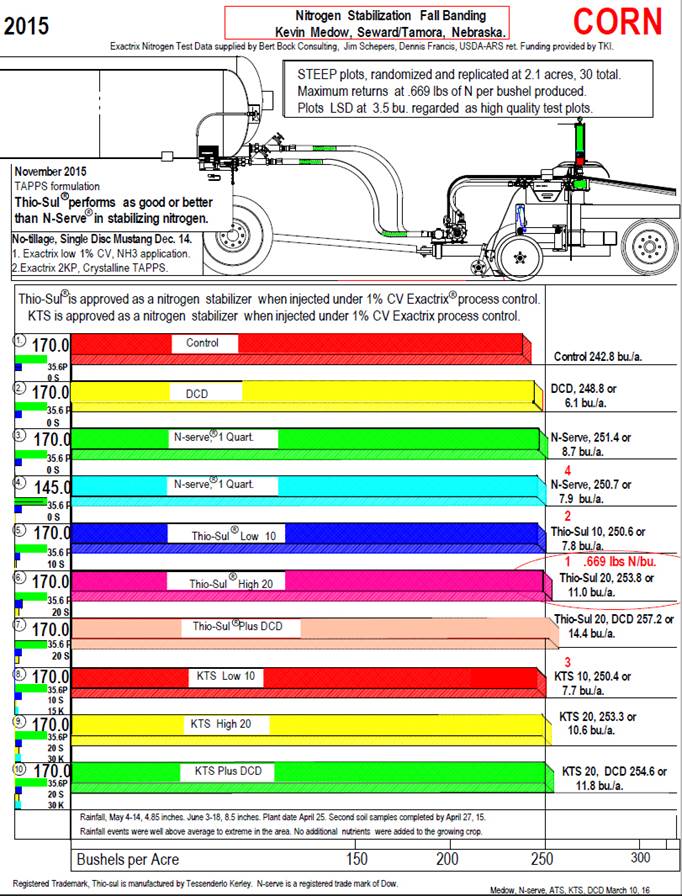 Making good use of technology to stabilize nitrogen applied after Nov. 1.

1. STEEP plots with the best corn nitrogen scientists.
2. Heavy Duty Plot work lifts the future of the fertilizer industry on the Platte River Valley.
3. Producers get a major jump in efficiency. Exactrix owners moving their work load to the fall post-harvest period.
4. Fertilizer dealers have a windfall with Exactrix TAPPS and TAPPKTS, Fall Banded Nutrients even up the work load with Thio-sul®.
It works every time.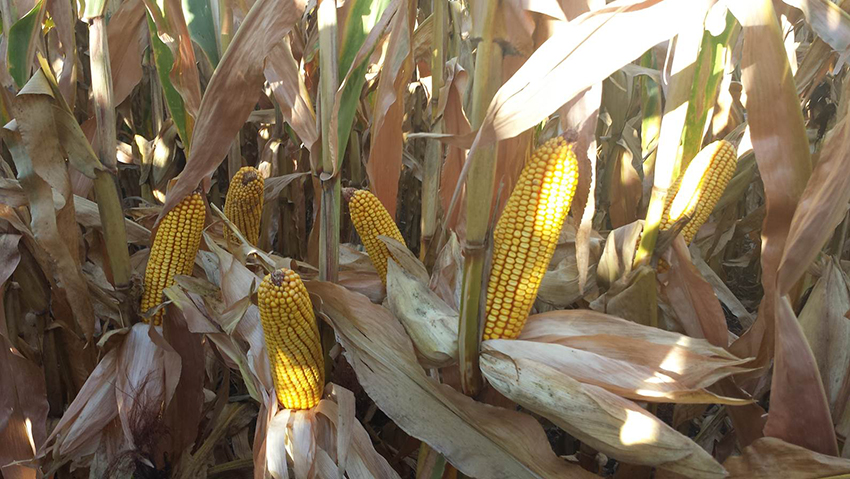 "It takes less to raise more." Exactrix Process Management makes a big difference for a top notch manager.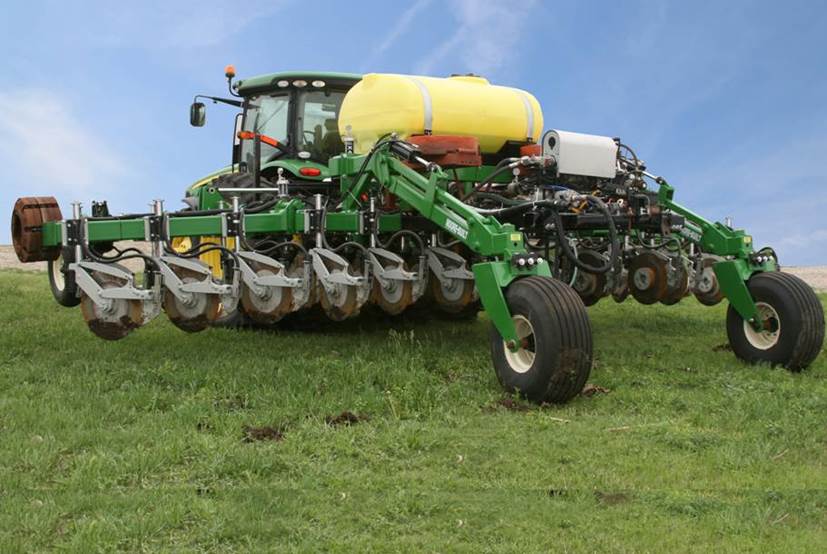 High Field Wide Averages with Mustang Openers At Gangwish Seed Farm, Shelton, Nebraska.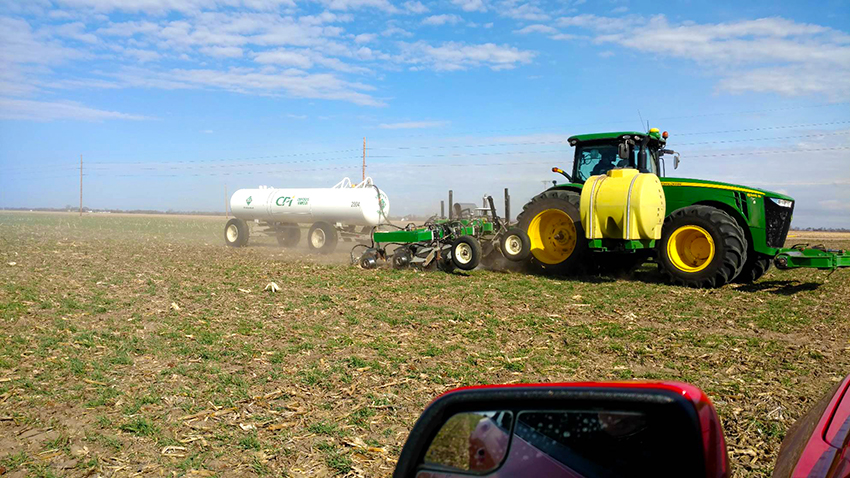 In VRT-Site Specific application of Channel Varieties, Exactrix TAPPS and TAPPKTS in Platte Valley soils have good economics.
Corn on corn yields with cover crop soil protection continue to improve with No-tillage and Exactrix TAPPS, TAPPKTS and Micros.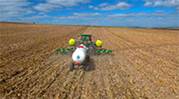 https://vimeo.com/bandbvideo/review/162609745/b8a4c47ab2
Longer Term, 118 day corn, finalized out at harvest with some fields at 280 bushels per acre and some fields at 290 bushels per acre.
Even with windy conditions ear drop was not a problem indicating good varieties and Exactrix TAPPS and TAPPKS supplying ammonium only and micro-nutrients. Top yields and best economics are always achieved with a balanced supply of NPKS and micros.
1. Generally understood an oversupply of nitrate based N is a good way to thin the corn cell wall resulting in lodging.

2. Disease potential is increased and the plant becomes weak as the plant cells over elongate from nitrate.

3. It is all in the books about nitrate and urea. The plant prefers ammonium. Back to the books?

4. The salvage and convenience 32-0-0 management style is "a feel good" plan for a management failure.

5. Over consumption or luxury consumption of nitrate results in very poor economics when the margin is close.

6. The potential for reduced yields with nitrate based 32-0-0 is found in all cereals when solution 32-0-0 is over supplied.
The cell wall is thin and the result is lodging and weak stalks with reduced yields. The thin cell wall of the leaf especially allows the plant to expose the dark green color of the chlorophyll which builds a false confidence. The best color for healthy corn is Steiger Green. The same is true for the 6 classes of winter and spring wheat and high quality low protein brewing barley.

7. Ear drop is a known problem with over application of nitrate N.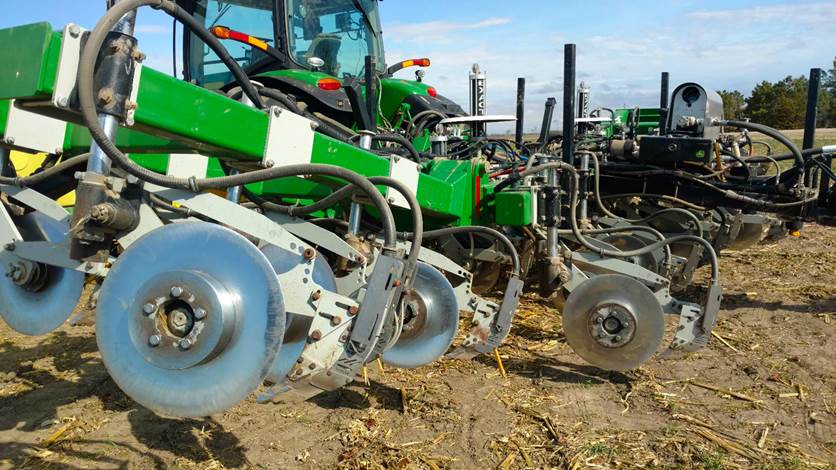 http://www.exactrix.com/Broadcast_11_06_2017.html
More information about corn crop quality.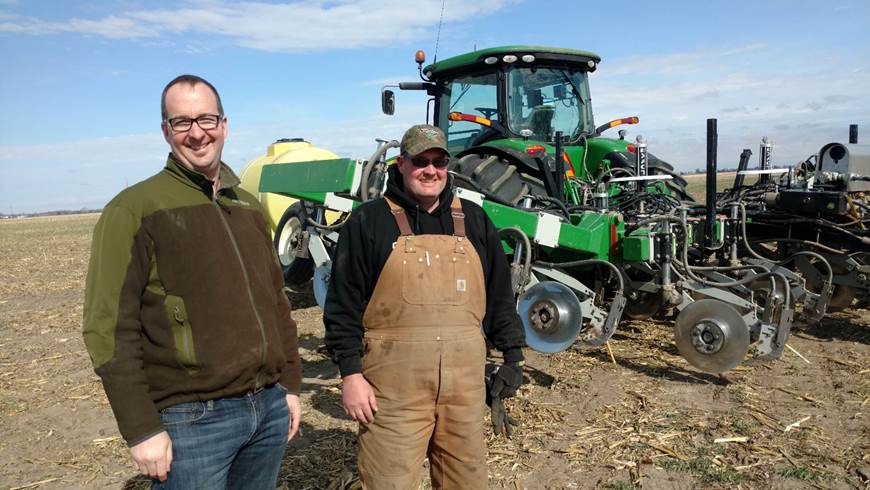 Nobody knows better than the owner.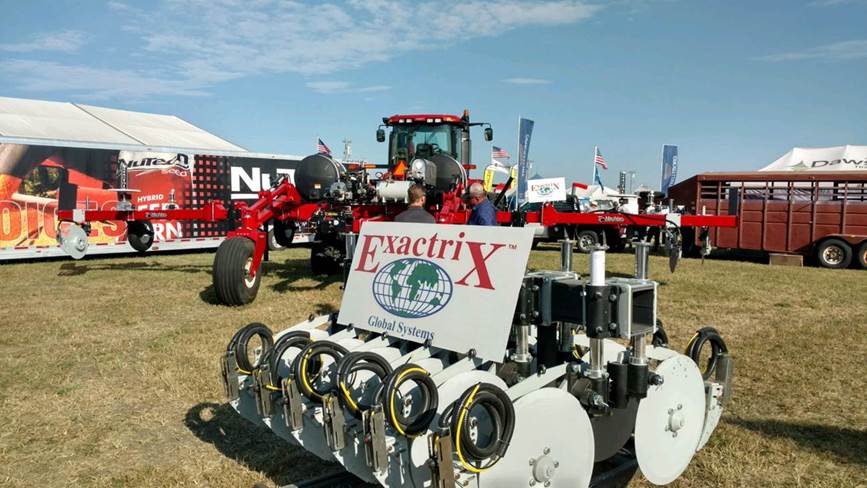 Mustang Tool Bars, Positive Down pressure at the wings. High floatation when teamed up the high speed belted tractors.
Mustang P-51C and CUE openers allow banding on 10, 12, 15, 20 and 30 inch centers.
Banding deep to 7 and 8 inch depths will low soil movement.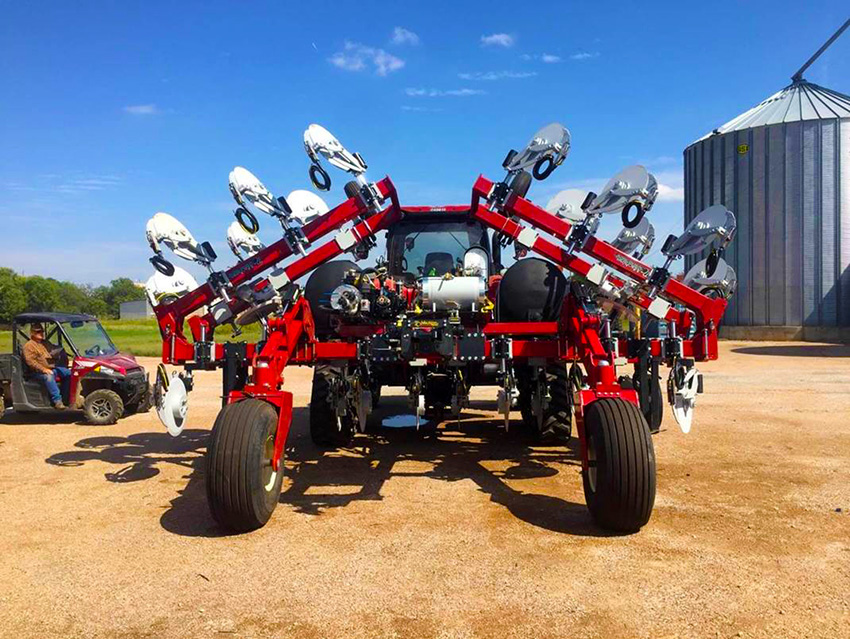 Lift assist for 40 and 45 tool bars. Hydraulic trailer hitch. Liquid tanks provide extra capacity from 150 to 600 gallon each.
The tool bar is capable of 30,000 to 35,000 lbs. total additional weight in combination with belted tractors from Case.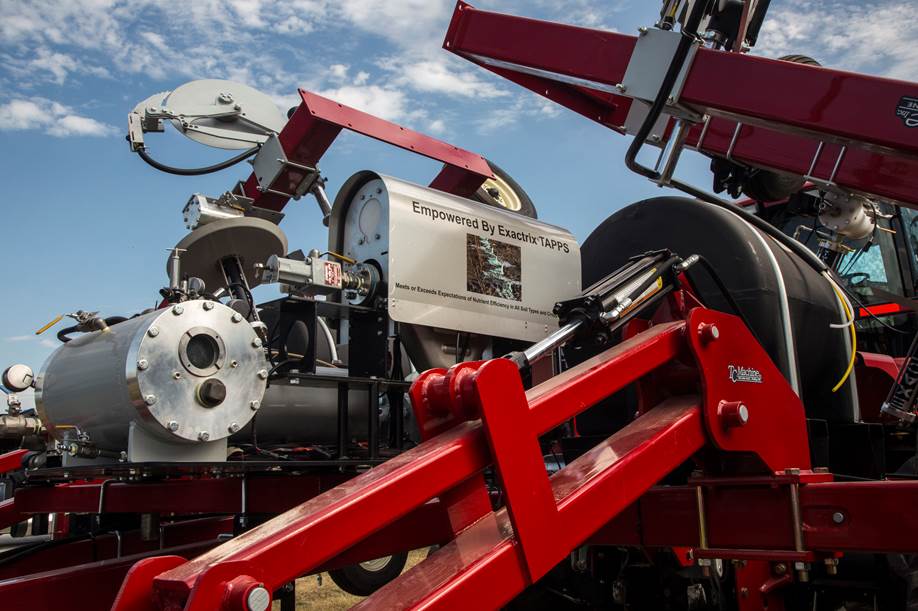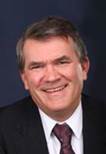 Your Great Plains Reporter.
Guy J Swanson.
---
Liquid Rhizobia, http://agproducts.basf.us/products/vault-np-soybean-liquid-inoculant.html
Ferrilene, http://www.helenachemical.com/products/micronutrients-specialized-nutrition/ferrilene/
DeKalb, Iron Chlorosis Tolerant Beans. http://www.dekalb.ca/soybeans/varieties
Exactrix TAPPS and TAPPKTS formulators. www.exactrix.com/EPM.htm
Exactrix Mustang Openers, www.exactrix.com/mustang.htm
Exactrix SRS. http://www.exactrix.com/Broadcast_08_09_2017.html
KMS, https://www.diamondkgypsum.com/pdf/Diamond%20K%20KMS%20Potassium%20Magnesium%20Sulfate.pdf
Single Super Phosphate, http://www.cropnutrition.com/single-superphosphate
---