Guy Swanson Reports across the Great Plains.
Deep Soil Fumigation without tillage, Joel McClure.
Exactrix Plots a Solution, Kevin Medow.

Thio-sul® gets a little more, about 11 bushels, Rick Engelmeyer.
Soybeans have dramatic yield increases. Help for Soy from Helena. Jim Talbert. Winter Wheat improved for grazing in OK and TX. Travis Miller Reports.
Fall Banding and land values moving upward in Nebraska.
Not all Nebraska Huskers are created the same.
Some just have a special ability to raise a 300 bu/a. corn crop.
Always the question, "Dr. Schepers, What is limiting?"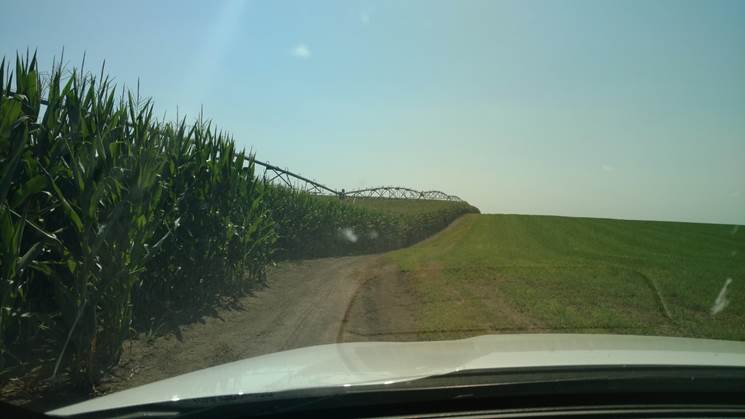 4
Exactrix Plots a Solution for Rick Engelmeyer.
Thio-sul® gets a little more, about 11 bushels.
Fall Banded. Kevin Medow
It takes Less to Raise More.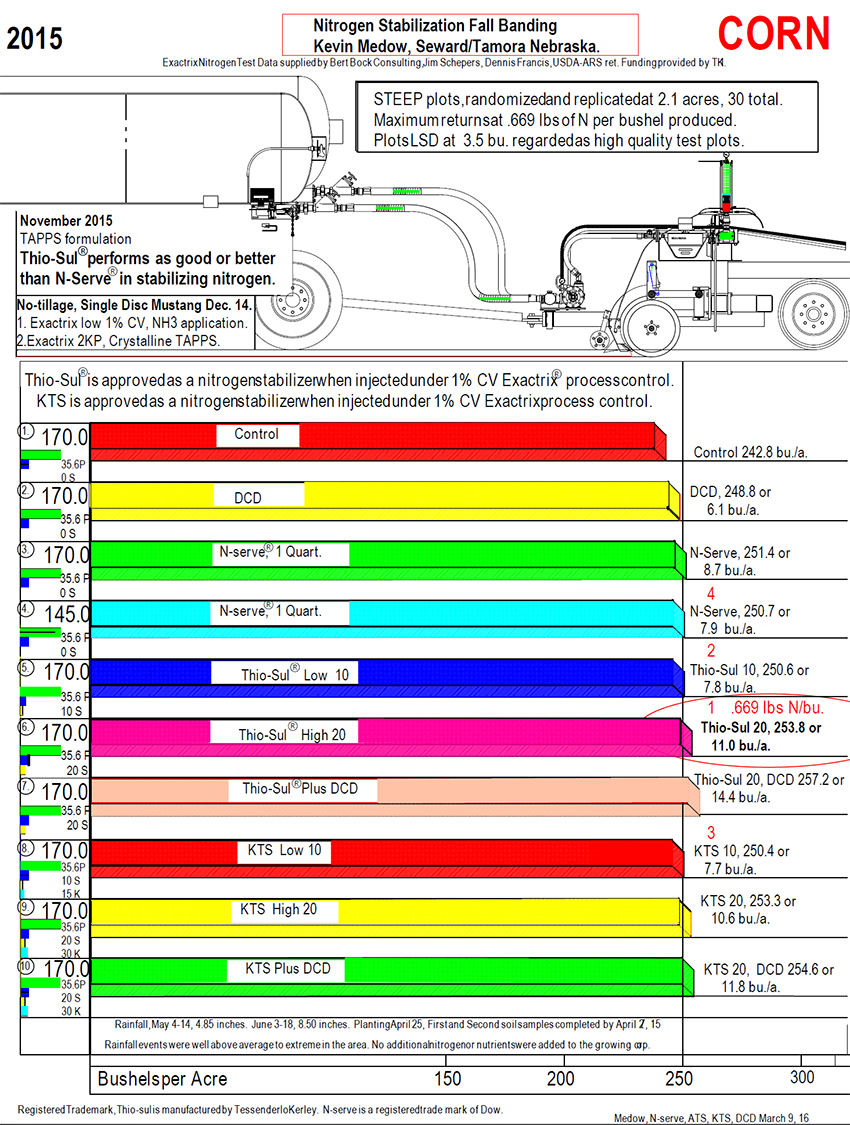 5
A note to Rick Engelmeyer at Beemer, NE following some top yields as high as 292 bushel average for his brother.


Rick,
You can improve your NH3 only application by adding a second product. Place your bet on Thio-sul® with micros.

Addition of Thio-sul® at 7 gallons per acre is about 20 lbs. of Sulfur. This could be a real nutrient need in a manure rotation using soybeans and applying 140 lbs. of N to raise 275 bushel corn, you may finally be able to break the 300 bushel per acre average mark with TATS or Tri-ammonium Thio-Sulfate or Thio-sul® and micros.

These plots were very good (Low LSD at 2.5 acres each, 32 total) at York, Kevin Medow, and deserve your attention, 11.0 bushels per acre. With DCD added, 14.4 bushels per acre. The DCD is not worth it as there a was dollar swap at $15 cost. You could try a $5.00 rate of DCD and see where that goes.

You can also try KTS®, Potassium Thio-Sulfate, but I think low cost Thio-Sul® is best, 7 gallons is about $15. That should get you $38.50 per acre more gross at $3.50 and an additional net $23.50. It is a very low risk adventure. You should pay for the equipment with the first crop.

You can also add a metals package, Manganese, Iron, Copper, and Zinc and get the punch of micros that the manure may not have due to lack of uniformity of application with manure and tillage.

High Temperature at 750 degrees F and High Pressure flows combining Exactrix NH3 in Liquid streaming flows with liquid state plant nutrients at high pressures assures high yields.
TAPPS is Tri-ammonium Poly Phosphate Sulfate, TATS is Tri-ammonium Thio-Sulfate.

Streaming flows are well published and discovered by the Tennessee Valley Authority in the 60's.

Exactrix® maintains the 1% CV, high uniformity of application using Mass Flow meters.
GJS

Machinery and Metering of Nutrients in No-tillage can make a big difference.
---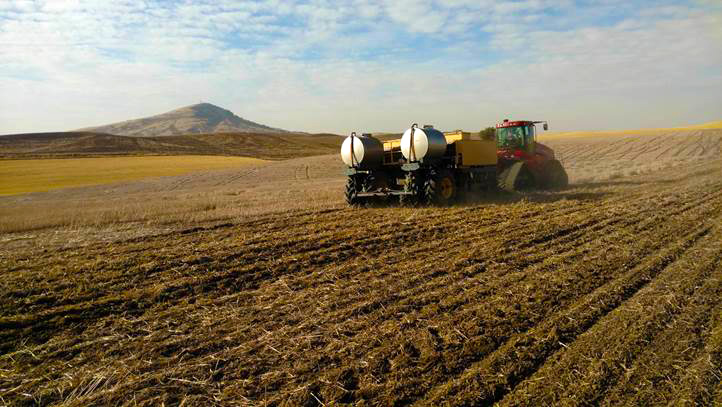 6
Yielder No-till Drill, Steptoe, Washington, 33rd season, October, 2017, Paired Row 7/13, Aqua, 16-20-0-13S, Winter Wheat.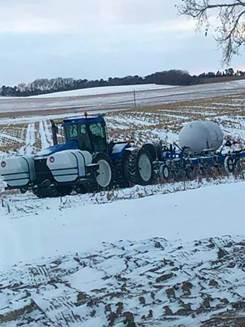 7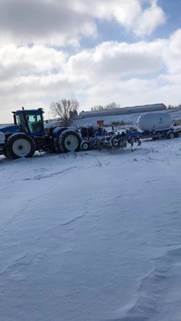 8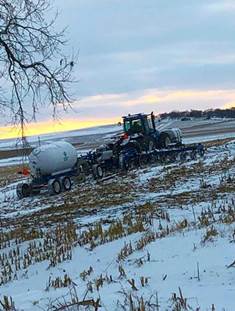 9
Banding nutrients in the toughest of conditions. "If it snows…..we will go. "
http://exactrix.com/Broadcast_12_03_2018/Osmond.mp4 Video of Snow Field Application of Exactrix TAPPS at 12 degrees F.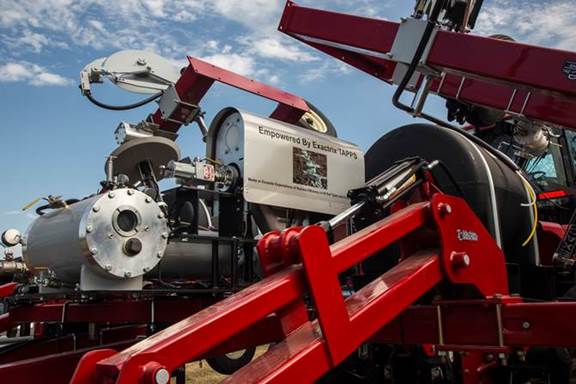 10
September, 2017
Husker Harvest Days. Grand Island, Nebraska, Mustang 4015 tool bar in TAPPS and TAPPKTS formulation.
A timeline, 43 years removed from the first trials of No-tillage and the critical placement of commercial fertilizers.
Mustang Tool Bars meet or exceed growers expectations. It works every time with Mustang and TAPPS and TAPPKTS with micros.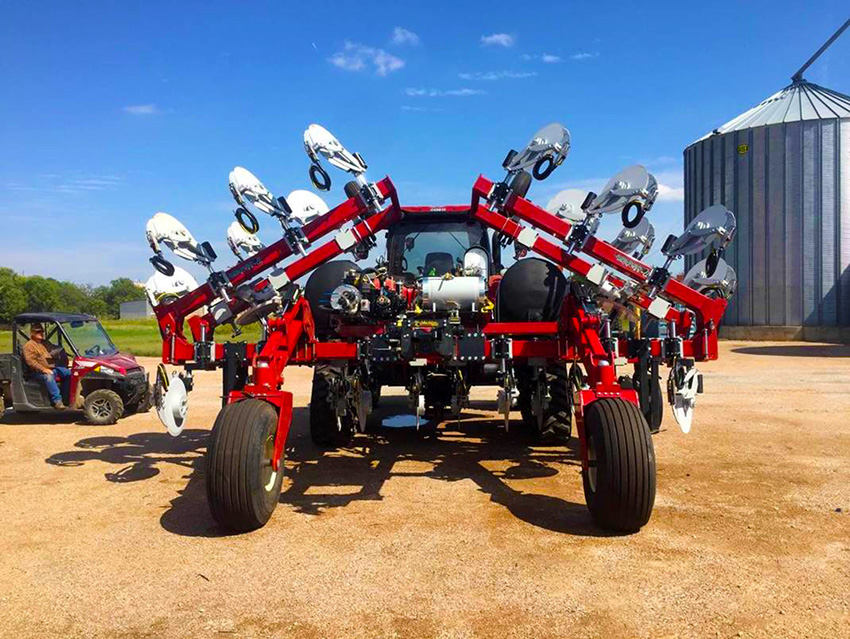 11
---
https://www.agrimoney.com/news/us-farmland-price-decline-past-the-worst-central-bankers-say-42103
Heading for improved land markets in cattle country of the Irrigated Great Plains.
A big sign, The decline in farmland pricing has stopped dropping and most likely headed back up on the Great Plains.
In fact at Beemer, Nebraska land values have jumped up in November, 2018.
In 2018 Manured soils were sold at $12,875 per acre in Cuming County, a jump of about 7% from 2017.
This would be a historical point in every producers career, that 2017 was most likely the bottom of the Land Market.
"It would appear that the Exactrix Primary Market is finally in for some better times."
"It takes Less to Raise More in 2019 with Exactrix TAPPS."
Great Plains Producers, Exactrix owners have a revolution in Rotation with Soybeans and Winter Canola which can drive the corn supply lower with a powerful and economic rotation.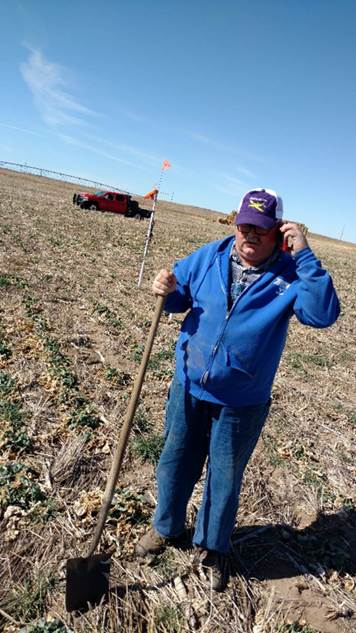 12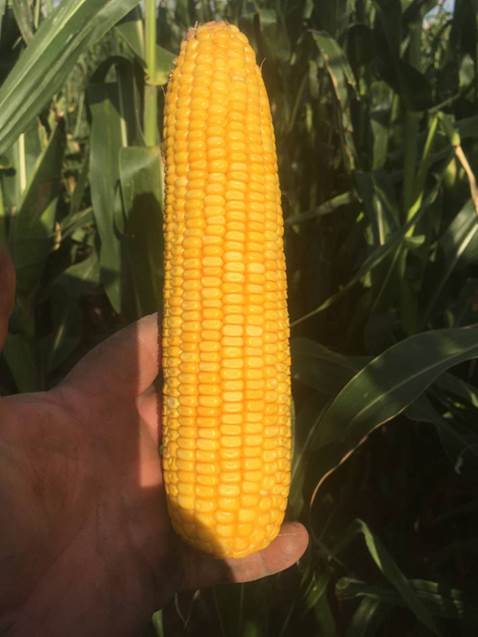 13
Does Winter Canola improve yields with deep soil fumigation on following Crops?
Joel McClure confirms that his 2018 corn crop in rotation with Winter Canola of 2017 was exceptional and best ever crops raised along the Cimarron River in SW Kansas.
Yields jumped in dryland (150%) and irrigated corn (25%). Dryland yields were at record levels for Joel McClure. It was obvious, Winter Canola will be raised as a Deep Soil Fumigant crop first as a first priority……. and cash crop second.
The additional net returns for dryland and irrigated corn need to be credited to the Rubisco Hybrid Winter Canola.
No question Winter Canola as a major or minor crop belongs in every Kansas cropping system.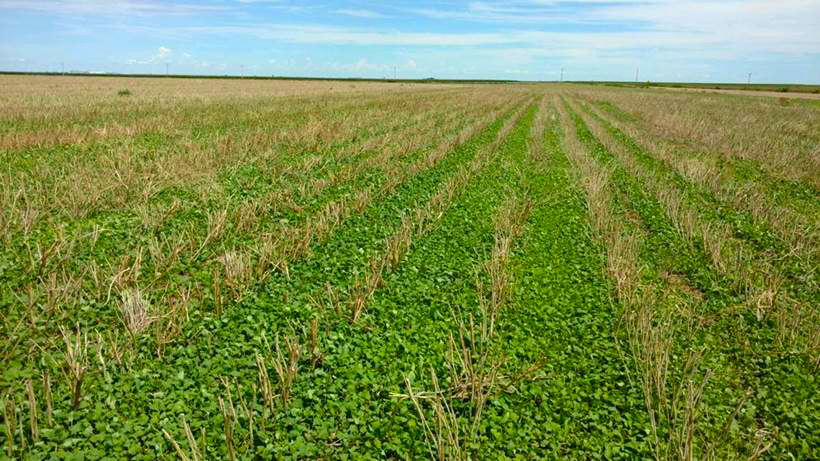 14
Winter Canola double up. Goodland, KS, August 2017.
About 10% to 20%% of the potential yield was left on the ground (hail damage) providing a powerful cover crop into September.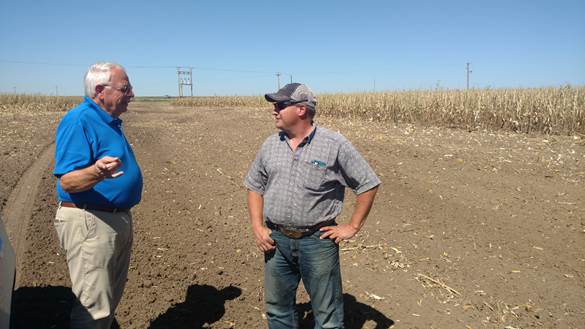 15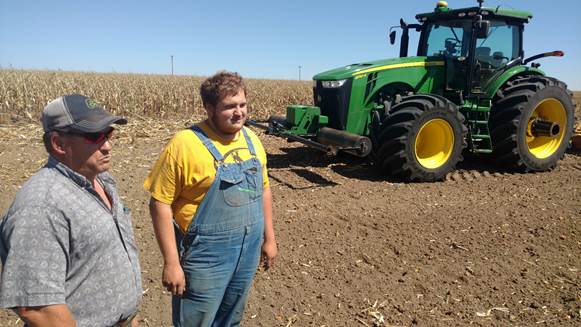 16
John Cory, Banker on the Great Plains talks it over with Greg Sederstrom. Greg and Blaine have had two years of hail at Goodland. KS.
"Hail to the Chief." Greg and Blaine Sederstrom cleanup a dryland, not so grassy, waterway following a Great Plains Hail storm. Oats and Winter wheat are a great way to hold the soil.

The Rubisco Mercedes Winter Canola field average was 62 bushels per acre, potentially a 70 to 75 bushel per acre crop on 30 inch planter spacing.

http://www.exactrix.com/Broadcast_08_07_2017.html Top Yields in Canola at Goodland, KS.

Winter Canola, The Money Making Deep Soil Fumigant Crop. Out-competes all other crops in rotation.
Every producer bet in Winter Canola is a winning bet for following crops.
Winter Canola can reduce the surplus of corn and wheat economically for your crop production budget.

Dairy farmers call ahead reserving Canola Crush. It always preferred in the feed ration.

High demand in Bio-diesel mix.

Large International marketing effort. Mexico is a consumer. World market data indicates it is the 4th largest crop.

It can clean up grassy weed infested soils.

It is a good crop for nematode suppression.

It holds soils in place, Winter wheat erosion problems go away with SRS in the row of Hybrid Winter Canola.

It outcompetes winter wheat every time. Winter Canola is a silver bullet for many producers.

Producers get the genetic punch from Europe with hybridization and better potential in tough conditions.

Rubisco offers consulting, Exactrix backs the crop with advance technology like SRS and Tri-Flow Injection.

ADM will market for your productions in Texas, Kansas, Nebraska and Colorado.
Winter Canola Roots go deep, Harvest Nitrate and suppress nematodes. Higher corn and winter wheat yields always follow Winter Canola. Winter Canola is the ultimate Fumigant Crop (not a cover crop) because it makes money in Kansas conditions.

Confirmation of Winter Canola and your plans for the next five years will include the Mystery Crop of The Great Plains. http://www.exactrix.com/Broadcast_06_29_2017/Broadcast_06_29_2017.htm

---
Finding A Solution For Iron Chlorosis and The Platte Valley Yellows. Timed Right for the 2019 crop.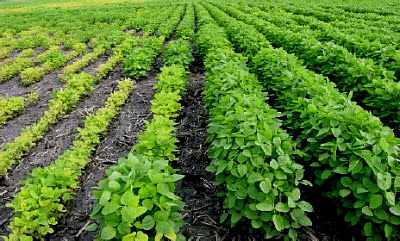 19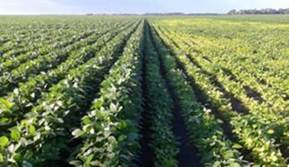 20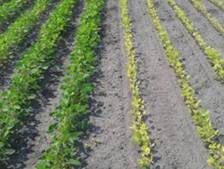 21
About 20 million acres are adaptable to Exactrix TAPPKTS with Ferrilene. Soybeans, Corn and Milo benefit from the Tri Flow Injection with TAPPS and TAPPKTS.

Tri-Flow Injection is also planned with Winter Canola with MGPA and Zinc Sulfate.
How does Ferrilene work?
How much does it cost?

Will it work for me?

Do I need Mustang Openers to make it work?

Does it work every time?

Can I have a custom application?

What is the delivery date on the equipment?
Find more out more at:
http://www.exactrix.com/Broadcast_08_31_2017.htm
Or go to next level in Soybean Production at:
http://www.exactrix.com/Broadcast_08_31_2017.htm
---
Looking for Answers and 12% more net margin.
Don't forget to sign up the Frontier Farming Days Feb. 14 and Feb. 15, 2019.
The TAPPS injection system with a Tri-flow split using Ferrilene offers a solution where there was none previous to raise Soybeans, Milo and Corn under Platte Valley Yellows stress.

The SRS Technology will be explained in detail and in the field with Deere Planters.
---
On the Great Plains and the PNW Seed Row Saturation is building a history since the 80's.
It works with expensive seed in a double barrel approach.

Yielder®

Drills were first used in 1984 and 1985 to get a good stand of Dwarf Essex in dry July, hot soil, summer conditions.

Here is how it is going in Kansas conditions.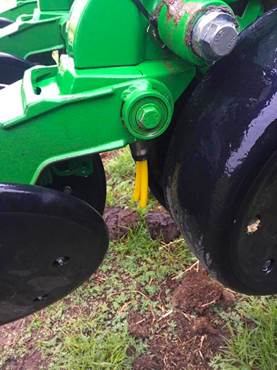 27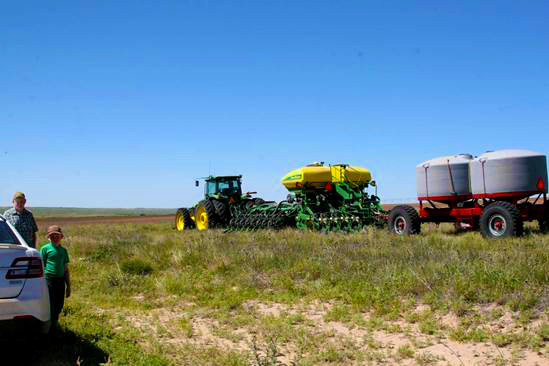 28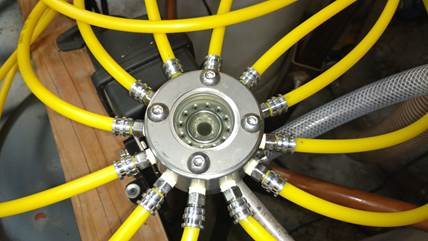 29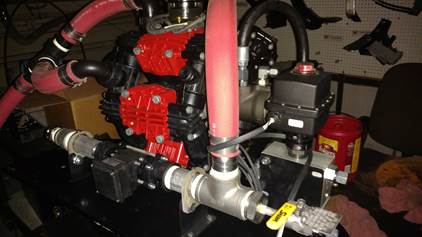 30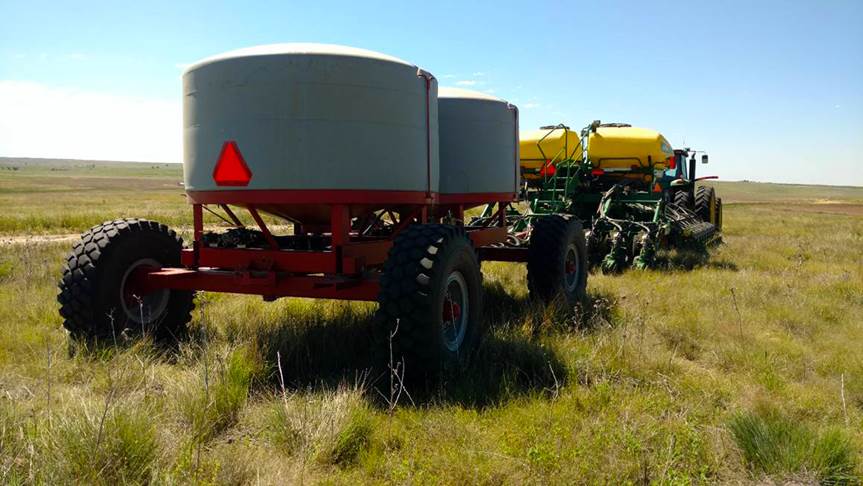 31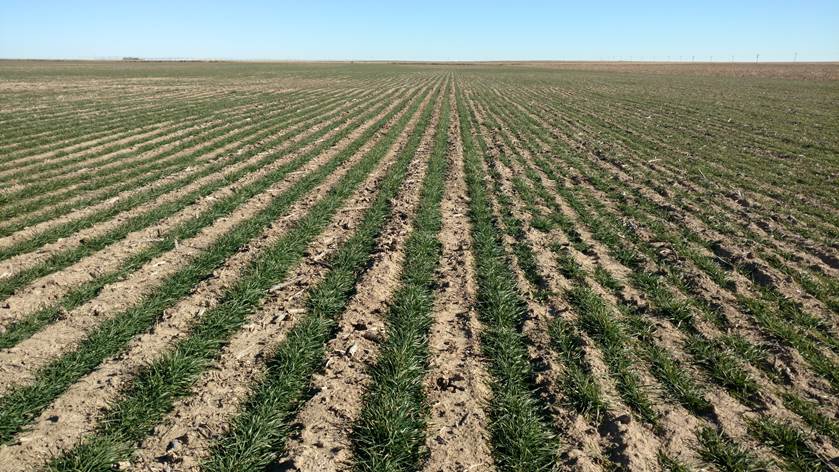 32
High Quality GMO Soybeans are a fit for SRS. High Quality Hybrid Winter Wheat is the next chapter with SRS.
It is a great leap ahead for No-till Farmers with 20 inch planters and SRS.
Order More Calves with Exactrix® TAPPS Winter Wheat Management.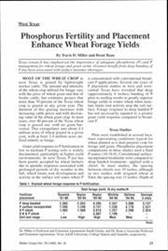 33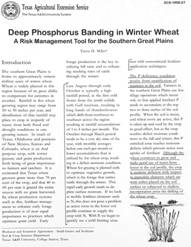 34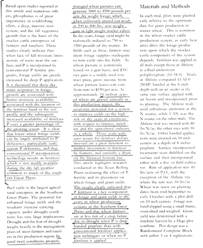 35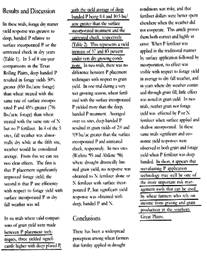 36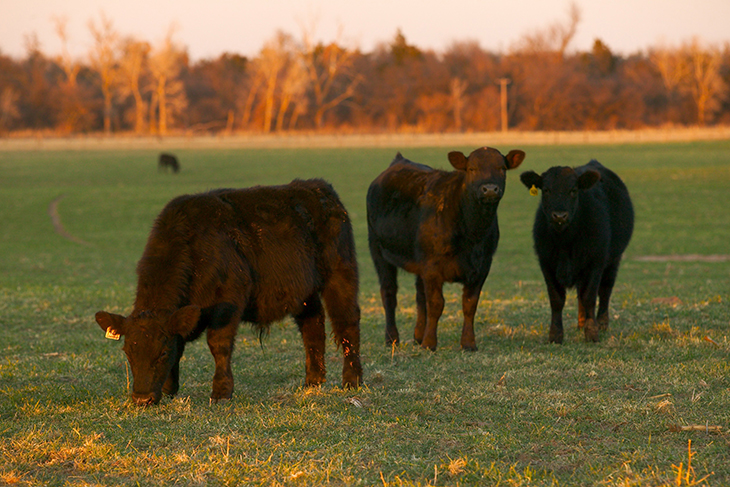 37
An economic revolution with an Exactrix® No-tillage system with TAPPS and Stocker Feeders on Winter Wheat.
Here is a supporting document for Exactrix® TAPPS in forage production of 10 million acres of the Southern Great Plains.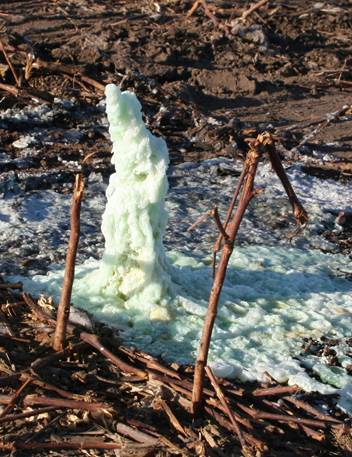 38
Crystalline TAPPS, Exactrix® Application Chemistry Drives Nutrient Efficiency In All Soil Types
Why band nutrients deep in the soil profile? Travis Miller at Texas A and M reports.
---
Seed Row Saturation, SRS is also contributing to improved yields in Soybeans, (7.5% nominal) at Hugoton, KS.
The SRS Technology will be explained in detail Feb 14 and Feb. 15 at Hugoton, KS, . Click here to register.
Large Plots proved out in irrigated soybeans and dryland soybeans that Milo, Corn, Soybeans and especially Winter Canola can benefit.
SRS Depletes the Abscisic Acid (dormancy hormone) that delays germination.

A good flush of H20 at 50 to 75 gallons per acre on 30 inch centers starts the plant immediately with 50% or greater levels of moisture in the germination zone.

Also allows difficult OM levels to be overcome on clay and sandy soils where the moisture line will not meet.

SRS flow can also be enhanced with MGPA, Zinc Sulfate.

These germination enhancing products further break down the Abscisic Acid.

Testing documents provide an insight to stronger plants in wet or dry soil conditions.
Here is a good broadcast e-mail on SRS results. http://www.exactrix.com/Broadcast_08_09_2017.html
What is Abscisic Acid? What is the value of Zinc Sulfate?
http://www.exactrix.com/Broadcast_08_21_2017.htm Here are the technical papers.
Platte Valley Yellows Overcome, Dryland soybeans.
Site Specific, 40,000, 60,000 and 80,000 population at Hugoton,

Joel McClure, Ferrilene, applied with Mustangs, Tri-Flow injection.

In Dust Bowl Soils and Difficult Weather Conditions
The Technology of Exactrix Breaks Through the Iron Chlorosis Problem and Platte Valley Yellows.
The First Soybean Crop Ever on Limiting Soils Known for Iron Chlorosis.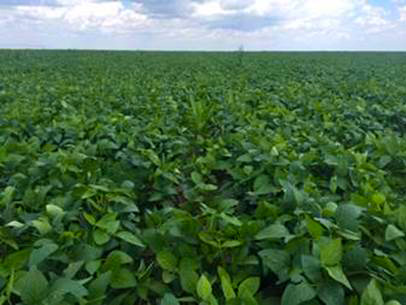 39
"Go Where No Soybeans Have Gone Before." JM
Joel "Iron Man" McClure discovered he can now raise Soybeans with Exactrix technology, dryland and irrigated.
Not even a consideration previously.
TAPPKTS with Micros, including a complete metals package (manganese).

Tri Flow Injection of Ferrilene (Hyper Chelated Iron), Located at three locations with ammonization.

Exactrix 1% uniformity of application,

Mustang Deep Banding openers

VRT-Site Specific in Iron Chlorosis Zones allowed production at a top notch yield and a low cost yield at Hugoton.

Selection of

DeKalb

and Channel varieties that complementary work together with Exactrix TPPKTS, Ferrilene and good management for top yields.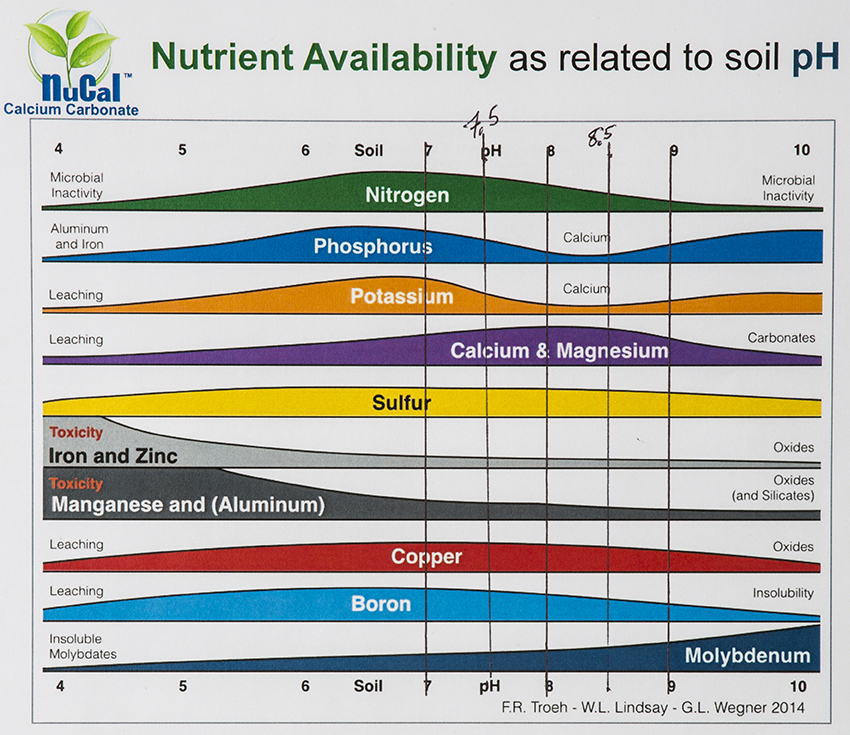 40
"A revolution for improved margins at much lower risks." A very significant development and applicable to 20 million acres on the Great Plains. The nutrient availability chart tells the story.
Raising Soybeans on 20 million to 40 million acres of 7.5 to 8.5 pH soils requires extra nutrients due to the Rocky Mountains and development of Great Plains soils. The last five Ice Ages, wind erosion and few volcanoes had a lot to do with Great Plains Soils.
Great Plains Soybean Producers will need to add, Iron (Ferrilene, subsurface applied and indexed), Manganese, Zinc and micro amounts of Copper as Micros as ammoniated or chelated. The micronutrient Iron is critical to the success of soybeans. Ferrilene is applied site specific in line with previous yield maps and aerial photos. https://helenaagri.com/products/micronutrients-specialized-nutrition/ferrilene/
Soybeans produced on this Great Plains Soils above 2,500 feet will need the secondary nutrient Sulfur as S and SO4. This is Thio-sul®.
Soybean Great Plains Producers will need to add Nitrogen, Phosphate and Potassium. All combined into a targeted band of TAPPKTS plus micros. NH3 is used for the nitrogen source at 30 lbs. N. The Phosphate comes from Ammonium Poly Phosphate as 10-34-0. The Potassium comes from KTS® as 0-0-25K-17S.
Exactrix Plots A Solution For The High Plains,
Iron Chlorosis of Soybeans, Corn and Milo.
The Soils are different. This is not Iowa.

Why do soybeans need placed nutrients with
Exactrix® Tri-Flow Injection to get Iron Chlorosis under control?
Why do soybeans need placed nutrients and Exactrix Tri-Flow Injection to get Iron Chlorosis under control?

The pH chart tells the story when soybeans are raised west of the Missouri at elevations of 2,500 feet or greater. The soybean line is about 100th Meridian and west. The Great American Desert west of Fort Kearney, Fort Hayes, Fort Dodge or Abilene, TX all the way west to the Rocky Mountains. This vast expanse of the Ogallala Aquifer can raise high yielding irrigated and dryland soybeans.

Finding A Solution For Iron Chlorosis. Go to this recent broadcast. http://www.exactrix.com/Broadcast_09_22_2017.htm
---
Wise men say it will be done, No-till Baby Potatoes will be a money maker.
Full circle from WSU, Dr. Gary Hyde, Ag Engineering research of the 80's, This time Baby Potatoes and double crop.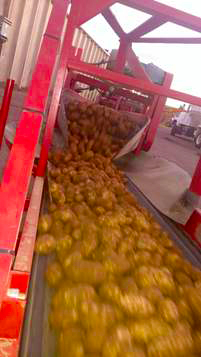 41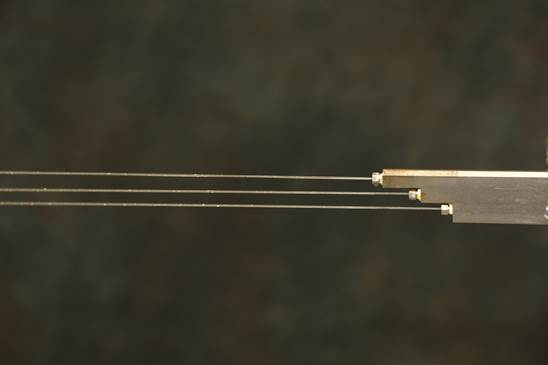 42
No-Till Baby Potatoes with Exactrix Streaming Flows of TAPPS and TAPPKTS with micros.
Driving maturity deep banded No-tillage TAPPS with low nitrogen rates and relative high P rates.
Your Great Plains Reporter,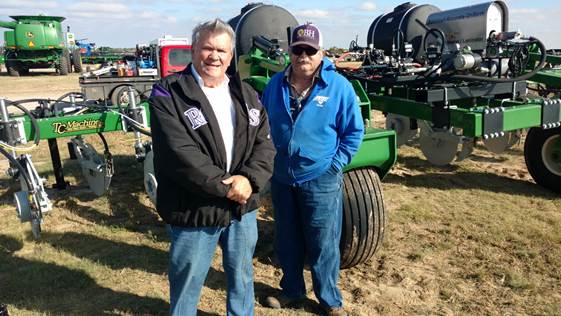 43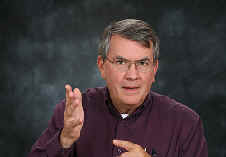 44
Guy Swanson
---