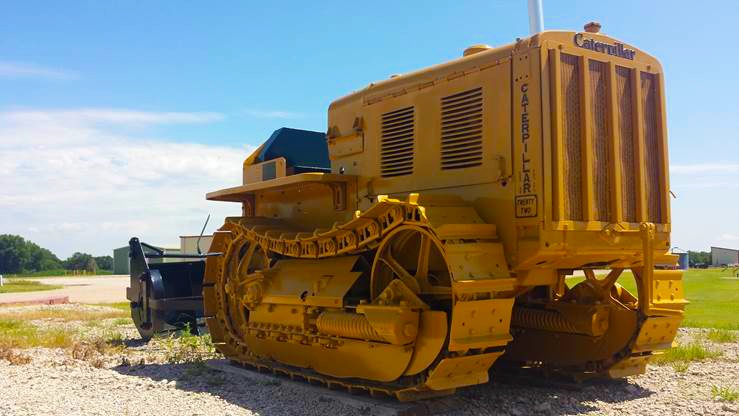 Diesel Power and dual fuel with LNG at 1,000 horsepower is on the horizon.
The new tractors have time proven rubber belted tracks for mobility.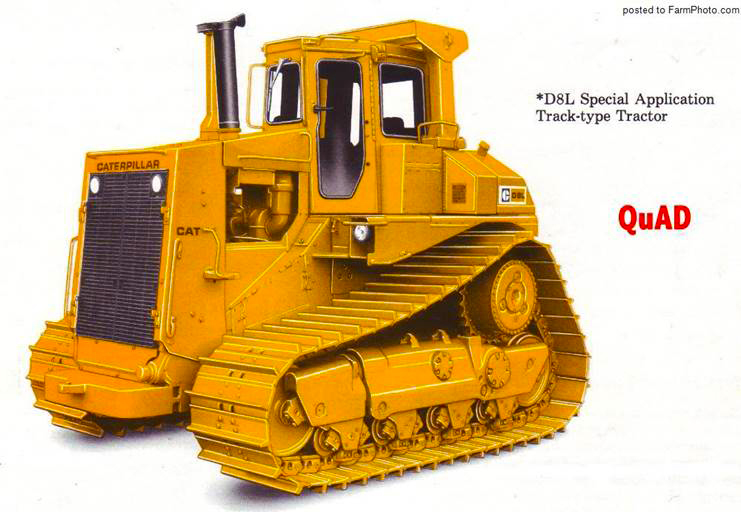 Case 600 horsepower Quad Tracks are even more powerful yet.
Are you looking for more and using less?…14 days in the tractor seat vs. 30 days in the tractor seat.
See how they do it with all the technology. Big Red at Shelton, NE.
https://vimeo.com/bandbvideo/review/162428756/c562a9070d
John Says, "It is a real big deal".
The wood got smaller in the last 80 years.
From the western slopes of the Cascade mountain range….. a 15 foot diameter western Red Cedar tree is converted to structural wood.
The big trees required a very large carriage and 2 story band saw 80 years ago.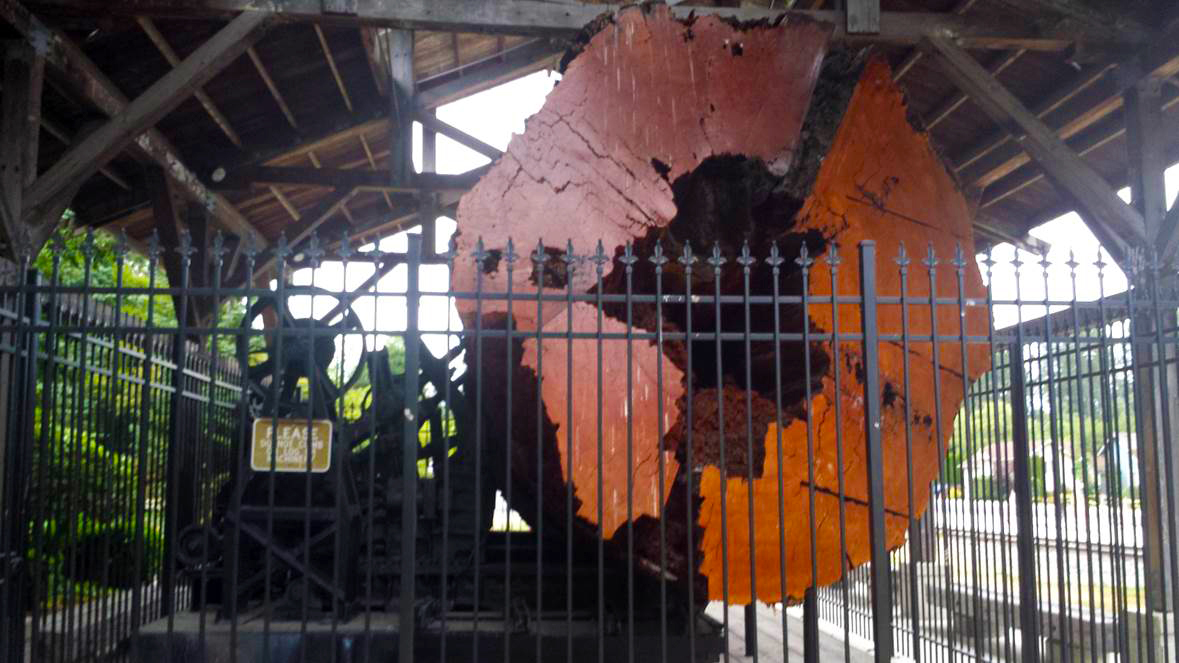 The producers got bigger and better over 80 years.
Wall Street helped with the financing of American Agriculture.
The Land Bank, Farm Credit, Banks for Coops helped build a good financial system.
Farms can be passed along to next generation with confidence of success.
Producers made it happen. Two crops in one year is now a common practice on the western Great Plains of Kansas, Oklahoma and Texas.
The land grant university design for the western Great Plains grass land would require livestock for grazing sheep and cattle.
The discovery of the Ogallala aquifer changed the land grant design very quickly over 80 years.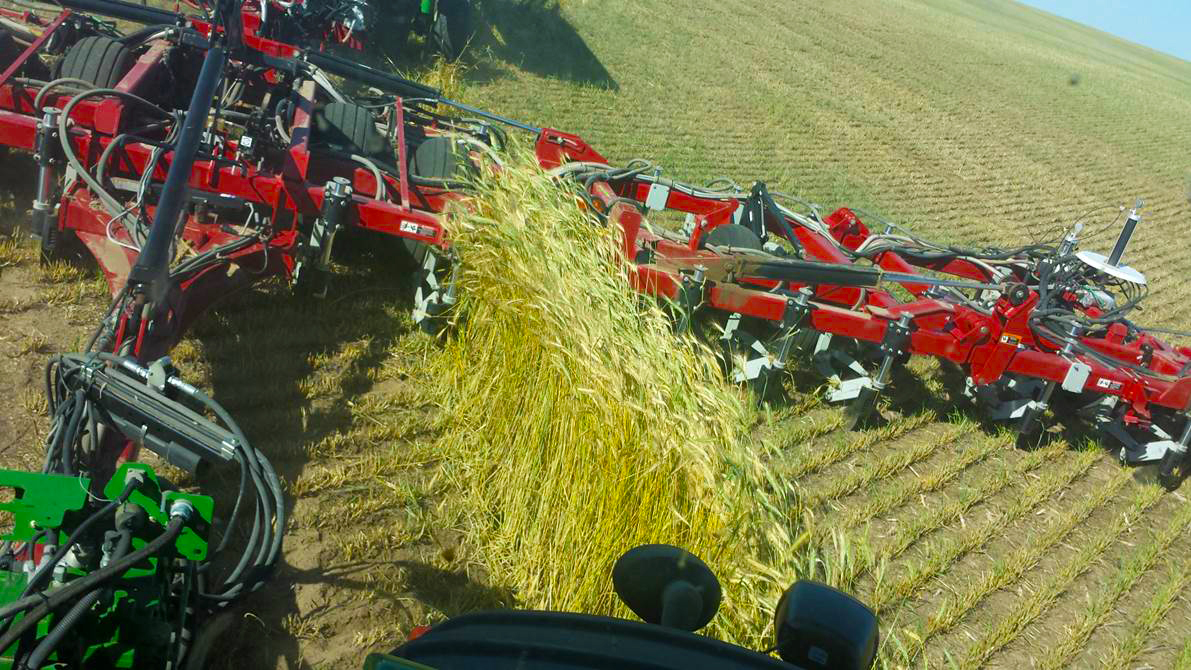 The machinery to implement advanced technology to annual cropping is done with No-tillage. No-tillage saves critical germinating moisture, up to 4 inches back in the soil.
And the time saved with No-tillage makes double cropping possible.
The end result is less is invested to compete in the world export market.
Mustang Openers P-51C, Case 940 Tool Bar, Exactrix 2KC series 3 Weigh Master.
So why is perennial timber not expanding yields like annual cropping?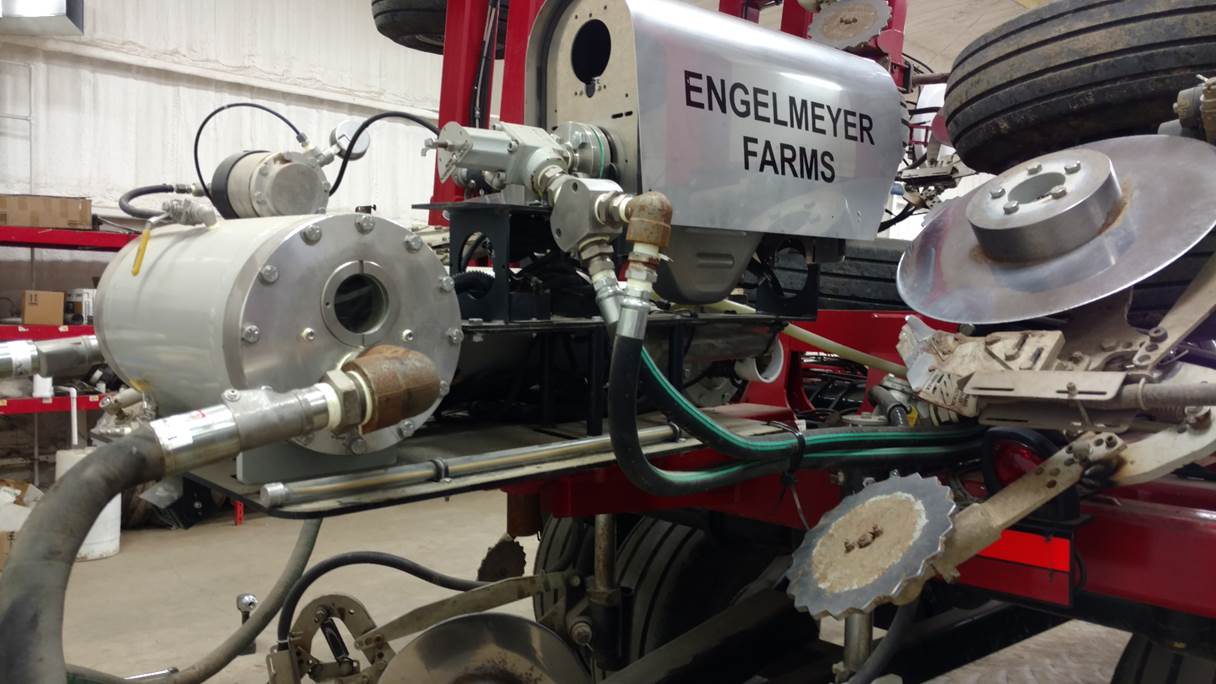 Paid for with the first crop….A power play in technology. 2KC series 3 Weigh Master with Laminator and Mass Flow at $105,000. Saved back over 150 to 160 lbs. N per acre on 2,000 acres.
The university recommendation corn on corn for 280 bushels per acre average is 308 lbs. N per acre.
That is a lot of pH modifying Lime and 50 more net dollars. Over 270 lbs. per acre of Lime will not be required every year by keeping applied N efficient.
Why is annual cropping better and better? Why is timber less and less?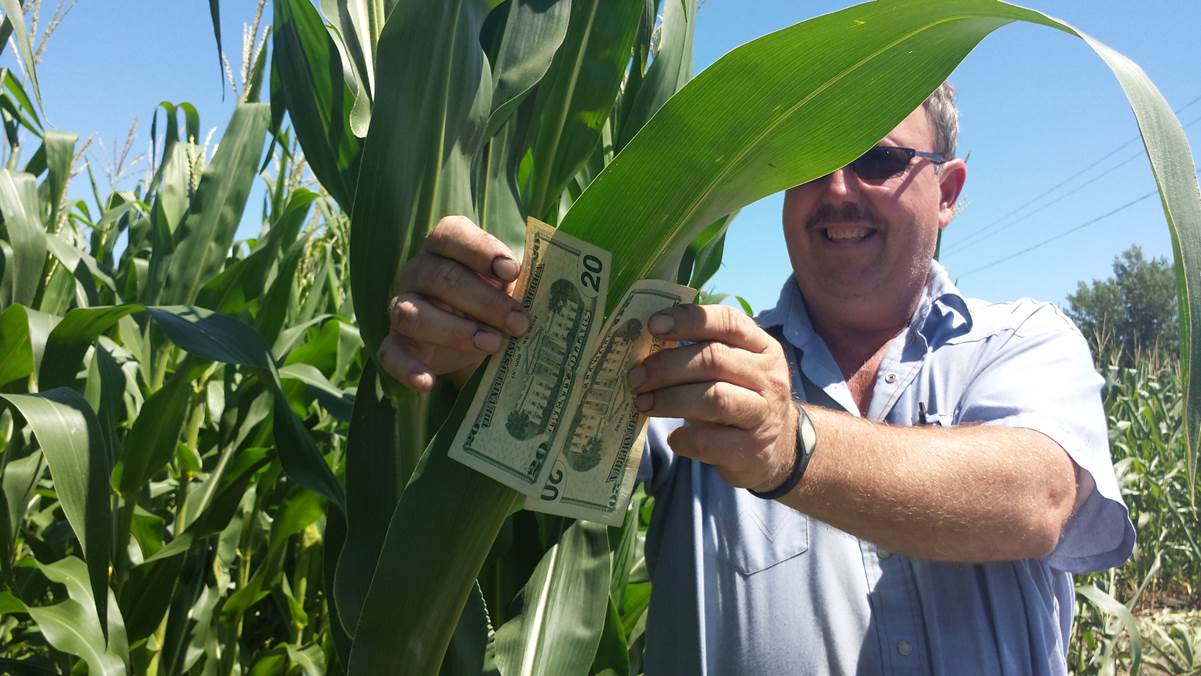 Top yielding corn with 140 lbs. of Exactrix nitrogen as NH3. Absolute Uniformity at 1% CV application, fall applied on 30 inch centers with Mustang Openers.
This is Rick's 14th year of a road traveled with Exactrix and this is the 3rd year with 7 inch deep banding P-51C series openers.
"Something is working a little better than planned".
Rick Engelmeyer has a program that is tough to beat after 50 years of manure and 3.5% OM utilizing supplemental irrigation to raise good crops.
This is a minimum tillage system. The soil is moved to work in the fall manure applications to the loess soil, both hog manure and cattle manure is utilized.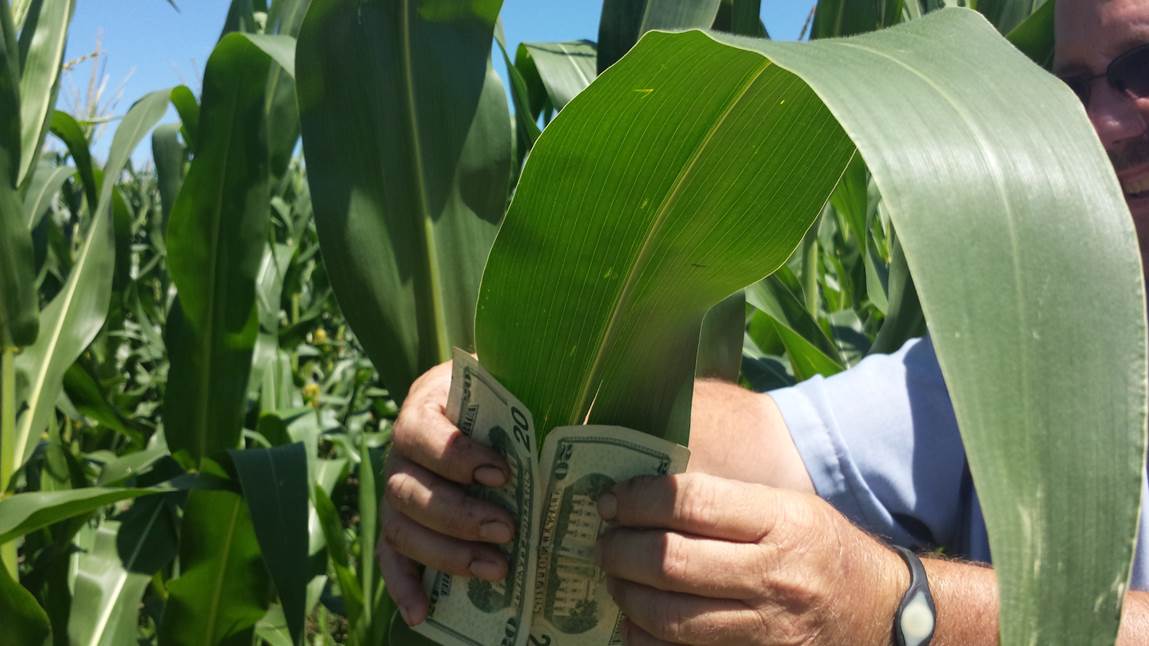 Pioneer 1197. Two years in a row…the top corn variety and consistent producer. Exceptional good genetics across the Great Plains with Pioneer and 1197.
On a broad acre basis with field wide averages from 245 bushels per acre in 2015. In 2016 yields to 278 bushels per acre.
What does corn have that timber does not?
NH3 provides extra yield punch and changes land values….genetics on the tree farm just will not compete with the revolution in Corn genetics and Anhydrous Ammonia.
Anhydrous Ammonia and Exactrix go together for top yields at low cost. Location of the Exactrix NH3 band at the 7 to 8 inch depth gets the maximum root pattern geometry.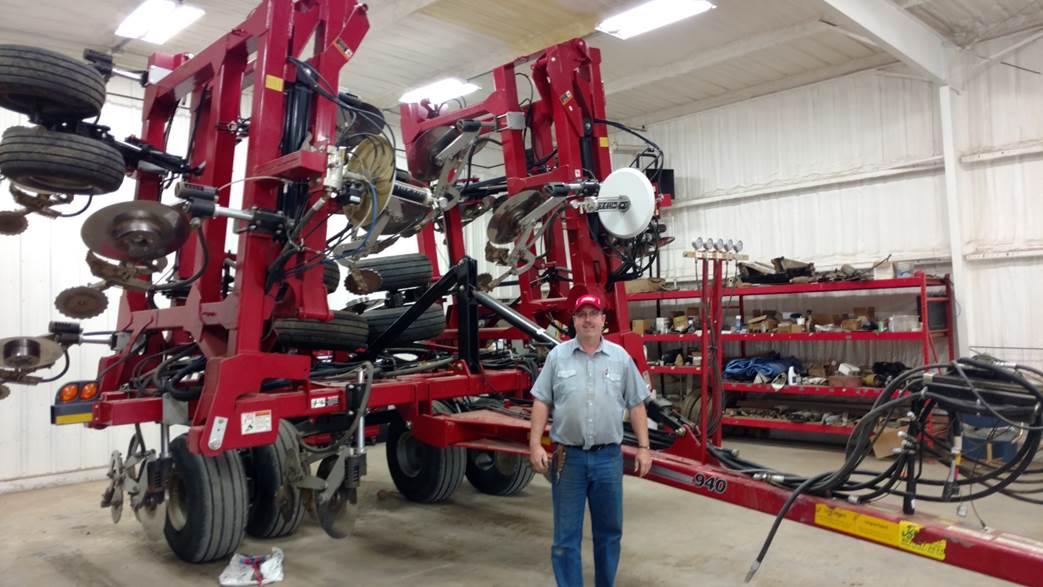 More news on Rick is included in the video.
Rick tells his story from the 2015 crop year. https://www.youtube.com/watch?v=eosk0e9cvBM&hd=1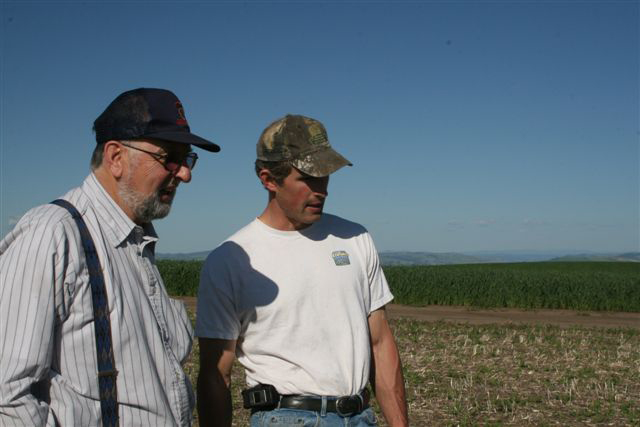 All generations agree "Yes it can be done, It will be done, No-tillage140 bushel per acre Spring Canola."
Jake and Eric get their eyes opened and are true believers in Exactrix TAPPS VRT-Site Specific application.
https://www.youtube.com/watch?v=_7fW5_xT9PE&fmt=37
Get top margins…with less risk…less invested in every crop. Better results in Wheat, Canola, Garbanzos, Barley, Peas, Lentils.
Your Great Plains Reporter.
Guy J Swanson
---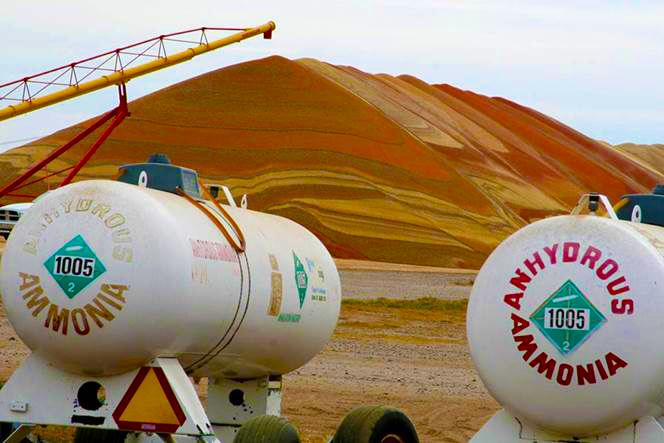 For engineers that need to know. How did Exactrix change NH3 forever?
How does Exactrix build the P-51 Mustang?
I need to know before I buy. http://www.exactrix.com/Broadcast_12_07_2016.htm
Deliveries in 2017 are now on the mark.
What is the difference between Mustang P-51C and P-51CUE.
https://www.youtube.com/watch?v=AmIFK9EWj9E&hd=1
More news about the technical side of the Mustang.
https://www.youtube.com/watch?v=uDW9nocijUk&hd=1
More news about the bearings and mountings of the swiveling Mustang Openers.
https://www.youtube.com/watch?v=AoTmdMqsof4&hd=1
---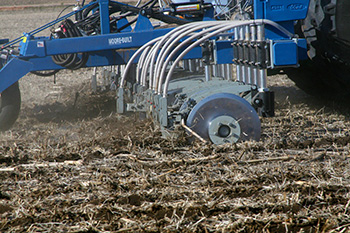 Mustang Review for buyers and advanced producers.
www.exactrix.com/mustang.htm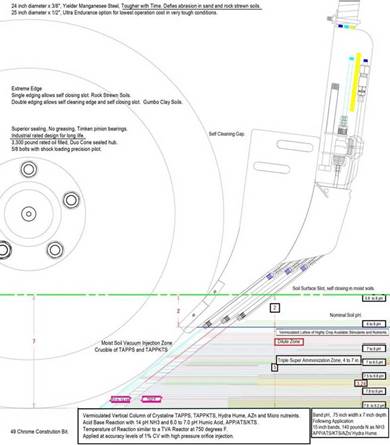 Kevin Medow, Seward County, NE says, "I like this opener",

Kevin has used and sold the fixed angle Yetter Maverick.
The Exactrix Mustang changes the No-tillage game plan by banding much deeper without tillage.
Mustang handles Heavy Residue by banding deep to 7 to 8 inch depth utilizing 24 inch and 25 inch diameter disc blades.
The Deere 2510 owners now have a better choice with low operating cost Mustang openers. They operate for about $1.25 to $1.65 per acre on 15 inch centers.
The Deere 2510 is about $4.50 per acre on 30 inch.
https://www.youtube.com/watch?v=QuCAeCfBUnQ&fmt=37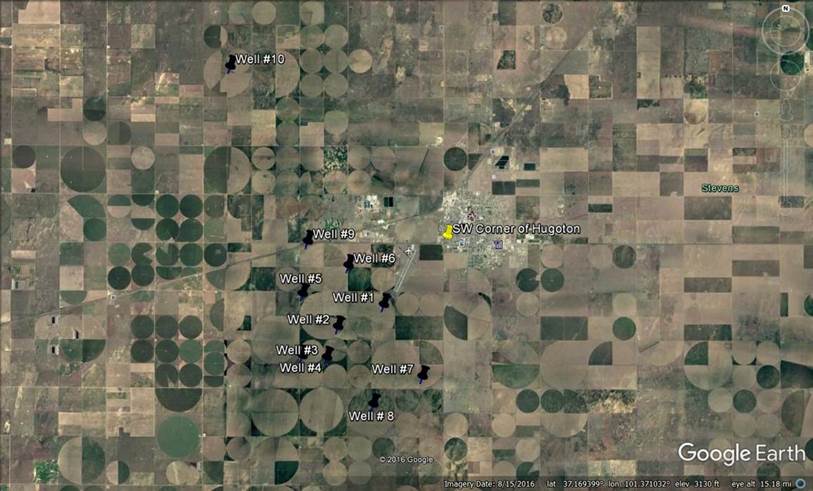 Ben McClure, KSU graduate economist and manager of Kramer Seed reports in.
"Record Yields and Best Possible Margins in Kansas using VRT-Site Specific."
Corn yields reach 325 bushels per acre with Exactrix TAPPS using VRT at 141 lbs. N per acre and 5 gallons APP/Thio-Sul per acre.
http://www.exactrix.com/Broadcast_12_19_2016.html
Binary Banding™ for Corn and Soybean producers.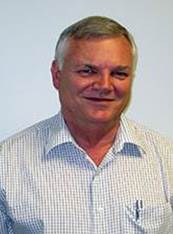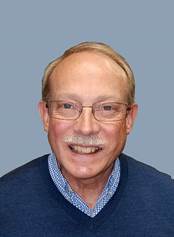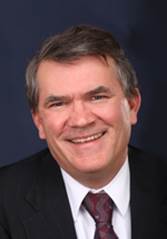 The 2017 Agronomy Review.
http://www.exactrix.com/Broadcast_12_29_2016.html
---