Central and Eastern Corn Belt.
Meet your Exactrix Sales Engineering and Technical Support Group for Iowa, Illinois, Indiana, Ohio.
Jason Rauch.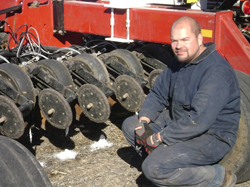 Originally from Illinois, Jason has a farm background. Jason was a millwright at a major Indiana seal manufacturer when he came to work at Exactrix. He started with Exactrix in 2008.
Jason has traveled around the US and Canada to visit Exactrix owners. His responsibility is approval of machine installations, service contracts, and beyond cell phone service. Jason is a trainer....he has good experience in machine set ups....and how you can improve your Exactrix Process Management System. Jason has complete access to Exactrix staff. He will get you an answer quick....and you know that Service is critical for a successful company to improve market share.
Pat Lancaster is your Exactrix Sales Engineer. Pat started with Exactrix in February of 2008. He is based in Shelbyville Indiana. Pat is your Exactrix market maker for new and used Exactrix Systems.
Pat's background qualifies him form excellent follow up and support of his Exactrix customers. Pat formerly offered Errors and Omissions Insurance to Attorney's and was very successful. This is very detailed work as we all know what to expect from a legal office. We have hand picked Pat because he brings sales skills and no pre-conceived opinions on how to raise crops. Pat's family is strongly US Army as the JAG corp. has allowed two Lancaster attorney's to be highly promoted at the Pentagon. Pat's dad is presently working as a judge with the Indiana Court of Appeals.
Pat has been trained in Spokane for the first half o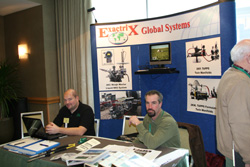 f 2008 and is now in the field handling sales quotes and developing an expansive, high quality territory. Pat is able to quote your specific tool bar need in short order. Pat is presenting Exactrix product constantly at trade shows and national meetings.
Pat is able to develop your economic payback program. He is also very detailed about how the Exactrix system is to be set up.
If you need a quote or need an upgrade or would like to trade for more advanced technology Pat and Jason are your contacts.
Eastern Sales Engineering
Pat Lancaster 317 690 0474
Technical and Service Support
Jason Rauch 618 599 5185