Included is a good 2008 Exactrix installation by an advanced producer at Panhandle, Texas.
The producer decided to order a second Case SDX seeder at 40 feet for seeding only.
This meant that his 30 foot seeding frame was available to make a pre-plant and side dress tool bar.
Irrigated Corn application is made as a pre-plant application and Hard Red Winter Wheat as side dress application in late fall November up to early February.
This is an impressive producer who really did one of best jobs yet with a Case SDX installation.
A 30 foot Case, 7.5 inch SDX was winged out to 40 feet on 15 inch band centers.
In fact SDX seeding frames have been winged out to 47 feet in South Dakota.
Exactrix provides Line Loom Harness Arrangements in Pre-Built arrangements to speed installation and improve the life of the harness.
In fact Line Loom harness have proven to reduce installation time by 20 man hours.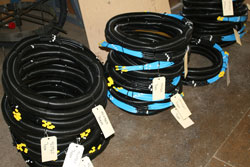 The Line Loom Harness
arrangement has a corrugated sheath surrounding the injection line. The lines are numbered. The lines are cut to length. The Lines are bundled with an outside corrugated sheath in 1.5 to 2 inch diameter as 5, 7, 9, 12 and 15 conductors. This allows quick install with line drop which is held in reserve. Line loom harness may also have extra lines for future expansion or reserve backup.
Line Loom harness are also supplied for the mechanical gauge bar.
Two Vent lines from the Phase Shifter are installed at two openers closest to the 2KC engine. The Terminal Injection Orifice is downsized to match the flow of the vent tubes. These are called Make-up orifices. The Make-up orifices at the vented openers would be a .036 if the TIO selection is .040.
The NH3 trailer is serviced by a transport. The trailer is set up bottom ou
tl
et internal valve. The trailer design has a slight tilt forward to assure empty. The large tires provide easy rolling and less horsepower. The smaller turntable tires allow good turning. Highest stability in trailer design is a track trailer. The steer axle design trailers should be used on slopes. Turntable trailers have problems when the front tire strikes the NH3 tank in sharp turns. This will break the axle and result in a rollover.
NH3 Trailers are like airseeder carts....the commodity must be delivered from a high elevation forcing the commodity flow down hill. NH3 tanks with heights of 4 to 5 feet above the ground line at the bottom of the tank assures push or NPSH.
The 2KP is mounted first and directly behind is the 2KC. This is a good mount.
The tongue mount requires the fewest feet of hydraulic hose and electrical leads.
The tongue mount also allows access directly and quickly from the tractor seat.
The final advantage is the operator is not climbing on the machine.
The Exactrix rule is simple...Feet on the Ground when servicing the system.
This mounting allows the 2KP primary filters to be drained with liquid fertilizer not contacting the machine.
The two filters are designed for backup operation. Set the valves so the supply comes through one filter only. This way you will have a backup when pump rpm goes high and the filter plugs.
The supply line from the filter to the inlet of the pump must be of adequate size...At least 1.5 inch and up to 2 inch supply line to the inlet of the pump.
The 2KP pump inlet supply line should be tested with the high viscosity APP/ATS. A 5 gallon bucket is placed at the pump inlet and the valves opened the bucket must fill to 4 gallons in 15 seconds. You can also weigh scale the fill in 15 seconds. There should be 45 pounds of 10-34-0 in the bucket in 15 seconds. Also make sure you test with the Poly Phosphate Sulfate tank supply at 10% fill.
Paying attention to supply is critical to make good VR-Site Specific applications whether the APP/ATS supply tank is full or almost empty.
The tank is mounted secure for quick stops.
Quick filling may require some consideration for overflow and return to the supply tank at some given level of filling. This design is much like NH3 with the return line.
Custom applicators allow for a return line at 90% fill. This allows a churn and mix in cold weather when more Zn or ATS is added for oil seeds or high protein wheats.
The Return line design should be low restriction since the tank may not be able to take much pressure. The good news is the Poly Phosphate Sulfate tanks can be filled with little attention and they can be filled much faster at up to 250 gallons per minute.....so design your high capacity fill system just like NH3 filling. Make your fill line 2 inch and make your return line 3 inch.
Also make sure you set or Zero your Total Applied for L channel on the TASC 6200 controller when you fill.
Your NH3 pounds will be totalized at the 1700 Mass Meter Readout. So no need to work with the totalizer on C channel of the 6200 TASC controller.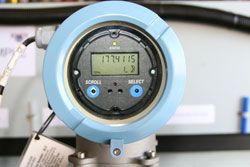 Make sure that you order the 2 inch supply line from the NH3 tanks to inlet of the 2KC.
This is Group 2, 1S2030.
Make sure you order twin Smarthoses with dual hose end valves.
This delivery design will assure flow to 20 plus gallons per minute using bottom outlet internal valves.
Use Assembly 7J3012.
If the system goes above 30 gallons per minute a larger A-2700 hose end valve is used with 3,1/4 acme couplers.
Exactrix fully endorses Raven Viper, Ag Leader and Legacy 6000 Mapping and Control. No endorsement is given for the Greenstar.
A Data Link is added between TASC 6200 Control and Raven, Ag Leader of Legacy Mapping controller. You will have two additional items in the cab. A Data Link and A Mapping Controller. A high quality satellite receiver may have come with your new tractor which is connected to the Mapping controller.
If you desire to run with only one Control Screen and hookup you will need to wait a long time as common ISOCANBus Programs among all tractor manufactures and our vendors is called Project Camel. Nothing seems to work really well with two humps or one hump. The technology is advancing too fast in other areas. The committee approach has resulted in camel rather than a race horse.
We do not recommend connecting the Legacy Mapping Controllers directly to the Exactrix system.
We have discovered that Mapping controllers are steep on the learning curve, hard to train new personnel, and most producers want a simple backup system to run with the Mapping Controller when it is not activated or momentarily out of service. If you understand the Exactrix system it is as redundant and reliable as possible. And this requires TASC 6200 control.
You will get the best and quickest service and maximum amount of uptime with Exactrix 6200 TASC control and the Data Link for your mapping controller.
Also there are some new mapping controllers coming that have better performance and more information than what is offered.
Exactrix may supply a better mapping controller at some future date complete with data uplink and critical temperature and pressure values.
Follow our lead on mapping controllers.
VR-Site Specific works and we want you to succeed.
Typical hydraulic hookup, Power Beyond Load Sense Challenger. All electrical connections direct to battery. Mid-Tech GPS sensor set at 769. Water test, run all pressures and flows with data recording. Check for leaks. Head for the field and apply TAPPS for the first time.