April 22,00, Thief River Falls, MN. You ask for it!....This is Todd Stanley who farms 7,500 acres of Red River Valley of the North. This John Deere Airseeder arrangement runs completely on tracks. Even the new Deere 9400 T was in for a full days work pulling this fully loaded Airseeder at 6.5 mph. Would you believe 105,000 lbs gross weight of the seeder arrangement. Todd's goal is to seed 750 acres per day over a critical 10 day period. Winter crops are marginal to nonexistent....DNS wheat works the best long term.
Todd's tillage system is required to reduce soil moisture. Several wet years in a row reduced yields in spring wheat because of foliar diseases. When it gets wet you need tracks. Todd and his recently retired father have run Caterpillar Challengers for years. Tracks were on Todd's mind when he contacted Fargo Products, Jack Oberlander about setting up a 60 foot Deere Airseeder. The Exactrix system made the whole system even more feasible since the single disc openers allowed the machine to roll with less horsepower and no opener freezing.
DNS spring wheat needs lots of N and the even application of Exactrix NH3 is critical to hit 14% protein. Protein is key to adding up to $1.00 more per bushel. That adds up real quick in 70 bushel wheat country. That is somewhere between 25 and 33% more for a crop that can even push well above 70 bushels per acre.
Jack, a former Case/Concord service manager and Eugene Breker also a former Case/Concord market development manager formed up Fargo Products when it became obvious that they could do a fine job in specializing in Airseeder options and modifications. They also promote specialized openers, Raven control systems and of course the Exactrix Direct Injection NH3 system.
The Fargo Trailer Track is a spin off of the Case Quad Trak Tractor. It was a natural to team up with their old employer to offer a complete track system. The Deere dealer knew Jack and Eugene having been a Concord dealer in the early years prior to the Case acquisition. So the 9400 T was the obvious choice. The components used on the non powered track group are the same belts, idler boggies and belt tension idlers used on the Quad Trak.
When you consider one man is in control of 750 acres a day. Todd can hit the optimum 10 day window at Easter. If the weather turns wet he can keep moving without damaging the soil structure in the critical two foot, nutrient rich root zone. This is a minimum compaction system from the tractor or the Airseeder. The tillage system is also low on compaction. That means Yield with a capital Y in difficult wet soil conditions.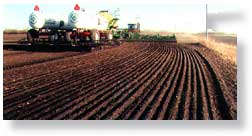 This Machine is Hyper-Productive?
Also the machine is wide and that means about half as many passes. This further improves compaction potential. When Deere comes with their powershift version of this 9400T tractor Todd will be the first to trade up. And don't be surprised when an even wider Airseeder is available.... Todd will own it. Lowering cost of production and increasing yields at the same time is a simple solution when commodity prices are low. You either make dust or you eat it.
Deere did an excellent job of designing the wagon. The yellow poly tanks assure long life and a reduction in tank weight. Deere also has a rather unique metering system. This assures excellent seed rate and low maintenance.
This machine is like building your first house. You would change a few things but I doubt that Todd would make many changes. Exactrix engineers are very familiar with tracks having built several track type Yielder No-till drills in the 90's.... teaming up with Caterpillar. This track design is better and lower cost than anything Caterpillar ever thought up. Nothing like good competition to make things better for the farmer. Fargo Products has a hit.
"Take what you have and do better with it", seems to be Todd's theme. Not one dissenting vote was cast as this machine left for the field. Todd and Fargo Products worked intensely with super support from Evergreen Equipment, the Deere Dealer, Sales Manager and the Service Manager. You can imagine the machine sales potential for this Deere dealer up and down the Red River Valley from Winnepeg to Fargo.