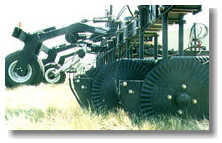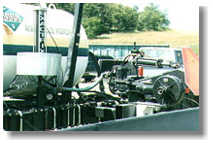 DOUBLE MACHINE PRODUCTIVITY WITH HIGH ANALYSIS, LOW COST NH3 AT DOUBLE THE PREVIOUS GROUND SPEEDS.

THE EXACTRIX SYSTEM ALLOWS 10-34-0 TO BE PLACED NEXT TO THE NH3 WITHOUT FREEZING. EXACTRIX DIRECT INJECTION OF THE NH3 WILL NOT FREEZE 10-34-0.

IDEAL SYSTEM FOR NO-TILL FALL AND SPRING FERTILIZATION PRIOR TO NO-TILL DRILL PASSAGE.
YETTER 2995 REAR RADIUS KNIFE SINGLE DISC OPENERS ON 12 INCH BAND CENTERS.

FOLDING 30 FOOT YETTER NO-TILL NH3 TOOL BAR WITH THE PRECISION EXACTRIX SYSTEM.

IDEAL FOR HIGH SPEED FERTILIZATION OF SOD AND PASTURELAND. USES LOW COST NH3 DIRECTLY INJECTED IN THE VERY NARROW OPENER SLOT AT PRESSURES ABOVE VAPOR PRESSURE.

SUPERIOR FERTILIZATION SYSTEM FOR GRASSLAND. NO TIE UP OF TOP DRESSED NITROGEN IN THE SOD THATCH.

EXACTRIX PORT TO PORT ACCURACY IS UP TO FOUR TIMES BETTER THAN TOP DRESSING SYSTEMS.

UP TO 30 % OF THE VOLATILE UREA IS NORMALLY LOST WHEN FERTILIZING GRASSLAND AND PASTURES. DEEP PLACEMENT OF NH3 ASSURES IMMEDIATE ACCESS BY THE ROOTS, NO SURFACE RUNOFF INTO STREAMS AND VIRTUALLY NO VOLATILIZATION LOSS INTO THE ATMOSPHERE.

LOW HORSEPOWER, HIGH SPEED WITH EXCELLENT FUEL ECONOMY AND LOWER MAINTENANCE.

THE MOST PRECISION FERTILIZER APPLICATION SYSTEM AVAILABLE USING THE LOWEST COST NITROGEN SOURCE. THE SYSTEM OFTEN PAYS FOR ITSELF IN THE FIRST SEASON.