I was sophomore in college when we built the TLS-165 in 1966....Mort led and I followed...I welded on the weekends and whenever I could get home to help....I still remember boning out the D-6's....it took 3 total Cat's from Norm Wilson's used tractor yard....The budget was $125,000. We started in November and the TLS 165 was spraying in March....
The power train is all operated with Air Controls.....and Hydraulic Accumulator Ride Control on the triple track frame maintains the flexibility of the track and allows the machine to turn on six rollers.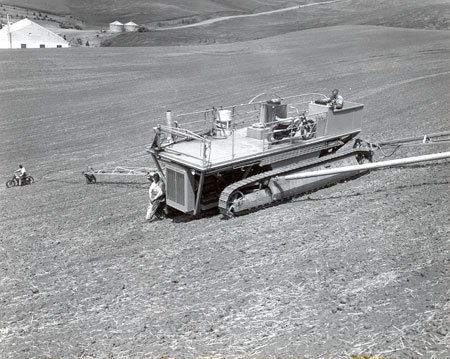 I can still hear the TLS-165 now....the 8V-71 at 318 horsepower screaming out.... every stroke of piston as a power stroke.... at maximum horsepower climbing those steep Palouse hills with a whopping 9% torque rise. Horsepower is work measured in time.....torque is the force with time not considered.....torque means nothing when you have all the horsepower you need. Just add more horsepower and you can climb a mountain at 4 mph.
...The air controls gave the signal to the outrider..."Head's Up...Mort is making a steering correction from the Gyro compass"...The notification came as a.....KaWisssh...ChaChu....KaWissh...ChaChu.. since you always steer a Cat twice and the correction was made....... And watching it level to 60% compound angles still puts chills up my spine....the track frames came right to the top of the deck...in a parallelogram movement....
The Cat track pads are clipped and 12 inches wide....about 2 inches wider than the rail. So there is virtually no counter lever action on the rollers.
The TLS 165 automatically levels with a dual stage mercury switch that Raymond Hanson invented in 1947 for hillside pull combines.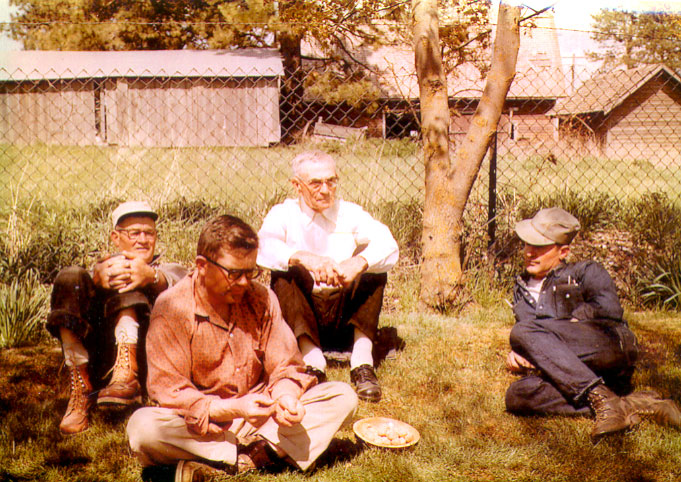 One time Mort made a pass with the TLS-165 across a Palouse, flooded flat, in the spring...the hills had eroded into the mud flat...too much tillage and erosion from an adjoining field drainage was the cause of the flooded flat as we sprayed for Fred Mader.......I was the outrider and I could not get the Harley Davidson Ranger motor cycle across the flooded flat....
I just sat on the HD Ranger motor cycle stuck in the mud and watched the TLS-165 start to sink into the mud....My first thought, "OK, get a choker and a really big tractor, maybe a D-8". but Mort knew what that baby would do....
..and now for the rest of the story....As the TLS 165 sank into the wet mud flat the big rig kept leveling and maintaining the Center of Gravity...one side of the power unit would sink 12 inches... and then the TLS-165 would level and move the weight to the opposite track...the sinking stopped when the machine weight was evenly shared by both track frames....the power unit kept moving forward at 4 mph.....
Morton Swanson
Three generations, "The Four Horsemen" 1963

The TLS-165 Enterprise actually leveled it's way across 400 feet of mud and water and left deep ruts.... the TLS-165 never got stuck because it leveled and transferred the weight and kept the tractive power load balanced equally.
The TLS-165 ran and ran with never a rebuild...finally a new set of tracks in 1984 at about 500,000 acres....it was reliable..... and TLS-165 had it's own lowboy for transport....Mort finally decided enough of the lowboy transport and just stayed within track walking distance and sprayed about 30,000 acres per year. He liked to sleep in his own bed at night...pretty good advice to you custom applicators.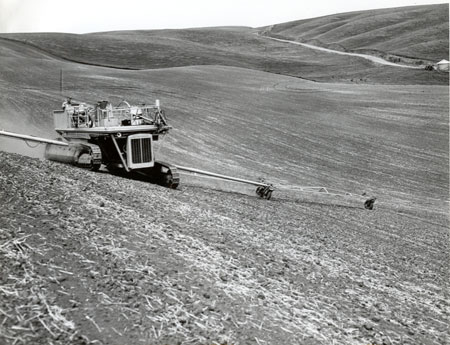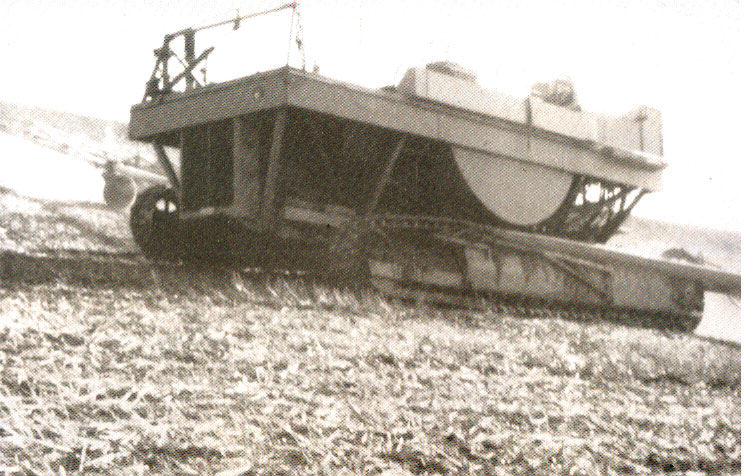 A nozzle change was a big deal....135 nozzles to change....Screens cleaned and two end wrenches required...Spraying Systems made the screens and tips...and we have a selection for every combination. From Insecticides to wettable powders to simple Bronate....2 gallon, 5 gallon, 10 gallon 15 gallon, 20 gallon and 40 gallon tips plus insecticide tips...... We actually built our own screens for the big pumps...so building our own filters for Exactrix was a not problem for me.
Lots of pumps and a means to actually change boom pressure on the uphill side was activated automatically...to make sure that the slope elevation to did not change the spray tip pressure....Mort wanted coverage and the right droplet for the kill..... Wettable powders were tough on pumps....so we had a few extra rebuilt pumps on hand.
Six total boom section controls. And you can just about divide out the booms by looking at the picture. Sometimes the booms would disappear over the horizon....You would not see the boom end section for up to 1,000 feet of travel....Welcome to the steep slopes of the Palouse.
The booms fold.... all hydraulic fold for transport...as a one man show... two men could fold in 10 minutes and be ready for transport at a whopping six miles per hour.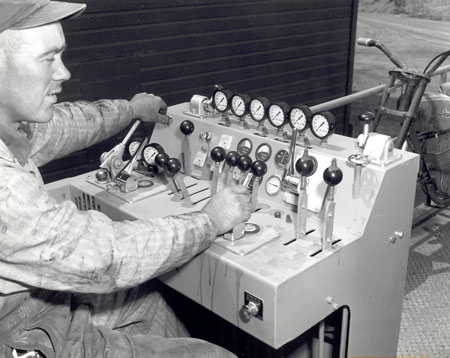 The outside boom wings are controlled by hydraulic cylinders that allow for the fence lines and power poles and difficult field margin problems.
The TLS-165 Spray Booms have never failed...the welding is unique...The tubing is not welded across the forming angle...the tubing is backed up by larger outside tube wall that is heat shrunk around the main tubing at all the joints. So the booms can flex and yet the welds never fail....the booms were built for deep furrow winter wheat...16 inch and 18 inch deep furrows...
You can not drive a pickup across a deep furrow winter wheat field...it is like trying to drive across Ridge Till Corn....Steve Mader made the call a few years ago...."We will take it a 50 mph.....that will smooth out the ride". Second Lieutenant and Navigator Mort Swanson hated flying but he sure remembered the B-29 and how the wings would flex.
The only thing that failed on a spray job was the motor cycle....so we had lots of motor cycles and always scouted the field ahead...looking for weed issues and making sure we had the field laid out right. I never thought that I would know Evil Knievel....but as I grew older Bob Knievel has become a good friend.... and Elna has one of Evil's paintings.
I have lots of scars from the motor cycle. I was riding bike outrider when I was nine years old....a few trips to the doctor and few stitches have been added...No wonder I am Bow Legged. Evil had his problems too. You will notice the extra motor cycle on the deck of the Enterprise and the jib crane to lift it off.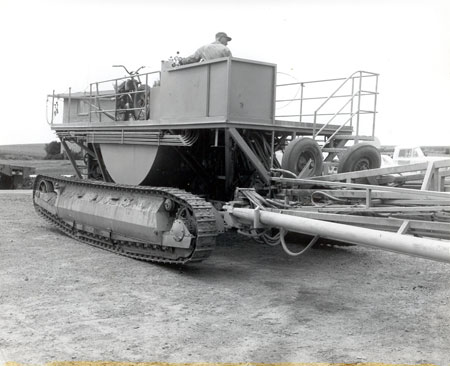 The TLS-165 has two transmissions both air controlled and an air clutch also operated by air controls....Mort seldom shifted....If the hill was too steep to pull at 4 mph.... he would shift at the bottom of the hill and climb at 3 mph setting down the boom pressure on the three pumps and trying to keep the gallonage on the mark.
The steering clutches and the steering brakes are air controlled.
The was an E-ticket ride if you were so lucky ride on it...Mort called it the Enterprise....not quite nuclear powered but close enough.
The TLS-165 is why I have a WSDA Certified Applicators License....I was trained to be a weed warrior. I gave up my applicator bond many years ago. I think it was a $50,000 bond.
You can not believe this machine....It ran for 26 years and then Frank decided the Enterprise was too much for him. He went back to high speed wheel pickup sprayer since peas were not in his rotation.... Frank is the tenant farmer at the Swanson Farm. I could fire up TLS 165 today....but it would probably take another $125,000 to bring it up to current specs.
The machine was primarily focused on weed control in Peas....40 gallons per minute using the skull and crossbones, Dionseb at the 3 and 4 quart rate with 40 gallons of water...Thus Dinoseb killed weeds based on differential wetting....the peas fields smelled like silage within the hour....the peas have a waxy leaf and the Dinoseb rolls off the wax.....2,200 gallon stainless Steel Tank meant about 50 acres and time for a little water.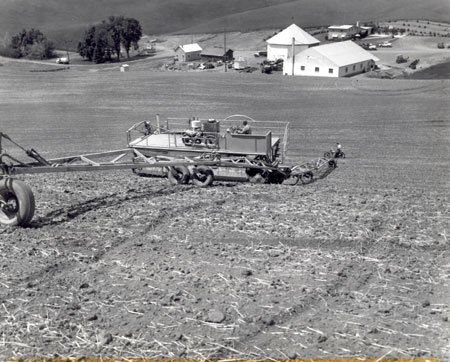 The picture shows Fred Mader and Vince Hensel Farms....Fred and Vince would team up their rotation so Mort could have a full two mile run on two deeded farms.
The TLS 165 was also designed around Karmex, a subsituted urea wettable power, for late fall application on winter wheat....but the Karmex label failed the true test. Right to line of the last pass, Winter kill vs survival of winter wheat.... fall applied Karmex was dropped due a weakened winter wheat plant and winter kill. My U of I Weed Control professor Clarence Seely pioneered the fall applied use of Karmex on Winter Wheat.
The TLS-165 Enterprise operates with a gyro compass circa 1981.....straight up the hill or on a slope....it makes no difference......straight as an arrow at 165 feet. The motor cycle out rider was retired, thank goodness.
You will notice very few tracks in the field...in fact no or little crop damage....Mort always said..."You get the spray job for free with a uniform application and no tracks" at $3.25 per acre.....Not exactly true...the big rig would damage the crop at the lands and corners as it turned on 6 rollers....Mort would raise the track frames and make the turn.....set a new vector and back we would go for 2 miles straight as an arrow. Actually even this was very little damage when you are shifting over 165 feet.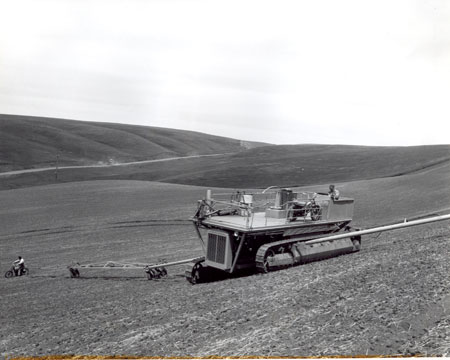 Now you know why Caterpillar hired me as a engineer in the fall of 1969....Caterpillar came to the campus in October and I got an interview....I showed the Caterpillar boys the pictures of all the projects and TLS-165...I started quoting Cat serial numbers...and everything I knew about a Cat D-6....
John McNally the head of Service Development at Caterpillar said..."Can we watch this machine run" I said, "I will be back at 5:00 PM to pick you up." We went to Pullman and I found Mort spraying fall applied Karmex for Clark Farms.....John McNally said,..."I may need you to sign a waiver of non-compete." and I said..."Not a problem, it is one of kind." Three months later I had my little family in Peoria and I was working for Caterpillar as a Junior Engineer making a cool $850 a month with stock options and all the health care we needed.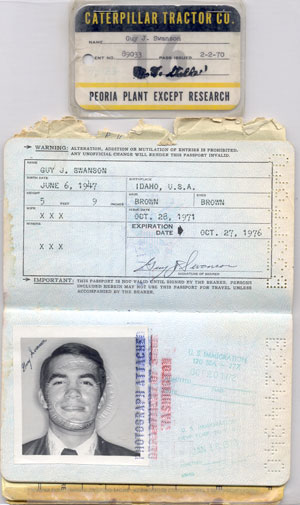 This was in 1970.....Soon we were in Europe, acutally in Munich in 1972, and Caterpillar paid for all the hospital expenses with our little baby girl Shelly, born August 6, 1972...Rod, our son at age 3 was playing soccer in the back yard and I longed for the Palouse and seeing Mort again.
The 1972 Olympic massacre in Munich basically brought an end to my career with Caterpillar...I was reassigned to Nairobi, Kenya for a better security climate as I was told....Idi Amin was on the warpath in Uganda....and I figured it out...Go where your heart is...not where Caterpillar thinks is best for your career...do what is best for your family. Always follow your heart...not the money and not the security...follow your heart.
My Grandmother gave me a stern lecture about giving up such a great job. But she soon learned that it was all about family and not the money. Always follow your heart, find your spot on the planet, security and wealth will come to you.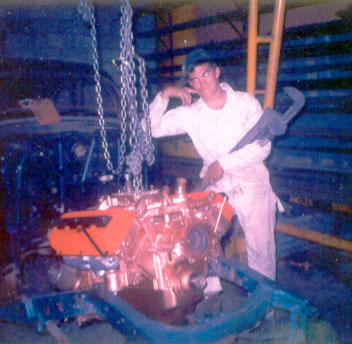 I forgot about the car ride with John McNally to see the big sprayer, Enterprise....Trudy and I had built a hot rod car together before we were married....It was a 36 Chevy Coupe and Red....Trudy bought the Holley four barrel carburetor for the Hemi engine. It was birthday present from her ...a 650 cfm four barrel carburetor....I had installed a Dodge Hemi in 36 Chevy Coupe, a KD-500, which had won B-Stock at the Deer Park Drag Strip.
...I modified the Hemi for brute power since I knew the transmission would take it. Gas was 25 cents a gallon on the farm.... Mag wheels...Torque Flite Transmission. Straight Axle up front with a 12 inch rake. Quite a ride for the Cat Service Development Manager, John McNally and a little difficult to steer on gravel roads....John liked my car. Trudy and I got married in our little Cherry Red, 36 Chevy coupe.
Mort was the first to explain Roll, Pitch, and Yaw to me at about age 12. He was a B-29 Navigator in W.W.II. In fact I still remember the B-29 instrument panels in the old shop from the Strato-Fortress B-29..
Mort had bought the instruments as surplus in Spokane...I marveled at the switches and the Altimeters and the Compass. Mort was training in Amarillo and when August 6, 1945 came.... One atom bomb from the Enola Gay, a B-29 Strato-Fortress, and the war came to an end. This event set up new marching orders...Mort was turned loose and back on a Cat D-4 seeding winter wheat in the Fall of 45. By June 6, 1947, three years after D-Day, Mort had a new partner...his name was Guy.
It must have been quite a time...in the fall of 1945..... America had train loads and boat loads of boys headed home and American Admirals and Generals headed back to the Pentagon.
In fact Mort taught me so good....that I got in a big argument with my Sixth Grade teacher Mrs. Davidson....We had a quiz and she marked my paper wrong.....Mrs. Davidson would not believe there is more than 640 acres in a Section of Palouse land.....When you start correcting your teacher you don't seem to get the best grades...She must have been a Democrat.
....Some of the really steep Palouse ground is 720 acres to 740 acres...so the yields in the Palouse need to be tempered a little. When you hear 165 bushel average Winter Wheat Yield per acre....is that hillside acres or surveyed acres. In 1980 Winter Wheat No-till custom seeding was charged out at $32 per acre by the acre meter...not by the land survey.
The TLS-165 Enterprise might be my restoration project in a few more years and maybe my nephew, "The Dougster" would like to go into the business of killing weeds and raising great crops. I do not think you can build a TLS-165 today if you had a cool million dollars to invest. That would take about 100,000 acres per year....but it might work out if you had 5 good years to nail the debt.
Our goal was to have a second TLS-165 so Mort and I could spray the Palouse....but the Karmex label failed on late fall application so we kept the fleet at two machines...a leveling 135 foot wheel applicator and the TLS-165. By 1973 I was back with Mort and we were pioneering No-till in the fall. Mort new that Stauffer had shelved sulphasate/glyphosate and Monsanto brought it back in some way...Lyle Nagel at WSU Weed Science kept us up to speed on a new numbered material and assured us that ParaQuat was history.
Mort went on a Hawaii trip with Frank Lessiter in 1974 or 75. The Editor of the No-till Farmer had his eye on Mort. Frank wrote many great articles about No-till farming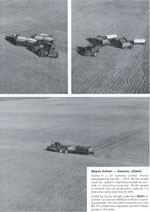 with Yielder Drills....but that is a story for another time.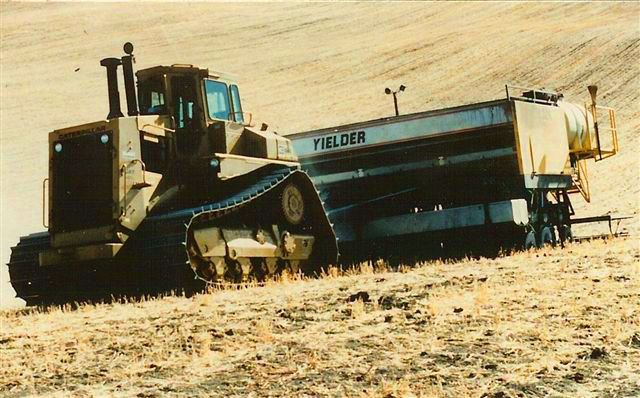 Now you know the Legacy of Morton C. Swanson....
If I could do at least half as much.... if I could fill one of his shoes it would be quite an accomplishment. The greatest leader of the No-till Revolution was a commercial applicator with knowledge and wisdom...The knowledge and the wisdom I miss from America's greatest generation.
41 Years Later
Features added through 1985
2,000 gallon stainless steel tank

150 gallon stainless steel mixing tank

Cab

Gyro compass

Electronic flow monitor and control

Disc steering brakes

Airbag boom suspension

Lloyds loops

Automatic boom fold

Lowboy transport

Motorcycle outrider eliminated
| | |
| --- | --- |
| | |
| Pictures taken Oct. 2007 | New owner takes delivery |
| | |
| | |
| | |
Your Great Plains Reporter
Guy J Swanson
ASABE, ASA, ASM, WSDA Certified
Exactrix Global Systems
Spokane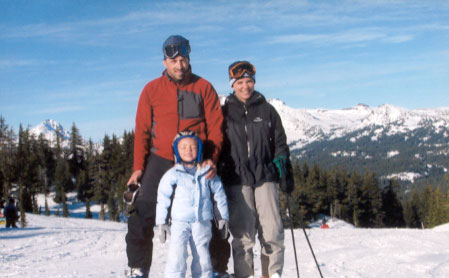 Exactrix Global Systems LLC www.exactrix.com
4501 East Trent Ave.., Spokane, Washington, 99202, 509 535 9925 Members of ASABE, ASM, ASA, WSDA Certified
Return To Main Page