Produce up to $150 per acre more Net Income with Exactrix® Process Management.
Liquid Streaming Flows from the Exactrix Crop Production Technology Files.
TAPPS and TAPPKTS Formulators with Case Exactrix® Wing Injection.
Case 500 and Case 500T Precision Disc Seeder. Fall 2013 release. Get the engineering review HERE
The Case 500 T can also be utilized and a single disc, No-tillage banding tool bar. TAPPS and TAPPKTS can be banded deep up to 5 inches.

Triplex Injection allows up to three different nutrients to be delivered simultaneously.

Allows quick change of orifices when required.

Quickly change from seeding mode to banding only mode.

The injection equipment stores on the opener.

The Case 500 Tool Bar can be utilized for fall banding of TAPPS at high speed.

The 500 Tool bar can band into growing wheat. Producers can dedicate a complete machine to banding or they can run dual purpose in single pass and two pass.

The Tool bar is ideal for managing nutrients with ISO and ISO-bus controllers in 3 to 6 section control.

Utilize your Case 500 and Case 500T up to three and four times per year managing nutrients and doing it all No-till.

Band deep and keep the bushels coming in. Beat the Floater Rigs with 60 feet of capacity and 1% CV application accuracy
Less is More.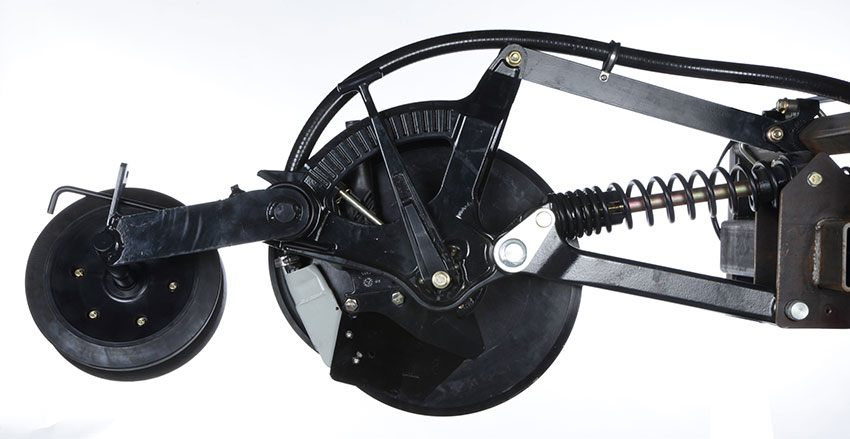 High Speed, No-tillage Deep Banding with Exactrix® Triplex injection of TAPPS and TAPPKTS.
Case Triplex Injection is utilized around the year for banding into growing roots of Winter Wheat.
Case Triplex Injection is utilized to band TAPPS and TAPPKTS in the fall with stabilized N.
Pre-plant banding for corn in the spring without burning corn roots on 10 or 15 inch band spacing.
An Ideal addition to the 500 and 500 T precision Disc Seeders to produce better work loads
Less Nutrient input is required at 166% more crop available N and 200 % more crop available P.
Parallelogram opener from Case lets the leading
edge follow the terrain.

Orifices deliver nutrient products with control and low CV of 1%

Storage position when seeding.
Single Pass Seeding and Banding, Double Shoot using the highest quality nutrient materials in Wing Injection.
Exactrix® nutrient costs seldom exceed 12% of the Gross Income.
TAPPS, Tri-Ammonium Poly Phosphate Thio Sulfate, TAPPKTS, Tri-ammonium Poly Phosphate Potassium Thio Sulfate, Developed by Exactrix Global Systems at 1% application CV.

NH3, Anhydrous Ammonia, 82-0-0, Primary nitrogen actual N content is 82.4% nitrogen as Ag Grade. The highest quality nitrogen source with guaranteed analysis, immediately crop available. Developed by BASF, Shell and the TVA.

APP, Ammonium Poly Phosphate, 10-34-0. The placed phosphate in TAPPS is twice as crop effective at dry11-48-0 dry phosphate plus the polymer can carry ammoniated low cost micro-nutrients like Zinc. Developed by Shell and the TVA.

ATS, Ammonium Thio Sulfate, 12-0-0-26S. The best sulfur source (elemental and sulfate) in streaming flows. A Thio triple threat material for stabilizing nitrogen. Crystals of TAPPS stabilize the N. Developed by TKI.

KTS, Potassium Thio Sulfate, 0-0-25-17S. Just a small amount goes a long ways in drought stress. The ideal material in long term development of Rotational Band Loading. Developed by TKI.
| | |
| --- | --- |
| | |
| TAPPS | Liquid Streaming Flows at pressures to 350 psi assure 1% CV and highly crop available nutrients…Exactrix® Process makes the nutrients more crop available. |
Case Exactrix Wing Injection or CEWI.

Seeding and Wing Injection of APP/ATS/KTS and deep banding of NH3, 10-34-0, 12-0-0-26S and 0-0-25K-17S.

For Mustard, Canola and Flax producers can now shallow seed.

Exactrix Wing Injection allows liquid fertilizer application outside the seed row for sensitive germination crops such as Canola.

Canola, Flax and Soybean are sensitive to seed row N and S and wing injection is safe.

Unique Exactrix® Wing Injection allows fine hair roots to access the TAPPS and TAPPKTS nutrients. The sensitive seminal root cap is not exposed to the nutrients.

No chance to burn or hurt the germination of the growing crop using CEWI and high quality liquids delivered in streaming and targeted controlled flows.

Plus Exactrix ®TAPPS liquids allow immediate response in VRT. Full rate changes at the orifice injection in 3 seconds.

Reduce rates of nutrients are typical with Exactrix 1% CV uniformity of application…about 50% less nutrient cost or material as compared to dry fertilizer materials.

The key is high quality and much lower cost liquids built in large volumes in TVA or Shell reactors or at Oil Refineries. High quality manufacturing with industry standard Liquid Materials like APP, ATS and KTS.

Dry fertilizer materials cannot compete with TAPPS and TAPPKTS .

Polymer fertilizers like APP provide options for homogenous application of NPKS and Micros, A superior technical achievement from the TVA.

As we all know dry fertilizer materials are designed for tons moved and export to third world countries. The bottom of the barrel at Pocatello…An export dry fertilizer product with low expectations.
http://www.exactrix.com/Broadcast_04_26_2013.html Not all fertilizer works the same.
Soybeans on high soil pH.CEWI is ideal for Soygreen®.
Soybeans can be fertilized VRT, Site Specific with Iron Chelated Soygreen® to overcome Iron Chlorosis. A very critical method is now available in VRT seeding and producers can now raise soybeans on high pH soils. Wing Injection allows Soygreen®, A Double Chelated Iron to be placed outside the germination zone but close to the seminal hair roots.

Deeper seed placement will allow NH3 to be applied TAPPKTS for such crops as Milo, Sunflower, Triticale and HRW Wheat and SWW Wheat in heavy residue.

Deere owners may recognize the common components of Exactrix® Wing Injection. http://www.exactrix.com/dewi.htm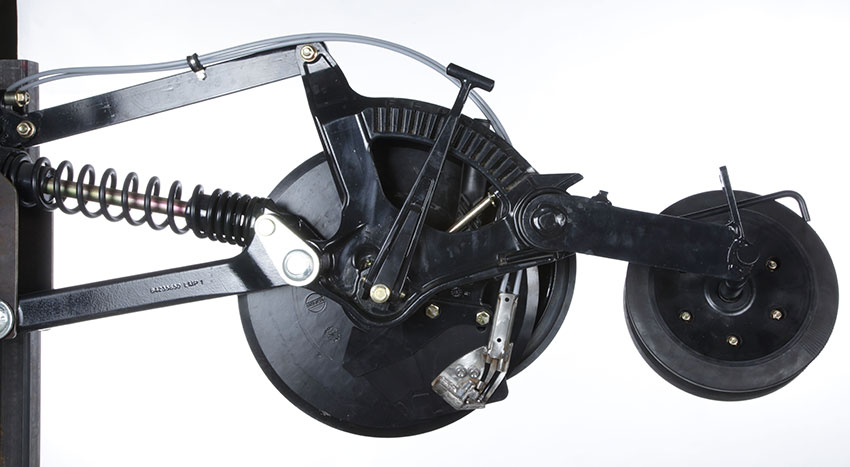 CEWI, Case Exactrix Wing Injection.
Here are the options for the Case 500 and 500T precision disc seeder.

1. High Speed, No-tillage, Banding Deep in Triplex injection. Formulating TAPPS, TAPPKTS and Fulvic acid at 5 inch depths.

Usually on the back gang only with 7.5 inch drills producing deep bands on 15 inch centers. 32 openers on 60 feet.

A 10 inch banding centers will produce the highest yields in pre-plant banding for small grains. Canola seedings can be placed on top of the bands in an index seeding approach. 72 openers on 60 feet.

Mounts inside the scraper. $225.ea.

2. Case Exactrix® Wing Injection CEWI for deep bands and side banding when applying 10-34-0, 12-0-0-26S and 0-0-25-17S. Banding deep at seeding depths or seeding shallow with liquid fertilizer to the side of the seed row or side banded in a non-toxic location. . Applying TAPPS and TAPPKTS in pre-plant and single pass.

Mounts along the side of the 500 scraper. $275. ea.

Drills set up 7.5 inch are paired to share the back gang with 15 centers set up wing injection. 32 openers on 60 feet.

Drills set up 10 inch band on 10 inch across the machine width. 36 openers on 60 feet.

3. For 5 inch Deep Banding, Yielder Manganese Steel blades at 5/16 x 22 and 3/8 x 23 in extreme double edge and back edge. The larger diameter Yielder blades can also be used for seeding with Case Exactrix® Wing Injection.

Yielder Manganese Steel blades work well in rock, as wear life is extended at least 5 times over carbon blades.

5/16 x 22, $225.

3/8 x 23, $327.
4. Exactrix® Application Systems are specifically designed for Case 500T and Case 500 60 foot machines in 6 section design.

Line Loom harness, supply hoses, drawings and typical support equipment is supplied with each shipment. You can contract help in the field with the installation.

Covering up to 5,000 acres per year with 40 feet applying TAPPS and TAPPKTS $105,000 in four section.

Covering up to 10,000 acres per year with 60 feet applying TAPPS and TAPPKTS $135,000 in six section.

Custom application with 2KM Weigh Master and series 3 design with telemetric reporting $155.000.

Blending 2KR third product injection, $13, 275.
| | |
| --- | --- |
| | |
| 2KR Blender, Third Product Injection with Non Adjunctive Materials. | 2KM, Sparging Reflow TAPPS Formulator in Bulk Density Readout, Mass Flow. |
Exactrix owners know the end result is up to $150 more net income per acre with high quality fertilizers and Exactrix® process control.
Meeting your formulation needs. www.exactrix.com/TF.htm

Picking your metering systems. www.exactrix.com/EPM.htm

Need more information on advanced crop production. http://www.exactrix.com/EWAC.htm
Exactrix® Global Systems LLC
4501 East Trent Ave.
Spokane, WA 99212
www.exactrix®.com
509 995 1879 cell, Pacific.
exactrix@exactrix.com