Stay in the tractor seat with this simple, cost-effective and low maintenance system. Start with the simple mechanical drive system and then convert to electric or hydraulic drive for GPS variable rate control. Positive displacement pump, no flow meters or control valves and no supercoolers required. Available in 1% port-to-port accuracy.
1/4 second response for GPS precision timing rate change.
Direct injection above and below the ground line with shank, single-disc and double-disc openers.
No line or shank freezing in muddy conditions.
Applies NH3 accurately in all temperature ranges and rates. Improved safety with instrument grade components.
Time-proven Dempster pumps.
Accumulator assures accuracy and improves pump life. A major breakthrough in the precise application of NH3. It helps assure the long-term usage of NH3 with the new GPS technology.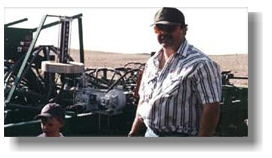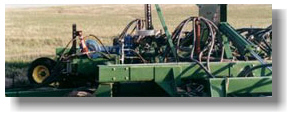 Specifications
29 Port Exactrix

TM

Manifold
Dempster E-6 High Pressure Pump
Range Orifice, .094, Terminal Expansion Orifice, .030
Yetter Single disc Banding Opener
Deere 1850 Owner Modified Airseeder
Rates: 60 to 90 lbs. N/A
15 inch Band Spacing
Injection pressure at 5.8 mph, 150 psi
Ground line direct injection of Liquid NH3
Accumulator pressure, 75 psi.
Farm size - 5000 acres