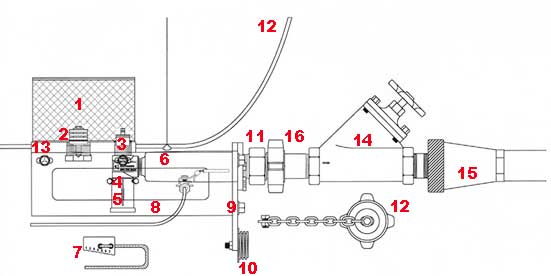 1
Prescreener, non servicable,.187, 50% open.
Weld slag, valve parts, floats etc. are prescreened.
9
Valve bulkhead
2
Magnetic, multipole service plug.
Rust and small particulate under 3/16" dia. is magnetized.
10
3-1/4 Acme parking plug
3
Low pressure drop, bottom outlet 1.25" valve
11
2" nptf male x 3-1/4 Acme male
4
Valve actuator arm
12
3-1/4 Acme cover cap.
5
Inserted wedge key holds valve open.
13
Welded Exactrix Base plate
6
Valve extension adapter
14
A2700 Continental hose end valve, required but not included with assembly
7
Exactrix wedge key, remote shutdown
15
2" Smarthose breakaway, included with the Exactrix Injection System. Not part of the bottom outlet assembly.
8
Bulkhead support arm, Qty. 2
16
3-1/4 Acme female x2" nptf male adapter. Required but not included with assembly.