" NH3 can now be applied as the most accurate material in the fertilizer industry. Timing of application and applying exact band rates assures the long term use of NH3."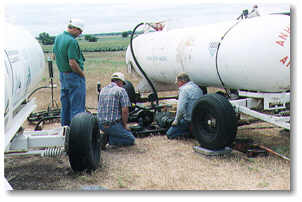 All tests were carried out with standard 5% Exactrix orifices and manifold designs presently utilized in the field.
Test indicated the critical importance of the Exactrix 100 mesh dual o-ring safety filter.
Successful Farming was present at the test site and is preparing an article in the December 3rd issue on Cold Weather Performance of NH3.
The test site was also visited by manufacturers, producers, and bankers interested in the future of NH3 application.
Several graphs and charts are included for ready reference.